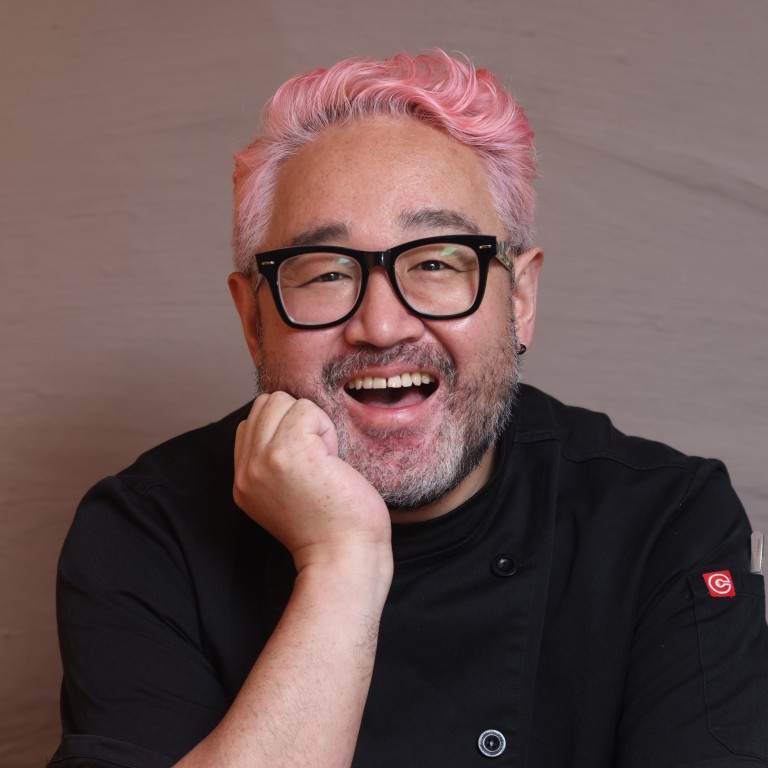 Profile
Two-Michelin-star Japanese chef on serving Sprite with lobster jelly, his favourite ingredient and dying his hair pink
Hiroki Nakanoue, the chef and owner of Sushiyoshi in Hong Kong, Osaka and Taipei, constantly changes his menu because he loves thinking of new dishes
He says his Michelin stars give him a lot of pressure but have also elevated him to another level
What made you choose cooking as your profession? "My father had a casual sushi restaurant in Osaka. I learned the basics from him, but when I was in high school, I met a charismatic Tokyo chef named Yukio Morooka, who sparked my motivation to become a chef. My father served traditional sushi, but what I wanted to do was different.
I am from Osaka, and the style of sushi there is different from that in Tokyo. With the Osaka style, the ingredients are cooked or cured, but chef Morooka-san's style is edomae sushi, where the focus is on one ingredient. To me this was a new world."
Did you work with him? "I wanted to go to Tokyo and apprentice under him, but when I was 18 years old, my father died suddenly. I wasn't quite prepared to take over yet. I still had to practise how to make sushi, and I had yet to learn how to manage the restaurant and order ingredients.
I wasn't nervous because I had confidence, but I didn't have the technique yet, so I would ask other chefs for pointers. I didn't sleep much and just studied chef Morooka-san's book and taught myself how to make his style of sushi, and I ate at other restaurants to figure out what I wanted to do."
Sushiyoshi's menu changes constantly. What's your reason for doing that? "I like to think of new dishes; I don't like to do the same menu for long. Some Japanese chefs are traditional and have lots of rules they follow and can't waver from. But with that format you can't learn new things. I want to break away from this traditional thinking and learn other cuisines and ingredients, which is why travel is important for me. I love France – everything about it, the culture, food and art. I like Hong Kong, too, particularly the business aspect, and everything is speedy."
The Osaka branch of Sushiyoshi has two Michelin stars. How have you benefited from that? "I had one star for nine years. Getting a star is a lot of pressure. But in my 10th year I got two stars. Michelin gives me lots of pressure and I need to look after many things, but at the same time it has elevated me to another level where I can learn different things. When guests know a restaurant has two stars there are greater expectations, and I must meet those expectations, so that is hard work."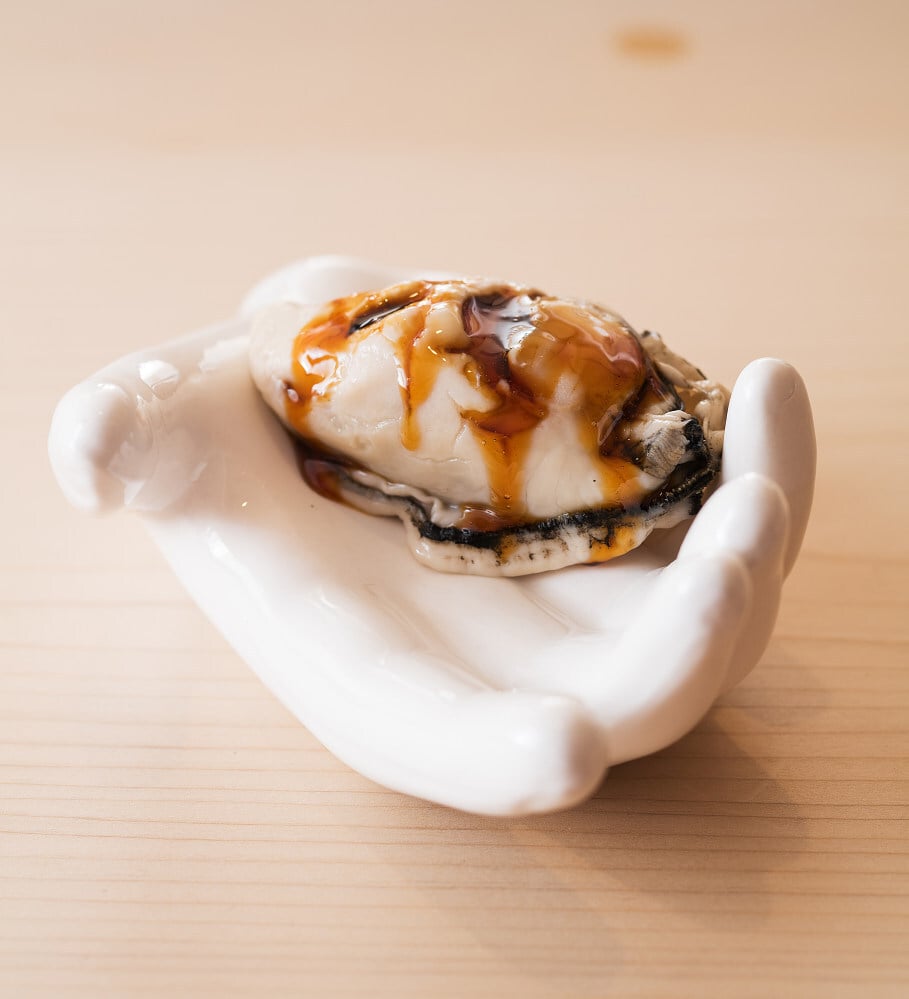 Unusually for a fine dining restaurant, one of the courses at Sushiyoshi features Sprite. What's the story behind that? "It's Sprite with lobster jelly. Once when I was in Thailand, I met up with some locals. They took a lobster, killed it and some liquid came out of it. People usually discard the liquid, but one of the guys told us to collect it and the liquid coagulated into a gel. They added Sprite to it and then drank it like a shot. They say it gives people energy. To be honest, I don't know what that liquid is.
I experimented with all kinds of soda water and tonic water, but Sprite tastes the best. I open a can of Sprite in front of the guests and pour it into shot glasses with lobster jelly. When you are in a fine dining restaurant it's surprising to have Sprite on the menu. But I want guests to see that disparity and make them realise they can have Sprite in a fine dining restaurant. It affects their experience."
How has the pandemic affected you? "When I opened the new Sushiyoshi restaurant, in Taipei, in April last year, my staff in Hong Kong and Osaka could not come over to help me due to the pandemic, so I had to rely on myself to manage everything. I also started using more Taiwanese ingredients because I was impressed with them.
Taiwanese guests may expect Japanese ingredients in my restaurant, but I didn't want to waste the opportunity to use local ingredients. This is my new style now. Before, I would think of the menu and then find the ingredients, but now I see what is available and then create the dishes. Before, I liked only sushi, and not really cooking. But now I love cooking, too."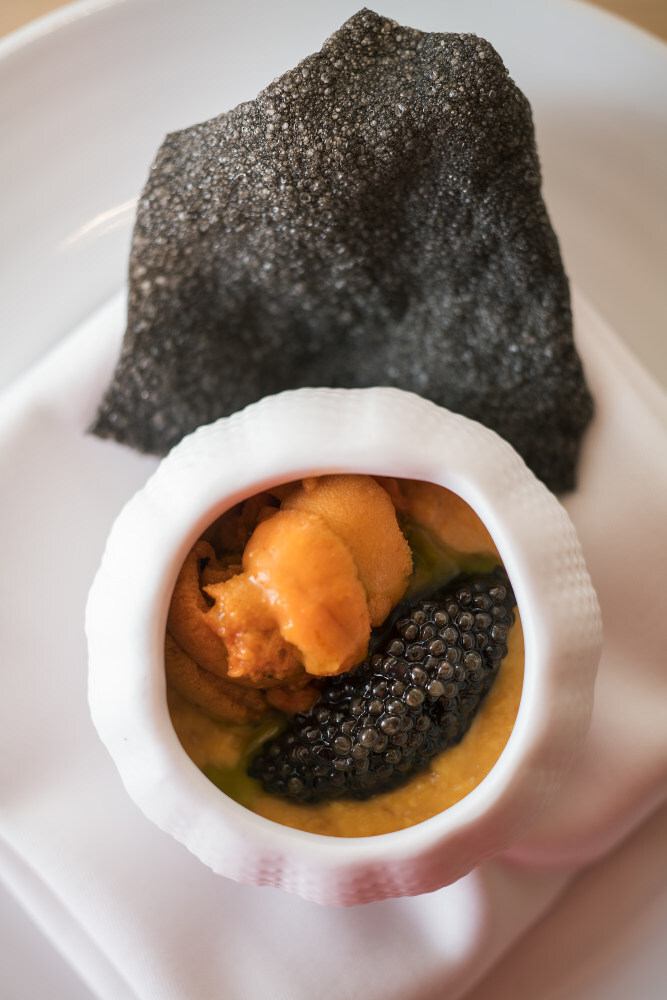 What did you learn to cook? "I like eating the Korean food, Chinese food and Taiwanese food in our staff meals, and, of course, Japanese food. I also like to eat Italian and French. If I don't understand how to make a certain dish, I ask my Italian and French chef friends. I learned how to make gougères [savoury choux puffs] last year. In Osaka, I met a chef in a French restaurant and I gave him some fresh cream and he showed me how to make gougères. I add uni powder to my gougères. I thought of uni because the sea urchin in Taiwan is very nice."
Do you have a favourite ingredient? "Last year in Taiwan I dis­covered locally grown cacao. When I tried it, I really liked it and was surprised it was so good. I put it in my desserts and the guests really appreciate it."
You spent three weeks in quarantine in Hong Kong. What was that like? "Every day I ate, slept, drank, watched TV and movies. I'm usually so busy and flying around so this was a good three-week break. As soon as I finished quarantine the first thing I did was go to a hair salon to dye my hair pink. In Hong Kong, I see so many customers I haven't seen for a while and they are so happy to see me, so I want to be here for a while."