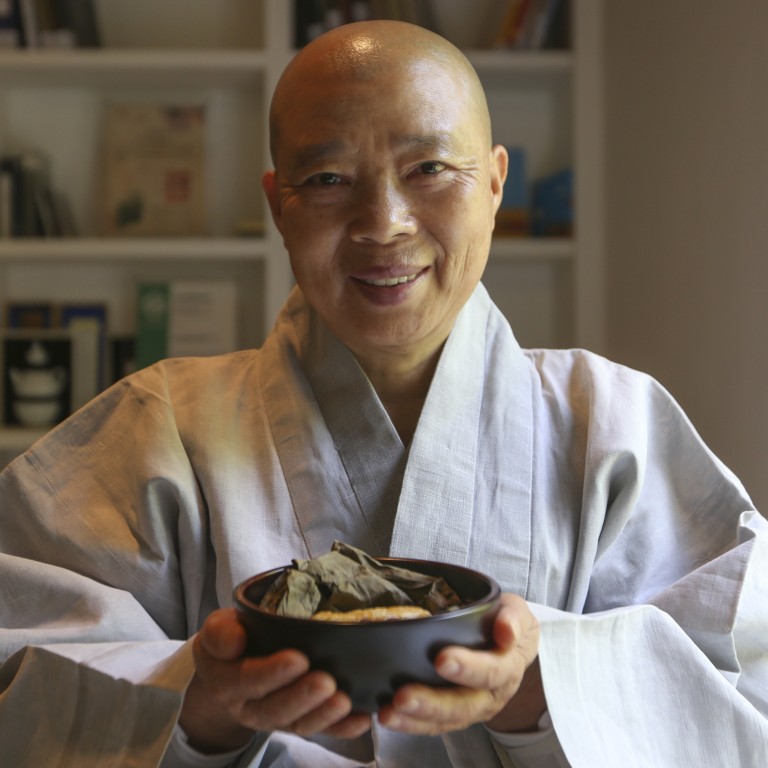 Korean temple food and how to make it – Netflix star and Buddhist nun Jeong Kwan celebrates its healing powers
In her vegetarian cookbook Baru, Jeong Kwan says food has a deeper purpose that can enrich the body and mind
Her recipes include bibimbap for Buddha's Birthday, cold lettuce soup, and rice with tofu, burdock and shiitake mushrooms
The venerable Jeong Kwan is probably one of the most recognisable seunims (Korean Buddhist monks or nuns) in popular culture. She came to the notice of television viewers when she appeared in a beautifully filmed episode in season three of Netflix show Chef's Table, which saw her preparing Buddhist vegetarian food in the idyllic setting of the Chunjinam Hermitage of Baekyangsa Temple, in South Korea.
Her cookbook, Baru (2019) – the name refers to the wooden bowl from which monks eat – is worth seeking out, although it won't be easy; if you have friends in South Korea, they might have a better chance.
Jeong Kwan
left home to become a Buddhist practitioner at the age of 16, and, as she writes in the introduction, living in a monastery was challenging at first: "As a young novice, my first position was in the kitchen, helping prepare the daily meals for members of the temple. The temple kitchen was strict. There were no direct instructions, and so I had to rely on my senses and understanding to learn the way of the kitchen [...]
"Kitchen work requires attention and the careful handling of all ingredients and tools; otherwise it can be a dangerous place. I was a young novice, with little to no knowledge about cooking, but with great curiosity and energy. As can be imagined, I was quite a handful for the more experienced practitioners working with me. However, even though very young, I did not always accept everything that my teacher told me with a grateful heart; it has taken time to realise that her teachings were those of Buddha, exemplifying the best Dharma: compassion for all beings.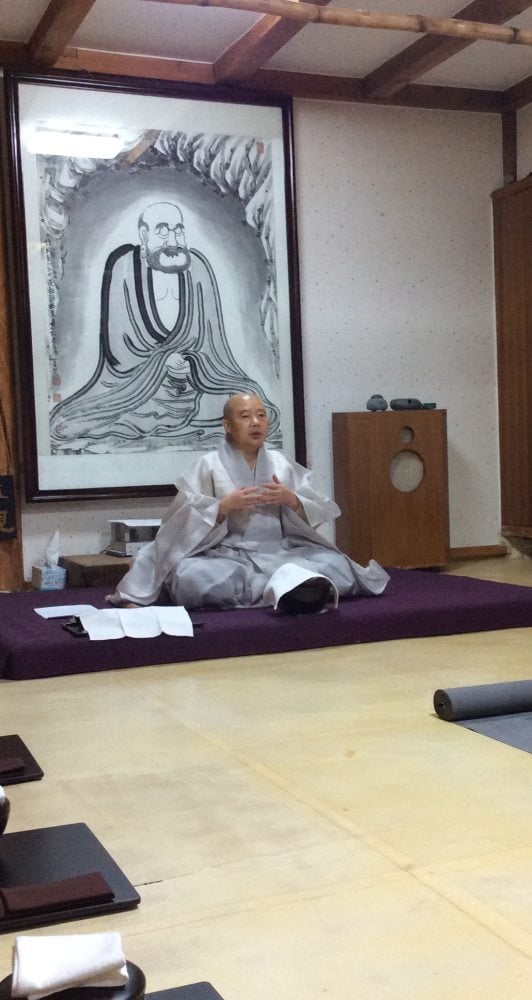 "Since those early years, I have also learned the preciousness of sharing meals together with people, and with all beings. In fact, the temple kitchen was and continues to be a classroom that teaches me how to appreciate everything: the world and all beings in the universe.
"The foods we eat is the crystallisation of life made possible by the cooperation of four elements: earth, water, sun and wind. In Korean Buddhism, eating a meal is called 'making an offering'. Thus, when inquiring whether someone has had a meal or not, Buddhist practitioners ask, 'Did you make an offering?' I have come to understand that a true offering is realised, not when I eat for myself but when I serve others with the energy of good food. It then follows that if we do not eat correctly, then our bodies cannot be healthy. If our body is not healthy, then all that we do with the body is off balance and not sound."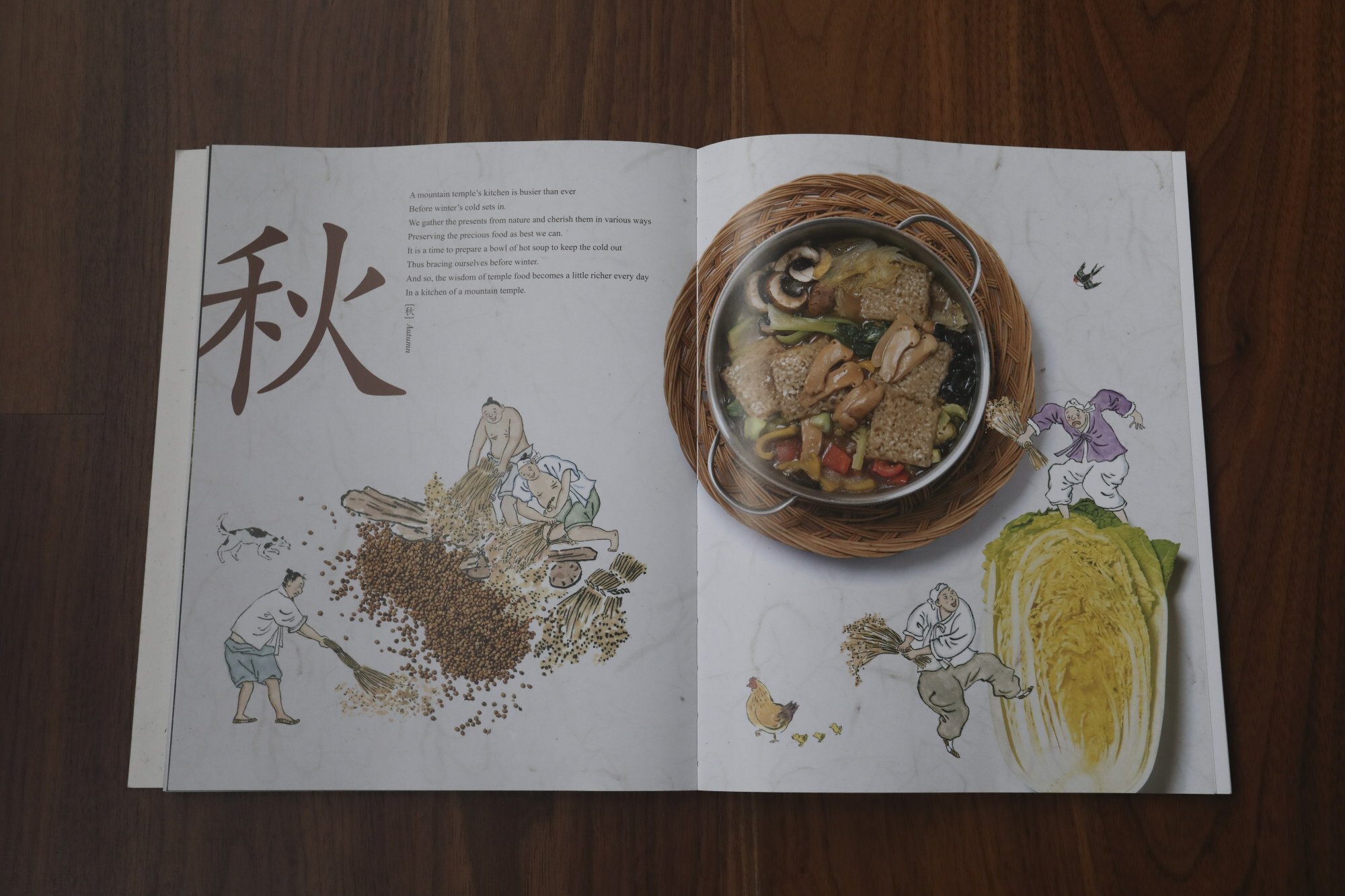 Each recipe in the book comes with a QR code that takes you to a YouTube video of the seunim preparing the dish. The recipes include bibimbap for Buddha's Birthday, roasted walnut and pumpkin seeds with lotus root, roasted rice soup with pine mushrooms, apple and tomato kimchi, seasoned gourd, bamboo shoot salad with mustard dressing, cold lettuce soup, watery kimchi with cucumber and pomegranate, mung bean pancake, summer napa cabbage kimchi, barley hot chilli paste, and rice with tofu, burdock and shiitake mushrooms.