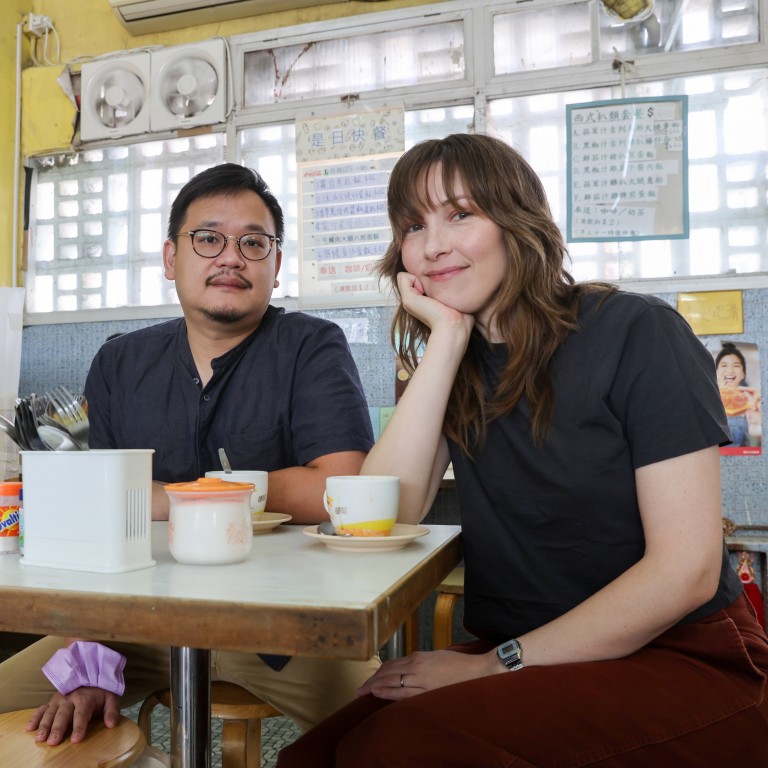 What food tells you about a person that words can't – foodie film couple on their obsession, and building movies around it in Hong Kong
Food reveals things about a character that dialogue cannot – one reason filmmakers Leung Ming-kai and Kate Reilly use it in movies
Over a late breakfast at a cafe on a Hong Kong public housing estate where part of their next movie will be shot, they talk about their own love of food
The late morning sun streams into the Silver Cafe in Wah Fu Estate, the housing complex built in Hong Kong's Southern district in the late 1960s that was once upheld as the blueprint for low-cost public living.
The lazy din of elderly residents swapping gossip with the affable staff hums in tandem with the clink of milk-tea cups on saucers and the scrape of metal cutlery on melamine plates.
Ceiling fans whirr above as the three of us – American filmmaker Kate Reilly, Hong Kong filmmaker Leung Ming-kai and myself, squeezed into a tiny booth made for two – ponder the possibilities of breakfast.
Too late. At 11am, we've just missed the cut-off for the morning value combos, but Leung orders a bowl of satay beef instant noodles anyway, and charms the cha chaan teng auntie into giving him an omelette on the side ("Only for breakfast!" she barks at first when he tries to order it, but then slyly slides a plate over a few minutes later).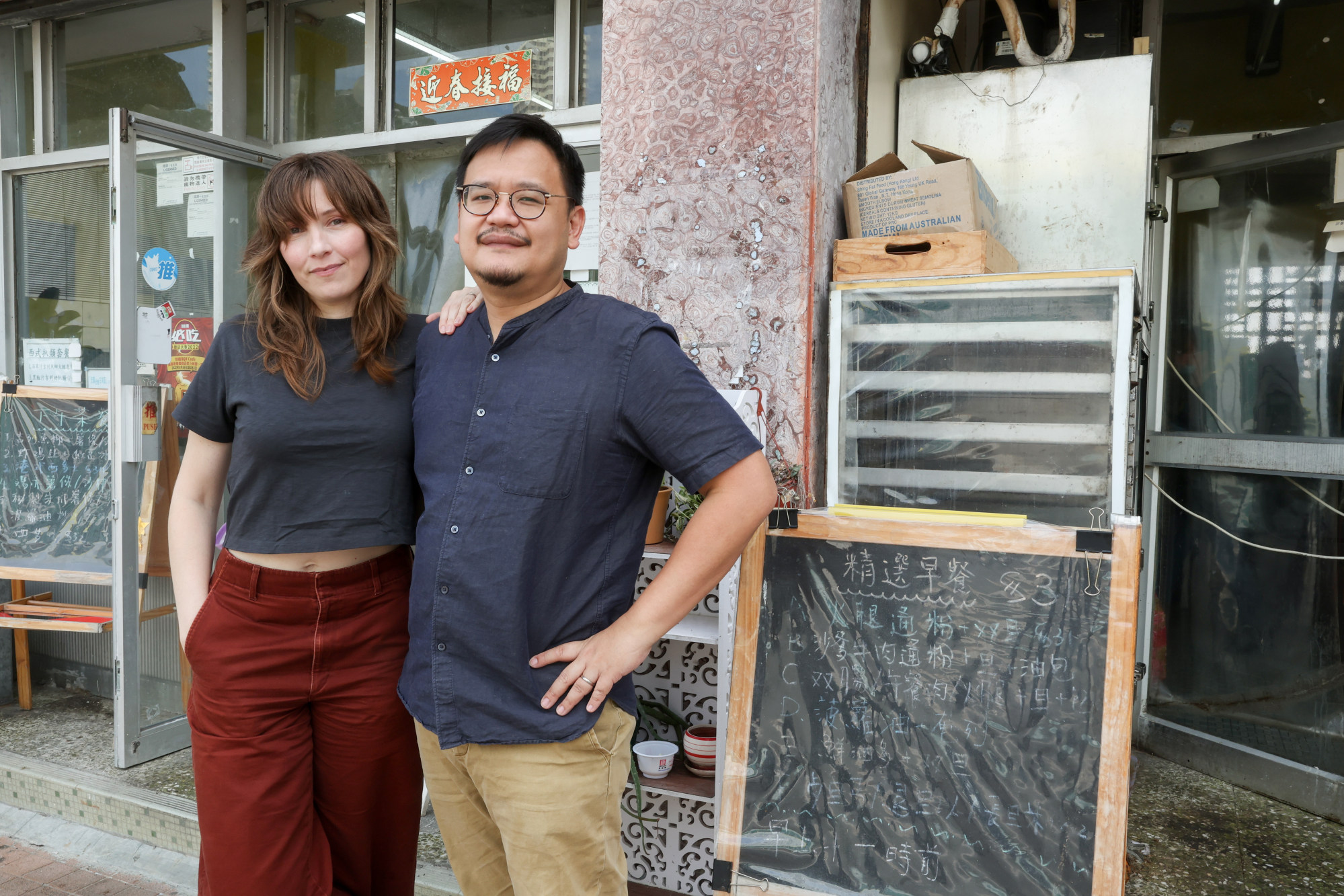 Leung and Reilly are both food fanatics. Leung studied filmmaking at Columbia University, in New York, which is where the two met, in 2003, on the set of an Anocha Suwichakornpong film – Leung was shooting for the Thai director while Reilly was one of the actors.
They later became roommates and eventually husband and wife.
"I do think breakfast is a place for indulgent vices," says Reilly, who has gone off-piste with an order of scrambled eggs with char siu and bitter melon on rice.
"I love a really unsubstantial butter roll from the bakery downstairs, or Indomie [instant noodles] with fish cake and fried egg. All the diner standards are so awesome."
The couple moved to Hong Kong in 2015, (re)building their flavour map of the city – it is where Reilly finally experienced decent, gossamer-thin cheung fun rice noodle rolls, and Leung reunited with proper Hong Kong-style milk tea.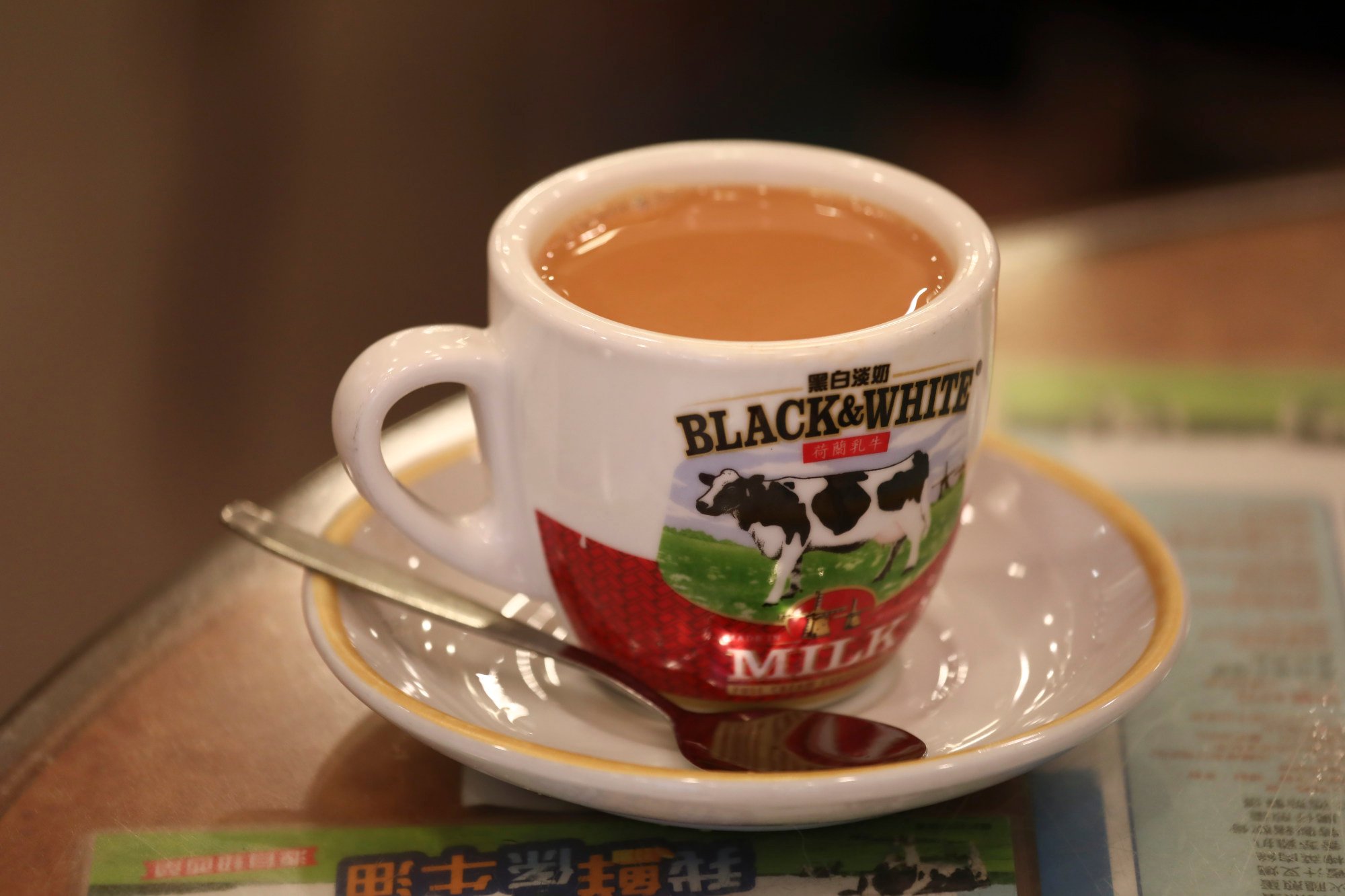 At Silver Cafe, we consciously don't order
yuen yeung
, that puzzling combination of instant coffee and strong tea, even if it would have created a natural segue into their 2019 film,
Memories to Choke On, Drinks to Wash Them Down
– a bittersweet quartet of stories about Hongkongers, both fictional and real, and the slow burn of nostalgia.
The Chinese title of the film references yuen yeung as part of a trio of phrases (which includes "Sham Shui Po" and "night fragrance", a euphemism for night soil), an esoteric staccato of words that hint at the stories to come.
A favourite on the film-festival circuit, Memories to Choke On went on to win best screenplay at the Hong Kong Film Critics Society Awards (HKFCSA) in 2020. It recently debuted on Netflix in Hong Kong and Macau, and was launched on iTunes in major markets including the United States, Britain and Australia.
"The film acknowledges our difficult situation while refusing to be drowned by sadness," notes the HKFCSA. "Familiar little pleasures and tiny exchanges of sentiment converge and become something glorious."
Reilly stars in the film as Ruth, an expat teacher, opposite local heartthrob Gregory Wong Chung-yiu, who plays the role of John, colleague and de facto food guide, with a guarded insouciance.
Together they explore the city's foodscape but never quite act on their feelings for each other. The storyline jolts forward and backward, making it clear their relationship is on borrowed time.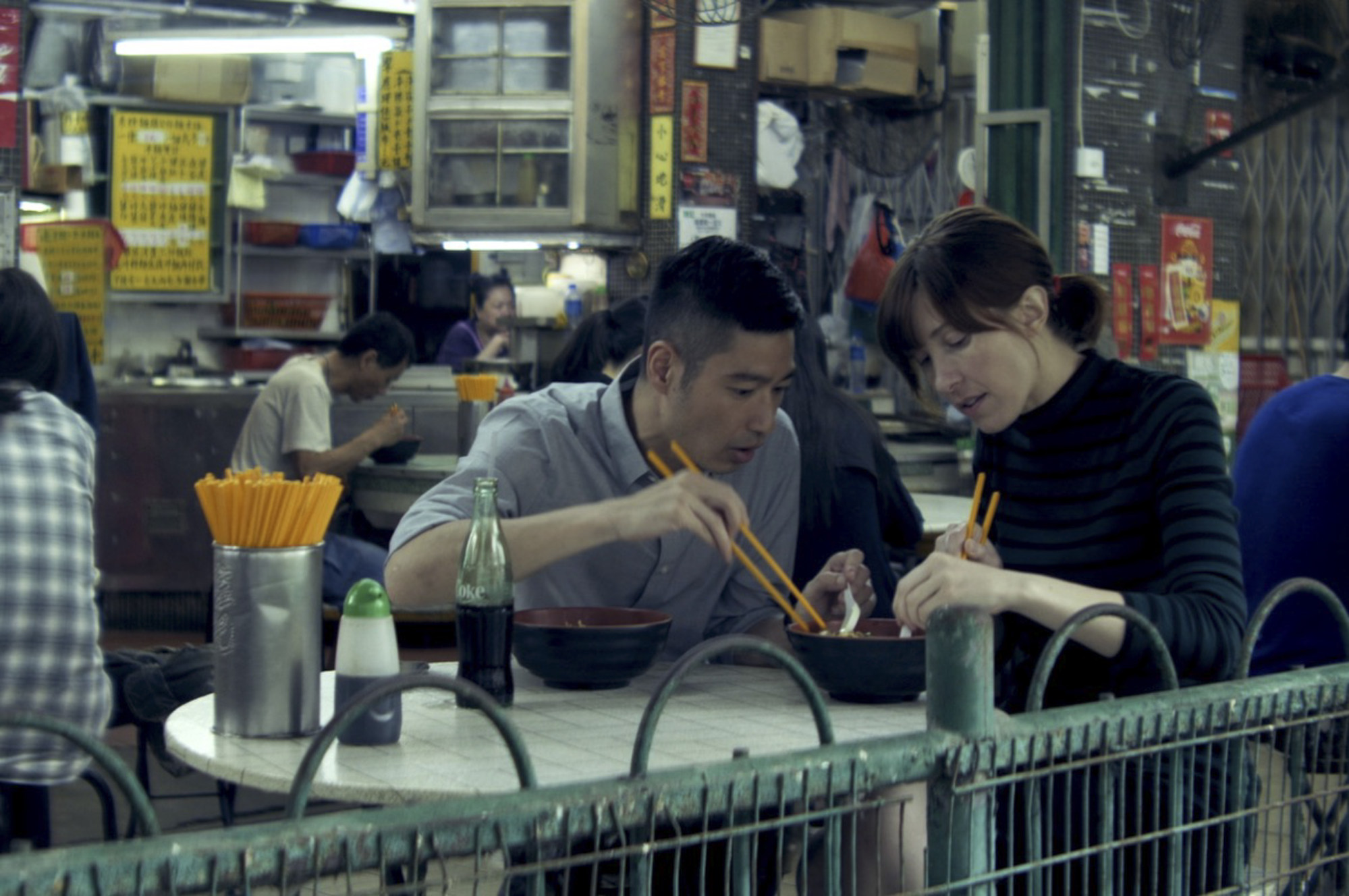 On her last day, Ruth declares her devotion to yuen yeung, wearing it proudly as if it were a trophy for Most Integrated Expat, but does not tell John that she might miss him, too.
"Yuen yeung was the start of it," says Leung of the storyline, referring to both the drink itself – which symbolises the clash of cultures – and the legend of the mandarin ducks that mate for life.
"Structure-wise, it's a bit adventurous, too. It's episodic, and we love jumps in time. The story depends on these two people's charm," says Leung.
The two characters bond over multiple meals, including
cheung fun
and an oozing salted egg yolk custard-filled French toast at a cooked food centre (incidentally,
Hong Kong-style French toast
was one of the first dishes Leung cooked for Reilly before they started dating).
When conceptualising that particular section of the film, Reilly and Leung had already intended the plot to largely revolve around cha chaan teng, and to use yuen yeung as a resonant focal point.
"Some people have written reviews like 'that's such a cliché, that drink', but that's the point," Reilly says. "[Ruth] is like 'East meets West!' and [John's] like, 'it's just a f***ing drink and nobody likes it here.' She's being romantic, but about very different things."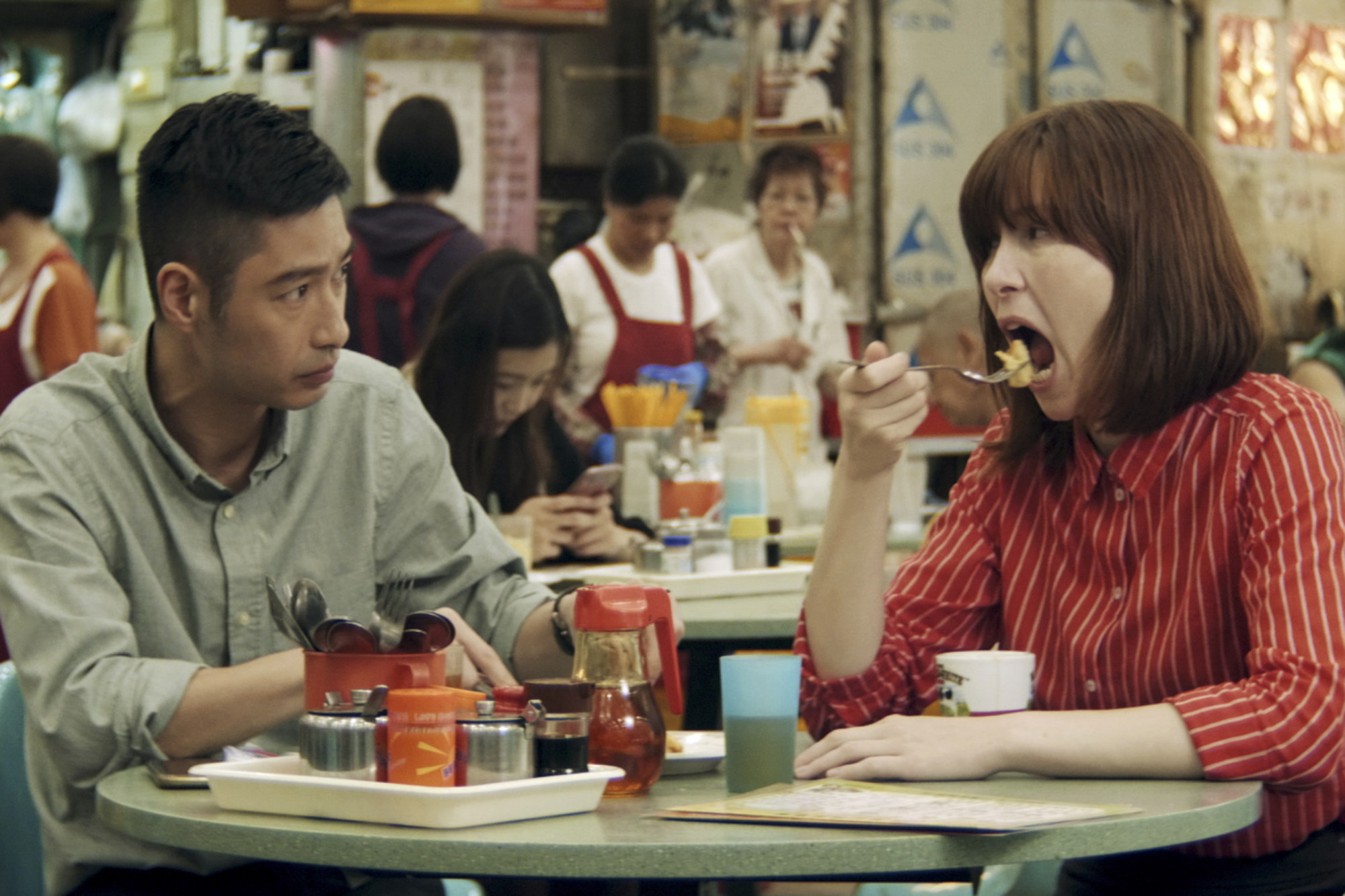 To them, Ruth's obsession with yuen yeung – and, by extension, what she perceives to be Hong Kong's quirks – is a metaphor for the surface-level relationship that many expats have with the city.
"They show up, they're excited. Everything's amazing, I love the food. And then they don't engage back into local culture," says Reilly, while admitting it "is difficult to do if you don't have someone in your life who's local". But "that kind of attitude is foreign to me. It's painful and very frustrating to watch".
Reilly and Leung are now putting in the footwork to fund their next film, Pretty Wealthy, which is set in Hong Kong in the early 2000s.
"It's a coming-of-age story about a middle-aged playboy who falls in love with an older woman," says Reilly. "It takes place in Mong Kok record stores, underground clubs à la Hidden Agenda, and the Wah Fu housing estate."
The Chinese title of the film is a direct reference to Wah Fu Estate, which is how we found ourselves in Silver Cafe, reminiscing about diner fare and what our food choices say about who we are.
Food can be immensely personal, and there's a reason it works in film – as a tool to reveal things about a character that cannot be encapsulated purely in dialogue.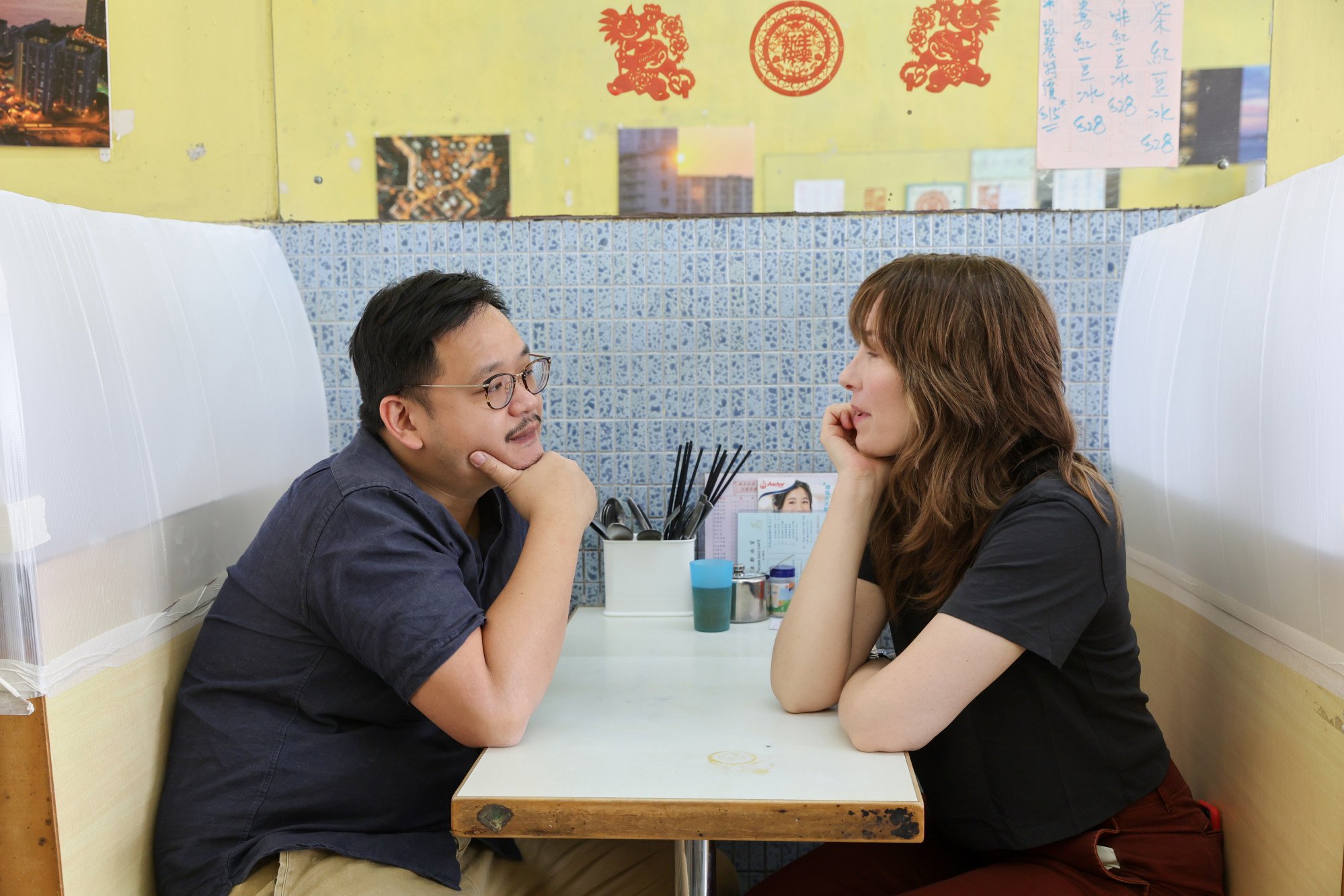 The film is set in a time when Hong Kong's nascent indie music scene was on the rise. One of the lead characters is a record-store employee in Mong Kok's Sino Centre by day and Lothario by night. But when it comes to food, he is not your typical instant noodle-fuelled frat boy, laughs Reilly: "His body is a temple."
In between bites, Reilly explains how they fleshed out the character. "In terms of the food that this character cooks, it stems from how he was too lazy to learn an instrument when he was young," Reilly says.
"So he likes working in the record store, where he's a god among the uncles. But he's one of these guys who always needs to have something else, like another skill set."
"Middle-aged men always want something to be nerdy about," adds Leung, laughing. "Right. And so the way he can dazzle people is by cooking, and cooking well," Reilly says.
"Maybe because people like him are not good at building lasting relationships, they really like the trappings of home life because they don't get that from human connection. They really get into having their framed posters and nice coasters.
"This guy is more into, like, making a really nice pasta. When he makes carbonara, it's carbonara – it's not cream, it's egg. So that's what he brings to the table."
For now, the plates have been cleared and we give up our tiny booth for the lunchtime crowd, but for Reilly and Leung, there are still many more stories to be told, and drinks to wash them down with.
Kate Reilly and Leung Ming-kai's taste map of Hong Kong
Agape Garden 膳心小館 (Shek Kip Mei Estate, Sham Shui Po): "They have the best soy-sauce noodles we have ever eaten. The wok hei – that complex aroma that results from wok-frying food – is incredible. Every couple of days I yearn for these noodles.
"We also love that it's part cha chaan teng, part convenience store, part central location for seasonal treats like mooncakes."
Sister Yung's Stone Milled Cheung Fun 濃姐石磨腸粉 (62 Shanghai Street, Jordan): "The greatest cheung fun I have ever had, we are both wild about it, and we really like the couple that runs it. They also stock additional products from other producers, such as excellent milk tea."
Chulo Nepalese Home Cooking (171 Shanghai Street, Jordan): "My friend Yukiko introduced us, and now we eat there as often as possible. Some of Chulo's dishes have flavours we had never tasted before, being relative newbies to Nepalese cuisine, and others are more familiar.
"We love the aunties who run it. It really feels like a family kitchen. Chulo also has excellent meal options whether you eat meat or not."
Pak Muslim Curry House (6 Ping Fu Path, Kwai Chung): "It's excellent food, with incredible depth of flavour. Well-prepared meats are the star, but vegetable dishes are really tasty as well.
"Since working together on Lau Kok-rui's upcoming film The Sunny Side of the Street, which is partly about Pakistani Hongkongers, Kai and I are more engaged with Pakistani culture here. And lucky us, Pak Muslim Curry House is just a short walk from a lot of the production offices and studios in Kwai Chung and Kwai Hing."
Ahimsa (10 Fort Street, North Point): "It's an equal balance of really great vegetarian food. They do all the Hong Kong standards well and you don't miss the meat.
"I remember my first couple of visits there. It was like a mix of bodybuilders, some Buddhist nuns – all of these very different subcultures coexisting in a way that is very peaceful. And also they contribute to a lot of charity."
Friends of Years (20 Sam Pei Square, Tsuen Wan): "Years is our comfort place. The food is great and the people are nice. They actually go beyond just vegetarian food – their Thai food is excellent."
Black Window (83 Tai Po Road, Sham Shui Po): "You can tell that the people there really are vegan, who know how to cook vegan food that's balanced. It's not a gimmick, but very thoughtful. And they have completely different ingredients and palates from different parts of the world."
As told by Kate Reilly