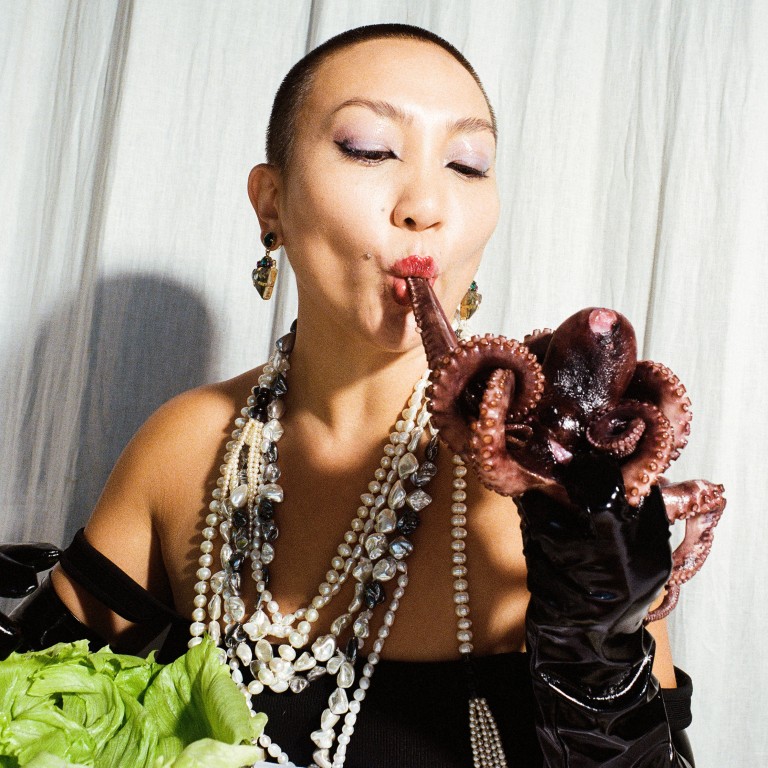 'People love to step outside their comfort zone': food designer on her edible art and how experiential dining creates talking points
From serving dumplings under a social credit system to testing diners' mental purity through noodles, Alison Tan has made a splash in Hong Kong's food scene
The 'experimental feeder' reveals her inspirations, and considers how experiential dining and pop-up dinners in unexpected places can get people talking
In the belly of one of Chai Wan's many industrial build­ings, Alison Tan – food designer and "experimental feeder" – is busy growing chia seeds into the shape of hands.
Trevor, her curious and docile ginger cat, traipses around the cavernous space as we sit down and wrap our hands around mugs of hot camomile tea.
Tan has been busy preparing for one of her latest pop-ups, known as Savour Cinema, a food-and-film project that pairs an experiential dinner, where courses are designed to reflect selected moments of the screening, with an iconic movie.
Because it is Halloween, she has selected the 2019 Scandi-horror flick Midsommar; there is a sense of the macabre as diners smash into a salt-baked salmon with a hammer during a key scene, or suck marrow from bone set among a bijou salad of barley, herbs, confit lemon peel, shallots and capers.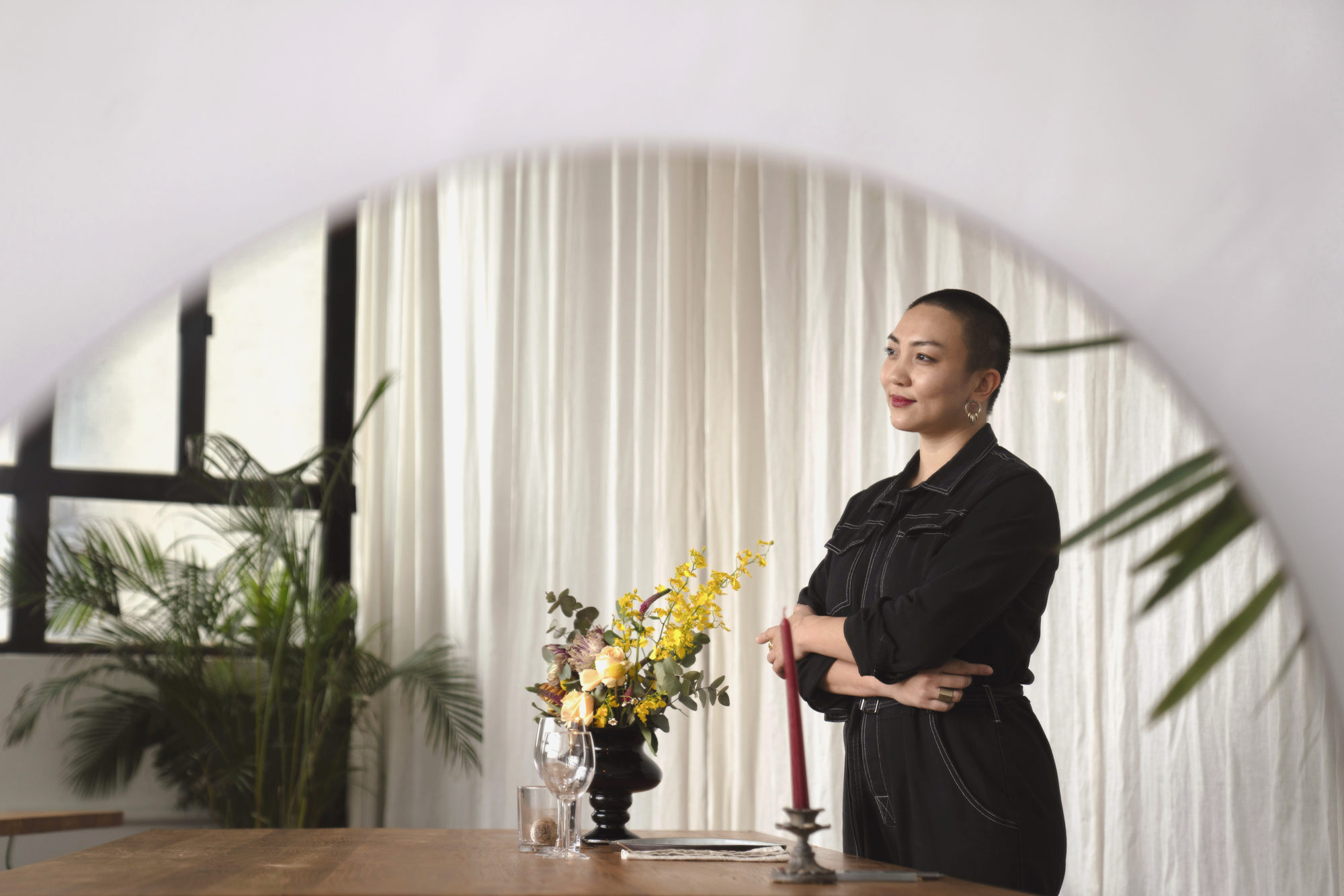 It's the kind of thought-provoking, sensual and highly conceptualised "work" that Tan has slowly become known for in Hong Kong, at a time when diners are lusting for ever more inventive experiences after two years of living in a city that has been closed off to the world – a de facto hermitage.
Since 2019, she has pulled off a number of delightful, if esoteric, happenings, the first of which was an audacious dinner-slash-performance piece held at "Instagram pier" – the cargo dock on Sai Wan's waterfront that inadvertently became one of the city's most popular public spaces.
"It [was] such a good example of how public spaces are used when the government has nothing to do with it – when money has not gone into over-convoluted wayfinding and benches," says Tan.
"Like, here's a space that is so alive and so beautiful, used every night."
It was 2019, the summer of Hong Kong's social unrest, and Tan took the opportunity to create a talking point.
"I thought that was a perfect time to have dialogue about how we can utilise what we're entitled to in public space," she says.
"And so I was like, why can't I go and just set up a pop-up dinner? Who will stop me? And that became part of the project in itself."
The dinner project was dubbed The In Between Palace, and consisted of a portable kitchen that Tan built, along with table settings inspired by the Hong Kong aesthetic – cushions upholstered with the city's ubiquitous plastic red, white and blue bags, furniture crafted from foraged pallets from the dock.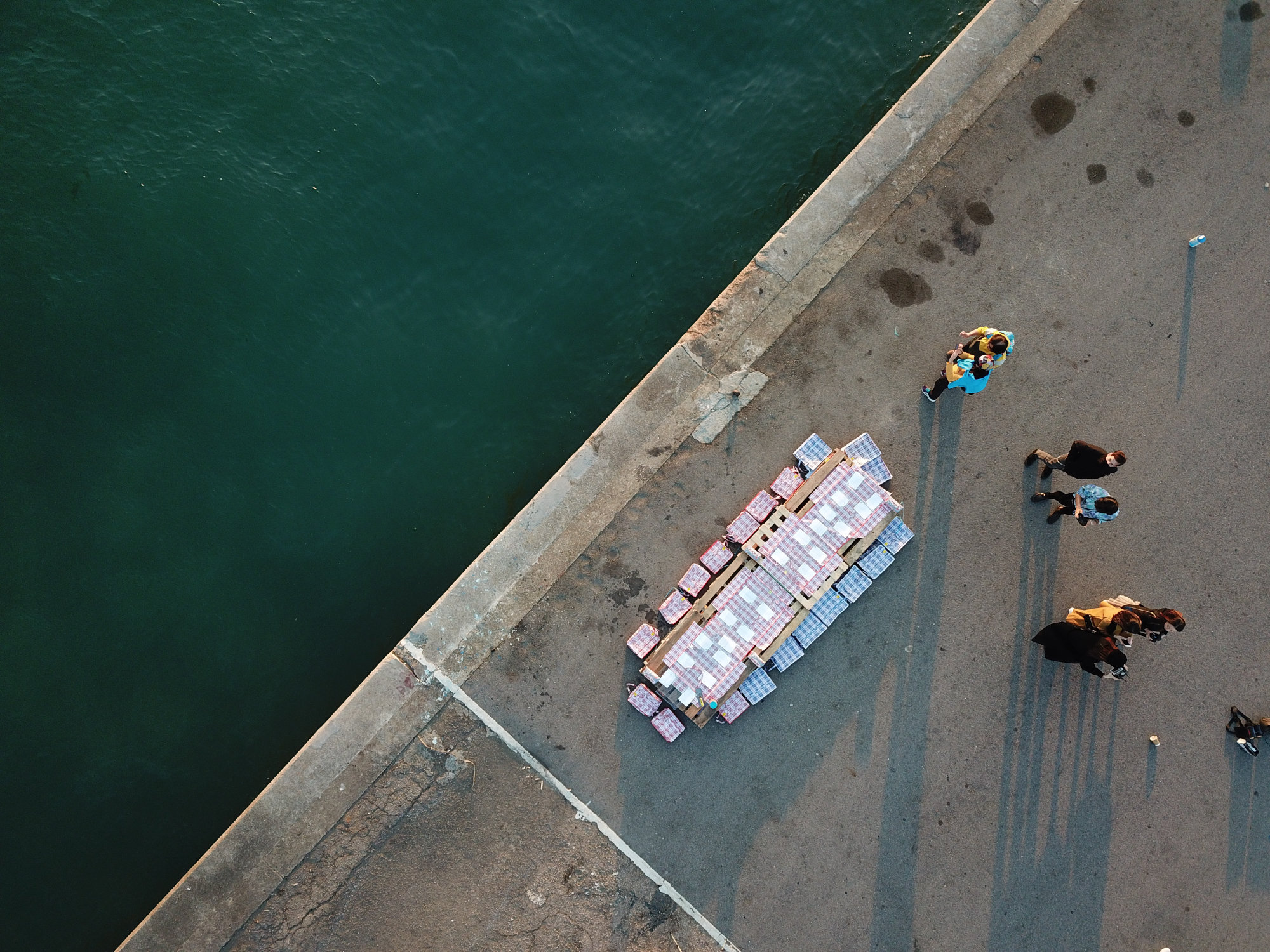 "What if a kitchen was a time machine?" she thought. "And each dish [represented] what would happen in a different outcome for Hong Kong?"
For one course of
xiaolongbao
dumplings, diners were linked up and their hands tied together in different formations – the idea being that they had to cooperate with each other to ensure that their neighbours would be able to eat comfortably.
Another element Tan introduced was the idea of a
social credit
scorecard, where diners would be given arbitrary points according to their answers to specific questions: are you married? Have you walked 10,000 steps today?
"From that criteria, your food would be weighed. So some people got no food. Some would get massive portions. What we were hoping for was that food would be shared," says Tan.
Parts of The In Between Palace has echoes of a 2005 "Sharing Dinner" installation by pioneering Dutch food designer Marije Vogelzang, who Tan cites as having a powerful influence on her career trajectory – perhaps even being the catalyst for the work she does today.
Vogelzang was in Hong Kong in 2016 to give a talk at Business of Design Week, a forum for design-related ideas, and Tan was in the audience – "flabbergasted" by how she explained how to take design thinking and skills and apply them to edible media.
Tan describes how Vogelzang had the audience in tears when recounting one of her performance art pieces, titled Eat Love Budapest, where, in the Hungarian capital, women from the Roma minority ethnic group – hidden behind white curtains – fed visitors food as well as their life stories.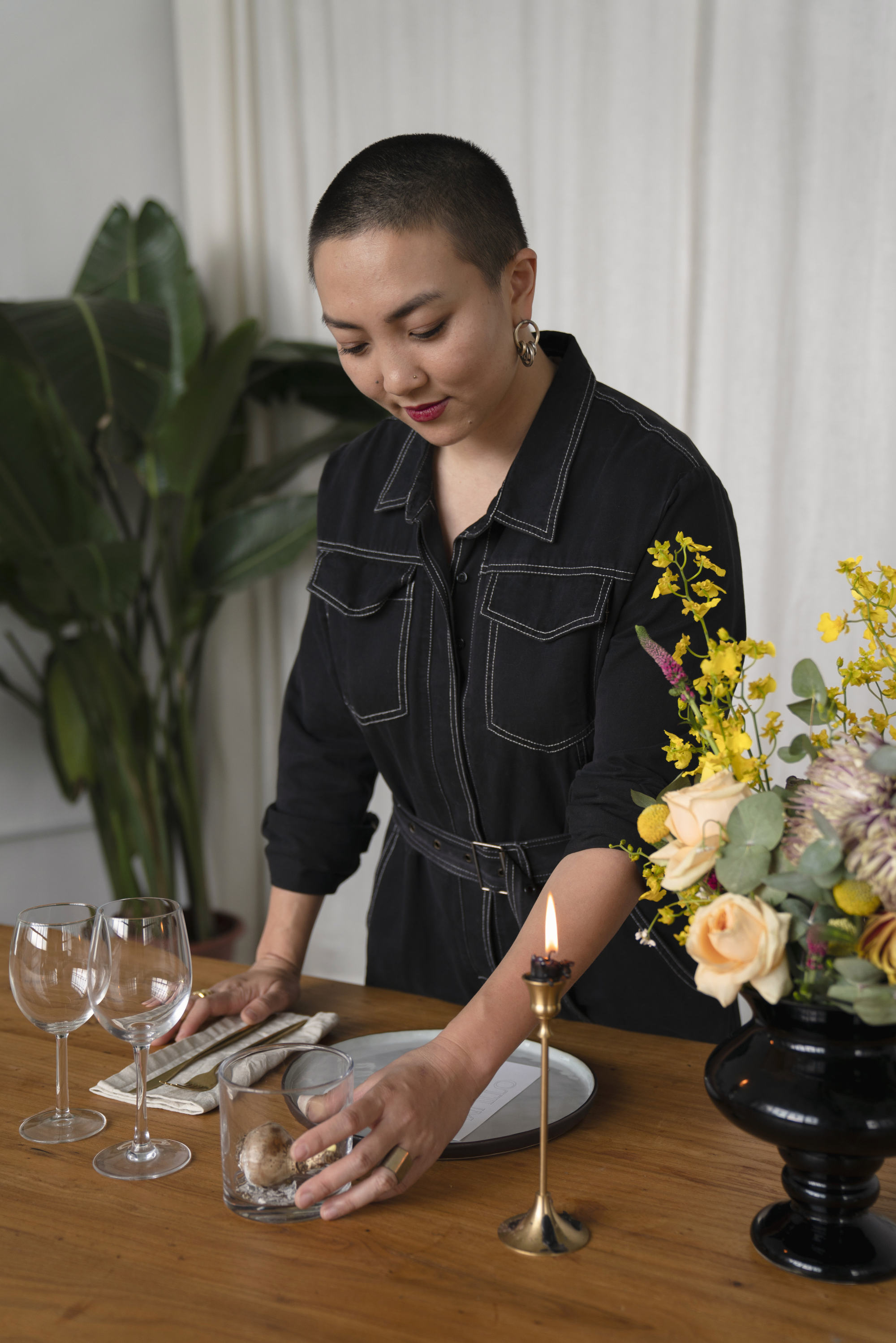 "It was so moving. I saw grown men dabbing their eyes," Tan recalls. "And I was like, 'this is exactly it.' I've always loved to feed people, but now there's a framework for this impact that I've always wanted to explore with food."
Originally, Tan planned to enrol in the Cordon Bleu culinary school in Bangkok, Thailand, to sharpen her cooking skills; but then Covid-19 hit in 2020, and she decided to put the money that was going to pay her tuition into taking Vogelzang's online course, called Food Non Food, at the Design Academy Eindhoven.
And then she started doing events.
With her closely shaven head, wide grin and relaxed confidence, Tan radiates a powerful energy that hints at the furiously firing synapses behind her eyes.
"I tend to operate like I want to do something. If no one's invited you to the table [ …] you just build your own smaller table and you can kind of go from there," she says.
"I don't feel a lot of nervousness when it comes to trying to put something on because I've always hacked it. I went to art school, so it's like constantly improvising and trying to DIY things with few resources."
Tan, who was born in Kansas in the United States, and raised in Delaware, Shanghai and Singapore, holds a fine art degree in studio art from the University of Pittsburgh, where she fell in love with performance and installation art.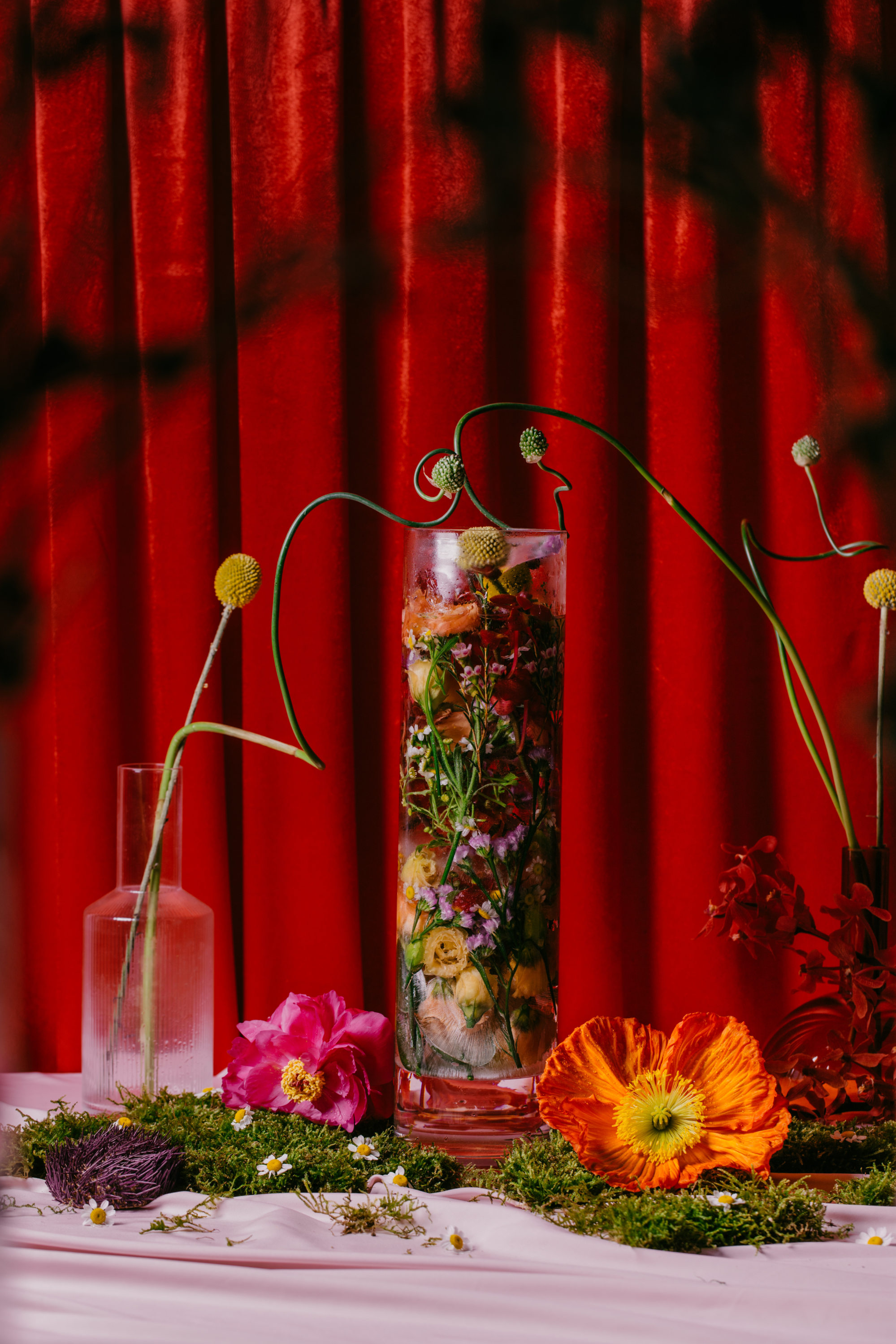 She breaks into laughter when recounting her early projects – a fellowship-funded solo show, for example, where she filled a room of sculptures constructed using various raw and dried meats.
"The show was on for one day because, after that, the gallery smelled horrific," she says. "I had not worked out preservation."
Post-university, Tan worked in an art fabrication studio, priming sheets of aluminium for London-based Tibetan artist Gonkar Gyatso; later, she joined the Andy Warhol Museum in Pittsburgh as a gallery guard, quietly observing visitors interacting (or not) with the art.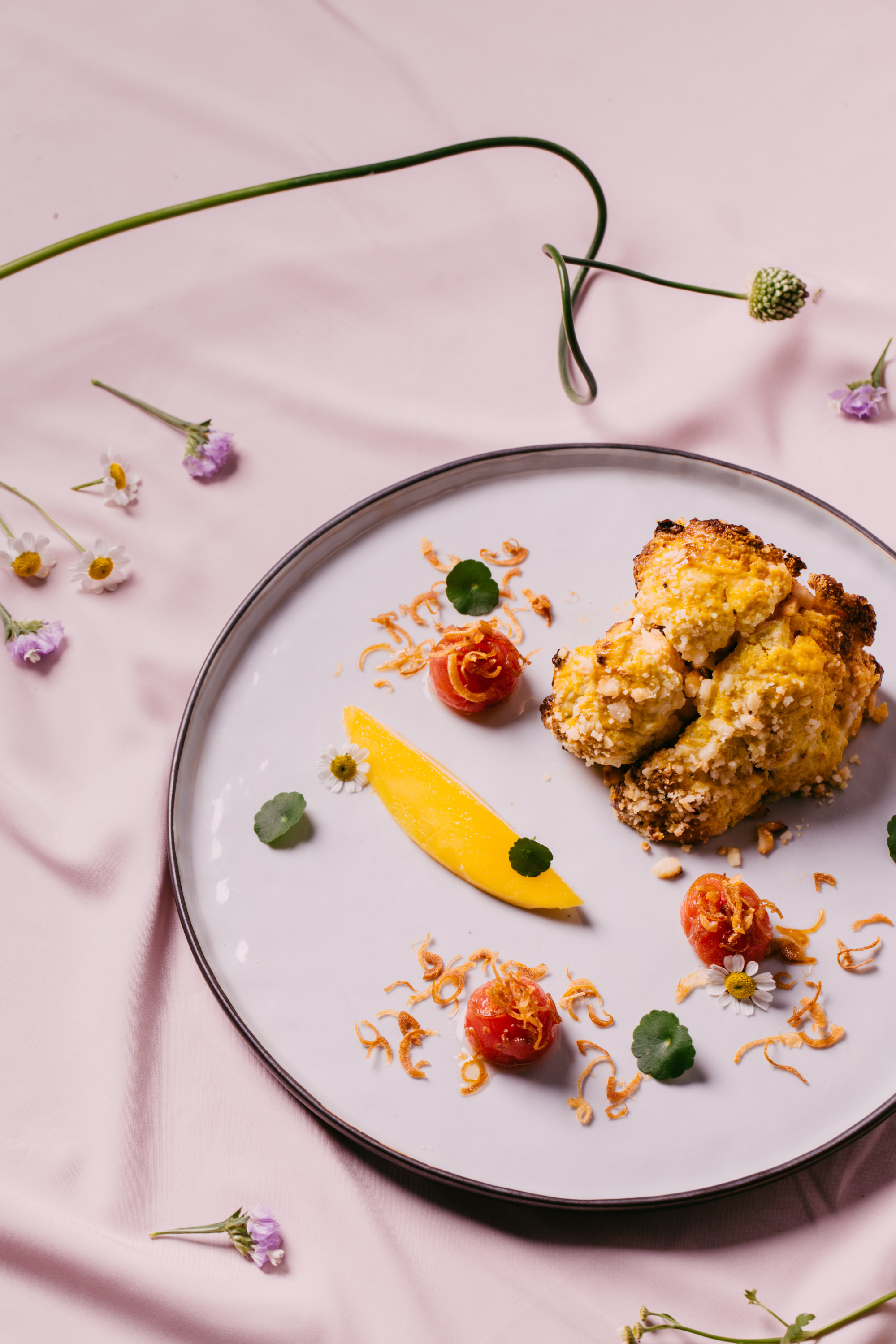 "People have a gallery walk, a museum walk. It's like a really timid shuffle," she says, eyes crinkling in amusement. "And people love to touch. We should have more exhibitions where we can touch everything."
Understandably, Tan's projects are characterised by their intimacy and visceral, engaging interactivity. A recent collaboration with a sex toy company had her creating colourful jelly sculptures that could be used to demonstrate the power of their vibrators.
"I discovered people love to step outside their comfort zone," she says. "People want to challenge themselves. They feel so proud when they've done something out of their normal routines. Also, you cannot look at wobbling jello and not laugh and feel utterly delighted."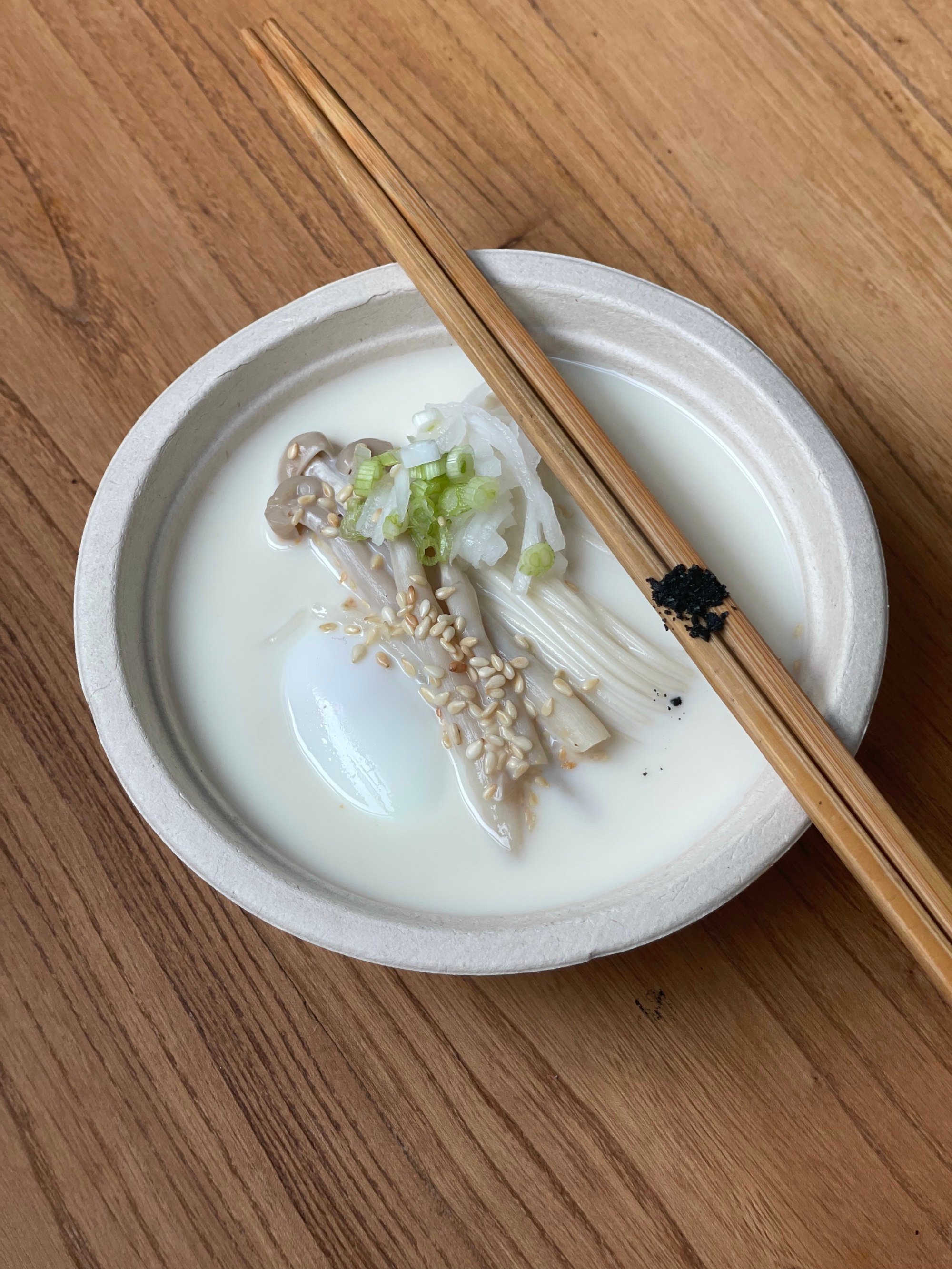 Other projects have been more sobering – for National Day, on October 1, which has always drawn out mixed feelings in Hong Kong for its political sensitivities, Tan created an edible statement as part of a wider exhibition titled "Dichotomy".
Her "Black and White" dish consisted of milky white kong guksu – Korean noodles in a chilled soybean broth – over which a pair of wooden chopsticks, holding a tiny pile of black edible charcoal, were balanced.
"The idea was that in order to engage with any idea, we cannot expect purity of thought," says Tan, describing the impossibility of eating the dish without getting the charcoal powder into the white broth.
"It starts to muddle things, so things are kind of a grey area. If you want to keep this dish pristine white, then, you know, you try to operate around it. But in order to eat it or to engage, you're going to have to introduce the murk to the dish."
In the span of our nearly two-hour conversation, Tan is a flurry of ideas. There is much to work on.
She gives the impression that she can't wait to get her hands dirty again – we discuss the wonderful world of zhong, the lotus-leaf-wrapped rice dumplings that are inspiring her to create a large-scale edible installation; the opaqueness of dining etiquette; and the thrill of eating with your mouth open.
We dedicate minutes to rhapsodising about the miracle and versatility of eggs, which will no doubt feature in a future edible installation or performance dinner.
"I came to Hong Kong [from Pittsburgh] eight years ago and I was worried because I'm new to the space and I thought I should just go back and get an office job," she admits. "I feel so happy that I've spent all of October doing food-related projects that are creativity-driven and gathering-focused.
"What makes me happiest is when people feel very delighted," she says. "A lot of food design is very serious, with very lofty ideals. And I want to be honest with myself – that it's OK if I'm not a lofty ideals kind of person."
"There's not a single person for whom food doesn't hold so much emotional weight," she concludes. "It's the perfect medium."