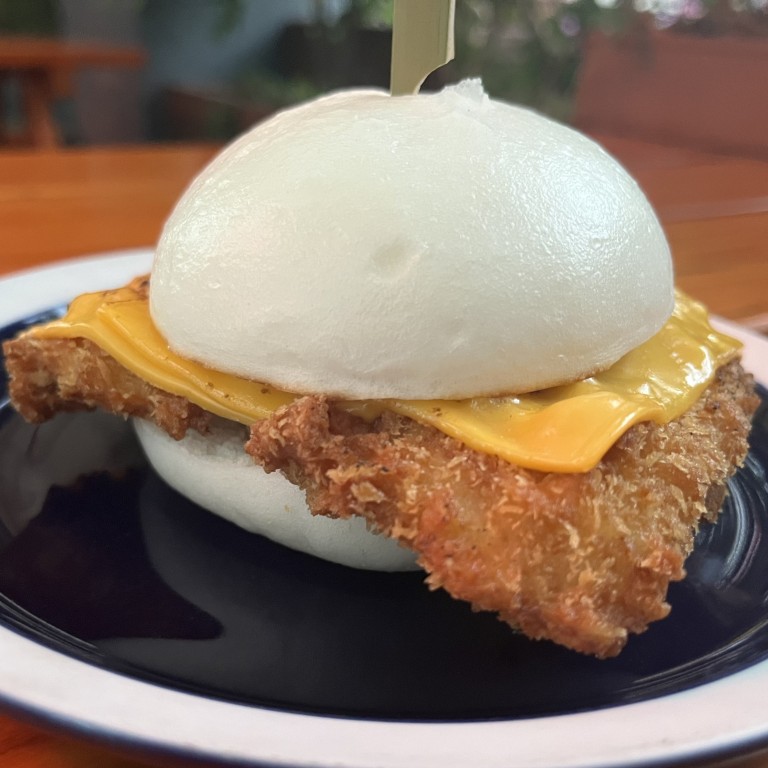 Why gourmet fish burgers, inspired by McDonald's Filet-O-Fish, are having a moment in Hong Kong, and the chefs behind them
Hongkongers ate 22 million Filet-O-Fish last year. Fish burgers aren't just fast food, though, but top sellers at mid- and high-end restaurants in the city
From fluffy, fishy bites at Little Bao to high-end iterations at luxury hotels, we talk ingredients and sustainability with chefs elevating the seafood sandwich
"It's a popular choice," says the waiter of the Fish Bao 2.0 as he gently places it on the table at Little Bao in Hong Kong's Causeway Bay neighbourhood. It makes sense. The chunk of crispy fried halibut, sandwiched in a fluffy bun, is a delight.
Bless you, Jesus.
Just to clarify, while the bao was worthy of worship status, it didn't cause a Christian conversion. The blessing was a nod to the connection between religion and fish burgers, one that stretches back to 1962, when Lou Groen – the owner of a McDonald's franchise in the American state of Ohio – conceived it as a way to boost sales on Fridays, the day when rule-abiding Catholics abstain from eating meat.
Groen's McDonald's branch was in a predominantly Roman Catholic neighbourhood and the Filet-O-Fish – the first non-hamburger item offered by the fast-food chain – became his Friday saviour.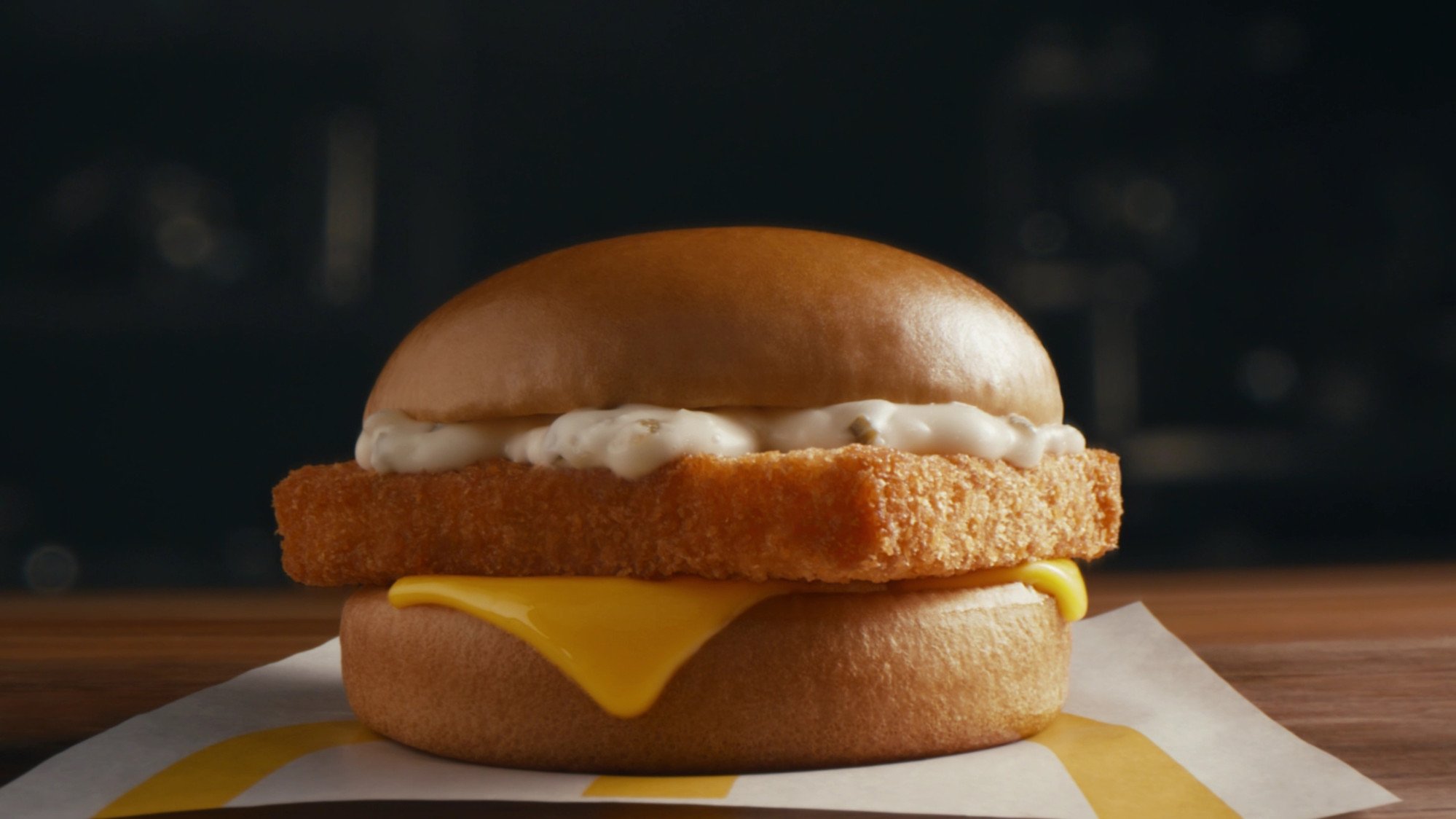 In Hong Kong, the piece of pollock is a bestseller in the city's 245 McDonald's branches. Last year alone, more than 22 million were consumed.
At a Causeway Bay branch of the chain, a table of lunchtime diners say they often indulge in a Filet-O-Fish. Some see it as a healthier source of protein than the chain's hamburgers. Others just like the HK$12 (US$1.54) price tag.
At Burger Circus, in Central, chef James Harrison says its fish burger was inspired by his childhood memories of the Filet-O-Fish, "arguably one of the best burgers created by the golden arches".
It is a popular item, with about 100 sold at Burger Circus per week. Norway-sourced saithe, also known as Atlantic pollock, is used.
"It's from the same family as cod but slightly smaller and often referred to as the 'grey queen of the sea' due to its extraordinary colour and fleshy meat," Harrison says, adding that it is also a versatile fish that retains its natural flavour.
A spice mix of paprika, cloves, nutmeg and bay leaves is added after the fish is fried.
Derek Lim, owner of Power Burger, in Hong Kong's Sham Shui Po neighbourhood, added a fish burger to his menu to satisfy growing demand. "We use Greenland halibut as it gives a much stronger fish taste than cod. The supply is not cheap but it's more about quality."
And, just like the humble hamburger, fish burgers in the city are getting the gourmet treatment.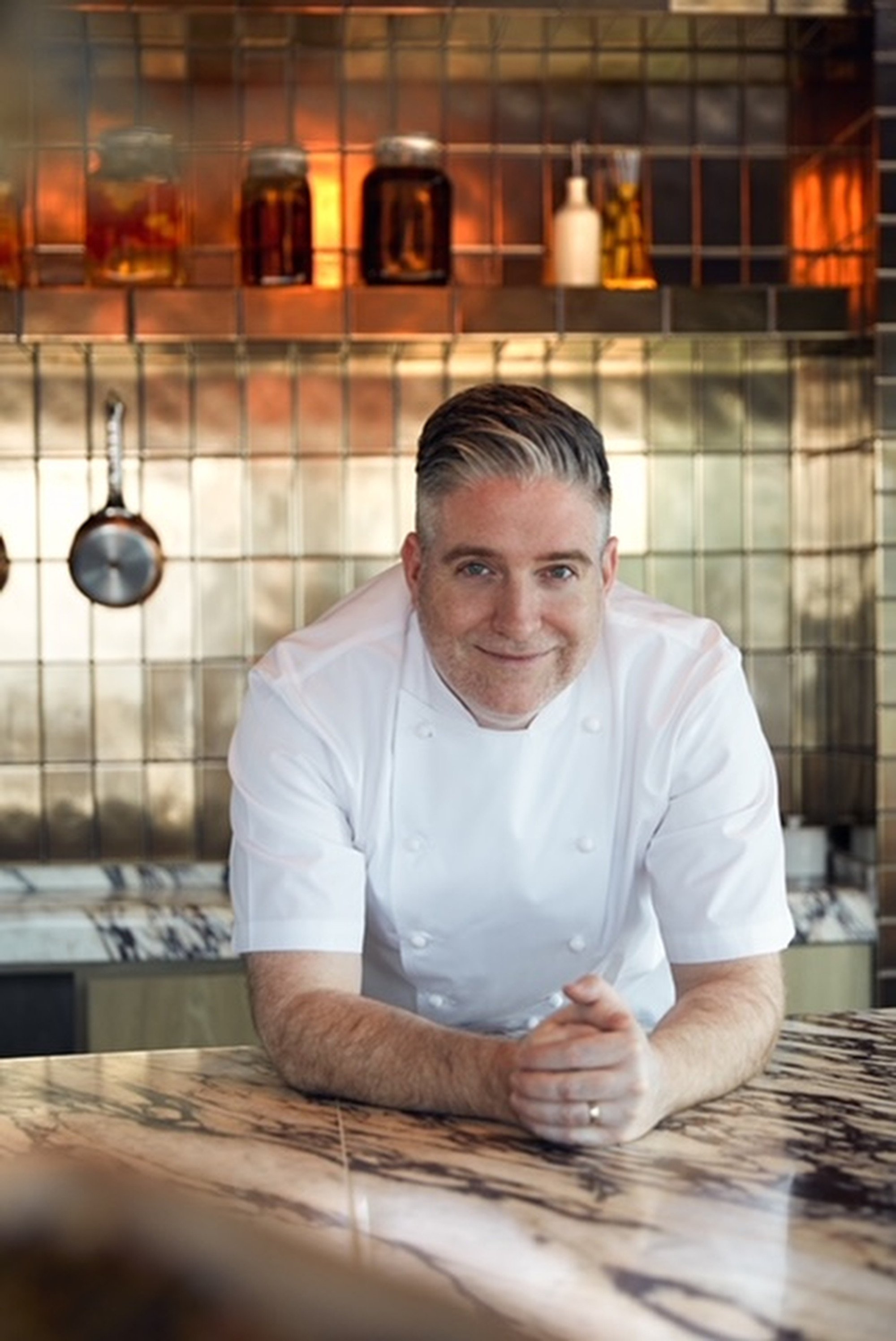 Chef Cary Doherty did it when he was working at the Lobster Bar in Admiralty's Island Shangri-La hotel, where it became a hot ticket. Now at Salisterra, a Mediterranean restaurant in nearby hotel The Upper House, Doherty has added a luxe version of the fish burger to the bar snacks menu.
"It's been elevated by a brioche bun, Dover sole and triple-cooked chips, as opposed to the standard bun and fries," he says. A burger must be cooked to order and assembled fresh to be truly outstanding, Doherty adds.
At The Baker & The Bottleman in Wan Chai, it's the most popular dish, says executive chef Oli Marlow of a burger built using Norwegian cod.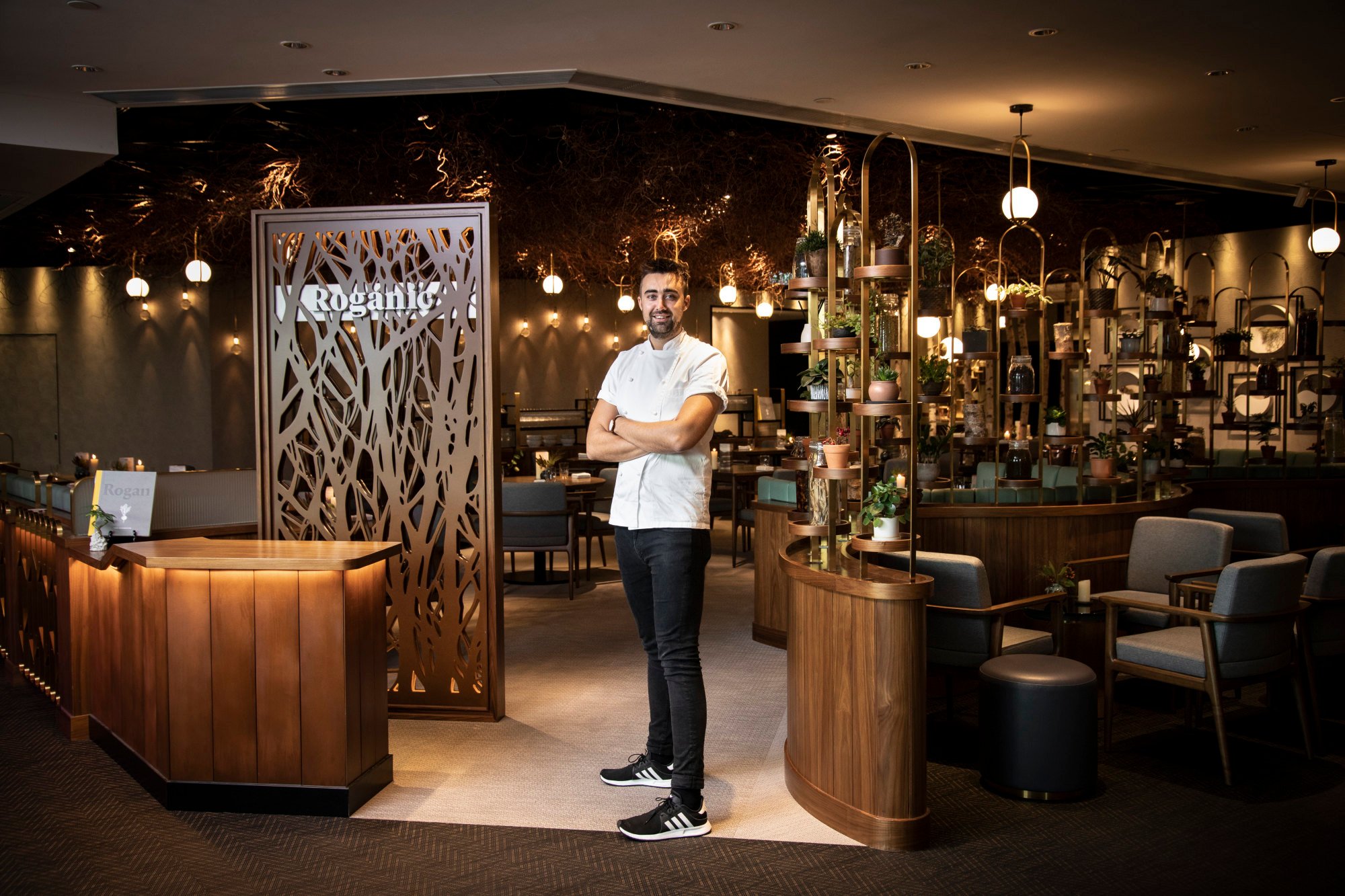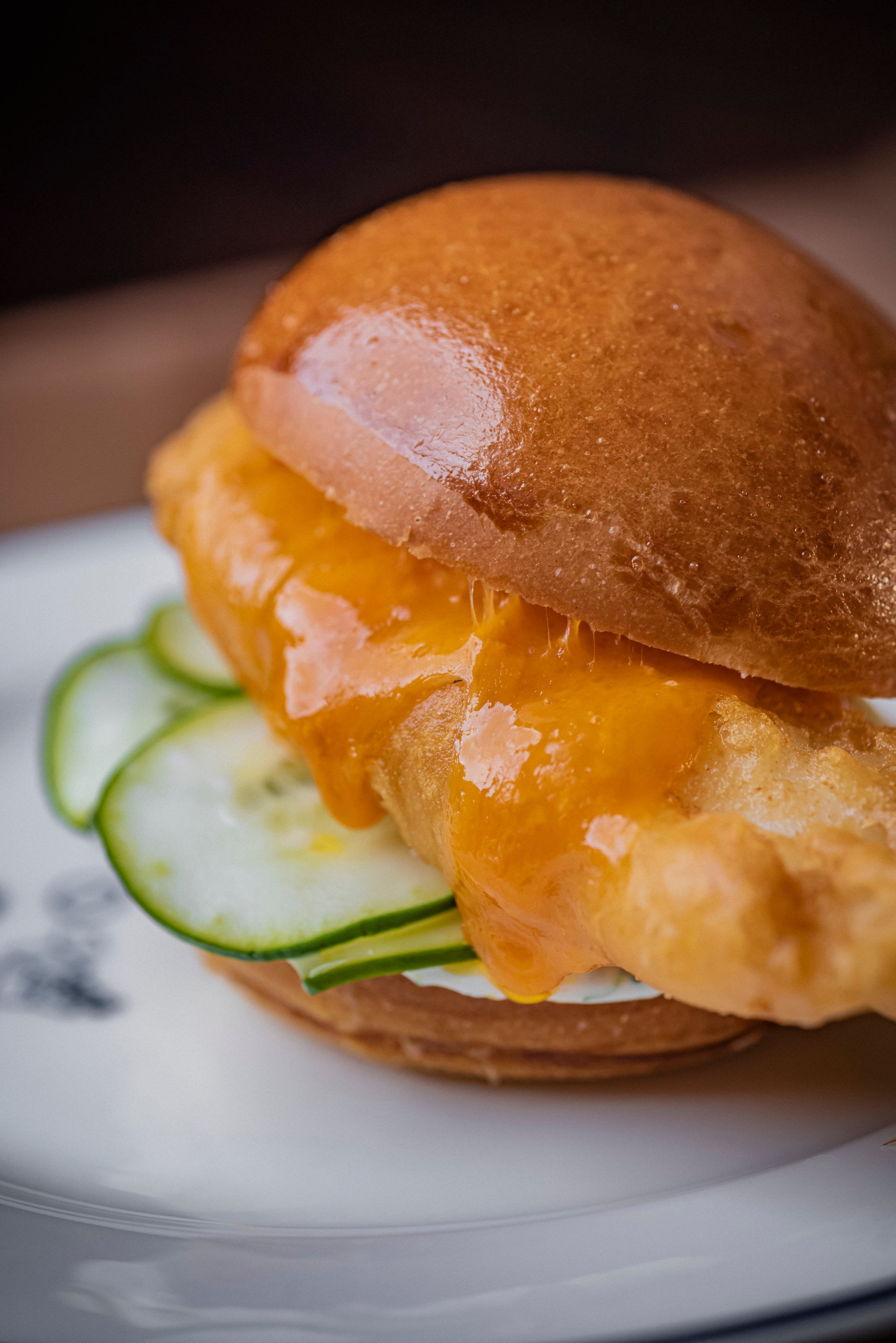 "I've lost count of how many fish burgers we sell a week. A lot of guests come to the wine bar specifically for it," says Marlow. His top tip for home cooks: "For a lovely aerated batter, keep it on ice so it's very cold." Speaking of ice, "the fish burger pairs well with an ice-cold beer", he says.
Central seafood hotspot
Percy's
is also riding the fish burger wave. It has been wowing diners since it opened last year. This month, a Sabah grouper fish burger was added to the menu. It's already a bestseller.
"One customer said we made their weekend with this sandwich," says Percy's founder and executive chef, Braden Reardon, adding it will soon launch a Carolina Caviar variety for those keen to "take it up a notch".
Its secret weapon? In-house dry-ageing, a process that boosts the fish's firmness and flavour. "The grouper is dry-aged for four to six days and then crumbed in crispy panko breadcrumbs and loaded with seasoning."
Next on is Pimento cheese, a favourite addition to Southern cuisine. "In the [American] South, this cheese was added to the sandwiches of blue-collar workers because it would keep in the heat," says Reardon. "We make ours from mature three-year cheddar with cream cheese, house-made chilli relish, onion and garlic powder – and a lot of love."
No fish burger would be complete without its condiment companion, tartare sauce.
Traditionally made with mayonnaise, chopped pickles, capers and herbs such as tarragon, it is the "moist maker" that can "make or break" a burger, says Marlow. "The sauce needs the correct level of acidity and just the right amount applied to the bun."
Every component of a fish burger must be considered, says Doherty.
Lim agrees: "People often overlook the toppings. We also use local organic vegetables to enrich the flavour – it's healthier without pesticides."
In a story about fish burgers, it would be remiss not to mention sustainability. It is a message David Yeung, founder of sustainable living platform
Green Monday
, has been pushing for years. "When you look at the numbers it's just staggering – 73 per cent of global consumption of seafood is in Asia," he has said.
Sustainability and sourcing locally are vital criteria, says Reardon. "We responsibly source from Hong Kong fish farms. It positively supports the environment, reduces supply-chain costs and supports local farms."