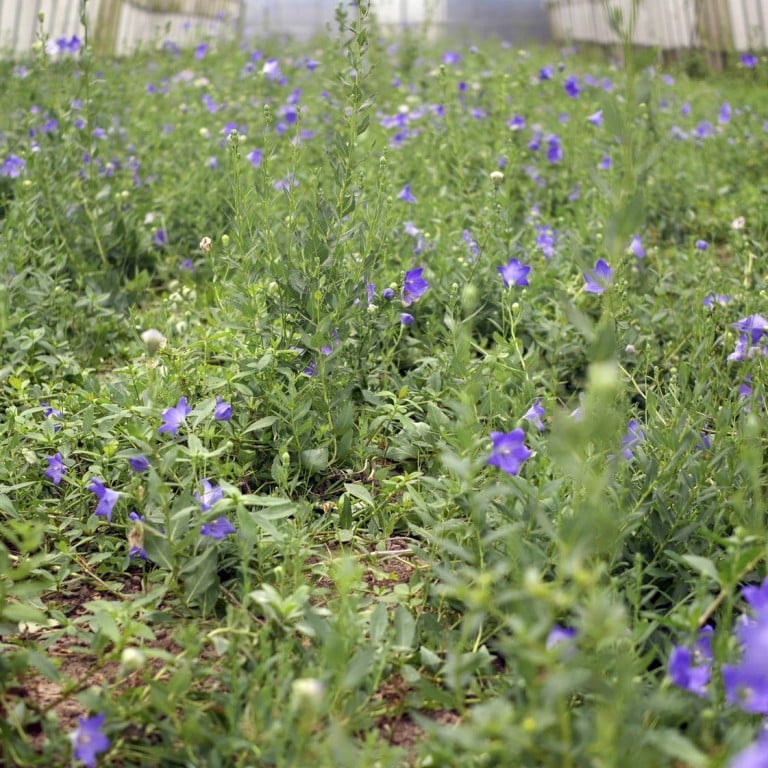 China's organic food boom driven by personal, rather than environmental, concern
The growing desire for organic produce in the mainland may not be driven by environmental concerns but it is still a step in the right direction, writes Casey Hall.
If the polluted air doesn't get you, the poisoned food just might.
With stories of tainted products breaking in the media with monotonous regularity, food-safety scandals are all too familiar to mainlanders. The list is long and terrifying: thousands of dead pigs found floating in Shanghai's Huangpu River; watermelons pumped full of growth hormones spontaneously combusting; the heavy metal cadmium in rice; toxic melamine in infant formula; arsenic in soy sauce; bleach in mushrooms; detergent in pork …
Buying food, breathing air, drinking water; all these necessities have become increasingly risky for Chinese consumers - many of whom have benefited from the decades of rapid development that precipitated the current state of affairs.
"It's hard for Chinese people to turn away from the way they've been doing things, a way that has caused so much growth and been responsible for so much wealth and happiness," says Amena Schlaikjer, a proponent of the Lohas ("lifestyles of health and sustainability") movement and consultant to a number of aspiring sustainable enterprises on the mainland. "It's hard to shift your thinking to a place where [you recognise] these methods are the very things poisoning you."
Nevertheless, an increasingly educated and well-off middle class is driving a trend for sustainable and organic products in the country, says Shaun Rein, managing director of market research firm CMR China. Such products are seen as not only healthier but also symbols of wealth that are ripe for the flaunting.
"Pollution is so bad in China that consumers are rethinking, reprioritising what's important in life," says Rein. "So instead of spending money on a Louis Vuitton bag, they are choosing to spend it on products that make their lives better.
"Increasing incomes, combined with sophistication, means people are looking to spend more on a certain type of lifestyle. People are shifting away from luxury items and spending more on food and nutrition products. That's really big."
Zhao Quanjing, a 30-year-old Shanghai high school teacher, says, "In China, people who are interested in these products are from a higher socio-economic group, because, of course, the goods are more expensive. Also parents, who have to consider the health of their children, will buy the more expensive products."
Although Zhao doesn't consider herself to be particularly picky when it comes to shopping, she says she is more likely to buy cosmetics that are promoted as being "green" or "natural" and food that is "organic".
Yang Zengdong, a 33-year-old mother in Changsha, Hunan province, says that although, for her, buying sustainable or organic products is about the health of her family, "these everyday products can also be used to show off your quality of life. Some people dearly love to buy luxury products, but buying environmentally friendly products and organic food can send a similar message."
Since 2010, the term "Lohas" has increasingly been bandied about in the mainland; it's even the name of a popular monthly Chinese-language magazine published in Shanghai.
" looks at 'lohas' as 'love, organic, healthy, appreciate, smart'," says Schlaikjer, whose father is American and mother Taiwanese, and who has lived in Greater China for the better part of 25 years. "They promote 'all about me' first, then you care about others, then you care for the environment. The things shown in this magazine are all about a luxury lifestyle: you need to be up with the trends, you need to order organic foods, do yoga, know the fashion brands.
"We actually did a semiotics study where we put a whole lot of words together and when we asked people what Lohas meant to them, the biggest thing to come through was 'stress-free living'," Schlaikjer says. "This was the a-ha! moment; it's permission for people to be stress free - without the social requirement to get the best job, have the best car, buy a mansion, have the latest trends in fashion. It's an alternative to still have a sophisticated life but one that comes through experiences."
In 2008, when Sherry Poon, founder of organic children's wear line Wobabybasics, started Shanghai's Eco Design Fair, a mere 500 visitors turned up. Last summer, more than 20,000 visitors arrived to shop for eco-friendly products, take in catwalk shows staged by eco-friendly clothing brands and participate in forums focused on sustainable living.
"When we started, it was mainly [expats] who were interested in sustainability, both as vendors and visitors," says the Canadian. "Over the years it's changed quite a bit and now more than half of the visitors are locals, and maybe close to 80 per cent of the vendors are Chinese."
As Poon points out, it has been foreigners living in the mainland, or people who have spent a significant amount of time overseas, who have been at the forefront of this movement.
One of the most successful is Jeni Saeyang, who returned to her native Shanghai to care for her sick grandmother after having lived abroad - in Sydney and New York - for 30 years. In 2011, Saeyang, or Chen Wenyi, as she was born, founded Eco&More, a line of green cleaning and personal-care products.
"When I came back here five years ago, the air pollution was really hitting Beijing and the world was looking at China as the most polluted country in the world," Saeyang says. "There's an absolute urgency here that doesn't exist anywhere else in the world. People in Europe, America or Australia choose a green product because they want to and they believe, in the long run, it's better for the planet. In China, there is this urgency because every day we are living in pollution, the situation is critical."
"Water pollution is very serious and there is air pollution, once you become aware of these problems, they cannot be ignored," says Zhao.
As with other trends to catch on in the country - such as wine appreciation, coffee drinking and yoga - mainland consumers of green products look to the West. Such thinking, however, has been challenging for Eco&More, which manufactures its products in the mainland - having them independently tested to ensure its manufacturing partners don't include bisphenol A or other harmful chemicals - in order to keep its carbon footprint low.
"We have always been adamant that we want to make good quality green products in China, but most Chinese people don't trust Chinese products at all, so they will go for an import," says Saeyang. "We were initially going to make our products in Australia but, after a year of research, we found that most of them - shampoo, laundry detergent - are 70 to 80 per cent water. So your carbon footprint from shipping all this water halfway across the world isn't sustainable, but this is a thing that the Chinese consumer has no understanding of right now."
At the same time as this shift in middle-class consumer behaviour, the opening of free trade zones, including a major pilot zone in Shanghai, has made it easier than ever for consumers to obtain sustainable and organic products from overseas. Consumers are now able to obtain foreign products through the zones' bonded warehouses in one to three days, compared with the seven to 14 days it used to take to import goods into China, which discouraged the purchase of fresh produce, for example.
Furthermore, e-commerce is changing the way Chinese consumers shop for just about everything, and the difference is particularly pronounced when it comes to products that would have been hard to source previously. A recent China E-Commerce Research Centre report put the total value of cross-border e-commerce transactions at 2 trillion yuan (HK$2.3 trillion) for the first half of last year, and predicted this will be one of the most dynamic growth areas in China's already massive e-commerce landscape.
Feeling keenly the competition from imports are local organic farms, which, you might imagine, should be profiting from the growing interest in healthy produce. More than 50 per cent of Chinese consumers surveyed have some awareness of organic food and many have eaten organic produce, according to data from the Biofach China International Organic Trade Fair and Conference. According to Biofach, there are now more than 2,500 organic food producers across the mainland.
However, "some people are a bit sceptical about the whole organic movement [in China]. The average Chinese consumer has a big issue with trust", says Kimberly Ashton, co-founder of Sprout Lifestyle, a store and cafe in Shanghai specialising in sustainable products and organic and slow foods.
"Consumers want organic products but they don't necessarily believe [what they are offered is] organic," says Rein. "What they hope an organic label means is at least better quality, better safety, better control of the production process."
Ashton agrees. "Whether it's good or bad, they'll equate 'organic food' with safe food. They don't necessarily think about the nutrition or whether or not there are pesticides, organic just means healthy and safe. It seems that Chinese consumers have clung onto this word 'organic', when there's so much more to health and food safety," says the Australian nutritionist, who has lived in China for 12 years.
"There's a disconnect there."
hour from downtown Shanghai, where the skyscrapers of one of the world's great metropolises give way to ramshackle rural dwellings, stands a small farm where workers explain the intricacies of organic farming and biodiversity to one group of schoolchildren or family at a time.
Dozens of varieties of vegetables, herbs and sprouts are grown at BIOFarm without chemical fertilisers, pesticides, herbicides, artificial hormones or genetically modified organisms. The farm is certified by the Organic Food Development Centre, the only Chinese organic certification agent accredited by the International Federation of Organic Agriculture Movements (the United Nations of organic agriculture).
Founder Sherrie Tian Yuejiao says very few of her customers are buying organic and sustainable products because of a genuine care for the environment.
"Safety, for life and for families, is the most important thing," Tian says, adding that many consumers who visit and purchase from BIOFarm - the farm has revenues of about 10 million yuan a year - are knowledgeable about organic certifications, although they prefer labels obtained from international organisations; another plus for imports.
"We [at BIOFarm] care a lot about biology; you can see here the trees, the birds and insects and diversity. There is more to being organic than just a label. Most people don't understand these things unless they have visited an organic farm and bought from local farmers. This is the key to making consumers see the importance of organic agriculture.
"Now it is so small in China, but if we can reach more people, it will grow."
Despite the fierce competition from imports and reluctance by consumers to believe in the veracity of local labelling, there is still plenty of confidence among Chinese entrepreneurs in the potential for homegrown organic products.
Among them is real-estate tycoon Pan Shiyi, who grows his own brand of apples - "Pan" - in his native Gansu province. His fruit sells for six times the average retail price and the brand has been pushed hard by the billionaire on social media.
Ding Lei, founder of internet portal NetEase, has been raising pigs organically since 2009. In doing so, Ding has said his aim is to increase awareness of food safety issues and protect the interests of farmers, although his swine have also proven handy earners over the years.
Inner Mongolia's Shengmu High-Tech Dairy is the leading producer of organic dairy products in China, and was listed on the Hong Kong stock exchange in 2014, raising more than HK$1 billion in the process.
It would seem the confidence of these entrepreneurs is not misplaced. In a market as big as that in China, there should be plenty of room for both homegrown and imported organic and sustainable products. International market research company Organic Monitor says the market for organic foods in China stands at about US$3 billion today, compared with less than US$100 million a decade ago.
"We've done projects where people were expecting a target market of one or two million people in tier-one cities, but we actually found you have 50 to 100 million consumers who are buying these types of products; it's not just for the uber elite, ultra wealthy, it's also for the middle-class Chinese," says Rein. "There are about 350 million middle-class Chinese and at least a third of them would buy these types of products."
For now, those within the industry in China are optimistic about a greener and more sustainable future. The reasoning behind a turn towards green products may not be environmentally driven, and the inclination more about self-preservation than the greater good, but that's not a problem for experts such as Schlaikjer.
"I've done my own pendulum swing back and forth in my idealism [about the future of sustainable and wellness lifestyles in China]. At the end of the day, you need to meet people where they are at, slowly feed them the right education and allow them to evolve," she says.
"I think [the environmentally friendly approach] can make a bigger splash than in the West," says Ashton. "In China, when things happen, they happen much faster.
"I think that is happening, but it hasn't reached the mainstream yet."
This article appeared in the South China Morning Post print edition as: Natural selection