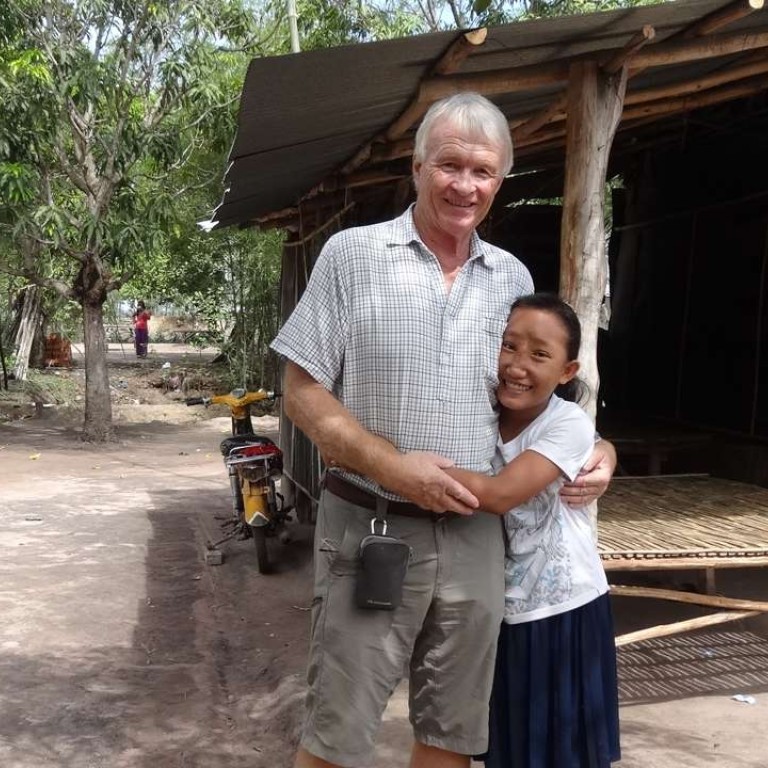 How doctor's free surgery brings joy to disfigured children in Cambodia
Dr James Gollogly's Phnom Penh clinic has helped thousands of landmine victims and children born disfigured. 'Dr Jim' and his volunteer helpers and backers talk about their 25 years of healing Cambodians young and old
Jock Struthers is sitting in a small hospital on the out­skirts of Phnom Penh recalling the first time he saw a woman with a brain protrusion that almost obliterated her face.
"It was here, in Cambodia, in Banteay Meanchey province, near the Thai border. I saw her driving a motorbike, then she went into a little shop. It looked like a tumour. You see so many horrendous things ... but this was a young girl."
Struthers, who's from New Zealand, was then working with NZAID – the country's Agency for International Development – talking to pig farmers. He did nothing "and it always worried me".
That was in 2009. Sometime later, back in New Zealand, he saw a BBC programme. "And, blow me down, there was a boy on it with the same thing and I said, 'That's what that girl's got! She has an MEC!"
An MEC – full clinical name meningoencephalocele – is when the brain and its fluids, improperly fastened within the head, slip down the forehead and settle round the nose. It happens when the hollow neural tube, which will eventually become the brain and spinal cord, is being formed within an embryo. The tube should be sealed at both ends. If the lower end isn't closed for some reason, the baby may have spina bifida; if it's the upper end that remains open, an MEC can form. The result varies in size. Sometimes the mass grows so large that the eyes are pushed, fish-style, to each side of the skull.
MECs tend to be a Southeast Asian affliction. No one's 100 per cent sure why but there's a plausible theory it's to do with rice harvesting. During the monsoon season, rice stored in a family house may grow mouldy; the mould produces afla­toxins; these interfere with the levels of folic acid in pregnant women; folic acid is needed for the neural tube to be formed without defects.
A baby with an MEC may die young, usually of bacterial infection in the brain. But there are survivors.
In 2012, Struthers was back in Cambodia as a volunteer, assessing a project to protect trafficked children. One morn­ing, near the Vietnamese border, he saw a child of about six getting off a bus. She had an MEC and her distinctively shock­ing appearance was why she'd been sent out to beg; typically, MECs affect poorer, rural families, and sometimes they can be used as a source of income. This time he took a photo of the girl, Chantrea, and sent it to Phnom Penh's Rotary Club. Within an hour, the club had offered to pay for surgery.
"I said, 'Where can we find the surgeons to do it?' And a few hours later they said, 'Dr Jim can do it, over the river.'"
"Dr Jim" is James Gollogly, and the river is the Tonle Sap. Cross the Japanese Friendship Bridge, weave carefully through the motorbikes, pass the ceaseless building work, and you eventually reach the Kien Khleang Rehabilitation Centre. Within the compound is the Children's Surgical Centre (CSC; csc.org), which Gollogly founded in 1998. Since then, he's been awarded an Order of the British Empire; he's been the subject of a 2010 BBC documentary,
Cambodia Surgical Ward
; and the centre has performed almost 65,000 operations.
His first trip to Phnom Penh was in 1992, on a six-month placement with the American Red Cross. (Although Gollogly, now 72, is British-born of Irish extraction, he's spent most of his professional life as an orthopaedic surgeon in the United States.) In those days, the city had no traffic lights because it didn't have much traffic; people either walked or cycled. The country was traumatised by its Khmer Rouge years and when Gollogly returned to Cambodia, the original plan was to help landmine victims.
As Cambodia has developed, however, so have its patients' needs. By 2004,
when I first did a story on the centre
, CSC was still dealing with landmine injuries – often farmers, out tending their treacherous fields – but there were also motorbike injuries and a unit for victims of acid attacks. They were usually women who'd spurned men, or women who'd been having affairs with married men, or children who'd got in the way of those women while the acid was being hurled.
Close to the centre's entrance, through which such scarred people passed, was a huge land-development sign that stated, "Happiness City – 50 per cent down payment".
In the intervening years, Cambodia has introduced a law regulating the sale of acid and stipulating heavy penalties for attackers. The numbers of landmine injuries are, generally, declining (although poorer people, migrating in search of land, can cause a sudden jump in deaths, as happened last year along the Thai border).
Certain areas of Phnom Penh seem to grow sleeker by the second. There's now an Eric Kayser bakery-cum-café and at Romdeng training restaurant, you can eat deep-fried tarantulas – the food of the forest during the Khmer Rouge era – in a colonial building and buy a book titled To Cook a Spider (The relevant recipe begins: "Kill tarantulas by pressing hard on their body, then remove fangs").
But still, from dawn onwards every day, the people come to CSC. They travel across Cambodia and wait outside on its benches, beneath the shadow of the new High Sky Hotel. Despite the centre's official title, about a third of its patients are adult. Gollogly long ago recognised that, as a free hospital in an impoverished country, he was casting a wide net. Back in 2004, he'd reasoned it historically: "We run a disabled children's programme with no age limit because the care wasn't there when so many of these people were children." These days, adults come because there's still no money and life's still pressing hard on their bodies.
Like the health care situation, Gollogly hasn't changed fundamentally, either. He's still a funny, opinionated, infuri­ating, vividly present man. You usually know when Dr Jim's in the vicinity. At his core is compassion combined with an intense curiosity: he's tremendously stimulated by the medi­cal vagaries of life and how to tackle them. (This questing nature has its limits, however. Ask him how many beds CSC has, for instance, and he replies, "I don't know! We put people on the floor. I'm not interested in beds, I'm interested in operations!" The bed tally turns out to be 45, not counting the floor.)
Such intellectual enthusiasm is infectious, judging by the list of international surgeons – from Canada, the US, Britain, Hong Kong, Japan, Singapore – who, over the years, have carved out a path to CSC. They come to help the patients, they come to instruct the Khmer surgeons and they also come to see the sort of medical cases they'd never encounter in their more predictable professional lives at home.
ON A MORNING TOWARDS the end of last year, a French team from Toulouse is present for the staff meeting, to plan the day's surgery. Every year, Professor Frédéric Lauwers, who specialises in maxillofacial surgery, comes for a week in June and a couple of weeks in early December. With him is neurosurgeon Dr Franck-Emmanuel Roux, who's been visiting twice a year since 2004, and has evolved into an MEC-go-to man, co-authoring papers on the subject in medical journals.
"We don't have this surgery at all in France," he says, later. "It's a disease of children and it's an opportunity to change, with not a lot of money, their lives."
Former patients sometimes return for further tweaking operations; he keeps photos of them, growing up to face the world.
The previous day, Roux operated on a 16-year-old with an MEC. From CSC's point of view, the unusual aspect of the case isn't medical, it's geographic – the boy is from Laos. Some Australians working in a remote area found him and, once again, the Rotary Club of Phnom Penh paid for the boy, and his father, to come to Dr Jim's. Will more follow from Laos?
"We've been discussing that," Gollogly says. "Do we leave it to the Aussies to find them? Or is it better to get them all together and truck 'em down here?"
Meanwhile, there are other operations to be timetabled. With the end of the Water Festival – a major November holiday, marking the reversal of the Tonle Sap's flow – CSC is, as Gollogly puts it, "deluged". The day's patients appear, one by one, in front of about 30 staff. The format is the same: a name is called, someone detaches him/herself from the waiting throng outside, enters the room and sits on a plastic stool as details are flashed up on a screen and the doctors discuss the case in English. To an outsider, the scene – the daunting gaze upon the sick individual – has the flavour of a 19th-century medical painting. The stoicism, especially of the children, is extraordinary. No one complains.
Between every entrance and exit, a drama is briefly glimpsed. A bright-eyed boy of seven with a lump on his cheek comes in with his mother. He perches on the stool, steepling his fingers, while the doctors inspect, touch, speculate. "Probably something – bad," says Lauwers quietly. A member of staff draws a red arrow on the child's jaw, directing whoever will do the biopsy.
A girl of 10, in cheerful pyjamas, pulls them down to reveal a huge, hard mass on her left buttock. She looks at the over­head photos with interest; it's probably the first time she's seen, full-on, what's growing behind her.
There's a monk of 65, in a face mask, with lip and skin cancer; he can't speak, he can't eat. "I'm not sure I can do something," says Lauwers to Gollogly, the two of them stand­ing on the stage of this monk's life. "But I want to be sure I cannot. Let me see if I can try to find a way."
There's another monk, 15 years old, with his mother; his grotesquely thickened fingers resemble the roots of those banyan trees you see in some of Siem Reap's temples. There's a young woman wearing a sock on her left hand and, when she takes it off, it looks as if she's wearing a large boxing-glove underneath; but that distortion is her own flesh. All the fingernails on her right hand have nail varnish as a kind of compensation.
"Dang cheu?" ask the Khmer staff. Do you feel pain?
Everyone has come fasting so that a patient can leave the room and immediately walk into a different kind of theatre. Sometimes Gollogly suggests waiting for "the hand guys" or "the foot guys" – international experts scheduled to appear at a later date.
"Put her off until Ken comes from Hong Kong in January," he says at one point about a patient. (That would be Professor Kenneth Cheung Man-chee, head of the University of Hong Kong's Department of Orthopaedics and Traumatology, at Queen Mary Hospital, due to arrive on January 22, with a nine-member team of surgeons and nurses. Other frequent visitors to CSC from Queen Mary are Professor Nabil Samman, of the Department of Oral and Maxillofacial Surgery, and Professor Michael Irwin, head of the Department of Anaesthesiology.)
Once the schedule's been sorted out, one of the Khmer doctors gives a short talk on infection and antibiotics. It ends with Gollogly, barefoot and in his scrubs, leaping up and crying, "This is magical thinking! No! No! I don't think you're all very sensible about this sort of thing!" He begins furiously scribbling on a whiteboard, calculating cost-effectiveness. "We must try to think and not just buy what the drug companies are selling!"
Exactly that kind of cost-paring was what encouraged Ian Mullane, chief executive of Vanda Sports Group, which organises white-collar boxing events in Singapore and Hong Kong, to become one of CSC's major sponsors. In 2008, Mullane, then based in Singapore, where he'd heard about "this mad, Father Christmas lookalike in Phnom Penh", went to have a look and found himself "holding a human limb during surgery". (Gollogly believes in a, literally, hands-on approach with potential donors.)
"He ripped into a surgeon for using a US$35 catheter when a US$9 catheter would do, and that cemented it," Mullane says, during a recent Skype call from Britain, where he now lives. "I knew this organisation was likely to deliver something unique and was well fiscally run."
Over the years, Mullane, who's been a CSC board member since 2013 ("I'd be amazed if any board lunch went beyond US$5"), has donated about US$2.25 million through both his own endeavours – including a 2011 sponsored race to the North Pole – and the profits from white-collar boxing events attended, so far, by about 8,500 guests. The next Hong Kong charity boxing evening is on April 1, at the InterContinental, in Tsim Sha Tsui; and money raised won't be foolishly spent. As Mullane puts it, "If someone suggests painting the hospital, Jim will say, 'And how many kids will that fix?'"
Someone, however, has painted the walls of the wards, with trees, farmyard animals and cartoon characters (inclu­ding Pinocchio – you wonder what a child with an MEC makes of him). Doing a ward round with one of two young British surgeons who've come out on a six-month placement funded by Hong Kong's Kadoorie Charitable Foundation is like touring a small Asian village. Every patient is allowed to bring a carer – they're both given three free meals a day – and the corridors are filled with people.
Outside, there's a rudimentary playground, babies on drips in hammocks, food sellers, washing flapping on a fence and, under a sign that states Vanda Wing (courtesy of Mullane), a drift of shoes. Gollogly has a large map of Cambodia on his office wall and the legend notes there are six words in Khmer for various kinds of stream, which gives you some idea of the land's topography. This river of humanity heading to Phnom Penh feels like a seventh type. The intention is to reverse the flow and to send them home, healed, to their provinces.
To work in charity is to live with daily frus­tra­­tion. The law of unintended consequences often applies: Gollogly was taken aback some time ago to discover his acid victims' support group had become a cover for a people-trafficking operation. A few members were recruiting others to cross the border and beg in Thailand. That was the end of the monthly meetings.
Nor does changing lives, apparently for the better, suit everyone. While I am there this time, CSC receives informa­tion from a Californian couple about a terribly scarred young woman begging at the Angkor temples. When she was 13 she'd fallen, face first, into a fire during an epileptic fit. Her parents, however, don't want her to have reconstructive surgery. They're poor, and she's making up to US$30 a day from appalled foreigners. That's an example of poverty's imprisonment; and of the unintended consequences of handing out money at tourist sites.
On the other hand, there's the success of the ear, nose and throat department, with its two senior, and one junior, surgeons – all female. ("It's deliberate," says Gollogly. "They tell me if a man's involved, he gets the credit.") But they need equipment, they need more funding and they yearn for self-improvement. The problem, always, is finding money for future projects, beyond the money that's sustaining what's going on at the centre now.
"I'd like to do cochlear implants," says the determined Dr Davy Sok, who's been with CSC for three years, after three years in a government hospital. "We will, we will ... Here there's a history of learning, the system is good. We make a start."
And sometimes a start, no matter how small, is all it takes. Struthers, who has since found about 40 young people with MECs (some of them hidden away by ashamed relatives), eventually tracked down his first one – Sotheavy, the young woman he'd glimpsed in the street. Her father is a schoolteacher in a village. Eight years earlier, when his daughter was about 12, he'd taken her to a local hospital, where they'd told him surgery was too risky and he should just take her home.
"Isn't it too dangerous?" the father had asked Struthers when he arrived. But Struthers was able to persuade him that medical skills in Cambodia are changing and it was definitely worth his daughter making that journey down to Dr Jim, over the river.