"Just call me Howard, no surnames." Sitting in a small dim sum restaurant near the Mid-Levels escalator in Hong Kong's Central business district, this smiling Hong Kong-born Australian music producer is obviously concerned about his privacy. He removes his baseball cap and all becomes clear. His round face and trapezoid haircut are distinctive; other pat­rons notice, too. Here sits Kim Jong-un, the North Korean dictator.
"I was watching TV and I saw Kim for the first time, when his father appointed him as the next leader. I thought, 'Look at this guy, he has my face!'" Howard recalls. A savvy businessman, he immediately saw a way to make money. He had to wait, how­ever, until the new leader made international headlines, which he duly did in 2013, by testing a ballistic missile.
'I made out with 40 girls': Meet the Kim Jong-un impersonator who scored big at the Sevens
"I ordered a suit like his and I got his weird haircut. I posted the result on Facebook and, two weeks later, I got a call from an Israeli company, asking me to shoot a funny [advert] for kosher hamburgers while impersonating Kim."
British tabloid the Daily Mail then interviewed Howard and his career as an impersonator took off.
"Everybody wanted to hire me to be the Brilliant Comrade at parties, movies and even demonstrations. I even found it's much easier to get laid in Kim's shoes," he laughs, showing off his conquests on Tinder.
Canny Kim-like street vendor cooks up a storm
But it's not all about fame, money and sex. Howard is using Kim's visage, and a heavy dose of irony, to serve a political agenda.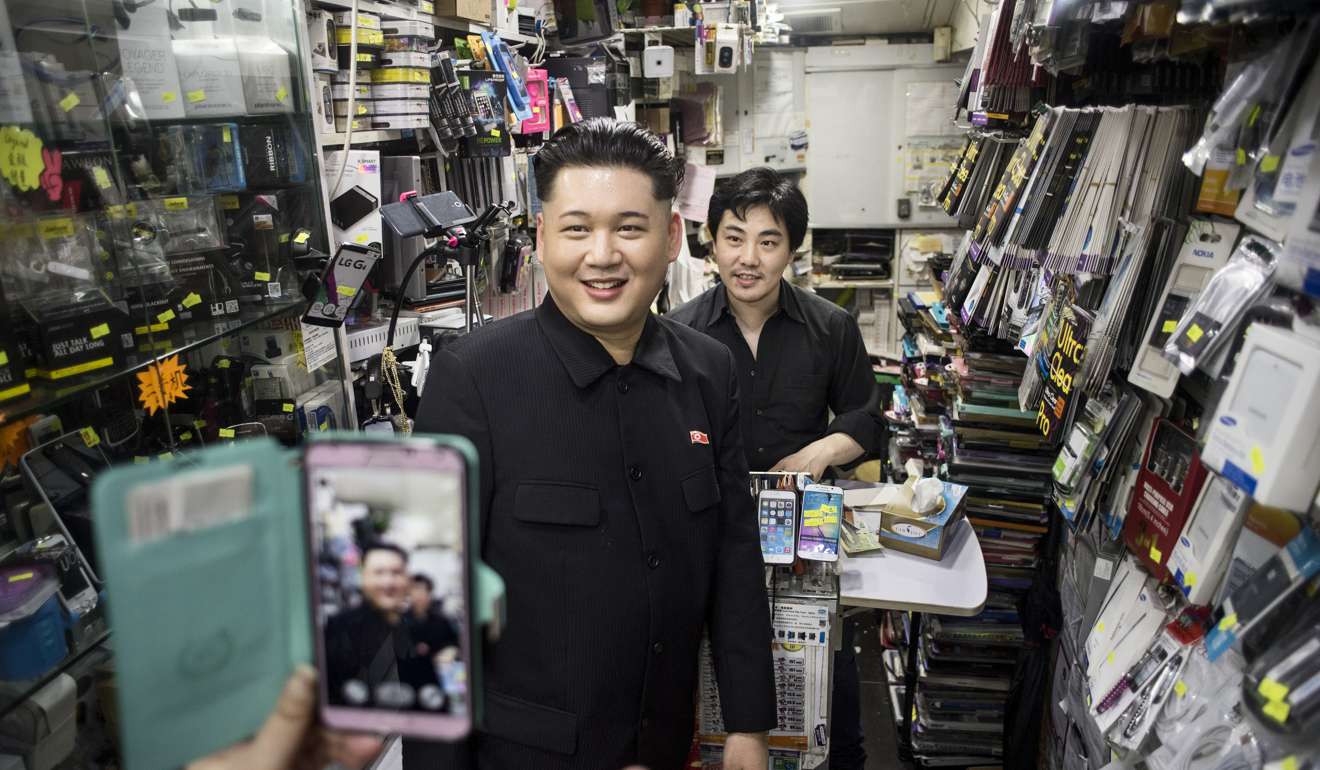 Followed by cameras, he has "requested asylum" at both the United States and South Korean consulates in Hong Kong, visited the North Korean diplomatic mission to "give orders to its staff", and travelled to Russia to try to fill an absent Kim's place at a parade to commemorate the defeat of Nazi Germany. At the Grammy Awards ceremony in Los Angeles in 2015, he even persuaded pop star Katy Perry he was the real deal. "It was funny," he recalls, with a smirk.
Kim Jong-un impersonator disrupts Hong Kong broadcast of Lee Kuan Yew's funeral
A week before we meet, he went one step further and locked lips with Trump impersonator Dennis Alan. "He is going to put the world right and together we will make fascism great again," this Kim told the media.
Although humour is at the heart of Howard's approach, the Hongkonger turns serious when reflecting on his role.
'Kim Jong-un' a sensation at Rio Olympics as Hong Kong-based lookalike flies flag for North Korea
"Look, I know this guy is a tyrant who terrorises millions of people. Kim Jong-un also poses a serious threat to world peace and I hope my appearances can make people remember and reflect on that." That's the reason he worries about security.
"Just call me Howard, OK?"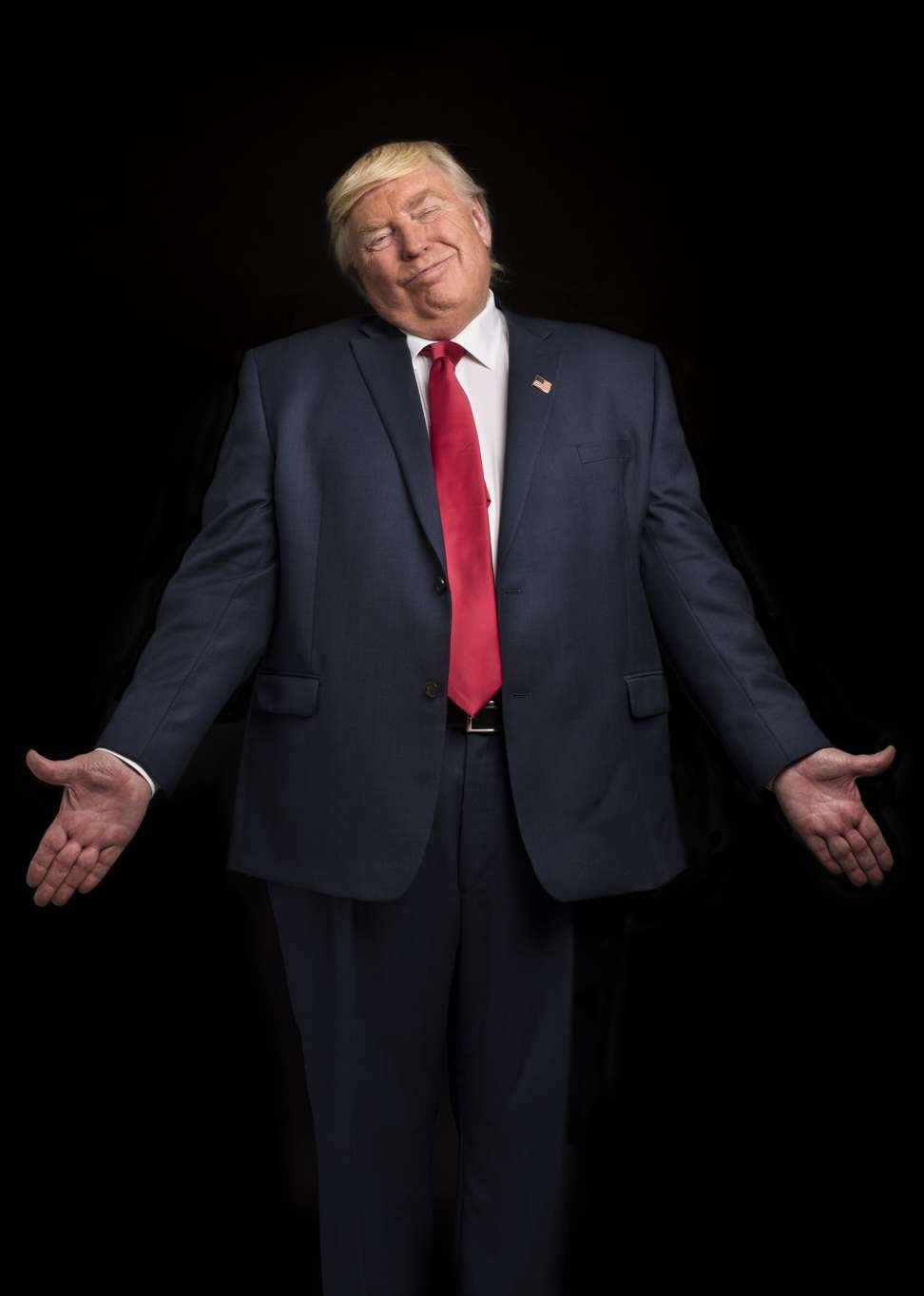 Dennis Alan, a music teacher from Chicago, never thought he would be mistaken for the world's most powerful man. Until, that is, Donald Trump announced he'd run for the presidency of the United States.
"People started to tell me how much I looked like him, so I decided to mock him in short videos that I uploaded to YouTube for fun," says Alan, in a Hong Kong hairdressing salon, where a 90-minute transformation involving heavy orange foundation and a tailor-made wig is changing the 66-year-old into Trump.
Photographer Alison Jackson, who specialises in shooting lookalikes, saw Alan's videos and asked him to appear at a New York event. Soon he was in the papers and now, with Trump's arrival in the White House, Alan hopes he can make a living out of the billionaire.
"Suddenly, all my friends and acquaintances are saying I'm lucky to have steady work, which is a rarity nowadays for a professional musician in America," says the impersonator, in Hong Kong to promote a music video he's co-produced in the city.
'Jobs ... they're going to Chi-naah': Alec Baldwin nails Trump impersonation in spoof replay of Clinton debate
Although he is reluctant to embrace Republican values such as the right to buy guns without restriction, Alan doesn't want to become too embroiled in the controversies surrounding the 45th US president: "I just imitate his behaviour and gestures. I do mock the manners, but I don't want to criticise or support his policies. I fear that Trump's adversaries will take it out on me."
Still, such concerns do not deter Alan from being irreverent on camera.
"We will build the wall, and it will be a great wall," he repeats more than once in the company of Kim Jong-un double Howard. They pose, pretending to make out in a lift and urinate in a public toilet. They point toy guns at the camera.
"The romance with Vladimir Putin hasn't been consummated yet," he jokes when asked whether he will dump the Russian leader for Kim.
He may have more regard for the Chinese, the Mexicans and Meryl Streep, but Alan gives the real Trump a run for his money when it comes to pleasing a crowd.
Barack Obama has lost his job and Xiao Jiguo fears the same fate.
Born just one day (and 25 years) after the former US president, this slight man from China's Sichuan province has made impersonating Obama his main source of income since 2012, when he took part in television talent show China Dream.
I hope looking like him won't be a curse
He had wanted to become a singer, and his dream was to perform at CCTV's New Year's Gala, but the audience was more amused by his striking resemblance to the first black president of the US. "I'm flexible, so I thought that could also be a way to make a living," says Xiao.
He started to watch videos of Obama and replicate his gestures in front of a mirror; the finger point has become a signature move. Xiao cuts his hair and paints on eyebrows whenever he plays Obama, a job that earns him up to 100,000 yuan (HK$113,000, US$14,500) a performance.
Meet the Chinese Obama impersonator: can you spot the difference?
"I have participated in several TV dramas, and I earn some money appear­ing at private events; anything from New Year company gatherings to weddings," he says.
Whenever he appears, Xiao gives a speech: "Hello everybody! Cunful mack jander tiping sualing guarer!" No, don't bother trying to figure out the meaning, because the Chinese Obama doesn't speak English. "Most people in China don't either, so that's not a problem," he laughs. Xiao is not interested in politics, so giving speeches in gibberish suits him well.
'Obama's like Elvis, there will always be demand': Indonesia's bootleg Barack
"I have no idea who Donald Trump or Hillary Clinton are, or what they advo­cate. In China, we don't have to worry about those things," he said, a couple of weeks before the American elections. Know­ing that the end of Obama's presidency was near and job opportunities might become scarce, last year Xiao invested his savings in becoming a professional actor, enrolling at the prestigious Beijing Film Academy. Now he attends classes by day and becomes Obama at night, transforming in the tiny room he rents on the outskirts of the capital.
"I'm already tired of Obama and if I don't study and get a degree, I can only expect to be an extra, with a couple of lines at most," he says. "In that sense, I hope looking like him won't be a curse – some directors already choose not to work with me for that reason. They say that there is no need for an Obama, and I don't know how to make them believe I can be someone else."
It's 7am in Taiyuan, the capital of Shanxi province, and Ren Zhenlong is lighting his first cigarette of the day. He will smoke up to 60 in the next 15 hours.
"Chairman Mao was also a heavy smoker," he says, with a smile of justification. Ren doesn't need much else to resemble the founder of the People's Republic, just a blast of hairspray and a bit of dark clay paste to make the iconic chin wart. A loose grey tunic buttoned to a high collar and matched with baggy trousers leave little room for doubt.
Housewife turns Mao Zedong impersonator
"Even when I was young, people used to point out how similar to the Great Helmsman I looked," he says, with pride.
Ren was a 24-year-old soldier the first time he played the communist leader, in a military theatre. Later, he took the role in TV dramas. "I live with Mao every day of my life. I even dream of him. And I wonder about how he would do something before I do it."
The shelves in his home are filled with Mao's works and books on the leader. His office is stuffed with busts and photos of Mao and it's diffi­cult to tell the originals from those portraying Ren.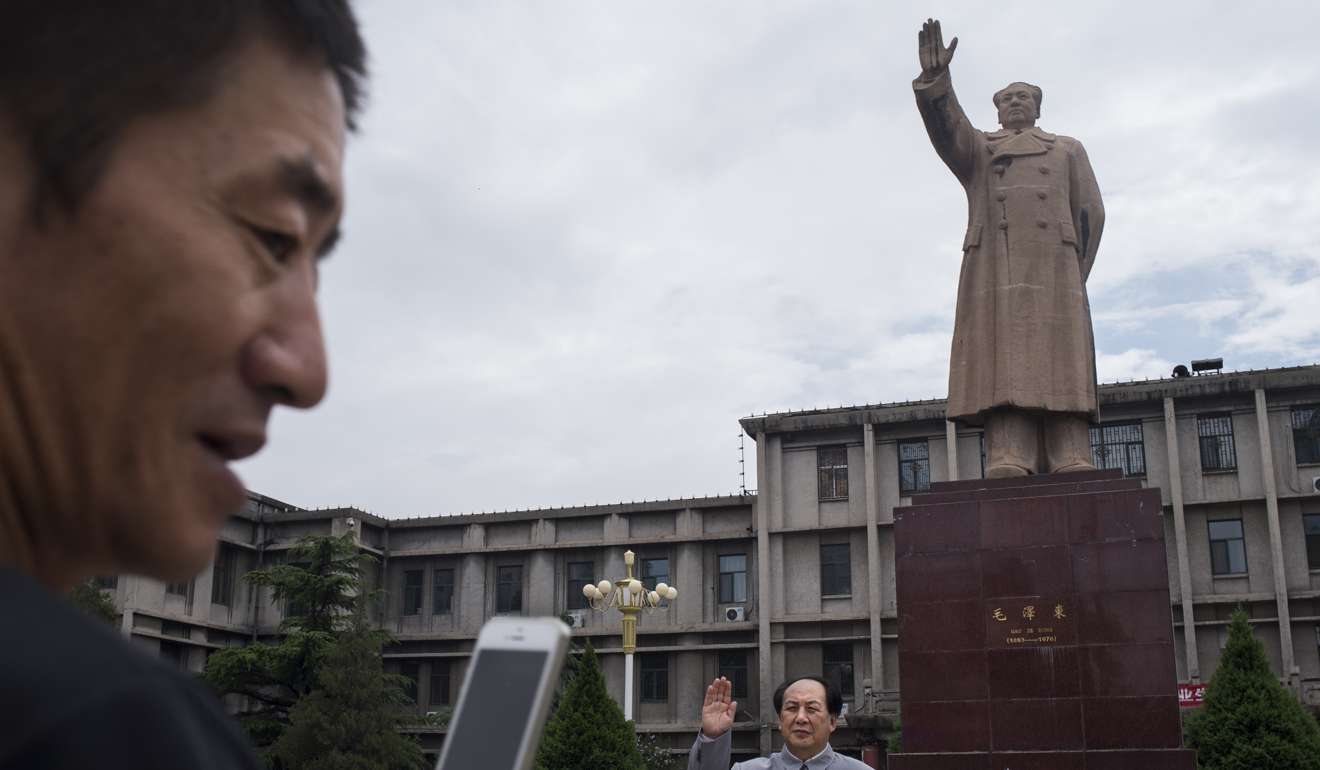 "I don't only look like him. I also study his philosophy," he confides. That's what Ren believes sets him apart from other Mao lookalikes. "Most only dream of making money or starring in a movie. I go well beyond that. I want to make people cherish Mao again, because China is losing its values."
I live with Mao every day of my life. I even dream of him
He carries everything he needs to become Mao in a small suitcase. At shopping malls and in crowded streets, Ren will surprise people, indulging selfie enthusiasts and extending his arm with an open hand just as his idol used to do. Few onlookers are interested in Mao's teachings, though.
"Most of those born in the 1980s or '90s know nothing about Mao, even if he got rid of the Japanese invaders and united the country to make the strong China they enjoy today. He has been forgotten and that's why China is becoming selfish and indi­vidual­istic," he says.
"I can't accept a market economy because we should remain com­munist. I believe the world will even­tually embrace socialism as a way to combat the growing disparities."
Ren has praise for President Xi Jinping, who, he says, equals Mao in power. "We need to be led by a strong man".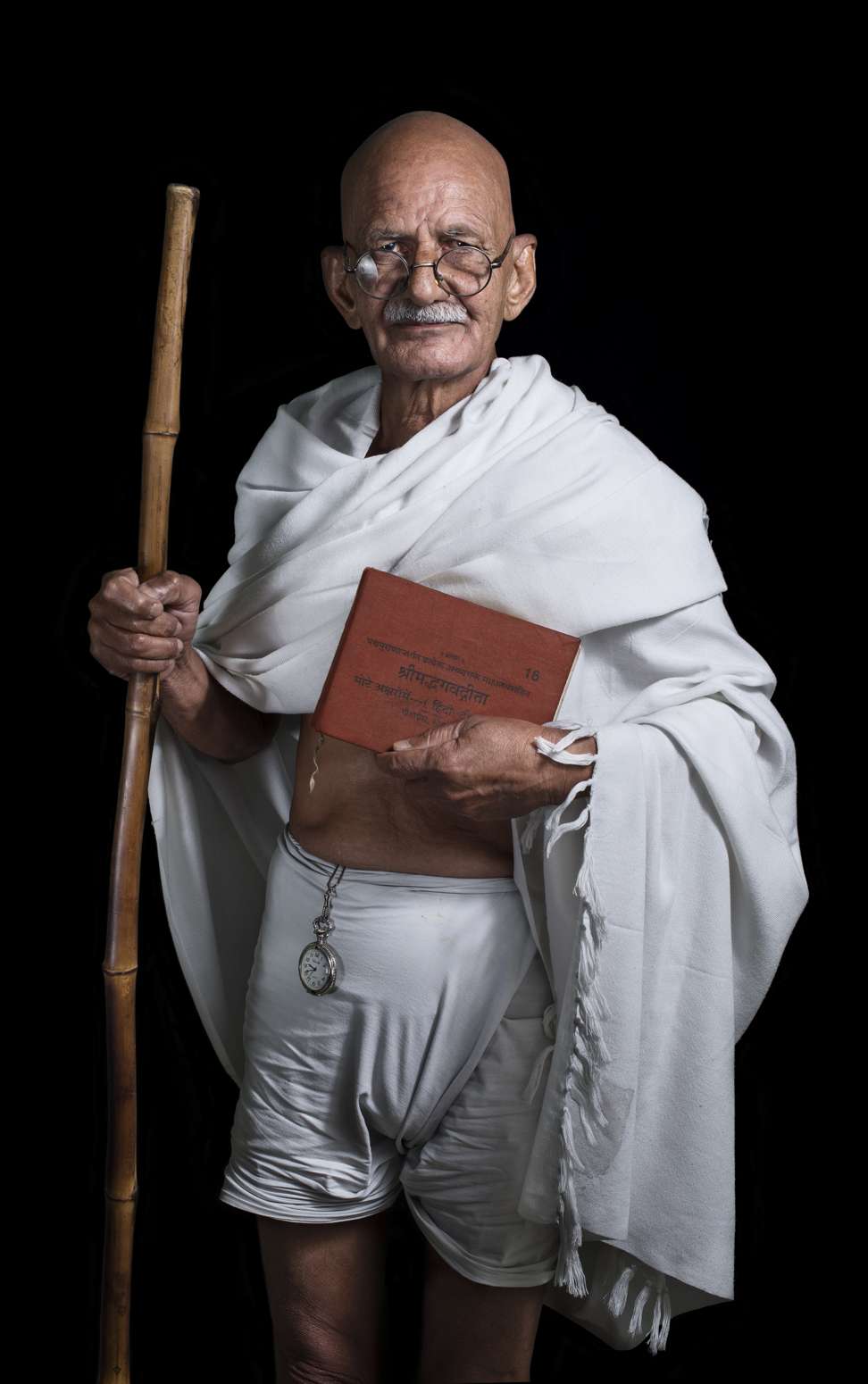 "Look who's there!" As Mahesh Chaturvedi sets foot on Delhi's streets, murmurs erupt and a crowd gathers to greet him. Many put the palms of their hands together and then, in Hinduism's utmost sign of respect, touch his feet. A child shouts to catch the attention of his parents. Astonished, they ask for a photo and Chaturvedi hands them a text he has written to venerate the subject of his impersonation: Mahatma Gandhi.
A few years ago I decided to live an ascetic life, the way he did
"The materialistic and soulless India of today needs to return to the philosophy of Gandhi," the sixty-something retired journalist says, explaining why he chose to reincarnate the leader of the Indian independence movement, who was assassinated in 1948.
"A few years ago I decided to live an ascetic life, the way he did."
Every morning, he rises at 5.30, drinks tea and eats a little food, meditates, shaves his head and then sets out wearing a white dhoti and carrying a copy of the Bhagavad Gita – Hinduism's holy book – and a stick similar to the one Gandhi used to lean on. "But I refuse to receive money," says Chaturvedi. "I want to make people remember who our 'father' was, to stir their conscience.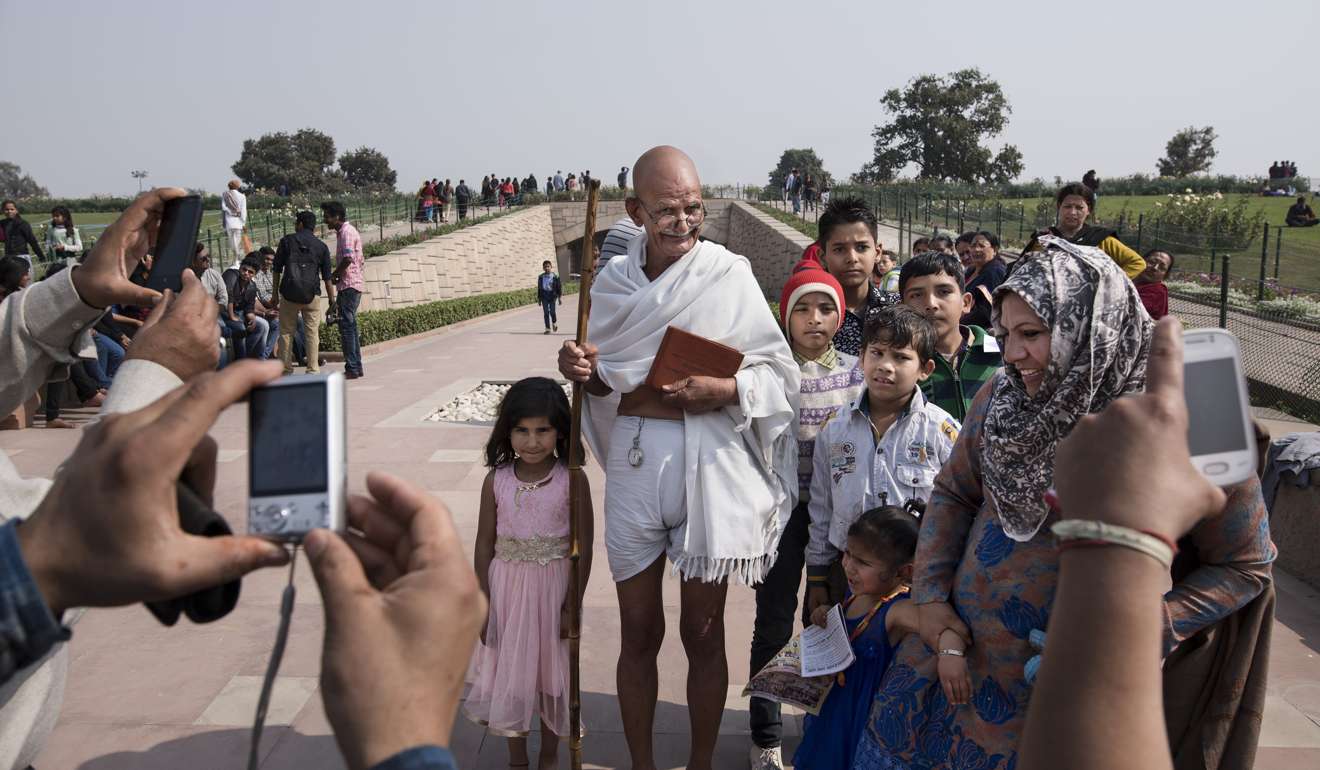 "India needs a revolution," he says, sitting on the floor of an empty apartment he was offered for free in Ghaziabad, an industrial town on the outskirts of the capital. "We are paying a very high price for an economic development that serves only the interests of a handful of people: corruption is rampant, poverty remains endemic and pollution is worsening."
For a solution, Chaturvedi says, India need not look elsewhere: "We just need to go back to the basic principles of Gandhi."
Not all agree. For many Indians, Gandhi is not the affable figure so often portrayed.
"He divided our country! He was a traitor!" shouts one man, as the impersonator passes.
"It was Jawaharlal Nehru, prime minister after independence in 1947, and Muhammad Ali Jinnah, founder of Pakistan, who arranged the partition," Chaturvedi replies in a low voice.
"People are ignorant. That's why I'm deter­mined to finish what Gandhi couldn't. I'm try­ing to take corrupt officials to the Supreme Court and mobilise people in the streets. Even if that gets me killed," he says, while distri­buting leaflets.
Unfortunately for Chaturvedi, most passers-by care only for the selfies. "He is just a crazy old man," one says dismissively.
Chaturvedi just continues walking, imperturbable behind a serene smile.