One mild night in early January, a small group of people gathers at Exit B1 of Sai Ying Pun MTR station at 12.30am. It's midweek, the city's winding down and only a trickle of travellers is coming up the escalator and disappearing into First Street. The group, all wearing hard hats and what's referred to as PPE (personal protective equipment), i.e. high-visibility vests, waits. They have the patient look of men who are used to waiting.
The one woman among them is Louise Soloway Chan. She's an artist who has lived in Hong Kong since 1994 and, six years ago, she submitted a proposal to create a series of bas-reliefs, depicting local life in the streets around Sai Ying Pun, for the then-unbuilt station. The final installation of that artwork is about to take place.
Soloway Chan is English and her husband, Reynold, a real-estate investment adviser, is British-born Chinese. Her work consists of 12 bas-reliefs. Eight of them are already in place; the final four arrived at the depot this morning from the factory in Huizhou, in Guangdong province, where she spent the best part of three hot, cold and very dusty years toiling over them.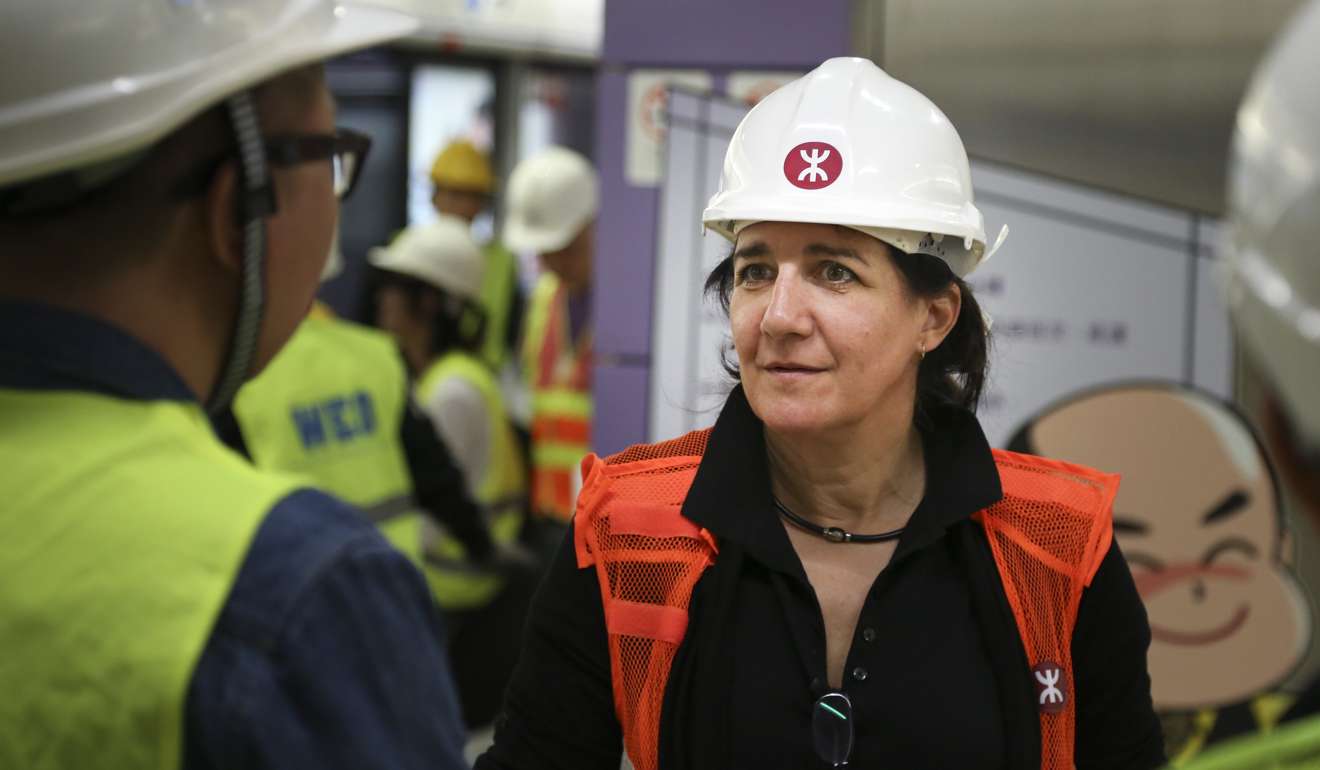 Because of their size – 220cm x 210cm, each weighing 280kg – it's impossible to bring them through the station entrances or by lift. They can only be delivered on one of the goods trains normally used to transport track and station equipment. It's been booked for a strict time slot: the last public train from Sai Yin Pun leaves at 1.08am and the first train is at 6.03am. The MTR Corporation has stipulated that any night work must cease by 4am.
I always say we're a transit system, not an art gallery. I want the art to work very, very hard to help people move around by creating a unique station identity
There are also the constraints imposed by the PSD – that would be the Platform Screen Doors (the internal world of the MTR, as its very name suggests, is ruled by unfamiliar clusters of the alphabet). Transferring each enormous panel from the goods train through the PSD at SYP is going to require its own nimble artistry, and Soloway Chan is contractually liable for any damage caused to MTR property. This adds a certain jitteriness to proceedings.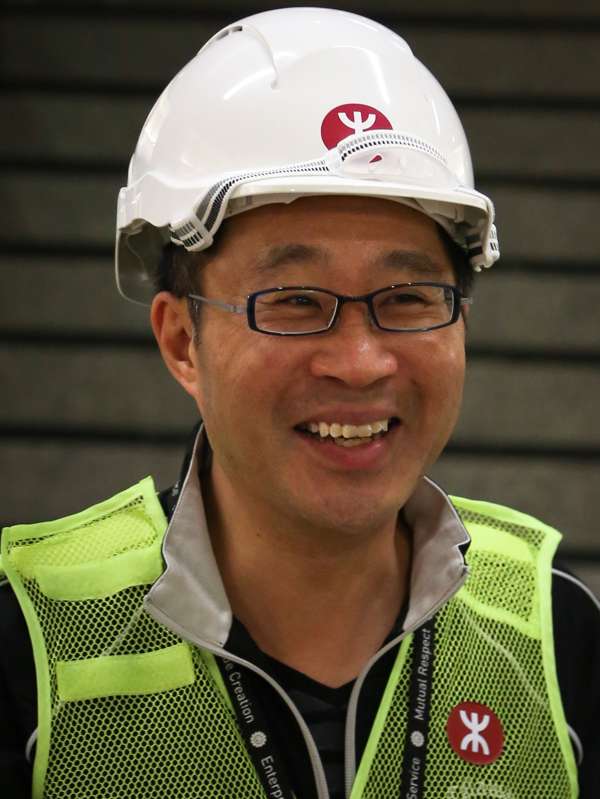 Just before 1am, Cheng Kwok-wai, MTR Corp's cheerful senior project architect, takes a few people backstage – which is to say, to a part of the station the public doesn't usually glimpse, through the kind of door it doesn't usually notice. Behind is an unexpectedly wide corridor and a Christmas tree blinking at staff bulletin boards sternly labelled Hygiene or Safety or Human Factor. Next to the Police Room is the SCR – Station Control Room – also known as the Roving Team Room; above the door handles are holographic stickers of ferociously frowning crabs with the warning "Shutting Door Cuts Like a Claw". The MTR's core belief, as will become apparent, is that you can never be too careful.
Inside the SCR is a detailed station map.
Because of its hilly topography in one of the oldest parts of Hong Kong Island, Sai Ying Pun posed particular engineering challenges; the station's location was changed several times at the planning stages to accommodate the geology. Even so, when the WIL – West Island Line – opened in December 2014, trains were initially obliged to skip SYP for three months because it wasn't ready.
What's old is new again on walls of new Hong Kong MTR station at Sai Ying Pun
Looking at the map, you can see the considerable distance between the station's platforms and its exits, and how much roving the public has to do to get from one to the other. In such cases, art is a useful diversion.
"I always say we're a transit system, not an art gallery," Andrew Mead, MTR Corp's chief architect (ARBUK), who's worked on train stations in London, Toronto, Dubai and Singapore, explains later. "I want the art to work very, very hard to help people move around by creating a unique station identity."
Along one of Sai Ying Pun's lengthy passageways, there­fore, MTR Corp has placed Street Scenes of Sai Ying Pun – a collage of more than 450 black-and-white photos taken by local artist Tse Ming-chong and the Hong Kong Youth Arts Foundation. It ends where Soloway Chan's exuberantly colourful work begins, by the lifts for exit B1/B2.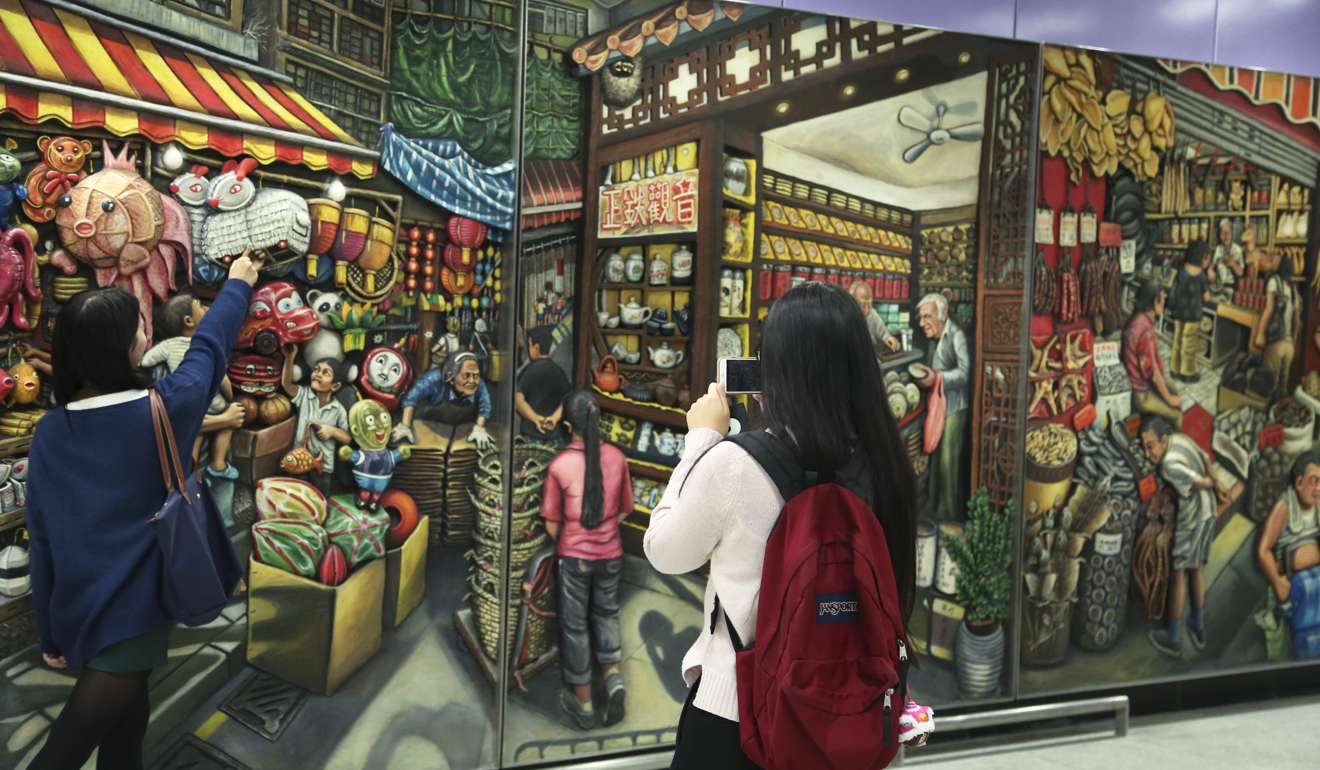 Originally, her bas-reliefs were going to be hung in a much narrower space, behind the lifts, and the first six panels were placed there before the station opened.
However, "I said, 'Hang on – we should see them as a complete diorama,'" says Mead. "I'm not sure the guys knew exactly how good it could be. But when I saw the beauty of it, I thought, 'We have to give it the space to breathe.'"
So the six works were moved and two more were installed. But there was a further complication: "difficult ground conditions" meant the opening of a nearby exit, B3, was delayed until March 2016. The knock-on effect from that is why the last four panels are being installed, in a fully operational station, in the middle of the night.
Although the tannoy has now broadcast, in three languages, that train services have ended for the day and everyone should please leave, the station isn't empty. Several people are changing some of the light-box advertising, a team of cleaners is on the move and, down on the platform for Kennedy Town, two maintenance men are doing surgery on a sign indicator; its dangling innards are slightly jiggling to The Twelve Days of Christmas, which is being piped in on the warm air.
Six home-grown Hong Kong trades at risk of dying out
A safety briefing for the 16 men who are about to move the panels takes place. Because Soloway Chan's artwork was commissioned for a station under construction, she's legally an MTR subcontractor. The sequence goes like this: MTR Corp contracted Gammon-Nishimatsu Joint Venture (GNJV) to build the station; GNJV subcontracted her; she subcontracted WEO, the Hong Kong design and manufacturing company with the factory in Huizhou; WEO subcontracted Choi Wing-kit, nicknamed Little Cat, to supervise the installation; and he has hired these men, paid on a night rate, to do the work. "Like a ladder," as Cheng says (or a Christmas counting song), of which every rung must observe strict MTR protocol.
The goods train has arrived. The four boxed panels have been laid flat in a line along its length and each time it moves forward, positioning itself in front of the open platform doors, its horn is sounded – a curiously evocative moment for an MTR station. The panels have to be manually tilted, one by one, then slid out at a painfully tight, difficult angle.
"It's like giving birth," remarks Soloway Chan, who has a son, Jesse, aged 11, and is suffering guilt pangs as she watches this labour.
Little Cat, whose paws are clad in orange gloves, springs about, choreographing his troupe. It's sweaty, straining, grunt work, and yet there's a fluid grace to it. Sometimes, under a panel's weight, the men give a sudden collective totter, like a frisky corps de ballet. On the tunnel walls behind them is a poster advertising a Shanghai dance company that's coming to the city above our heads; but there's no audience for this strange nocturnal performance, set to supermarket music, deep within the difficult earth.
After the train sidles off, each 280kg panel must be borne up a staircase ("The Fitzcarraldo part," as Reynold Chan says, and although it's not quite on the scale of that 1982 steamship-over-a-mountain film, it's certainly a surreal sight) then down the long corridor leading to the B1/B2 lifts.
47 years of Hong Kong's changing places and faces – through lens of photographer Keith Macgregor
The new panels are prised out of their boxes and hung on a bare concrete wall behind a hoarding; and for the next six weeks, until a vitreous enamel surface in the station's signature purple is clasped around them, they will remain hidden.
To commuters in the morning, it will be as if the night's efforts never happened. But just before 4am, as everything's being tidied up and the weary, glazed-eyed, hard-hatted men are drinking water (concern about dehydration overriding normal MTR rules), some of them begin to examine the adjacent panels.
Soon, they're prodding them, pointing out tiny details, taking grinning selfies. According to Mead, Soloway Chan's work – officially titled Inside, Outside – is probably the most-photographed on the network.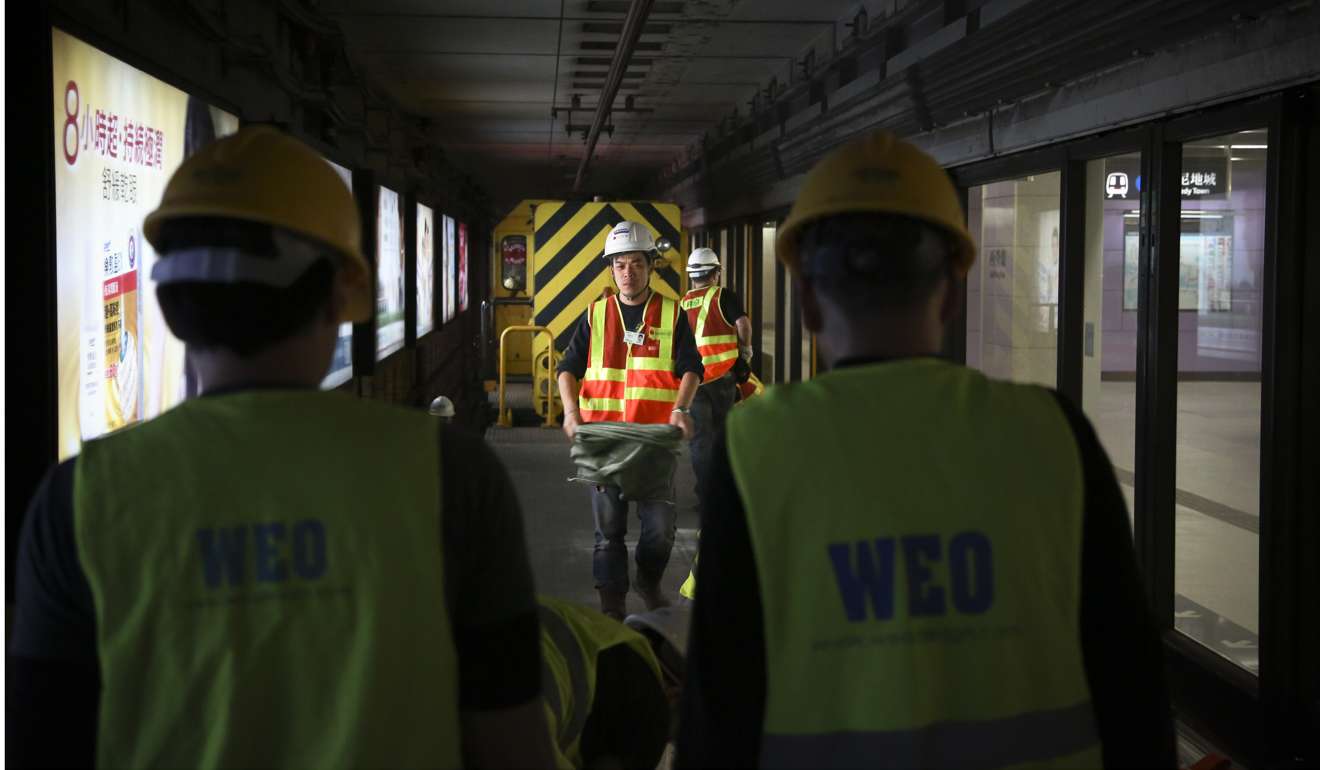 "Hers is the best, it ticks all the boxes," he says. "When I give lectures on the Art in MTR programme, I always include Louise's work and say how it sometimes takes an outsider to come in and appreciate local culture. What she's done is unique."
The MTR Corp's art programme began in 1998, with the opening of the Airport Express and Tung Chung lines. The new stations, with their wide concourses, invited display – and there was a need for direction and identity. Almost 20 years later, there are 72 works of art in stations dotted around Hong Kong.
By coincidence, the airport was also the reason Louise Soloway, as she then was, settled here. In 1984, after studying at Bath Academy of Art, in Corsham, Wiltshire, she won a Commonwealth scholarship to the Baroda Faculty of Fine Arts, in India, where she stayed for three years. The bas-reliefs of mythological figures in Hindu temples were a major artistic influence; their vibrant immediacy was something she wanted to bring to less-exalted everyday life.
Why every Hong Kong MTR station is a different colour – the reason may surprise you
In 1994, the British Council invited her to Hong Kong for three months as its second artist-in-residence. A chance encounter with someone working at the new airport led to a commission from the Airport Platform Contractors Joint Venture to create a bas-relief of the mighty, mountain-moving work-in-progress that became the Hong Kong International Airport at Chek Lap Kok. Apart from a couple of years in Shanghai, she's been here ever since, working on commis­sions for, among others, GlaxoSmithKline, Royal Bank of Scotland and China Harbour Engineering Company.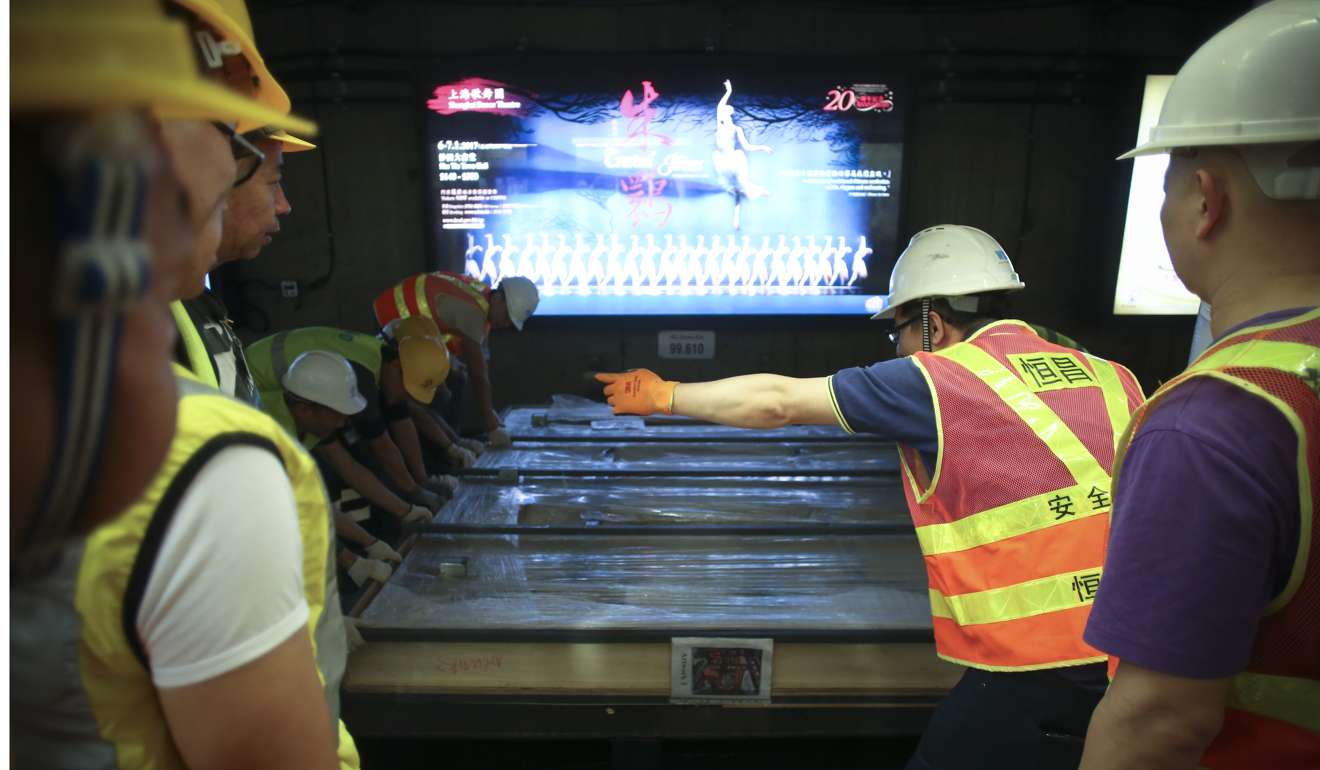 Observing daily life has been a private passion that the MTR project has brought into public view. After MTR Corp commissioned the bas-reliefs, Soloway Chan was asked to create a montage of her black-and-white drawings for the walls by the lifts. She'd no shortage of images to call upon: for years she'd been recording Hong Kong's people and places in sketchbooks. (Having known her since the mid-1990s, I can testify to this: I've seen her draw on buses, ferries, beaches, in hairdressing salons, at Chinese festivals and in a variety of eating establishments.)
She was used, of course, to dealing with the physical creation of a bas-relief – the clay, the resin, the fibreglass. But she's one of the most unassuming artists you could meet, and the scale of this project and its safety requirements were daunting. She had a studio in Hong Kong but it was too small.
Time travel: Two sides of Hong Kong street 100 years apart ... in one photo
"I said to Rey, 'This is waaaay out of my comfort zone.' And he said, 'You can do it, you just have to alter the way you work.'" He became, in effect, the project manager.
The first thing they had to find out was whether the paints and other materials she planned to use complied with toxicity and fire standards. They didn't. As Mead knows, that's one of the challenges for any MTR artist: how to make a durable work of art within such stringent restrictions.
These aren't going to be relaxed anytime soon. The day I speak to him, we talk briefly about the 1987 fire in King's Cross station, in London, that began during evening rush-hour with a dropped match on an escalator. (Mead, then a student, had passed through the station earlier that day.) Thirty-one people died. About eight hours after our conver­sation, a man will try to firebomb a packed carriage at Tsim Sha Tsui. No one will be killed.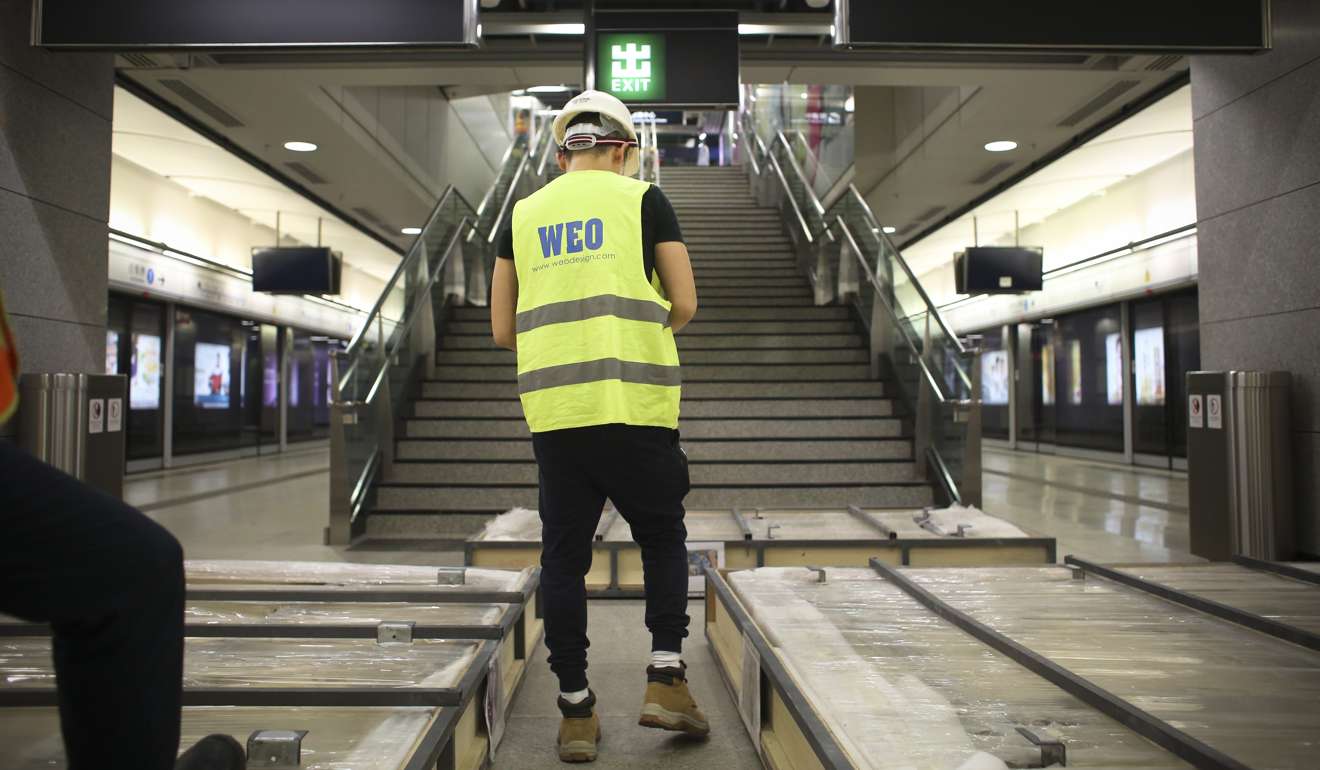 The molecules of the materials having been thoroughly tested, Soloway Chan could proceed in WEO's Huizhou factory. WEO's clients include Ocean Park, MGM and Universal Studios Singapore; the company was more than capable of helping with large moulds. She based herself in the mainland for several days every week. When she was doing the airport project, she'd had an assistant, Josephine Tang Lok-ting, then still at secondary school. Tang, now a graphic designer (and mother), went to help with painting the reliefs and with occasional translation. Sometimes the factory workers wanted to paint simplified Chinese on the Hong Kong shop signs, but Tang made sure the characters remained traditional.
In the early hours of last Sunday morning, Soloway Chan, Tang, Cheng and John Lau Ka-hung, WEO's project and design director, meet at Sai Ying Pun station. The hoarding covering the four panels is about to be removed. Soloway Chan has brought paints with her to make some repairs before the station opens.
Why Sai Ying Pun after dark is the new hotbed of urban cool
"In the whole project, I'm not concerned about the fabrication," says Lau. "Our craftsmanship is good. But the on-site installation is the most challenging part. I've learned a lot." This is to everyone's benefit: WEO is working on three more MTR projects.
While the workers take off the hoarding, Soloway Chan and Tang touch up some of the earlier panels. The entire artwork is such an extraordinarily tactile presence – alluring in colour, texture and content – that people can't help them­selves, they simply have to stroke it, so there's inevitable wear and tear. Mead was passing through the station one day and noticed that a figure's arm was chipped. Luckily, a friend he was with had a plaster in her bag, so he stuck it on; a band-aid solution until it could be fixed properly.
Soloway Chan attends to a lady's bottom (evidently much fondled) in a fish-market scene, a dog's nose (ditto) at a car-mechanic's and a flying gecko in a Chinese medicine shop whose head came off during the last installation (the one casualty of that night). The level of detail is so high that being here at 2am feels like a Hong Kong version of Night at the Museum. Turn your back for one second and all these people, surely, will come chattering back to life.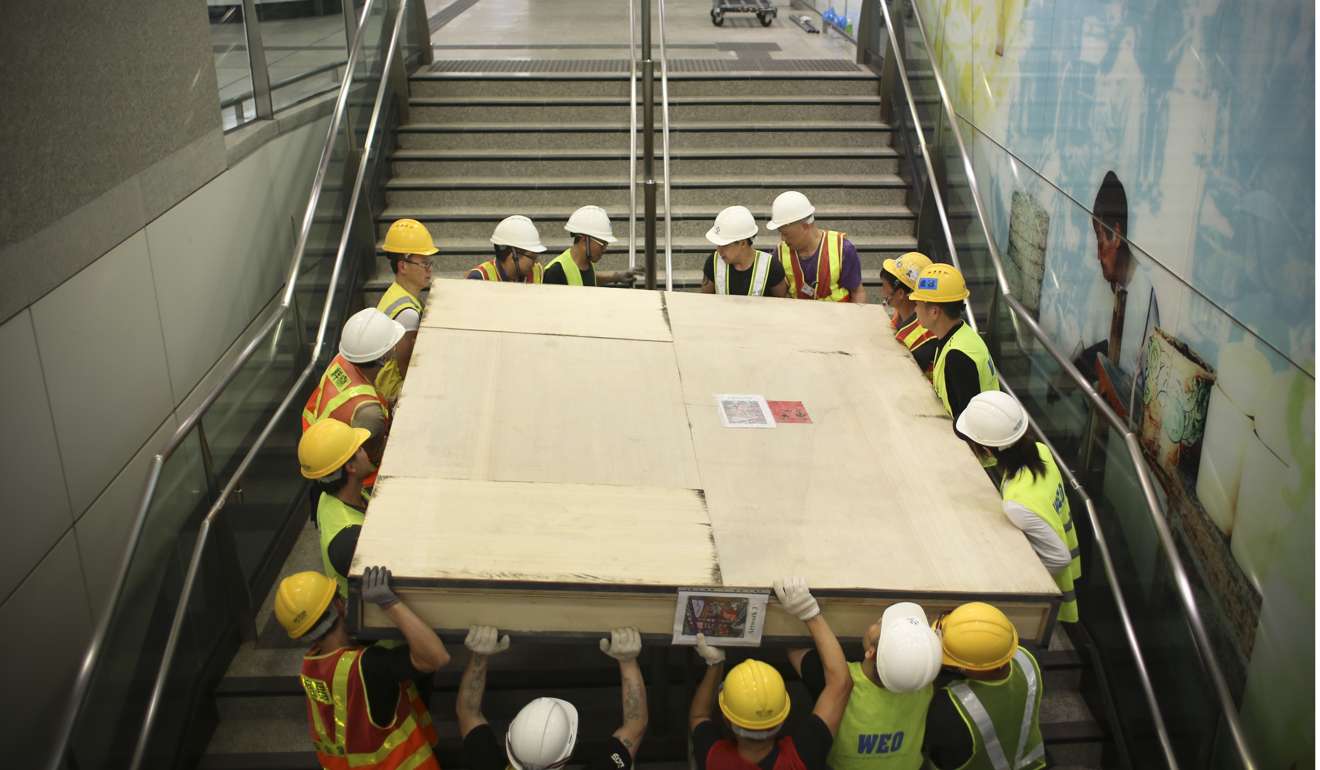 And yet here is the irony: it's because of the MTR that the streets of Sai Ying Pun are no longer what they were when Soloway Chan was strolling them, sketchbook in hand, in the years before her project began. The lantern shops and tea shops and noodle shops she has depicted are disappearing. The human factor has shifted with progress. Even her working methods are no longer what they were: she still sketches, of course, but the iPhone has transformed her way of looking at a changing world.
Later in the day, I go back to Sai Ying Pun and watch the early evening crowds at exit B1/B2. (The station seems full of firemen, but whatever's going on is sorted out with little fuss.) A couple of teenagers high-five a man waving from inside one of the panels. A little boy puts his fingers into every mouth in a row of gaping fish lanterns. An elderly man from the New Territories spends a long time examining each panel and when I ask him what he thinks, he says, with something approaching wonder, "This is old-style Hong Kong."
Many photos are taken, there is much caressing. I'd like to tell people that if they look carefully enough, they'll find more little surprises: real coins, a piece of Lego, actual chopsticks. In each panel, there's always a foreigner. The man in the tea shop is Soloway Chan's father, Alan, who died last summer, which is why this final unveiling is a bittersweet moment for his daughter; it's not only memories of Hong Kong that have been preserved in the work. And anyone who wants to see the artist herself need only peer closely at the Angry Birds lantern.
There she is, looking back at you, still observing the city.