Teenage rebel I began modelling when I was 15 and was cranky, shy and rebellious. I was from Tulsa, Oklahoma, and had never been outside the US. I had modelled a bit in the summer months, but my trajectory was quick. I was naive and everything I learned was in the world of fashion. I'm a creative and emotional person but there was this inner struggle of being insecure and feeling gawky and strange while being told by people around me that I was a beauty. I was feeling the pressure that I had to be professional, even though I was only 17 or 18 years old. So my rebellious teenage angst came out and, looking back, I think I must have been a little s**t.
Lucky Blue: Mormon model, 17, on chicken feet, his beautiful family, and his Chinese fans
Meeting Mandela Fashion gave me an education. My family taught me the fundamentals and my values, but in everything from culture to etiquette to how to be a professional, fashion was my masterclass. Maybe people are hiring me more now because of my life experience and legacy, rather than my followers. My high points have been working with (photographer) Richard Avedon for a Versace campaign: he was an artist and a true master. Also working with Steven Meisel, Peter Lindbergh and the first shoot with Craig McDean, and (make-up artist) Pat McGrath and (hairstylist) Eugene Souleiman when they were all babies in the business. And meeting Nelson Mandela when Naomi (Campbell) was doing her fundraising and charity work in South Africa. She organised a Versace benefit show in 1998 for the Nelson Mandela Children's Fund.
Women are in power in fashion, we make more money than men and we are in control of our destinies
Kicking the habit My drug and alcohol use and abuse were not because of the fashion industry. There were mean things said in the industry plenty of times, but I don't remember those things and I am not a victim. I would still have used had I been in college or stayed in Oklahoma – it is part of me and I was already experimenting at school. However, I had more access to it when I began modelling and it was more acceptable. But I realised pretty quickly that I wasn't someone who could handle it. I was ashamed that I was using more than normal and that shame perpetuated a lot of inner turmoil and darkness and I felt very lonely. I was at the top of my career and the peak of my youth and alone in my apartment bingeing until I was practically going into cardiac arrest. I had millions of dollars riding on me and was under multiple contracts and knew that a real disease was in force and, had I had the willpower, I would have stopped. But I realised I was about to lose my career and potentially my life – and I didn't want to die like that – so I sought help at 25. I got clean and sober and have been clean and sober ever since. Achieving that has brought me the most important things in my life: my son, Auden, and my family.
The secret life of a fashion model: rampant exploitation, scant rewards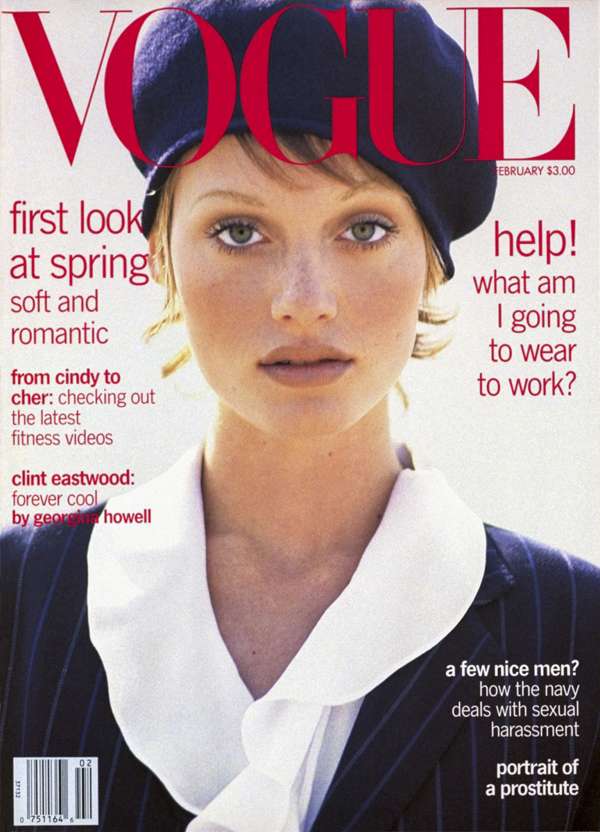 Acting out I had acted as a child, but hadn't thought of it as a career. Then one of my best friends started acting. That was followed by a series of small coincidences including a director calling that prompted me to take acting classes. I have an overactive imagination and liked the idea of having another expression. There have been films (including Duplex, 2003; Raising Helen, 2004; and Hitch, 2005) and television, including the series Revenge. I love acting but the moments you get to do it are few and far between, there is a lot of sitting around and waiting, or promoting. Women are in power in fashion, we make more money than men and we are in control of our destinies, whereas in film you are someone's wife, mistress or girlfriend. Hollywood needs to change a lot in terms of diversity, with more women in positions of power in the studios, more female directors, writers, more leads and films based on female characters. There is a lot of objectifi­cation of women in film.
In Vogue I shot my first American Vogue cover when I was 18 and have just shot another cover at 42. Although I took a break to focus on acting, I didn't feel I'd actually left modelling. I feel I've returned in a more meaningful way to the fashion business. However, the industry has changed completely, and I think we will see more and more models back on the covers of magazines and in campaigns. I am working because I am good at my job and work hard. There is a timeless beauty in women like Stella Tennant, Christy Turlington, Carolyn Murphy – they were beautiful 20 years ago and will be beautiful in 20 years' time. Like Lauren Hutton they are appealing because they have something going on inside, an intelligence, and they are connecting to people on a deeper level. So I am not surprised. Age is part of diversity; we are not all 20 years old. I think the industry is embracing more individualism.
Hong Kong's modelling industry: the prats and pitfalls
Getting social There have been a lot of changes in the past 20 years. Models have more power now – the power to have 45 million (social media) followers to listen to you. I don't know if that translates into consumerism or activism, but I think you would gain somebody's attention. I was so impressed with Karlie (Kloss) when I met her because she sees this as a business, as a brand, whereas I was too busy being creative and going into the deeper meaning of what we were shooting. The most beautiful part of the industry is the creativity, the nuances and fantasy. Karlie has created a brand that is not only, "Hey look at me, I'm beautiful," but "I'm not just a supermodel, I'm a role model for young women."
Candice Huffine, model who is adding curvaceous to high fashion
Style with substance I wanted to be a social worker if I hadn't gone into fashion. I also wanted to be an anthropologist and even an archaeologist, but I think it would have been some public service as that is my nature. I respect the fashion business and understand the problems we are facing, and, having been in the industry for 27 years, I can speak out about issues and be a valued influencer. I am looking at the bigger picture of sustainability and social responsibility within the industry. I started a business six years ago and speak out about sustainability and responsibly made clothing. At first they thought me insane but there is a move­ment towards solving these issues. I had a partnership under my Master & Muse online store with yoox.com to curate responsibly sourced designer fashion, looking at fashion made by arti­sans in women's cooperatives or upcycled leather and so forth; stylish fashion that has some sustain­able aspect. I really believe in collab­orating and developing better products to help create more jobs and use creativity and economics to create a better world, and better lives for other people.
Post Magazine spoke with Amber Valletta at the Business of Fashion Voices conference, in Oxfordshire, England.