When the British Fashion Council polled 500 of the country's top designers ahead of the Brexit vote, 90 per cent said they intended to vote Remain. So it is fair to say that unease stalked the studios and showrooms of London on June 23, last year, when the nation voted to leave the European Union. But as if to anticipate the blow that was coming, some of the country's most promising designers and brand managers met with executives from Chinese online platform JD.com on the day before the referendum. And while the atmosphere in London was tense, there was a sense of hope at the meeting that a vote for Brexit needn't be a death blow for British fashion.
Although Brexit is worrying for the many brands that are profoundly entangled with European partners, it was never going to make one of the most international industries in multicultural London slam its doors on the world. And in the nine months since the Brexit vote, British fashion's foreign outlook has not only grown, it has also been increasingly trained in one direction.
How might Brexit affect the fashion industry? Chinese designers weigh in
With China's fashion industry expanding at an impressive rate, it is no surprise that a number of countries want in on the action. But few are putting in quite as much effort as Britain, a country that has ramped up the hard sell on both its luxury brands and its independent designers.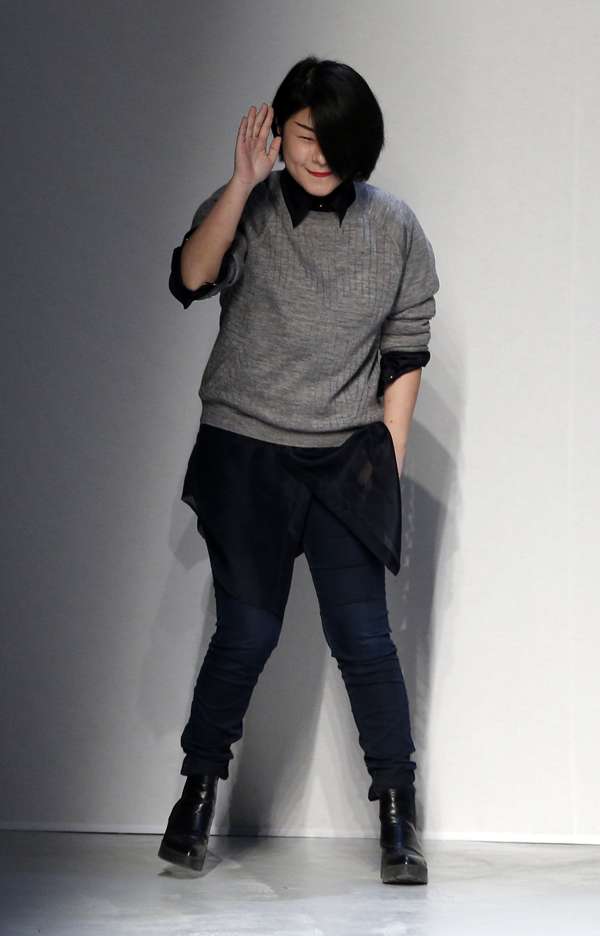 However, this relationship goes deeper than trade, beginning when young Chinese fashion designers first started coming to Britain to study. In any artistic industry, the culture in which you spend your formative years has a profound influence on your future output, and an unusually high proportion of China's most fêted young designers — those men and women who are changing the local fashion industry from a place where clothes are made to one where they are designed — studied at Central Saint Martins (CSM) in London.
My designs do have a distinctive London aesthetic and studying at Central Saint Martins really shaped me as a designer
Masha Ma, Uma Wang, Nicole Zhang and Huishan Zhang, to name but a few, graduated from the design school, known for having shaped the most brilliant minds in the industry. That means the increasingly popular Chinese fashion aesthetic has, to an extent, been influenced by Britain.
"Living and learning in England really inspired me," says Ma, who launched her eponymous label in 2008 and garnered instant attention for her futuristic, avant-garde collections. "I think my designs do have a distinctive London aesthetic and studying at Central Saint Martins really shaped me as a designer – not only the recognition and understanding of the fashion, but also the exploration and researching of my personal universe. It was both inspiring and stressful. [Late CSM professor] Louise Wilson's sacrifice and perseverance in fashion were most impressive; she taught me how to express cultural diversity through the language of clothing."
Fashion designer Masha Ma on challenge of designing Team China Olympic outfits
It was also in London that Ma got her first big break – her graduate collection was selected to show at Vauxhall Fashion Scout during London Fashion Week, in 2010, and was later purchased by B store.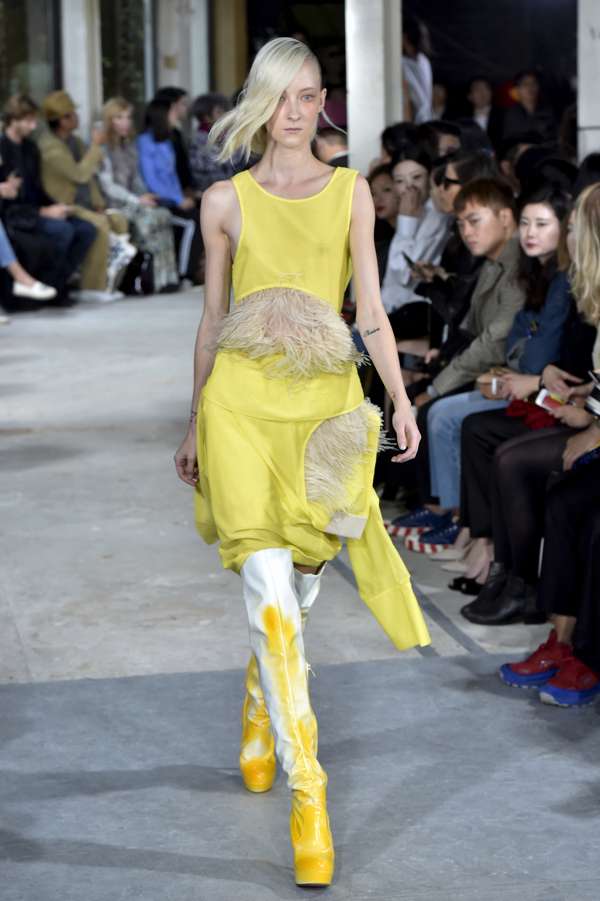 "Living between Beijing and London gave me a rebellious edge, which was both exciting and extreme," she says. "It also showed me China more clearly, and made me appreciate the inherited culture and techniques from China while breaking through into the new era."
Born and raised in Qingdao, Shandong province, Huishan Zhang has said that his feminine, delicately cut designs are influenced by his Chinese heritage, despite having lived outside of the country for at least half of each year since the age of 17. He may place a strong emphasis on Chinese craftsmanship, but Zhang has also been wholeheartedly embraced by London.
Designer Masha Ma says China needs to ditch 'Made in China' concept for fashion to thrive
Zhang studied at CSM and, in 2013, won the Dorchester Collection Fashion Prize for his debut collection, which was immediately picked up by independent boutique Browns. Since 2011, his business and studio have been based in London and he now splits his time between the British capital and Shanghai.
"Rather than influence my aesthetic, studying in London helped me figure out and develop my own personal look," says Zhang. "Central Saint Martins is a big supporter of individualism and I think the professors there are visionaries. So I suppose I do have a London look, because London always offered me a multitude of inspirations.
"I am very 'London' because I am very international."
This idea of British fashion being inclusive and welcoming to outsiders is one that London has encouraged over the past two decades. But many in the fashion industry fear that Brexit threatens not only the perception the world has of British society being tolerant and multicultural, but also that it will become more logistically challenging for non-British citizens to study and work in London.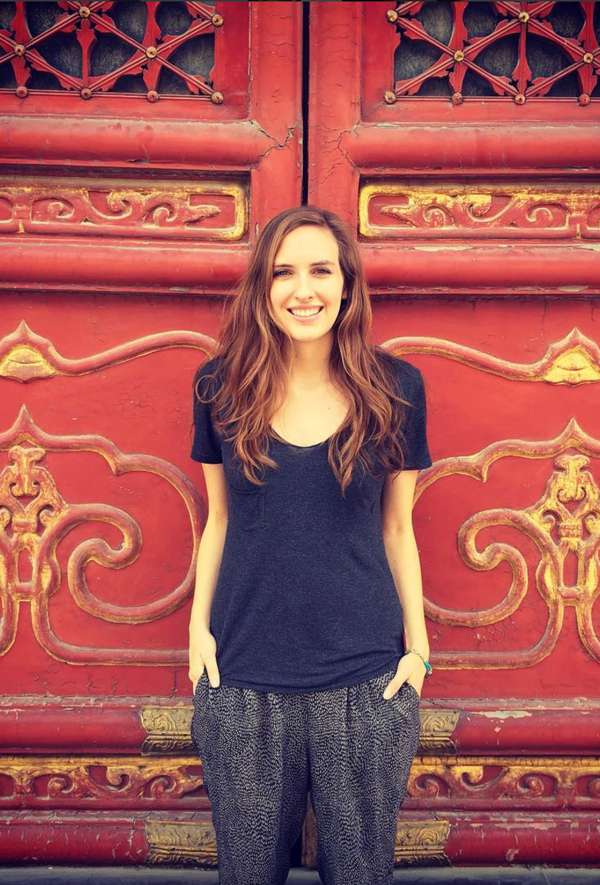 "If Brexit makes it harder for international talent to study design in the UK, it will hurt the industry and diminish London's standing as an international fashion destination," says Liz Flora, the editor of Asia-Pacific research for business intelligence centre L2. "For the last few years, London Fashion Week has consistently had many Chinese designers participating in official or satellite shows and there are a number of very successful UK-based Chinese designers. But after [the] Brexit [referendum], I noticed some Chinese designers opted to show at New York Fashion Week instead – but [the decision to do so was made] before Trump got elected, and New York is going to pose less competition in the future thanks to Trump's hard-line stance on immigration."
Furthermore, while Paris and New York pip London to the post in terms of luxury and heritage brands, the British capital has a long-held international reputation for creative excellence – particularly on an educational level.
"London has such a strong reputation for supporting emerging designers from around the world that we are known as the best place to find young, unestablished talent," says Niamh Tuft, the head curator of the International Fashion Showcase (IFS), a festival of emerging designers organised by the British Council during London Fashion Week. "And we need to be careful we don't lose that edge.
5 Chinese fashion designers, established and emerging, who you need to know
"The support available here for young labels has outstripped [that in] other European capitals," says Tuft, referring to programmes such as the British Fashion Council's NEWGEN (New Generation) talent scheme and the FDC Young Designer Award, as well as her own IFS, which at this year's London Fashion Week included Taiwanese designers Shao Yen, Wisdom and Yiting Chen. "But it is also important to remember that the city itself has always welcomed diversity. Young Chinese designers feel comfortable here.
"In my first year at the IFS, we sponsored eight Chinese designers, seven of whom had studied in the capital. And most of them don't just study and leave; instead they remain fluid between the two countries for many years, retaining connections here and keeping London as their main European platform, even if their goods are made in Asia.
"The presence of so many Chinese designers at London Fashion Week means a cultural boundary has been navigated," says Tuft. "There is a lot of excitement about Chinese designers and therefore more interchange between the UK and China. There are now more British professors and students looking to work and study in China," she says, the Shanghai extension of London's Condé Nast College of Fashion and Design being a case in point.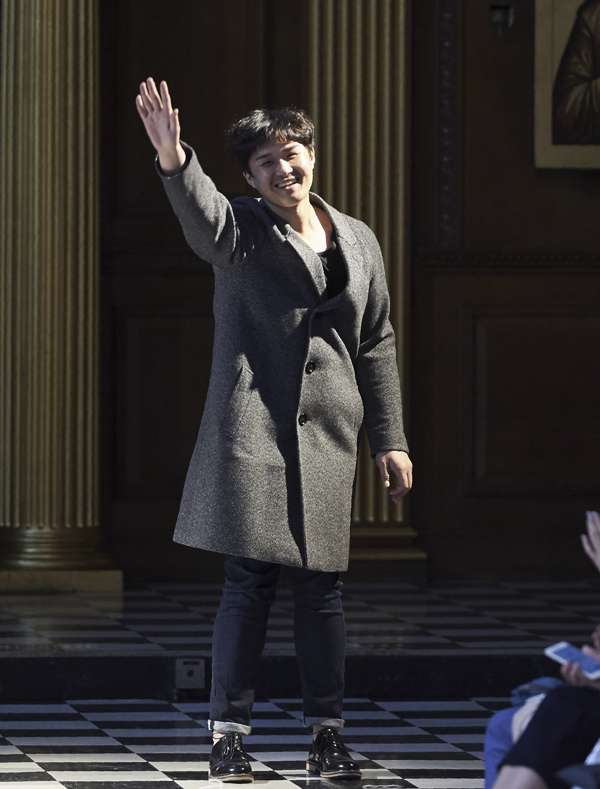 But Britain wants to send a lot more than just professors east. The country has gone into full courtship with China, working hard to convey the image of British fashion as being on a par with French and Italian fashion.
In 2012, the government launched the Fashion is GREAT initiative, for which Shanghai Fashion Week signed an agreement with the British Fashion Council to promote a collaboration between the two countries. Top Chinese designers were then invited to London Fashion Week for a forum called Urban Tale of Fashion and Creativity on future exchanges while British labels started increasing their advertising budgets in China. Burberry, for example, has invested in a WeChat partnership.
Winning designer Huishan Zhang adds esteem for 'Made in China'
"British branding already has a very positive, high-quality image in China and brands like Burberry have been very enthusiastic about capitalising on this with British-focused marketing," says Flora. "The French luxury conglomerates have an advantage in terms of sheer size, but staying ahead of the curve in technology can help any brand. Burberry was named by L2 as the second most digitally competent luxury brand in China, coming in ahead of all French and Italian brands."
As Chinese buyers become more fashion literate, it is hoped they'll want more than just a Burberry mac, that they'll want a Mary Katrantzou embroidered dress; a Christopher Kane pencil skirt; a JW Anderson silk pleated blouse; or a Molly Goddard baby-doll dress.
This is why, last year, the British government's Department for International Trade (DIT) brought over a group of Chinese buyers to fashion week, to introduce them to the trend-setting smaller brands emerging from east London. The trip was organised by Beijing-based fashion consultancy AnyWearStyle and included representatives of retailers Attos Group, Parkson Group, Jinying/Golden Eagle, Mei.com and JD.com. They placed nearly £1.5 million (HK$14.5 million) of orders during the trip alone.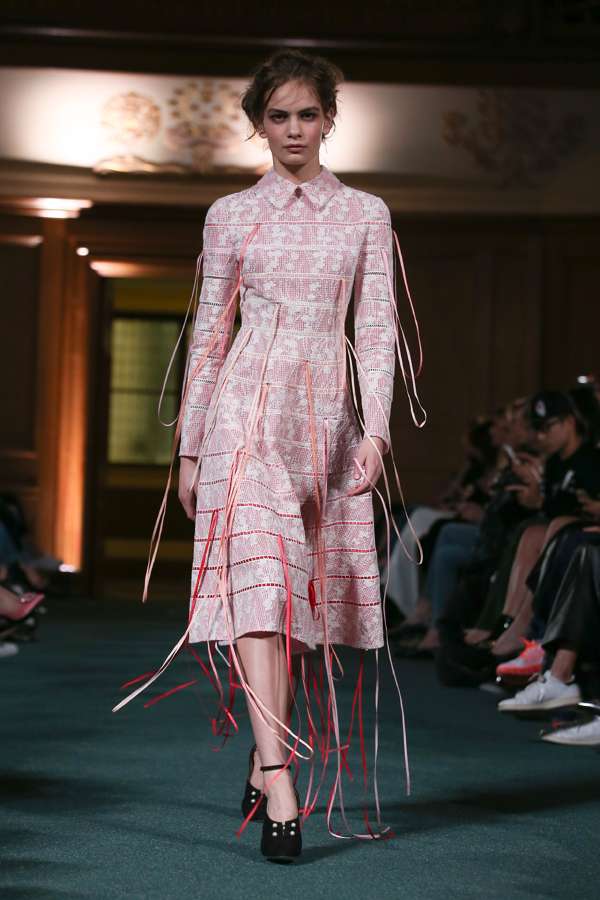 "I realised that most buyers and outlets in China didn't have access to the smaller brands that make British fashion the highly creative, hugely influential industry it is," says Alice McInerney, co-founder of AnyWearStyle. "Chinese retailers were working with heritage brands such as Burberry and high-street stores like Topshop but were ignoring everything in between, while British brands only looked to established retailers like Lane Crawford and Joyce, as they were intimidated by the rest of China. I knew there was potential as multi-brand stores in China want to be more experimental and Chinese consumers are very open-minded about new designers. They just needed someone to bring them together."
Belinda Chen, fashion and home accounts director at JD.com, says: "Many British brands, especially in fashion, have great branded products that our consumers love and they come to us because they know the products will be real. British brands are certainly gaining popularity in China. The opportunity to build British fashion in the China market, both for brands who have entered into China and for those looking to enter, is still [in its infancy] and the potential is enormous."
Chinese fashion talent a bright spot amid luxury gloom
The initial trip having been a success, the DIT brought another delegation of buyers, online retailers and department stores to the British capital this year, to London Fashion Week Men's (January 6-9).
"While it is too early to release any figures, we can say it went well," says McInerney. "And I knew it would [...] Chinese men tend to have a more adventurous sense of style than their Western counterparts, so retailers in China are open to trying some of the more experimental British brands."
British retailers are starting to understand that Chinese shoppers could form a major part of their business plan
This interest means British designers, for whom "east" previously meant Hackney or Hoxton, are now booking flights to Pudong International Airport. At last year's Shanghai Fashion Week, fringe event The HUB (established by Hong Kong-based Brits Richard Hobbs and Peter Caplowe), was dominated by trend-setting London designers such as Ryan Lo, Sibling and Henry Holland, as well as a group from non-profit Fashion East – which nurtures emerging young talent – that included Mimi Wade, AV Robertson, Caitlin Price and Richard Malone. Katrantzou, on the other hand, showed part of her autumn/winter collection at last year's Beijing Fashion Week, using only local models.
"Heritage brands still carry a lot more weight in China, partly because they have so many initiatives and events on the ground," says McInerney, "which is why bringing [smaller] brands and designers over to China is so important."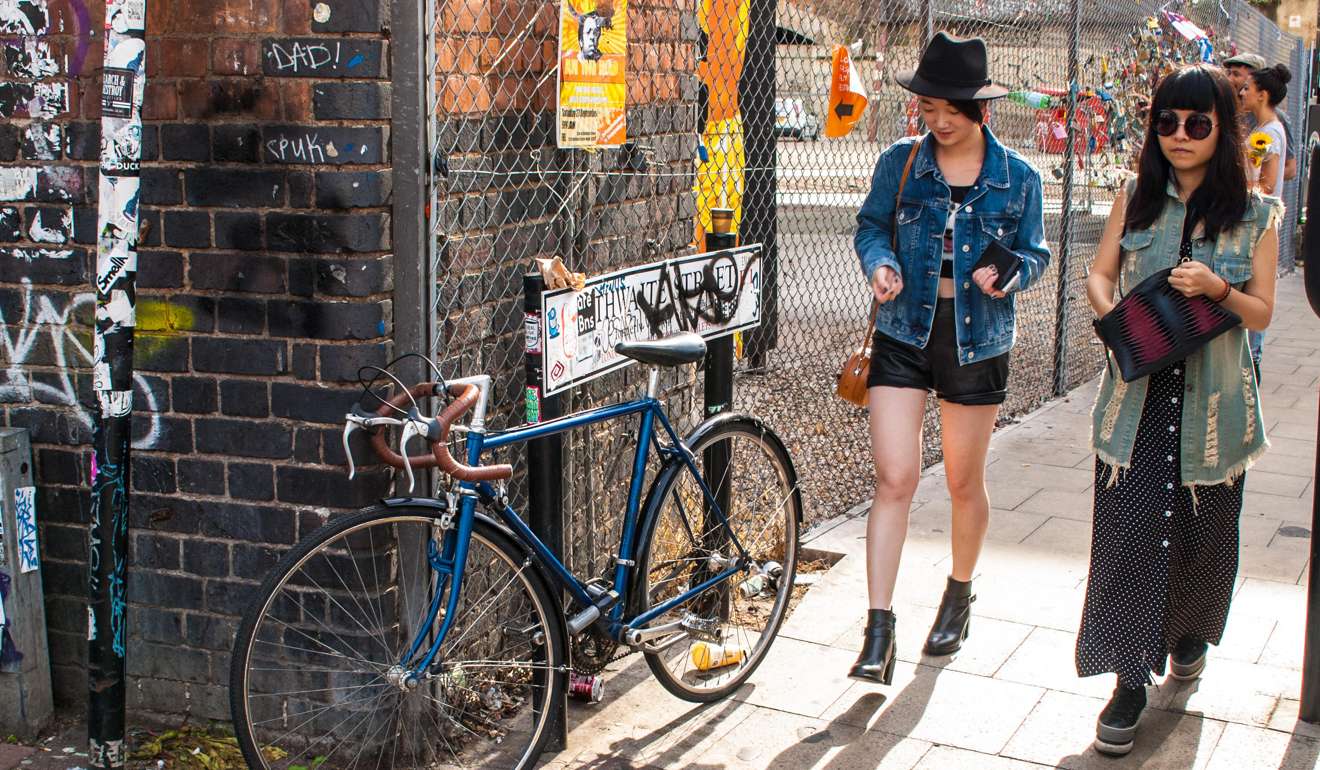 Even the high street is getting in on the act. In December, Topshop signed a deal with Shangpin.com to open up to 75 stores across China over the next few years.
"It has taken a while because China is very difficult to crack without the right partner," says McInerney. "Do you just focus on Shanghai and Beijing, where the market is already saturated? Or do you aim for the second- and third-tier cities, most of which are still bigger than London? It requires such a specific direction that you really do need to wait until you have the right approach."
Before the 2017 holiday, traveller intelligence company ForwardKeys predicted flight bookings from mainland China to Britain would rise by 88 per cent, year-on-year, for the Lunar New Year week. There are a number of factors to thank for the increase, including the post-Brexit vote fall in value of the pound, which has not only made Britain 11 per cent cheaper than it was, but also one of the most affordable countries in the world in which to buy luxury goods. And after years of lobbying from the fashion and tourism industries, the government has relaxed requirements on tourism visas for Chinese visitors, which has led to airlines increasing the number of flights they offer from China to Britain.
Meet the young Chinese designers who are redefining fashion
This has had significant consequences for the British fashion industry, as Chinese shoppers spend an average of HK$20,000 each during their stay – about three and a half times the amount other visitors spend.
"British retailers are starting to understand that Chinese shoppers could form a major part of their business plan, which means they need to offer UnionPay and Mandarin-speaking assistants," says Helena Beard, the managing director of PR and representation agency China Travel Outbound. "And it's not just tourist hot spots such as Bicester Village and Knightsbridge that are realising this – even vintage stores in east London are experiencing growth thanks to Chinese tourists."
But while it is easy to place emphasis on the financial power of China, particularly in comparison with a Britain that is still shell-shocked by the potential consequences of Brexit, this is a relationship that is beneficial to both parties.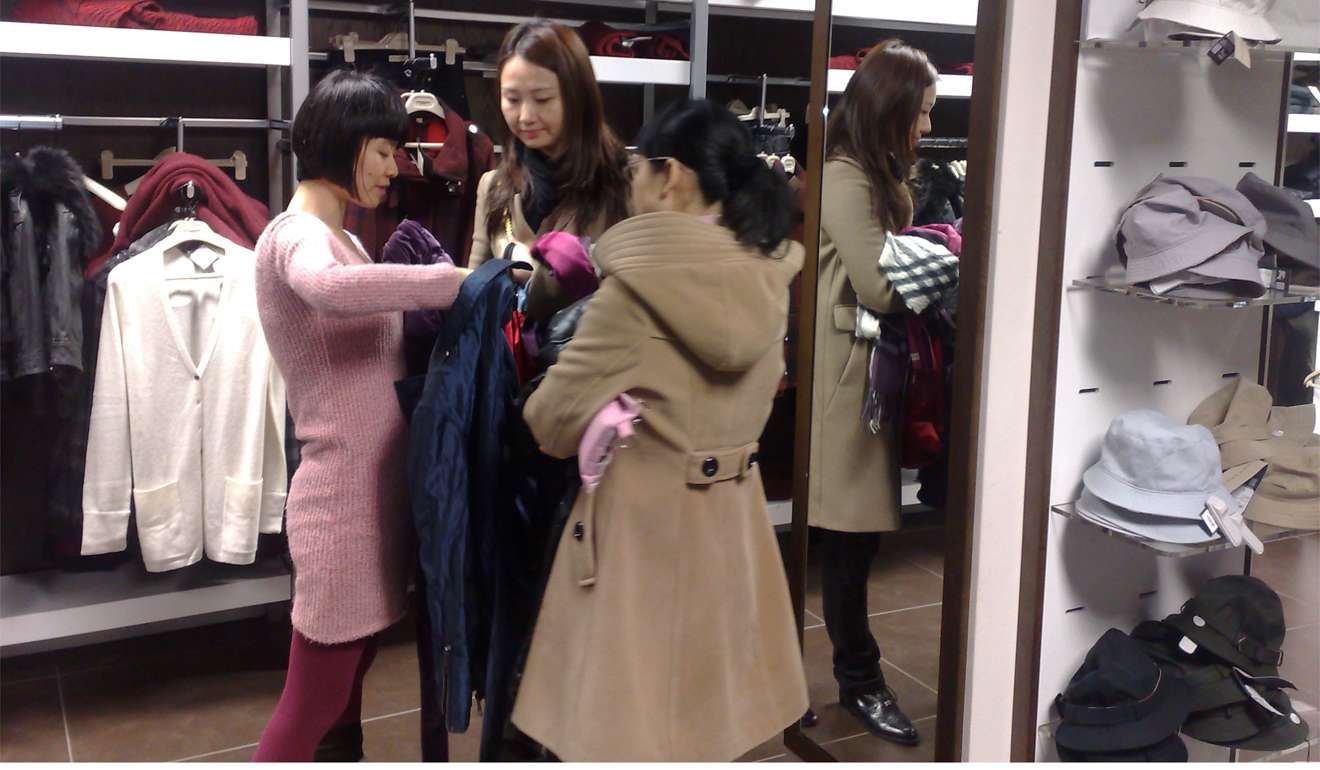 "It is important to remember that the Chinese fashion industry also has a lot to gain from closer ties with British brands," says McInerney. "These big e-commerce sites want to secure as many British brands as they can as it gives them the 'cool factor' they want."
Chinese millennials are going through a paradigm shift, where they're not only consuming materials, but also culture and experiences
The creative clout that comes from working with British designers and brands is something Adrian Cheng Chi-kong knows all about. Earlier this year, the Hong Kong-based founder of the K11 Art Foundation took Vivienne Westwood, one of Britain's best-known designers, to Shanghai for an exhibition that explored fashion and art through the lens of her activism.
"I think Vivienne's aesthetic is unique in the sense that it changes the way people look," says Cheng. "She designs in a way that feels experimental at first – such as punk fashion, slogan T-shirts, loose trousers – but is also very wearable. This also resonates with the urban Chinese because they are a very expressive bunch when it comes to fashion, and they are not shy to experiment. In fact, the Chinese have long had a respect and appetite for good fashion, and Britain offers great diversity.
"Chinese millennials are going through a paradigm shift, where they're not only consuming materials, but also culture and experiences," he says. "Savile Row [a London street known for its bespoke tailoring], for example, has that cultural richness and narrative that they seek, which is why I can only see the ties between the two countries growing stronger. Chinese millennials are looking for authenticity and culture, and British fashion is definitely where they will find it."
And while Chinese shoppers might not entirely insulate British fashion from the still largely unknown consequences of Brexit, a strong alliance between two countries with immense creative and financial resources will surely have an important impact on the industry — and lead to the kind of ambitious, imaginative collaborations on which fashion thrives.