One of the defining characteristics of being an artist is the desire to explore the more complex elements of your life and the society in which you live. In Yan Wang Preston's case, her haunting photographs of rural China allow her to make sense of the difficult relationship she has with the country of her birth – a place she left 12 years ago for a life in Britain.
Critical but also filled with sentiment, they have won her numerous accolades, including first prize at last week's prestigious Syngenta Photography Award. And yet, for all the success she has achieved in her chosen field, Preston came to photography almost by chance.
Raised in Henan province by two doctors, she studied medicine at Fudan University and worked as an anaesthetist at Shanghai's Huashan Hospital for most of her 20s – and her path in life looked set. But then, in 2002, she met and fell in love with a British mountaineer, Neil Preston, while rock climbing one weekend in Guilin, in the Guangxi Zhuang autonomous region.
When Preston moved to Manchester to be with him in 2005, she left behind not only her country, but her career. It was difficult for her to retrain as a doctor before gaining British citizenship, so, in what must have been a bitter pill to swallow for a highly educated medical professional, she worked as a typist in a bank. Partly to supplement her income, but mainly to provide her with some creative relief, she started accepting small photography commissions – a team photo here, a portrait of someone's horse there – which grew into part-time work for a local newspaper.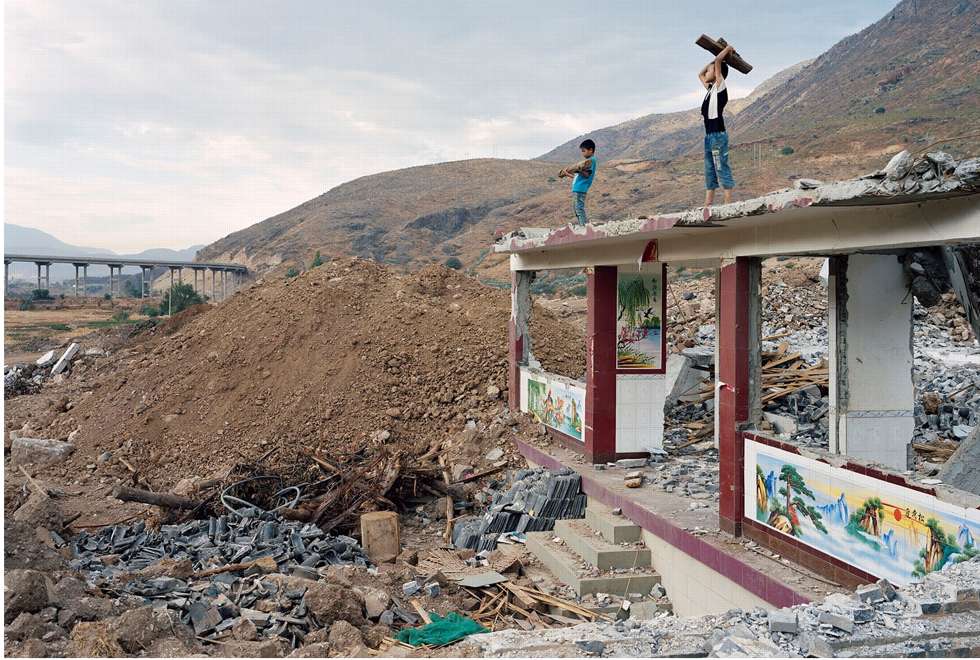 A year later, her images were hanging in the National Portrait Gallery, in London, as part of an exhibition called "Cherish: Chinese Families in Britain". For any photographer, this would have been an impressive career trajectory, but for a woman with no connections in London and limited knowledge of the British art world, it was astounding.
She is now one of the more respected photographers in Britain, but that hasn't stopped Preston leading what she describes as a simple life in her new home, in Yorkshire.
Goodbye old Canton: Guangzhou is booming, but at what cost to the people who live there?
We meet in a centuries-old wood-panelled café in Somerset House, on one of those dark midwinter days when London seems painted exclusively in shades of grey. With a broad smile and a shocking-pink scarf, Preston brings an infectious enthusiasm to a room of grim-faced Londoners.
When she starts speaking, her accent – Chinese pronun­ciation with Yorkshire vowels – shows just how rooted she is in both countries. And it is this duality that Preston has explored in her work. Focusing on the complicated relationship China has with nature and the complicated relationship she has with her homeland, her photographs are presented without explanation, allowing the viewer to decide for themselves how to react.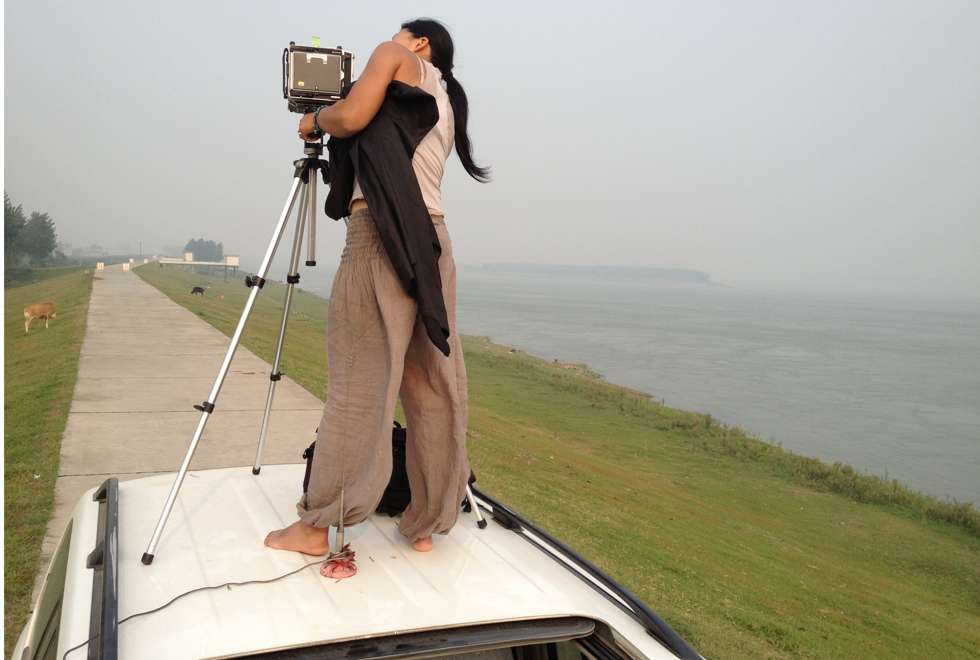 Preston's first project in China focused on the Yangtze River. Her work was inspired by John Thomson, who cut a 4,800km journey along the river in 1871, photographing landscapes and people who had never seen a camera, let alone a man from Scotland. His work later helped foster the myth of the Yangtze as the Mother River and the greatest symbol of 20th-century China.
But as China transformed into an industrial powerhouse, so did the artistic renderings of the Yangtze, particularly in the West, where images of rural China were often used as a way to document the extreme environmental consequences of what was seen as excessive commercial growth.
The human impacts of China's new urbanisation
Living in Yorkshire and seeing images by photographers such as Edward Burtynsky and Nadav Kander of a battle-scarred river covered in yellow smog upset Preston, but, she says, she wasn't entirely sure why. Despite having spent 29 years in China, had she bought into the myth over the reality? She decided she needed to create an objective portrait of the Yangtze – one that was neither a symbol for greatness nor of environmental destruction.
"I was ready to find a long-term photography project for myself," Preston says. "I was also at a personal crossroads – I was trying to establish myself as someone who was British-Chinese, and I was having a bit of an identity crisis. I knew that doing something in China on a personal level would allow me to find myself again, so I decided to explore the concept of objectivity, to see if I could be objective about something that carried so much emotion for me.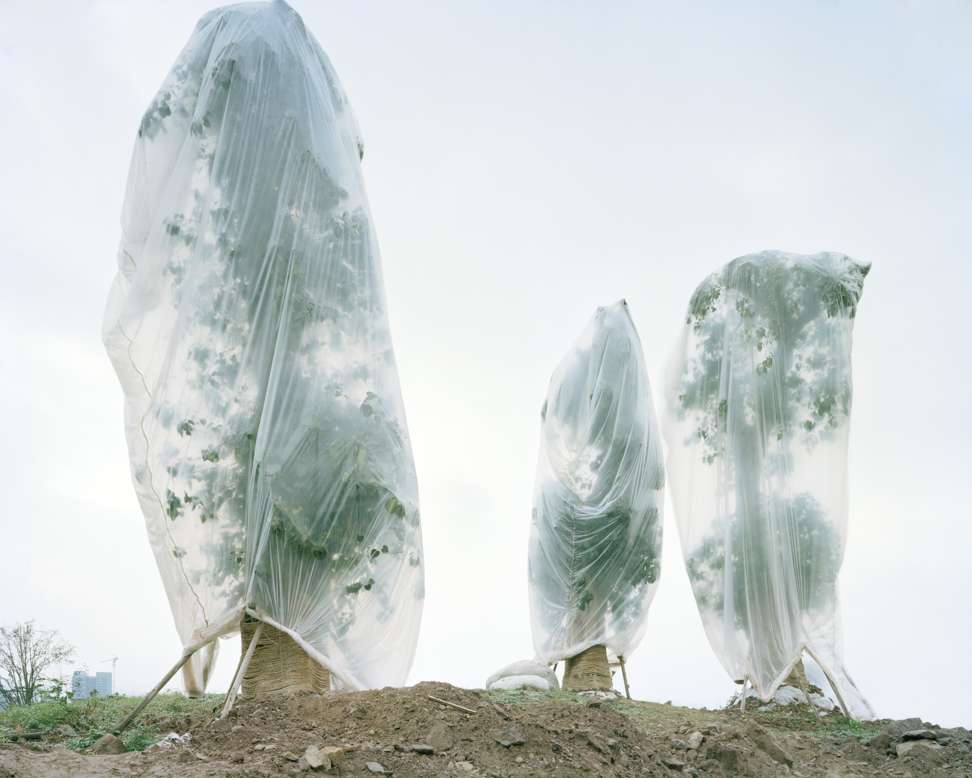 "I also wanted to challenge the myth of the river," she says. "I wanted to look further than these idealised sites like the Three Gorges Dam and all the imagery we have seen around it that promotes both the power of nature and the power of modernisation. Instead, I wanted to step back and draw a realistic portrait about what it is to look upon the Yangtze in the modern age, without criticism but without propaganda, either."
My 41 years photographing Hong Kong and China moments, big and small, by SCMP's longest-serving staff member, David Wong
Preston had documented the rather less celebrated River Ribble, in North Yorkshire, which she had divided into eight sections. As she walked the length of the river, she took images only at pre-determined locations, rather than at the most picturesque. She approached the Yangtze in the same way, dividing the river into 100km sections on a map.
"This framework forced me to look at places and landscapes I normally wouldn't have chosen, which means the images I took weren't shaped by pre-existing ideas," she says. "Everything is meant to be very objective because I am taking photos at places [...] that have never been noticed by photographers in this way . So I am creating a new set of perspectives."
She believes this clinical approach has made her a better photographer.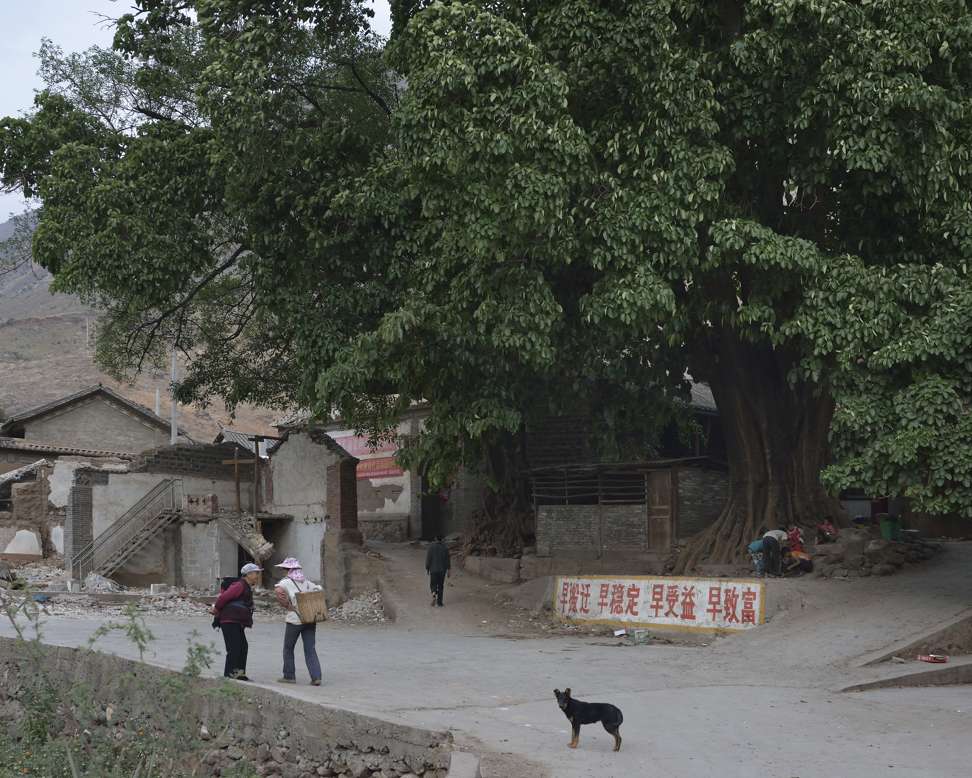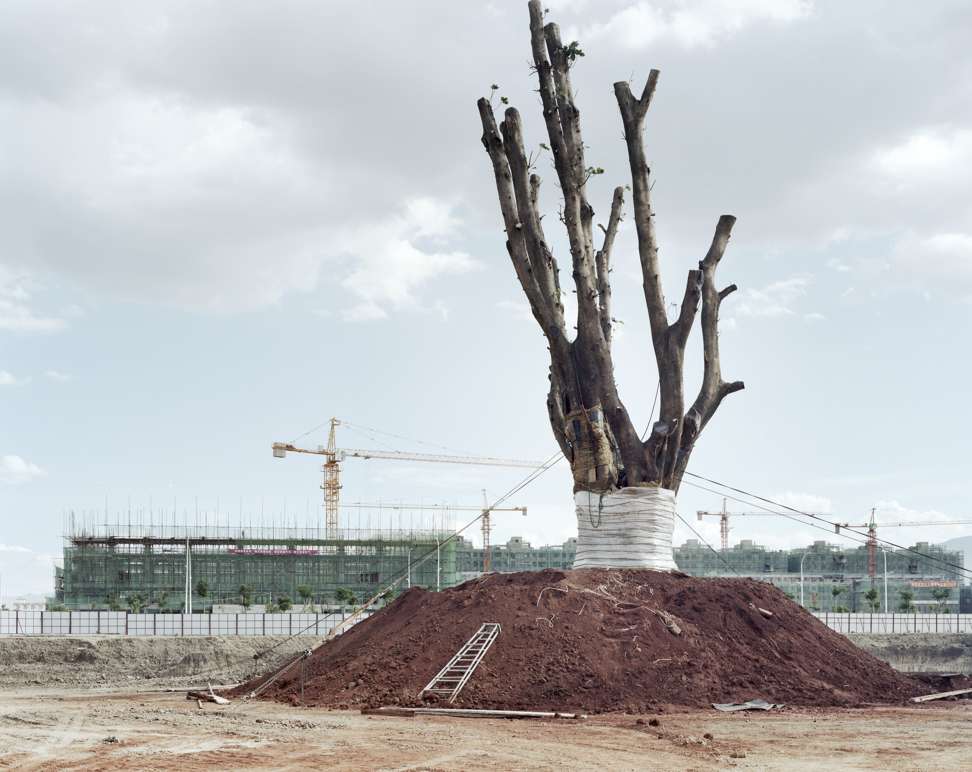 "There is a myth that artists are irrational and are only about aesthetics and emotion, but I think it is essential for artists to do research, read books and talk to scientists and environmentalists," she says. "My medical degree gave me a lot of environmental and scientific knowledge that was essential to the entire project."
It was also a physically gruelling undertaking that involved scaling glaciers, sliding across salt pans and swimming in the river itself, and Preston's medical and mountaineering background enabled her to take the challenge on without backup.
Drone photos of Hong Kong: Andy Yeung's unique perspective
As it was, however, Preston suffered far more from the emotional repercussions of the project than the physical ones, having found the reality of the Yangtze at odds with the idea of it she had held in her imagination for so many years.
"I was prepared for the weather and the altitude sickness but not for what I saw," she says. "I went to the Three Gorges Dam and found out that the photographers' work I believed to be overly critical of China had, in fact, captured it very well. You see, I wanted to find the Mother River and what I found were huge environmental problems. The most painful element in the journey was my sense of lost identity. The ecology disturbed me, but so did China."
While in China, Preston spent a week in Chongqing, the sprawling city at the confluence of the Yangtze and Jialing rivers that is, fittingly, home to a museum dedicated to the Three Gorges Dam.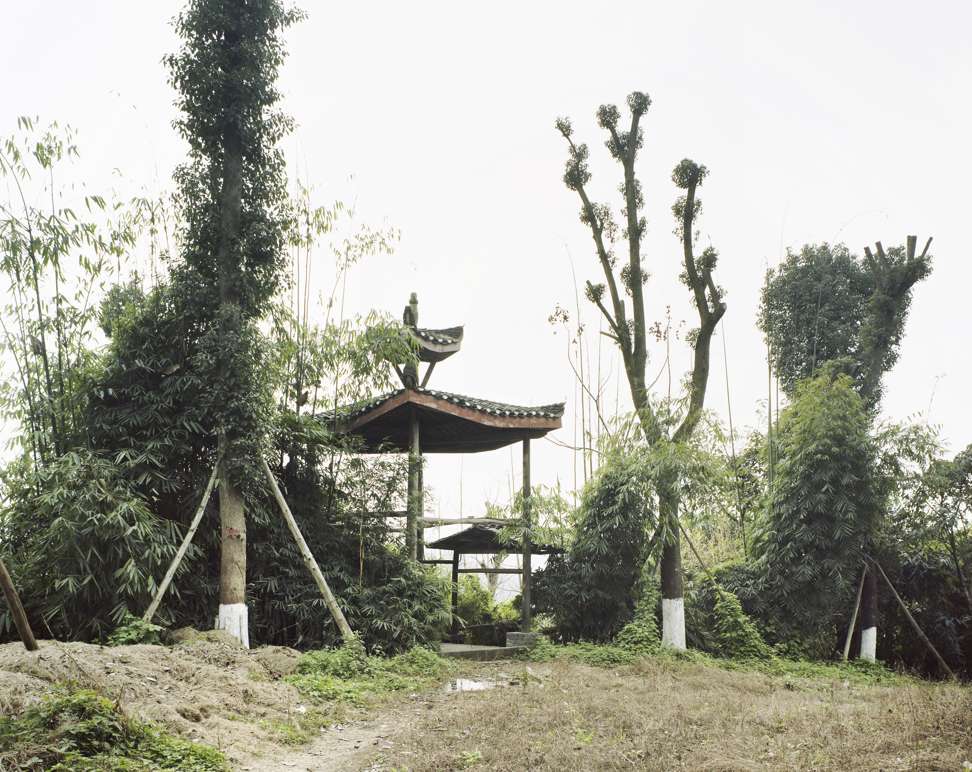 Having become a municipality in 1997 and, 20 years later, home to a population of 30 million, Chongqing has developed so rapidly that nature has not been able to keep pace – a fact that didn't stop local officials from deciding in 2008 that Chongqing should be a "forest city", studded with trees that would provide oxygen, beauty and shade for its inhabitants. A good idea, in theory, but nobody was patient enough to wait the 20 years it would take for the trees to grow, which is where the tree-dealing industry comes in.
"Everywhere I walked in Chongqing I was confused because I kept seeing trees covered in bandages with their branches lopped off. And trees that looked like they were dying," says Preston. "This is because, instead of planting seedlings, they buy mature trees from other parts of China, and even elsewhere in Asia. But many of the trees cannot cope with the journey or the change in soil and climate, and that is why they look so bleak. There are plastic bags covering their branches and they are wrapped in ropes and nutrition bags with needles stabbing their bark to give them nutrition."
How Angkor Photo Festival became Southeast Asia's top event for aspiring photographers
Inspired, Preston embarked on a new project, creating a haunting collection of photo­graphs of trees in Chongqing and other parts of China. Most of the trees were captured in portraits taken two years apart. In those two years, many of the trees died or withered, while one or two thrived in their new surroundings.
"It is a poignant collection of images because trees are such important symbols of strength and renewal and life," she says. "They are mythic to us and to see them deteriorating or looking ill and in pain is very upsetting."
Preston called the project "Forest", and submitted it to the third edition of the Syngenta Photography Award, which aims to draw attention to and stimulate dialogue about global challenges. The theme for 2016/17 is "Grow-Conserve", and this duality is important, because Preston is emphatic that these images should not provoke an anti-China reaction. The practice of moving mature trees may seem barbaric but it is not always without merit and, she points out, there are a number of stately homes and hotels in the English country­side that are graced with trees that were transported as mature specimens from other parts of the British Isles.
Wandering star: Chinese water-meter reader shot to fame taking photographs while walking the streets
"It is important to remember that the reason why this is happening is because the Chinese agree with the growing world view that it is important to live in harmony with nature and that it is important to preserve the lives of trees and animals on our planet," says Preston. "They may be turning nature into a commodity, but it doesn't mean they are not appreciating it, and that is an important distinction."
Preston tells the story of a 300-year-old tree that she watched being saved from almost certain death days before a rural village was due to be flooded by a new reservoir. Not only did the dealers remove the tree, they also gave the profits they made to the local people – although whether it will survive in its new home is uncertain.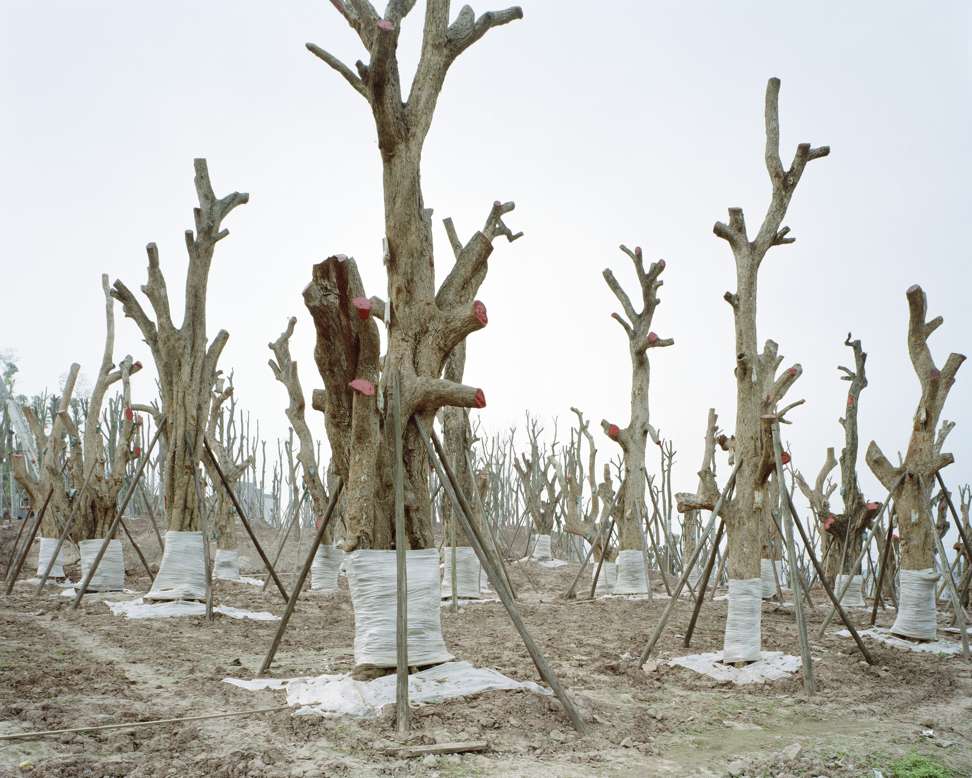 "Like with all my work, I want to tell all the sides of the story," she says. "I don't want to put on my red Chinese jacket and say China is amazing, because I believe part of what it is to love your country is to be able to see its faults. But nor do I want to only criticise. Everything in life is complicated and can be seen in many different ways. Yes, we definitely need to shine a spotlight on the tree-dealing industry, but do we need to outlaw it? I don't know.
"What we should do is ask questions about what we desire from all this economic growth and what we need to do to have a more ecologically sustainable future."
From agony of Sichuan quake to acres of beefcake
Preston may be approaching her project from an intellec­tual perspective, but it is impossible to deny the raw emotion in her images.
"Looking at the trees was very painful," she says. "And that pain is something I tried to capture. The best photographs have an emotional resonance and provoke a reaction, and I only took an image when I felt that connection, which means everything was shot to express my feelings and observations. Often I would see plastic bags on the trees from a distance, flapping like sails in the wind, and immedi­ately feel some emotion.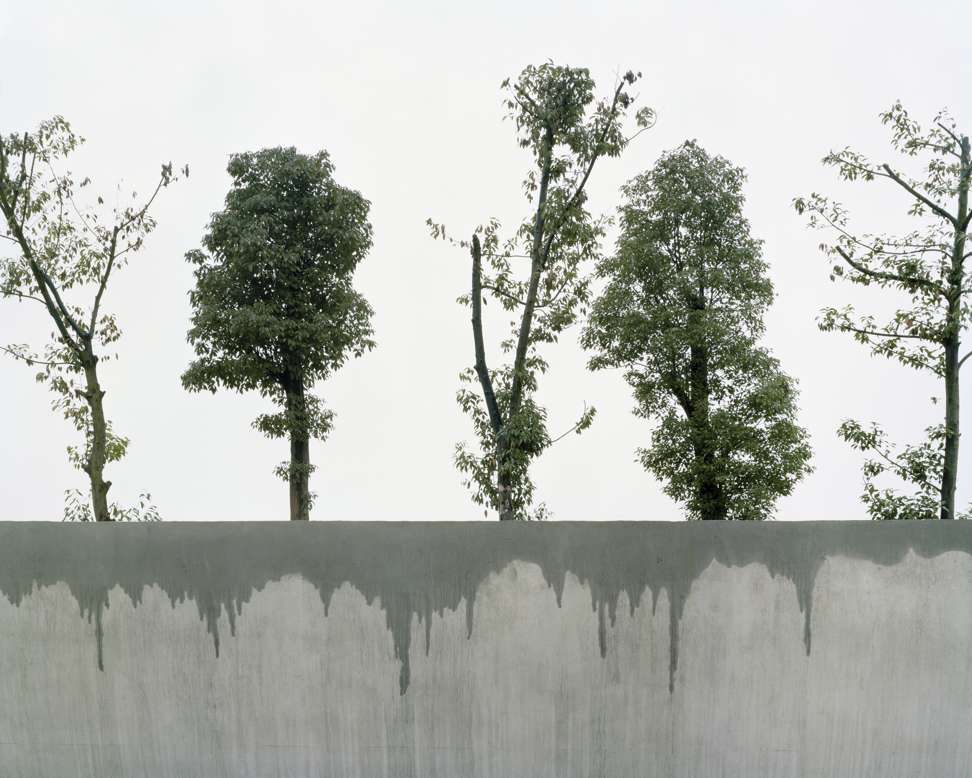 "You see, trees wrapped in plastic say an awful lot."
When Preston and I met last month, she didn't yet know she had won the US$40,000 first prize in the "professional commission" section of the Syngenta Photography Award, just in time for Sunday's Arbor Day in China. But, when I asked her what she would do with the money if she were to win – US$25,000 of the prize must be spent on exploring the winning photographer's project in a more in-depth way – she said she was hoping to further investigate the human element of the tree-dealing industry and the way in which trees are deeply rooted in traditional Chinese culture.
"In some small rural villages, life is centred around ancient trees," she says. "Can a pay cheque from an expensive hotel replace all that history? And do we have a responsibility to these people as well as to the trees? Or should we see it differently, that people in urban areas are just as deserving of access to nature as the villagers are?"
Pictures entered into the Syngenta Photography Award, Grow-Conserve will be on show at London's Somerset House until March 28.