I was born an artist. Nobody taught me. My father was an uneducated driver and there were eight of us – seven boys and, the youngest, a girl. I grew up in Pok Fu Lam. I remember my father getting up early in the morning to deliver fresh milk and we would take turns to ride with him. The milk van was freezing cold but we all enjoyed look­ing out of the window. Later, he became the sixth person in Hong Kong to get a taxi licence.
16 women who changed Chinese art
My first school was a traditional Chinese private school called Chiu Yin. It was run by an old man and his son near Nathan Road, in Kowloon, and, unfortunately for me, they practised corporal punishment. My problem was that I laughed too much. The principal puffed on his pipe all day long and it would set me off if he made a funny sucking sound, or if he tugged at his beard in a certain way. He hated it, and would ask his son to come and give me a good whip. I did get something out of it, though. At Chiu Yin, they taught us classical Chinese and forced us to memorise a lot of poems and passages. That's why my Chinese has always been pretty good and why I've always loved calligraphy.
A few years later I enrolled at Wah Yan College, in Kowloon. I was glad I had a chance to learn English because you needed that to get anywhere in life. My family couldn't afford the fees so I had to keep winning scholarships by staying at the top of my class.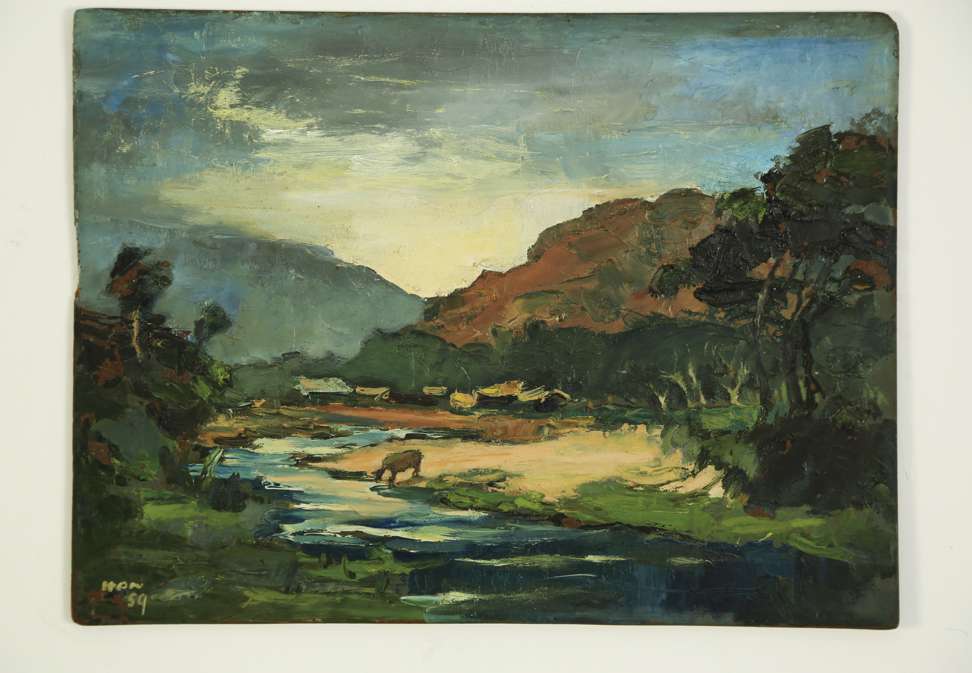 I always liked to draw as a child and I taught myself how. After the war I became a postal inspector. I did that for quite a few years but that was just a job, not a career. My entire being outside office hours was about art. In the 1950s and 60s, I went out to sketch every Sunday with a group of other artists that included Luis Chan Fook-sin. He was a bit older, more experienced, and he used to laugh at the rest of us as we tried to frame our landscapes very seriously. "Just put a pile of crap here, and a pile of crap there," he would say. He blew my mind away.
We couldn't afford canvas back then so we used fabric boards
I still have photos of us going around Hong Kong with a painting box each – they were boxes that opened up into easels. We couldn't afford canvas back then so we used fabric boards that were smooth on one side and rough on the other. I also did a lot of portraits. I would ask anyone to sit for me – beggars, friends, a White Russian refugee … I didn't have money to pay them so I would give them paintings instead.
Nonagenarian painter Hon Chi-fun exhibits works in Central
Times of uncertainty often make good art. The 60s brought us the Cultural Revolution in China, the riots in Hong Kong, the Beatles, the hippies, pop art and so on. That's when my art changed from realism to abstract. I switched because, mentally, I decided I needed to paint my inner world rather than reflect how the outside world looked. Others, like Lui Shou-kwan, also became aware of how Western abstract expressionists such as Franz Kline and Robert Motherwell were starting to reference Asian calligraphy and brushwork.
We all wanted to try and find a way to bridge Chinese realist tradition with Western modernism and the American painters gave us a model. Then, in the mid-60s, I founded the Circle Art Group and started using airbrushes on acrylic to create circles as an expression of my personal philosophies. I was still a civil servant then but also a hippy with a motor­bike. In fact, wearing my postal inspector uniform meant I got away with speeding.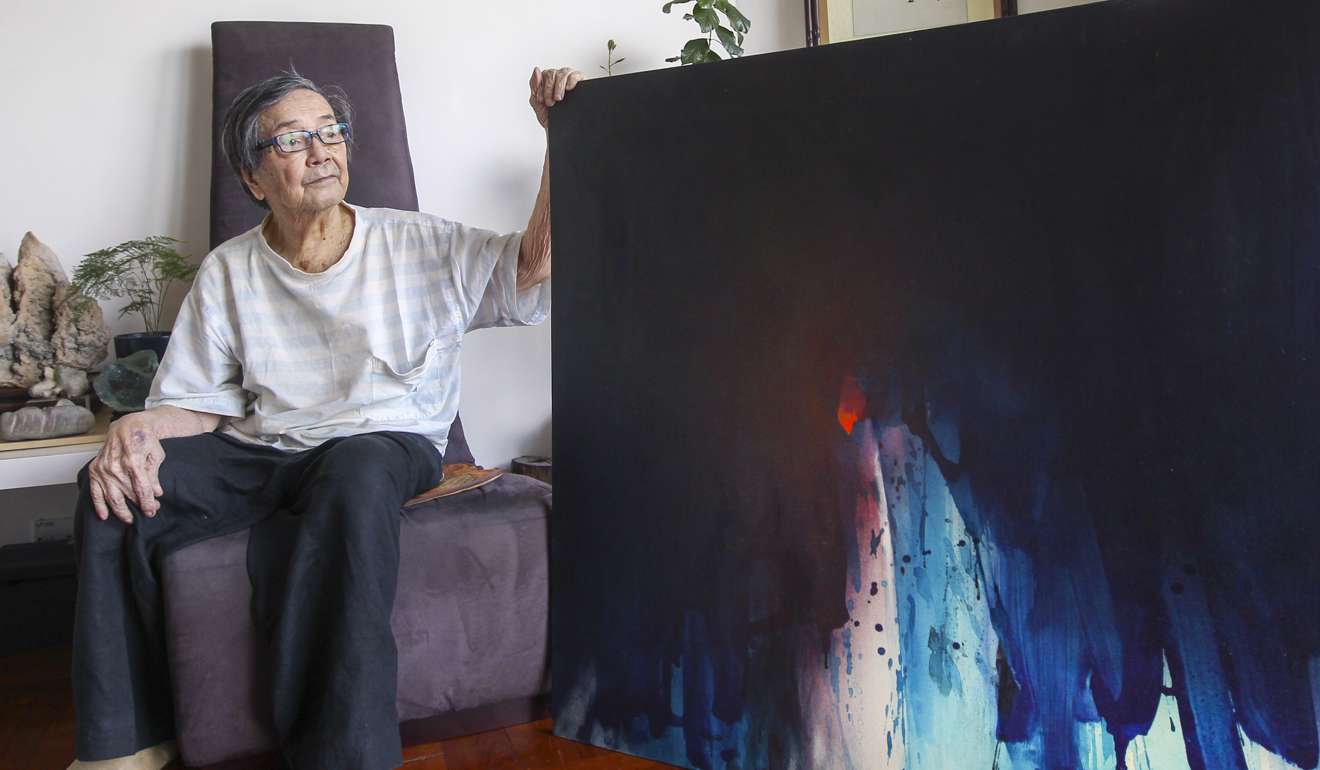 In 1969 I received the John D Rockefeller III Award from the Asian Cultural Council and spent about a year in the United States and South America. I'd never been to the States before. I studied at the Pratt Graphics Centre, in New York, and every weekend I would go to galleries and find out what's new.
One of my abstract brushwork paintings was hanging there, the wrong way up. I pointed it out to him and he said it looked sexier that way!
I went to the Iguazu Falls, in Argentina, on that trip. I was so in awe of it I fell off the tourist boat. I've painted it many times and went back there with my wife, Choi Yan-chi, in 1998. It featured in a number of the paintings I did while trying to recover from a major stroke in 2000.
In the 70s and 80s, I was rather popular but nearly all the buyers were expatriates or foreigners in the US and Europe. The only local buyer back then was Alice King Tung Chee-ping (owner of Alisan Fine Arts gallery and sister of former Hong Kong chief executive Tung Chee-hwa). There were a number of Westerners who did a lot to introduce Hong Kong artists to international collec­tors. People such as Nigel Cameron, Sandra Walters and Petra Hinterthuer.
I remember going to Italy to see this guy who bought my painting. I walked into this house and one of my abstract brushwork paintings was hanging there, the wrong way up. I pointed it out to him and he said it looked sexier that way! Hongkong Land also bought many of my paintings. When I told them I didn't have a big enough studio they gave me the entire fire floor in Alexandra House to paint in.
When Hong Kong had no galleries: 1970s art revisited in show
Yan-chi and I have been married since the 1970s. I guess we would have influenced each other's art over the years. But as someone said once, you have a modern­ist and a contemporary artist living under one roof so we often don't agree. My wife does installations mostly. I am old-fashioned by comparison.
The worst thing that ever happened to me was having a massive stroke in 2000. It affected my mobility but I never thought of stopping. I did Out of the Valley (2000; an abstract composition with a bright red spot emerging out of grey mist) as soon as I could paint again. It was how I felt. I was coming out of a thick fog with a fire burning in my heart. I am not afraid of death any more.
Hon Chi-fun is among this year's winners of the Asia Society's Asia Arts Awards, an annual celebration of artists whose works have been game changers in the Asian art scene.