Monday, January 23 was a particularly tough day for Adam Roberts. Crouching in a muddy pit on a Pok Fu Lam construction site, he came face to face with a 220kg bomb.
The call-out came shortly after 10am, after workers had unearthed the rusty bomb, one of thousands dropped by United States forces on occupied Hong Kong during the second world war. The AN-M64 contained 120kg of explosives and was designed to damage buildings and kill people within a 2km blast radius.
The workers who discovered it were probably unaware that when an AN-M64 detonates, it leaves a crater up to 11 metres in diameter and 3.7 metres deep. With the initial blast, capable of shattering windows and wrecking buildings, comes the fragmentation: thousands of tiny pieces of glass, rock, stone and wooden splinters travelling like missiles, capable of maiming or killing those in their path.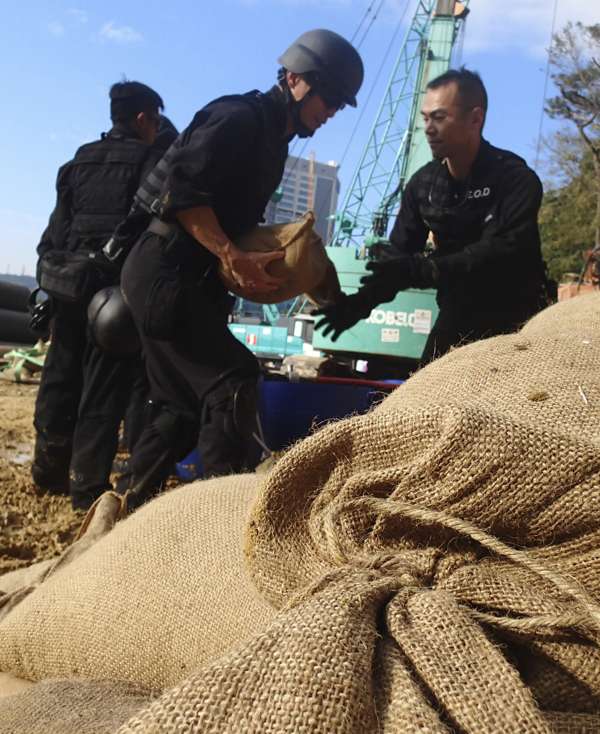 "That fragmentation could be moving at around 7,000 metres per second and, in a crowded city like Hong Kong, the consequences would be, to put it politely, messy," says Roberts, a bomb-disposal officer with the Hong Kong Police Explosive Ordnance Disposal (EOD) Bureau.
The icy-calm Roberts betrays slight irritation when asked if it's safe to assume that if a bomb hasn't exploded for more than 70 years, it probably won't.
"Absolutely and unequivocally not. Left buried alone it is highly unlikely that one of these items would function of its own accord," he says. "However, these items are no less dangerous than when they were dropped or fired with the express intention of wreaking death and destruction."
The combined effects of seven decades of degradation, the climate and vibrations probably make those left buried in Hong Kong significantly less stable.
Hong Kong workers and residents evacuated after discovery of wartime bomb
"When dealing with a UXO [unexploded ordnance], the first thing is to identify it and assess the danger it poses, then we reduce the threat to the public by building protective works such as sandbag walls," explains Roberts, and this can be a time-consuming business, as is the evacuation of nearby buildings. The disruption can last anywhere from five to 24 hours, depending on the type of weapon and its location – and that's assuming all goes to plan.
If it's deemed safe to do so, a UXO will be removed for disposal elsewhere. After any fuses have been neutralised, larger bombs that need to be dealt with in situ will have their explosives either steamed or burned out. For smaller devices, a controlled explosion is often the safest and quickest method of disposal.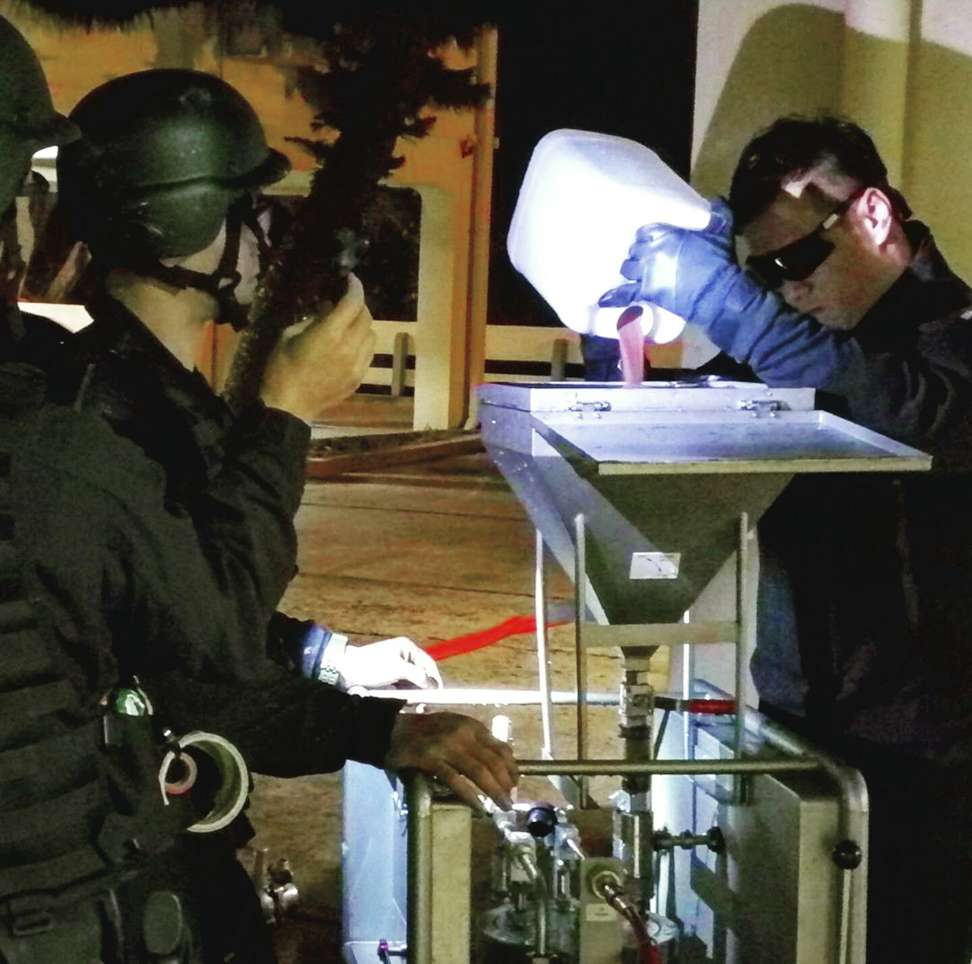 Despite the risks, Roberts is not accompanied by a battalion of uniformed experts armed with robots, drones and hi-tech, James Bond-style gadgets. A bomb-disposal team consists only of a specialist bomb disposal officer and an assistant, referred to simply as No 1 and No 2. The No 1 does the hands-on disposal and the No 2 ensures that the No 1 has the equipment to do the job; each relies heavily on the other.
"People like to read about hi-tech approaches to these problems, and we do use some very impressive equipment, but much of this work still comes down to a lone man down a hole with a shovel," says Roberts.
And there aren't many of those men with shovels. It's not widely publicised how many fully trained bomb-disposal officers there are in Hong Kong but it is believed that they can be counted on the fingers of one hand.
If a bomb was next to a road, anyone walking on the road adjacent to that site would just be wiped out. No question.
Now operating from its depot on Mount Butler Road, the EOD unit was established in 1972, and since then has dealt with all UXO found on land, except those on military property, which were handled by the British Army before the handover. Britain's Royal Navy dealt with UXO found at sea until the early 1990s, when the EOD bureau took on responsibility for those, too. If the People's Liberation Army has bomb-disposal capabilities in Hong Kong, they have not been witnessed publicly.
What the Japanese were doing in Hong Kong before second world war invasion
It is down to the expertise and professionalism of the bureau, therefore, that Hong Kong has yet to experience a deadly catastrophe in the modern era, although Roberts fears complacency.
"With no recent accidents and our success in clearing items without incident, there has been a growing indifference to the threat that unexploded ordnance poses," Roberts says, a situation he and his colleagues call a "creep to danger".
He says that up until a few years ago, there would have been a phone call or two and some discussion following a case such as that on January 23 but, increasingly, there has been an "indifferent silence".
Roberts is not the only one with concerns.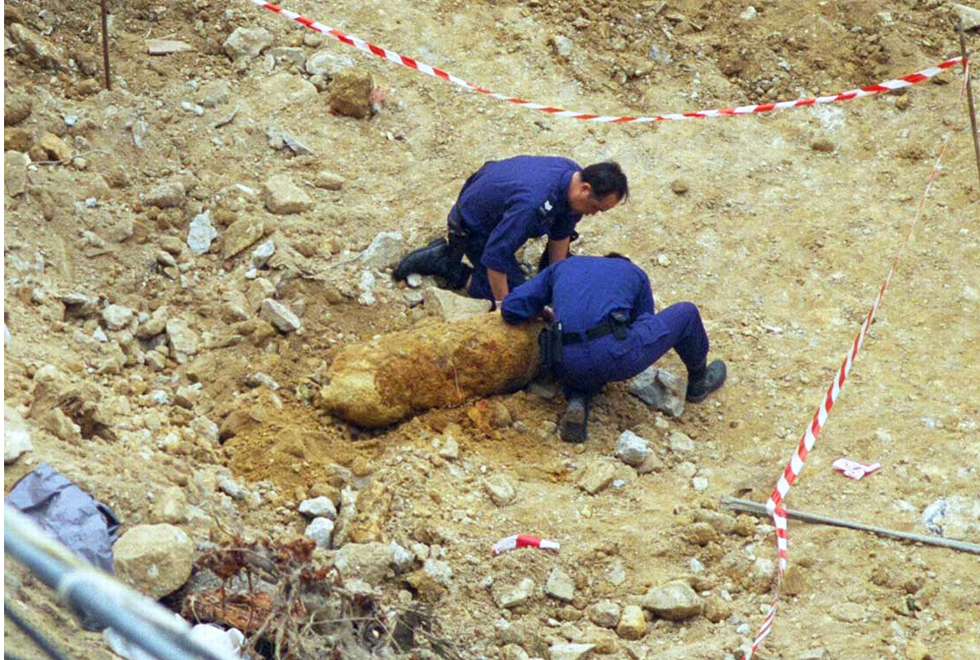 "We have been extremely fortunate so far," says retired police superintendent Chris Jones, who served in the EOD cadre, which supports the full-time disposal officers, during his 30 years of service with the Hong Kong Police Force. "People are complacent at all levels – in government and in the private sector – and they just don't see UXO as a real problem.
"Because a UXO has never gone off in the city, the inevitable reaction whenever I talk about this subject is that the police EOD team will take care of us. But they won't be there when you find the bomb," he says.
Old munitions could be detonated by a mechanical digger or pile driver before the bureau is notified, says Jones, who advises the private sector on UXO. He estimates there are 10 to 12 serious UXO incidents a year and that, as the ordnance gets older and more unstable, and as developers drill and pile deeper, it is only a matter of time before the unthinkable happens.
"There is definitely a problem – when 1950s buildings are demolished to make way for high-rises they dig down deeper so they can reach higher," he says.
Discover relics of war in Hong Kong
The degree of destruction should an old bomb explode, Jones explains, would depend largely on its location. This is always the primary concern for Roberts, who was No 1 on the Happy Valley case, on February 6, 2014, when a 900kg bomb was discovered in Hau Tak Lane, near the racecourse."Any miscalculation there would have resulted in the destruc­tion of the Sikh Temple and community centre, irreparable damage to a nearby hotel, the severing of Queen's Road East and damage to a nearby hospital," says Roberts.
"If a bomb was next to a road, anyone walking on the road adjacent to that site would just be wiped out. No question," says Jones. "I would say the threat is significant and should be carefully considered by anyone who wants to dig into the ground, but no one in Hong Kong accounts for it as a risk.
"Even if [developers took] the first step and looked at the location to see if it ties in with previous finds, that would be something. There is no excuse because most of the city's major developers have been here for years, so they know the territory and the history of Hong Kong as a war zone."
Thousands of tonnes of ordnance were dropped over Hong Kong between December 1941 and August 1945; initially by British and Japanese forces during the short but fierce Battle of Hong Kong (December 8-25, 1941) and later by the American forces that undertook air raids to dislodge the Japanese from the occupied territory. In November 2000, amateur historian Ian Quinn estimated that 4,000 bombs had been dropped on Hong Kong by American aircraft – and about 30 per cent failed to detonate.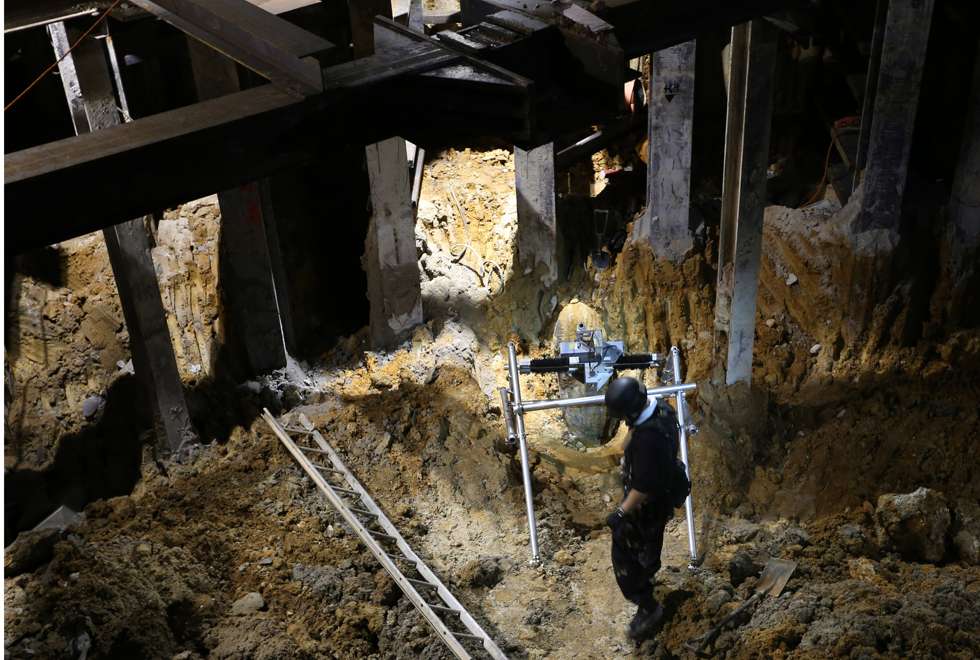 Records show that most of the official American strategic targets were around the harbour, including Hung Hom's Green Island cement company, but even in areas such as Pok Fu Lam, which was not a designated target, there have been other major incidents in recent years.
On October 5, 2015, more than 600 people were ordered to leave the Queen Mary Hospital area after an unexploded 150mm Japanese projectile was discovered. Just 30 metres from a hospital residential block, it was destroyed by two controlled explosions. On March 17, 2000, another US Air Force AN-M64 was un­earthed, at a highway construction site, at the junction of Pok Fu Lam and Bisney roads, about 80 metres from the hospital. It triggered a shutdown of the emergency services and the removal of 1,400 people from two hospital blocks as part of a major evacuation. The bomb was deemed unstable and was detonated in a controlled explosion, by a robot.
Roberts estimates there are about 80 to 100 UXO call-outs per year, and they are not all for large bombs in urban areas.
Hong Kong war relic hunter finds Japanese grenades in hills near Parkview
"The strangest case I have dealt with was a Japanese white-phosphorus fragmentation rocket on a beach on Lamma Island; it was probably from one of the Japanese suicide boats that were stationed there. It had sat out in public view in front of a restaurant for two days before being reported," he says.
Grenades, live bullets and small arms are often found in the country parks, on golf courses (the public course on Sai Kung's Kau Sai Chau island covers an old British Army firing range, and it's unclear how well that was cleared) and in more remote locations. They are reported by treasure hunters and amateur historians searching former battlefield sites, or members of the public out for a hike or walking their dog.
Many munitions were dumped at sea after the second world war and while some dumps are marked clearly on nautical charts, others are not. Seawater would have had its own corrosive effect on these UXO, and they present a threat to dredging and reclamation projects.
Hong Kong's only dangerous UXO explosion of modern times was at sea, on February 25, 1993. A Dutch registered dredging vessel, the HAM 308, detonated a 225kg bomb when sucking up mud from the seabed near Tsing Yi. Fortunately, the dredge head was 20 metres beneath the seabed when the impact occurred and, although the 5,600-tonne vessel was extensively damaged and one crewman injured, it could have been considerably worse.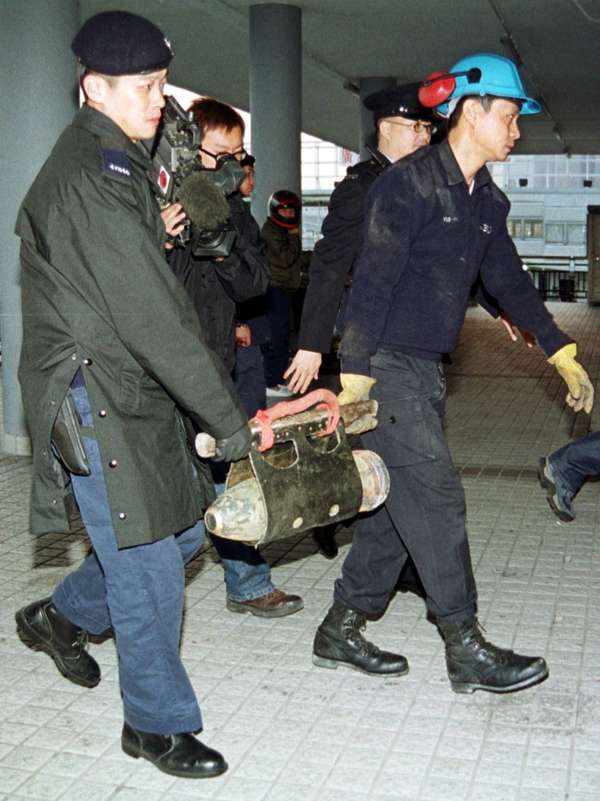 Then, in November 2002, it was reported that almost 200 bombs and artillery shells dumped offshore by the British military after the second world war had been removed from the Disneyland construction site on Lantau, after they had been found in sand dredged from the East Lamma Channel and used in reclamation work.
The cases are numerous and frequent yet many experts say legal protection and risk mitigation for UXO during Hong Kong's interminable dredging, reclamation, tunnelling, boring, bridge building and other construction projects, is virtually non-existent.
Mark Ranson runs a commercial UXO remediation business in Hong Kong and has been dealing with the explosive remnants of war since 1993. Given the scale of the problem, the size of the construction sector and the huge destructive impact if something goes bang, it is astonishing to learn there is little local demand for his services.
"Hong Kong is living on borrowed time," he says. "Eventually an item of UXO will detonate on a construction site or elsewhere and the impact could very well be catastrophic."
Although Hong Kong has specific laws for enforcing health and safety in the form of the Factories and Industrial Undertakings Ordinance (FIUO), Chapter 59, that does not mention UXO, so the problem is univer­sally ignored, says Ranson. While rules and procedures for operating in confined spaces or walking on high scaffolding might be included in a con­struc­tion company's health and safety policy, digging up a large unexploded bomb or stepping on a hand grenade is not.
The Battle of Hong Kong through the eyes of people who lived through it
"Everyone goes bananas if a scrap of asbestos is found on a site though it's very unlikely anyone will contract cancer as a direct result of a few minutes' exposure, but a 500-pound bomb is perfectly acceptable to ignore," says Jones.
Ranson says that despite their apparent emphasis on being "risk averse" and well-publicised health and safety policies, construction companies will not include UXO in their project risk register.
"Under current circumstances, insurance cover is likely to be invalidated since UXO risk is simply not addressed during project planning and insurers are therefore unaware of it," he says.
Ranson calls on the Labour Department to clarify whether UXOs are considered to be a health and safety hazard under their FIUO or not? If they are, he says, the department needs to explain why it doesn't enforce the management of UXO risk and why it allows other government departments and construction contractors to ignore these risks.
In response to questions from Post Magazine, however, the Water Supplies Department (WSD) says it is fully prepared.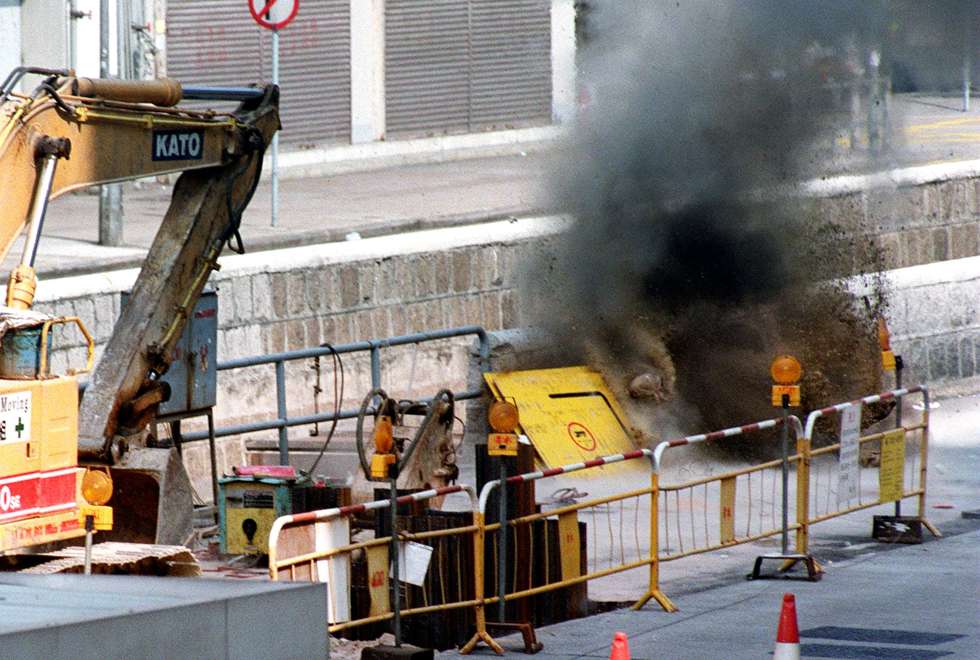 "Even though UXO has been rarely found on our sites, we are well aware of the importance of proper handling of UXO," says a WSD spokesman, although that was certainly not the case on April 8, 2006.
Then, drainage workers digging at the junction of Tonkin and Fuk Wing streets, in Kowloon, unearthed 588 items of war munitions that had to be made safe and removed by the EOD bureau. At the time, the chairman of the Construction Industry Employees General Union, Choi Chun-wa, called on the government to issue guidelines to workers on finding UXO and appealed to contractors to have sites checked before work started. According to Ranson, the WSD moved its excavation elsewhere and ordered the site to be filled in without searching for any other munitions.
"That site now lies buried next to a major road and around 10 metres from shops and housing," he says.
Three well-known construction companies, including Leighton Asia and New World Construction, were asked by Post Magazine to comment on Ranson's fears about local UXO policies but only Gammon Construction responded. Its spokesperson insists all of its projects are subject to proper risk assessment: "We have procedures for high-risk ordnance sites such as dredging and reclamation projects. We will also follow the guidelines of government authorities and seek their advice."
150 pillboxes and counting: Hong Kong historians want city's second world war relics conserved
Ranson says the absence of a clear lead from government means proper risk management measures are not factored into project plans or costs. If commercial companies were to include the costs of professional UXO risk assessment into their tender price, they would lose the contract. Instead, pile drivers, mechanical diggers and labourers with shovels are let loose into potential minefields.
"I think we should all be concerned because of the frequency of these events – it seems we will just wait until something terrible happens and then deal with the problem," says Steven Gallagher, associate dean of law at Chinese University and an expert in heritage law who has developed a professional interest in UXO. He finds it surprising that there are comprehensive procedures in Hong Kong for assessing the potential environmental and heritage effects of a construction project but nothing in place for determining the risk of unexploded munitions. "It's very Hong Kong," he says.
Even the phlegmatic Roberts, who deftly sidesteps questions relating to legislation or the policies of private companies, concedes there may be a serious problem.
"When it comes to actually dealing with UXOs in a densely populated first-world city, we do very well," he says. "When it comes to recognising the risks, I think there is room for improvement."