In a bustling, neon-lit nightclub in the Makati district of Manila, in the Philippines, a gaggle of Western tourists and expatriates cheer drunkenly as three dwarfs climb into the miniature boxing ring that is the centrepiece of the rowdy venue. Raucous laughter rings out as one of the dwarfs grabs a bottle of tequila from the corner of the ring and takes a heavy swig before staggering comically, trying to locate his opponent.
Then – with the Rocky theme tune thumping out from speakers around the bar – the two diminutive boxers stage a chaotic three-minute bout, swapping flurries of punches and even turning on the referee (the third dwarf in the ring) as the crowd whoops and hollers from their seats.
This is just the first of 10 pantomime bouts staged between 8pm and 4am at the Ringside bar, which employs about a dozen dwarfs. For many fights, Western customers are invited to climb into the ring and take a turn at being referee in return for tips and drinks.
The Manila company that operates the Ringside and a number of other hotels and bars in the same area clearly does extremely well out of the quirky attraction it advertises on billboards outside as "midget boxing". At a time when many neighbouring bars are empty as a result of President Rodrigo Duterte's bloody war on drugs, the Ringside's boxing dwarfs are pulling in money-spinning crowds.
But while the benefits for the bar owners are obvious, the rewards for the dwarfs are comparatively minuscule. They earn just 250 pesos (HK$39, US$5) a night – little more than the price of one customer drink in the bar – and, insultingly, have 50 pesos of that withheld as a fee for laundering their boxing outfits, employees say.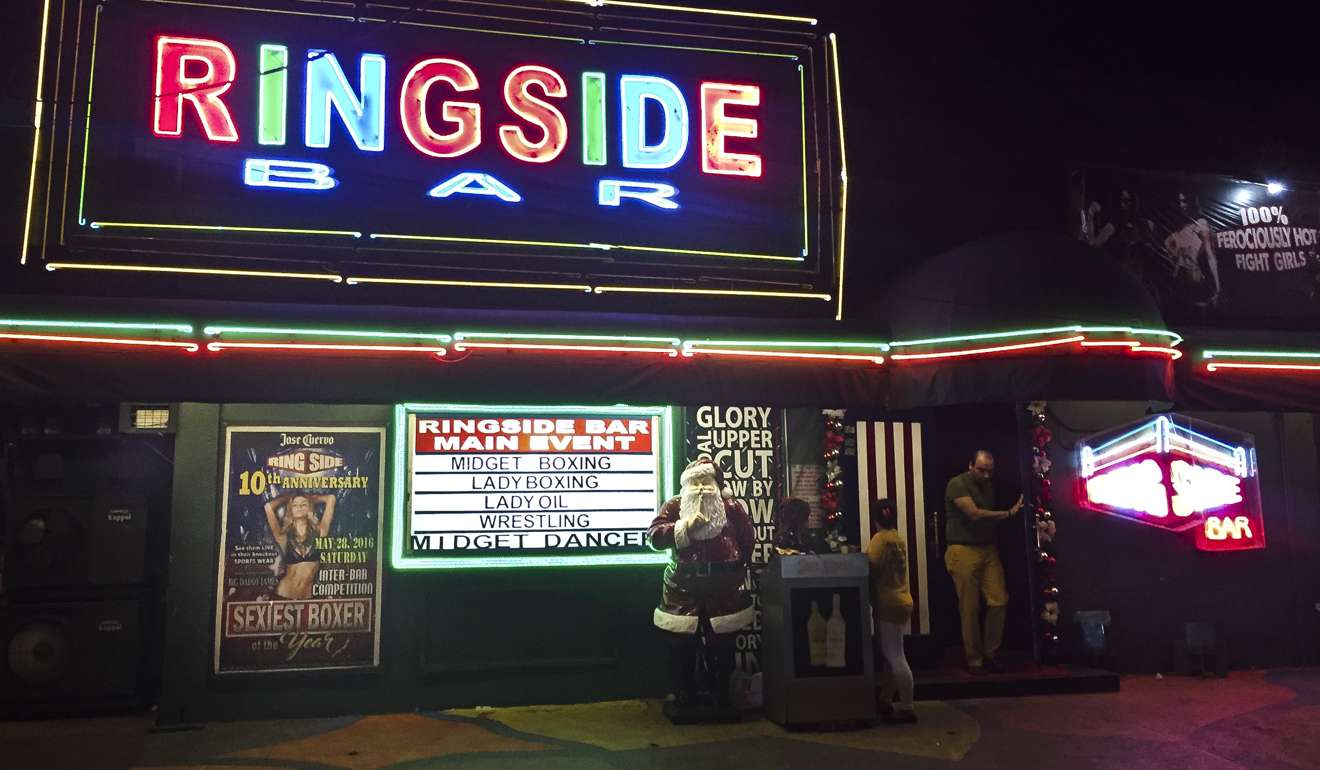 "It's barely enough to live on, especially when they have to travel long distances from their accommodation to get to work every night," says one of the bar girls who sidle up to customers as they watch the bouts. "They're really not treated well at all."
The Ringside's owners declined requests from Post Magazine for an interview.
The bar is not alone in its questionable treatment of dwarfs in the Philippines, where working in entertainment venues is one of the few employment options open to them. With no effective welfare or health care system and wide­spread discrimination against the disabled, they inhabit a twilight world.
There is a folk belief that whatever a woman craves during pregnancy will imprint her child's characteristics
Now, however, there are stirrings of change as Manila's little people – their preferred form of address; "midget" is highly offensive – begin to demand their rights. An organi­sation has been established to lobby for greater employment rights, public awareness, medical assistance and social welfare protection.
Little People of the Philippines has been set up by 1.17-metre Glorian Tomen, a quietly spoken, articulate 26-year-old from Angeles City, 75km north of Manila, who overcame a childhood of cruel taunts to graduate from college and take up a local government job as a writer and researcher.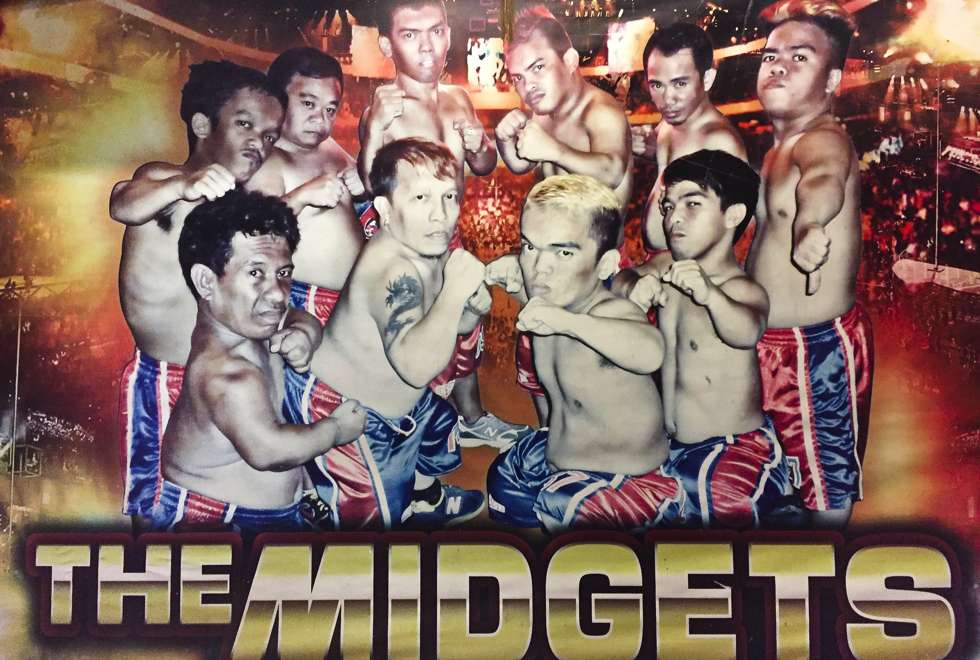 "Children would follow me and tease me and say, 'Look at the unano,'" she says, using the derogatory Tagalog term for dwarf. "My grandmother taught me to turn around to them and say, 'So what? I am still a Filipina.'
"I wanted to give up on education at times because I hated being followed and stared at every time I went out. But my family, friends and teachers encouraged me and said, 'You can do it.'
"I was afraid to go to college at first. I thought, 'How will I survive four years of that?' When I was in my first year there, though, I met new friends and became more positive. People there were more mature and treated me differently."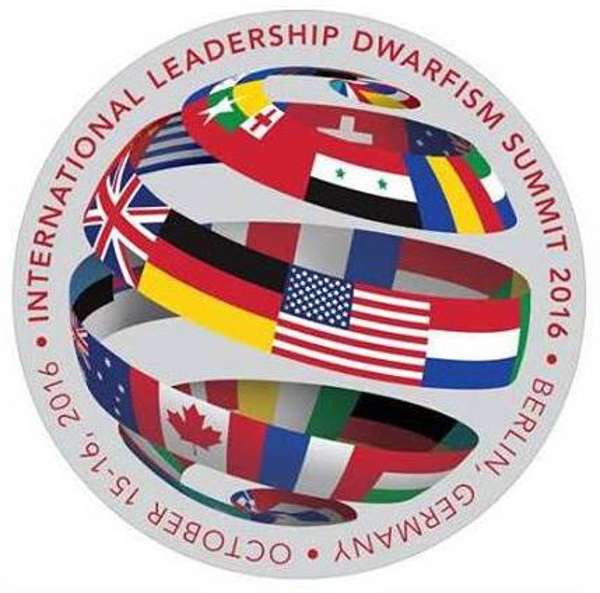 Tomen's decision to fight for equal rights came after she attended the first ever International Dwarfism Leadership Summit, in Berlin, Germany, in October last year. There, she was stunned and then inspired by the vast differences in the way people with her condition are treated in other countries and the relatively generous options available to them.
In the Philippines, there has been little civil action on behalf of people with dwarfism since a failed campaign six years ago to set up a village in Manila specifically for dwarfs. Tomen's more ambitious goals are not segregation but rather integration and equality.
Tomen has never visited the Ringside but shakes her head at descriptions of how it operates and calls it "degrading".
It's a small world: the Kingdom of the Little People
"People in the Philippines don't understand what dwarfism is about and they make people like us the butt of ridicule," she says. "I hope my fellow little people can find jobs that better suit them without this kind of thing. The government should give more support so that little people can get jobs that do not degrade them."
Tomen is speaking as she prepares for her group's first general assembly, to be held in a well-known venue less than 5km from the Ringside. Called Hobbit House, it is another entertainment venue featuring dwarfs but one with a very different philosophy.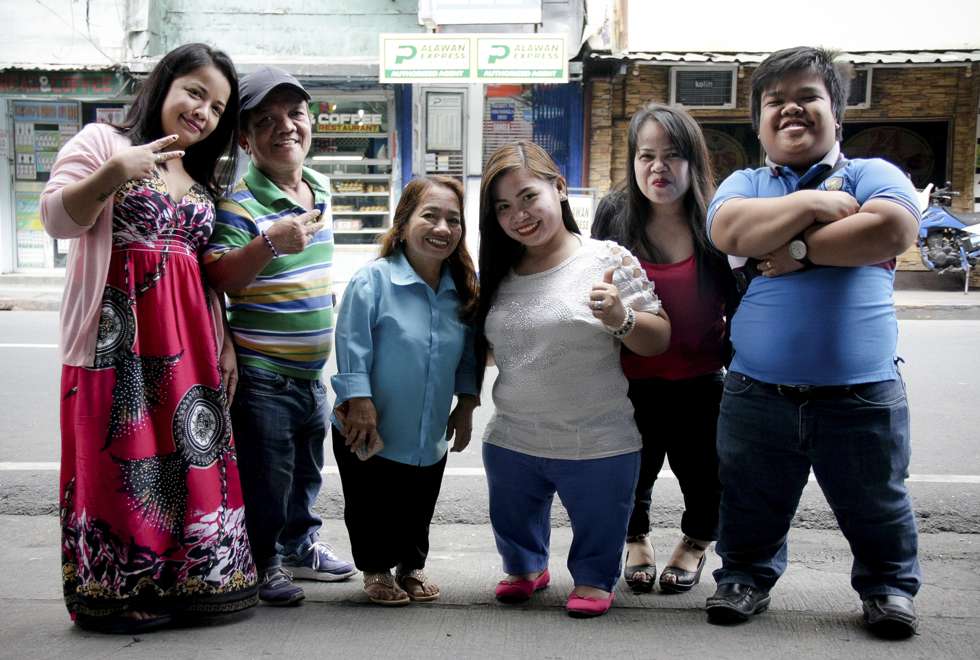 Set up in the 1970s by former United States Peace Corps volunteer and J.R.R. Tolkien enthusiast Jim Turner, who died last year, it is now run and managed by little people and is a beacon of progress.
I recognise opportunity is limited for marginalised com­munities in places like the Philippines but the answer is not to objectify people and take advantage of their differences
The general assembly, titled "Big Dreams for Little People", drew more than 30 dwarfs working in and around Manila, including Ringside employees. Tomen is now arranging quarterly meetings and lobbying officials at the Department of Health and the Department of Social Welfare and Development to attend and field questions on their policies for helping little people.
In an address to the February assembly, Tomen told the audience: "Whether you are small or tall, whether you are disabled or not, your physical appearance should never stop you achieving your dreams. Fight, dream big and believe in yourselves."
Chinese dwarves say 'little people' theme park allows them equality and respect
Beforehand, Tomen had conducted a survey of little people in the Philippines that revealed a disturbing lack of awareness surrounding dwarfism, even among people with the condition. None of those interviewed had ever had their form of dwarfism diagnosed and many held superstitious beliefs about the causes of their condition, with some still sub­scribing to the countrywide myth that dwarfism is caused by illness or diet during pregnancy.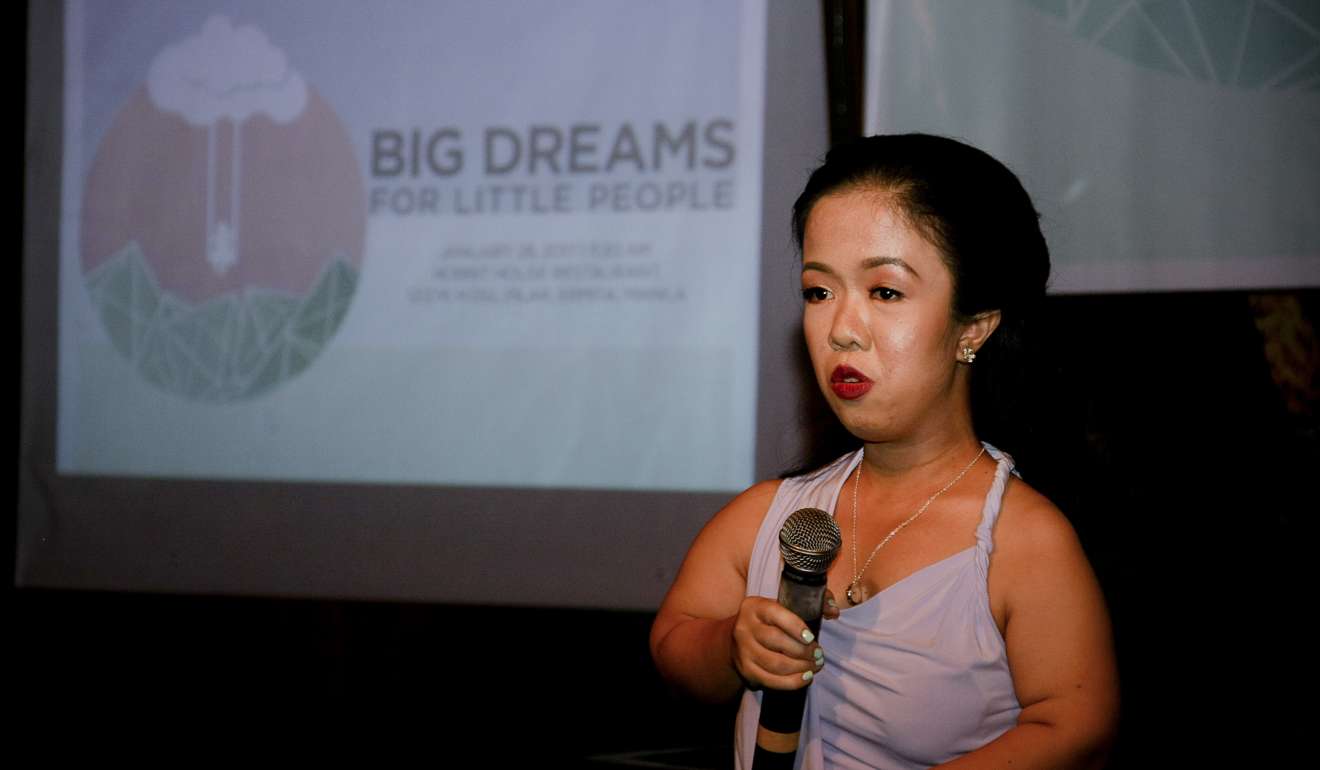 "My No 1 question was, 'What kind of dwarfism do you have?' and most said they did not know," says Tomen. "There is a folk belief that whatever a woman craves during pregnancy will imprint her child's characteristics. One of the interviewees told me her mother got sick and had pneumonia during pregnancy and that was the reason she was born the way she was. I was very saddened by the answers people gave me."
These deep-rooted suspicions breed a fatalism that stops people with dwarfism seeking medical help – a potentially life-altering omission with conditions that can leave sufferers prone to sclerosis and hip and bone problems. Those prob­lems are inevitably exacerbated by activities such as boxing.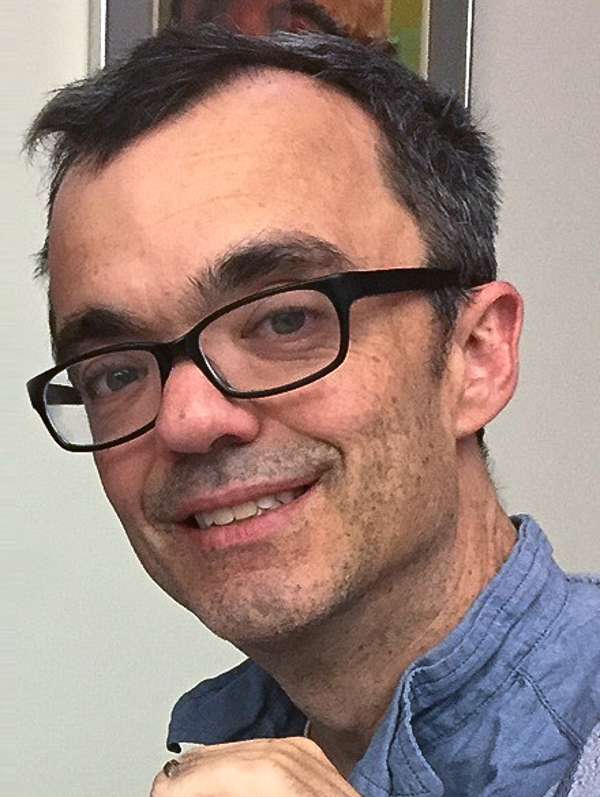 One of the people who inspired Tomen at the Berlin sum­mit was Gary Arnold, president of Little People of America, a charity that provides support to individuals with dwarfism and their families. Arnold appeals to tourists and expatriates to boycott venues such as the Ringside.
"I hope people will stay away. The more we support this kind of thing, the more it sends the message that it is some­how OK," he says, in a telephone interview from the US. "It reinforces antiquated myths and stereotypes of little people being objects of entertainment for the larger community."
Arnold – whose group lobbied unsuccess­fully to have scenes of dwarf tossing edited out of the hit 2013 movie The Wolf of Wall Street – appeals to little people to take a stand and refuse jobs such as those at the Ringside.
Dwarfism won't hold back our children, say determined parents
"People say it's their choice to be involved in this kind of entertainment," he says. "But when that entertain­ment is based upon objectification of an entire group of people it affects everyone, so we are justified in trying to stop it.
"I recognise opportunity is limited for marginalised com­munities in places like the Philippines but the answer is not to objectify people and take advantage of their differences. The answer is to create more opportunities and look at why those barriers to mainstream employment exist and do what we can to knock them down. We have to fight discrimination, not give in to it."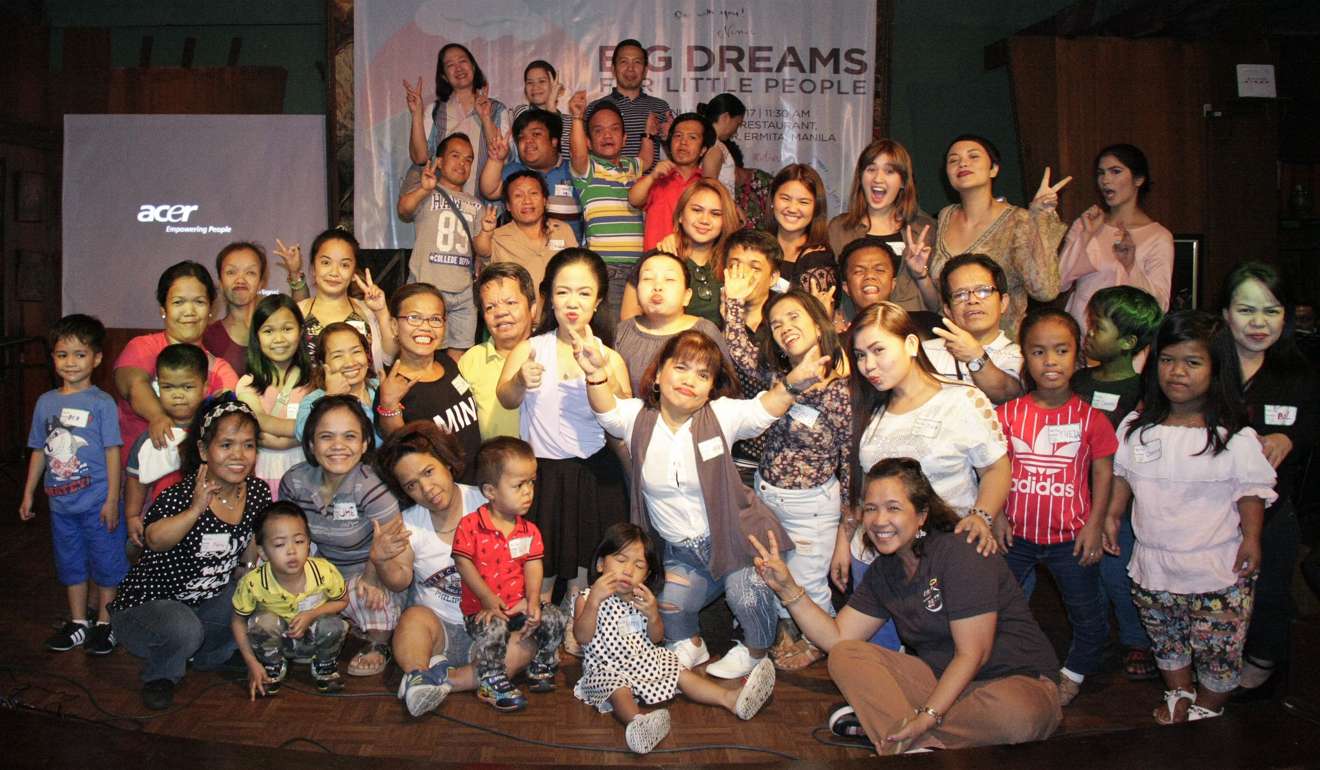 Arnold delivered a video address to the meeting at Hobbit House. Holding up a poster saying "Disability rights are human rights" he told them: "Now more than ever we need to work together inter­nationally to address the issues facing people with dwarfism as well as the issues that face all people with disabilities."
For Tomen, however, one of the biggest challenges is persuading little people who have been ridiculed and excluded from regular society from an early age to stand up for themselves and press for equality in a country where the disabled and the under­privileged face crushingly bleak prospects.
Nevertheless, it is a fight she is deter­mined to win and one upon which far more depends than the degrading nightly spectacle at the Ringside cheered on by foreigners whose presence, in the view of anti-discrimination campaigners, makes them complicit in the exploitation.
Little people get a chance to shine in shadow world
"Too many little people are afraid to speak out and just want to hide themselves away," Tomen says. "They are marginalised and made to take on menial jobs. I want little people to fight for equality and welfare protection. I hope that in my own small way, I can help them."
---
Lords of the ring
Dwarfs are hired as boxers to entertain tourists in resorts across Asia – but the origins of the "sport" are thought to be in the craze for so-called "midget wrestling" in North America in the 1950s and '60s.
The United States National Wrestling Alliance had a World Midget Championship that lasted until the '80s, with the sport apparently popular in both the US and Canada, particularly in the '50s, which have the dubious distinction of being described as the "golden age of midget wrestling".
Prominent wrestler Sky Low Low – the first official midget wrestling world champion – had a long-running feud with a bruiser called Farmer Brooks in an era when the fighters achieved celebrity status. Sky Low Low, 1.07 metres tall, once fought a bout in front of Britain's Queen Elizabeth and King Farouk of Egypt with his arch rival, Little Beaver.
By the '70s, female dwarf wrestlers had become common and the sport enjoyed a resurgence on US television in the '90s before becoming increasingly obscure and controversial.
"Midget boxing", fought in the same pantomime style, is aimed mostly at Western tourists and expatriates in resorts in Thailand, the Philippines and Bali, Indonesia, and was the subject of one of the most notorious internet hoaxes of recent years.
A bogus BBC website story picked up by newspapers and broadcasters worldwide in 2005 told how the entire Cambodian Midget Fighting League squared up against an African lion in Kampong Chhnang. The bloody encounter was said to have been staged in a coliseum to a sell-out crowd as part of a high-stakes gamble after the president of the league claimed his dwarfs were so tough they could "take on anything – man, beast or machine".
Within minutes, the fight was called off with 28 dwarfs mauled to death and 14 so injured they could no longer fight back, according to the hoax story, which remains online and continues to do the rounds.