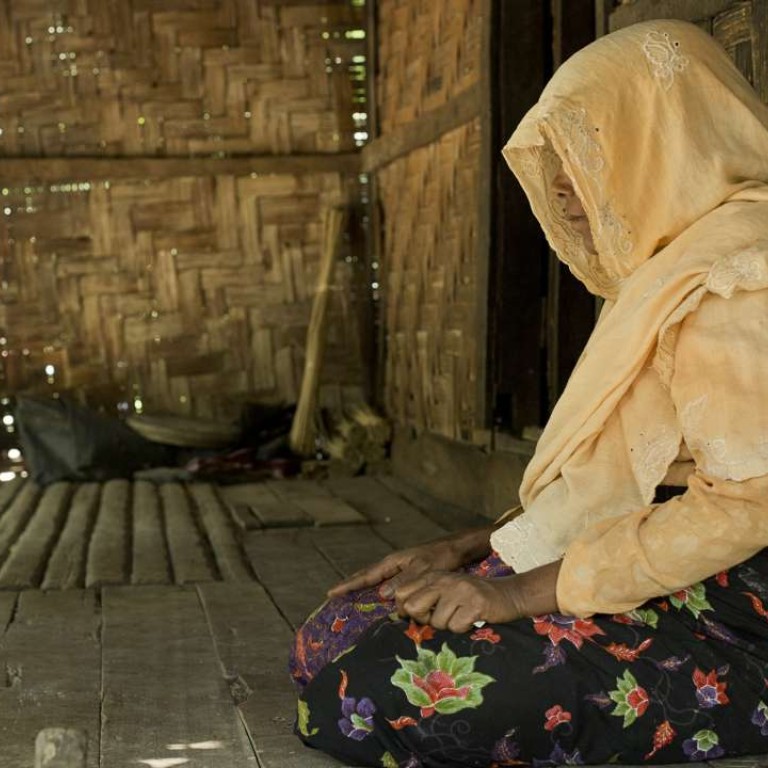 Rohingya villagers tell of Myanmar forces' reprisal killings after insurgents' deadly attack
Husbands, neighbours, grandsons – police and troops dragged them from their homes in Myo Thu Gyi, Rakhine state, and executed them. All were innocent civilians say witnesses to the killings, revenge for police deaths in a rebel raid
Early on the morning of October 10, last year, two military men stormed into the small wooden house of Noor Begun (not her real name), a fragile Rohingya woman, in Myo Thu Gyi, a village in Maungdaw township, in the north of Rakhine state, Myanmar.
"They beat up my husband in front of me and my seven children, we cried and pleaded with them, but they didn't listen to us. They kept beating him and I passed out. When I regained consciousness, he wasn't there," she recounts to Post Magazine, speaking in the covered porch of her house and trying to contain her tears.
Her husband, Tayoub Ali, was dragged by the soldiers to a spot near the cemetery, about 100 metres from his house, and executed by the security forces with a shot to the head. His brother was also dragged from his house, but he had been beaten so badly he could barely walk, so he was shot midway to the execution ground. Fatima, a woman in her 20s, saw the killings unfold from her house.
"[The area] was full of soldiers and Border Guard Police; I couldn't distinguish who was which because all of them were wearing dark green raincoats," she says. "They were dragging that man, but he could not walk, so they just shot him right there, in front of me. They just left him there."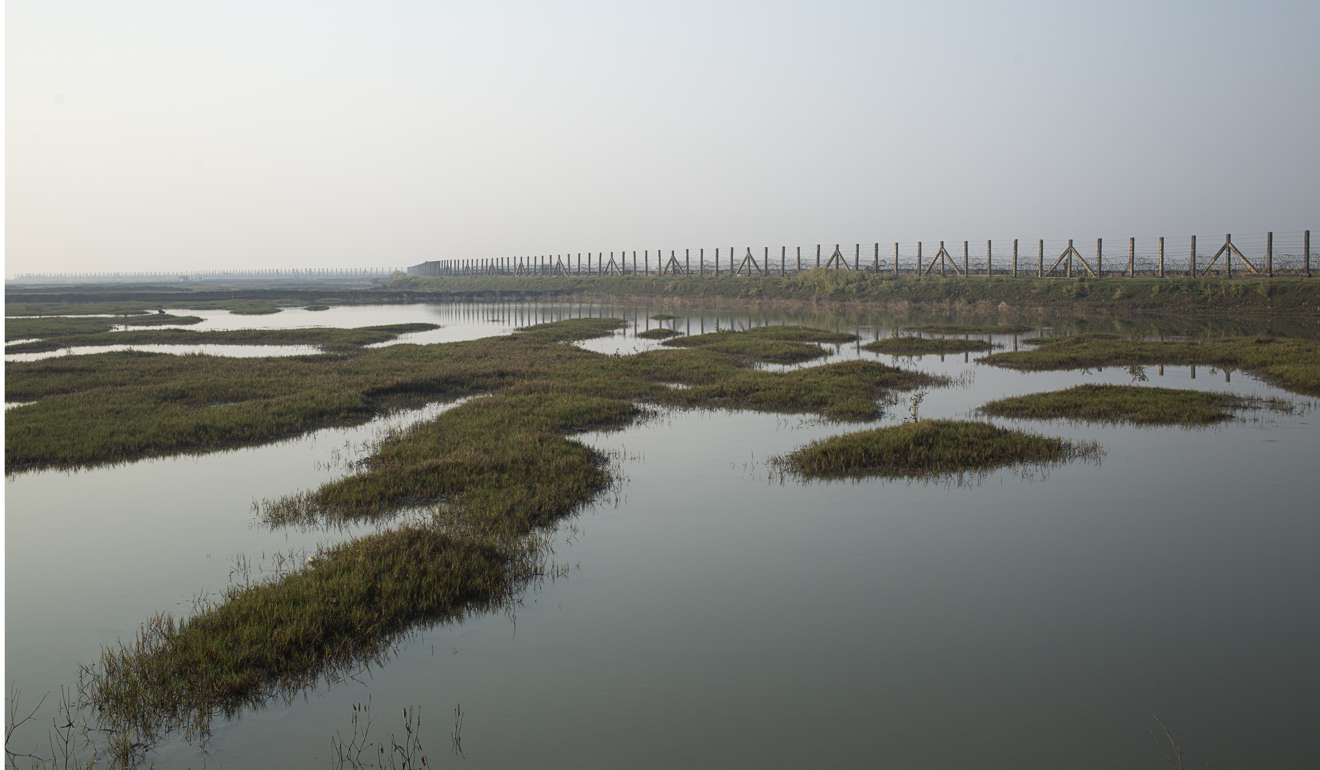 The previous afternoon, Ali had told his family that they shouldn't leave their house, let alone the village, as he foresaw trouble. In the early hours of October 9, insurgents had attacked three Border Guard Police facilities, including the force's Maungdaw headquarters, about 4km from Myo Thu Gyi. The attackers killed nine policemen before making off with arms and ammunition. According to his widow, Ali, a farmer in his 50s, returned home immediately after learning of the attack to warn his family.
The new insurgent group that carried out the attacks was called Harakah al-Yaqin ("faith movement") but, according to a recent statement, it has rebranded itself as the Arakan Rohingya Salvation Army.
According to a report published by the International Crisis Group in December, it is governed by a committee of Rohingya exiles based in Saudi Arabia. On the ground, the insurgents are led by a man called Ata Ullah, a Rohingya born in Pakistan and raised in Saudi Arabia, and a couple of dozen Rohingya exiles who had been organising and training youths in the north of Rakhine since successive waves of sectarian violence between the Rohingya and the Buddhist ethnic Rakhine majority engulfed the state in 2012.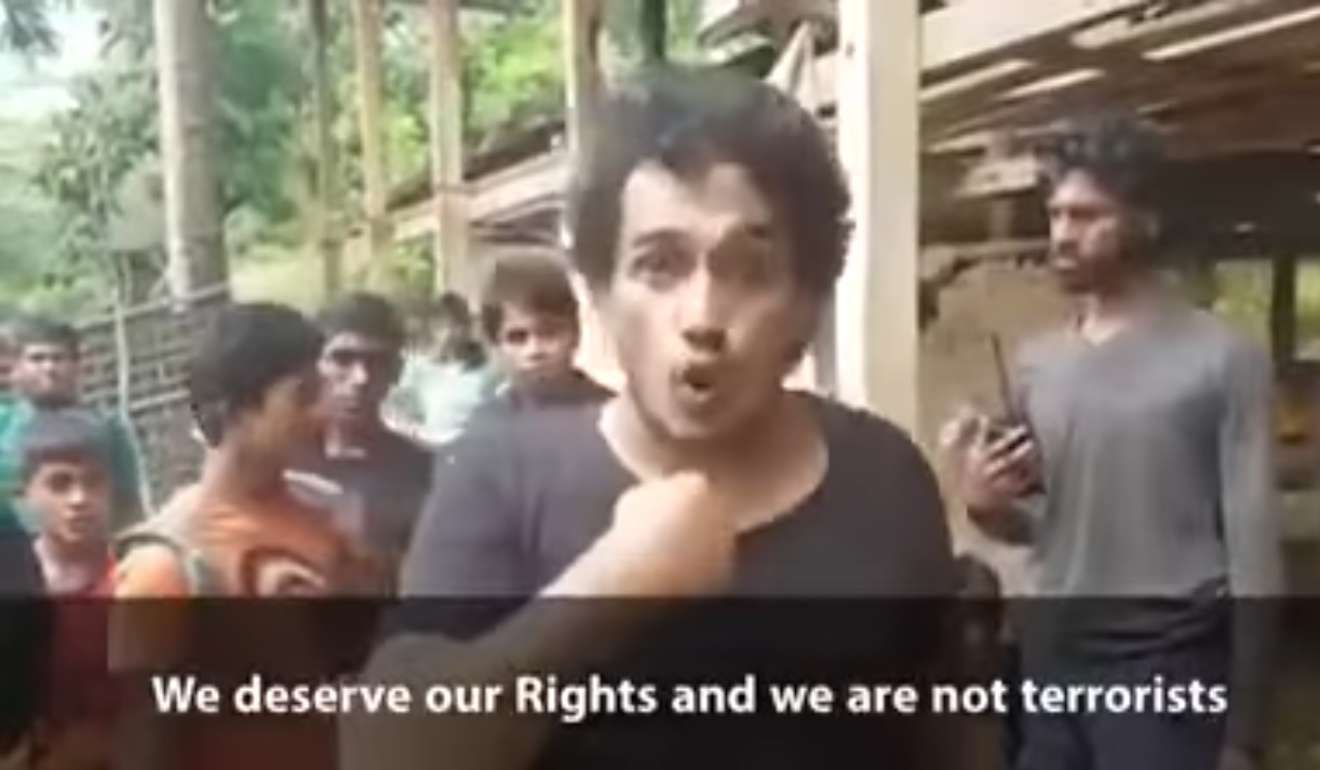 The overwhelming majority of the population in northern Rakhine – comprising the townships of Maungdaw, Buthidaung and Rathedaung – are Rohingya, a mostly Muslim ethnic group in Buddhist-majority Myanmar that has been oppressed by the government for decades. The authorities regard them as "Bengalis", implying they are illegal interlopers from Bangladesh, and in the late 1980s and early 90s stripped most of them of the citizenship many had held since the country gained independence, in 1948. The Rohingya have been subject to restrictions on freedom of movement and access to tertiary education and health care, and have suffered serious human rights violations, widely documented over the years by organisations such as Amnesty International and Human Rights Watch.
Their plight worsened dramatically in 2012, only one year after the military had launched a process of transition to what it termed a "discipline-flourishing democracy". Intercommunal violence in June and October of that year left at least 200 people dead, most of them Rohingya, and up to 140,000 – again, mostly Rohingya – displaced in camps, where they are still confined, almost five years later.
The highly imperfect democracy now installed in Myanmar has meant further restrictions and disenfranchise­ment for the Rohingya. In the 2015 elections, they were, for the first time in the country's history, prevented from voting. The first credible polls in decades gave a resounding victory to the long-standing nemesis of the military dictators, Aung San Suu Kyi and her National League for Democracy.
The Rohingya are almost universally reviled in Myanmar, and have found no defenders in the new government, whose steps to solve the situation in Rakhine have been limited to the appointment of a commission of inquiry led by former United Nations secretary general Kofi Annan.
It was against this backdrop of hopelessness and desperation that the first Rohingya insurgency in decades took shape. Hundreds of men armed with knives, machetes and home-made weapons took part in the October 9 attack, but it is difficult to ascertain to what extent the insurgency enjoys popular support in north Rakhine.
In Myo Thu Gyi, all the villagers interviewed by Post Magazine express concern about the response of the security forces rather than support for the insurgents.
"They mean trouble for us, we will pay the consequences," says a villager, who does not wish to be named.
In the aftermath of the attack, the military launched a "clearance operation" in northern Rakhine. As many as 600 Rohingya have since been arrested, six of them having died in custody, according to the government; several villages have been burned to the ground and up to 1,000 Rohingya may have been killed, according to the UN. More than 70,000 have fled to Bangladesh.
The first thing the security forces did, though, was wreak vengeance on Myo Thu Gyi.
Hussein Muhammad, an old Rohingya man who, like most of the villagers interviewed for this article, doesn't know his age, was awoken at 6am on October 10 by dozens of soldiers and members of the Border Guard Police noisily surrounding his house. When he stepped outside, he discovered that his compound – two small bam­boo houses, two latrines and a sink with taps to wash the clothes of the extended family of 16 who live here – had been invaded by armed men.
"They asked us if there was any terrorist in our house," Muhammad recounts, sitting in the compound. "Then they dragged out two of my grandsons and told me they were taking them to talk to their superior. I tried to stop them and tried to give them my family list to show them they were my grandsons, but they beat me up and threatened me with their weapons."
His grandsons, Ali Muhammed and Ali Ayaz, were 20 and 13 years old, respectively. They were dragged to a small forest known locally as Betel Garden, on the fringe of the village, and were executed, along with another man.
"Four members of the Border Guard Police made them sit down on the ground with their hands under their legs," says Ahmed Mahmood, a farmer in his late 20s who says he was hiding in a hut nearby and witnessed the killing. "One of the policemen executed them while the others were looking around. He kicked them first in their backs and then put a bullet in their heads, one by one. He shot the youngest one twice, once in his back and once in his head."
"My grandsons had nothing to do with the insurgency," claims Muhammad. "They were here in our house when the insurgents attacked the Border Guard Police.
"They just sold betel nut, worked and tried to study. They never got into trouble."
Until now, the area has been closed to foreign journalists, except for a couple of tours closely supervised by the authori­ties, but we have been granted a permit to visit Maungdaw for the first time since the violence began in October.
Reports suggest people interviewed during the govern­ment-organised media tours have been harassed by the local authorities after denouncing atrocities committed by the security forces while others may have been killed by the insur­gents after denying such atrocities or having been accused of collaborating with the government. Post Magazine conducted the interviews in the village without any government official present, but we have changed the names of all the Rohingya interviewees to protect their identities.
Myo Thu Gyi is home to about 1,000 people and is separated into two sections, about 500 metres apart across paddy fields. In total, seven men were executed in the village on October 10, according to several interviewees. According to the villagers, several hundred soldiers and members of the Border Guard Police took part in the reprisals. They returned a couple of hours after the assault to take away four of the bodies, including those of Muhammad's grandsons. Relatives and neighbours were able to hide the three other corpses, including that of Tayoub Ali, and give them a proper Muslim burial the next day.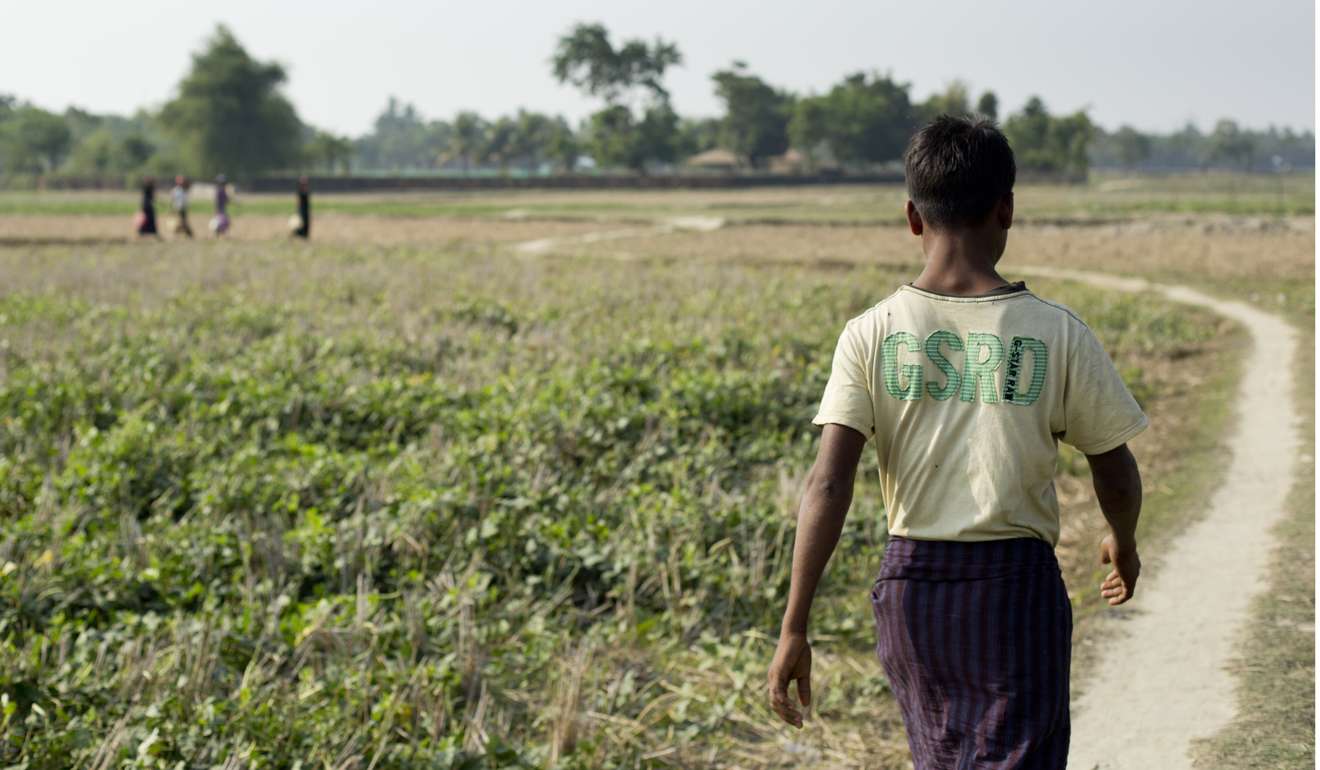 Chris Lewa, director of the Arakan Project, which has been documenting human rights violations in Rakhine for years, confirmed our findings in a telephone conversation. Members of her organisation investigated the incident on the ground and spoke with eyewitnesses to the attack on Myo Thu Gyi.
"Those were just random summary executions," Lewa says. "It seems that those two boys [Ali Muhammed and Ali Ayaz] were dragged from the house just because they were peeking from the fence surrounding their compound. How could a 13-year-old child take part in the insurgency?"
Laura Haigh, Myanmar researcher for human rights group Amnesty International, also investigated the incident and spoke with eyewitnesses who fled to Bangladesh.
"What happened in Myo Thu Gyi is a clear example of how security forces target villagers at random, often without any evidence or known links to armed groups," Haigh explains in an e-mail. "In this instance, they dragged people – including a child – from their homes and shot them dead. In other places, military and police have entered villages and opened fire, shooting at people even as they fled in fear. The lack of access to the area, and intimidation and threats against those who speak out, means we simply do not know how many were killed during this appalling offensive."
The security forces appeared again in the village five weeks later, according to the villagers. They demanded that every household remove the fences around their compounds, to deprive insurgents of hiding places. Most of the fences I saw when I visited Myo Thu Gyi in Februarylast year have disappeared, and with them any privacy for the villagers.
The government announced in early February that "clearance operations" by the military were over, but entire areas in northern Maungdaw remain off limits for aid workers and journalists. And an almost tangible feeling of anguish and fear hangs over villages such as Myo Thu Gyi, which contrasts with official statements.
"The situation is stable now," says U Tin Maung Swe, executive secretary of the state, in a cavernous room in the government building in Sittwe, the capital of Rakhine. "That's why people are returning now from Bangladesh. The military has returned to the barracks and only the Border Guard Police conduct operations now in northern Rakhine state."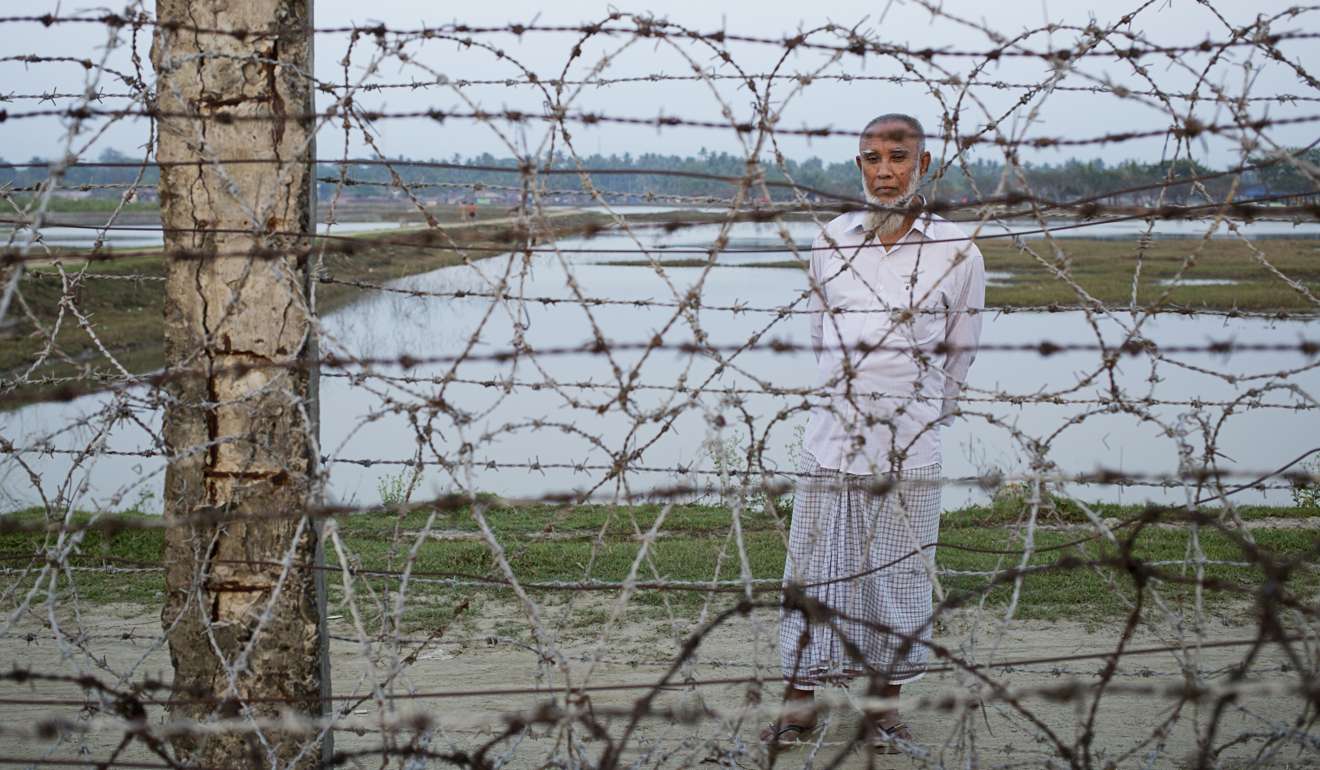 U Tin Maung Swe denies the allegations of human rights violations committed by the security forces.
"These are just lies and rumours that people repeat. There is no evidence," he says. "The media has voiced these allegations and many people think they are true. Even my wife believed these rumours and was very upset, so I sent her to Maungdaw for three days, so she can see for herself that everything is fine there."
In Maungdaw, a dusty, decaying city near the Naf River, which marks the border with Bangladesh, an apparent norm­al­ity reigns during the day. Most of the inhabitants are Rohingya, but there is a sizeable Rakhine population, both communities living in mono-ethnic quarters, often across the road from one another.
The town feels very different under the nightly curfew, however.
In a sign of openness rare in the country's security forces, we have been allowed to accompany a police patrol of the town during the curfew. We ride in a truck with 10 policemen, behind a pickup carrying the captain of the patrol, another official, two translators (one Rakhine, another Rohingya) and two policemen. Another pickup follows.
The contrast between the Rohingya and the Rakhine quarters is stark, especially during the first hour of the curfew. In the Rakhine quarters, lights are on and it is possible to see people watching television through open windows or chatting in their courtyards. The Rohingya homes are, by contrast, eerily deserted: windows are closed, no light is turned on and no human presence is visible.
There has not been an insurgent attack in northern Rakhine since mid-November and up to 600 people have been arrested, but the security forces are still trying to find the ringleaders.
"They must be hiding somewhere," says Kyaw Aye Hlaing, the police captain, during a stop in which the policemen get out of their vehicles for a cigarette. "We know their faces and their names, but for us all these Bengalis look the same, so it's difficult to recognise them.
"The government has offered them National Verification Cards, but many refused to accept them. That makes our task of identifying people very difficult. I think they refused the NVC cards so they can join more easily the insurgency," he says, neglecting to point out that the cards do not offer proof of citizenship and so are of little benefit to their holders.
A report released by the charity Physicians for Human Rights in October denounced the many checkpoints that choke the roads of northern Rakhine, describing them as "places of extortion and humiliation, where Rohingya people are perpetually reminded of their marginalised status" and have to pay exorbitant bribes to pass from village to village. Hearing Kyaw Aye Hlaing detail police salaries, one begins to understand part of the motivation behind the corruption.
"Here, a captain like me gets a little bit less than 400,000 kyat [HK$2,270] per month, a mid-level officer gets around 300,000 kyat and a regular policeman gets a little bit less than 200,000 kyat," he says.
But there is also pure contempt for the Rohingya.
"The Bengalis don't belong here, they are illegal immi­grants and they can't possibly integrate because they are uneducated and, for instance, don't respect women's rights," says Kyaw Aye Hlaing.
To further illustrate his point, he calls over the Rohingya translator. The man approaches with trepidation.
"Do you allow your wife to go out from your house?" the police captain asks. Visibly cowed, and after hesitating for a few seconds, the translator replies with a tentative "no". Turning to us, Kyaw Aye Hlaing says, "You see? They don't respect women's rights!"
He dismisses the translator with a brusque gesture.
Assuming what he says is true, the translator may have good reason for preventing his wife from leaving her home. In February, the Office of the United Nations High Commissioner for Human Rights released a report on abuses in Rakhine during the preceding months, gathered from hundreds of interviews with refugees in Bangladesh. Fifty-two of the 101 women interviewed reported having suffered rape or sexual violence at the hands of the security forces.
At the end of our tour with the Maungdaw police, we stop at a bridge that marks the limit of their jurisdiction. Two kilometres away, in the darkness and under the responsibility of the Border Guard Police, lies Myo Thu Gyi. Kyaw Aye Hlaing gives his account of why the security forces attacked the village one day after the October 9 assault on security forces: "We have known for years that this village is full of extremists. It was a very troublesome village during the violence in 2012."
And thus the fate of Myo Thu Gyi was sealed.