A story on junks should probably begin in the 10th century, when China began using them for trading expeditions. It could then continue into the 15th century, when Admiral Zheng He, originally from landlocked Yunnan, voyaged in a fleet of junks round Southeast Asia. It might include 19th-century British traders in Hong Kong who, illegally, bought a junk from China in 1846, called it the Keying, and sailed it to New York and London. (Queen Victoria was impressed; Charles Dickens was not.) Those were the days when Hong Kong's harbour creaked with the massed sound of batwing sails.
But this tale of a single junk starts in a shipyard near Zhuhai, in China's Guangdong province, in October 2016. Weeks later, at about midday on Halloween, the newest exemplar of a dying tradition was about to take to the water. Its Chinese name would be Dai Cheung Po, its English one Aqua Luna II.
47 years of Hong Kong's changing places and faces – through lens of photographer Keith Macgregor
Many Hongkongers will be familiar with the first Aqua Luna; the scarlet-sailed junk has become almost as much of a symbol of Hong Kong as the green Star Ferries. The vessel is known in Chinese as Cheung Po Tsai, after the Qing dynasty pirate who, apparently, hid some of his booty on one of Hong Kong's outlying islands, Cheung Chau; Dai Cheung Po would be its big (dai) brother.
The first Aqua Luna was launched in 2006.
"The idea came from Sars," says Richard Ward, director and co-founder – with David Yeo – of Aqua Restaurant Group, referring to the 2003 epidemic of severe acute respiratory syndrome, which killed 299 people in Hong Kong. Ward was headed to Zhuhai on an early-morning ferry from Hong Kong on November 5. "Remember how depressing that time was? We'd opened Aqua and Hutong in One Peking Road and lots of customers were coming from Hong Kong Island and we thought it would be a nice way to help them by having our own boat. It took on a life of its own. What was intended to be a simple boat became a traditional teak, red-sail junk."
The entire process had taken two years. Every seagoing vessel in Hong Kong must be registered and licensed by the Marine Department. "And when we went they said, 'We have no regulations for this,'" Ward recalls. "They said a new junk hadn't been built for 50 years."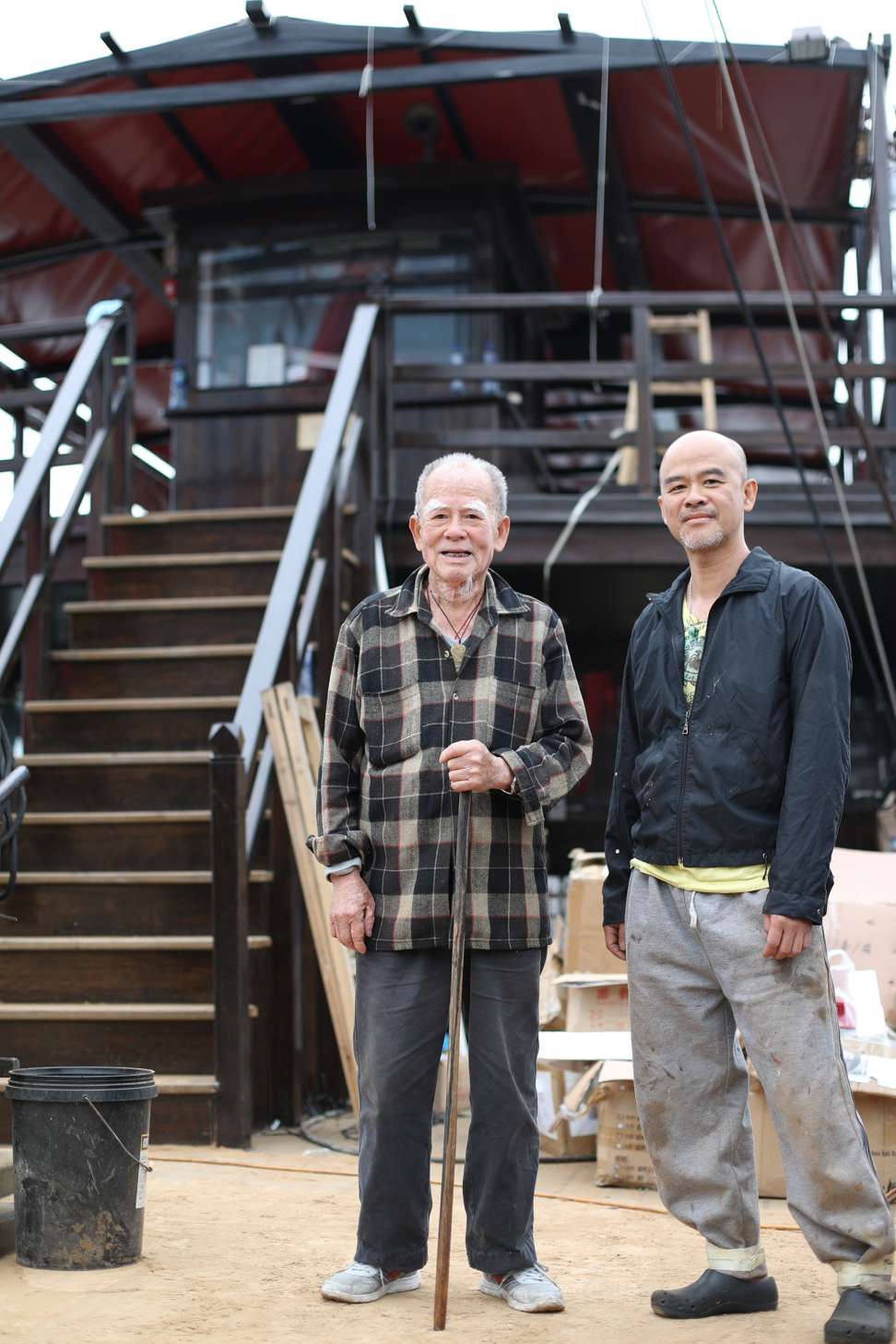 The company had been put in touch with a master boatbuilder called Au Wai, who has a shipyard in Shau Kei Wan, at the eastern end of Hong Kong Island. Au Wai, who is usually known as Ah Sin – meaning, approximately, Uncle Divine-superman because, as someone put it, "he's like a fairy person who can turn miracles into reality" – was then in his 70s, and had been sagely slotting boats together since he was 13. It took him and his younger son, Au Sai-kit, 50, about nine months to build Aqua Luna.
Where did the word 'junk' come from?
When Yeo and Ward decided to build a second, bigger junk, they approached Ah Sin once more to oversee proceedings. He agreed. This time, however, the boat would have to be built in Shenwan, an hour's drive from Zhuhai.
"There's no workmanship in Hong Kong any more, no new generation, and Mr Au can't manage by himself in his old age," explains Natalie Yeung Hoi-wing, Aqua Restaurant Group's director of sales, in the car in which she and Eric Leung Ming-kai, Aqua Luna's manager, are busy stuffing celebratory lai see packets for the boatyard staff. On the front of the envelopes, golden junks float on golden seas, and the Chinese characters wish everyone a smooth sailing.
Aqua Group founder David Yeo talks about his recipes for success
Shenwan is on the Xi River, which flows into the Pearl River estuary; a road sign states "Ecological Sightseeing Area" and, although it's not exactly rural, it's famous for its locally grown pineapple and fish ponds. Nowadays, the town's Yi Hap Shipyard is one of the last places left in China where a wooden junk can be built by hand.
What will eventually be known as Aqua Luna II – although no name has yet been painted on its glossy varnish – sits in its own shed at the far end of the shipyard. It rests on what looks like a row of gigantic, blackened carrots; these are the inflatable air bags on which it has been carefully rolled down the shed, where work began in July 2015, to the water's edge. This land journey of about 25 metres has taken three days.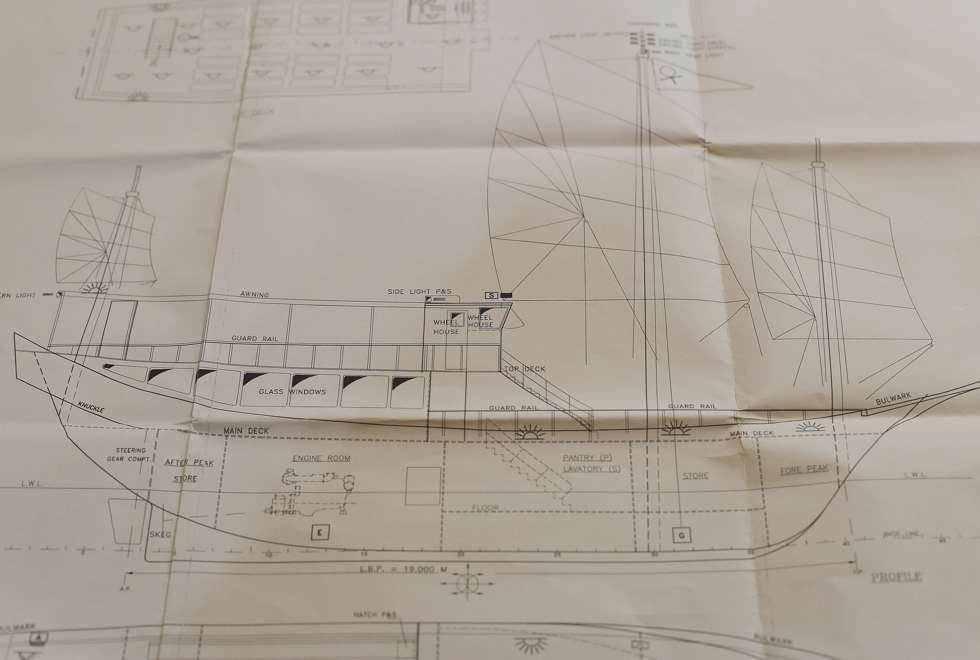 An immediate surprise is its size. The new junk, made from Indonesian teak, is two metres longer and about a third wider than its brother, but its rearing height is impressive; usually, a third of a boat is in the water so you're not aware of its hidden bulk. The men, clustered round its keel, are like yelling limpets. There is a smell of hot metal from other sheds, from which other workers watch, curiously. Yi Hap makes modern commercial boats but it is the wooden junk, simulta­ne­ously brand new and extremely old, that attracts attention.
A brief worshipping ceremony is held – incense sticks in an old paint pot, a roasted pig with a chopper cleaving its back, suitable kowtows – and then Ward climbs a steep, unsteady ladder up the junk's side. I follow (nervously). By this stage, all the machinery has been checked; 21st-century junks have engines and these need to be legally seaworthy when a boat slips into the water, even if it's not immediately heading anywhere. But the fittings that will make it a commercial pleasure craft – kitchen, lavatories, lighting, soft furnishings – are not yet in place. "I hope it floats," Ward says, quietly, almost to himself.
Junk boats turn into tourist icons in Hong Kong waters after centuries as China's workhorses
Some minutes later, the yelling below increases, the junk gives a tremendous lurch and what sounds like a thousand firecrackers begin exploding. Standing on deck, I'm making a note of these interesting events when the junk tips forward at an angle of at least 45 degrees. In the preceding paragraph, I've deliberately used the word "slip" because that's the vision we all have of boats as they glide, often champagne-drenched, along a slipway. China's newest junk, however, leaps from its air bags and into the water with such piratical vigour that if Leung hadn't grabbed the ignorant journalist, she'd have been catapulted into the Xi alongside it. (The concussive force detaches one of the aft planks as it hits the water's surface.)
Almost immediately, waiting tugs are nudging the junk back into place. Now that it is afloat, its new captain, and other members of the team, will have to check for leaks and the unexpected problems any boat – never mind a wooden one – is prone to. It doesn't, yet, have a mast so it needs to be stabilised. "A very big challenge," Leung, who's made at least 50 trips to the shipyard in the preceding 15 months, says of the work ahead. A general hope is that the junk will be operating in Hong Kong waters by Christmas.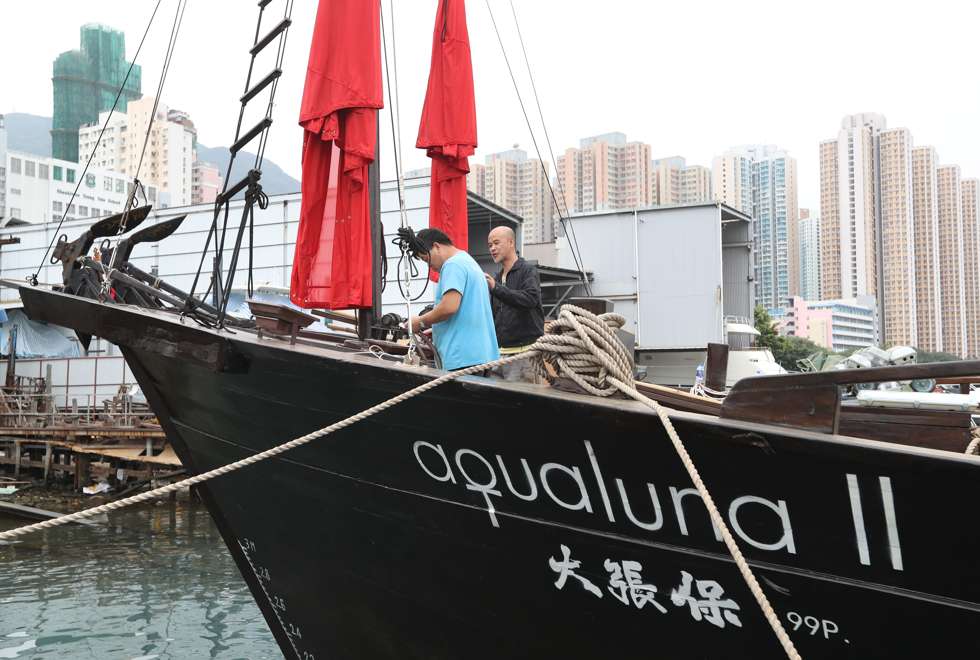 First, however, there is a celebratory lunch at a nearby restaurant. Wong Kin-kao, the shipyard's owner, joins us. He has a particularly intimate knowledge of the Pearl River Delta, having swum from Zhuhai to Macau in the early 1980s. Macau had a long boatbuilding tradition and Wong had a small shipyard there in 1986. In the 1990s, he returned to China, where space and labour make it physically possible for a junk to be recreated. (In Macau, meanwhile, shipbuilding is now a "heritage" industry; there is talk of a museum.)
Moving among the tables, toasting workers and crew, and handing out his own lai see is Ah Sin. His packets have merrily festive sheep on them, left over from the Lunar New Year of 2015. He's now in his mid-80s – as he's never had a birth certificate the exact details are hazy – and he still has a bright-eyed, lit-up passion for his profession. He estimates that, over the years, he's worked on 90 per cent of Hong Kong's commercial wooden junks. This junk is his last one.
Hong Kong junk boat operators fight to attract richest customers
With Yeung translating, he talks about his childhood in wartime Guangzhou, and how he escaped the occupying Japanese by, painfully, cycling through farmland to Macau. After the war, he moved to Hong Kong, where he sold fruit on the street. He was, he says, very naughty when he was young and couldn't keep a job.
But a relative had a shipyard. He liked the challenge of shipbuilding and he has the sort of mind that can work out dimensions without writing everything down. "When you're born, you're born with your talent," he says. "When you're on the water, the wind will come."
He married the relative's daughter and, eventually, he took over the shipyard in Shau Kei Wan; and that, when the new junk leaves Shenwan, is where it will journey to be fitted out.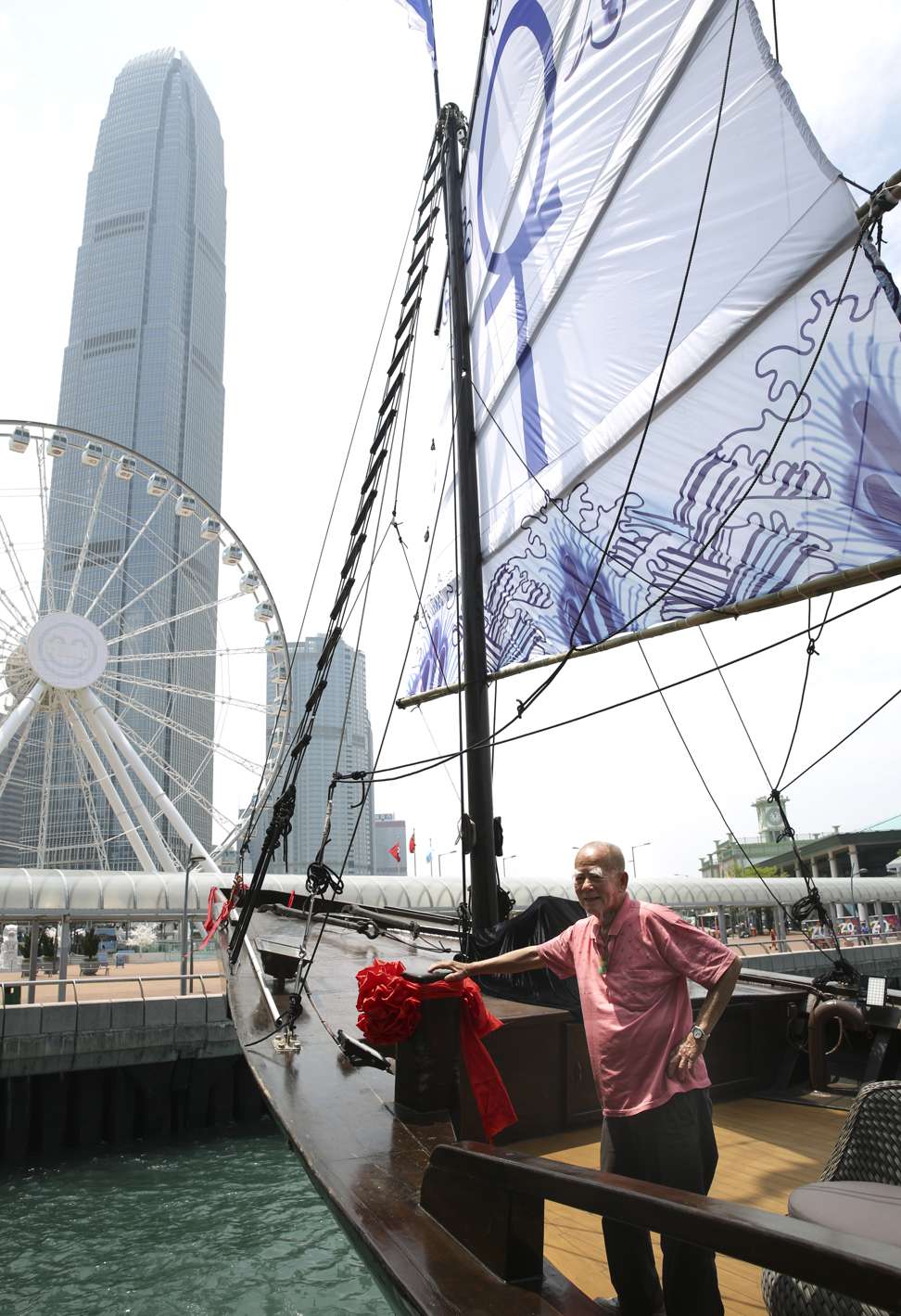 On the morning of February 11, Aqua Luna II – name and mast both in place but still sail-less – arrives quietly in Shau Kei Wan. As it doesn't have a licence for Chinese waters, it travelled from Shenwan under tow. Marine regulations are strict, and time-consuming, in both China and Hong Kong. Ah Sin found them too complicated; having to comply with numerous guidelines is another reason he is finally folding up his sails and will voyage no more in the shipbuilding business.
When you're born, you're born with your talent. When you're on the water, the wind will come
His shipyard is one of about a dozen in a row near Shau Kei Wan's Tam Kung Temple, which is dedicated to the patron saint of fishermen and has a small wooden junk inside. The rickety strip of orange-stained, corrugated-iron buildings has that Hong Kong look of temporary structures that have lasted an unexpectedly long time. City residents may remember when a "2" was added to all telephone numbers in the mid-1990s; Ah Sin's sign still shows the old seven-digit version.
He's been here since the '70s, when there were at least 30 shipyards. Prior to that, they'd been sited further back along the shoreline. When land was reclaimed from the sea, Ah Sin had the first jetty on the front. But Shau Kei Wan's wholesale fish market took his place, and now the trawlers squeeze past him with their deliveries.
Why do Hong Kong's traditional junk boats have red sails?
He lives a few streets away. Au Sai-kit lives upstairs. (Ah Sin's older son, who has three children, has a separate boat business in Aberdeen.) Also upstairs are models, made by Au, of some of the junks his father has worked on, including the Duk Ling, originally built in Macau in the 1950s, and both Aqua Lunas. There's an ornate grandfather clock, purchased in Sham Shui Po; and an old colonial flag of Hong Kong is pinned to the wall above. "Just for the memories!" says Au, heading off any journalistic speculation.
Over the following eight weeks while its sails are being made in China, Aqua Luna II is efficiently plumb­ed, kitted out, wired for sound and readied for business. I visit the shipyard several times to check on it and sometimes Ah Sin looks a little anxious. There is a difference, he frets, between Aqua Luna, over which he had been fully in charge, and Aqua Luna II, made in China. He wants to ensure it is as perfect as if he'd created it himself.
Once, I see him sculpting the air with his hands as he explains how he might have done the wood carving on board, and afterwards he runs his fingers up and down a wooden frame as if imprinting it. (Or perhaps it is the other way round and he wants to imprint the feel of it on his memory.) He likes the vintage touches, which gradually creep onto the boat – the red lanterns, the antique chest for the life jackets, the horseshoe-backed chairs.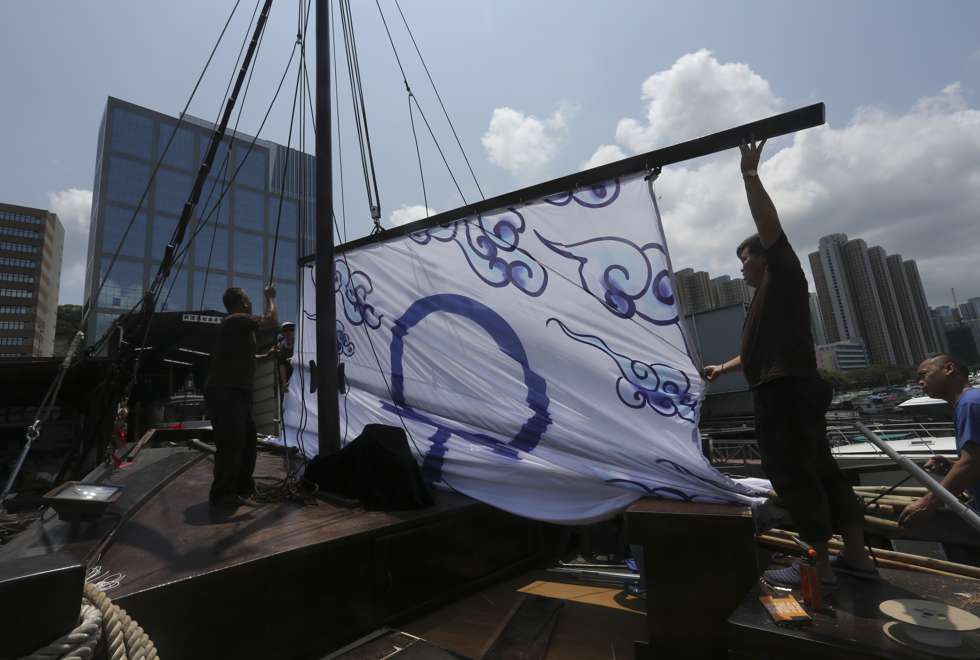 It's true he worries about the stability of the bar stools on windy days, but he understands commercial considerations. Sometimes this requires smart economics. Each Aqua Luna junk can legally carry a maximum of 99 passengers, because at 100 the regulations shift to another level of hassle. For Ah Sin, who has commented several times on the hardships of junk life and claims he was the first to fit engines on fishermen's boats in Hong Kong, what counts is good business. The past is only picturesque if you haven't had to endure its pain.
On Easter Sunday, April 16, the sails are fitted. Aqua Luna has canvas sails but the new ones are of a light­er, synthetic fabric. Yeo wants them to be the blue and white of Ming-dynasty porcelain. Amid a swirl of Chinese clouds, a dragon and an ankh emerge – the latter has been the logo of Aqua Restaurant Group since Ward and Yeo first saw it on a trip to Egypt. ("It's the symbol for 'life'," Ward had said on the Zhuhai ferry. "And water – aqua – is life.")
Hong Kong app takes the pain out of arranging a junk party
Some of the crew have spent all day threading the sails onto bamboo battens, then complicatedly lacing them into the workings of the junk. When the Marine Department saw the original plans, it insisted that the main mast was too high and should be shortened; and the result is that the sails, instead of soaring, look slightly crouched over the deck. (Au's model, made to the original plan, demonstrates the ideal proportions.) Nowadays – especially since the 2012 Lamma ferry tragedy, in which 39 people died – safety trumps both history and aesthetics.
On Easter Monday afternoon, Aqua Luna II makes its maiden voyage. It isn't for a special occasion: it sets out into the sunny harbour to be photographed for this magazine. To achieve this dazzling moment has taken many months and a great deal of money. (The Aqua team prefer not to discuss financial matters for this story but, in February, The New York Times stated it cost "about US$1.3 million" to build.)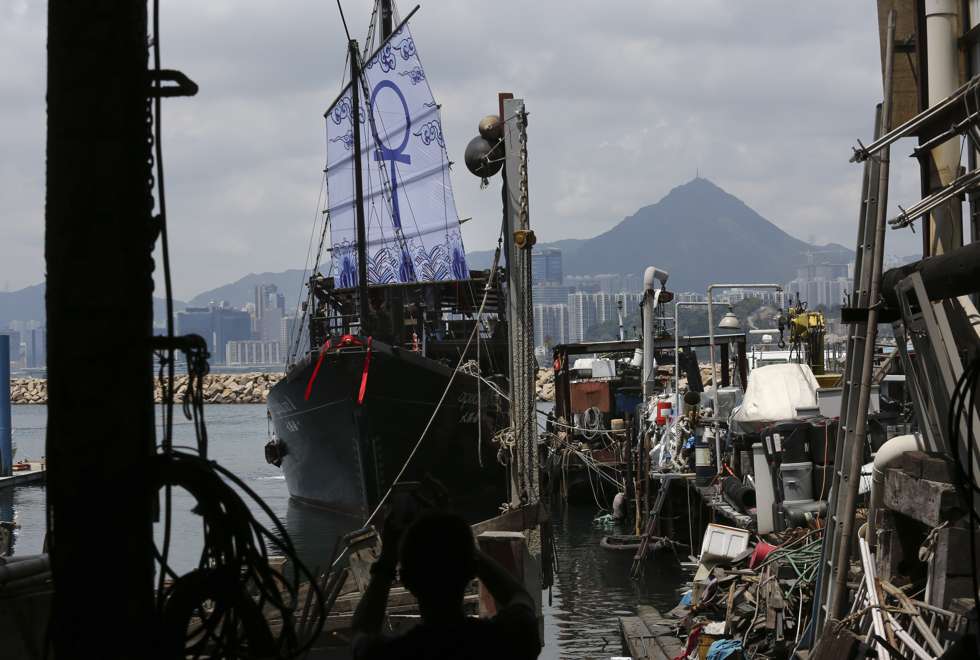 As we head out, I can see Ah Sin on his higgledy-piggledy jetty – several fibreglass boats are gleaming expen­sive­ly in the adjacent shipyard – shielding his eyes from the glare as he watches us leave. Afterwards, I askYeung to find out if he feels sad at the end of this era in his life. After a few minutes' conversation, she turns and paraphrases, "Sad? He has nothing to say about that. He's at the age when he has com­pleted most of his tasks. You cannot say it is a pity for him."
Later, when I e-mailWard to ask if it has been worth it, he replies, "I think you understand the sweat and tears the team has poured into the building of Aqua Luna II over the past three years and to keep to traditions in a time when those traditions have all but disappeared. [...] Hong Kong has been wonderful to me in my 23 years here and to our business and if there's a small contribution we can make in return, then it's more than worthwhile. So absolutely I would do it again."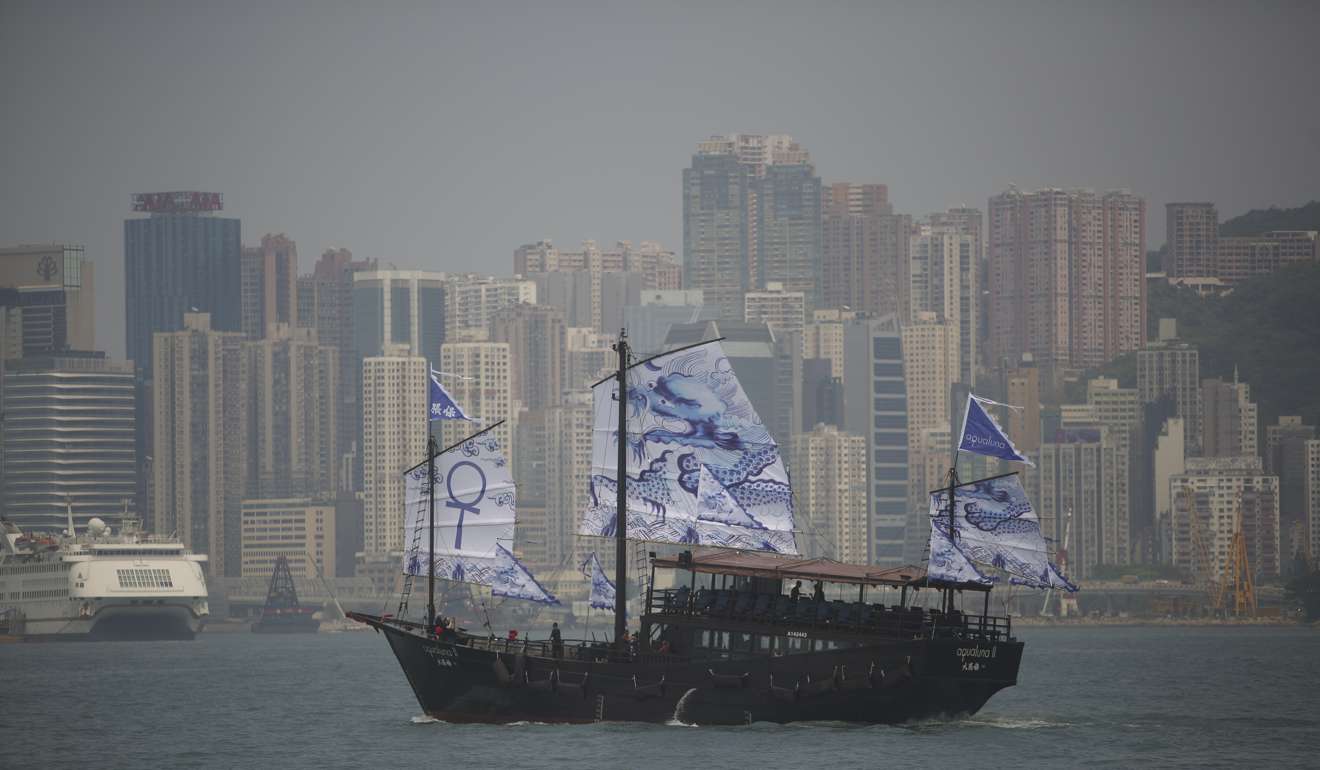 Two days later, on the morning of the Tin Hau Festival, Aqua Luna II sails up to Joss House Bay in the southeast New Territories to pay homage to the Queen of the Sea. Aqua Luna, which is slightly slower, follows with its paying guests. Tourism accounts for 70 per cent of business aboard the Aqua Luna (the other 30 per cent is corporate). After the first week of May, Aqua Luna II will begin trips to Cheung Chau, Lamma – another Hong Kong offshore island – and Stanley, on the south coast of Hong Kong Island. On the week­end of May 13-14,the junk will offer Hong Kong ID card holders free, 45-minute rides round the harbour.
Ah Sin is on the Joss House Bay voyage. He lights his incense sticks and performs his kowtow in front of the temple as he has, he says, for the past 40 years. The Aqua team lines up to kowtow with their offerings (more roast pig), and Leung has brought auspicious pinwheels and flags for the year ahead. Now he has the fortunes of two boats to consider.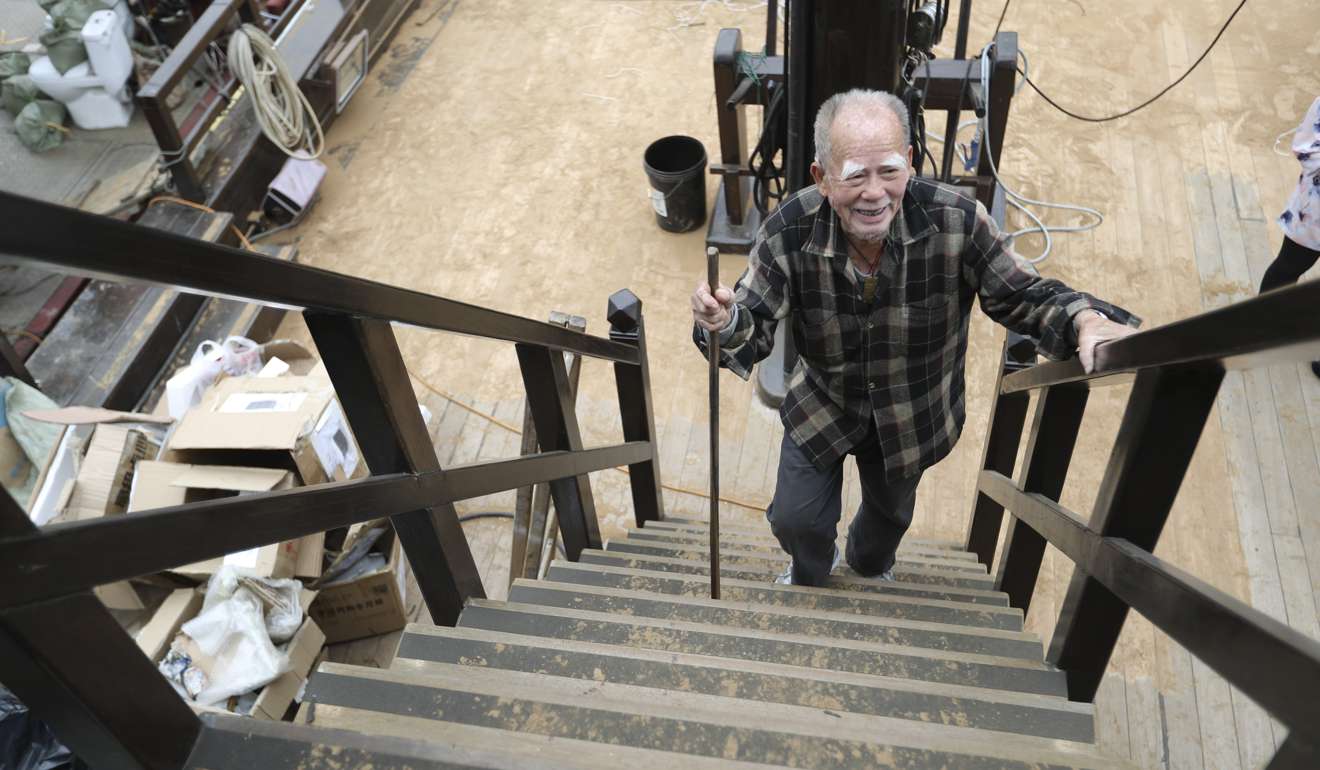 By tradition, every seagoing vessel – large or small – leaving Joss House Bay on the Tin Hau Festival turns three times in front of the temple. We watch Aqua Luna complete its obeisance. Then Aqua Luna II, the newest arrival in the long, long line that's performed this ritual over the years, begins to circle the sea's surface. As it revolves, the other boats and the worshippers and the flags and the temple keep returning, a strange sensation. Afterwards, looking behind, a distinct ring is cut into the water and lingers for a surprisingly long time before it disappears.