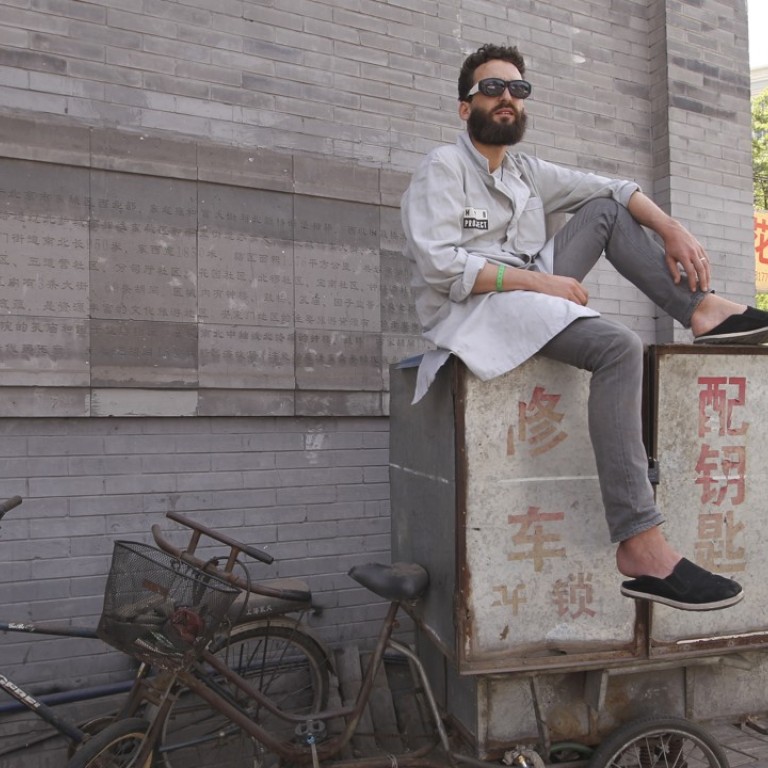 Crowds from China to New York wowed by kinetic rickshaw sculpture from eccentric French artist
Niko de La Faye's work M2B sets out to link 'the cosmological views of ancient Taoism' with Western science. Find out more about the project that has obsessed the artist for the six years since he moved to Beijing
If there's one thing more common in Beijing's labyrinth of hutongs than a bearded foreigner, it's the tricycle. The former tend to be bohemian castaways taking advantage of the capital's creative climate, the latter, low-cost vehicles first imported from British India and immortalised in novelist Lao She's homage to Beijing, Rickshaw Boy (1937). The common incarnation today is the sanlunche, a pedal or electric-powered trike used to traffic wares through the hutongs (and get in the way of pedestrians).
Remarkably, these quirky commonalities of life in the capital have forged a partnership that has travelled the world.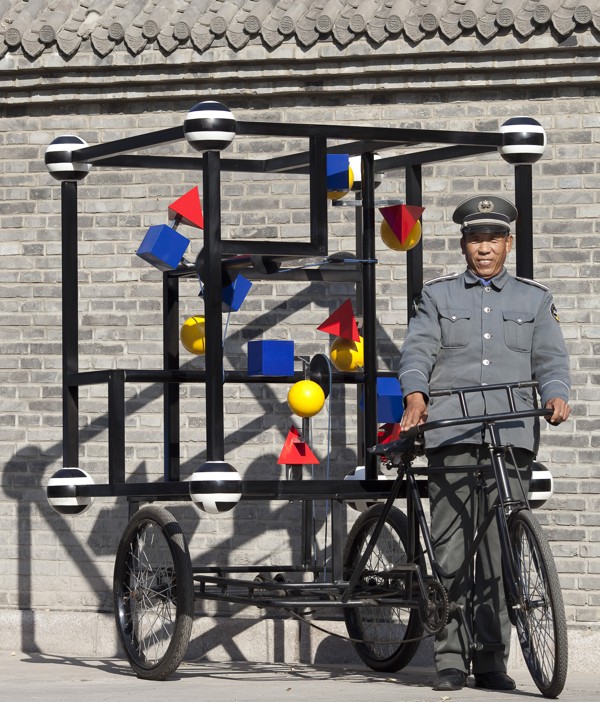 I rendezvous with French artist Niko de La Faye at Cafe Zarah, a hipster haunt set in an old courtyard in Beijing's Dongcheng district. A familiar figure in the city's live-music venues, de La Faye is usually exotically clad – in a military over­coat, perhaps, or a woollen panda hat. Today, his shirt-and-shorts combo is relatively low-key, although he arrives wear­ing two pairs of glasses, a congenial grin evident beneath a beard that might have been borrowed from a square-jawed Cossack.
"I'm a kinetic sculptor, among other things," de La Faye explains of his somewhat perplexing obsession, before elaborating. "It's a concept of bringing movement to art and then taking it into the everyday lives of people. "I'm not the kind of artist who likes to hide away in his studio."
That's something of an understatement when you consider he has taken his work into the lives of people in Hong Kong, Paris and New York thus far.
"I was uninspired as a teenager," says de La Faye, of a youth spent in France – Brest, Paris and the Loire Valley. He studied business in Bordeaux, graduating in 2001, but, still unsure of his life's true calling, decided to travel the world as a kite surfer. He eventually landed in San Francisco, in the United States.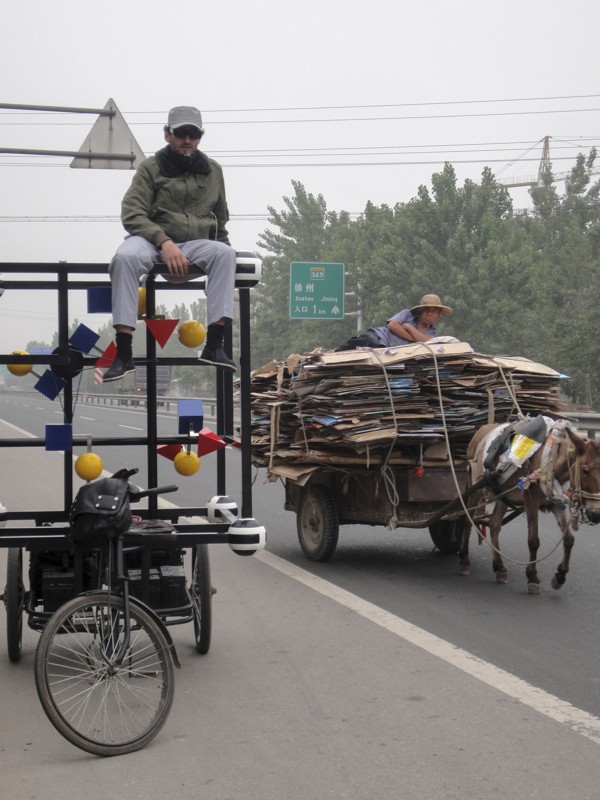 "I worked for the French Chamber of Commerce as a business development manager," he says, but it was northern California's beatnik backdrop, not its business world, that captured the attention of the young Frenchman.
"Despite the dotcom revolution of the early millennium, the atmosphere in San Francisco was incredible, even the bankers showed up at Folsom Street Fair [a BDSM and leather subculture event] wearing outrageous S&M outfits while the lawyers were surfers. And there were simply no taboos; if you had a skill, be that playing the trumpet or experimental acting, you had no excuse not to get up on stage and do it."
He fell in with an avant-garde set, designing costumes and stage props for his then-girlfriend, Madeline Minx, who fronted electro-pop band Slut with a Gun, a group he also danced for.
"I became intensely interested in different shapes and colours. I had no formal training. It was more a question of common sense, of using the materials at my disposal, like silk, coat hangers and staples. I'm very visual and I like spontaneity. I have an idea and, boom, I go with it."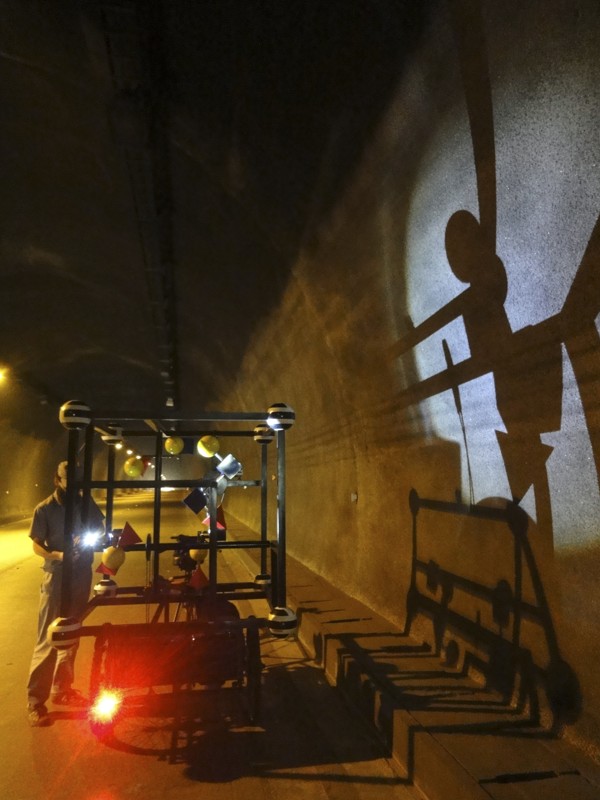 This period of creativity and collaboration ended abruptly with the conclusion of de La Faye's two-year contract with the chamber of commerce. "I had no visa and had to go back to France."
Undaunted, the aspiring visual artist began working in the telecommunications industry while developing a portfolio of photography and textiles.
"I was still very young, 25, and naive. I was looking for some kind of way into the art world."
Eventually, the owner of a Parisian bookstore gave de La Faye the opportunity to exhibit a sculpture.
"I remember thinking about what Coco Chanel said, that the biggest galleries in the world are shop windows."
Seizing the opportunity, he created K-mera, a mobile sculpture representing the internal workings of a camera, which reminded one critic of the work of Jean Tinguely, a Swiss artist famous for his kinetic sculptures.
"I didn't have much of an education in art, so I was amazed to discover this master."
He now had a definable medium to work with, one that blended his interests in performance, costume, sculpture and design. But against the backdrop of a European recession, opportunities were scarce, leading de La Faye, like many of his contemporaries, to head east.
"I first came to Shanghai in 2008, with Paris-based collec­tive Visual System, to work at the eArts Festival. This led to some photographic opportunities as well as some work in the fashion world, so I ended up staying for a year."
After a period in which he "discovered China", de La Faye returned to France, only to find the doors of the art world remained firmly closed. Reflecting on China, while down-and-out in Paris, he came up with the idea of M2B.
"In the winter in 2011, I borrowed €2,000 and moved to a city where I knew no one."
De La Faye had chosen Beijing as his base: "My sole intention was to get there and build M2B."
This singular project has been his obsession ever since, absorbing all the spare money he earns from a range of odd jobs, and much of his time.
"The name M2B is an abbreviation for the project process, going from MUKS (mobile urban kinetic sculpture) to BEKS (butterfly effect kinetic sculpture)."
What this means in terms that mere mortals might under­stand is a set of fundamental shapes orbiting each other like planets in the solar system framed by black-and-white yin-yang spheres. The piece attempts to bridge the cosmological views of ancient Taoism with those of contemporary Western science – apparently.
Perched on the back of a sanlunche, it's a simple yet effective kinetic sculpture. In combining elements of East and West, the work has a universal theme, speaking to people across the Eurasian land mass. Issues of class are raised when de La Faye, who the Chinese perceive to be an affluent Westerner, dons his overalls to ride the trike.
"Trash collectors, milkmen and postmen, they all wear uniforms when they work. So I do, too, as I consider what I'm doing also to be a public-service mission.
"At first my idea was to simply ride around Beijing and then try to sell it to a collector or institution." After just a few weeks, however, the trike was gaining attention.
"Festival Croisements, the largest French cultural festival outside France [which takes place in more than 30 cities across China], was an early supporter of the initiative. M2B was exhibited at the opening ceremony of the festival [in Beijing] in spring 2011."
De La Faye's creation earned exhibition slots outside Soho, a landmark building in the Sanlitun district of the Chinese capital, and at Art Beijing, a contemporary art fair held annually at the National Agricultural Exhibition Centre. But after 10 months of riding and exhibiting, a restless de La Faye began thinking about taking M2B out on the open road, concerned that to linger in a Beijing bubble was making the project too repetitive. This aspiration brought him into the orbit of a graduate from the Central Academy of Fine Arts who was looking for "freedom and a chance to travel".
"I'd seen some of Niko's photos and we'd spoken a bit," says Shi Yang, a sculptor from Hebei province. "At first I didn't really understand what he was doing but when I saw him cycling around the hutongs, the project began to make sense."
The pair embarked on a disastrous journey to Tianjin; de La Faye pedalling the sanlunche (with Shi following on a bicycle) proved exhausting, even over the comparatively short distance. If grander designs were to be realised, namely an odyssey that would take them 3,400km to China's deep south, a solution would have to be found.
"We came upon a motor-rickshaw in [Beijing's] Tongzhou district and decided to modify the bike," Shi explains. "If we hadn't, it would have taken us years just to get to Shanghai."
The pair set off the following April, the first anniversary of the project, this time with Shi mostly balancing on part of the vehicle's frame.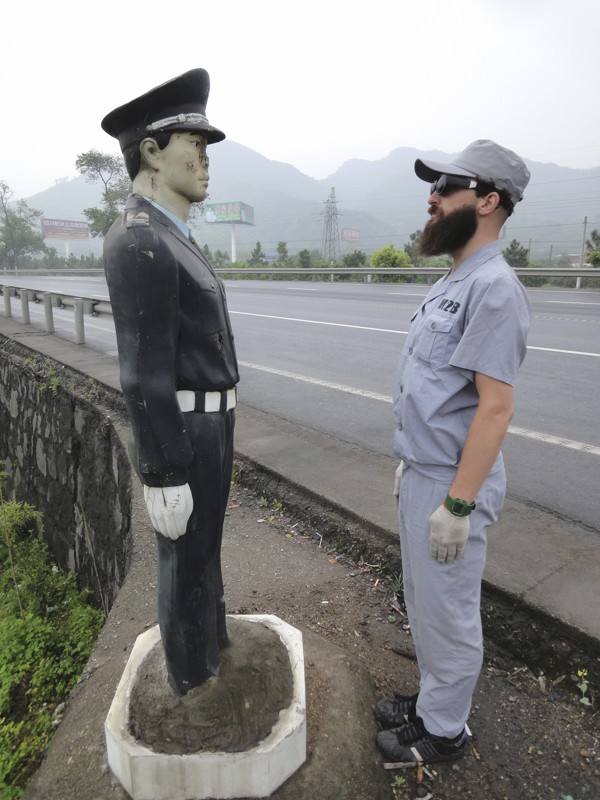 "We cycled to Shanghai over 39 days and 1,700km," says de La Faye. "I was so lucky to have [Shi] on board, as I speak limited Chinese. I remember the first town we arrived at where none of the hotels were permitted to accommodate foreigners. If I hadn't had her to negotiate, I'm not sure what I would have done."
"I could see Niko was under a lot of pressure to make M2B work, so I tried to remain clear-headed," Shi explains. "We had to get batteries charged, there was a crack on the frame, there was always something to be done."
The pair shared a near-death experience in Jinan, Shandong province, when riding down a steep hill.
"I turned to Shi Yang and said plainly, 'The brakes are broken,'" de La Faye recalls, the memory provoking a gasp from the artist.
"That was so scary," says Shi. "The chain came off as we gained so much speed." Fortunately, they reached the base of the hill before the duo came a cropper.
In an effort to remain sane during the long days between grimy business hotels and greasy roadside restaurants, the pair created streetside art projects, taking inspiration from the curiosities they stumbled upon, be it a weirdly shaped tree or an absurd policeman statue. At night, they used the kinetic sculpture to create shadow shows in downtown plazas.
"The response was incredible, especially from residents in small towns," says de La Faye.
In 2013, the intrepid pair rekindled the odyssey, this time setting out from Shanghai for Hong Kong, a further 1,800km southwards through far hillier terrain, the sub­tropical climate dampening de La Faye's enthusiasm for much of the endeavour.
"I had some very low days," he says, recalling cycling in monsoon rain. But arriving in Hong Kong for the opening of the Hong Kong Contemporary Art Fair and Art Basel Hong Kong enlivened the pair, particularly Shi, who was able to show off her creative talents with a performance sculpture.
"This whole project was Niko's dream. I went along because I wanted to find myself. In the south, I meditated on the mountains as we rode by, they were close enough to have a conversation with, and the grass felt as if it spoke to us. Every day, we had to converse with the road. But people only ask you what you saw, not how you felt. So I decided to create a performance sculpture in Hong Kong called Who Am I?"
The work was a culmination of the internal journey Shi had undertaken while riding shoulder-to-shoulder with the eccentric Frenchman.
"I blindfolded myself and felt people's faces, then, with my other hand, I made sculptures of what I was feeling."
Shi retired from the M2B project in 2013 to embark on her own artistic journey. She now teaches and exhibits art in Arora, a café and art space she opened in 2015 near Beijing's central business district.
But de La Faye was far from finished: "In 2014, M2B was invited by the city of Paris as a cultural ambassador during the 50th anniversary of the establishment of diplomatic relations between France and China."
And at least one local was won over.
"Just before riding past the Louvre Museum, the traffic light turned red. I stopped and this man, a typical Parisian in his 50s, wearing casual if stylish clothes, crossed the street. As he passed in front of me, he said, 'I don't know what this is or what you would do with it, but it looks fantastic. Keep going, wherever it is you're heading.' I just said, 'Merci', and carried on."
Then, in August last year, M2B was invited to New York by the city's Department of Transportation to perform during Summer Streets, a festival that takes place along some of Manhattan's landmark avenues.
"Going down Fifth Avenue, I stopped at a traffic light and a bus stopped next to me and the driver opened his door: 'Is that like a molecule or something?' he said, in a classic New York accent. I thought that was a good guess and he was almost right – the solar system can be thought of as some kind of a molecular structure, so I said, 'Sure.' He appeared very satisfied, the lights turned green and we kept on riding through Manhattan.
"What has been so interesting is that the reactions of people in China, France and the US have been quite similar. People are intrigued, surprised and most of the time happy to see something different. Of course, people on Fifth Avenue have less time to spend meditating on a piece of urban poetry than, say, a villager in Shandong province, but the expression, the gasp, the intrigue, it's universal."
When not on the road, de La Faye gets by in Beijing by taking photos, making jewellery and clothes, acting and participating in art projects. He met French fashion designer Aloÿse de la Ronde in the capital and the pair married in 2015. Yet M2Bremains a work in progress.
"To be truly global you have to cross all five continents. I've touched down on three," he says, his excitement still evident.
De La Faye has done everything from street protests to crowdsourcing to finance M2B and is still seeking support to get his kinetic sculpture to Australasia and Africa.
"In this fast-changing world, M2B celebrates poetry, it champions detachment and reflection," he says, draining his coffee. "That's why it matters. That's why I need to take it to the streets. That's what drives me forward."