Two months after a surprise raid on Laukkai by armed ethnic-Chinese group the Myanmar National Democratic Alliance Army (MNDAA), Post Magazine finds the city's usually buzzing casinos quiet. Windows in the four casinos that were targeted are still riddled with bullet holes, others have been replaced by wooden panels.
Close to the border with Yunnan province, in the Kokang Self-Administered Zone of Myanmar's Shan State, Laukkai's casinos cater largely to a clientele from China. Now, a curfew comes into effect nightly at 8.30pm (Beijing time), deterring punters who would have to stay until the morning if they wanted to remain at the gaming tables any later.
A year and a half on from the landslide election victory for Aung San Suu Kyi's National League for Democracy, parts of northern Myanmar remain riven by conflict. If anything, distrust between ethnic armed groups and the government is growing.
Suu Kyi denies ethnic cleansing of Myanmar's Rohingya as UN probes torture, murder and rape by troops
According to those seeking refuge in the town of Lashio in the days following the raid, gunfire and the sounds of battle could be heard in Laukkai over several evenings, the deadliest escalation of violence in Kokang since February 2015, when the MNDAA launched an attack on government forces in an effort to regain control of the territory.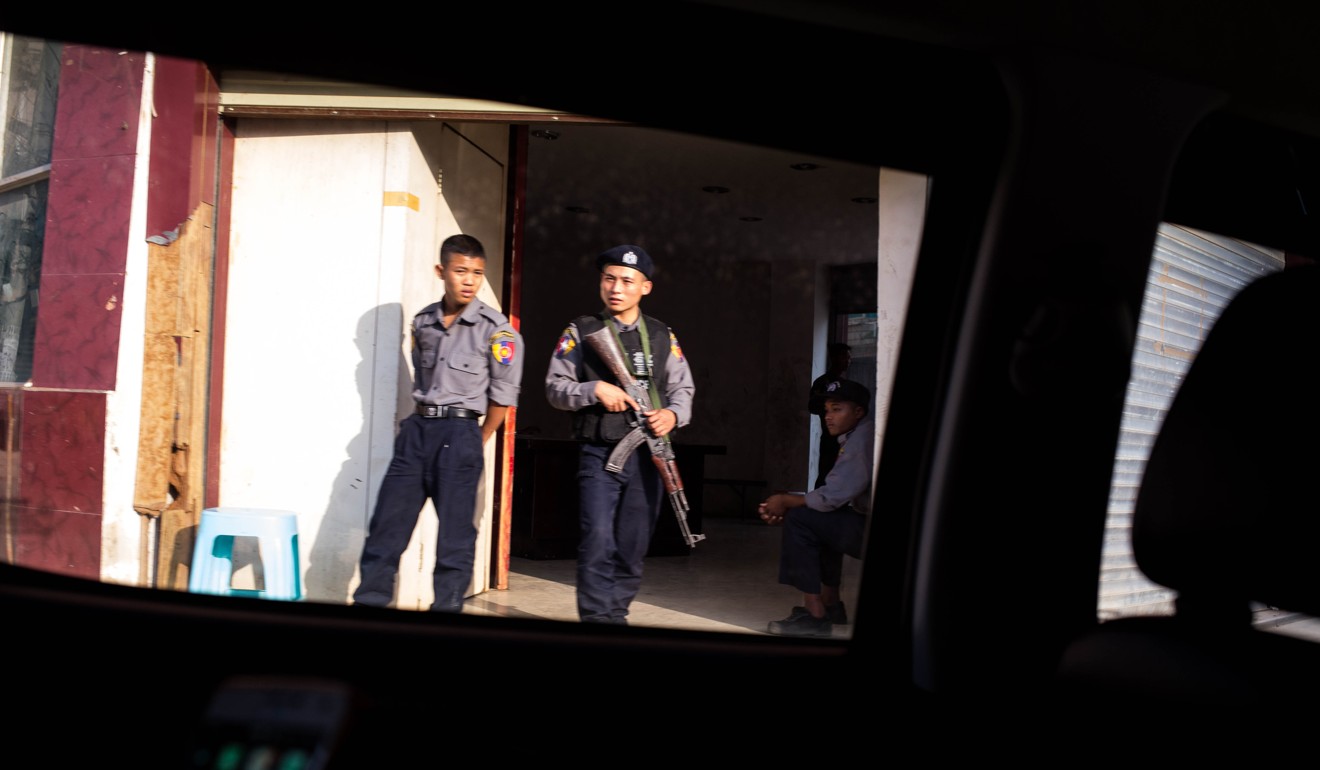 Lashio is about 160km southwest of Laukkai and most of the refugees who made their way there after the March attack were migrant workers from Myanmar's central plains. It's estimated that more than 10,000 of Kokang's ethnic-Chinese inhabitants sought sanctuary across the border, in Yunnan, mainly in and around the district of Nanshan, joining the many who had fled there during earlier periods of conflict.
Who and what are behind Myanmar's long-running civil war
From May 24, representatives of the Northern Alliance – comprising the MNDAA and other armed groups, including the Arakan Army, the Kachin Independence Army and the Ta'ang National Liberation Army, opposed to the Myanmese govern­ment – attended the 21st century Panglong Conference in the capital, Naypyidaw. China's special envoy for Asian affairs, Sun Guoxiang, mediated between the Northern Alliance, Myanmar Army commander-in-chief Senior General Min Aung Hlaing and State Counsellor Suu Kyi to bring all three parties to the table.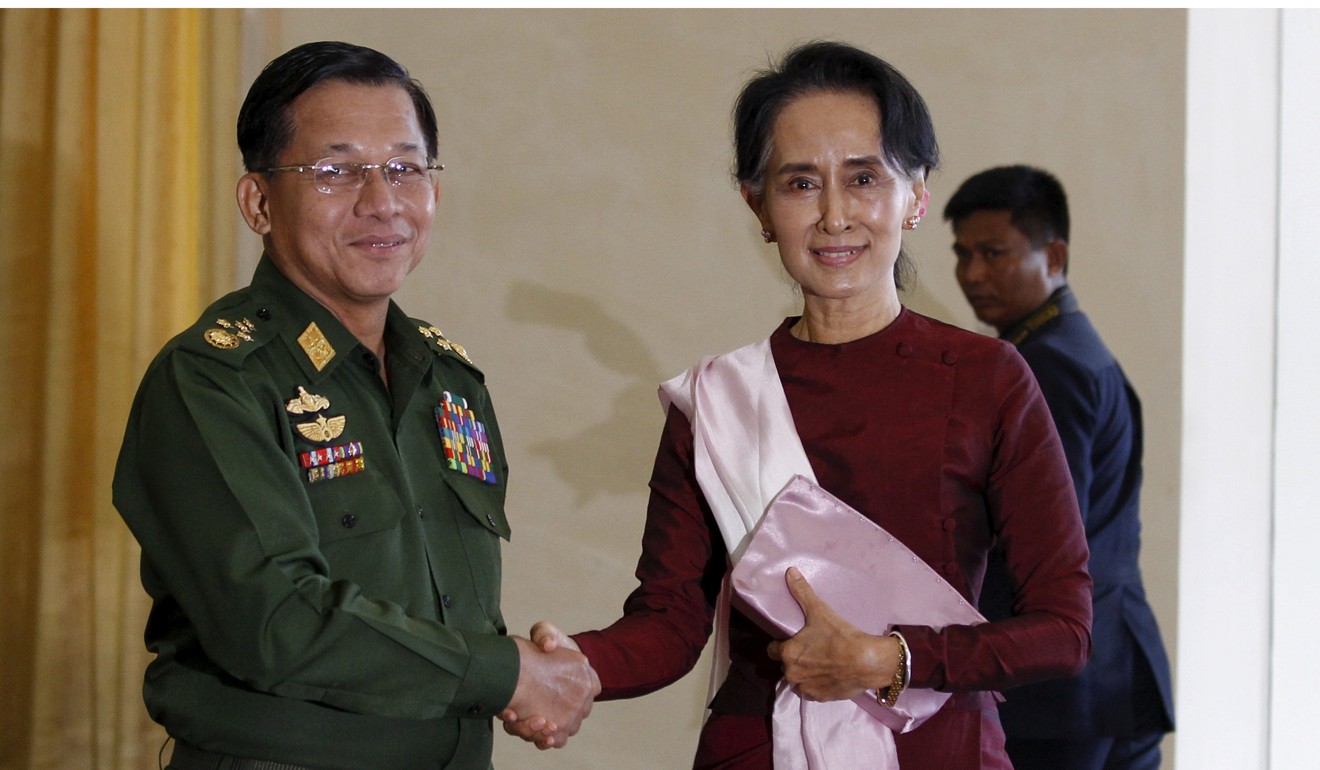 China is seen as a crucial player in the peace talks by the Northern Alliance, which does not trust the Naypyidaw government. Still, Sun's requests for the militants to lay down their weapons have thus far gone unheeded.
China turns blind eye to mainland supporters of ethnic Chinese rebels fighting in Myanmar
Designated as "special guests", the Northern Alliance representatives did not enjoy the same rights at the peace talks as belligerent groups that had already signed the Nationwide Ceasefire Agreement. They did, though, meet Suu Kyi on the second day of the conference and attend a dinner she hosted.
Further talks with Suu Kyi are possible, say the representatives, but they are not yet ready to sign the ceasefire agreement.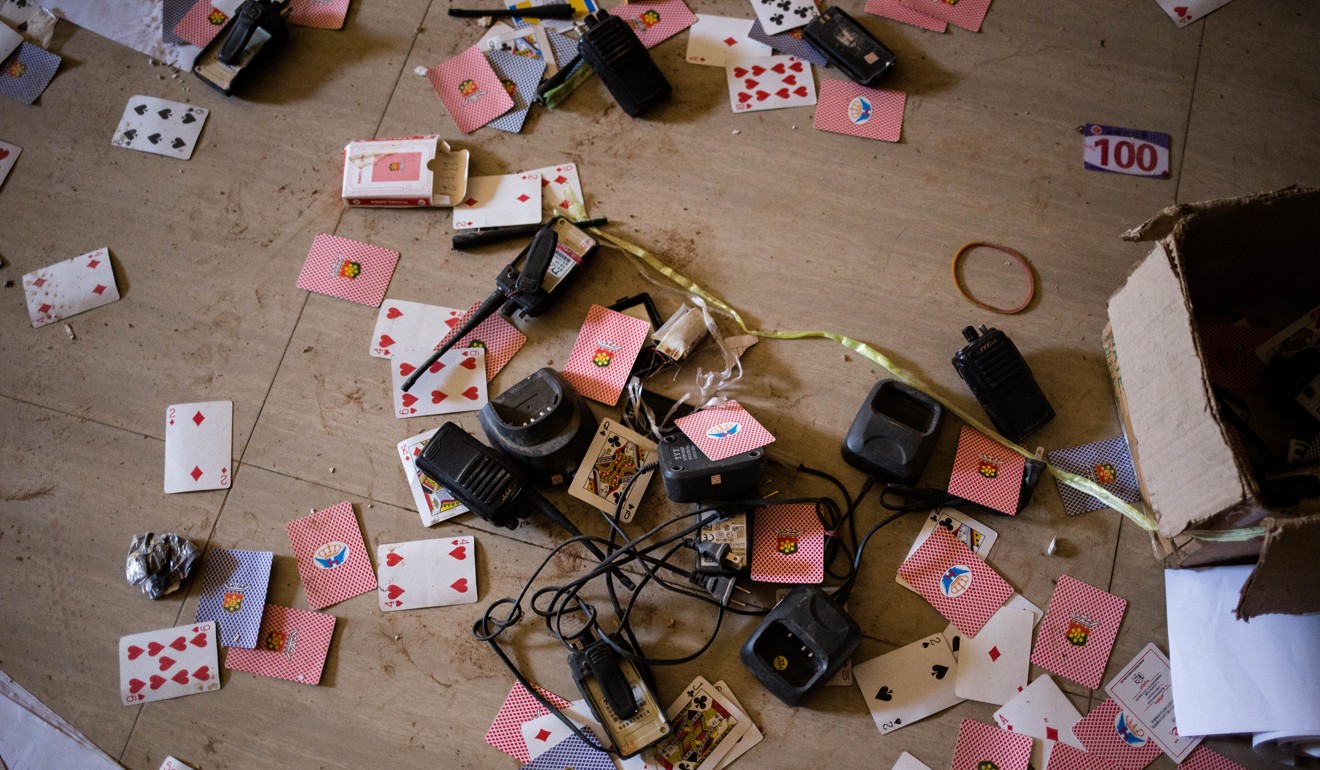 It was 2am when the MNDAA struck. By 6am on that Monday morning, March 6, as the sun began to rise, the militants had remounted their trucks and left the ransacked city. As they withdrew, they took with them an astonishing 500 million yuan (US$73.3 million, HK$571 million), according to local sources. Government news agencies reported that 300 staff, who in CCTV footage can be seen being rounded up, were abducted from one of the casinos.
Having been challenged by local security forces, the attackers left behind them about 100 casualties, including 40 civilians, according to Kokang's Information Department, and set light to at least one of the casinos.
People here are used to war by now. People die during wartime, sometimes you just can't escape it
"They were clearly here to rob the casinos," says Lee Jian Jun, deputy director of the department. "We saw it on our CCTV footage, which has not been disclosed to the public. The MNDAA had 20 trucks lined up outside Fulilight Hotel, and didn't leave until they had loaded all of them."
What about the Chinese immigrants caught in Myanmar's crossfire?
Lee claims the group burned the cash they were unable to load onto their trucks before leaving.
"What else can it be but a planned robbery?" Why else, he asks, were none of the government buildings or military bases in the city attacked.
"I went back to sleep that morning," says Mr Zhou, 25, who works for the Kokang Foundation, the charity arm of the New Jinjiang casino and hotel. "I didn't think they would attack non-government or non-armed facilities."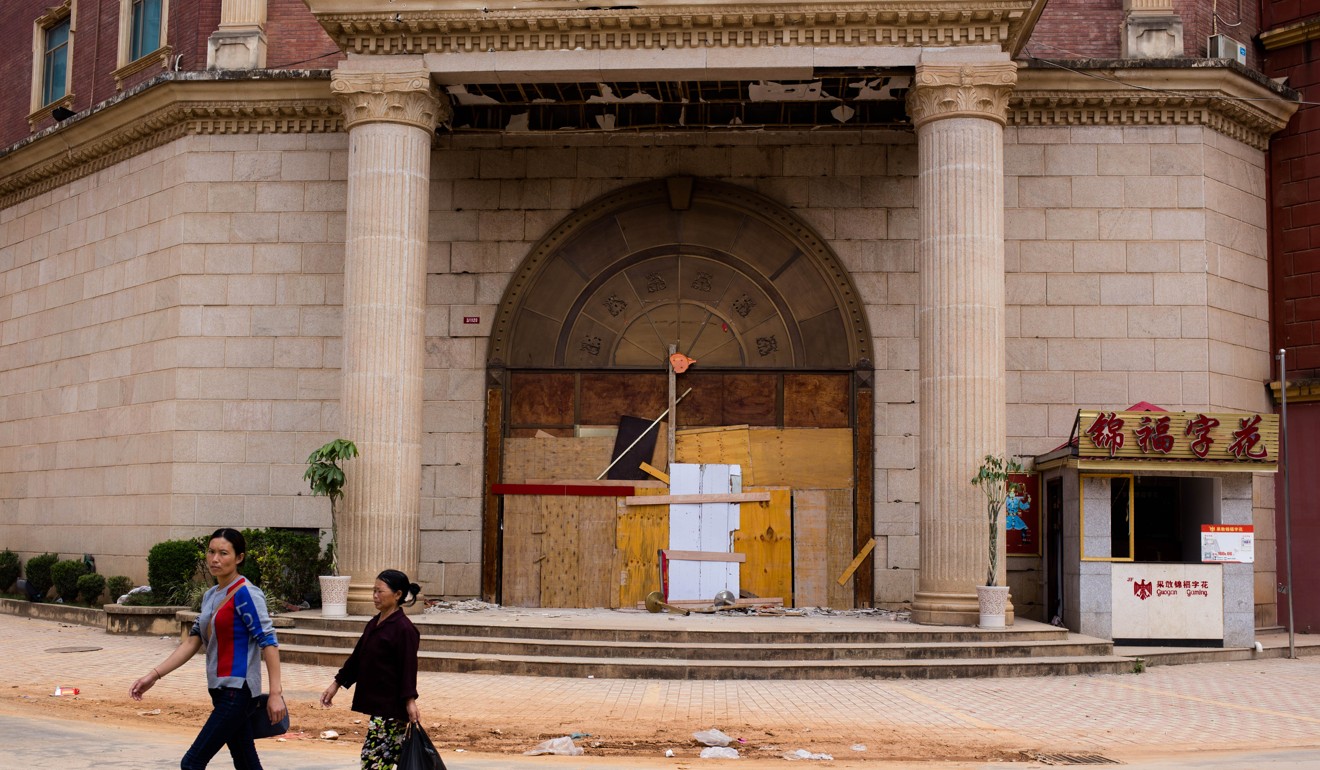 Zhou, who does not want to give his full name, says he moved to Laukkai from Lashio a little over two years ago, to work on education and the rebuilding of schools in rural Kokang. He remembers well the violence that flared in the area in 2015.
"I was shocked to discover our casino had been burned to the ground when I woke in the morning," says Zhou. One of the first at the scene, he discovered five bodies, two of which were so severely burned they could not be identified.
Myanmar government says 126 soldiers killed in fighting with Kokang rebels
"Blood kept coming out of one body when I tried to clean it," says Zhou. "We cremated the bodies that were not claimed by family members that day," he says, explaining they assumed the dead were security guards or guests from China. "It was something that I've never experienced before; it was terrifying and I wasn't able to eat for the rest of the week.
"But people here are used to war by now. People die during wartime, sometimes you just can't escape it," he adds.
The MNDAA made off with close to 300 million yuan from the New Jinjiang alone, Zhou claims.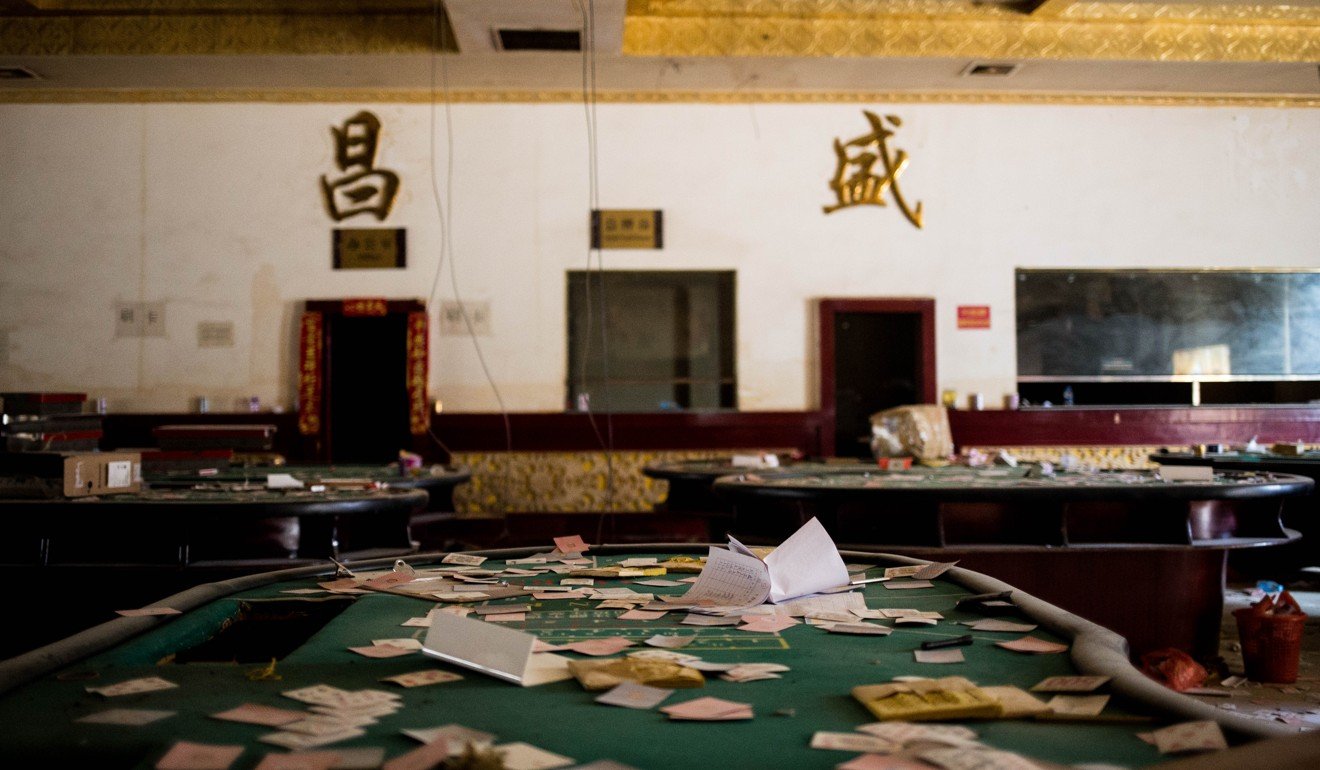 For Peng Deren, the MNDAA's 58-year-old military commander, the March 6 attack was an act in defence of the Kokang people and their land.
Peng Deren is the eldest son of Peng Jiasheng, who was the leader of the Kokang Special Region from its establishment, in 1989, when the China-backed Communist Party of Burma splintered, until August 2009, when violent clashes broke out in Kokang and the MNDAA lost control of the region.
China's key role in helping Aung San Suu Kyi reconcile Myanmar's decades-long ethnic conflicts
Peng Snr has been identified as a major drugs trafficker by the United States Drug Enforcement Agency, according to US diplomatic cables, dated 2009, released by WikiLeaks. He has dropped out of sight since 2009 and Peng Deren has taken over his duties with the armed group.
The MNDAA has two bases: Red Rock, in the far northeast of Kokang, and an unofficial base across the border, in Nanshan. "The Tatmadaw [the Myanmar armed forces] have not stopped attacking us since February 2015," says Peng Deren in an e-mail exchange. "We had no choice but to fight back in order to defend Red Rock, our base."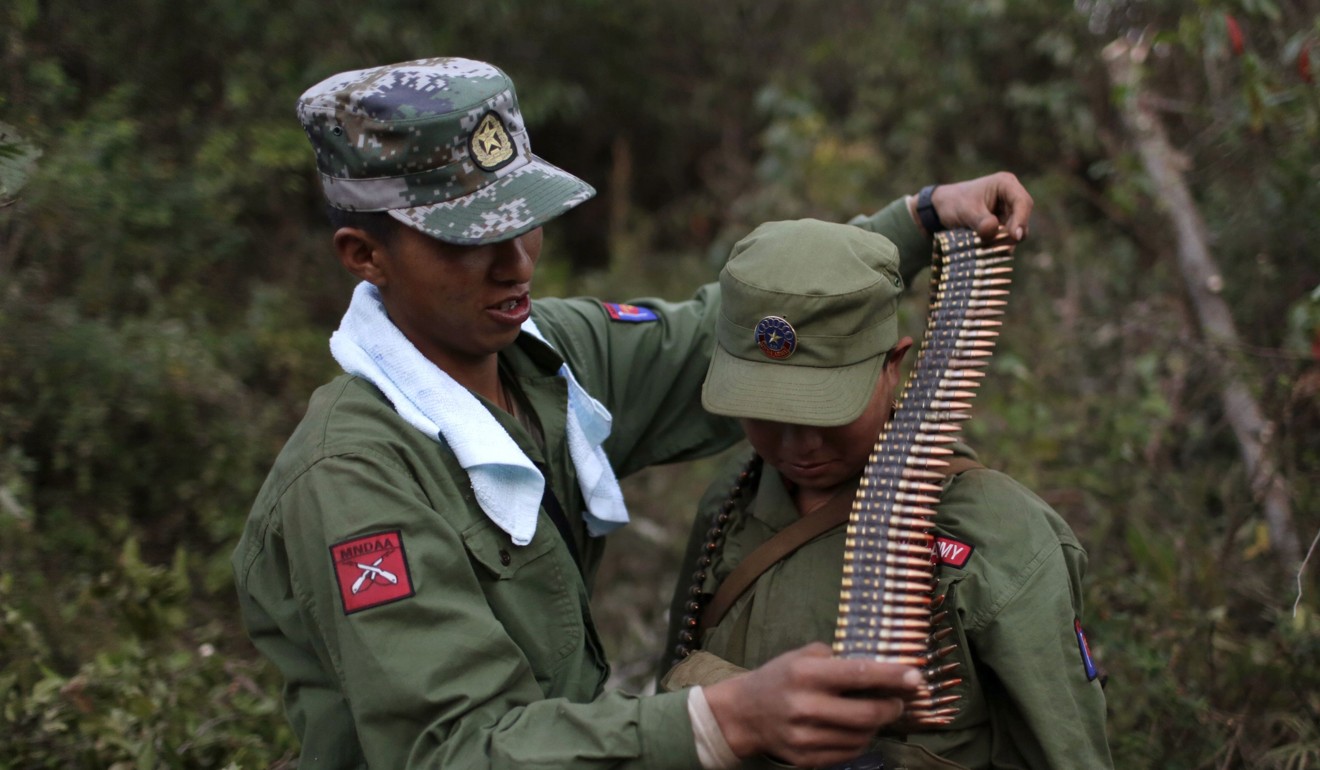 The women among the staff abducted from the Fulilight casino were later released, but 50 men remain unaccounted for, according to a manager of the hotel. The assumption is that they have been forced to join the MNDAA as combatants.
"Our concept of revolution is that everyone is responsible for the survival of the country. If you are Kokangese, it's not a question of yes or no; you are automatically part of the revolution," says Peng Deren, when asked about the men's fate. "How can you waste your time working at a casino when your country and identity is suppressed by the Burmese government? But if you're not from Kokang, we will not force you to join our army."
Rohingya villagers tell of Myanmar forces' reprisal killings after insurgents' deadly attack
"Kokang has a population of 1.3 million, but we have an estimated 200,000 refugees," says Lee.
The self-administered-zone authorities have built shelters in Laukkai for refugees coming back from China who aren't able to return to their hometowns due to the ongoing conflict and landmines buried along the border, he says. Money, though, is tight and little support is forth­coming from the central government.
"But I want the refugees to come back from China," says Lee. "I've visited them in China; the living conditions are bad. The Chinese government used to provide some rice to the refugees but, as far as I know, the support has stopped. The refugees who have run to China are not well-educated. How will they survive? It's almost like hell living in such conditions."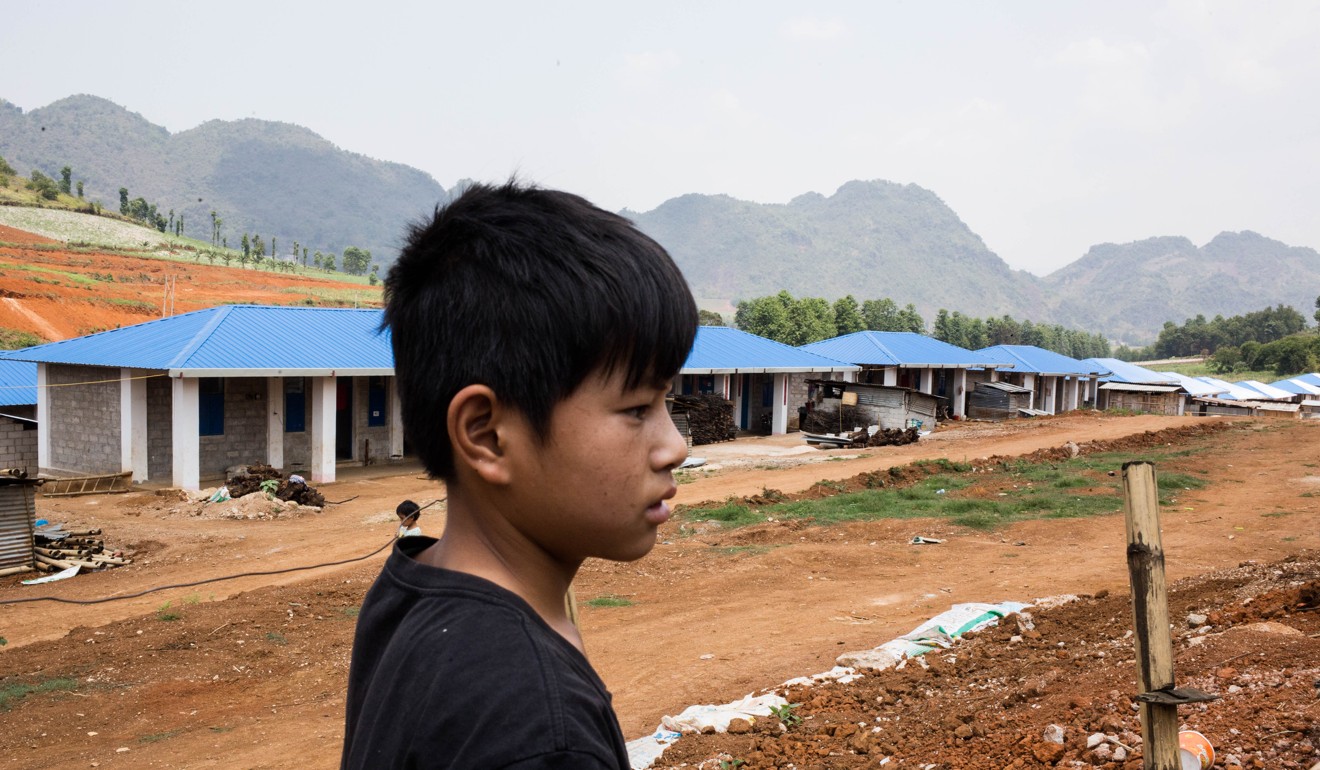 The MNDAA's fight against "Burmanisation" has been funded by Chinese around the world. Donors have been depositing money directly into an Agricultural Bank Of China account, or they send it through WeChat Pay or Alipay. Since the group launched a crowdfunding appeal on its website in 2015, pleading for support to resist attacks by the Myanmese military in the hills along the border with China, it has raised US$531,853.
The AgBank account was suspended after Reuters sent a list of questions about the transactions to the lender, according to a report by the news agency on March 21.
Peng Deren believes the steady stream of donations indicates that many back his revolution, but acknowledge­ment by the Myanmar government has given rise to the belief that Beijing also supports the MNDAA, an idea strengthened by anti-China sentiment in the West.
"The bank account at AgBank belongs to a volunteer who is a civilian in China. The account was not opened by MNDAA, the organisation," says Peng Deren. "The idea that China will allow rebel groups to open bank accounts for donations inside China simply is not true."
Peng Deren does not deny his group raided Laukkai's casinos on March 6, but he does dispute the amount of money the authorities in Kokang say was taken. He suggests it was vastly exaggerated in order to "frame" him.
"I will not disclose the exact amount of money but, think about it, why would a casino owner have 500 million yuan in cash on-site during troubled times like these?"
More than 20,000 flee Myanmar conflict and cross border to China
He further accuses the casino owners, who he calls "traitors", of using the profits from their establishments to bribe government officials, fund the Myanmese military and recruit militia to combat the MNDAA.
"If they are using the money to fund our enemy, of course we have to do everything we can to confiscate that money," says Peng Deren.
In Laukkai, two months after the March 6 attack, the streets remain subdued. An estimated four out of every five shops remain shuttered and the nearby border with China is still closed.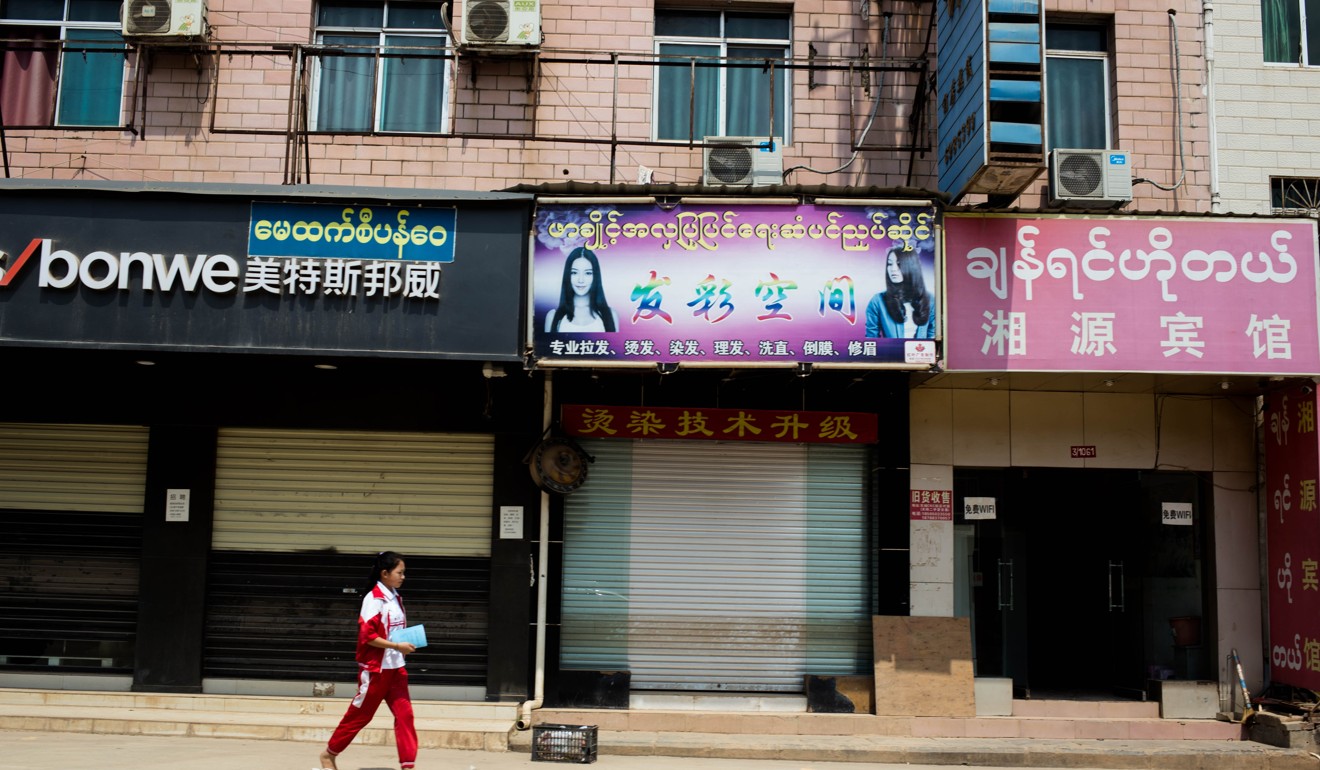 Driving his golf-cart-like vehicle from casino to casino, however, 52-year-old "bus" driver Yang Cingkang is back at work, ferrying the few punters still keen to test their luck at the gaming tables. The local has been driving between Laukkai's casinos for eight years.
"Why hide? If there is war, just stay home and play mahjong," he says. "If anyone knocks on your door, don't open it. That's pretty much it.
"Back in the Peng [Jiasheng] days, business was really good. Laukkai was a city that never slept, and I could make at least 1,000 yuan per day," says Yang, who charges customers five yuan per ride. "I would prefer to let Peng lead Kokang; it would mean less war, fewer restrictions and more business."
Schools finally reopened at the end of April; the holes in the windows of the classrooms caused by bullets and shrapnel are hard to miss.
"We had 1,300 students before March 6, now we have 1,100," says Le Shi Hue, the white-haired, 37-year-old principal of Guo Wen Middle School, in Laukkai.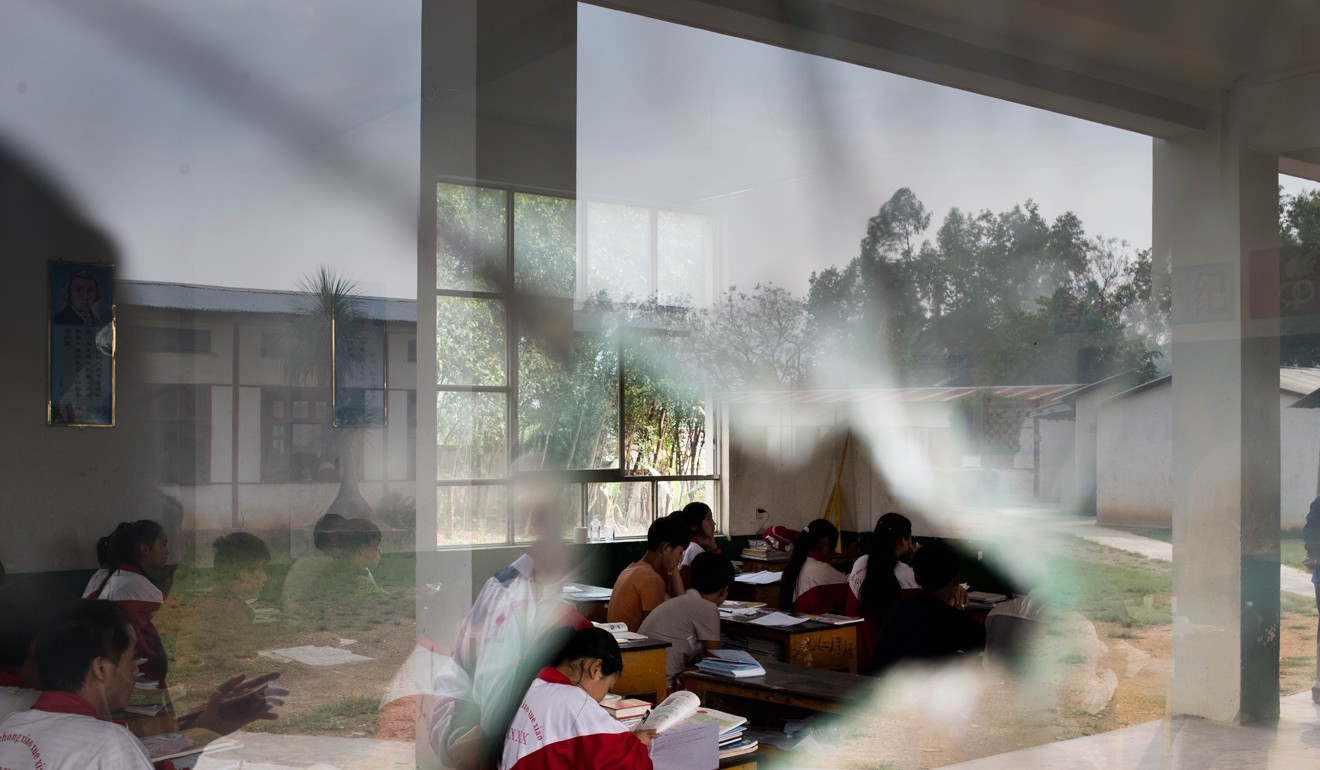 According to Kokang's Culture and Education Office, of the 22,000 students registered in the self-administered zone, 6,000 have yet to return to school following the March violence. Many of them remain in China; others' parents, impoverished by losses suffered during the conflict,are unable to pay tuition fees.
"After the 2015 conflict, most of our students had to run to China and weren't able to make it back to Kokang until a year later," says Le. "In order to start as soon as possible, we did a three-semester free programme." For three terms, the Kokang Foundation funded the schools.
Myanmar declares state of emergency, imposes martial law in Kokang
Laukkai's students have seen it all: conflict; the fleeing to seek refuge in China; gambling and casinos; and ever-rising tensions between the Kokangese and a growing number of Burmese in the town.
Su Ruizhi, a 17-year-old Grade 9 student at Guo Wen, says she plans to join her sister in China, to find work, when she leaves school. She once wanted to study to become a doctor, she says, but her family's gambling debts have placed a heavy burden on her young shoulders, and during the 2015 conflict she lost a year of schooling.
Dressed in her red school uniform, a ponytail hanging down her back, she says, "There is too much war in Kokang. We Kokangese should not experience all this hardship."
Pausing, she adds, "I want independence for Kokang; I want the Kokang people to govern ourselves. That's what I really want."
This article was updated on June 5, 2017.