Hong Kong's educational conveyor belt is meant to produce accountants, bankers and lawyers who will keep the economy ticking over in a city that is reliant on financial services and trade with China. Their mission, as the political establishment would have it, is to make money, keep their mouths shut when it comes to sensitive issues and produce another generation of besuited drones. So something must have gone terribly wrong with Kelvin Lee.
An ambitious insurance broker in his early 20s, he used to care more about selling policies than meddling in politics. Yet, everything changed on September 28, 2014, when he decided to take a look at the early stages of the Occupy protest near the main government offices in Hong Kong. As the police grew alarmed by the growing numbers gathering for what they regarded as an illegal assembly, they fired tear gas and charged with batons raised in an attempt to disperse the crowd. "That day was really remarkable for me," said Lee, now 26. "I saw the tear gas explode in front of me more than 20 times and saw how frightened people were."
At that time, he did not agree with the protesters' demands for democratic reforms but felt the urge to defend the students from the police assault. Roused by the Occupy spirit, he started to wonder what he could do to promote a better future for Hong Kong. He started to read about Hong Kong's strange political system, determined to learn before he could plot a way to change it from the inside.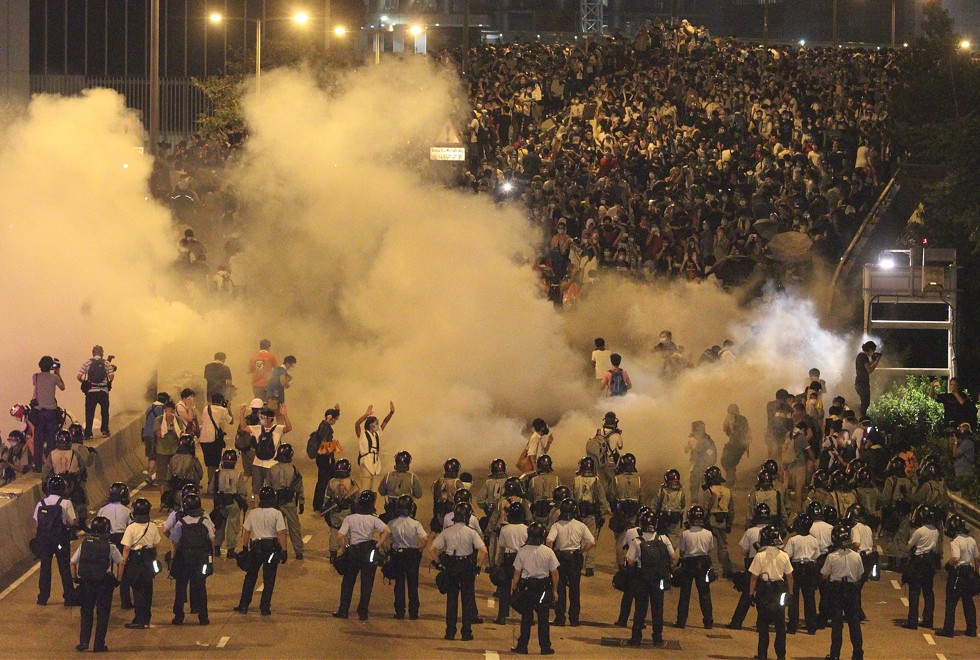 Fresh-faced and wearing an expertly ironed white shirt, Lee came straight from work to meet me at the upscale mall in the International Financial Centre on the Central water­front. Talking in a deliberate and earnest fash­ion, he explained his metamorphosis from unquestioning finance worker to a disciple of political change.
"There are about 100,000 people working in insurance but no one talks about politics in the office, not even during the Umbrella revolution," he said. "Are these people living in Hong Kong or what? They are just working and living as nor­mal, as if nothing happened." During the 79 days that central Hong Kong was occupied, Lee met several other people from his industry on the streets and together they decided to do something, forming a pro-democracy lobby group called Insurance Arise. It is very small, with just 10 to 15 members, and it is one of several similar organisations founded in recent years by professionals trying to extend the fight for freedom and Hong Kong's values to a broader audience. Action Accountants, IT Voice and Financier Conscience: the very names of these groups are designed to belie the stereotypes about professionals in Hong Kong (and beyond).
Occupy insiders give their verdict on the protests
Many were shaken by the kidnapping of five booksellers by mainland Chinese security agents in 2015, a blatant and damaging breach of Hong Kong's autonomy. More generally, the central government was playing an ever greater role in Hong Kong politics, the media and daily life through the machinations of its secretive Liaison Office, which is housed in a sinister-looking building in Sai Ying Pun.
One friend in his late 20s who works for an international investment bank told me that he had been "pissed off" with the protesters during Occupy because they had not only inter­rupted his commute but damaged Hong Kong's reputation for political stability. Now my friend had come to the realisation that he needed Joshua Wong Chi-fung and the rest to fight on his behalf. "People like me are not willing to speak out because we might get sacked," he said. "So we need these guys to defend our rights as China tries to take them away."
Kelvin Lee has become one of those guys. He stepped up because no one else was willing to. The way he sees it, he has much less to sacrifice, career-wise, than more senior col­leagues with bigger salaries and families to support.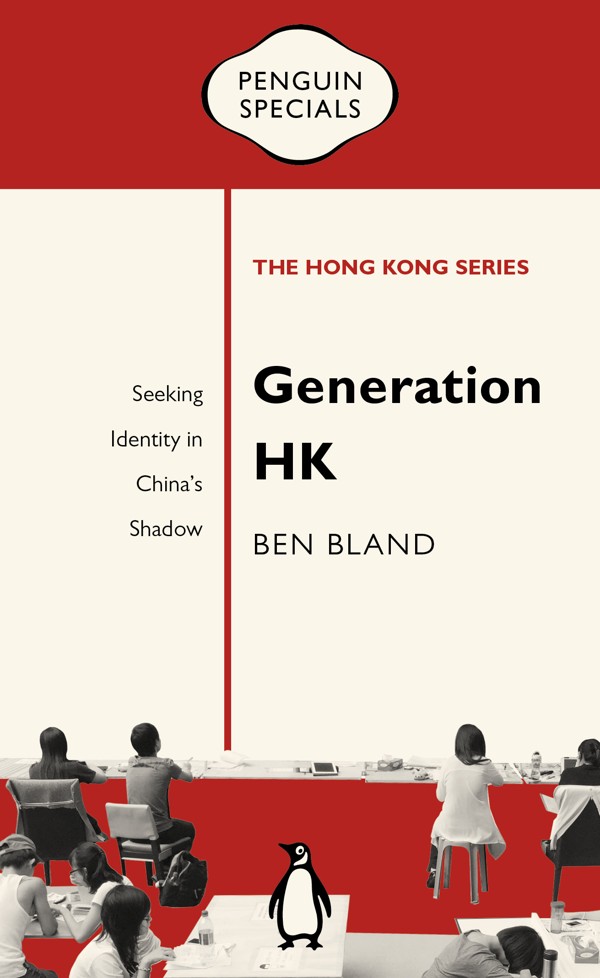 Much of Hong Kong's insurance business – and the broader financial services industry – is set up to serve clients from mainland China. Many of the customers are wealthy individuals who buy Hong Kong insurance policies as a way to get their money out of the mainland, bypassing the govern­ment's capital controls, which restrict large transfers of cash. Lee's current employer is not only mainland focused, it is a mainland company. His experience working there demon­strated to him just how deeply Beijing was encroaching into Hong Kong's affairs.
One week before the Legislative Council polls, when former Occupy leader Nathan Law Kwun-chung was elected, Lee's boss called a company-wide meeting. She told the assembled staff that they should vote for someone who would "do the right thing" for Hong Kong, not those who were "breaking the law and breaking everything". As if that message, straight from the Communist officials at the Liaison Office, was not clear enough, she offered the insurance brokers a list of which pro-government candidates to vote for. "Many of my colleagues wanted the list because they really didn't know who the nominees are," Lee told me. He found such unsubtle meddling laughable but knew it was effective, especially as it was repeated across Hong Kong at many companies with mainland ownership or close mainland ties.
'It's a miracle': ex-student leader Nathan Law celebrates new status as Hong Kong's youngest ever lawmaker
In 2015, he and his comrades at Insurance Arise started collecting signatures for a petition to reform the voting system in Hong Kong. Insurance is one of several so-called functional constituencies that are given 30 of the 70 seats in the Legislative Council. Some industries have open, democratic votes for their legislative representatives. The insurance seat is also subject to a vote, in theory, but all the voters are corporations, many of them foreign groups such as AXA, HSBC and Prudential. Lee was campaigning for partial democratic reforms that would give each insurance worker a vote in their own industry constituency. Even then, Insurance Arise was able to collect only 1,000 signatures, despite spending three months at street stands outside the main insurance company headquarters.
"We weren't asking people to commit, just to listen. But no one would stay for more than two minutes. You know Hong Kong people, always rushing," he said. "Through this year we kept thinking, 'Should we continue this because there are not many results here?'"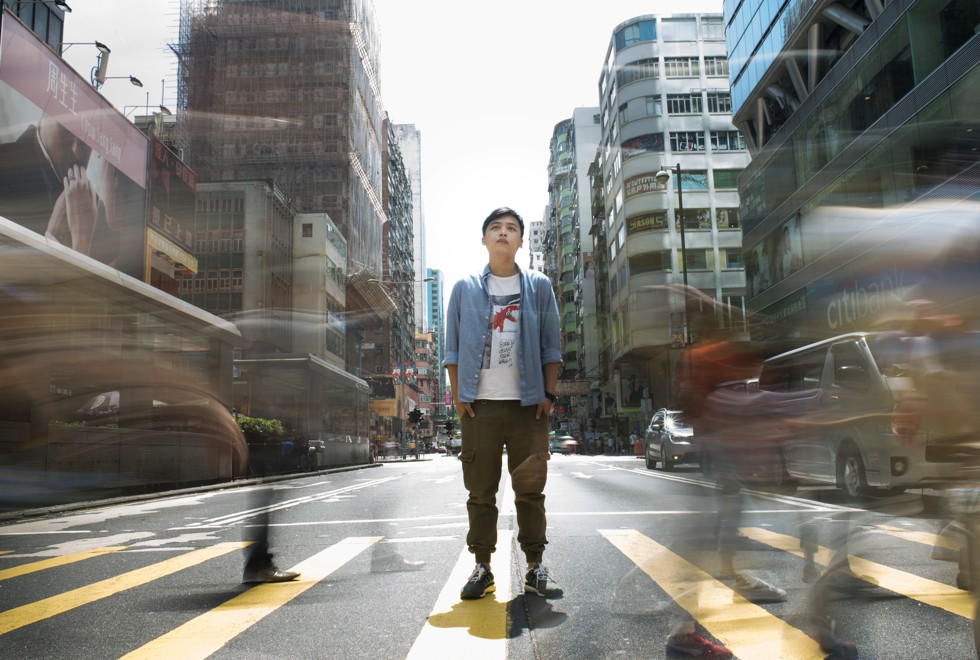 What then did keep him going? Despite the growing problems, Lee said he does not want to leave a city he loves. So he has no choice but to fight for a better future. The urgency of his struggle is growing day by day, as he watches Hong Kong's autonomy slipping away. Politics is one threat to Hong Kong's identity. Another is language. Like many Hongkongers, he worries Cantonese is being supplanted by Mandarin. At the same time, he fears that traditional Chinese characters will be pushed out by simplified characters.
"If we can't do anything in the next few years then Hong Kong is over. It's really the last chance for us," he said. 'Ten years later, when my children go to school, I fear they will be able to speak only Mandarin and read simplified Chinese [...] Then what should I do? Take them out of school?"
Lee was born one year after the Tiananmen Square massacre in Beijing in 1989. The vicious crackdown on students campaign­ing for political reform dashed the hopes of many in Hong Kong, including Lee's father, about the handover of the terri­tory to Chinese control in 1997. They had wanted to believe that China was on the road to becoming a freer, more open and democratic – as well as more prosperous – nation and that the absorption of Hong Kong would help to accelerate political and economic reform throughout. Even though Lee's father was greatly disappointed, he still wished his son would see a greater future for Hong Kong and China so he gave him a Chinese name that incorporates the word "hope".
In turbulent times, will Hong Kong voters drift to the middle of the road?
"This name means he has hope in our generation and when we grow up and the time comes, things will get better, because we'll be more educated and know more about the world," Lee explained. "I share the same goal as my dad. Even though it's very hard to keep the values we cherish in Hong Kong, if we have the will and everyone tries, there's still a chance for us to succeed."
An Oxford University graduate who won a prestigious British government scholarship, 33-year-old Gary Wong Chi-him had recently quit his job as a deputy head of sales for a Hong Kong-based company that manufac­tures inks, paints and other chemicals in China when he sought me out in early 2016. He was planning to run in the Legislative Council elections for a new, middle-of-the-road party called Path of Democracy. His campaign manager, who was on temporary leave from a global PR firm, wanted him to reach out to the international media.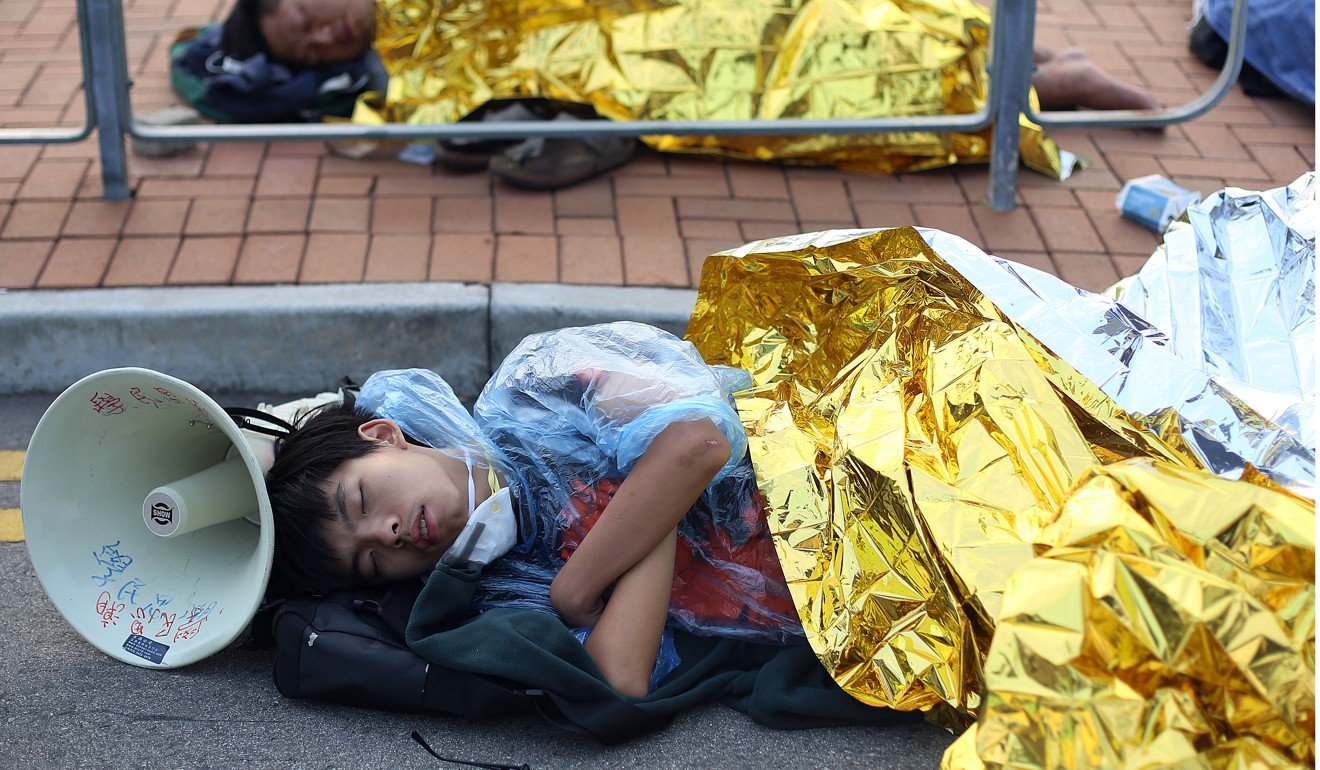 When I met Wong later, during the thick of the election campaign, I was not convinced that he had much chance at the ballot box. He was too slick, with his tight-fitting suit giving away his salesman past. But he spoke with genuine concern about the polarisation in Hong Kong. "Right now, unfortunately, politics is about dividing people," he said, at his small campaign office in Fortress Hill, on Hong Kong island, where he was going head to head with Nathan Law of Demosisto.
He saw himself as a moderate who could form a bridge between all sides, from independence advocates to the Hong Kong establishment and Beijing itself. He was trying to force a rethink of the dichotomy that seemed to frame much of the debate about the city's future: between democratic Hongkongers, on one side, and the unyielding central government and its local agents on the other. "Having dialogue doesn't mean we have to sacrifice our values and our bottom line," he said.
Opinion: how Hong Kong's political rot started in the 1990s, and the rise of Joshua Wong and his sort
Wong shared many of the concerns of other young Hongkongers about housing prices, declining social mobility and a lack of democracy. Contrary to many, however, he argued that radical actions, from street occupations to supporting independence, would only further anger Beijing and lead to a greater crackdown on Hong Kong's way of life and its remaining freedoms. Wong also believed that such extreme approaches would never win the support of the quiet majority, who the radicals prefer to call "Hong Kong pigs". They may like the idea of democracy and want to protect Hong Kong's autonomy but they are not willing to speak themselves or encourage actions that might harm their short-term economic position. "Some of my friends who are working in banks or other professional sectors are well aware of the situation but are silent," he said. Wong described how these friends would read and think about the problems facing Hong Kong, but would not even discuss these issues on Facebook, because they feared that the Chinese and inter­national companies that employ them will sack them or block them from promotions. "Those are our target supporters," he explained. "But it's not easy to get them to speak up or get involved in campaign work."
Wong himself has always been interested in politics and his career goals may explain in part why he takes a more moderate approach. Having completed a master's degree in diplomatic studies at Oxford in 2013, he wanted to parlay his academic and business experience into a political career. His ambition came from the sense of possibility that he felt, growing up in what he calls humble surroundings in the new town of Tuen Mun in the New Territories, with his police­man father and housewife mother.
Throughout the 1980s and 90s, Wong felt that life was getting steadily better. "It was wonderful growing up in Hong Kong then," he said. "The 1980s was the best period in Hong Kong history. It was full of oppor­tunities. My parents were working very hard and our family conditions improved year by year." Most importantly, he added, it was much easier to climb the social ladder back then.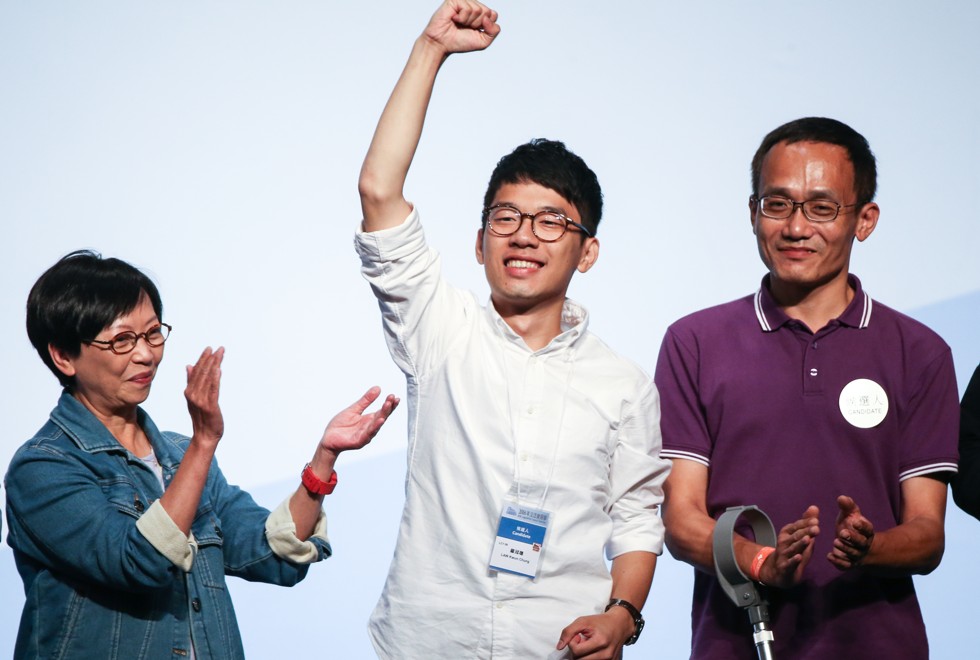 After studying translation at the University of Hong Kong, Wong joined Accenture, the man­age­ment consultancy firm, in India for a year, before becoming a management trainee at the chemi­cal company in Hong Kong. Having studied and worked in Britain, India and main­land China, his outlook is naturally more outward­ly oriented than the likes of Kelvin Lee. In fact, he worries that the growing promotion of the distinct "Hong Kong identity" and the drive to protect Cantonese may have the unintended consequence of making young people uncompetitive in international terms by undermining their ability to speak English and Mandarin. That risks damaging the city's reputation as a global business centre and, counter-intuitively, making it harder for Hong Kong to reduce its economic reliance on China. Wong accepts that the question of identity in today's Hong Kong is problem­atic, even in the case of someone as clear-headed as himself. "I'm a Hongkonger and a Chinese but not Chinese and a Hongkonger," he said. More broadly, he believes that the generation that has come of age since the handover wants to "redefine the identity of Hong Kong", even if the end goal is not exactly clear. He warns that only political compromise, rather than an identity politics that pits Hong Kong against the mainland, can secure a better future for the city and its young citizens.
It was a testament to the divisions that so troubled Wong that his brand of middle-of-the-road-ism did not suc­ceed at the polls. He won just 10,000 votes, short of what he needed to get elected and far behind the 50,000 votes secured by Nathan Law.
Regardless of their politi­cal differences, in their own ways Gary Wong and Kelvin Lee stood up to fight for a better Hong Kong. It remains to be seen whether they are the exception to the rule among young profes­sionals or if they are the vanguard of a new cohort with the experience and gravitas to spread democratic ideals to a wider portion of the population. But the voices of these young professionals will be crucial in the struggle to define what it means to be a Hongkonger.
This edited except of Generation HK: Seeking Identity in China's Shadow, by Ben Bland, appears courtesy of publisher Penguin Books Australia. Now available in the Asia-Pacific region and on eBook, it is part of Penguin's Hong Kong series to mark the 20th anniversary of the handover.