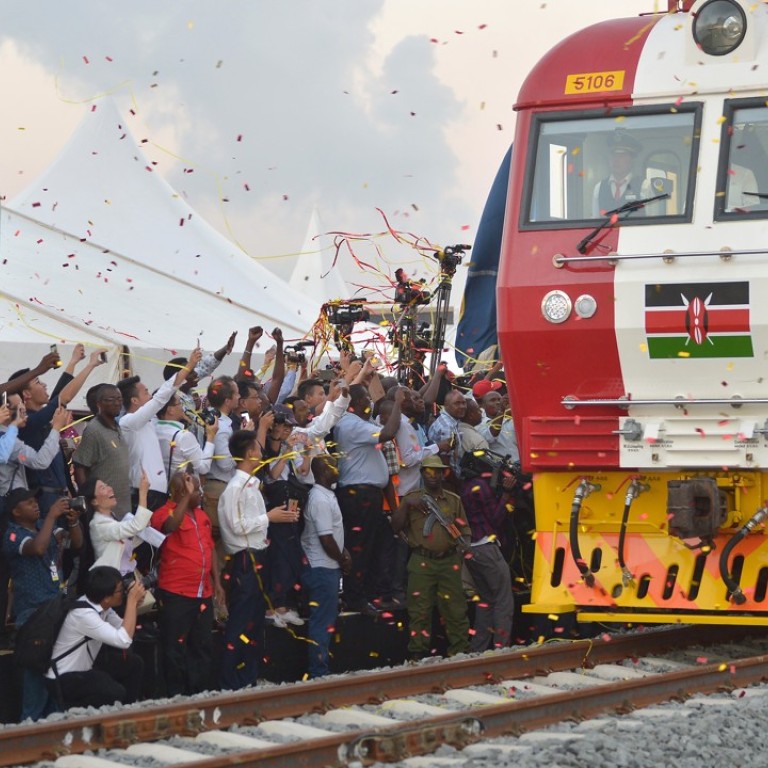 The Lunatic Express: how Kenya's colonial railway compares to new China-built line
The Victorian-era Nairobi-to-Mombasa line offered a chance to see Kenya at a leisurely, if unreliable, pace
"Belt and Road Cooperation for Common Promutual Benefit," proclaims a large street sign suspended above Beijing's ever-congested second ring road.
China is investing massively in its 21st-century reimagin­ing of the Silk Roads, even if the budget for fluid English translation remains insufficient. This rekindling of ancient trade routes is President Xi Jinping's signature project and, in the year of the Communist Party's 19th National Congress, the banners are flying the message of globalisation with Chinese characteristics.
Deals have been brokered from Vientiane to Vilnius, provoking critics to cry, "Empire!" and advocates to applaud vital infrastructure heading to countries most in need of investment.
Many of those countries are in Africa and, in May, an unveiling in Kenya highlighted the fact that China's inter­nationalist wheels are already very much in motion.
But first, a little history ...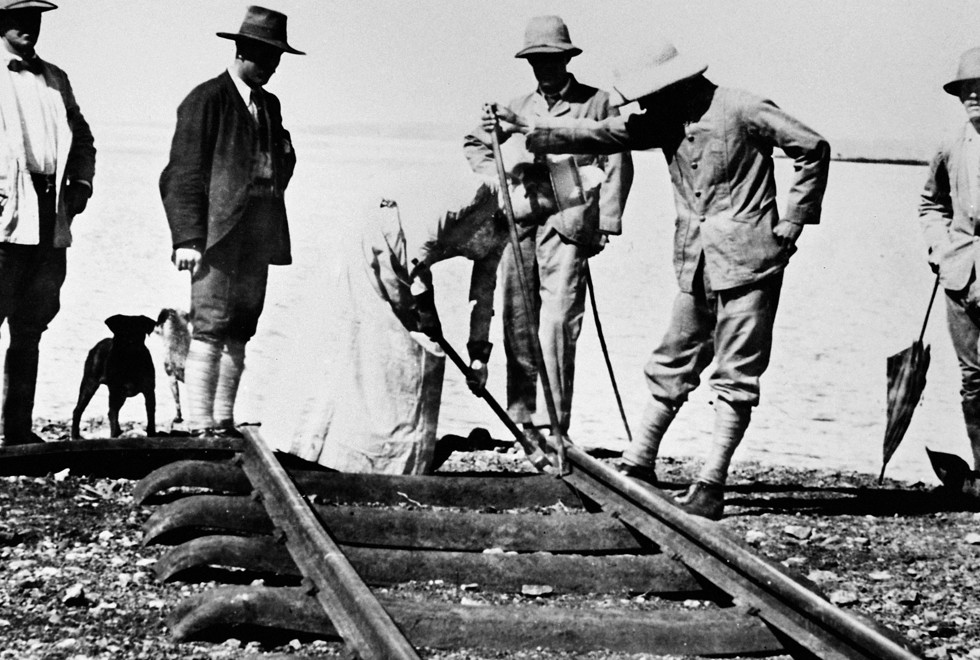 I arrive in hot and dusty Mombasa
after a short rainy season caused drought in many parts of the country. Scores of black crows line the ramparts overlooking the sinuous lanes of the beautifully dilapidated old town.
The tides of fortune have been washing against the white sands of East Africa for centuries. When compared with modern Nairobi – conceived as a railway juncture in 1899 – Mombasa is a delicious tangle of culture. The Jain and Shiva temples tell of India's influence, the Basheikh, Bohra and Mandhry mosques recall Omani dominion, while the British imperial project during the so-called scramble for Africa is evident near the old Dhow Harbour, in the colonial buildings surrounding Government Square: the Old Post Office and the beguiling Mombasa Club among them.
But it's a Portuguese construction, Fort Jesus, that dominates the scene. Designed by an Italian for King Philip of Portugal and completed in 1596, this beautifully weathered Renaissance citadel was occupied nine times by competing powers between 1631 and 1895. The fort's appeal was simple: he who dominated Mombasa stood between the riches of the African interior and Indian Ocean trade. The lands of the Kamba, Kikuyu and Maasai, which were perceived as wild and impenetrable to all but a few hearty traders, contained a plethora of riches, including ivory, rhino horn, animal pelts and, of course, slaves. Fortunes were made shipping African resources to Old World bazaars, as well as to the colonies of the New World.
The fort now houses a museum and what catches the eye are not the Scottish cannons or Portuguese swivel guns but porcelain: Chinaware teapots, plates and jars adorned with dragon motifs, phoenixes and Chinese lions. China had been trading with East Africa for 200 years before William of Normandy's conquest of England in the 11th century, along the maritime Silk Roads. Only as it turned inwards during the Ming and Qing dynasties did China's influence as a world trade power wane, in tandem with Europe's heady ascent. And it was the West, not the East, that would carve up Africa.
Nowadays, of course, made-in-China products make landfall here again. Kenya is still a largely rural society that depends on importing a great deal of manufactured goods, including the Chinese-brand motorcycles that buzz around the streets of Mombasa.
In December 1895, when British railway engineer George Whitehouse sailed into Mombasa harbour, the city presented quite a view. "Its streets and natural surroundings brought together sophistication and savagery, vitality and languor, comfort and peril, loveliness and squalor," wrote Charles Miller, author of The Lunatic Express: the Magnificent Saga of the Railway's Journey into Africa (1971). But Whitehouse was a member of the Victorian upper class, in full possession of a stiff upper lip and the pragmatic poise of an engineer. He had built railways across the world, but had he known what lay ahead in his latest project, he might have climbed back aboard the SS Ethiopia and returned swiftly to Blighty.
Although the British had been present on the margins of East Africa for some time, as anti-slavers but enthusiastic traders, the crown's imperial agenda had been triggered by French designs for an east-to-west African empire. The solution pro­posed in parliament was to build a railway from Mombasa, through Nairobi to the landlocked British protectorate of Uganda, buffering the advance of competing colonising nations. But dissenters deemed the Uganda Railway project an expensive and perilous endeavour. Politician and arch critic Henry Labouchère coined the term "lunatic line", viewing the idea as imperial overreach and British confidence driving men towards madness.
The tracks cross vast savannah populated by a bewilder­ing array of species as they climb from the coast to the ele­vated interior before plummeting into the cradle of mankind, the Rift Valley. The line concludes its epic 1,060km journey at Kisumu, on the banks of Lake Victoria, the source of the Nile. The geographic hurdles required the construction of 12,000 bridges. Of the 32,000 Indian navvies who worked on the railway, almost 2,500 perished. Lions picked off a fair few; drought, malaria and dysentery took many more. Disgruntled Kikuyu tribesmen, believing the railway to be an iron snake, shot coolies with poison darts. It should be no surprise to learn "Tsavo", the name of a national park near Mombasa, is a Kamba word meaning "slaughter".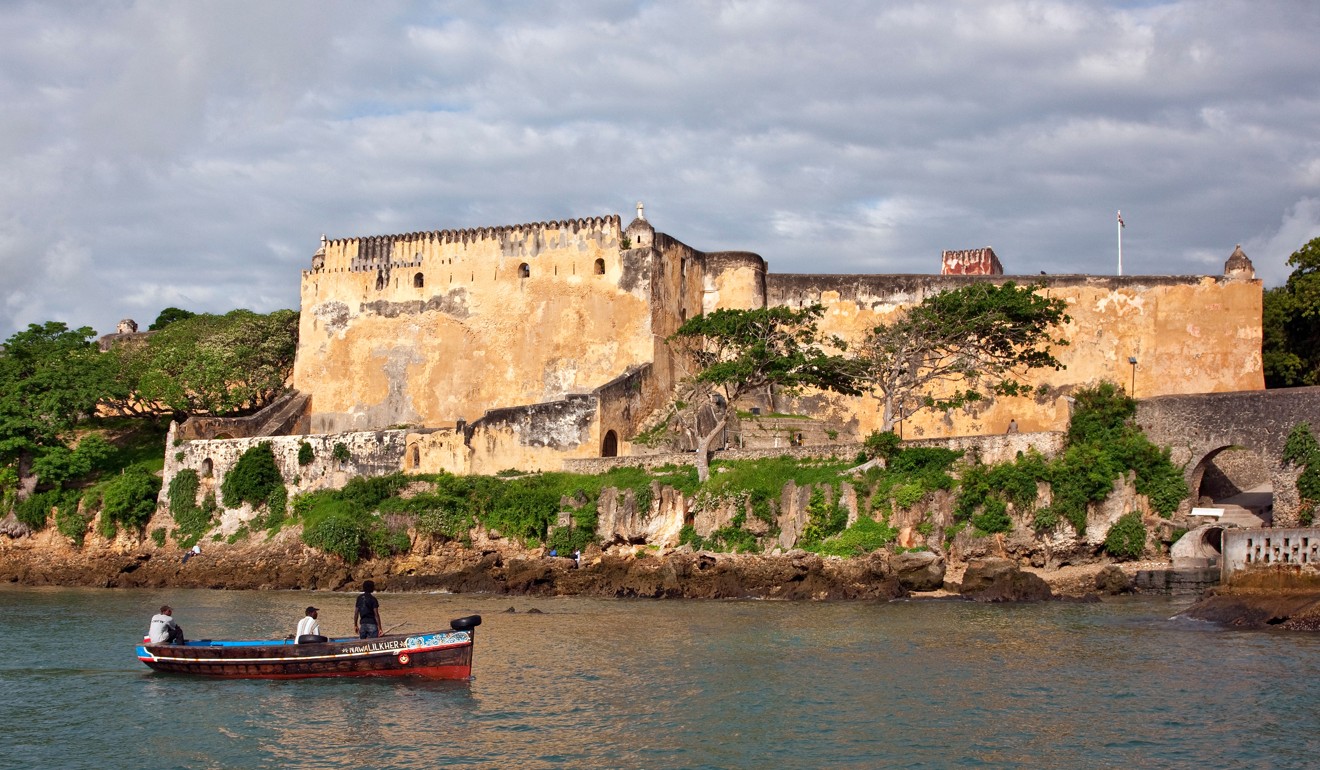 However one views this herculean feat of engineering and, indeed, land annexation, it did have the unforeseen conse­quence of forging a nation out of Kenya, hitherto a tapestry of tribal fiefdoms.
"It is not uncommon for a country to create a railway, but this line actually created a country," said Charles Eliot, commissioner of British East Africa between 1900 and 1904.
Turn-of-the-century Britain operated a strict class system, which determined to some degree where individuals ended up in the empire. Those who went to Kenya were mostly well-to-do, landless aristocrats lured by the warm climate and the ease with which they could dupe locals and become planta­tion owners in a sparsely populated and fertile new territory. Their descendants number about 30,000, and though some maintain a life of privilege (with associated pretensions), most white Kenyans are down-to-earth folk, and work in a diverse array of fields, from education to tourism.
In Kilifi, 50km north of Mombasa, I meet some kindly white Kenyans sitting poolside at the Distant Relatives Ecolodge. The conversation soon gravitates to how I might get back to Nairobi after a coastal tour. The Mombasa highway is terribly overburdened with trucks and the local appetite for driving like Lewis Hamilton ensures a bumpy ride at best. Like any romantic travel writer, I had wanted to ride the train but had been told the British-built tracks were out of action and the Chinese replacement was still under construction.
"We used to take the train when we were kids," says George Gasston, sporting a moustache not unlike that of his great-grandfather, Robert Coryndon, who was governor of Kenya from 1922 until his death in 1925. "We'd climb onto the roof when in Tsavo National Park and watch the animals go by in the moonlight. If you're not in a hurry, you should definitely take the train."
The train, it transpires, is still in operation, at least as far as Nairobi. The section of track onwards to Kisumu closed in 2012. Alexandra Rhs, an effervescent hippie-type, recalls how "the mounted fans whirred, trying to combat the intense heat of Tsavo and the bunks swayed in the night, rocking me to sleep. The food has never changed; it's great, especially the soup".
This is more like it! Despite Rhs' warnings of inevitable breakdowns and Gasston hissing about the corruption that has left the tracks in near ruin, the centenarian Uganda Railway is beginning to emerge from the tunnel of uncer­tainty as a viable alternative to the atrocious roads.
A few days later, with the full weight of the equatorial sun bearing down, I attempt a road crossing to get into the old Mombasa Station.
"Where are you going?" asks a man on the central reser­vation, where we've been marooned for some time, swarms of tuk-tuks encircling us like killer bees.
"To catch the train," I reply, gesturing towards the rusty Kenya Railways signpost just ahead.
"There's still a train?" he asks, looking at me like I'm a lunatic.
I have a pre-booked ticket but doubt follows me into the station, where I find a tired locomotive, the optimistically branded Jambo Kenya Deluxe, awaited by some sombre missionaries, a few aid workers and a spattering of khaki-safari-suit-clad tourists brandishing Canon cameras like elephant guns.
It's too hot to sit on the train so I retreat to the Railway Shop – a ramshackle cabin with a corrugated iron roof from which soft drinks are sold. I buy a can and watch chickens cluck about the platform. Railway workers are sleeping beneath a tree, their laundry drying in the branches.
Having spent the better part of the year rocketing across China on bullet trains, updating The Rough Guide to China, I find the general air of inactivity disquieting. My anxiety abates only when a loudspeaker crackles into life recom­mending we board the train.
The first-class cabin is just as Rhs described it, and a genuine relic from the railway's golden age, replete with private sink, hat stand and an overhead baggage stow. The seats are of worn beige leather, the toilet is labelled "lavatory" ("choo" in Swahili) and the attendant, Mr Odinga, employs language lifted directly from the Victorian handbook of etiquette: "Good afternoon, Mr Thomas, welcome to Kenya Railways. We'll make your bed promptly. Dinner is served at 7pm in the dining carriage. Breakfast is at 7:30am."
We jolt out of Mombasa Station and begin to make our way cautiously towards the Kenyan interior. Our route skirts a vast expanse of water, Tudor Creek. Life on the edge of Mombasa, as in so many African cities, is squalid. Despite being part of East Africa's largest economy, 42 per cent of Kenyans live below the poverty line. Yet the shanty dwellers appear happy to see the train, waving and hollering "Jambo!" as we clunk by.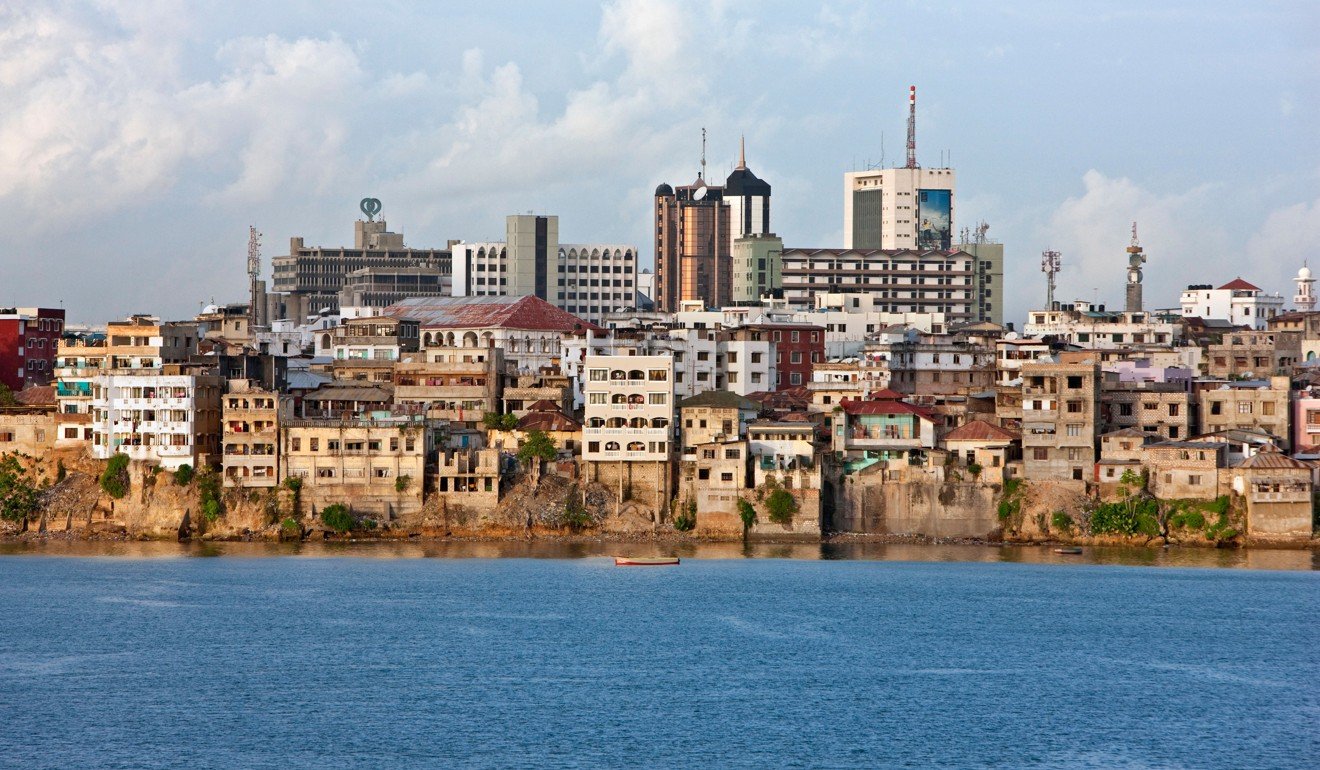 Eventually, the chaotic modern world gives way to the timeless scenery of thatched-roof huts dispersed over epic landscapes peppered by acacia trees.
The railway line bisects the national park, creating Tsavo East and Tsavo West. Not more than a few miles within the confines of Tsavo, the train stops inexplicably, a position it holds for several hours. Without air-conditioning, the interior is hot and alive with insects. I catch glimpses of larger beasts in the twilight, and even toy with the idea of climbing onto the roof, as Gasston had recommended.
Over a silver service dinner of soup, curried vegetables and Kenya's ubiquitous Tusker beer, I meet some of my fellow passengers: a wandering Irish journalist, a Belgian volunteer teacher and Canadian Jane Reid, a Nairobi-based consultant at UN-Habitat, the United Nations programme for human-settlement issues.
"You have to get taxis everywhere in Nairobi; it's a real failure in terms of urban development," says Reid, who is riding the train with her father. "Expats usually fly to the coast for vacations, but travelling this way is much more interest­ing; I always wanted to do it."
By morning, we are moving again, and the quintessential Africa of big skies and vast landscapes passes beyond my window. Every 50km or so we stop at an antiquated, British-built station, half-forgotten places such as Kima, Kalembwani and Kiu. None have a platform or stationmaster, and passen­gers wander through tall grass to climb aboard.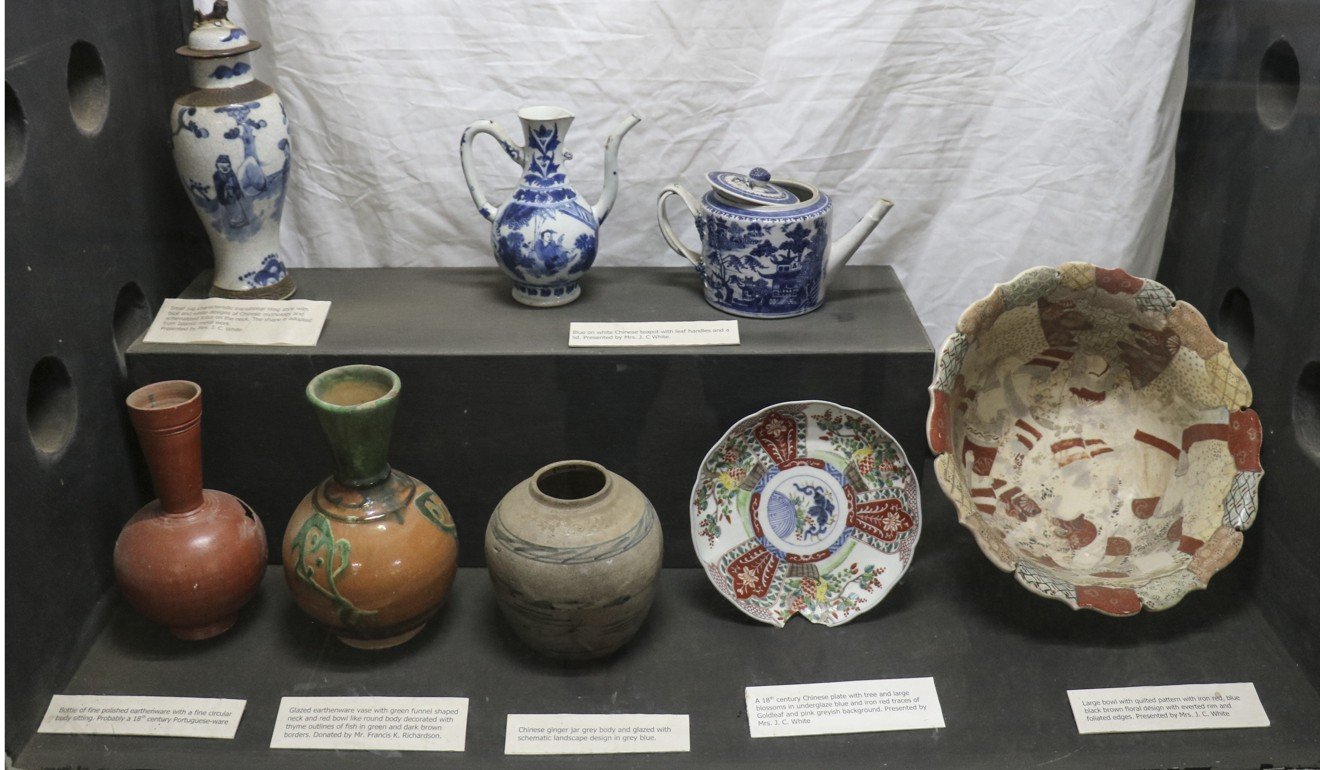 Throughout the journey we catch glimpses of the lunatic line's replacement. Unlike the British railway, which follows the contours of the land to some degree, the new construction punches straight through the landscape, as railways in China do.
Posters bearing Confucian slogans, in Chinese and English, such as "Better to be disciplined beforehand than weep afterwards", provide a backdrop as local labourers toil through the gruelling heat of the day. In one spot, a cigarette-puffing Chinese foreman wearing dark sunglasses watches over the workers. As at all Chinese construction sites, there's plenty of rubble and debris, what Gasston described as "a real mess".
The single-gauge railway has not been without contro­versies. The Chinese presence has been accused of facilitating the trade in rhino horn and ivory to markets in East Asia. This year, China officially banned the sale of ivory but, with many Kenyans living on US$1 a day and insatiable demand for wildlife products in Asia, no one doubts poaching will continue to some degree. And there were protests in Kenya after the builders of the new line were given permission to cut through Nairobi National Park, the country's oldest reserve.
Through the amber afternoon glare, Kenya's high-rise capital eventually heaves into view. The train passes more slums before rolling into Nairobi Railway Station, a building of fine Victorian vintage. The journey has taken 18 hours, six hours longer than scheduled, but no one rides the Lunatic Express believing it will be on time; you'd be mad to think that.
Six months later, on May 31, Kenyan President Uhuru Kenyatta inaugurated the Chinese-built standard gauge railway in the new and futuristic-looking Mombasa station.
On a plinth in the lobby is a sculpture of Zheng He, a Muslim eunuch from Yunnan province turned mighty sea­farer. Twice in the 15th century, Zheng made it to East Africa, where he sought tributes and gifts for Emperor Yongle of the Ming dynasty. He reportedly returned to China with a giraffe. For sinologists in the audience, the symbolism was not lost, though it's doubtful many Kenyans know who Zheng was or what his image implies.
The 470km Nairobi-to-Mombasa railroad – the biggest infrastructure project in the country since Kenya gained independence, in 1963 – was reportedly completed 18 months ahead of schedule. The Madaraka Express, named after the day Kenya attained self-rule, takes five hours to travel between the two cities – half the time it takes to drive – pulling 17 carriages containing more than 1,200 seats. It's designed to carry 22 million tonnes of cargo a year.
In an election year, Kenyatta was not one to miss a PR opportunity. In a thinly veiled dig at Kenya's colonial past he announced: "Today, 122 years later, despite a lot of criticism, we now celebrate not the Lunatic Express but the Madaraka Express that will begin to reshape the story of Kenya for the next 100 years. I am proud to be associated with this day."
The "criticism" to which he referred has not just been on environ­mental issues but also economic ones, and what author Howard French, in his book China's Second Continent (2014), describes as "a kind of modern day barter system". China's Eximbank loaned Kenya 90 per cent of the money for a project that was built by China Road and Bridge Corporation. What raised eyebrows was the railway's US$3.2 billion price tag, 50 per cent more than similar projects in neighbouring countries. As of 2016, Kenya's external debt amounted to seven times its annual budget, with China accounting for 60 per cent of these loans. The Kenyan government says the railway will increase gross domestic product by 1.5 per cent and that the loan will be paid back in four years. But many are sceptical. Kenya grapples with spectacularly widespread graft. According to Transparency International's Corruption Perceptions Index, Kenya ranks 145 out of 176 countries, while China ranks 79.
All this raises questions about what a made-in-China world will look like. Can the Middle Kingdom get things done in poor countries that the West has failed, or will it export its own environmental degradation and crony capitalism?
On June 26, a US$12 million Chinese-built bridge in western Kenya collapsed, long before it was completed. Make of that what you will.
As for the Lunatic Express, it apparently stopped running on April 28, but who knows for sure? Turn up at the old Mombasa station and you may still find chickens scratching around on the platform, railway workers dozing under trees and the Jambo Kenya Deluxe readying for one last departure.