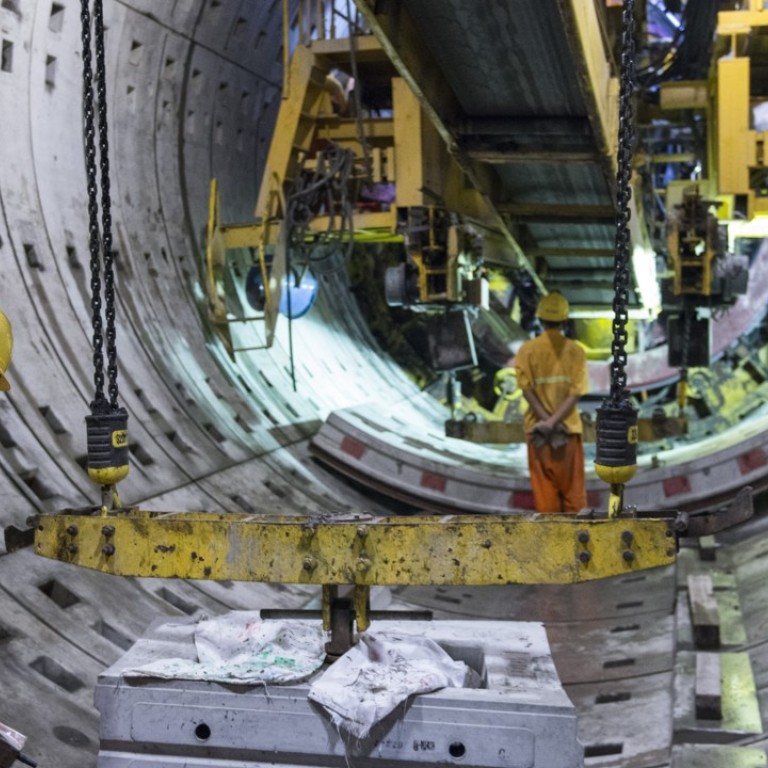 Shanghai Metro: keeping world's longest mass-transit rail system on track
What it takes to run one of the busiest, safest, most punctual and affordable subway systems on the planet
Some respite from the intense summer heat can be found 18 metres below the scorching streets of Shanghai, but humidity remains energy sapping in the dark tunnels that are growing beneath Pudong. And yet, Yang Jun's men keep drilling, and the huge tunnel-boring machine they operate advances 9.6 metres per day.
"We use concrete blocks to cover the walls of the tunnels as the 'mole' moves forward," shouts Yang, trying to make himself heard above the din. "Each circle is made up of seven 1.2-metre-wide pieces and takes about 1.5 hours to complete. It's a hard task."
Yang is project manager of Shanghai Metro Line 14, the construction of which began this year ahead of an expected 2020 opening.
"This is the fifth line I've worked on in the past 12 years, and I've seen huge improvements in the construc­tion process," he says. "Thanks to the latest technology, now we move faster and safer, although ground conditions are becoming increasingly challenging as we expand the metro network and dig deeper. Workers have eight-hour shifts, one day off a week."
A nearby worker is operating a crane by remote control, lifting one of the concrete blocks and then manually moving it into position. It's a delicate operation. A few metres back, the driver of a small cargo locomotive is waiting as the tipper at the front of his vehicle is filled with soil being fed back in tubes from the boring machine. The rock and soil will be taken to Jinyue Road Station to be processed for reuse.
"Safety and environmental protection are our main con­cerns," says Yang. "We need to make sure the tunnel is sealed and ground settlement doesn't affect the buildings above."
Line 14 is one of five routes under construction in the main­land's economic capital. It will add 38.5km and 32 stations to the world's largest subway network, which already has 617km of track, enough to transport you from Hong Kong to Taiwan. By the end of this year, three more lines will have opened, taking the total to 18 (if you include the world's fastest magnetic levitation line, with a top speed of 431km/h, connect­ing Pudong International Airport with Longyang Road station), adding 55km to the network.
But Shanghai won't stop there.
"By 2020, the total length of operational lines will exceed 830km, and our goal is to reach 1,000km by 2030," says Shao Weizhong, vice-president of Shentong Metro Group, the subway operator. That is almost five times as long as Hong Kong's MTR, Airport Express and Light Rail lines combined.
And those extra kilometres do not come cheap.
"Each kilometre costs from 500 million yuan [HK$580 million] to 700 million yuan in the outskirts, where most lines lie above ground, and reaches 1.3 billion yuan in the city centre, where only lines three and four are elevated," says Shao. "And costs keep increasing along with those of labour, materials and the relocation of families."
Ticket prices haven't increased accordingly; the cheapest is three yuan, the most expensive 11 yuan, and a day pass with unlimited travel costs 18 yuan. Shanghai Metro, therefore, runs at a loss.
"As a public service, it's heavily subsidised," says Shao.
Some 45 per cent of the budget for line construction is covered by the government, which also bears the cost of the interest on loans for the other 55 per cent.
"Commercial use of the metro – including advertising and shop revenues – accounts for only 20 per cent of our income. Our target is to be like Hong Kong, where income covers all operational costs," says Shao.
Even though it's still far from breaking even, the Shanghai network has become an example for the rest of China, where 41 cities are building subway lines, 26 of which are getting their first. State media has reported that the country will spend almost two trillion yuan in the current five-year plan to 2020, and, according to a report published by Economic Information Daily, the frenzy is about to get crazier.
Currently, only cities with a population of more than three million and annual revenue of more than 10 billion yuan can apply to build subways. But, as the newspaper points out, those figures may soon be halved.
"We won't invest in other cities' metro networks, but we will offer them our knowledge," says Shao. And that knowledge comes on the back of some astonishing figures.
Average weekday traffic on the Shanghai Metro stands at 10.65 million individual trips, which makes it second only to Tokyo. Record traffic reached 11.8 million trips on April 28, a day in which four lines had more than a million passengers each. And Shao is certain that number will soon be surpassed.
More than 4,000 trains – triple the number running in 2005 – serve the network's 367 stations and run with a punctuality rate of 99.82 per cent – similar to the 99.9 per cent achieved by Hong Kong's MTR. Five thousand security staff and 30,000 CCTV cam­eras make the Shanghai network one of the safest in the world.
Its biggest accident to date happened in September 2011, when "a signal error followed by negligence and human error" allowed two trains to collide on Line 10 – which runs from the northeast of the city, through the centre to Hongqiao Airport, in the west – leaving almost 280 passengers injured. Three officials were fired and nine others penalised after an investigation into the incident.
According to official data, the subway already accounts for 53 per cent of all the public transportation in this megalopolis of 24 million people. With a satisfaction rating of 87.4 per cent, it's also well regarded.
Not that riding the rails during rush hour is likely to be a pleasant experience; doing so definitely gives meaning to the old saying "people mountain, people sea". And the first impression the traveller is given is one of the worst.
The government imposes strict security controls at all stations. The airport-like screenings include compulsory X-rays of all bulky luggage and bags, as well as random checks of purses. Lengthy queues at station entrances and the network's 700 checkpoints are the most criticised feature of the Shanghai Metro.
"People think we are looking for terrorists, but that's some­thing intelligence services deal with," says police officer Zhou Wei, who is in charge of subway security operations. "Our mission is to keep the metro free of hazardous materials, especially chemicals and explosives, because some people don't know what is dangerous.We confiscated 63,000 dangerous items last year."
There is no denying the checks are annoying; they channel passengers in a way that reduces the number of entrances to stations and creates tension between users and security per­son­nel. Zhou acknowledges that and points at future develop­ments: "We are considering different techno­logies – for example, body scanning arches – to avoid slowing down users. And we are also researching artificial intelligence, to add facial recognition to our security cameras, but I can't give an implementation timeframe."
Officer Zhang carries out a different type of passenger screening at Zhongshan Park station, an inter­change between lines two and three. Using a digital device, he reads the chips in travellers' identity cards.
"The machine is connected to our database, so we can see if passengers are wanted for some reason," he explains. Even though he seems to choose his targets at random, there is a procedure. "First, we look for people who try to avoid us. Then we check those who wear clothes that either don't match the weather or their appearance, especially those with coats on in the summer or with formal attire but an otherwise shabby look."
It sounds like an espionage B-movie approach, but it appears to work, though the hit rate is low.
"Since 2016 and until July 2017, we have checked the iden­tity of 17.1 million people and caught 404 fugitives," says Zhou.
Overseeing the network are staff at the Central Operations Command Centre (COCC). Here, a huge screen displays the situation along all 14 metro lines in real time and footage from any given surveillance camera can be viewed. It's almost 3pm when we visit, and the day's network ridership total stands at 5.7 million. All trains are running on schedule and the four men scrutinising the computer screens look relaxed. But not enough to lounge on one of the room's sofas.
"We have been using the Communication Based Train Control System since the opening of Line 6 [in December 2007], and we are working to upgrade older lines to stand­ardise all," explains COCC spokesman Li Yingfeng. "Any emergency will immediately show in our systems. Each sector has its own control room, which will deal with an incident in the first instance. If it is deemed serious, we will take over and draw a plan accordingly."
For example, if a passenger pulls the emergency brake, the driver will first report to the line's control room, which can dispatch emergency services while the COCC monitors the situation.
"Our response times are among the fastest in the world," Li says, proudly.
As the clock ticks towards the afternoon rush hour, the COCC screens start to show increasing crowds. At 5.30pm, there is a flood of humanity and many passengers have to wait for a couple of trains to depart until they are able to board one. This is the time when most sexual harassment occurs.
According to a 2012 survey, 13.6 per cent of China's female subway passengers have suffered some kind of sexual abuse. A year later, a study found that 38 per cent of respondents considered the metro the second worst place for harassment, after buses (44 per cent).
In response, subway operators in Guangdong province decided to add priority carriages for women, although not women-only cars. In Shenzhen, the restriction applies through­out the day while in Guangzhou it is applicable only during rush hour. Shanghai is not planning to follow suit.
"A few years ago, we travelled to Japan because we con­sider­ed implementing their cars-for-women system," recalls Shao. "But we found three reasons not to do so. First, the over­whelming volume of passengers renders the scheme imprac­ti­cal. It would disrupt operations, dragging down efficiency. Second, we considered taking this measure only during rush hour, but we have no way to enforce it and we don't see a real need for it. Finally, we thought it would be better to strengthen our cooperation with the police and promote awareness among women."
In 2012, Shentong Metro made waves when it published a photo of a woman in a see-through dress waiting for the subway. "It's no wonder that some people get harassed if they dress like this," the company captioned the picture on its Weibo account. "Pay attention to how you dress. Cherish yourselves," it added, in a message that sparked intense public debate.
"The cases of some perverts caught on camera have been widely publicised, but they are just nasty exceptions," says Hu Yuan, a young female subway user. "Even though riding the metro at peak hours is extremely uncomfortable, I feel safe in it. I think it's one of the things that work best in Shanghai."
Twenty-eight thousand people work to make Shanghai Metro safe and reliable. Most, though, are never seen by the public and many are busy working when most users are tucked up in bed.
"Rush hour here starts at 11pm, and by midnight the place will be full," says Tang Jinrong, a mechanic at the Line 8 garage, while checking rolling stock. In this facility, 40 trains must be thoroughly inspected within six hours.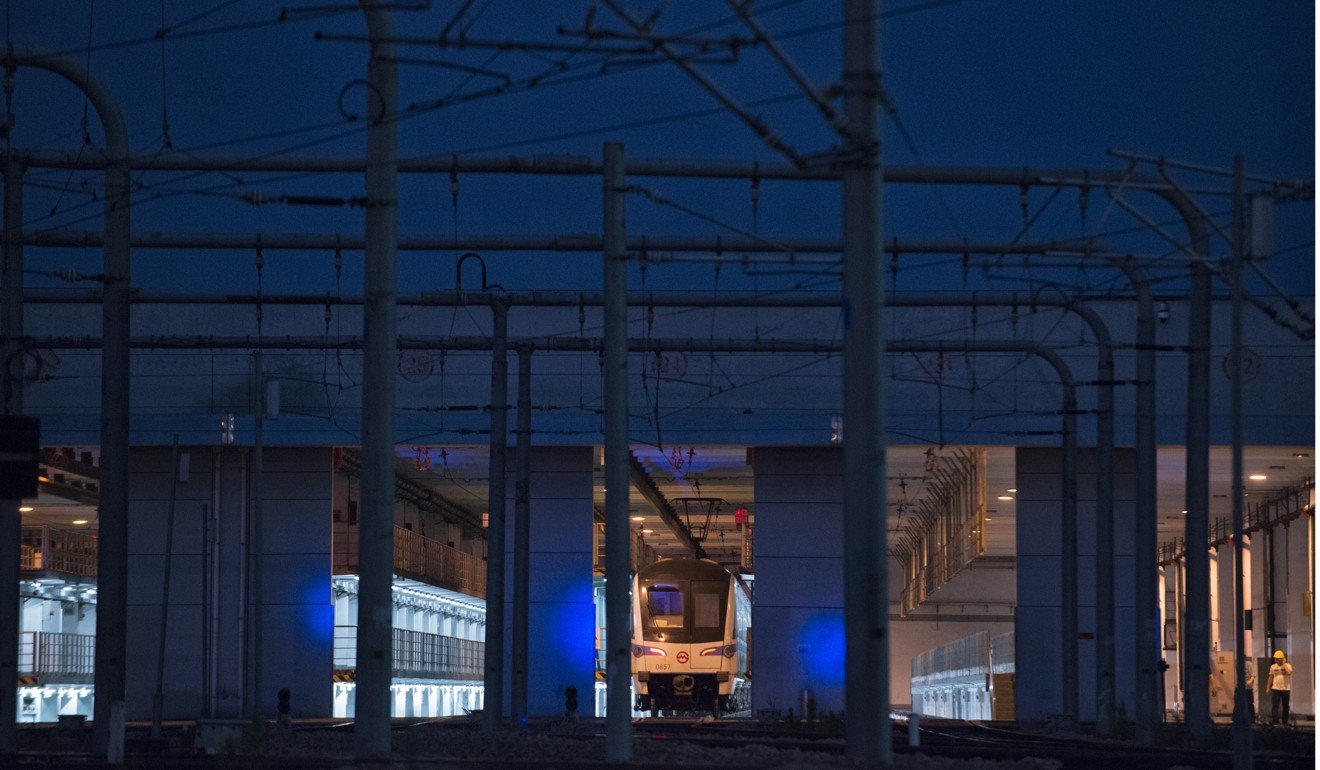 "Each takes around half an hour. We check the wheels' temp­erature, the position of the screws and many other critical areas," Tang explains, as he walks along the lowest of the three gantries that are used to help workers examine the trains. A colleague does the same on the upper gantry, checking the roof.
"Technology has changed a lot, so we can now do many checks remotely," says Qi Bin, one of the men supervising the process. Trains pass beneath a newly installed arch. "It takes photos of all the pantographs that connect to the overhead electricity supply lines. The images are instantly sent to our control room, where staff can see if there is any anomaly. That saves a lot of time."
The garage is also full of high-definition cameras that engineers can use to zoom in on specific components. "There are some places we can't see because pillars create blind spots, but it helps to double check mechanics' work," says Qi.
Three types of train are currently in use on Line 8, which runs from the northeast of Shanghai, through the centre and down to the south. The oldest were made by French manu­facturer Alstom, then Japan's Hitachi was contracted. The latest additions are Chinese made, by CRRC, a corporation that also provides metro rolling stock to Hong Kong and cities in Thailand, Iran, Brazil and Argentina.
Fei Chaoxia drives a CRRC train. We travel with him along Line 3, which runs from the north and skirts the western side of the city centre, but he is not allowed to speak. He needs to concentrate on the signals. Every now and then, Fei raises his arm and acknowledges a traffic light. At every station, he needs to get out, make sure that all passengers are aboard and signal again before setting off.
Also in the cabin is a shy novice, who may soon be driving a train in some eastern city.
"Shanghai is one of the main training bases in the country," explains Xia Zhiyi, who is in charge of Line 3's 300 drivers and is also with us in the cab. "Here, drivers have to take a three-month-long theory course and spend another six months of practice before they can take the final exam for the job. If they pass, they still need to complete another half year of practice at their final post.
"The pay is similar to that of bus and taxi drivers, but the duties are more intense. Drivers complete eight-hour shifts and can rest for only 10 minutes when they reach the end of their line, which may take close to two hours. There is a half-hour break for lunch. Those on the night shift will end their working day in the small hours, so they will have to sleep in accommo­dation provided by the company. The first shift starts at 5am."
It's a job better suited to men, says driver Fei, breaking his silence. "Less than 20 per cent of all Shanghai Metro drivers are female," he says. "I believe men not only endure better, they are also more capable of solving emergency situations."
Xia is quick to intervene, adding, "But we accept every candi­date as long as he or she can pass the tests."
Men also predominate in the maintenance teams. The toughest are in the track repair and conditioning department. We find a maintenance team along the open-air section of Line 8 near Lianhang Road station, at 5pm, when the temperature still lingers close to 40 degrees Celsius. Soaked in sweat and using surprisingly rudimentary tools, they check that the width and length of tracks haven't changed; make sure that all screws and moving parts are intact and in working order; and comb the crushed stones between the rails.
"It takes one whole year to cover all the lines," says Wu Xiaoyin, head of one of the teams.
Not far away, other technicians oversee another critical element of the metro: the transformer substations. The system is almost fully automatic and trackside monitoring rooms are air-conditioned and comfortable. Wang Bin and Qian Xiaofeng keep an eye on two stations, a 400 kVA installation for metro offices and one of 1,500 kVA that supplies electricity to Line 8 trains.
"We need to make sure that any fault is repaired fast and doesn't spread along the line," explains Wang. "Our biggest concern are objects touching the electrified cables, mostly clothes blown away from residential buildings by the wind and helium balloons," he adds with a smile. "Fortunately, we've had no big incidents."
It's been only 24 years since Shanghai opened its first sub­way line. But, as Shao points out, "the city has already done what took others 100 years". London achieved the engineering feat of building its first underground train line 154 years ago, but times have changed and the world's most spectacular infrastructure achievements now belong to China.
The upcoming Line 14 is another example.
"It will cross five of Shanghai's most populated districts and boast 16 interchange stations, which will be the city's record," says general engineer Zhou Xisheng. "Some will be 36 metres below the surface, and the one at Yuanshen Road will boast three levels: B1 for cars [a tunnel passing beneath the Huangpu River], B2 for ticket offices and B3 for tracks."
That station is also the first to have been built under a temporary roof.
"This system is notably more expensive but reduces noise and dust – something people are more concerned about nowa­days because of high pollution levels – and it enables work to continue in harsh weather conditions, like the summer heat, the winter cold and rain," says Zhou.
Complaints from forced evictions and relocations have also dramatically decreased in recent years.
"We have learned from past mistakes and we plan the future development of the net­work much more carefully," says Shao. "We understand it can't be a burden to the residents, so the standards for relocation and compensation have been raised a lot. The process now takes a third of the total budget for building new metro lines. District governments have different rules, but one can't be changed: people have to be moved to a place with a metro station nearby."
The biggest challenge now is to have Shanghai's subway network break even.
"We have different business development plans, which have been inspired both by Japan and Hong Kong," says Shao. "We are trying to increase advertising revenue – including from tunnel screens that feature ads while the metro is moving – and we also want to attract higher quality retail and services companies to our commercial spaces.
"But we can't forget that we run a public service, and that ticket prices have to remain affordable to all."