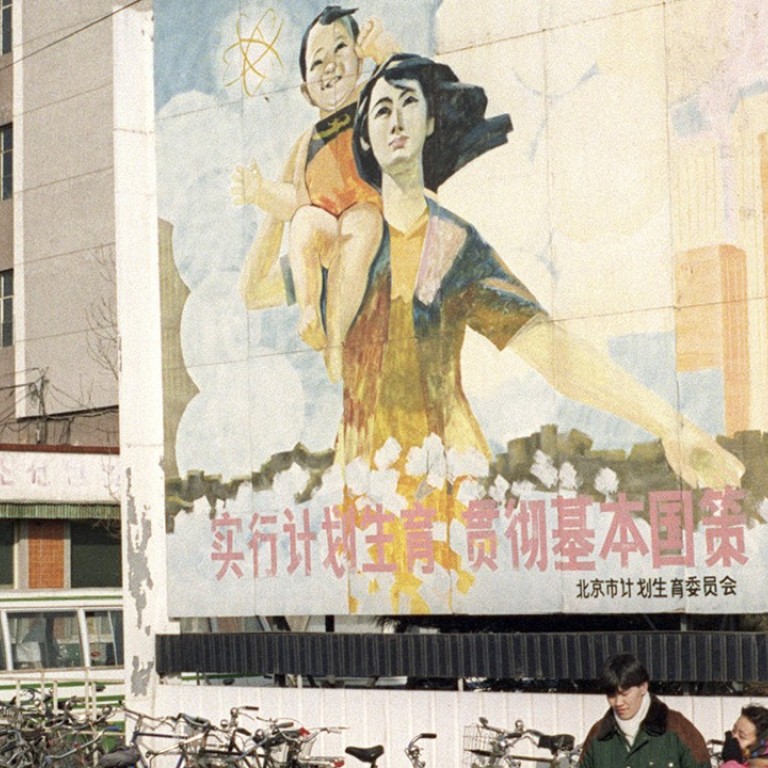 China's one-child policy has a legacy of bereaved parents facing humiliation and despair
A generation burdened with hunger, a lack of education and enforced family planning must now also face the plight of those who lost their only offspring and the emotional, social and financial consequences that entails
"Both my husband and I were youths in Mao Zedong's era," says 63-year-old Wang Aiying. "We abided by the Party's words, answered the Party's call of duty and supported the Party's policy." Among other things, that meant adhering to the one-child ruling, an act of obedience that would, in 2015, leave Wang in deep despair. After her son died, she became a shidu fumu, one of a growing number of bereaved Chinese entering their twilight years without the emotional and financial support of a child.
Her son, Chang Jia, was nearly not born at all. In 1980, having been pregnant for just a few weeks, Wang, who had previously suffered a miscarriage and wasn't taking any chances this time around, was in hospital when managers from her place of work came to visit. She had not been given approval by her employer, the Yu Opera House, in Handan, Hebei province, to have a child, they said. "They told me that it wasn't my turn," says Wang. "'What?' I said. 'What do you think this is? That I can return the goods?'"
Wang, 26 at the time, successfully argued for the right to have her baby, but after the birth of her son, she was asked by her employer not to have a second child. She agreed and received a certificate for having just one child. "I felt honoured back then, because I listened to the words of the Party," says Wang. Having five siblings herself, she accepted that the one-child policy was for the greater good and that young people should follow its guidelines.
In 2012, Chang was diagnosed with liver cancer. He did not respond to treatment and, two years ago, he died, at the age of 35. Wang was distraught and she is now childless. She and her husband, who were both laid off before retirement age, were suddenly facing old age without support from the next generation.
Shortly after her son died, Wang applied for the 3,000 yuan retirement subsidy available to one-child parents but she encountered many obstacles. Because she had been laid off, in 2003, she was told she was not qualified for the retire­ment subsidy. "I don't have money, nor do I have my son," says Wang, weeping. "Why did I need to go here and there for all kinds of approvals to get the subsidy?"
That was Wang's first experience as a shidu parent. Meaning "lose only", shidu is a term that has been used by the media since 2010 to refer to parents who have lost their only child and are no longer able to have another. According to a 2013 report by the China National Committee on Ageing, a government branch overseeing the country's increasingly grey society, there are at least one million shidu parents in China, and the number is increasing by 76,000 a year.
As shidu parents of the first generation of the one-child policy are now in their 50s and 60s, many are becoming increasingly concerned about old age without a child to rely on. And they often find themselves the object of scorn.
"People sometimes humiliate me because my son died," says Wang. In early April, she says, her electric bicycle was stolen from the parking rack at the bottom of her apartment block. She accused the security guard of negligence, only to be cursed as being someone who will "die without any descendants".
Wang's husband, 67-year-old Chang Shunde, has barely recovered from a cerebral infarction he suffered in 2010. He walks unsteadily and cannot talk or hear clearly. While listening to his wife, he cries and tries hard to say something. It's not clear what. "I feel especially sad when I need help in my daily life," says Wang.
The one-child policy, announced through the state-run Xinhua News Agency, took effect in 1980. The article, addressing Party members, advocated each couple having only one child, so as to keep the country's population below 1.2 billion for the rest of the 20th century. In 1982, the policy was written into the constitution and became manda­tory. It was abolished in 2015.
"My wife was forced to have an abortion when she had been pregnant for four months," says 66-year-old Zhao Bingyi, at his home in Handan. Zhao was a sheet metal worker in a foundry at the time, and the pregnancy would have resulted in the couple's second child. "Officers in my factory came to my home day after day and would not stop until we agreed to have the abortion."
The child they did have, Zhao Jingxuan, who as an adult serviced air conditioners, died in an accident at the age of 27, in 2005.
"My son was capable, loving and well behaved," says Zhao. "He would give us 500 yuan if he earned 600 yuan." Zhao senior had intended to retire in 2007, and was expect­ing a carefree later life. "It happened in October, two days after we had a heater installed at home. He fell from a building while setting up an air conditioner."
Zhao, quiet and restrained, takes off his glasses and wipes away tears. His wife, Li Shuju, has pink marks at the corner of her eyes. "I have cried too much and these are leftovers of tears," she says.
On a wall in their living room hangs a large photo of a baby girl, Zhao's granddaughter, who lost her father at the age of two. The child's mother left in 2010, and sees her daughter only on occasional weekends.
"She became introverted and barely talked after her father's death," Zhao says of the child. "I am worried about that, but worrying is all I can do."
From his monthly 2,500 yuan (HK$2,900) retirement pay and a 340 yuan shidu subsidy from the local government, Zhao must take care of the daily and educational needs of his grand­daughter, who is now 14 years old. Fearing what neighbours might say to her about the death of her father, Zhao sent her to a middle school far from home. "It's a more expensive, private school, but no one there knows her father's story," says Zhao.
And he worries for her future should anything happen to him. "I am 66 years old already. How much longer can I live?" he says. "What if I die all of a sudden? Who would take care of my granddaughter?"
Since 2013, Zhao has been calling for more public aware­ness and financial support from the government. He has accounts on Weibo, posting feeds about the latest poli­cies relating to shidu parents. He has also created groups on QQ (one of which has more than 400 members) and WeChat, forums for shidu parents first in Hebei and then across China.
Last year, on April 18, Zhao, together with 20 like-minded people from Handan, joined hundreds of other shidu parents from across the country to protest at the National Health and Family Planning Commission, in Beijing. But no one from the commission would meet them and the local government officials who had followed the group from Handan asked them to leave. "They asked us to go back, and promised to have our travel expenses reimbursed," says Zhao.
This year, he was stopped even before he had left home. He had been planning to lodge a petition in Beijing with other shidu parents during the National People's Congress, in March, when police officers paid a visit. "They brought some fruit and asked me not to go to Beijing," says Zhao. He believes the police had monitored his online activity and learned of his plan.
Officers also called on Wang, who was in Zhao's WeChat group. They did not offer her fruit, but instead "asked me to sign a document promising not to present a petition in Beijing", says Wang. She refused even though she didn't intend to petition in Beijing this year, because of ill-health. "I did not violate the law. I should have been allowed to go."
The government first raised the issue of subsidies for shidu parents in 2001, under the Population and Family Planning Law. Since 2007, the national mini­mum has been raised from 100 yuan per person per month to 340 yuan.
"Many shidu parents feel so heartbroken about the death of their child that they do not go to the government to register," says Wang. "In those cases, they would never know about the subsidy, because the government would not go to them, either."
Zhao says one of his friends did not find out about the subsidy until four years after the death of his child.
Also given under the population law are general guide­lines on helping shidu parents in terms of medical care and daily support. On the Hebei provincial Health and Family Planning Commission website, there are a number of news items about local officials visiting shidu families during traditional festivals, but, Zhao says, the visits became regular only after they had submitted a petition in 2015.
"Although the government has some policies in place, in practice, assistance remains very poor," says Professor Qiao Xiaochun, of the Population Research Centre at Peking University. Qiao was a consultant for the Family Planning Committee before it was merged with the Health Department, in 2013. "The govern­ment did not fully expect all the possible consequences of the one-child policy at the very beginning, including the increasing problem of shidu parents.
"It's definitely becoming a very serious social problem," says Qiao, although he does not believe the subsidy is much of a solution. Most elderly shidu parents, he says, receive pensions, because the one-child policy was implemented more strictly in urban areas, with the threat of dismissal hanging over those who dared to have more than one.
Qiao says psychological trauma and issues associated with ageing are more pressing problems than poverty for most shidu parents. "It's a feature of Chinese society that once two elderly women meet, they will talk about their children," he explains. "For shidu parents, that's another bitter conversation."
The 2013 China National Committee on Ageing report found that between 70 per cent and 80 per cent of shidu parents suffered psychological trauma, with half of them experiencing depression.
"Most of them are living a secluded life and don't want to get in touch with other people," says Liu Fengqin, a therapist at the Maple Women's Psychological Counselling Centre, in Beijing, who says she had not heard the term shidu fumu before the spring of 2012, when a journalist inquired about the phenomenon. As the mother of a single child herself, Liu could imagine their heartache, so she started to offer counselling services to shidu parents.
Even so, "Some parents would hang up the phone before we could explain further." And many young volunteer thera­pists in Liu's team quit after several days of training. "They thought it was too difficult to communicate with those parents," says Liu.
In 2013, Liu began offering two-day counselling sessions at the Maple Centre. Twenty-seven shidu parents participated in the first programme, with several psychiatrists standing by in case any of them felt uncomfortable while telling their stories. Liu discovered that most of the parents had never tried to deal with their loss: "Many [...] looked well," she says, "but they were actually lingering at a certain stage of grief." Liu adds that some parents would keep food, a towel or other items left behind by the deceased, pretending their child was still alive. "It's a sign of denial," she says.
Some elderly shidu parents, Liu explains, say they are not afraid of death, but of being sick. "For those without spouses, some do not have the strength to get themselves a cup of water. For those with spouses, the husband or wife might be too infirm to take care of the other."
Shidu parents are often emotionally and physically fragile. Instead of exercising and dancing in parks, as many elderly people in China do after retirement, they prefer to associate only with people who share the same fate. "We just want to stay in the circle of shidu parents," says Wang. "We've suffered the same."
Such reasoning is behind the request for care facilities exclusively for shidu parents, where the sorrow of seeing other residents being visited by their children can be avoided.
Last year, the city government decided that the Beijing Fifth Social Welfare Institute should accept shidu parents exclusively, but, according to Qiao, it's a model that is unlikely to be copied. "When shidu parents get together, they com­plain to each other, and affect each other, so the govern­ment would prefer them to socialise with other people."
In Liu's opinion, a single nursing home is not the solution to a nationwide problem – "How many shidu parents can one facility accommodate?" – and she is preparing a proposal to build a community-level volunteer network through which elderly shidu parents can get daily help.
"We do not care about money, we care about how the government thinks of us," says 66-year-old Luo Zhifeng, at a gathering of shidu parents in Handan.
"People in their generation suffered a lot," says Liu, when asked whether she shares the view that shidu parents such as Wang and Zhao are trouble­makers. "When they were children, they did not have enough food because of the Great Famine. When they were teenagers, they could not go to college because of the Cultural Revolution. When they started to work, they encountered mass layoffs. Then there was the one-child policy. But even after all of this, I feel that they love this country more than young people do nowadays.
"Their sorrow is not fully understood. They need a way to speak up."
This article was published in collaboration with the University of Hong Kong's Journalism and Media Studies Centre.