Setting sailing records requires people who are a little out of the ordinary, and while Hong Kong might be the last place one would expect to find such records being made, or the eccentric oddballs making them, this coastal city – in matters maritime, at least – often throws up wonderful surprises and characters.
From most lists of sailing records, you'll learn that the first person to journey west to east across the North Pacific Ocean single-handed was Japanese sailor Kenichi Horie, who voyaged from Kobe to San Francisco over 94 days in 1962.
Horie also made two circumnavigations of the globe and two additional transpacific voyages – both in yachts built from recycled materials. Now 78 years old, he is undoubtedly a great sailor, a dedicated environmentalist and, by all accounts, a charming chap. But the claim that Horie was the first to sail single-handedly west to east across the North Pacific doesn't give due credit to a fascinating forerunner. The honour should, in fact, go to a determined Hong Kong-born sailor who – bar a few miles motor sailing to save his skin – made the voyage in a locally built junk as early as 1959.
Briton Brian Platt was born in Hong Kong in 1930. His father worked for the Asiatic Petroleum Company (a joint venture between oil companies Shell and Royal Dutch) and was based on Shamian Island, in Canton (now Guangzhou). Mrs Platt had come to Hong Kong to give birth to Brian.
Later, the whole family (by this time there were three boys) moved to the British territory as the Japanese military threat to the region grew. We know that they lived at 373 The Peak because, in January 1938, Mrs Platt placed a notice in the South China Morning Postinquiring if anyone had seen one of their pet kangaroos, which had gone walkabout.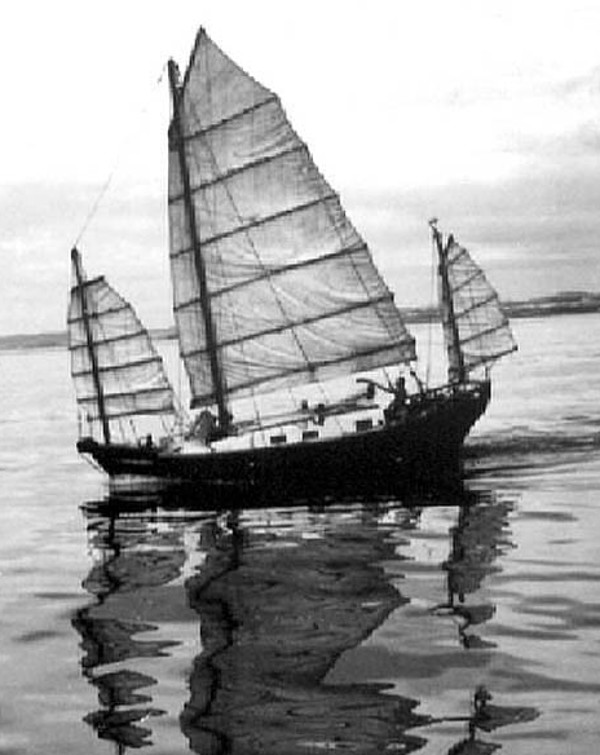 It wasn't long before the family moved on to Argentina, where Platt Snr had been sent by his company, and where they spent most of the second world war. After school and reading history at Oxford University, Brian Platt joined the Malay Civil Service in 1952, but found himself out of a job when the country gained its independence, on August 31, 1957.
And so Platt decided to emigrate to Canada – by sailing there, solo. He bought a 27-foot cutter-rigged yacht called the Chempaka, built in Hong Kong in 1945, and on June 6, 1958, he set off from Singapore for points north and east towards Vancouver.
Things didn't go as planned and the Chempaka did not deal easily with the headwinds and typhoons of the summer season. When Platt reached the Philippine capital, Manila, on October 11, he decided he would load his boat onto a ship, head for Hong Kong and take stock. He and his yacht arrived on October 27.
Initially, he took the Chempaka to boatbuilder Cheoy Lee's yard, then at Ngau Tau Kok, to have her refitted for his intended voyage. Then he changed his mind and decided to sell the yacht – advertising in the Post that he would "accept best offer" – and have a sailing junk built instead.
The Hong Kong-built junk that was once Ripley's, believe it or not
He chose a junk for speed of build, cost and ease of hand­ling. He also now had a dim view of small Western craft as a result of his Singapore-to-Manila adventure. What he wanted was a junk built to his own specifications, with more space than the Chempaka, which was not going to be easy. Ship­yards at that time built either Western yachts to plans or Chinese junks by eye. With things maritime, as in Hong Kong society ashore, hybrids were looked on askance.
Platt found his builder in Shau Kei Wan: the Chuen Hing Shipyard. Now long gone, back then the innovative yard was the No 1 place to go for sailing junks for export, and later had a pioneering role in the modernisation of Hong Kong's fishing fleet. Chuen Hing was, if sometimes reluctantly, accommo­dating to novel demands.
As an added bonus, Platt's father had retired from Shell and returned to Hong Kong, having accepted an appointment to the 1959 Salaries Commission, to assess civil service pay. So he was now on hand to help out, ordering the teak from which the junk was built and no doubt pulling a string here or there whenever a pulled string was needed.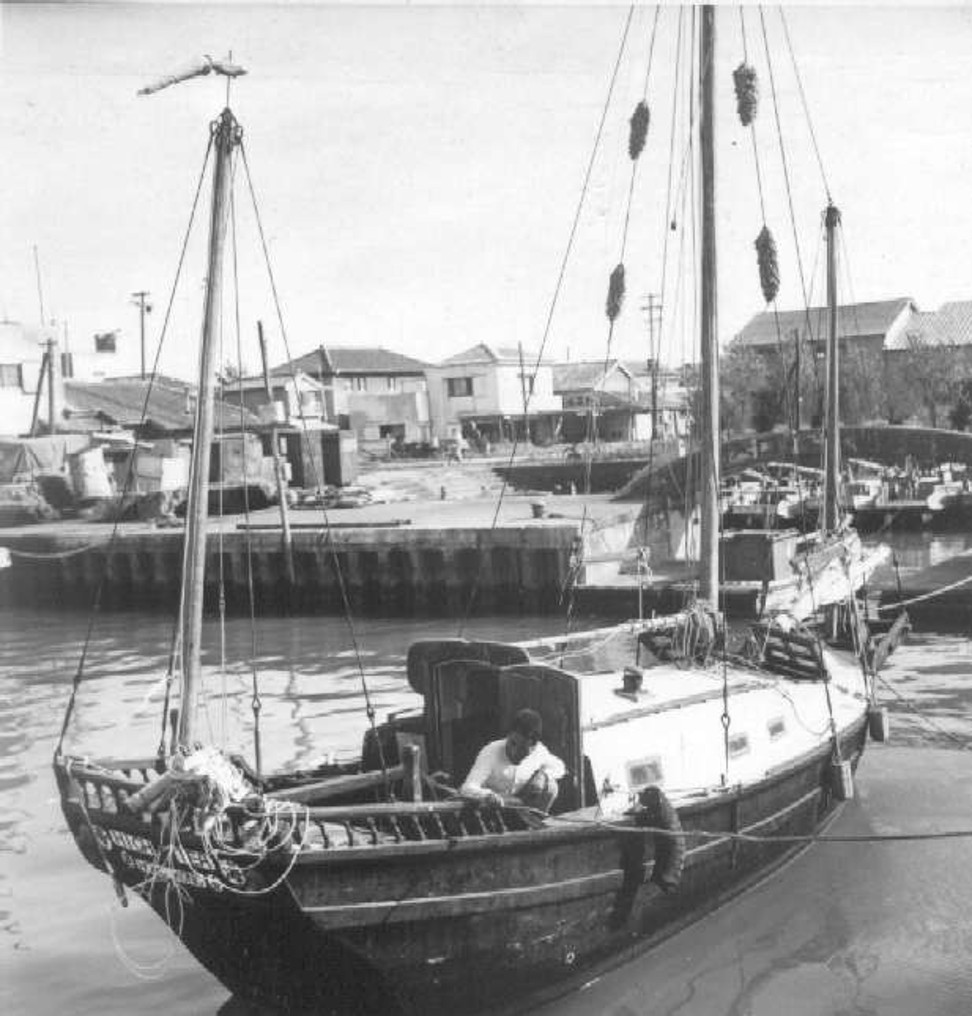 Originally projected to cost HK$10,000, the final price of the junk was 60 per cent higher due to its many modifi­cations. The boat featured half-thickness planking, to save weight, a plywood deck, a cabin top sealed with two layers of fibreglass and a Western-style interior. It also had highly durable Dacron sails, artificial fibre running rigging and an inboard diesel engine. The junk's stayed masts were made of a cut-down Western yacht mast.
All in all, the vessel was very much a hybrid creation and caused much tooth-sucking at Chuen Hing Shipyard, but it still looked junk-like and had been completed admirably quickly (just seven weeks from keel laying to launch). Even with the cost overruns, it was a good deal.
The High Tea (海帝 – "king of the sea" or wittily Hai Di in Putonghua pronunciation) was small at 31 feet long and nine feet in beam, but she had almost twice the space below deck of the Chempaka.
The High Tea was launched on January 29, 1959. The woman who did the honours, Frances Dominis, was honorary secretary of the now vanished (and, one suspects, short-lived) Hong Kong Junk Club, a group of expats racing sailing junks that seems to have begun life as the European Junk Owners' Club sometime in late 1957.
The story of Hong Kong's newest old junk, built by hand the traditional way in China
Getting everything ready for the 10,000km voyage took time, but after sea trials conducted out of Kowloon Docks, in Hung Hom, on May 7, 1959, with 50 days of provisions on board and 45 gallons of diesel fuel for her ancient and recalcitrant 15HP Enfield engine, the High Tea set sail for Yokohama, Japan.
"I wouldn't do it if I didn't think I can get there," Platt told the Post when he departed on what would prove to be the beginning of a very, very long voyage.
By June 5, with no sign of the High Tea, Platt's father had raised the alarm with the Japanese coastguard, who went searching and came up blank. It was a false alarm, though; a few days out of Hong Kong, trying to make east through the Luzon Strait, between the Philippines and Taiwan, to get into the strong, north-flowing Kuro Shio current, contrary winds and a shortage of fresh water had forced Platt to take shelter in Pagudpud, in Ilocos Norte, at the northern tip of Luzon, in the Philippines.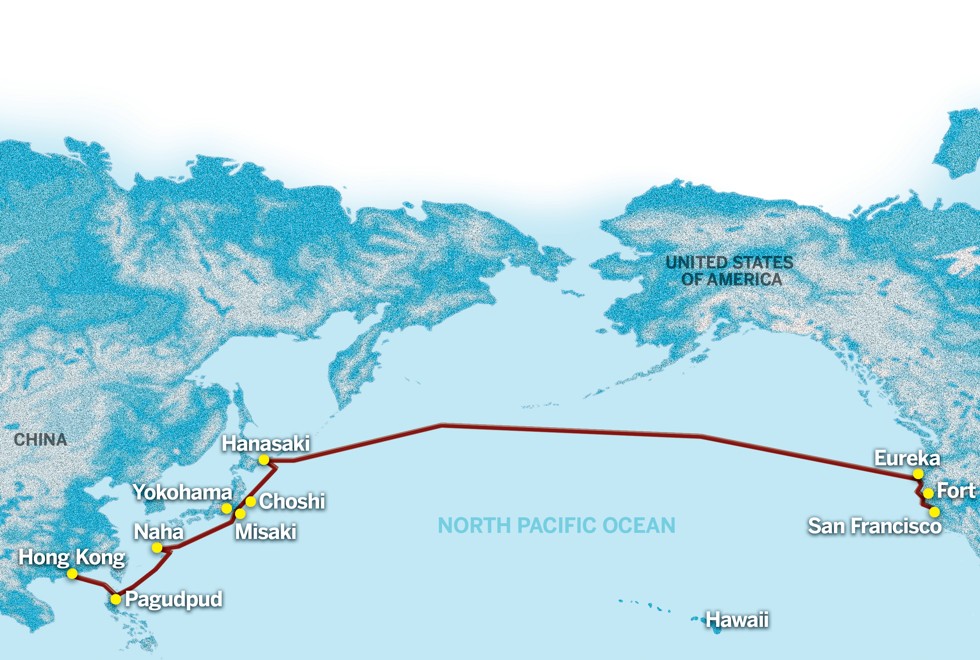 After sending a letter to his father that took a while to arrive, Platt had set off again on May 27, but again had a hard time, with strong following winds, high seas, and getting the High Tea to steer herself. After fumbling his navigation, bypassing Okinawa, backtracking and sailing mistakenly over reefs (fortunately without hitting them), he was becalmed off Naha, where he put in on June 11. Platt had been sailing for 35 days, covering some 1,800km. He later admitted he was "a 'learn-while-you-sail' navigator".
From Naha, he sailed for Yokohama, arriving on July 5. He spent two months there refitting and trying to establish a workable self-steering system based on various ruses he'd been experimenting with. He finally left on September 21, with a chirping cicada for company ("Cicadas are kept as pets in bamboo cages by Japanese schoolchildren," explained the Reuters report of this departure), calling at Misaki and Choshi before heading out into the Pacific, only to sail straight into the fringes of Typhoon Vera.
It had been a truly exceptional feat of navigation given fatigue, stress, winter weather and skies, and the liveliness of a very small boat. Brian Platt had indeed learned to navigate while he had sailed
After lying ahull as the typhoon passed south of him, Platt had not long made sail again when the top of his mainmast snapped off – hollow, Western-style spars and junk rigs do not go well together. After four days adrift, some helpful, if rather careless, fishermen towed him into Hanasaki, on Hokkaido, colliding with the High Tea several times and cracking the fore­mast as they did so.
After spending two weeks on repairs, on October 16, Platt was off again, with the vast expanse of the North Pacific ahead of him. All went well for five or six weeks until, one night, alerted by a change of motion, Platt went on deck to find that the mainmast had snapped again. By now he was past the point of no return and, with winter advancing, it was already bitterly cold. With no chance of an effective repair aboard and his only opt-out being Hawaii, almost 2,000km to the south, he decided to press on under foresail and mizzen only, adjusting his destination to northern California.
The weather was getting progressively worse with the frequency of gales increasing. Without a mainsail, the High Tea was much slower and steering was proving more difficult. Then, on December 11, with near 90 per cent of the voyage complete, the foremast snapped. Platt managed to rig a trimmed section as a jury mast, and a blown-out old lifeboat sail provided a replacement for the now ruined foresail.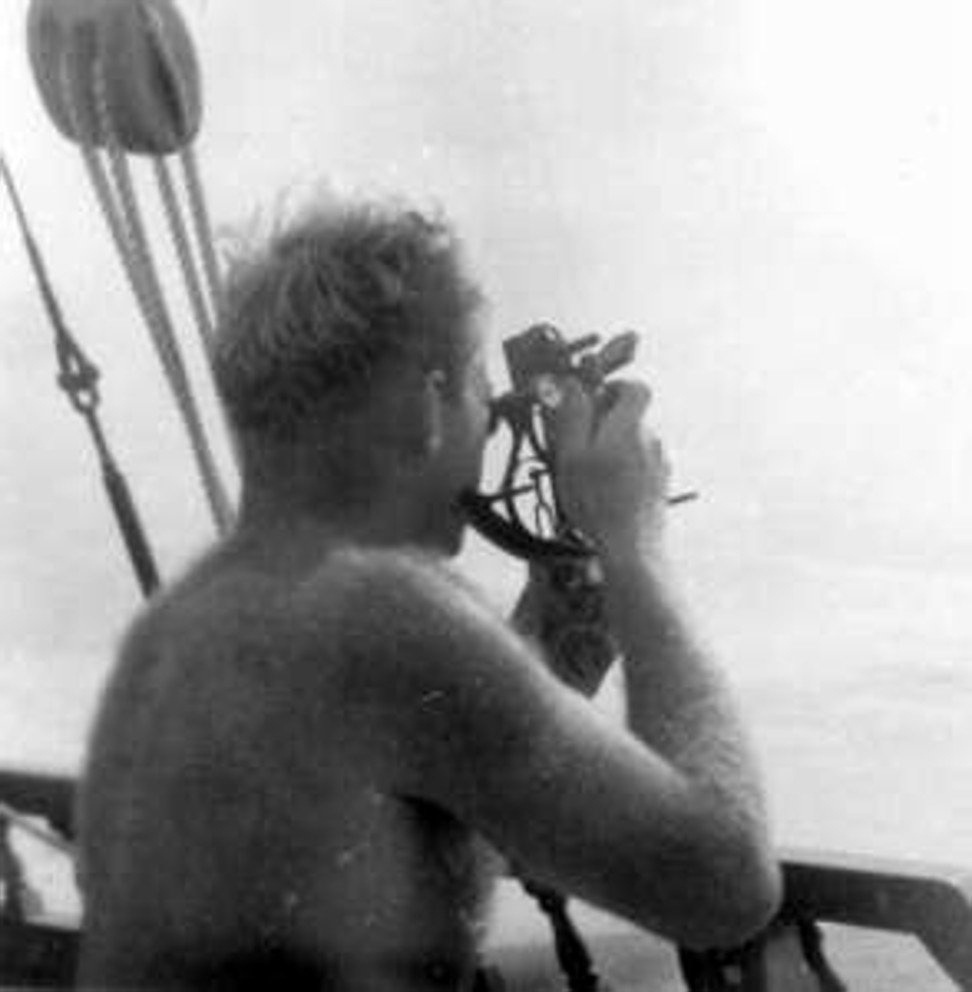 But the result was dire. The High Tea was covering as few as 55km noon-to-noon, despite using some of the precious diesel fuel for a few hours each day.
Finally, on Christmas Eve 1959, pinpointing his position by lighthouses blinking their welcome, he was just 30km north of the landfall he had decided to aim for after the High Tea had been dismasted: the small, northern California town of Eureka.
It had been a truly exceptional feat of navigation given fatigue, stress, winter weather and skies, and the liveliness of a very small boat. Platt had indeed learned to navigate while he had sailed.
At this point, at least for students of transpacific, small-craft sailing voyages, the High Tea appears to have been setting the scene for a Back to the Future moment to come years later.
Dangerous sand spits guard the narrow entrance to Eureka's Humboldt Bay and, as he was attempting to gain access, Platt's junk, with its cantankerous, oil-guzzling motor, ran out of fuel. Luckily, the local United States Coast Guard cutter was out on patrol, spotted the boat before it piled up on the shore and towed Platt in. The coastguards shared their Christmas dinner with the gutsy Hong Kong Brit and gave him his first hot bath in 70 days.
Junk boats turn into tourist icons in Hong Kong waters after centuries as China's workhorses
Flash forward to autumn 2008. The Princess Taiping (太平公主), a 54-foot replica Ming dynasty junk built near Xiamen, in Fujian province, had set out from Hong Kong in June and sailed via Taiwan, Okinawa and Oshima Island before heading into the Pacific. She was aiming to make Seattle on the first leg of a pioneering circumnav­igation of the North Pacific by a sailing junk.
But, as with the High Tea, currents and winds had other plans. And just like Platt, eventually Captain Nelson Liu Ning-sheng found himself approaching Eureka, with Humboldt Bay's hostile shore under his lee. He, too, was in danger of being swept onto the rocks, despite having set anchor. To add to the déjà vu, after 69 days at sea, the Princess Taiping was towed in by the US Coast Guard.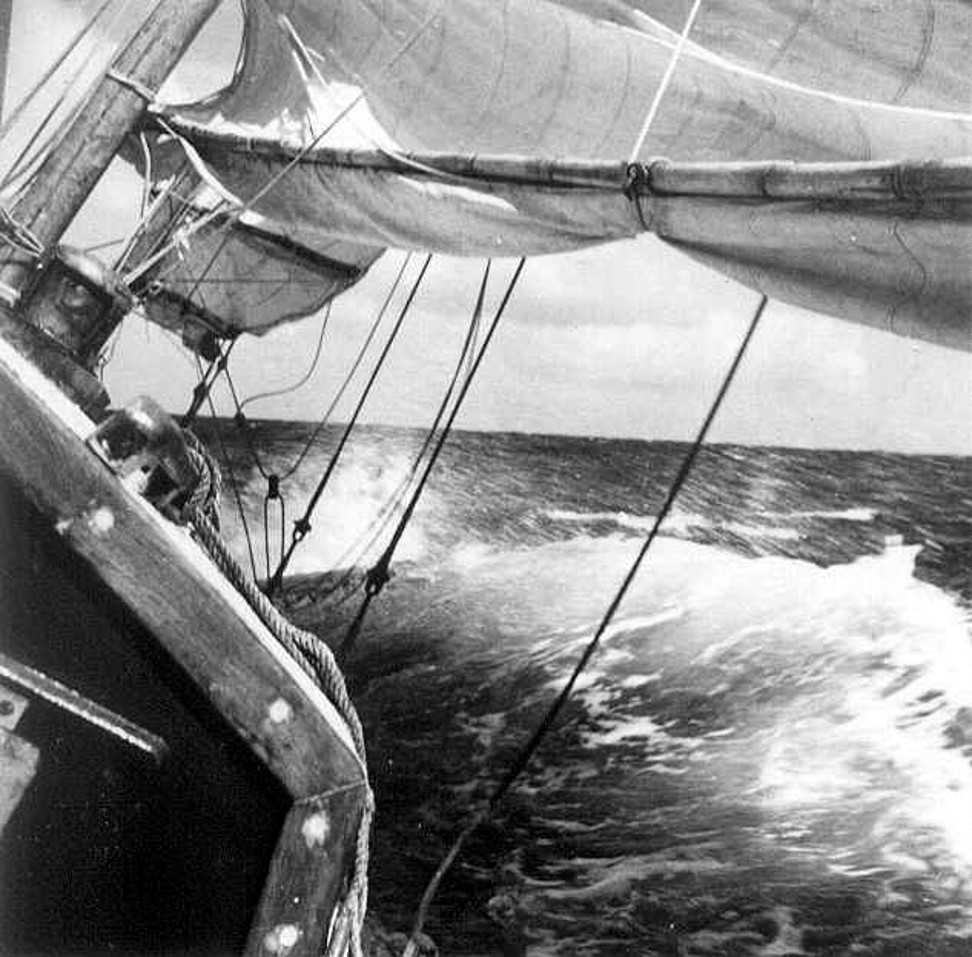 In a tragic end to the Princess Taiping story, in April 2009, 50km from her final destination, in Taiwan, Liu's junk was rammed by a tanker and sunk, fortunately without loss of life.
The rest of the tale of Platt and the High Tea is also rather sad. After getting new masts for his junk and repairing his sails, Platt set off for San Francisco. The 440kmvoyage was yet again storm-tossed, leading to a back injury and forcing the sailor to take refuge in Fort Bragg for a few days. On February 10, 1960, some 12,000km from Hong Kong, Platt arrived at San Francisco's St Francis Yacht Club.
In short order, he left the High Tea up for sale with a local broker and headed to Montreal, in Canada.
The High Tea never found a buyer on the US west coast, so Platt trucked her to New York, where she was sold. Eventually she ended up in the back lot of a boatyard, neglected and falling apart.
What's more, Platt never quite found his feet in Canada. Bankruptcy and depression resulted in a move to France, where, in 1989, he died in a fall.
Two record-making transpacific junk voyages separated by 48 years and a few months, taking respectively 70 and 69 days, both having started their long voyages in Hong Kong, both arriving in Eureka, California, and both heading on to San Francisco. If both have their claims to our admiration, the first of them was an epic of guts and survival.
Despite the High Tea's measly few kilometres motored in extremis, as the worst of the winter threatened and with only one and a half masts left standing, to reasonable folk Platt's voyage in the Hong Kong-built High Tea was the first single-handed west-to-east transpacific voyage.
With all respect to Mr Horie, it's an overlooked record, well overdue its share of glory.