Laos
Get more with myNEWS
A personalised news feed of stories that matter to you
Learn more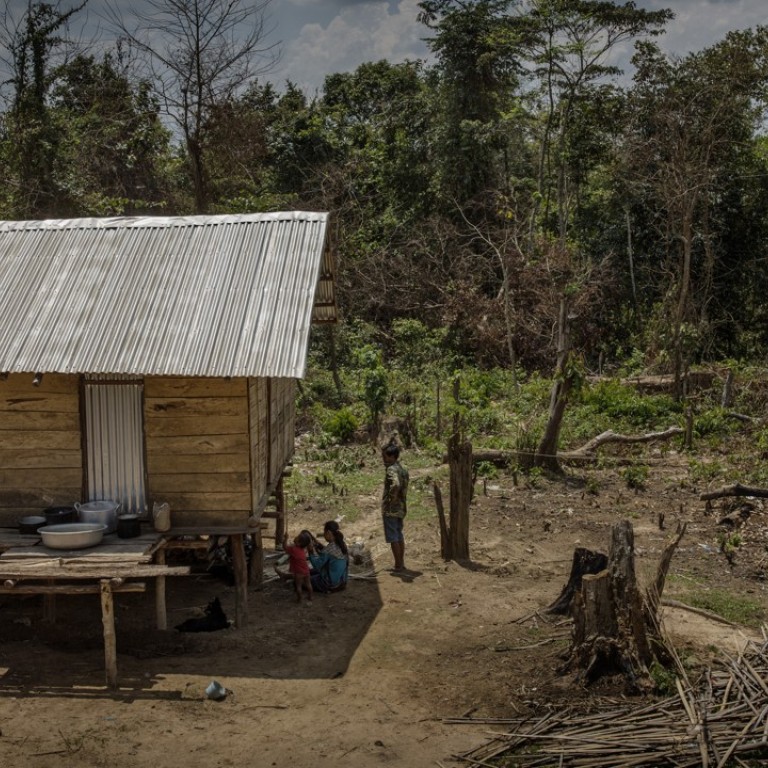 Midwife crisis: Laos slashes maternal mortality but Trump defunding threatens the progress made
Medical training has reduced maternal and infant mortality rates in rural Laos. US president's decision to cease funding UN body behind the programme, over accusation it backs forced sterilisations in China, could undo all the good work
Loudspeakers blare luk thung music over the 100 or so stilt houses that line the dusty road, signalling the start to a wed­ding celebration. The sleepy hamlet of Asing Saneh lies in the Nong district of Savannakhet province, in central Laos, not far from the border with Vietnam. The area suffered intense bombing during the Vietnam war and today ranks among the poorest in Laos. Festivities are welcome here, a place where the line between new life and death has often been a fine one.
Khemtay Keolabao crouches outside his house, chopping bamboo with his daughters, aged eight and six. He lost his first wife, the girls' mother, in childbirth four years ago.
"The closest health centre was an hour away by motor­bike," Keolabao says. "But we didn't have a motorbike."
Keolabao's second wife, Chien, is feeding the family's pigs, the 22-year-old's bump clearly visible.
"We married just three months after I became a widower," the farmer says. "It was time for harvest and I needed some­one to take care of the children."
This time around, adds Keolabao, 34, the pregnancy will be significantly less risky.
"Now we have a midwife nearby," he says, "but just to be safe, I've also paid a shaman to slaughter a pig."
Many across Laos share Keolabao's tragic experience. Ten years ago, assisted childbirth and reproductive health counselling were all but non-existent in the impoverished Southeast Asian nation, and maternal mortality here was among the worst in the world. Since then, the Laos economy has grown markedly. Small health centres have been estab­lished across rural areas and – with support from the United Nations Population Fund (UNFPA) – 1,700 midwives have been trained to staff them.
In 2015, Laos became one of only nine countries world­wide to meet the UN's goal of decreasing maternal mortality from the 1990 level by 75 per cent.
According to the World Health Organisation, complica­tions arising from pregnancy and childbirth claim more lives globally than war, even though preventing such deaths is not necessarily difficult or expensive. The introduction or expansion of midwife services goes a long way towards alleviating the situation.
As well as providing their expertise during pregnancy and childbirth, midwives are a vital resource for counselling on family-planning issues, perhaps most importantly in regard to contraception. By discouraging unwanted pregnancies and the risks they pose, they set physicians free to perform other tasks. The cost of providing midwifery services and family planning was estimated at US$2,200 per saved life, in a study published in medical journal The Lancet in 2014.
Despite such substantial benefits, midwives and family-planning services in Laos are facing an imminent crisis.
Kienthong Prasith, a 33-year-old midwife in the village of Phonmakmy, also in Nong district, is on maternity leave, rocking her baby in a cradle that's suspended from the underside of her elevated stilt house. Despite the fact that she's off-duty, locals drop by to avail themselves of her expertise – a woman waits for counselling while a small boy keeps playing with his intravenous drip, pulling it out.
"It's always been my dream to care for others," Prasith says.
But realising her dream has been no small feat, with fierce competition the first hurdle. When the midwifery training programme was launched, in 2009, it immediately proved popular in the provincial capital, Savannakhet city, because guar­an­teed jobs awaited those who completed the course. Prasith was fortunate to secure a place and, two years later, she passed the rigorous, international-standard exams.
However, more obstacles appeared after Prasith joined the workforce. Midwives are frequently dispatched to areas that are alien to them in ethnically and culturally complex Laos, and must learn entirely new languages and customs.
Prasith is from Savannakhet city, and during her first weeks in Phonmakmy, village women would not even admit to her that they were pregnant.
"It took a difficult delivery, during which I was allowed to assist, before they started opening up," she says.
Since then, Prasith has walked a tightrope in her efforts to discourage harmful old habits while remaining respectful of local customs. Traditionally, in some rural areas, for instance, even until recent years, many Laotian women left their homes and trudged into the forest to give birth, so as not to disturb the house spirits. While this practice has largely fallen by the wayside, others have proven tougher to dislodge. Prasith is haunted by the memory of a woman who bled to death because, when she was ready to give birth, her relatives insisted on conducting a three-day ceremonial rite before taking her to the hospital.
"I try to tell people to wait with their ceremonies," Prasith says. "Now, when they bring the shaman with them to my clinic, he only gets to spit liquor over [the patient] when I've finished my work."
Despite such progress, Laos still has the highest maternal mortality rate in Southeast Asia, and UNFPA plans to expand the midwife programme to the remotest regions of the mountainous nation. Issues with funding from developed countries, however, may put brakes on the agency's work: countries in Europe are blaming the costly refugee crisis there; in the United States, the world's largest contributor of health-care aid, the issue is abortion.
Just days after Donald Trump's inauguration as US president in January, he announced plans to cut federal funding to organisations that perform or provide counselling on abortions, in accordance with the Mexico City policy, a government scheme that has been implemented by Republican administrations since 1984 and rescinded whenever Democrats have been in power.
Critics call the policy a "global gag rule", claiming its main goal is to silence aid organisations that advocate the right to abortion. The three Republican presidents before Trump (George W. Bush, George H.W. Bush and Ronald Reagan) all implemented the policy, but Trump has taken it a step further: instead of targeting only funds earmarked for family planning (US$575 million), he has signalled that he will stop all health-care aid (a total of US$9.5 billion) to organisations that provide such services.
While opponents of abortion rejoice, many aid workers are despondent. The latter view abortion as a practical tool to save lives, not least by reducing the number of unsafe abortions, a major cause of maternal deaths (in 2014, the number of abortion-related deaths ranged between 22,500 and 44,000 women worldwide, according to the Guttmacher Institute, a non-profit research and policy organisation committed to advancing sexual and reproductive health).
Many aid workers worry that the Mexico City policy will result in the shutdown of programmes providing contra­ception, leading to more unwanted pregnancies and, ironically, more abortions. A study published in 2011, in health journal Bulletin of the World Health Organisation, showed this was the case under the presidency of George W. Bush, who reinstated the policy in 2001.
Marie Stopes International, which provides reproductive health-care services, has estimated that without alternative funding, the loss of US aid will lead to an additional 6.5 million unwanted pregnancies, 2.2 million abortions and 21,700 maternal deaths during Trump's first term.
Human Rights Watch warns that Trump's version of the policy may also lead health programmes to cut services to newborns, infants and children, including vaccinations and treatments for malaria and tuberculosis.
"It is a profound setback to hard-fought gains for women's and girls' health in countries around the world," the US rights group stated on March 8, International Women's Day.
Trump halted funding to UNFPA on April 4. Though the UN body does not promote abortion as a family-planning measure, it has been accused by the US government of indirectly supporting forced sterilisations in China (a claim the UNFPA denies). This loss of funds may cause UNFPA to shut down operations in war zones such as Syria, Yemen and Iraq this year. It will also have a significant impact on Laos.
"We're facing substantial cuts in our budget," says Frederika Meijer, UNFPA's Laos representative based in the capital, Vientiane. "We won't be able to support as many instructors, which indirectly means that fewer midwives will be trained, there will be more unwanted pregnancies and more women dying."
A number of countries have hit back at Trump's move, particularly in Europe, where the Dutch-driven She Decides initiative has so far raised more than US$300 million to plug the gaps left by the Mexico City policy.
In Sweden, the broad political consensus is that abortion is a human right, and this permeates the country's aid work: sexual and reproductive health and rights are considered key to alleviating poverty and inequality.
"Sweden is a shining light when it comes to progressive views on reproductive health," says Caroline Homer, director of the Centre for Midwifery, Child and Family Health at the University of Technology Sydney, in Australia, and co-author of the aforementioned Lancet study. "To lower the worst maternal mortality is totally doable. But there is a limit after which it no longer helps with more midwives and contraceptives. We will never reach the UN's sustainable development goal without access to safe abortions."
Back in Asing Saneh, most of the women are fishing in the creek or weaving at looms beneath their stilt houses. Chien lies on her back while midwife Phanmaha Nongthilath examines her. They have seen a lot of each other recently, since Chien started to feel uneasy about her pregnancy. She herself was so small and lethargic when she was born that her mother considered leaving her for dead in the forest.
"Your baby is moving," Nongthilath tells Chien, who relaxes, and lets a smile spread across her face.