Amy Tan first set foot in Hong Kong in 1987, but that trip is seared into her memory. This was before the Oakland, California-born author had published – or even written – The Joy Luck Club. Tan's mother, Daisy, who would become the muse for many of her novels, had arranged for her to stay with Auntie Elsie, a child­hood friend from Shanghai, in a flat near the Ambassador Hotel, in Kowloon.
"It was my first introduction to sleeping on a bed that was woven rattan and you would lie on it, instead of a regular mattress, because it was so hot," Tan says, from her craftsman-style home just north of San Francisco. "And you are living in somebody's apartment and it is so hot."
It was not the luxury accommodation she has since become accustomed to.
"It was very old fashioned," Tan says, pausing a beat. "There were paintings of Hawaii on the walls."
Auntie Elsie's mother could not walk on her own, so she had to balance on the back of an unfortunate amah, or domestic helper.
"Auntie Elsie would point, 'Go here,' or 'Put her there,' and the poor amah would have to run around all over the apartment with this old lady on her back, as if she were a donkey." Auntie Elsie's parsimonious mother also refused to draw a fresh bath for herself, insisting instead on bathing in her daughter's used water. For a Chinese-American who had never before experienced Asia, this was all part of a grand awakening, a cultural rebirth of sorts, if an awkward one.
Amy Tan shares tale of two identities during her 2007 visit to Hong Kong
The heat, humidity and challenging living conditions aside, however, that visit to the British colony was hardly a washout. Auntie Elsie owned a jewellery store, so there was shopping involved, as there always is in Hong Kong.
"We bought jewellery from her shop at a huge discount," Tan says, practically purring at the memory.
But Tan left Hong Kong with more than cheap jewellery.
"Walking along the streets and going to a huge dim sum restaur­ant with Auntie Elsie and her friends, we were surround­ed by women," Tan says. "At that point, I had written a couple of stories, but I didn't know I was writing a book. I spent the time observing and absorbing everything. I overheard so many funny things."
As Auntie Elsie's friends chatted, complained and guffawed, raising har gau and xiaolongbao and cups of jasmine tea to their rouged lips, Tan leaned in and listened. Among the many unrepeatable morsels of gossip and excoriation she heard such delectable idiomatic phrases as "follow the wind talk" ("chatter that doesn't really have any meaning," Tan explains) and "you can sing and you can cry" ("another way of describing 'happy tears'").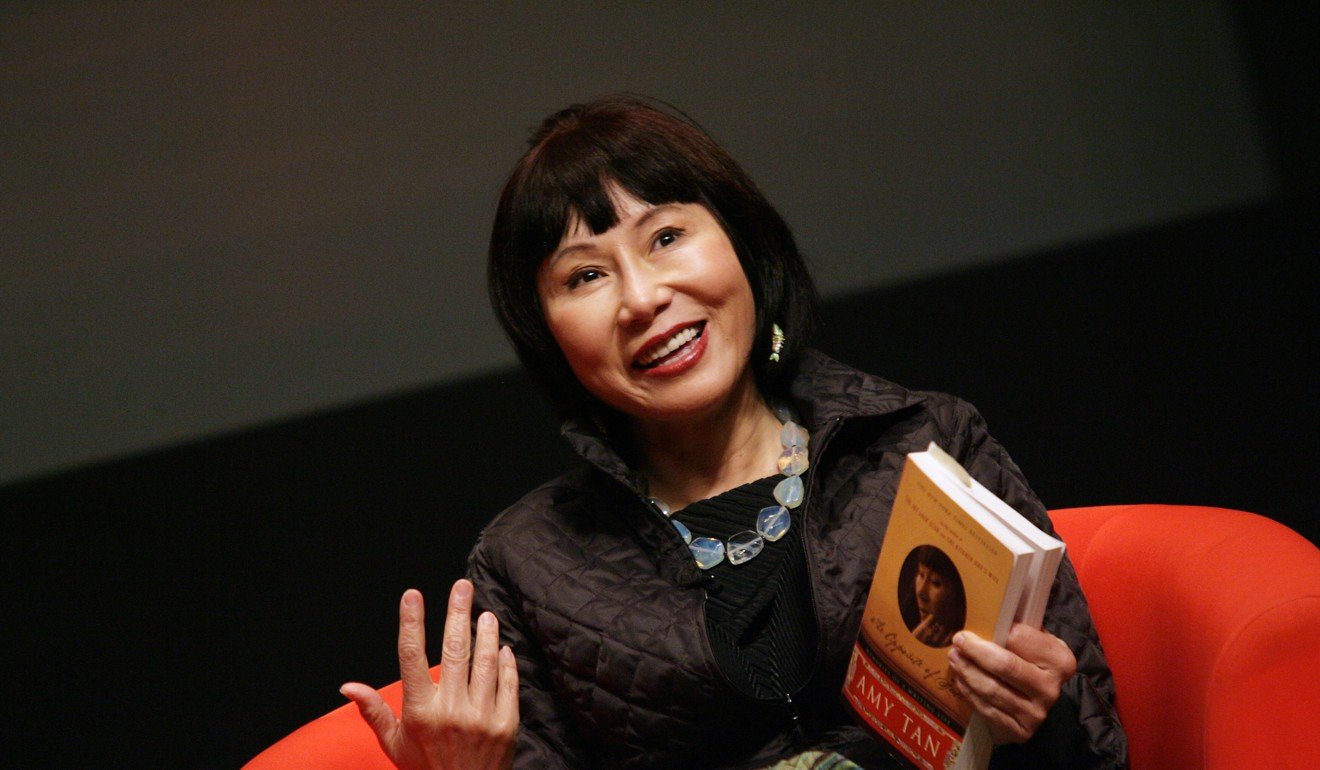 Young Tan jotted these conversations down in a journal and they would colour her 1989 San Francisco- and Shanghai-based debut novel, The Joy Luck Club, a work that was to ultimately claim its place as a great Chinese-American novel, a New York Times bestseller that has sold in the millions around the world. The novel has been translated into more than 35 languages and adapted for the big screen (1993), television and the stage.
Flash forward three decades, and Tan is returning to Hong Kong. This time she is to be a featured speaker at the Hong Kong International Literary Festival and the guest of honour at its gala dinner tonight. When Tan learns her talk has sold out, she almost squeals.
"Oh, I am relieved! I won't have to stand on a corner in Hong Kong convincing people to come!"
And she won't be staying in a sweltering apartment in the depths of Kowloon, either.
Eight books to read ahead of Hong Kong International Literary Festival 2017
Having penned six novels, two children's books and a collection of personal essays, Tan has finally written a book that offers readers an intimate view of her life: Where the Past Begins: A Writer's Memoir (2017; Ecco).
"The best new memoir I've read in a decade is Amy Tan's breathtaking high-wire act of memory and imagination," writes Mary Karr, author of literary bible The Art of Memoir (2015). "All the sizzling language and quirky turns of mind we've come to relish in Tan's fiction are on display in this classic of the form."
Less than two weeks after publication, Where the Past Begins hit the New York Times bestseller list.
Tan's defection from fiction may well be the shake-up that the author needed. Last summer, at an American writing conference, Tan told audiences that some­times she felt she might never write again. In fact, while writing her last novel, The Valley of Amazement (2013), about a young biracial courtesan searching for her American madam mother in China during the early 20th century, Tan had spent some five years exploring one storyline only to ditch it and spend another three years following another. In all, Tan's sixth novel took a whopping eight years to complete. She feared she might be out of words. And then she found Facebook.
With almost 90,000 followers, Tan started adding personal posts – about the antics of her two terriers, her love of drawing the birds that frequent her garden, and her opinions: she doesn't mince words about American politicians or their policies, for example. The Facebook response to her writing was instant and gratifying – well, mostly. People loved her dog photos, but some exchanges, especially those about politics (and strangely tanned politicians) turned heated and ugly.
"I would just come out and say what I thought of '45'," Tan says, alluding to the controversial gentleman who presently resides in the White House. "And there were always a few trolls who would say something like, 'You should just shut up and do what you're supposed to do.' As if a writer has no mind. As if a writer just lives in a fantasy life and makes things up. As if a writer is not concerned about the real world."
To those who countered her posts with threats never to purchase another Amy Tan novel, the author retorted, "Please don't ever buy any of my books. I do not want them in your hands."
Another medium that emboldened the writer was email. While working on The Valley of Amazement, Tan started exchanging emails with her new editor, Daniel Halpern, the founder of HarperCollins imprint Ecco. Their exchanges were joyful and rapid-fire. Halpern would send Tan a ques­tion and the author would lob back an amusing quip, or sometimes a fiery treatise. Once, for instance, Halpern asked Tan for a synopsis of her as-yet-unwritten novel and Tan sent back a 4,000-word response on why she despises writing synopses.
For Tan, a wordsmith who is known for spending hours getting her sentences just so, working quickly and unself­consciously – on Facebook and email – was a revelation.
Halpern suggested to his charge that they compile their emails into a book as a way of publishing an Amy Tan title that didn't require eight years to write.
"It was a terrible idea," Tan says, and Halpern finally relented. But the idea had already been publicly announced and Tan found she had to publish something. A work about her own life seemed to be the logical choice.
"I would say I was lured into writing this book," she says, now.
Novelist Celeste Ng on her new book, rules to be broken, and why she isn't set on writing the Great Chinese-American Novel
In the flesh, Tan is striking and elegant, an eccentric beauty sheathed in an Issey Miyake trouser suit. She works out daily with a trainer and has her gently grey­ing hair styled into a sculptural pageboy cut; sometimes she dyes it light purple. While fashionable and fit, Tan is also aware that she is advancing in years. She has made plans for her journals, letters and unfinished manuscripts to be destroyed after her death.
The wildly popular author needn't have waited until she was 65 to write her life story. She's suffered enough extreme experiences and tragedy, and achieved enough success, to fill three or four books.
As Tan tells it, her family's drama began in early-20th-century China. The author's grandmother was most likely a courtesan who committed suicide by swallowing raw opium (more on that later). Tan's mother, Daisy, was born into a wealthy Shanghai household in which her mother was a lowly concubine. Daisy married a dashing playboy, who abused her and cheated on her. She then fell into an affair with John Tan, a handsome English-speaking Tianjin-based radio engineer.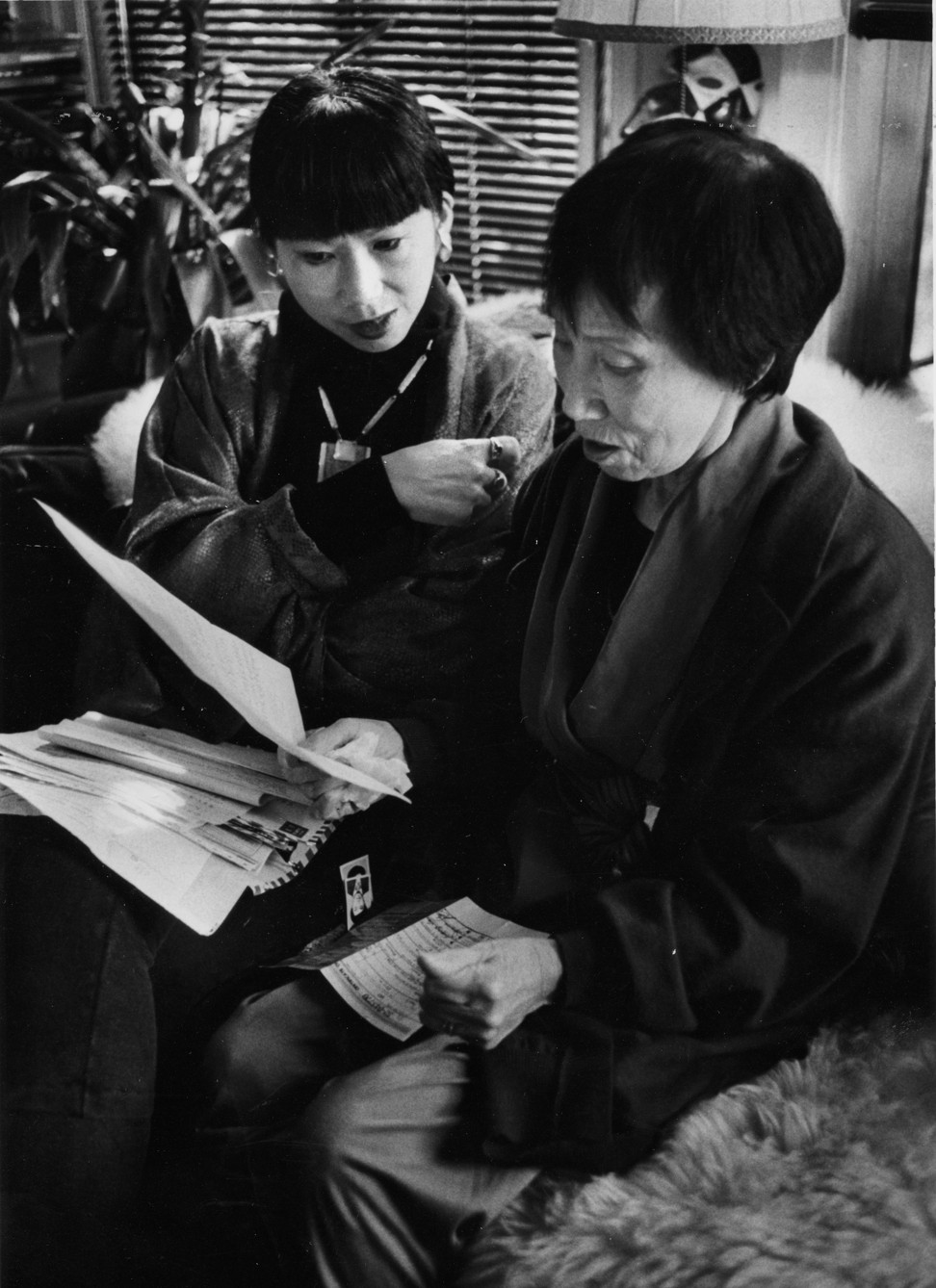 Daisy managed to escape her abusive marriage by following John to America, where he had been accepted to study at the Massachusetts Institute of Technology (MIT). But the price was profoundly painful: she had to leave three daughters behind in China and, due to the political turmoil sweeping the mainland from the late 1950s to the 80s, she would not see those girls for decades.
When Daisy caught up with John in the US, he had passed up MIT for the opportunity to study at the Berkeley Baptist Divinity School, in California. He became a Baptist minister and began pulling in a paltry US$200 a month. The once glamorous and wealthy Daisy found herself scrubbing her own toilet and taking care of three children: Amy and her two brothers, Peter (the eldest) and John (the youngest). Then, when Amy was in her mid-teens, her father and Peter died within six months of each other, both from brain tumours.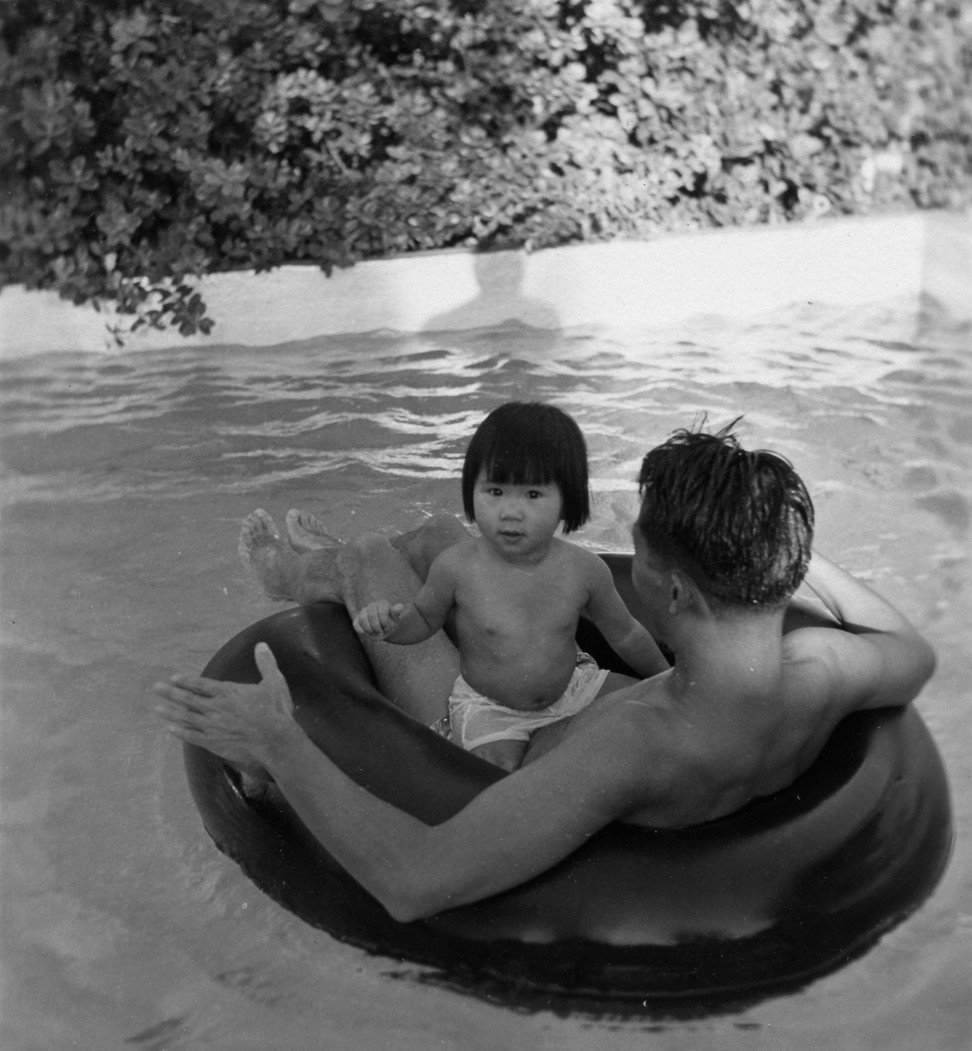 Just before her father's death, Amy was molested by a youth minister in her family's church. Believing the clan to be cursed, Daisy insisted on moving to Switzerland, where Amy took up with an unemployed German hippie. Desperate to regain control over her wayward teen, Daisy locked Amy in a room and, wielding a cleaver, threatened to kill her daughter and then herself.
This was not the first time that Daisy had terrorised the family with threats of suicide – and it would not be the last.
Tan writes about her mother's self-destructive declara­tions in Where the Past Begins, but only obliquely. Describing a real-life situation in which Daisy opened a door of their speeding car and stuck her foot out, Tan had to write as though she were portraying a scene from one of her novels. "It was so painful. I could only get it out in third person."
How Rape of Nanking author Iris Chang is honoured in Chinese museum newly opened in her family's ancestral home
Tan met tax lawyer Lou DeMattei when she was in her early 20s, and they married in 1974, but drama and tragedy continued to stalk the author – she was held up at gunpoint, she contracted Lyme disease (which still causes occasional seizures) and she watched the slow decline of her mother, who suffered from Alzheimer's, until Daisy's death, in 1999.
If any of this sounds familiar, it is because Tan immor­talised part of her life story in her novels, which helped her make sense of it all.
"Writing fiction allowed me the subterfuge of [the stories] being fiction," she explains. "I could bring up emotions that I have and get a better understanding of the situation."
When she produced The Joy Luck Club, which is closely based on Daisy's life and the mother-daughter bond, "I was writing to understand my mother more."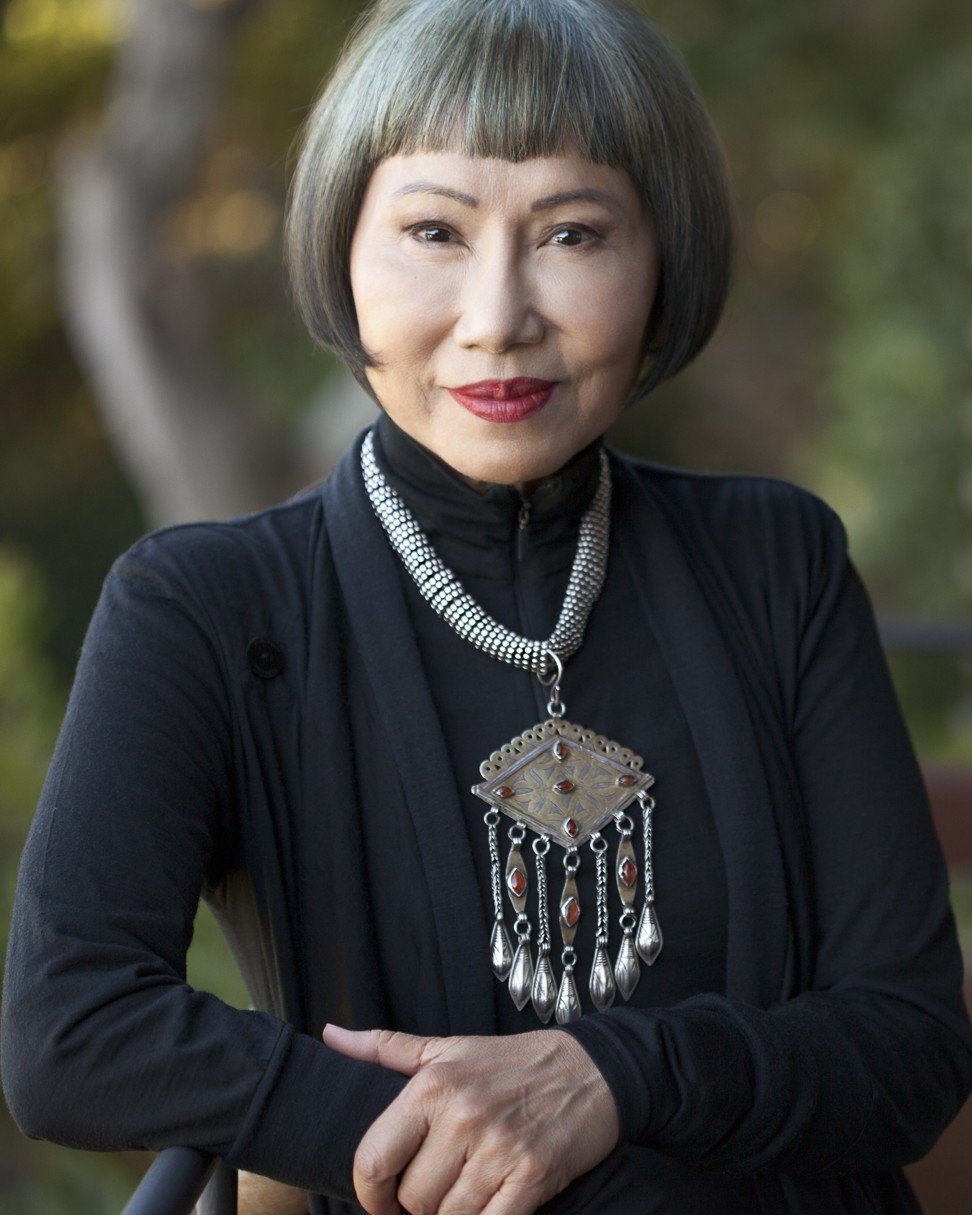 Tan approached the writing of her memoir by sticking her hand into one of 80 boxes of family memorabilia she had stockpiled in her garage, randomly pulling out a document, photograph or an audio tape, and seeing what memories and thoughts the item sparked.
At one point, she drew out a black-and-white photograph of her grandmother in unusual garb. Through "obsessive" research, Tan established that her grandmother's outfit was typical of clothing worn by early-20th-century courtesans in China. The discovery surprised her but it also helped the author make sense of her grandmother's complex and mysterious history.
Also discovered in the boxes was a trove of letters that she and her mother had written to each other throughout Tan's 20s. In re-reading the letters, Tan realised that mother and daughter had remained extremely close, even during the difficult times.
"She wrote in one letter, 'You understand me,'" Tan says. "She really needed someone to understand her fully, and that was me."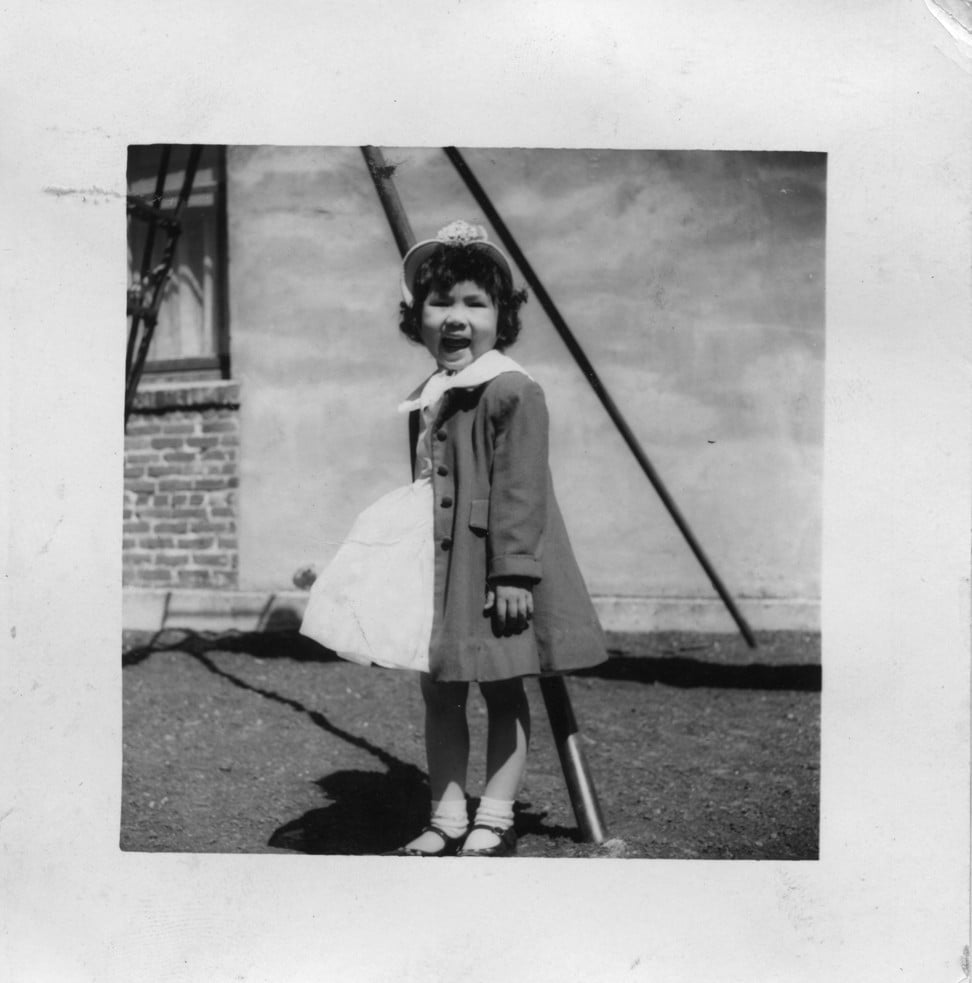 Tan also pored over old journal entries, which she quotes throughout the book: "To change fate, you do not choose small steps," she had written. "It is not about your will. It is allowing what comes to you. It is like seeing a ship turn in the Eastern Sea, slowly but surely, against the natural stream. And when it arrives, you step aboard and go to where it will take you. And somehow you know its course."
Tan's course has taken her to the height of literary fame. She and DeMattei live with their terriers in their custom-built home, on a hillside in an upmarket neighbourhood outside San Francisco. The house, an homage to architects Greene and Greene's Japanese-influenced designs of the early 20th century, has extraordinary views of Angel Island, once a processing station for immigrants to America, many of them Chinese.
At that point, I had written a couple of stories, but I didn't know I was writing a book. I spent the time observing and absorbing everything. I overheard so many funny things
"Many of them were imprisoned there for months, sometimes years, and often [those without the proper paperwork] were sent back to China," Tan says. "The government tried to find any reason to send these people back."
The walls of the Angel Island barracks are covered in poems written by the prisoners, many in Chinese characters.
"Some of them are full of despair, about how they are treated like animals," Tan says. "Still others are beautiful poems about love and hope. I look out at the island and think, 'Wow, there were once a lot of Chinese people who lived there and looked out onto the land where I now live, and dreamed of escape.'
"I often think about the fact that I am one of the people who get to look at this beautiful island," she says. "I am one of the fortunate ones."