Since he was a child, growing up in Switzerland, the artist Christian Marclay has loved to cut and paste. Collage is his speciality: he forages for familiar images, splices them together and creates something other. Usually, sound is involved even if – sometimes especially if – you can't actually hear it. He likes to combine the visual with the aural so that both senses feel dislocated.
One of his early projects, in 1985, was Record Without a Cover, which was exactly that: a vinyl record sold without the usual protection. Older readers will recall the physical gleam of those quaintly grooved objects. Marclay's idea was
that, exposed to the world's fingerprints and dustiness, a record would sound different over time. The record included a lengthy silence and customers – used to pristine packaging – found its unclad appearance visually jarring. That was, partly, the point.
Christian Marclay's sounds and visions
A few years later, in December 1988, he recorded the sound of footsteps and mixed it with tap-dancing by Keiko Uenishi (who has done subsequent Marclay collaborations and describes herself as a "sound art-i-vist"). He had 3,500 LPs (that's "long players", kids) made and, the following summer, these were taped to one of the floors of the Shedhalle Galleries, in a Zurich industrial building.
According to subsequent accounts, visitors were "invited" to walk over them. The word suggests choice but anyone who wanted to access the adjacent galleries had no option but to step – gingerly or emphatically, according to temperament – on the LPs. The actual recording was never played during the show.
Afterwards, the damaged LPs were gathered up and 1,000 of them were sold under the title Footsteps. (At the time of writing, Amazon has a scuffed one on sale, still bearing scraps of the tape with which it was stuck to the floor – yours for US$350.) The installation was dedicated to Fred Astaire.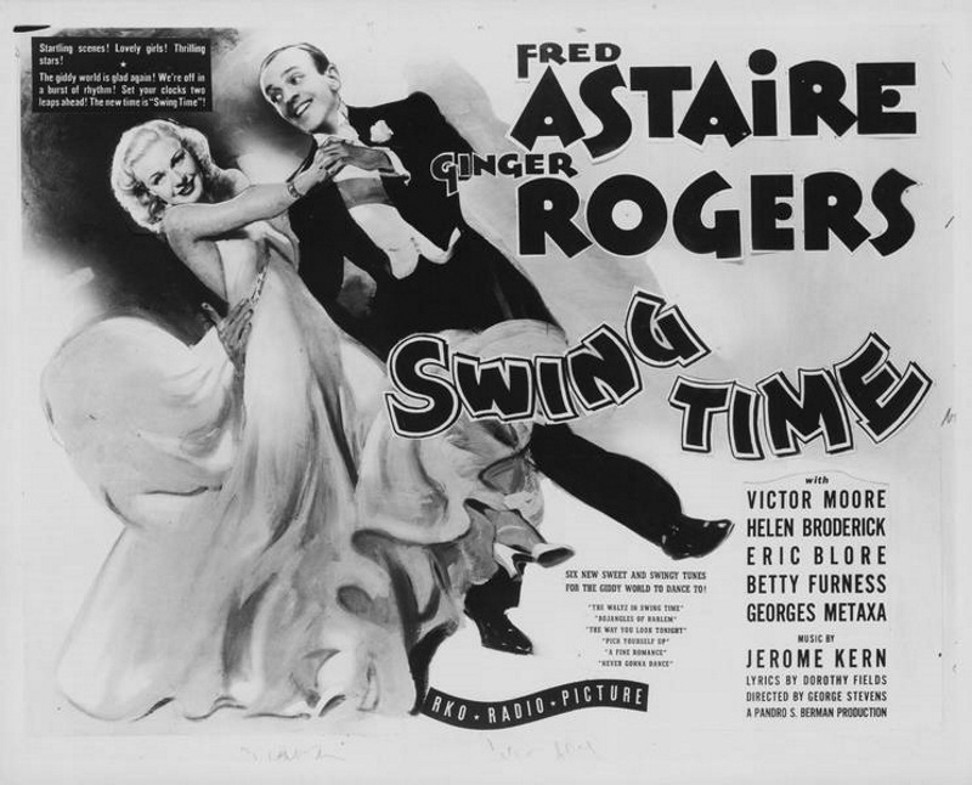 Having dispensed with one record cover, Marclay's 1990s "Body Mix" series decided to focus on many. From his vast collection of albums, he did a Frankenstein, re-stitching covers into unsettling hybrids: the conductor Herbert von Karajan straddling a stool clad in women's red lingerie, Diana Ross with a ripped male torso (courtesy of an American rock band called Silent Rage), Michael Jackson stretching out a female leg that's part white, part black.
Combinations of popular celebrity and music naturally led to video. In 1995, he made a film titled Telephones. It consists of cleverly edited clips from 130 Hollywood movies – a collage of actors dialling, answering, apparently having mysterious conversations with one another (while criss-crossing from black-and-white to colour), hanging up. It lasts about 7½ minutes.

Marclay had already created one work featuring telephones. That was his 1990 installation titled Boneyard: 750 pale casts of phone receivers, scattered over a gallery floor and looking, as the name suggests, like an extinction event. But Telephones would be the genesis for an extra­ordinary video, the one that has prised him from the rarefied corners of the art world and into greater public awareness.
At 10am on Friday, October 15, 2010, The Clock officially began public screenings at White Cube's Mason's Yard gallery, in London. It's a 24-hour loop of clips from films (and some television shows), all of which track the passage of time. Actors, famous and unknown, rush towards trains, boats, lovers, death, all compelled by time. Occasionally they wait, marking time. Some (Jack Nicholson, Meryl Streep, Robert Redford) appear several times, bearing time's track on face and bodies.
Occasionally, these fictional characters check their watches or clocks; or there's a shot of a timepiece; or someone refers to the time; and when that happens, the hours and minutes on screen match the exact moment being experi­enced by the viewer. The intended effect is to make whoever's watching feel part of a stupendous reel-fantasy while simultaneously experiencing real-life's passage.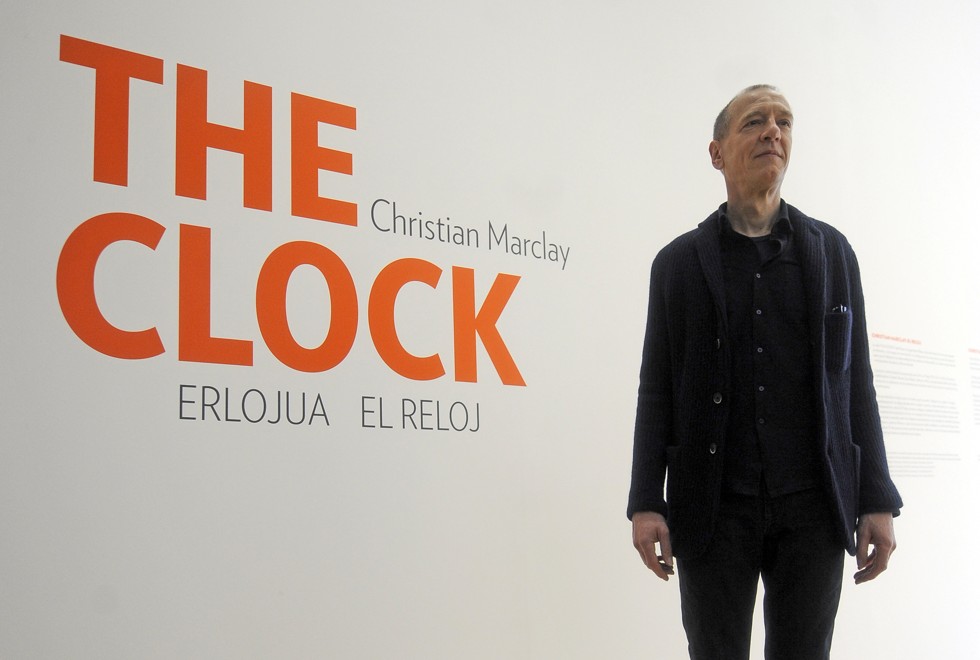 Marclay spent three years making it. He had six assistants compiling thousands of clips but the final edit was his alone. He'd initially proposed the idea to White Cube in London, and they helped with funding, as did the Paula Cooper Gallery, in New York, where The Clock was shown at the beginning of 2011. In both cities, it became a sensation. People queued in the winter streets for all-night weekend screenings.
At the 2011 Venice Biennale, The Clock won the Golden Lion for the main exhibition's best artwork. When Marclay received the award, he said to the jury, "Thank you for giving The Clock its 15 minutes." That was Warholian, witty and wrong. The Clock's fame has continued ticking for considerably longer than its quarter of an hour.
Yes, these are someone else's work. I've appropriated one, two, three, four, five … different artists. I cut it up to render it anonymous or generic. I never do anything really recognisable as a Marclay
He is, of course, on time. In fact, everyone's early – his assistant, White Cube's communications repre­sentative, the photographer, all of us gathered in the lobby of White Cube's Bermondsey space, in London, a month ago. Marclay's work for his White Cube Hong Kong show, "Screams" (which opens on November 16) is in the warehouse at the back. Five large woodcut prints, created via technology from manga collages, have been propped up on temporary display amid the packing cases.
"So this is part of a series that I've worked on this summer in London," Marclay begins, thoughtfully. He's 62, tall, pale, very trim. Because so much of his work involves editing at a computer, he walks an hour a day and does yoga. His voice is low-key, pleasant – almost, but not quite, American. (When he says the word "instantaneous", it takes longer than an instant to work it out.) It's slightly odd to stand next to such a soft-spoken man while the woodcuts shriek silently alongside.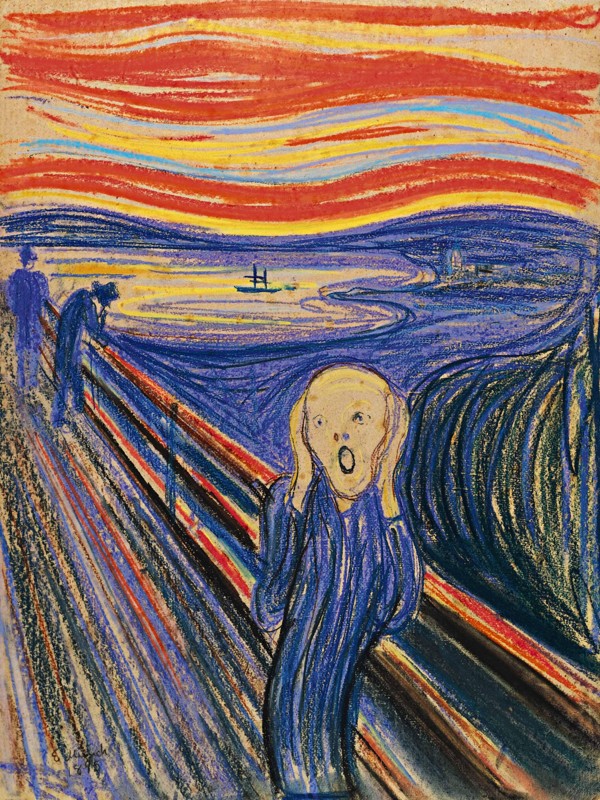 The "point of departure", as he puts it, for the show is Edvard Munch's The Scream (1893). "I've known that image since childhood," he says. "It looks like a comic book. Everyone knows it, remembers it, spoofs it – it's on mugs, umbrellas. I was almost forcing myself, it seemed almost a wrong thing to do."
"Wrong", in this context, relates to the familiarity of the image, not the use of it. Marclay, who has been a DJ, knows all about sampling; his expertise lies in taking something that already exists and refashioning it. For this show, then, the solution to The Scream's ubiquity has been a double appropriation: Munch plus manga.
"Yes, these are someone else's work. I've appropriated" – he counts the woodcuts aloud, carefully – "one, two, three, four, five … different artists. I cut it up to render it anonymous or generic. I never do anything really recognisable as a Marclay."
Not immediately recognisable, perhaps. But the method – a 21st-century variant on cutting-and-pasting – still goes back to the child who didn't draw. "Fragments of body parts, record covers," he agrees. "Collage is at the heart of a lot of things of mine. I react to that, to found things."
What has changed over the years is the tech aspect. It's "complicated", he says; and, in the world of Marclay, therein lies the challenge. For these works, he enlarged each manga collage and matched it to plywood or OSB (oriented strand board – "orient", in this case, referring to the cross-direction of wooden layered strips rather than Asia) using "a CNC [computer numerical control] woodcutting machine". No one, he says, had done that before.
He wanted the wood's grain to reference the distorted lines that Munch used to convey fear. He liked how the wood's knots resembled "eyes looking at you". But he also saw the wood's ripples as sound waves. For Marclay, always listening to the visual, they convey "a clash between the instantaneous and the slow growth of the tree as a marker of time".
Bill Viola's decades-spanning video art show in Guangzhou a spiritual pleasure that freezes the viewer to the spot
The woodcuts' black isn't entirely black. "It's slightly reddish here," he says, pointing to the different panels. "And blue here, this has yellow … I wanted to show the fragmentary nature of the work, to show that it's made out of pieces."
Every one of the works is titled Scream. "These are the last two prints I did before I went to Brazil." As he gazes at them, however, what you hear is not a scream but a batsqueak note of exhaustion in his voice. "I can't keep track. It's been a horrible summer, travelling and working non-stop. It's a race to get it done in time."
Is he feeling particularly hostage to time? Marclay smiles, a little wearily, and says, "Aren't we all?"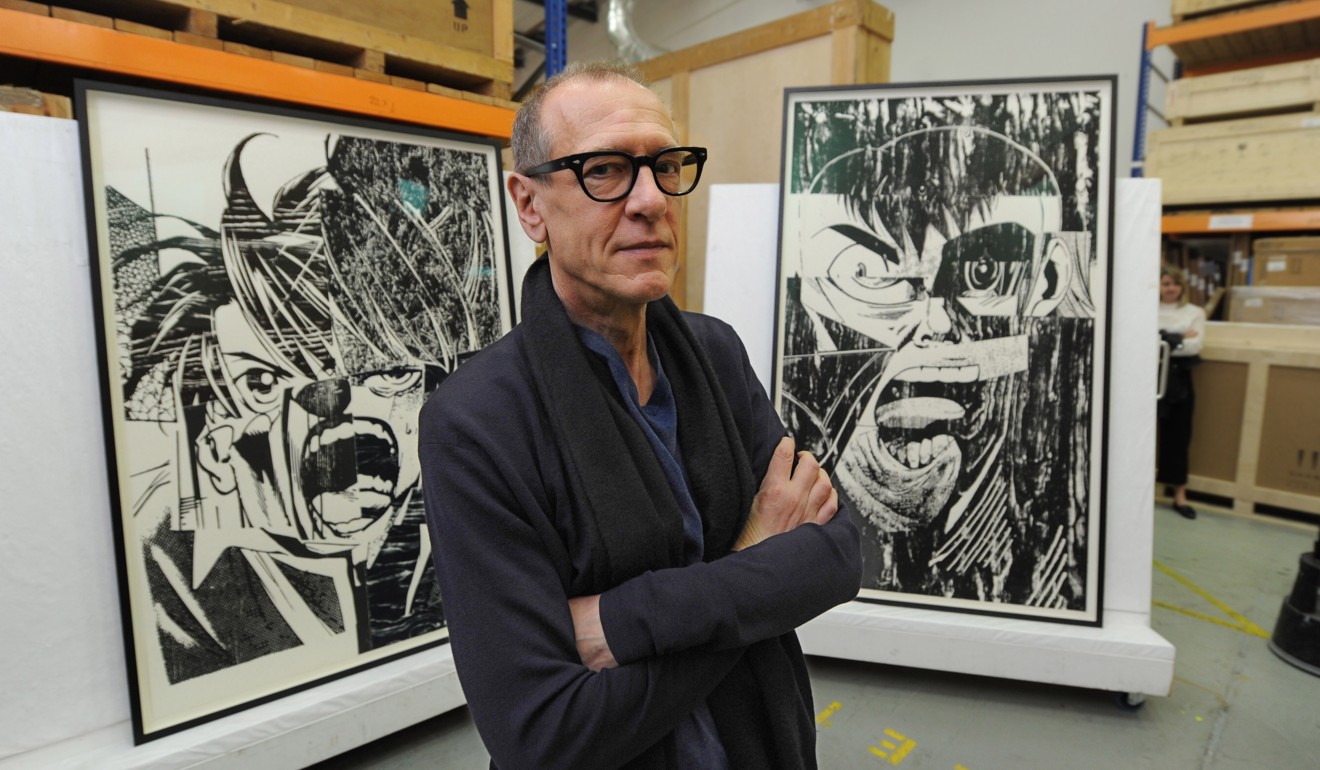 When, halfway through our subsequent conver­sation in one of White Cube's conference rooms, I admit to Marclay that I haven't actually seen The Clock, he cries, "That's great!"
Well, maybe for him. So many people have raved about it (novelist Zadie Smith: "It's neither bad nor good but sublime") that it feels like a pressing necessity in everyone's cultural life. Since 2010, it's been exhibited in about 20 venues around the world but, alas, not here. Next year, London's Tate Modern will show it for four months from mid-September.
Is it an albatross round his neck? An instant, emphatic reply: "Yes. It is an albatross. A lot of people cannot see my work now without having The Clock as a filter." Hearing himself sounding ungrateful, he adds, "What's great is that people are maybe paying more attention to what I'm doing because of the success of The Clock. But, for me, constantly having to go back to an older work …" A pause. "And it's a complicated installation. And I'm sort of a perfectionist in the sense that I want it to be presented in the best possible way."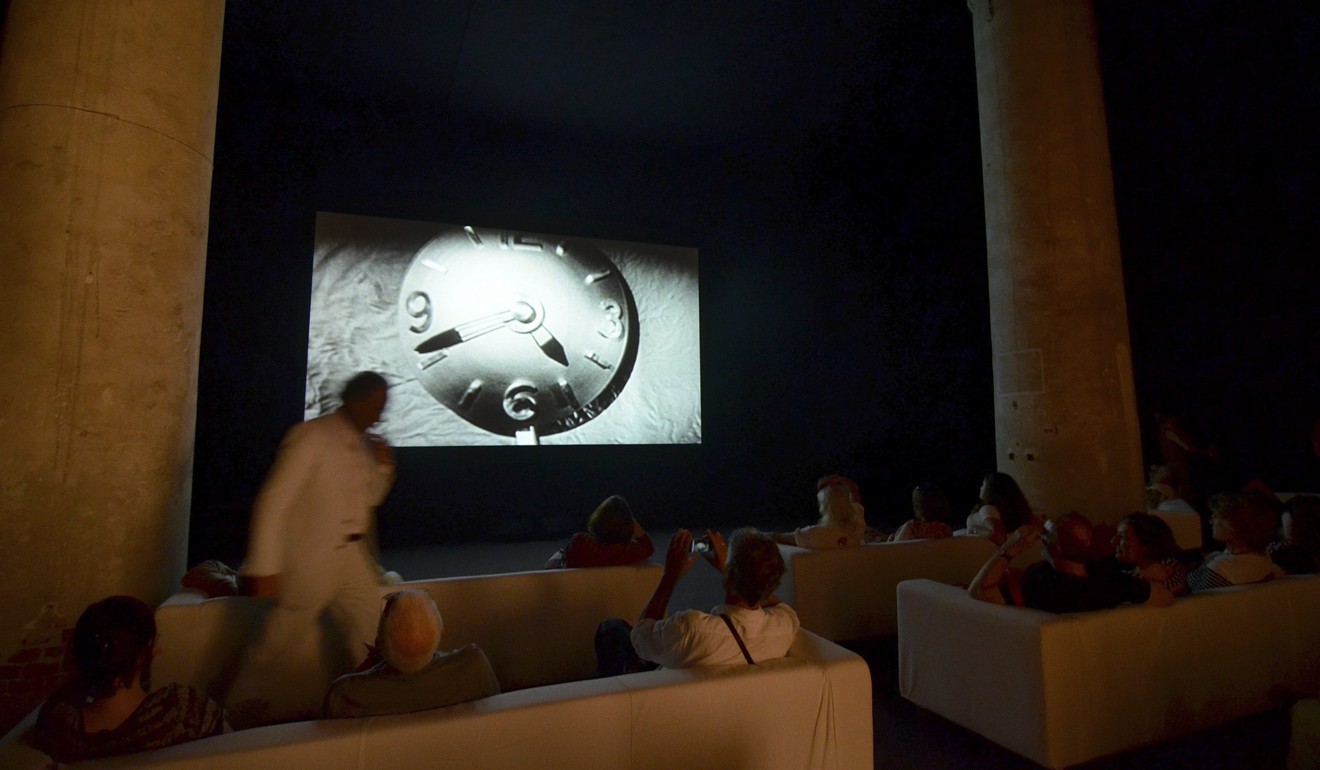 There's actually a 24-page manual about the best possible way – Ikea sofas included – in which it should be shown, though national characteristics tend to intervene. His recent Brazil trip was to install The Clock for an exhibition in Sao Paulo.
"And, you know, they have a very different notion of time [...] I don't know how Hong Kong is but there it's different." I'm tempted to say timekeeping in most places is likely to feel different after the Land of Cuckoo Clocks but hesitate to generalise; and later, when the White Cube representative slightly chivvies us about the time, it's Marclay who says, with a grin, "Oh, she's being more Swiss than us."
In fact, he was born in California. (When he won the Golden Lion at Venice, it was as an American artist.) I've read about his parents – his American mother and his French-speaking Swiss father who met in Peru, only had Spanish in common and moved to Switzerland when Christian was six months old. That sort of background sounds like a collage in itself, a collection of linguistic fragments from which a whole has to be constructed.
French undercover artist Invader blasts Hong Kong government for removing work as Harbour City embraces latest 'invasion'
"We had three languages at home," he says. "And then, when my younger brother started speaking, he was stuttering and my parents thought, 'Forget it.' My father imposed French at home and I had to relearn English later. But I don't feel perfect in French or English." In London, where he's lived since 2007 (he came when his partner, Lydia Yee, who had been a curator at the Bronx Museum of Art, moved to the Barbican Art Gallery), he says he's a foreigner.
Perhaps that's the impetus for his work's often-punning titles. "I definitely agree with that," he says. "I notice that [conceptual artist Marcel] Duchamp was a big punner and I think it's because you're always comparing two languages."
(Curiously, The Clock has escaped such a fate. Apparently, Marclay toyed with "Clock Work" and "Time Piece" but didn't want to trivialise it, though what does that say about his previous works?)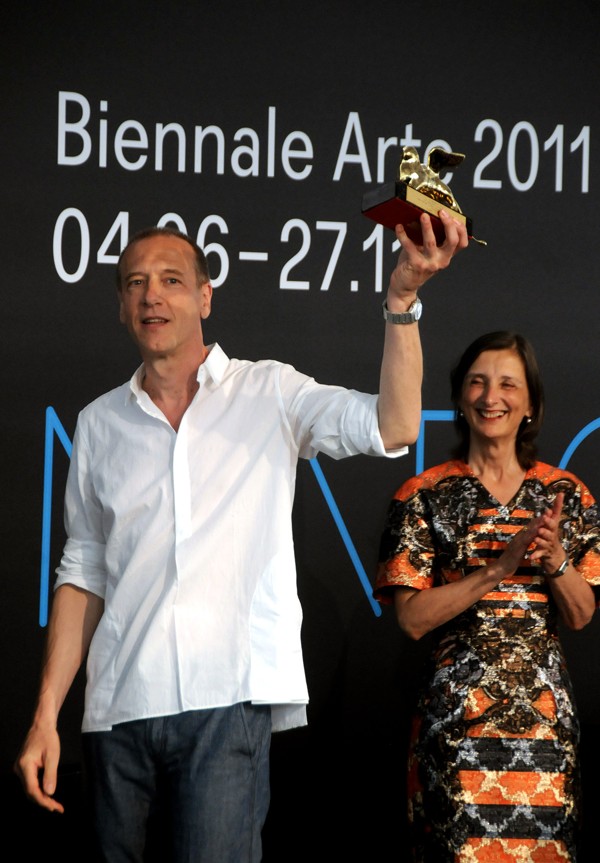 He can't remember the first film he saw. "Probably cartoons. My parents were against television so we didn't really have a TV, and I still don't. I only watch it in hotels. I go to the cinema but I'm not obsessive. I don't think if I did spend my time watching films I would have the freedom to do what I do and cut them up. Same with these comic books. Now I buy them in bulk whenever I'm in a flea market or Salvation Army store but I don't bother to read them any more."
That sounds a little – clinical. "Yep. I'm not so emotionally invested in a film or a comic book. But it's there and I will look at it and if it has a resonance, I will pay attention to it, extract it, try and use it."
Perhaps punish it? "Punish? Hmm." Marclay laughs good-naturedly, surprised.
I'm thinking of the downtrodden records, the eviscerated manga, the slashed celluloid. In his art-student days in New York, Marclay's creativity found expression through punk rock and that energy still fuels his work. In 2015, he made a video, shown in both London and New York, called Surround Sounds. It consisted of onomatopoeic words cut out of comics – BOOM, WHOOOSH!, ZOOOOM! – that were then ani­mated, soundlessly. "I want it to be aggressive, I want it to be physical," Marclay told The New York Times.
But one of that paper's critics observed that while The Clock lured people to stay (on those Ikea sofas), Surround Sounds almost pushed them away. There's a singular control – discipline is perhaps the better word – in his art: of the work, of himself, of the viewer. You don't experience it in the unassuming person. He's a "terrible" boss, he says, and any man who crosses an ocean for his female partner's job is no dictator. But the authority is in the work.
Swiss artist Urs Fischer: is he serious?
How much is he playing with people's suggestibility? "Well. First, I do it for myself. Surround Sounds, for me, is about sound in my head. I was really trying to think of it as a musical composition, yet you wouldn't hear anything. It was all in people's minds."
Like seeing yellow or red or blue in the colour black? "People do see colour differently. We assume that what we see is the same for everybody. And yet, with music, we appreciate that people have different perspectives."
Such as his parents who, unexpectedly (again), listened to very little music. "And still today, I don't listen to that much music. When I listen, I like to listen. I hate music as back­ground, I end up losing myself in it. I can't focus on what I'm doing." So it's not that he doesn't care about it, it's because – "yeah, I care too much. I just cannot make that separation".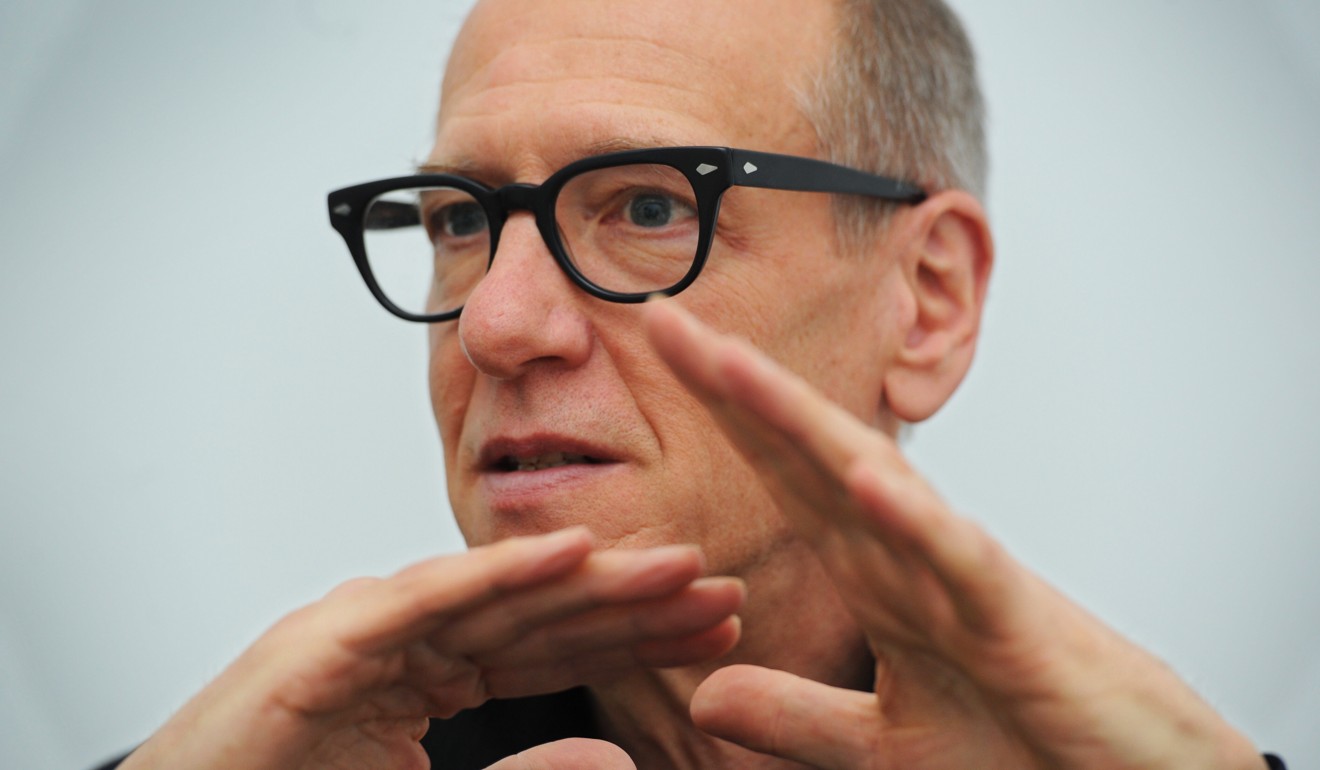 When he looks back at his early work, does he find it inexplicable? Marclay considers this. "I don't always know exactly where it came from because it becomes something else. You look at it through what you did afterwards. You create a chronology that, maybe, is an artificial one." (For once, no pun is apparently intended.)
"We tend to always find connections in unrelated things. That's what I do all the time. With film, you find a thread or a bridge – something that will lead you to the next edit."
Asked, therefore, what connection could be made between a "horrible summer" and a show called "Screams", Marclay laughs. "Well, the summer wasn't horrible. It was stressful because I had a deadline and I'd had a very long year of deadlines and I wanted my summer. But you know, I'm glad I did the work."
He's currently planning three more video projects. "The way I work is very tedious, and it takes a long time because I work with small fragments." He has described the three years he spent working on The Clock as "gruesome"; and yet here he is, punishing himself once more.
One of these videos, he says, is "like Telephones or The Clock but it's very difficult to find footage so it's taking forever". Why go there again? "I'm curious to see the result," he explains. "I think the next video I'm doing will be very different from anything I've done before."
That's for a show scheduled to open a year from now in New York. So the clock's ticking?
Marclay pulls a wry face. "It's always ticking."
"Screams" opens at White Cube, 50 Connaught Road, Central on November 16 and continues until January 13.