"You're not machines! You're not cattle! Dictators free themselves but they enslave the people. Soldiers, in the name of democracy, let's all unite!"
An odd rallying cry to be booming forth from a park in the middle of Yangon, the capital of military-controlled Myanmar, you may think, but the Memory! International Film Heritage Festival, which aims to open dialogue on the heavy censorship that still shackles artistic creation in the country, is itself incongruous.
The powerful voice of Charlie Chaplin, in the 1940 film The Great Dictator, resonates from a giant screen set in Maha Bandula Park, opposite Yangon City Hall, amid a crowd of thousands. When the barber-cum-dictator utters his heartfelt speech about the hardships of a dictatorship and the necessity for the people to unite against oppression, some in the crowd start crying while others loudly cheer and applaud. Few have witnessed such stirring stuff.
The Charlie Chaplin Archives presents a detailed look at the work of a revolutionary
"I didn't know Charlie Chaplin was so political," 31-year-old Kyaw Thu Zar says. "I had heard about him, I knew the movie was a kind of comedy but when I started to under­stand his message, I became so emotional. With my friends, we were clapping to every word."
It wasn't all that long ago that watching one of the foreign films sold illegally on the streets could have resulted in a jail term, but Myanmar has changed.
The Great Dictator is one of many controversial movies being shown in Yangon, the French-Burmese team curating the fifth edition of the festival having picked an audacious theme: films that have been banned at least somewhere in the world.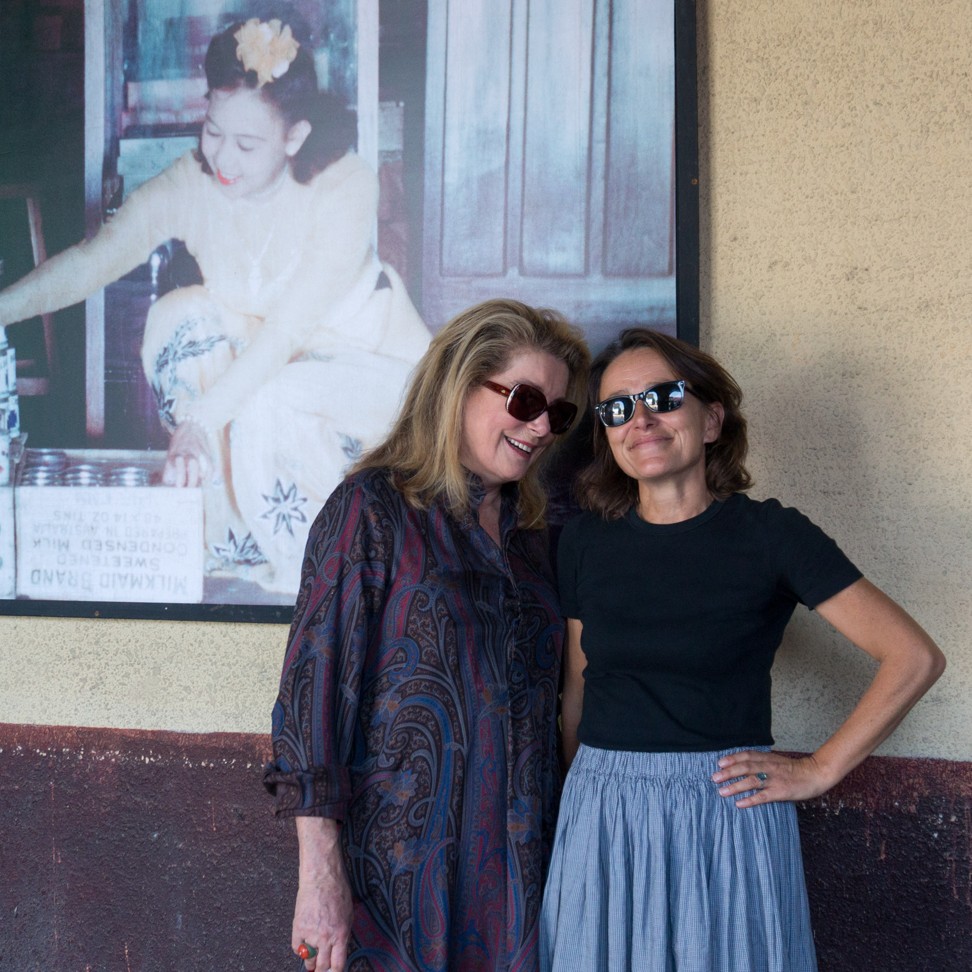 "We knew the project sounded a little crazy from the beginning," says Séverine Wemaere, a co-founder of the festival. "But we meant it that way. The truth is, the Myanmar authorities were quite supportive."
"The idea was to show that censorship is univer­sal," explains Gilles Duval, the other co-founder of the event and who, along with Wemaere, specialises in the restora­tion of old movies. "You have had censored movies every­where, anytime. We wanted to say: 'It's not only in Myanmar.' So we could all relax and start a dialogue about it."
Sixty films are being shown, in cinemas and public spaces. Alongside less risqué fare from guest filmmakers such as Taiwan's Tsai Ming-liang and Singapore's Tan Pin Pin, the programme includes movies from director Luis Buñuel, who was threatened by the Spanish fascist regime; Sergei Eisenstein's Battleship Potemkin (1925), which was banned in the Soviet Union; Akira Kurosawa's The Men Who Tread on the Tiger's Tail (1945), which was kept off screens during the American occupation of Japan; political animated feature Persepolis (2007), directed by Iranian Marjane Satrapi and Frenchman Vincent Paronnaud; and the Billy Wilder cold-war comedy One, Two, Three (1961), which was banned in Finland.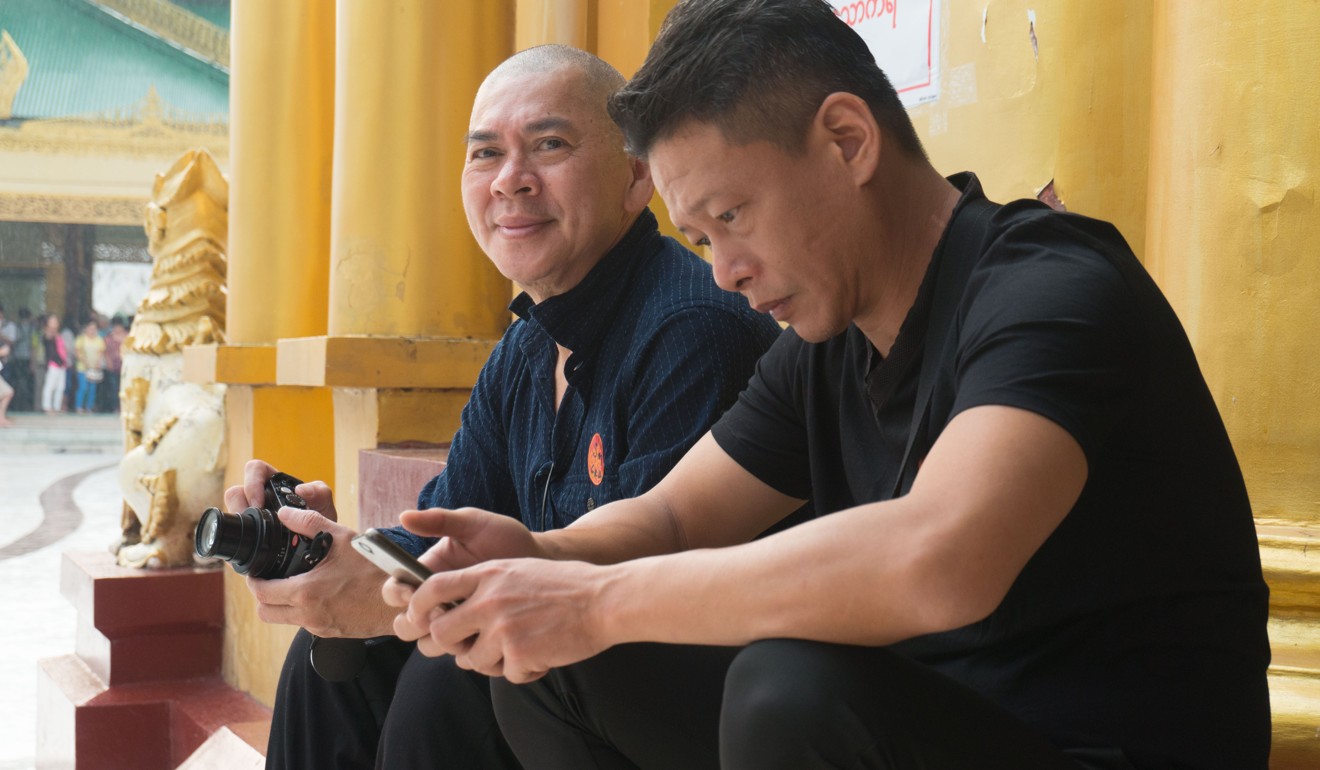 The audience for most is a colourful mix of cinephiles, passers-by, employees from surrounding shops on a break and street kids all too happy to roam through the crowds with flashlights. Perhaps surprisingly, the old European and American films being shown deal with themes the local audience can all too easily relate to: struggle and hunger during wartime (Battleship Potemkin), social differences and an impossible marriage (You Can't Take It With You, 1938), the shame of pregnancy outside wedlock (One, Two, Three) and the recurrent theme of political prisoners.
And there's plenty of slapstick to be found in films whose dialogue is unintelligible.
"I loved it when the fat man missed the armchair," says a movie-goer in her 60s who says she doesn't understand English, after watching an unsubtitled Frank Capra film.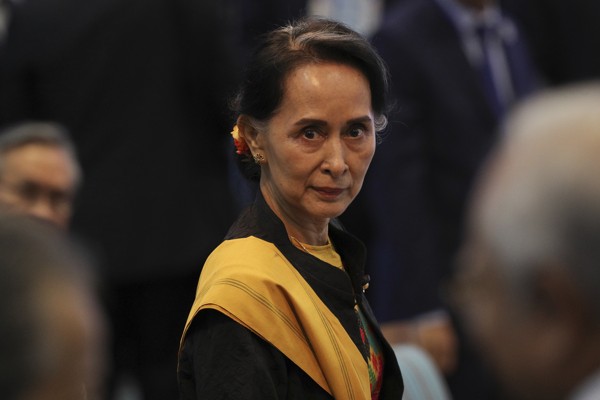 Planning for the festival, which was held from November 3 to 12, took place as the latest crisis involving Myanmar's persecuted Rohingyaminority began to unfold. Hundreds of thousands were forced to flee over the border, into Bangladesh, from northern Rakhine state, to escape alleged atrocities by the Myanmese army. Myanmar's leaders, including former peace icon Aung San Suu Kyi, came in for heavy inter­national criticism as a boycott of the country was urged.
"I must say there were a few days when we had some doubts," Wemaere says. "Should we go ahead or not with the festival? Would we be able to, with the support of international sponsors? But in the end, most people decided to go ahead. In that sense, the theme of censorship was seen as rather progressive, and helped us."
Censorship still applies to all cultural content in Myanmar, especially films. The army, the police and Buddhism cannot be discussed.
"There was a scene in a direct-to-video film, Mike San, Kyaik Lan Go Yway ["be bad, choose your own way"], where the police arrived too late after a murder [...] the board said it was not giving a good image of the police," says young director Mg Sun, whom I encounter at the beautiful but decrepit Waziya cinema, which dates from the 1920s, making it the oldest in Yangon, and which is where most of the festival films are being screened.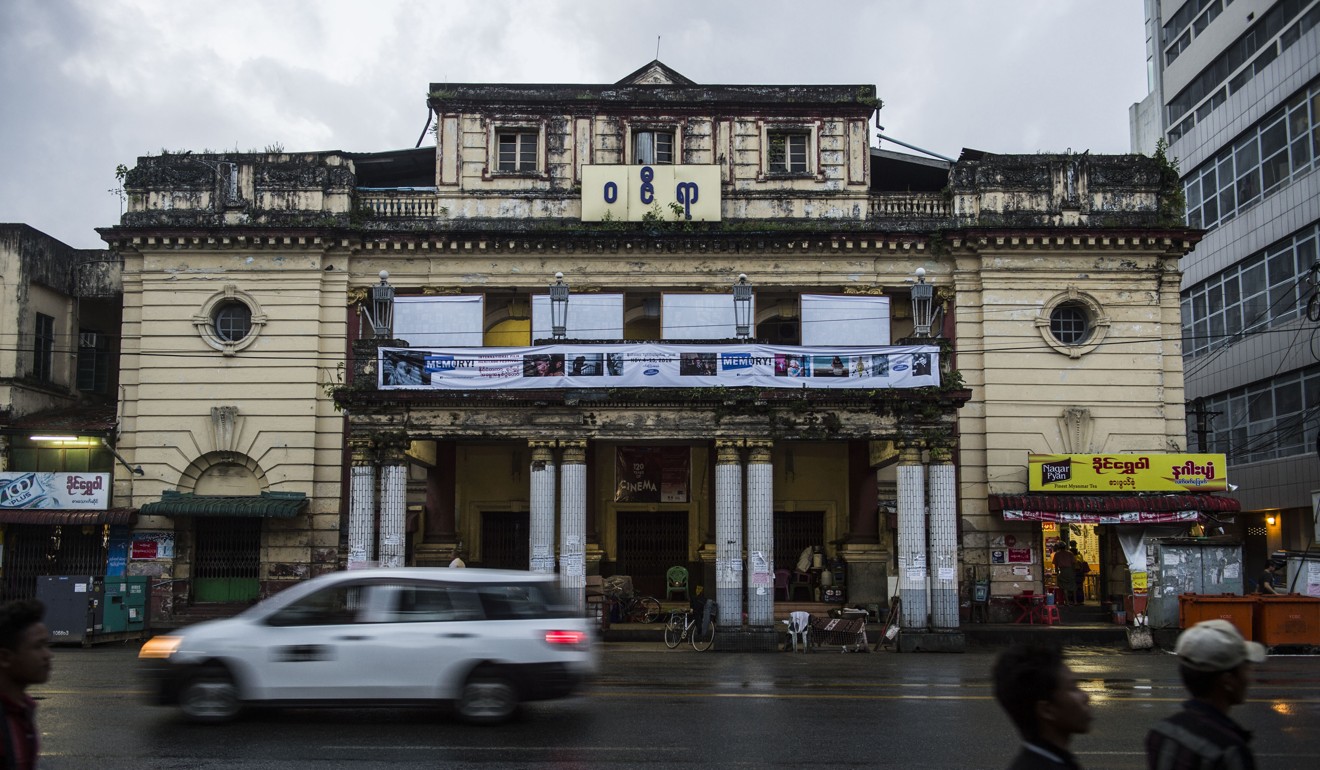 Ethnic conflict and anything deemed threatening to "national unity" are also forbidden, as is the picturing of a monk engaged in any kind of immoral behaviour.
"Last year, a movie about a young monk who was struggling to leave his girlfriend and party life and embrace monastic life was censored," says independent director Thaid Dhi, when we meet at the Myanmar Journalism Institute, "even though the movie showed him with good intentions and finally succeeding to become a good monk."
With more than half of the male population of the country entering monkhood at some point in their lives, the film touched a nerve.
Nudity is a huge taboo, and "Sex scenes? Forget about it," Mg Sun says. "For now, we cannot even kiss on screen."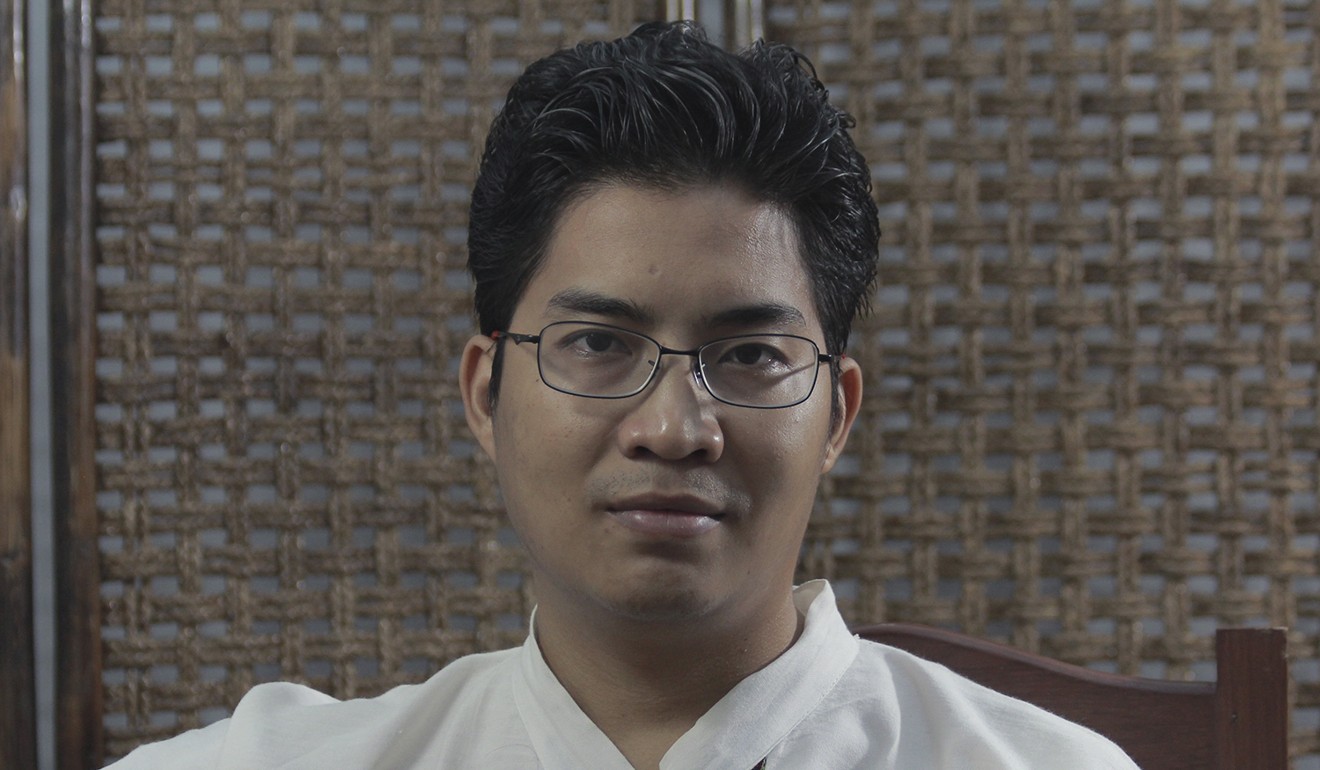 Even during the festival, sex scenes are censored. The method hasn't changed in 100 years: the projection­ist is given the precise time codes of an offending scene and uses a piece of paper in front of the lens to obscure an unwel­come naked body part or a cigarette. Festival viewers must twiddle their thumbs for a couple of minutes as Laura Harring and Naomi Watts kiss and caress each other in the Mulholland Drive (2001) lesbian scene and Tsai's urinating males – a recurrent theme in the director's films – relieve themselves in private.
"LGBT issues are banned, too," Mg Sun says. "You can picture a homosexual character only if he/she is funny or ridiculous, but nothing too realistic."
Last year, an independent local movie, A Simple Love Story, portraying a love affair between a tomboy and a transgender woman, was awarded a prize at Yangon's annual Wathann Film Festival.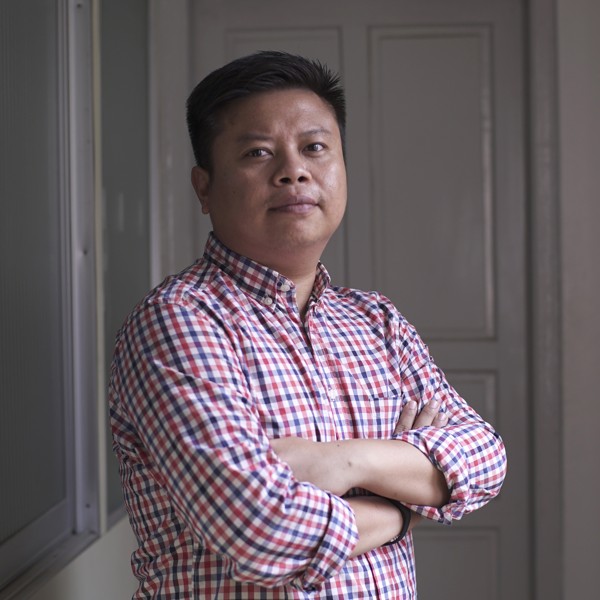 "It was banned by the censors, so we could not show it publicly, but we decided to maintain it as a competitor," says Thu Thu Shein, director of the Wathann festival, which she co-founded with husband Thaid Dhi. "The members of the jury saw it and decided to award it. It was a good strategy; it got the attention of the press."
The country no longer has a blacklist of actors and directors, and filmmakers no longer need to submit the script of a movie to the censors before shooting. But, after a rapid opening up from 2008, many sources agree, censorship tightened again after Suu Kyi's semi-democratic government came to power last year.
"Under Thein Sein [Myanmar's president from 2011 to 2016], the authorities were trying to promote a good image to the international community, so they let many things slip through," Thaid Dhi says. "I used to have the cell phone number of the censorship board's director, so we could talk things through.
"Today, it is more complicated."
New staff at the Ministry of Information and vague guidelines add to the confusion.
"Before, we knew who the enemy was, so to speak," says Aung Min, a scriptwriter who has penned internationally acclaimed films such as The Monk (2014) and The Clinic (2015). "Now, lines are blurred; we never know how they will react. Sometimes little things get censored and bigger ones don't."
A director who wishes to remain anonymous is more forthright: "Before, we knew who to pay."
To address these issues, workshops and conferen­ces on censorship have been organised for the Memory! festival. These events gather members of the power­ful censorship board and the artists they have censored around the same table at the Sule Shangri-La hotel, in Yangon. "This kind of open talk between censors and artists is a rare opportunity," says former actress Grace Swe Zin Htaik, a member of the censorship board and a patron of the festival.
"We have to keep and promote our values," says U Thein Naing, director of the censorship board. "Until now, we have not been good at promoting Burmese culture through cinema. Young directors are so angry at us, they are mixing up the breaking of the censorship law with quality. In most contemporary movies, the problem is not censorship, it's quality."
Although she insists she joined the board to change the censorship system from within, Swe Zin Htaik agrees.
"Myanmar is going through a crucial identity-building phase," she says. "After years of silence under strict military rule, we have to choose who we are, and what we have to say. So it's all the more important that we produce high-quality cultural content. Do we really want it to be about how great alcohol and drugs are, like many songs and films are doing these days?"
She also suggests the recent Rohingya crisis and the rise of ultranationalist monks have shown the dangers of completely free speech. Hate speech and the glorification of drugs and alcohol are taking a toll, particularly among the young and ethnic minorities.
Without denying these issues, the artists argue that censorship does not offer a satisfactory solution.
"The key is to build a healthy, resilient society," Thaid Dhi says. "Japan is producing loads of porn movies; are they rude people? Is there more rape in their country? We should focus on creating a society that can resist whatever is on screen, with no violence."
He also questions specific rulings: "In The Monk, there is a murder scene where one character is killing another by slitting his throat; the blood splashes out on a Buddha statue. The image was censored – the splashing, not the slitting. So we have to ask, what is the censorship protecting us from?"
We have a joke ... about these commissioned movies, the 'movies for peace', as they say. We call them the 'peacefoolish movies' ... A movie must reflect the director's personal view, it can't be controlled.
Like most directors of his generation, Thaid Dhi doesn't believe in the old socialist idea that films should educate the people. And for Mg Sun, that idea runs contrary to the democratic ideals of the new government.
"If I were to educate the people, that would mean I consider myself superior, like a teacher," he smiles. "That can't be."
A new law on censorship proposing radical changes – a rating system rather than blanket censorship – is under discussion in the parliament.
"Myanmar is actually moving very fast in the process," Tsai says. "Taiwan remained under martial law for 38 years, between 1949 and 1987, and in all that time the work of movie directors was really difficult."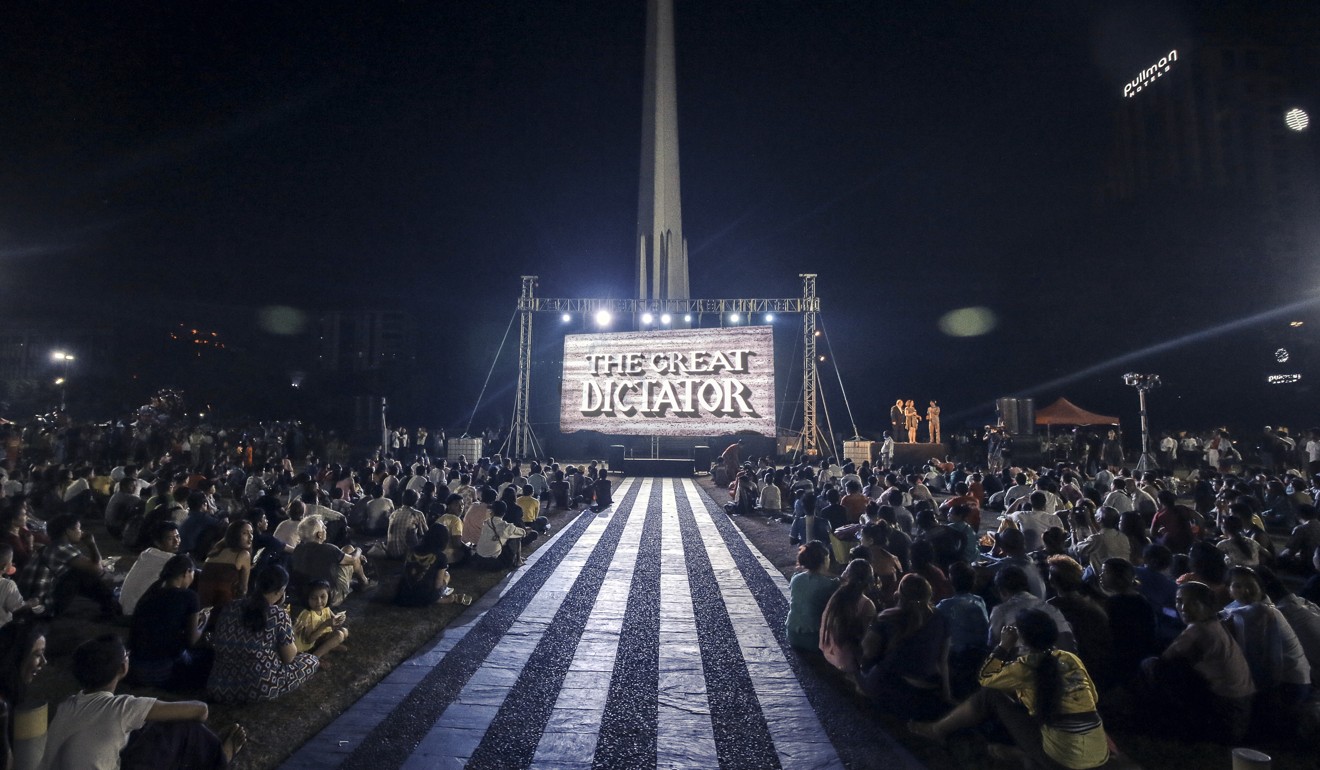 A favourable environment for Myanmese film­makers could help revive an industry that once shone across Asia. Few Myanmese now remember the time when their cinema was considered the most advanced in the region.
In the 1920s and 30s, studios A1 (which began as a shirt-vending company) and Parrot (originally a taxi firm) were the biggest in Southeast Asia. A1's first documentary, a recording of the funeral of U Tun Shein, a Burmese independence leader, met with strong domestic success, as did the studio's first feature, Love and Liquor (1920), a silent film depicting the toll of gambling and alcohol on an ordinary man's life.
Burmese studios were producing about 100 films a year until the early 70s. But, according to the National Archives Department, 90 per cent of the black-and-white movie reels have been lost or damaged beyond repair. Only about a dozen of these national treasures are being restored, mostly with foreign funding. The Memory! team has restored two: Mya Ga Naing (The Emerald Jungle, 1934) and Phyo Chit Lin (My Darling, 1950), which prove to be big hits at the festival.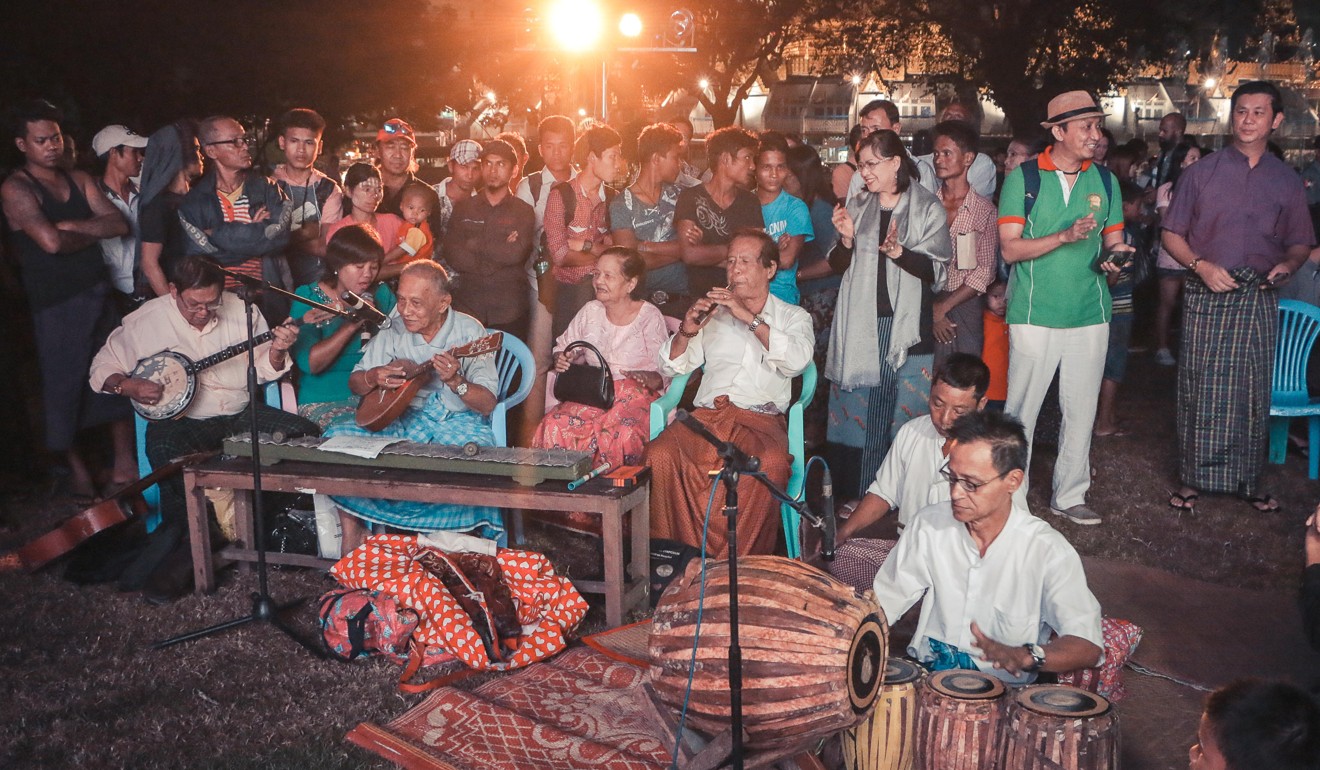 "We are hoping for a revival of this golden age of Burmese cinema," Duval says. But to achieve that, local directors and producers need international funds, co-production contracts and, to some extent, outside technical expertise.
"We need collaboration with translators, producers, it's vital" says Midi Z, a Taiwan-based Myanmese director whose film Ice Poison (2014) is being shown at the festival, when we meet in the Sule Shangri-La's lobby cafe.
One of the highlights of the festival is the Myanmar Script Fund (MSF), an award for best script by a young local, who will receive US$10,000 and technical help in developing the project into a movie.
"We are looking for stories that are particular to this country, this culture, but can also be universal enough to be understood anywhere," says Isabelle Glachant, a Beijing-based film producer and a member of the MSF jury, most of whom are Western producers working in Asia.
There is nothing that looks more like a propaganda movie than an anti-propaganda movie
This year, after heated debate, the jury chooses two winners: Fruit Gathering, inspired by a Rabindranath Tagore poem about two women who have radically different approaches to men and sexual freedom; and Way Back Home, a story about the return of a mother and daughter to their native village in Kachin state, and their fight to preserve traditional agriculture and medicinal plants. The collaboration being offered comes at a price, however. Dependence on foreign funds can be a threat to integrity.
"Foreign producers, as open as they can be, may have a certain vision of Myanmar, certain expectations," says Midi Z, who is head of the MSF jury this year. "They tend to be more sensitive to political movies, themes like feminism or life under dictatorship. That may influence young directors and scriptwriters to become more political and less personal with their stories, if they want to be financed. That worries me, because there is nothing that looks more like a propaganda movie than an anti-propaganda movie."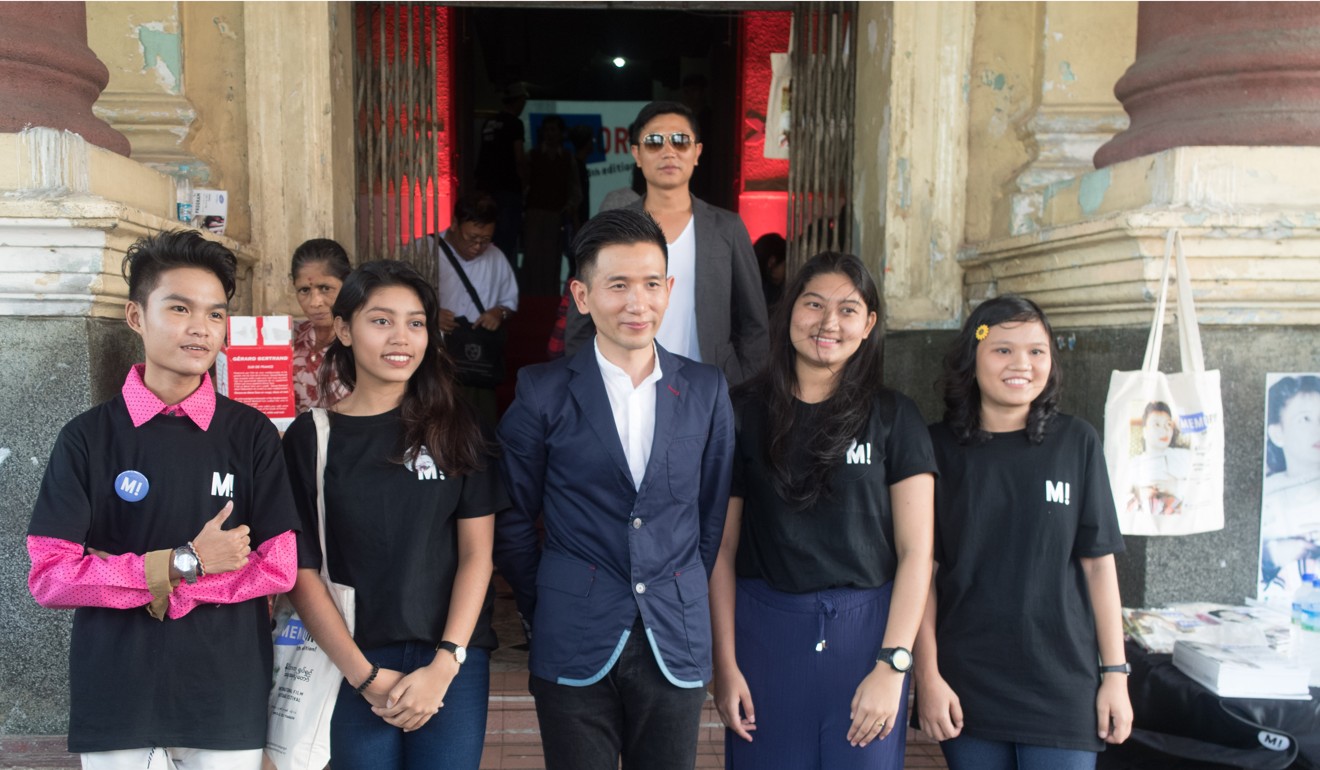 Non-government organisations and European embassies are also major sources of funds for young indie directors, but they, too, try to espouse a cause – the rights of LGBT communities, for instance, or peace in conflict zones – to the exclusion of the vision of the filmmaker or author.
"A foundation commissioned me for a documentary," Midi Z recalls. "But [...] they said it had to highlight the 'positive side'. I could not do it."
Aware of these issues, the organisers intend the MSF to be different. Members of the jury, they say, are selected for their experience with Asian directors and their open-mindness.
"We have a joke with our colleagues," Duval says, "about these commissioned movies, the 'movies for peace', as they say. We call them the 'peacefoolish movies'. Of course, there is no question that a movie can be a powerful tool for peace. But a movie must reflect the director's personal view, it can't be controlled. This is the difference between a commissioned movie and cinema."
Myanmar's once-booming film industry gears up for act two
Overall, the industry is in a sorry state. Mainstream Myanmese cinema is producing a dozen films a year, of poor quality, according to cinema lovers. Independent cinema has a few skilled directors that have just started to appear at international festivals. But the two worlds don't mix.
"The rise of Burmese cinema cannot happen without a strong collaboration between mainstream and indepen­dent cinema," Swe Zin Htaik says.
To her disappointment, the mainstream directors, actors and producers who were invited to the festival have not shown up. But she hasn't lost hope: "In a few years, I think we can be back as significant actors in world cinema.
"There is so much talent here."