Sen Bunthoeurn is stretching by the side of his nation's only ice rink.
"How are you feeling?" I ask. In reply, he mimes throwing up – three times for good measure. It's safe to assume he's nervous.
Uplifting music blasts over a stereo system before a booming voice announces the making of history: "The first skater to represent Cambodia is Sen Bunthoeurn."
It's mid-August and Sen Bunthoeurn, a member of Cambodia's ice-skating team, is going through his paces at a dress rehearsal, having spent every spare moment of the past couple of years on the rink, preparing to compete at the Southeast Asian Games, in Kuala Lumpur.
"I started learning to skate in 2013, but not figure skating, just the hockey style," the 27-year-old says. "I only started figure skating in 2014."
Sen Bunthoeurn, who had left his rice-farming family in Takéo province in 2009 to study at university, saw a newspaper advertisement for a position teaching ice skating to children in May 2013. Despite having no experience, he applied.
"I was really interested in skating," he says. "I had seen people roller blading and it looked really cool, so when I saw the ad, I wanted to ice skate. They needed staff who could skate, but I didn't know how to. I just promised them that I would try hard. They said, 'We'll let you do it for 15 days – if you can improve you can keep doing it.'"
Win or lose, it's another thing. But [we have] the pride of being there – for the very first time we are part of the sport
His passion grew until he was tapped for the national team. Since then, for four hours a day, five days a week, he can be found practising at the rink, on the top floor of Phnom Penh's Aeon Mall. Often, he has had to dodge children pushing practice dolphins and beginners wobbling around the tiny patch of ice. Much of the rest of his days have been taken up with strength training and conditioning, as well as coaching youngsters.
Along for the ride has been Khiev Panha, the only other skater on the six-person team, formed in 2015, deemed skilled enough to represent Cambodia.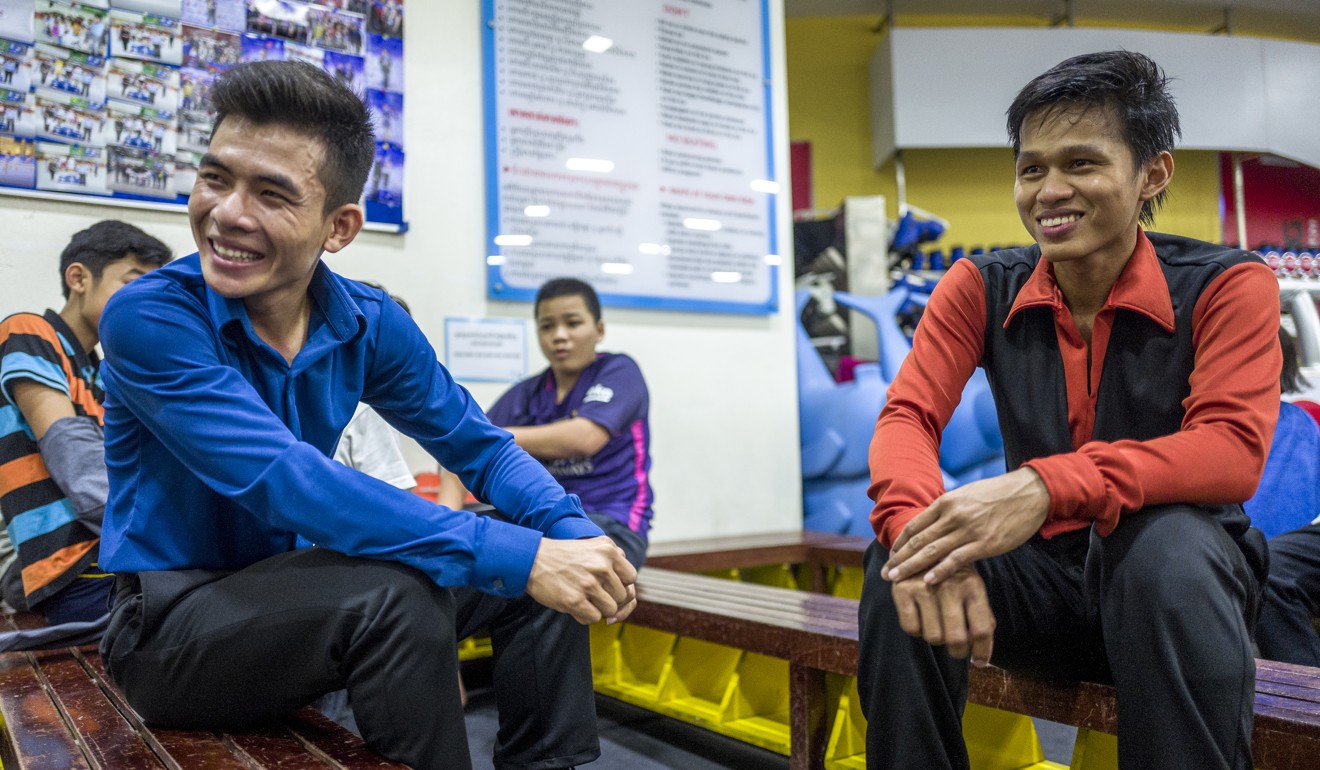 Khiev Panha has been moonlighting as the ice-main­tenance man, working six-hour shifts driving a Zamboni machine up and down the rink to keep it smooth. The 23-year-old, who also moved to Phnom Penh from a rural area to attend univer­sity, started skating in 2013 while working at a clothing shop near the capital's first ice rink, where Sun Bunthoeurn was first employed and which has now closed.
"When I had free time, the boss let me train on the ice," he says. He admits he was "not good" in the beginning, but a series of international coaches have helped him to improve.
The most recent has been Clair Ben Zina, who represented Great Britain in her days on the ice and became Cambodia's head coach in March. More strict than those who came before her, according to Khiev Panha, she has whipped the pair into shape – despite it being "unheard of" elsewhere for adult learners to skate competitively.
It's amazing that I can skate on the big ice. And to compete with Olympic guys, oh my God! I'd just seen them on YouTube before and now I can compete with them
"It's an early specialisation sport," Ben Zina says. "So usually you want to get your hands on a young skater by six or seven years of age, and they need to have a certain skill set by the age of 12 and then the development continues from there. When you learn as an adult, it's almost impossible to get that same skill level and even just the flow across the ice, the confidence, it's all a different dynamic."
Competing in the individual men's figure skating category in Kuala Lumpur, the skaters must each perform two routines, one 2.5 minutes long, the other 4.5 minutes.
But before the pair travel to Malaysia, they need a full dress rehearsal, bringing together all the elements of their performances, which have been drilled into them through practice, and they must show off the results of their hard work to the man paying the bills, businessman Meng Hieng.
Dressed in a velvety blue formal shirt and smart black trousers, Sen Bunthoeurn glides onto the ice, delivering a solid show to whoops and polite applause from onlookers. During practice, he tumbled in an attempt at a spin, his expression falling nearly as far. But he pulls off his routine without a hitch this time, ending it visibly relieved as he skates to his coach, who grips his hand and smiles.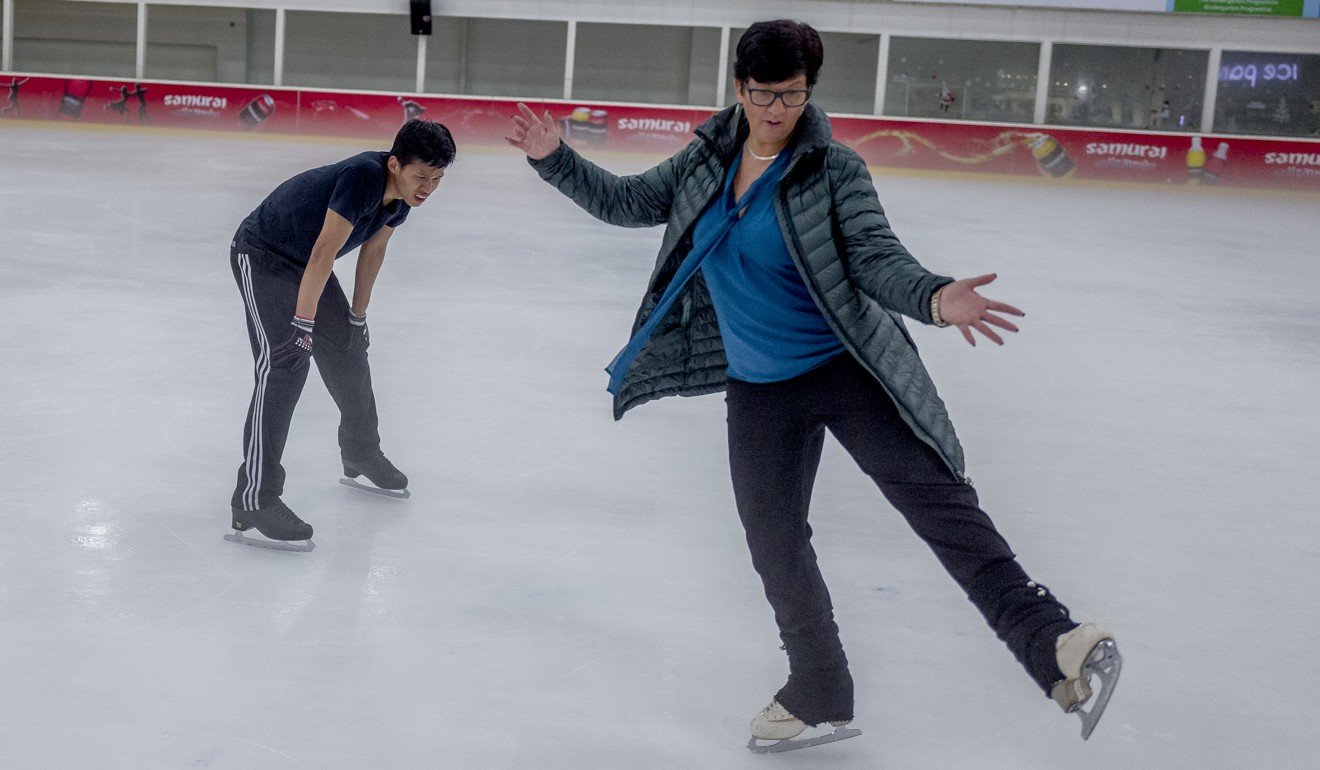 "Bunthoeurn, especially, is quite a natural skater. If he were eight or nine years of age now, he would be a really big talent," Ben Zina says later. "He's developed immensely in the months since I got here; he's really improved. But he's just learned late."
For Khiev Panha, who is not as strong on the ice, the routines are a little trickier. He recovers gallantly from a single, brief fall and bows to an appreciative audience.
"Would it be fair to describe them as underdogs?" I ask Ben Zina. "Sadly, yes," she says.
In just a few days, the pair will be en route to Kuala Lumpur.
Rallying cry: Cambodia's all-female rock band of ex-garment workers
It is a time of firsts: the first time ice skating has been included as a discipline at the Southeast Asian Games; the first time Cambodia has competed at an international level in a winter sport; the first time Khiev Panha will have boarded an aeroplane.
"I feel excited but also worried because I've only ever trained in a small rink and [the competition] will be at a big rink," he says. "We have a few days to train before, but it's my first international competition."
A full-sized ice rink measures 30 x 60 metres ("a similar size to an Olympic pool") while the one in the Aeon Mall is about half that size, according to Ben Zina, putting the team at a real disadvantage: skaters need space to build up enough speed to execute jumps.
"We're supposed to skate with speed and a lot of power across the ice, and you can't train that on a rink this small," she says. "One of the ways you can improve a skater's skills is drill training, up and down the rink."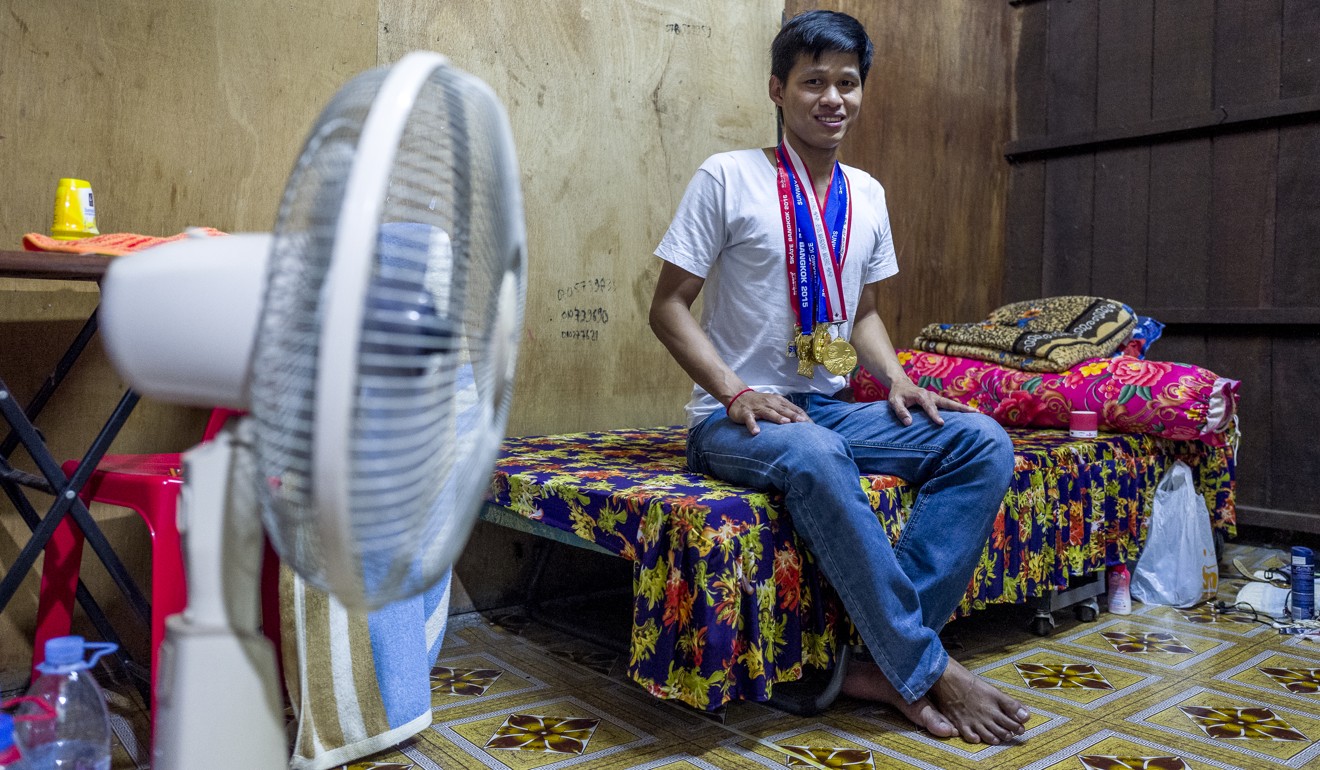 It's no surprise that in tropical Cambodia, where the thermo­stat rarely falls below 30 degrees Celsius during the day, winter sports have failed to catch on among the general public. Furthermore, Cambodia left behind its lower-income status only in 2016, graduating to a World Bank lower-middle ranking after making massive strides in poverty reduction, so funding for figure skating is not high on the nation's list of priorities. Which is where Meng Hieng, who owns several family-friendly businesses in Phnom Penh, such as Monument Books, Kids City and the ice rink, comes in.
"I realised after I opened the rink [that skating was] more complex than I had thought," he says. "You cannot get on the ice if you don't know how to skate. It's going to be tough. And how many people are skating in Cambodia? Very few. But having said that, the rink had been built, so what could I do? We had to move forward or else we closed and said, 'Bye bye.'"
How 'stick net ball' – or lacrosse – is aiming to become more than just a niche sport in Hong Kong
And Meng Hieng moved forward in a big way. He created Cambodia's first ice-skating federation in 2015 and handed out skating scholarships to promising youngsters, hired coaches from overseas and bankrolled the country's first national team.
"We don't think about costs," he says. "We dedicated – I dedicated – the time, the money, the efforts that I have. After two years of hard work, we have two guys going to the Southeast Asian Games; skaters that started in their early 20s. And they can do this. This is unbelievable. And [look] where these guys are coming from. Win or lose, it's another thing. But [we have] the pride of being there – for the very first time we are part of the sport, among Asean – and I call that a success."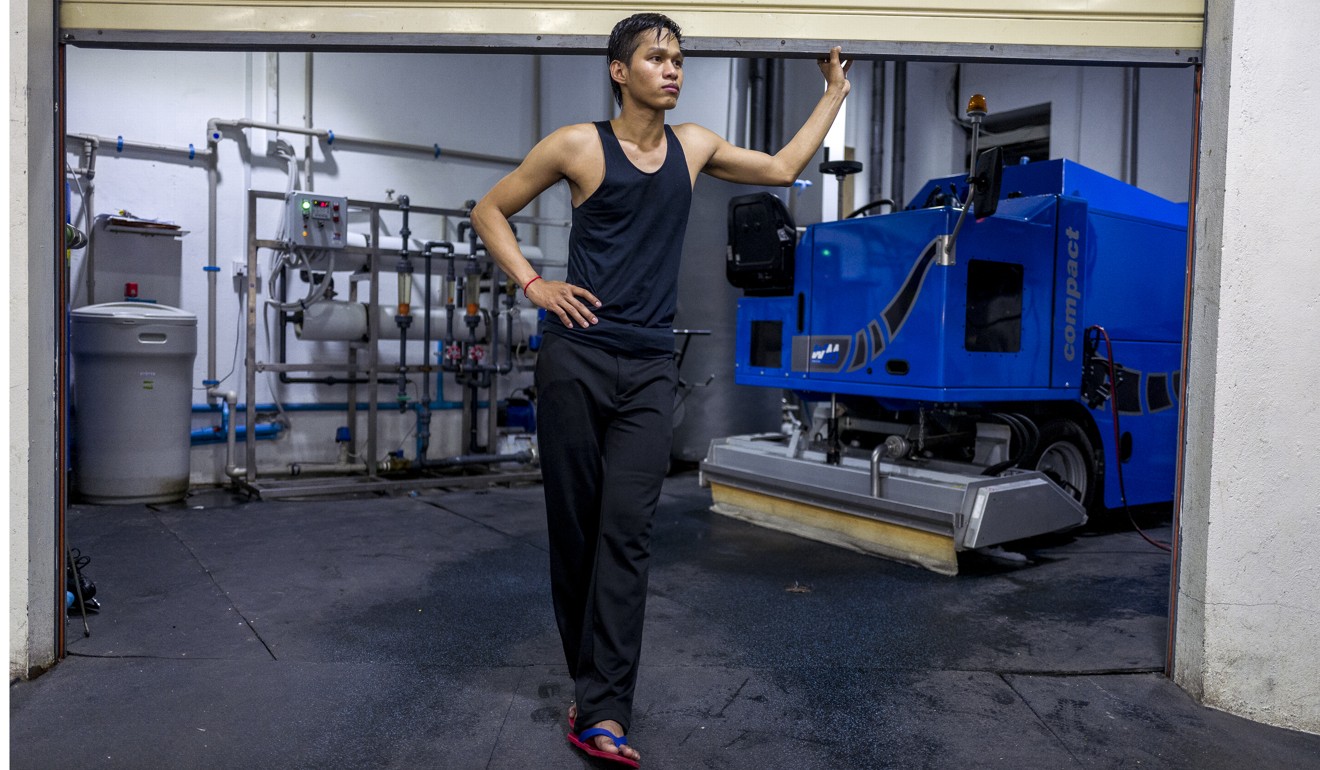 Out of nine competitors, Sen Bunthoeurn placed 8th overall in the men's figure-skating competition at the Games and Khiev Panha 9th. Although it was the first time figure skating had been included as a discipline, countries such as Malaysia and the Philippines have been nurturing talent in the sport for years.
Filipino skater Michael Christian Martinez – the first Southeast Asian skater to qualify for a Winter Olympics when he represented his country in Sochi, in 2014 – was in the field, taking silver behind Malaysian star Julian Yee. Figure skaters from Thailand and Indonesia also competed.
The experience left the Cambodian pair "a little over­whelmed", Ben Zina says. "They were a little like deer in the headlights – a lot of work we'd done in training disappeared. In such a stressful situation, all their bad habits came back, which is normal. But they both got more points than I was expecting, and [...] there was just a respect for us being there."
"I'm really happy that I can perform like that," Sen Bunthoeurn adds. "It's amazing that I can skate on the big ice. And to compete with Olympic guys, oh my God! I'd just seen them on YouTube before and now I can compete with them."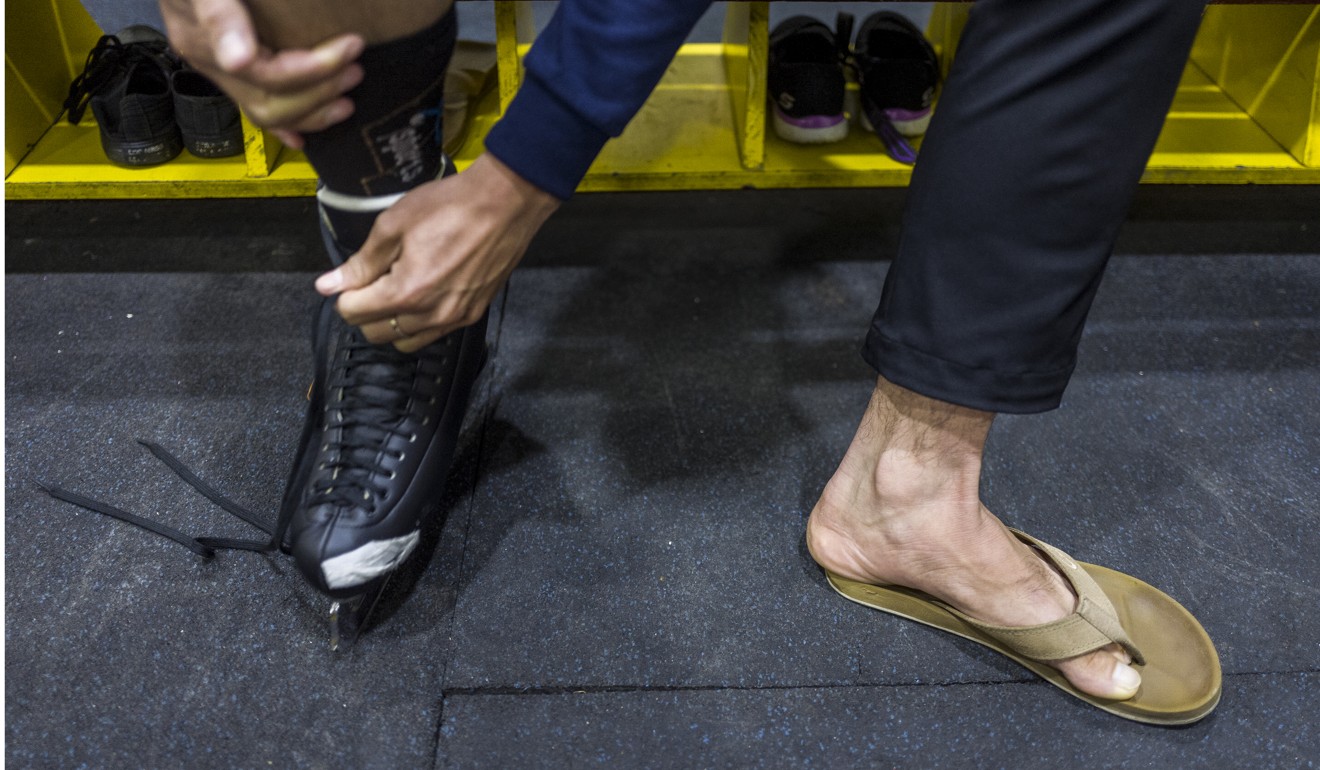 Ben Zina doesn't want Cambodian skaters to compete with Olympians just at regional events; she wants to take the team all the way to the Olympics itself.
"My goal is speed skating in 2022 and figure skating in 2026," she says, referring to the upcoming Winter Olympics. "I've currently got a 10-year plan for the figure skating – it really does take that long. The speed is more achievable by 2022, but totally dependent on a bigger ice surface."
And that looks likely. According to Ben Zina, the team will move into a new, and larger, ice rink next year. Meng Hieng is funding it from his own pocket – despite the Aeon Mall rink costing him US$18,000 a month in electricity bills alone.
"It's going to make a massive difference to the future," Ben Zina says. "It will not quite be Olympic-sized but it will be the right dimensions – an oblong. At the moment, [they're skating on] a square."
Southeast Asia's largest circus festival celebrates 10 years in Cambodia
An official from the Cambodian Ice Skating Federation tells me the organisation hopes the government will increase the tiny amount of funding it gives to the sport, but Ben Zina is oversee­ing the launch of a new training academy, a "clear pathway" for beginners and amateurs to improve their abilities both on and off the ice, and starting outreach programmes in schools to find youngsters with skating potential.
Although now role models for younger skaters, Sen Bunthoeurn and Khiev Panha are unlikely to be involved in the Olympics bid – they're just too old to make it to Beijing or beyond – and have scaled down their skating.
"I'm not training any more – I need to earn more money for my family," Sen Bunthoeurn says, referring to his relations back in Takéo. Staying away from the rink has been making him "sad", however, so "I just come one or two times a week."
But it's perhaps unwise to write him off just yet; there's the next Southeast Games to come. Manila 2019 may just be the making of Sen Bunthoeurn – and Team Cambodia.