The email came barely two months before Christmas, in 2007. My editor wanted an article about manufacturing in China. Products being sold around the world were made in the country and he wanted to prick the conscience of consumers before the festive season shopping orgy began – so the focus was to be on labour conditions and the quality of products. Especially toys.
There was no better place to start than in Yiwu, the Zhejiang province manufacturing powerhouse and a favourite low-cost market for retailers. Christmas goods were already halfway to tinsel-dressed shelves across the globe, but Valentine's Day would be next, so the factories were still hard at it. Stuffed hearts bearing the words "I love you" in all imaginable languages – albeit with spelling mistakes here and there – filled the first factory I managed to sneak into.
Foreign 'inspectors' hit the streets in booming Chinese market city Yiwu
Basic hearts were filled with polyester and cost about one yuan. The most expensive had a battery-powered speaker: when pressed, a robotic voice would say, "Te quiero". Well, those in the toys destined for Spanish-speaking markets did.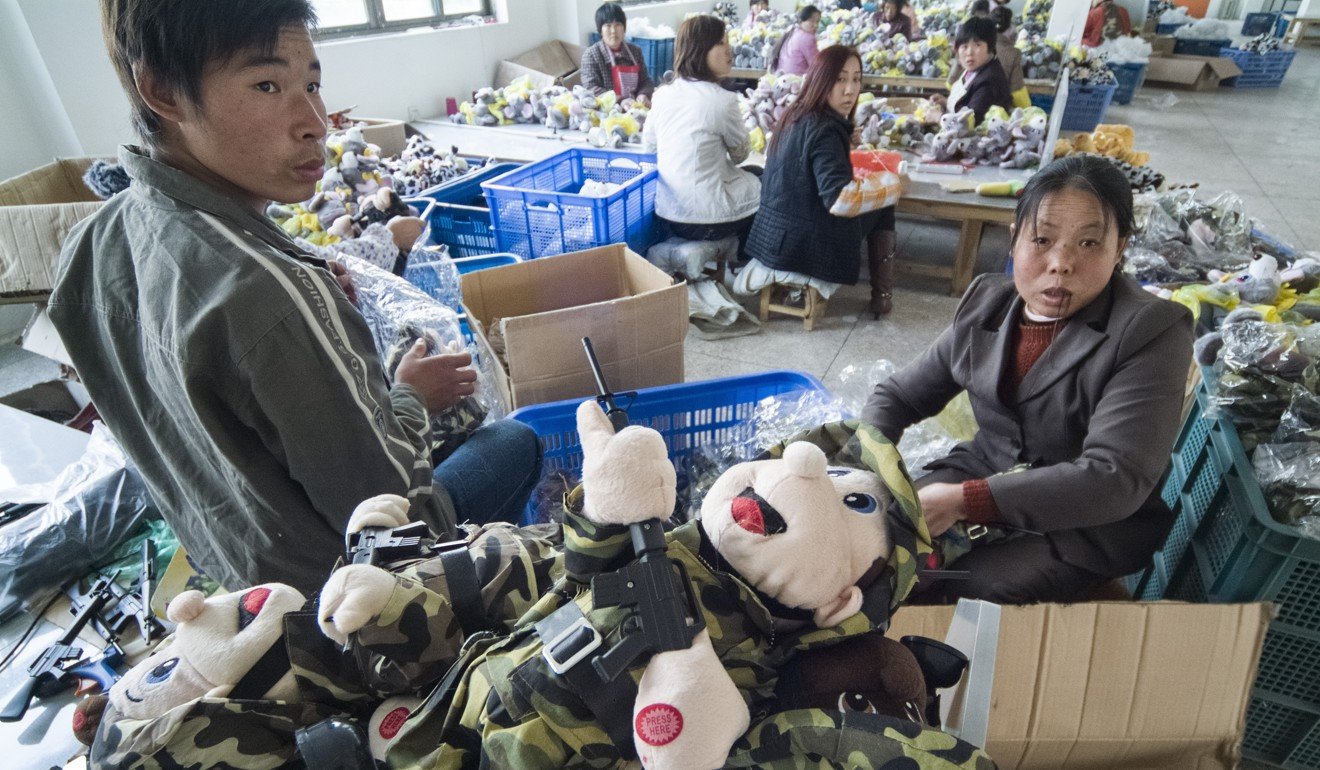 Breaches in labour laws were easy to spot. In fact, it was hard to find anything that met European standards. Young women handled toxic materials without protec­tion, bent over sewing machines for more than 14 hours a day with no over­time pay. They lived in filthy dormitories provided by the company – and paid highly for the privilege. The factory floor was dirty and cold; employees wore thick jackets and complained of pain in their fingers.
"I can sew more than 1,000 hearts a day," 24-year-old Wen Xiqi told me. For that, she earned 40 yuan. As a migrant from Sichuan province, she was happy to send 300 yuan a month home to her family. "That's about what farmers make, so it makes a big difference," Wen said. She had no insurance, so prayed she wouldn't fall sick. If no big order was being proces­sed, she would be given a day off each week. But the financial crisis had yet to hammer the global economy, growth in China was peaking at 14.2 per cent and business was booming. Some­one had to work to keep the factory owner's shiny Audi A8 on the road. "I haven't had a day off in a month," Wen said.
When I arrived in Guangdong, factories offered 1,200 yuan a month, and they did not pay the overtime that we were forced to work, nor our health insurance. We were given accommodation in horrible bunk beds that they charged us hotel prices for, and they fined us for any nonsense. It was a living hell
Workers at the factory had money deducted from their salary for a range of reasons. "They set impossible targets and fine us when we don't meet them," Wen said. There were also charges for food and lodging.
Workers at a nearby toy factory smuggled me in one night so I could photograph mountains of stuffed toys and the conditions in which they were produced. The lack of equip­ment was astonishing; almost everything was done by hand.
"Wages are so low that managers don't want to invest in technology," a worker surnamed Wang told me. The salary of many in that factory didn't break the 1,000-yuan mark, even with overtime, but that was still higher than the 750 yuan minimum wage in the provinces.
On a raid with the secret agents chasing China counterfeiters who cost big corporations billions
At a third company I visited, which specialised in plastic and electronic toys, bright red waste water was discharged directly into a small river that ran alongside the concrete building. "If you pay officials a nice hongbao [a red envelope containing money], they will look the other way," a manager bragged, believing I was a potential customer. "Having European environmental standards in place would make our products much more expensive. And, after all, consumers just care about price."
When I filed the story, the editor had just one question: "Did you see child labour?" I hadn't, but the rest fitted Western preconceptions of manufacturing in China.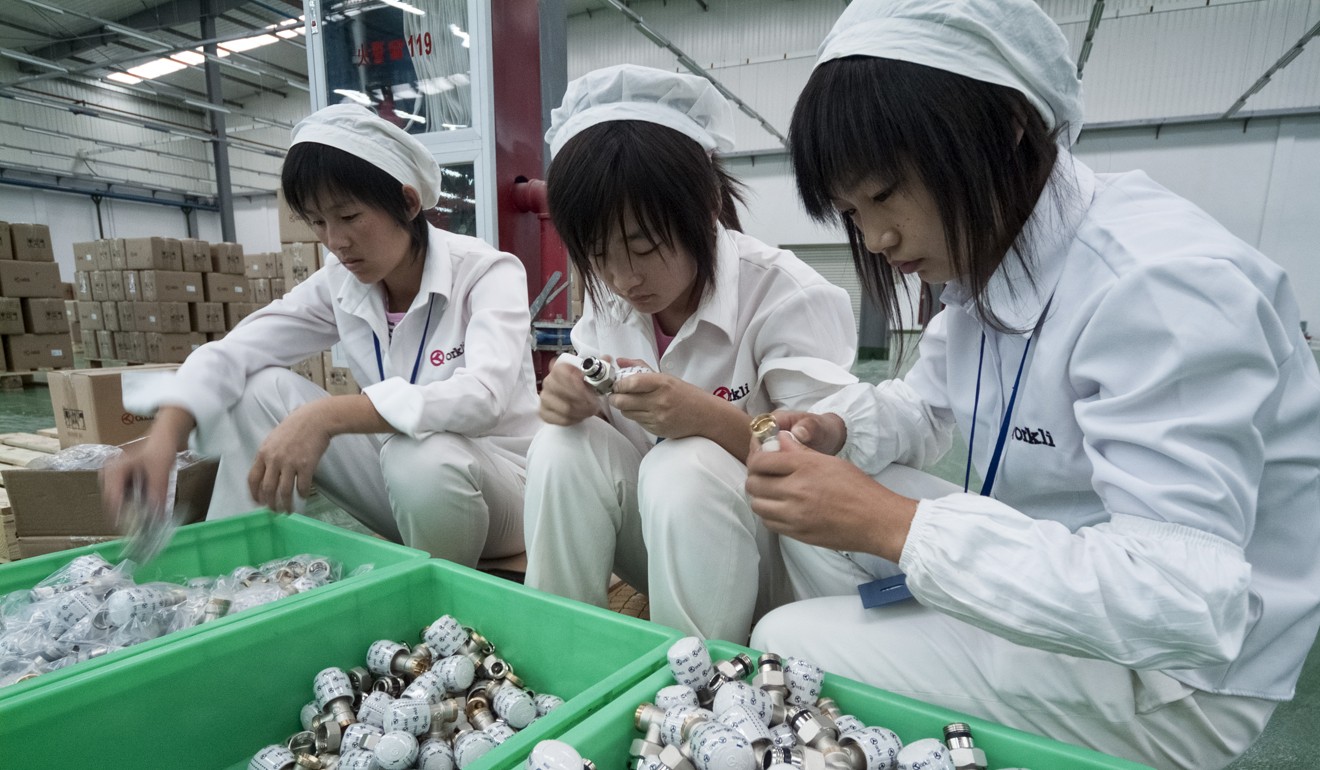 A few days later, in Kunshan, a city in Jiangsu province, the world's largest cooperative group opened its first indus­trial park outside Spain. Four companies from Basque Country conglomerate Mondragon Corporation had joined forces to push for synergies with a combined investment of €30 million. Three of them – bicycle maker Orbea, fitness-machine manufacturer Wingroup and disposable medical product specialist Oiarso – shared a strategy: even though the corporation's motto is "Humanity at Work", they wanted to take advantage of low wages (legal minimums were similar to those in Zhejiang) and government incentives to produce cheaply and export. Only Orkli, a manufacturer of valves for gas equipment, intended to sell within China.
A peek into the Chinese factory that makes a fortune from Donald Trump masks
On average, workers at the industrial park earned 1,500 yuan a month – at that time equivalent to €150, or a tenth of what a European worker would pocket – and appeared happy with the arrangements: food was free and edible, overtime was duly paid and working conditions could have been described as humane. Businesspeople called it a win-win situation, so Mondragon announced grand plans. In 10 years' time, the chairman forecast, 14 companies would have built factories in the 500,000-square-metre park, employing 3,000 people. Wingroup expected to double its output in a couple of years, and Orbea would make 60,000 bicycles annually.
Then the world changed.
It's astonishing how things change in a decade: many new graduates are now expecting better paying jobs than their hard-hit European counterparts
As financial turmoil in the United States developed into a full-scale economic crisis, orders slumped in traditional markets. China, then the fourth-largest economy, was suddenly presented with the opportunity to become even more powerful, but the question was, how?
Underwear exporter Qian Anhua was among the first to provide an answer as, despite huge economic incentives from the state, factories across the manufacturing provinces of Guangdong, Zhejiang and Jiangsu were closing en masse. "We need to improve the quality of products and the productivity of workers, as well as their working conditions," he told me, in early 2011. Qian was, and remains, the chairman of Antex, a textile giant based in Hangzhou, Zhejiang's capital. Some of the world's most famous underwear brands were among his clients. "We have invested a lot of money in technology. In some departments, 90 per cent of the machines are already controlled by a computer," he explained. "This allows for an improvement in quality and a big increase in competitiveness."
Premier Wen Jiabao also understood that the future of China lay in socioeconomic transformation. As 2012 came to a close, Wen told reporters, "China needs to learn to grow slower, and grow better."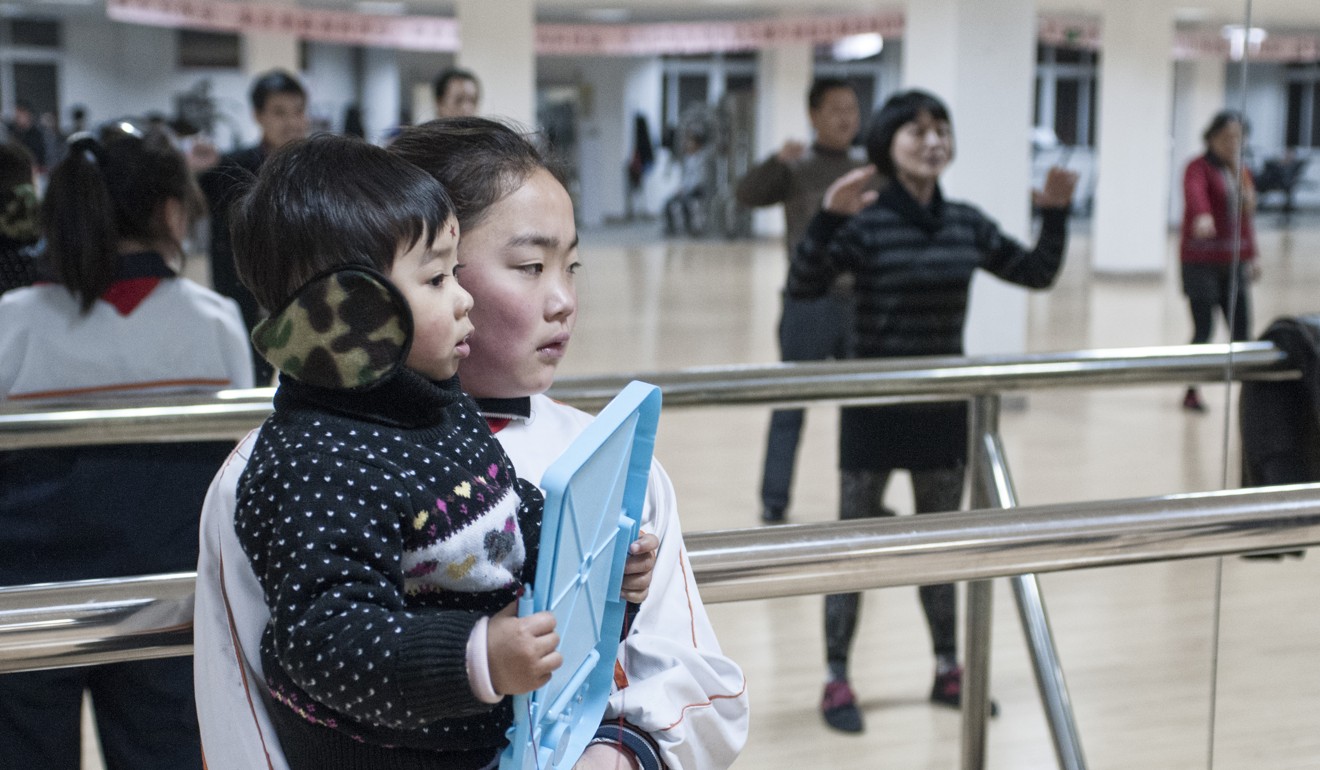 At Antex, dormitories were decent and air-conditioned. Employees, mainly rural migrants, engaged in a range of classes and activities after work, paid for by the company. One popular class taught members how to build traditional Catalan human towers, or castells. As an incentive, Qian had touted a trip to Spain for his best employees, to take part in castells competitions in their place of origin. And in 2012, he delivered (as he would do again in 2015, and every year since).
"Rotation of personnel is very high because workers are in search of better pay and jump jobs often," Qian said. "This is bad for the company because we train them, so we offer higher-than-average wages and non-economic incentives for them to stay. Labour is going to get more and more expensive. It has to do with the higher expectations of youngsters, but also with a shrinking labour force – partly due to the one child policy – and its higher skills. Also, competition in the textile sector will increase notably."
Phillip Lim talks about 'Made in China' stigma and being Chinese at Shanghai Fashion Week
Automation may be a solution, Qian forecast. (According to the International Federation of Robotics, last year, China owned 25 per cent of the world's robots and was installing a third of all new ones.)
"With its traditional export markets crumbling, China found that it couldn't rely on trade for growth any more," recalls Pedro Nueno, president at China Europe International Business School. "It understood that its strength was in the capacity to develop a phenomenal domestic market and make consumption its main growth driver. At the same time, leaders launched campaigns to upgrade its industry and get rid of the 'Made in China' label's negative connotations."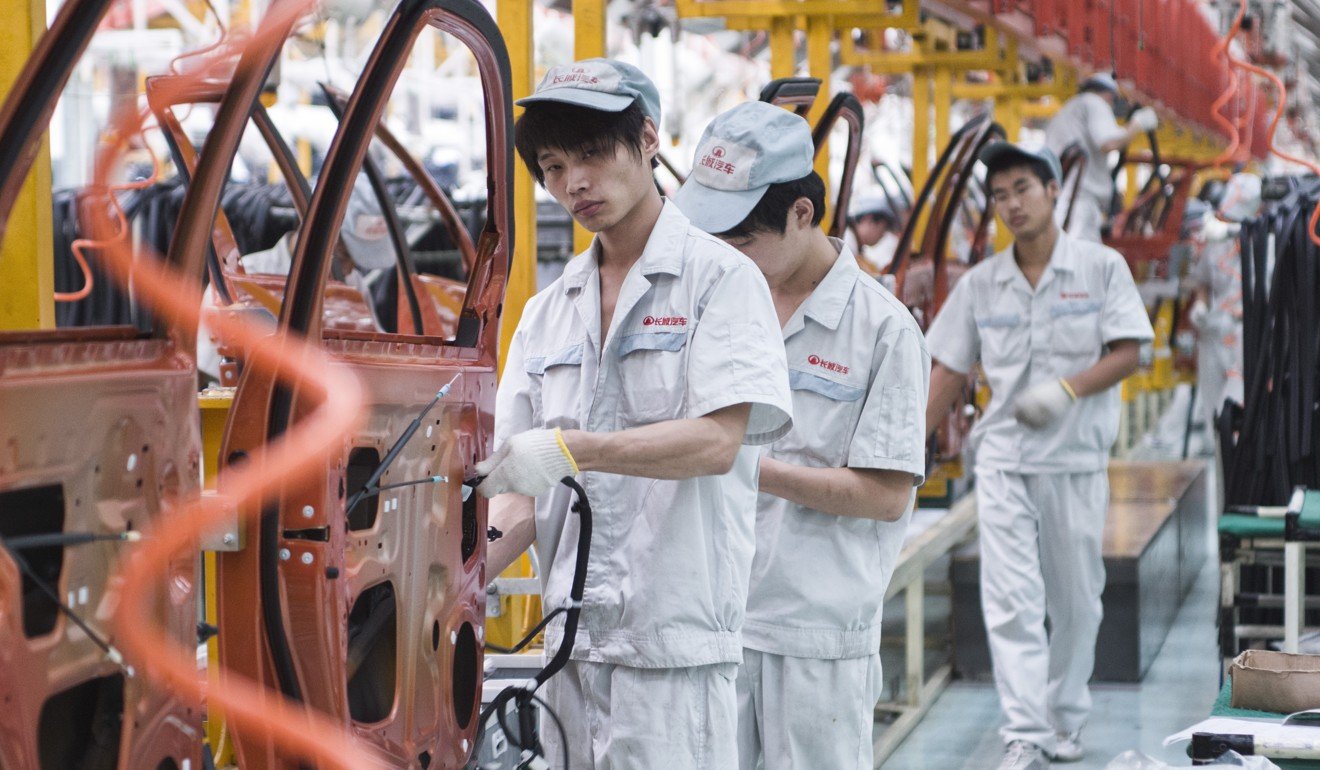 Carmaker Great Wall has been one of the many brands trying to promote the new "Created by China" tag. In July 2011, at its headquarters in the northeastern city of Baoding, Hebei province, I was shown a state-of-the-art facility and an impressive test circuit.
"Quality is no longer a big issue," said Great Wall's inter­national manager, Roger Wang. "But Chinese brands are perceived as cheap copycats, even by Chinese consumers. We want to change that, to lead the exploding domestic market and take the chance that the global economic crisis gives us in the rest of the world."
Quality not quantity: 'Made in China' label will emulate 'Made in Italy' 10 years from now, vows Hong Kong garment maker
Great Wall was exporting cars to 80 countries, mostly in the developing world, but a year later, it would open a plant in Bulgaria. "We need to learn from other countries," Wang said. "Not only the technology, also the management skills. We send white collar workers to learn there and bring back the knowledge."
Now, Great Wall leads the domestic market in the pickup and SUV segments.
In 2012, a similar story was told at a new Geely assembly plant on the outskirts of Cixi, Zhejiang province. Having acquired Swedish manufacturer Volvo two years earlier, the private carmaker had just bought the London Taxi Company and was eyeing a launch of its Emgrand brand in Europe.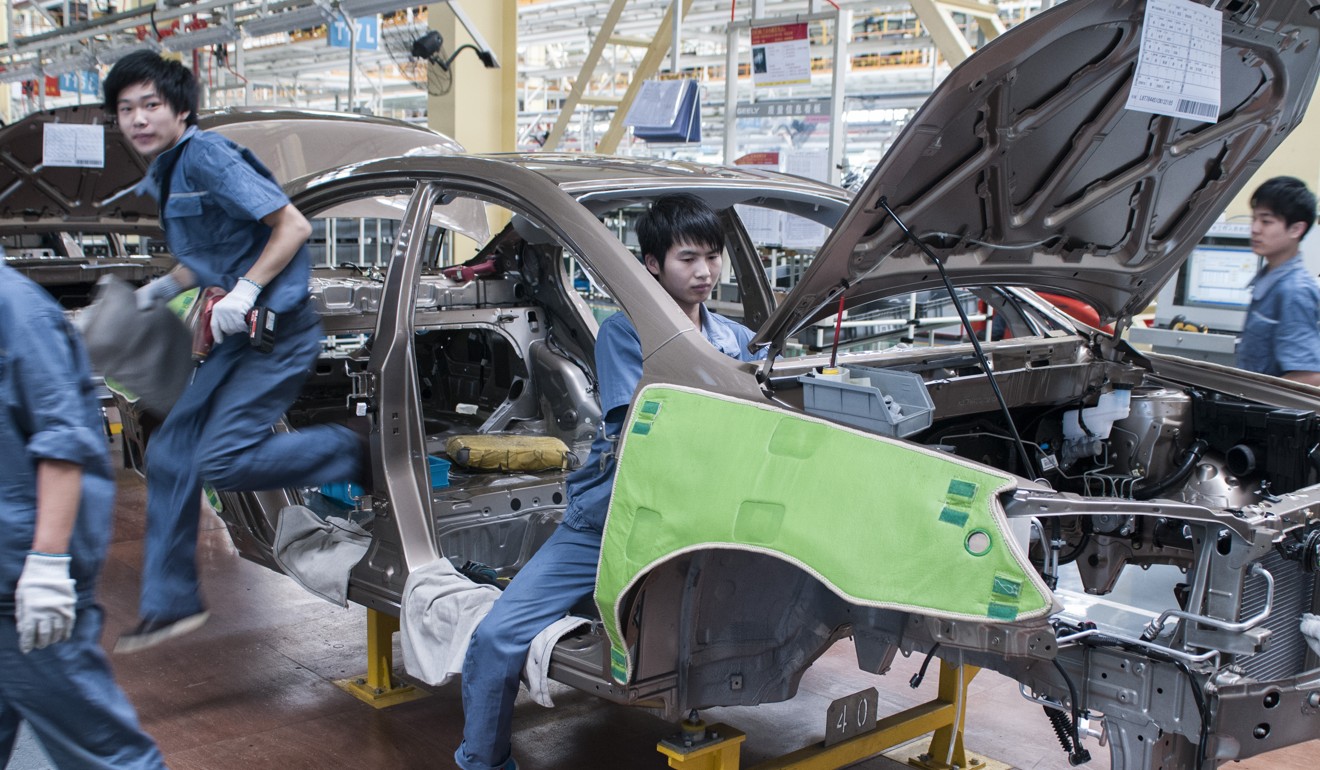 "Our cars will be 15 per cent to 20 per cent cheaper than those of our competitors. We want to incentivise consumers across the world to try them, because we believe they will understand that 'Made in China' doesn't mean 'badly made'," said vice-president Yang Xueliang, during a visit to the facili­ties, where cars were flying through the rafters from one assembly line to the next, and the number of workers had been trimmed to a minimum. Most of those who remained were taking home more than 3,000 yuan a month, but robots were increasingly doing the work. "Now we need talent and innovation," Yang said.
Made in China 2025: How Beijing is revamping its manufacturing sector
In 2012, environmental protection wasn't yet a great concern. During a visit to Huaxi, dubbed "the richest village in China" and home to a one-tonne solid-gold oxen, where the net worth of every official resident was at least two million yuan, authorities proudly showed off the polluting chemical industries, labour-intensive jeans factories and outdated steel mills that were its economic engine. Not surprisingly, the well-to-do residents of Huaxi lived under leaden skies and beside filthy waters.
Fast forward to 2017. China leads global trade and is the second largest economy in the world – it sur­passed Germany in 2008 and Japan in 2010, and is now larger than both combined. It has built the world's longest high-speed railway network and produces its own trains. It has taken to the skies with the indigenously developed Comac ARJ21 and C919 commercial jets, and it has revolutionised the online marketplace.
China's richest 2,130 people have as much money as the world's fifth-largest economy
Although economic growth has almost halved, according to the World Bank, the average wealth of the population has more than doubled. The minimum wage in most provinces has increased to about 2,000 yuan per month, reliance on exports has fallen and domestic consumption now drives 60 per cent of the country's growth. According to financial services provider UBS, the country produces five times more STEM (science, technology, engineering and maths) gradu­ates than the US (where many study before heading home), and it will surpass America in research and development investment next year.
Hi-tech development areas have sprung up across the country, with provinces and cities competing to attract investment. Factories at one of the most successful, the Zhangjiang National Innovation Demonstration Zone, on the outskirts of Shanghai, have little in common with those I visited in Yiwu a decade ago.
Is China's innovation boom producing too many useless inventions?
At Shanghai Green Valley Pharmaceutical, scientists are testing a new medicine for senile dementia. If they are success­ful, the company could go public next year.
"Innovation is something that can be encouraged by the government, but not forced," says company president Lu Songtao. "China has used cheap manufacturing and copying for a first development stage, but companies find that this model doesn't work any more. Innovation for us is survival."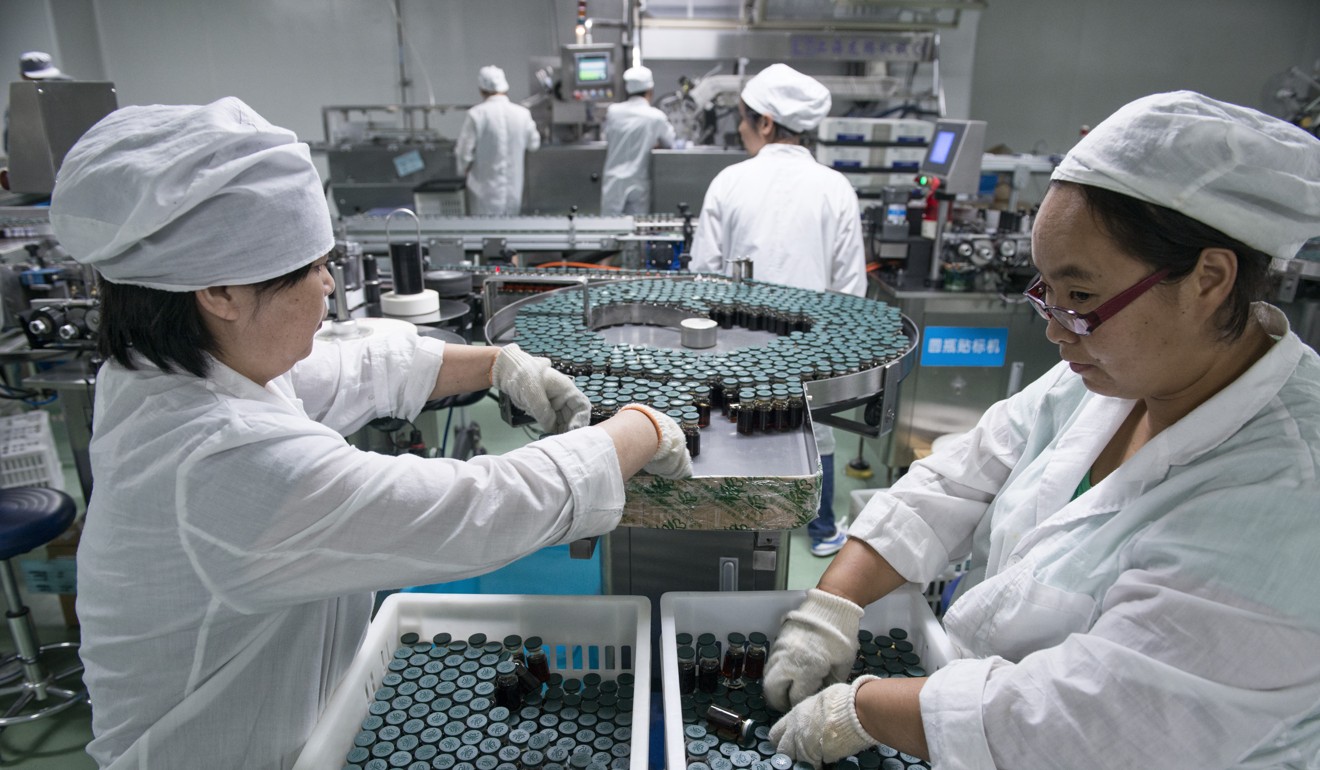 Not far away, competitor Kaibao has managed to syn­thesise bear bile for its traditional medicine concoctions thanks to a government research grant. Previously, the 15 tonnes of bile it needed each year had to be cruelly harvested. Now, the pharmaceutical firm claims, no animal is harmed and the plant is almost fully automated.
At the Dongguan, Guangdong province headquarters of Oppo – the world's fourth-largest mobile phone manufactur­er, according to market intelligence firm IDC – innovation has resulted in worldwide reach.
From factory to laboratory: can China become 'leader not follower' in innovation?
Inside the main factory building, up to 6,000 workers dressed in anti-static blue gowns, matching caps and plastic booties, with latex thimbles on their fingers, keep the facility running at full capacity 24 hours a day, 365 days a year. As in the factories of 2007, most are young rural migrants in search of a better life, although Wen Xiqi would no doubt be envious if she were to pay them a visit. The average wage in this city had risen to 5,868 yuan a month in 2015, equivalent to the average annual income of a farmer.
"I intend to work here for four or five years, do a lot of overtime, and return home to start a small business with whatever I can save," says Zhang Yi, a 19-year-old working in quality control who claims to save about 1,200 yuan a month. "It's a boring and tiring task, but we are treated well and the dormitories are fine," she says.
In the suburbs of neighbouring Shenzhen, Yu Baixiang tells a similar story. Five years ago, the skinny 21-year-old embarked on a 2,000km journey from a small rural village in central Sichuan province. She sewed trainers and shaped teddy bears in Guangdong until she decided technology offered the best job opportunities. So she did a short training course in the evenings to suit the requirements of electronics producers and is now one of the 15,000 factory workers employed by telecommunications equipment and systems firm ZTE.
"When I arrived in Guangdong, factories offered 1,200 yuan a month, and they did not pay the overtime that we were forced to work, nor our health insurance," Yu says. "We were given accommodation in horrible bunk beds that they charged us hotel prices for, and they fined us for any nonsense. It was a living hell."
She believes companies have since become wary of labour unrest and have improved conditions as a result. "We even have a half-hour for a nap at the factory," Yu says.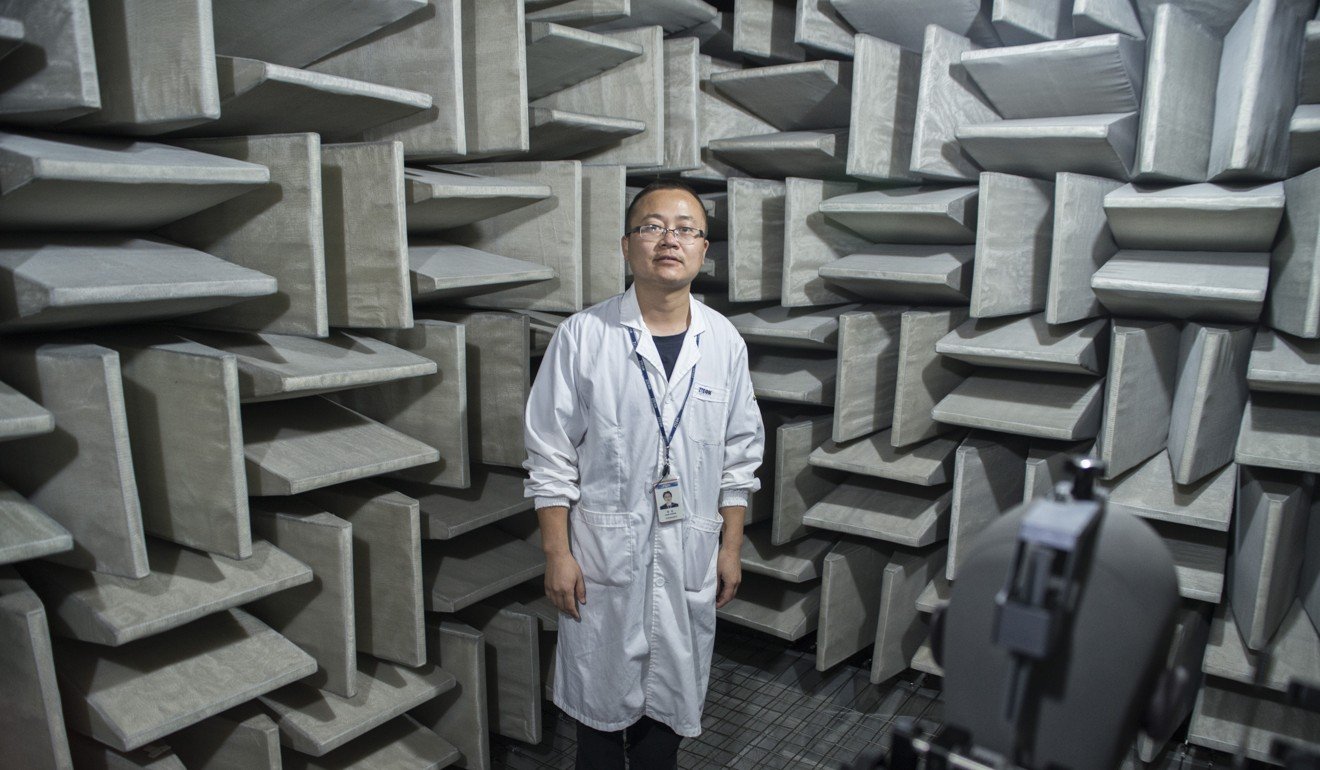 Nevertheless, according to Hong Kong-based China Labour Bulletin, protests are widespread despite growing salaries. The organisation publishes a "strike map" on which nearly 10,000 actions have been recorded since 2011. The late pay­ment of wages seems to be the main trigger for confronta­tion nowadays, and analysts point out that the worst labour mistreatment occurs elsewhere in Asia, where prices and pay are lower.
There have been casualties in China along with the wage rises. While Mondragon can claim that the goals it set out in 2007 have been mostly met – 12 rather than 14 companies occupy the Kunshan industrial park now, but most are pros­pering – just one of the founding four has succeeded. Wingroup was the first to shut down, citing rising expenses and a squeeze by large retailers. Orbea followed in 2015. "We came because we expected the 48.5 per cent tax Europe imposes on Chinese bicycles would be scrapped," explains Jon Fernandez, Orbea's general manager. "But it didn't happen and our product wasn't suitable for the Chinese market."
Only Orkli has managed to thrive. "That's because it was focused on selling in China," says Oskar Goitia, president of Mondragon International. "And that is the strategy we all follow now."
China must focus on innovation in manufacturing as wages rise, says Apple's Cook
Says Nueno, "This is a success for the Chinese people. Higher wages means they will spend more and expedite the transformation of the economy. Moreover, it means that wealth is better distributed. I would call that a success of 'socialism with Chinese characteristics'."
But looks can be deceiving. According to Canadian think tank McKenzie Institute, the productivity of Chinese workers is just 15 per cent to 30 per cent of the average found in Organisation for Economic Co-operation and Development countries.
"Workers on the factory lines do more or less the same as their Spanish counterparts, because machines set the times," says Mikel Mendibe, manager of a Spanish-owned factory in Zhuhai. "But there is a huge gap among white collar workers. Especially in management. They earn the same as in Spain, but we need two to do the job of one at home. They are definitely overvalued, but a shortage in skilled workers and the fear of losing them has created a bubble in the labour market.
"It's astonishing how things change in a decade: many new graduates are now expecting better paying jobs than their hard-hit European counterparts."
The gold of Huaxi has lost its lustre, too. Overcapacity has seen its steel and chemical factories operate at a loss since 2015.
"We need to upgrade our industry and focus on new energies and finance," says Sun Haiyan, Huaxi Communist Party deputy chief. The new economy is the future, he believes, and financial services already have the highest growth rates in the town.
Foreign firms want action not words from China about opening up its markets, warns EU envoy
China's transformation is based on unfair treatment of foreign companies, claim critics. "Made in China 2025", an ambitious 10-year government plan design­ed to boost innovation in manufacturing, is "just another excuse for protectionism", claims Carlo Diego D'Andrea, vice-chairman of the European Union Chamber of Commerce in China. While Chinese investment in Europe grew 77 per cent last year, European investment in China fell by 23 per cent.
"Chinese companies are taking advantage of fairness in Europe and barriers in China to compete," says D'Angelo. Despite his pre-election rhetoric, Donald Trump for one is not holding China to account for that.
"After all, who can blame a country for being able to take advantage of another country for the benefit of its citizens?" the US president asked during his November tour of Asia.