Hwang Won was being held in hostile territory, 50 days after being abducted. He was not going to let his resolve be broken, though. It was Lunar New Year's Day, 1970 and – yearning for his home and family – the 32-year-old South Korean television producer began to sing a popular folk song: "My hometown, the blue South Sea, comes into view as scenes from the past. How can I forget the calm blue sea? No never, never, even in my dreams. Seagulls there now still might be flying, how I wish to return home."
My 22 years helping North Koreans: Hong Kong aid worker on the suffering in hermit nation and its people's hopes and dreams
Feeling emboldened, Hwang's 49 fellow captives joined in the singing. As they reached the chorus, a North Korean military officer marched into the room, singled out Hwang as the ringleader and dragged him away, even as he continued to sing. It was the last the others saw of him.
Although Hwang is still believed to be alive, his family have not seen him for almost half a century.
On a winter's morning in 1969, Hwang, a producer for South Korean television company Munhwa Broadcasting, was leaving home on a business trip. He had said goodbye to his wife and three-month-old daughter, but blocking the door was his son, In-cheol. This was routine; the two-year-old boy would stand his ground, extend his arms and only after his father had given him some loose change would he let him pass.
"How I wish that I had actually blocked the door and did not allow my father to leave the house on that fateful day," says Hwang In-cheol, moist eyed, when we meet in the South Korean capital, Seoul. "I have missed my father, not having him around as I was growing up. My mother and my sister, we are all waiting for him to return home. All I want to do is bring my father home."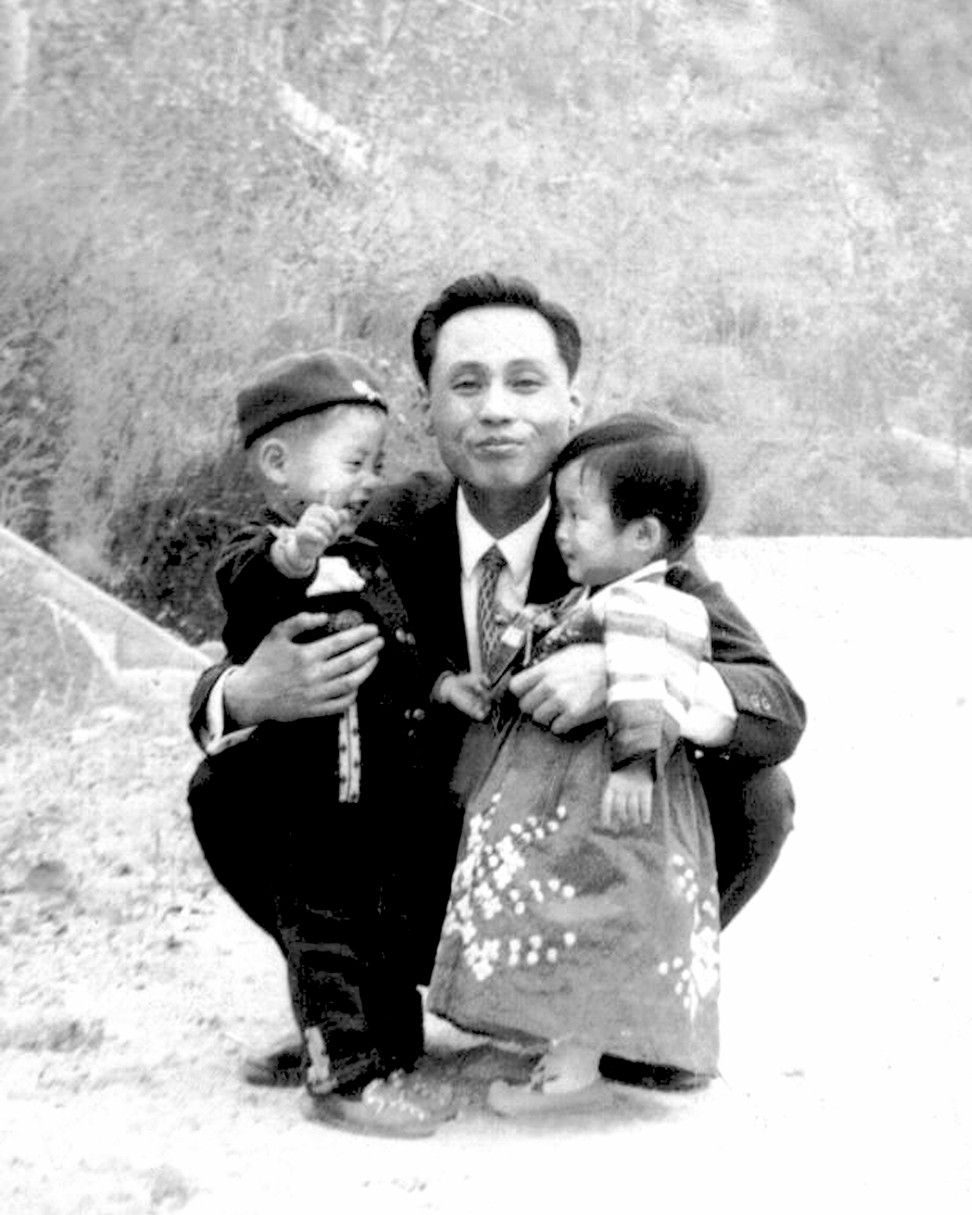 Hwang Won was not meant to be on the December 11 Korean Air Lines flight from Gangneung Airport, on the northeast coast of South Korea, to Seoul. He had been asked, however, to stand in for a colleague at the last minute, to attend an important meeting.
Ten minutes after take-off, Cho Chang-hee, a suspected sleeper agent from the Democratic People's Republic of Korea (DPRK, and the official name of North Korea), entered the cockpit. He forced the pilots to fly to Yonpo Airfield, near the city of Hamhung, 260 kilometres from the plane's intended destination – and deep within North Korea.
As soon as it landed, armed soldiers surrounded the aircraft and boarded. The 50 passengers and crew were blindfolded, loaded onto two buses and driven to a waiting room at the airport. More chilling than the minus-20 degrees Celsius temperature was the anxiety, fear and tension in the room.
Late in the evening, according to passengers later released, a three-star DPRK general appeared. "I'm so glad to meet my fellow countrymen," the officer said. "We have been separated for the past 25 years. Since we can't just sit here feeling depressed, let's laugh together." And with that, he let out a hearty guffaw. His captives stayed silent, however, depressingly aware that this was probably the beginning of a hellish journey.
[My mother] was frightened of even ordinary things like cycling, hiking or going to the beach because she was nervous something might happen to us
The abducted South Koreans were put into rooms and kept under surveillance at the Hamhung Inn. Despite being forbidden to communicate with each other, they exchanged notes during the 10-minute breaks they were permitted after each meal. In the dead of night on their third day in captivity, they were put on a train to the North Korean capital, Pyongyang.
Having been installed in two hotels – the Daedong Inn (where Hwang was held, and later sang so defiantly) and the Pyongyang Inn – the captives were interrogated; they were asked how much money and property they owned, but first their captors wanted to know about their ancestry, to determine their songbun.
Songbun is a caste system introduced in the North in the 1950s as a way of keeping citizens loyal and potential enemies on the lowest rung of society's ladder. It is based on the conviction that blood ties are stronger than ideological ties, and an individual's ascribed status is based on the political and social standing of key family members at the time of the DPRK's founding in 1948.
People are divided into three classes: the "core", "wavering " or "hostile" classes. One's songbun determines whether a person may, for instance, join the military, go to university, join the Workers' Party of Korea or live in Pyongyang.
"People in the hostile class learn not to dream and generally get assigned to farms and mines," says veteran South Korea-based journalist Michael Breen, author of The New Koreans (2017).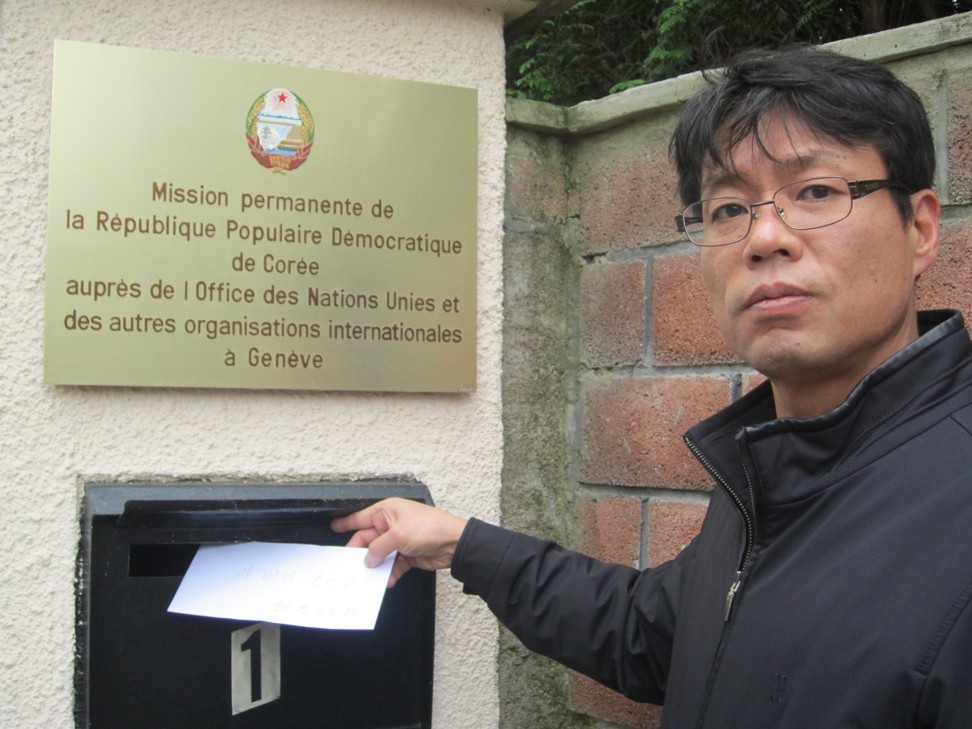 Background checks complete, the abductees were put through intense indoctrination, with classes lasting for many hours. The "education" on North Korean ideology was the greatest psychological challenge, according to those who returned, and prisoners who resisted would disappear for several days at a time to be beaten up.
Hwang, who would question the rhetoric with ideological arguments of his own, was taken away more than most.
On the rare occasions they were allowed to leave their hotels, it was not to see the sights of Pyongyang, but for a guided tour of a revolutionary museum, farm or factory – all part of the indoctrination.
After 65 days in captivity, however, the abductees were told they would be freed on the instruction of the North's dictatorial founder and supreme leader, Kim Il-sung, the grandfather of Kim Jong-un who rules the secretive country today.
How to read North Korea: 10 books that take you inside the hermit kingdom
On February 14, 1970, 39 of the hijacked plane's passengers were repatriated across the Freedom Bridge, near the truce village of Panmunjom, in the demilitarised zone between the two Koreas. But North Korea kept the aircraft, the four crew members and seven of the passengers, including Hwang. To this day, the DPRK government maintains that these 11 South Koreans chose to remain of their own free will (and because of that, South Korea does not define their disappearances as "enforced").
"Ridiculous," seethes Hwang In-cheol, who is now 50 years old. "Just look at the type of people they have detained – a doctor, a cameraman, pilots, a CEO – all highly educated and highly skilled persons to use for their propaganda. Even if this were true, why do they not allow an independent monitor to verify it?"
For 32 years after the hijacking, Hwang In-cheol lived not knowing whether his father was alive or dead. His mother was deeply traumatised by the abduction. She found it difficult to settle, and continually moved her family from place to place. She hid the truth from her son – who says he had a miserable childhood – until he was 10, when he learned from uncles that his father wasn't really "away on business". He did not fully understand the ramifications but, even at such a tender age, he understood that "North Korea" meant he might never see his father again.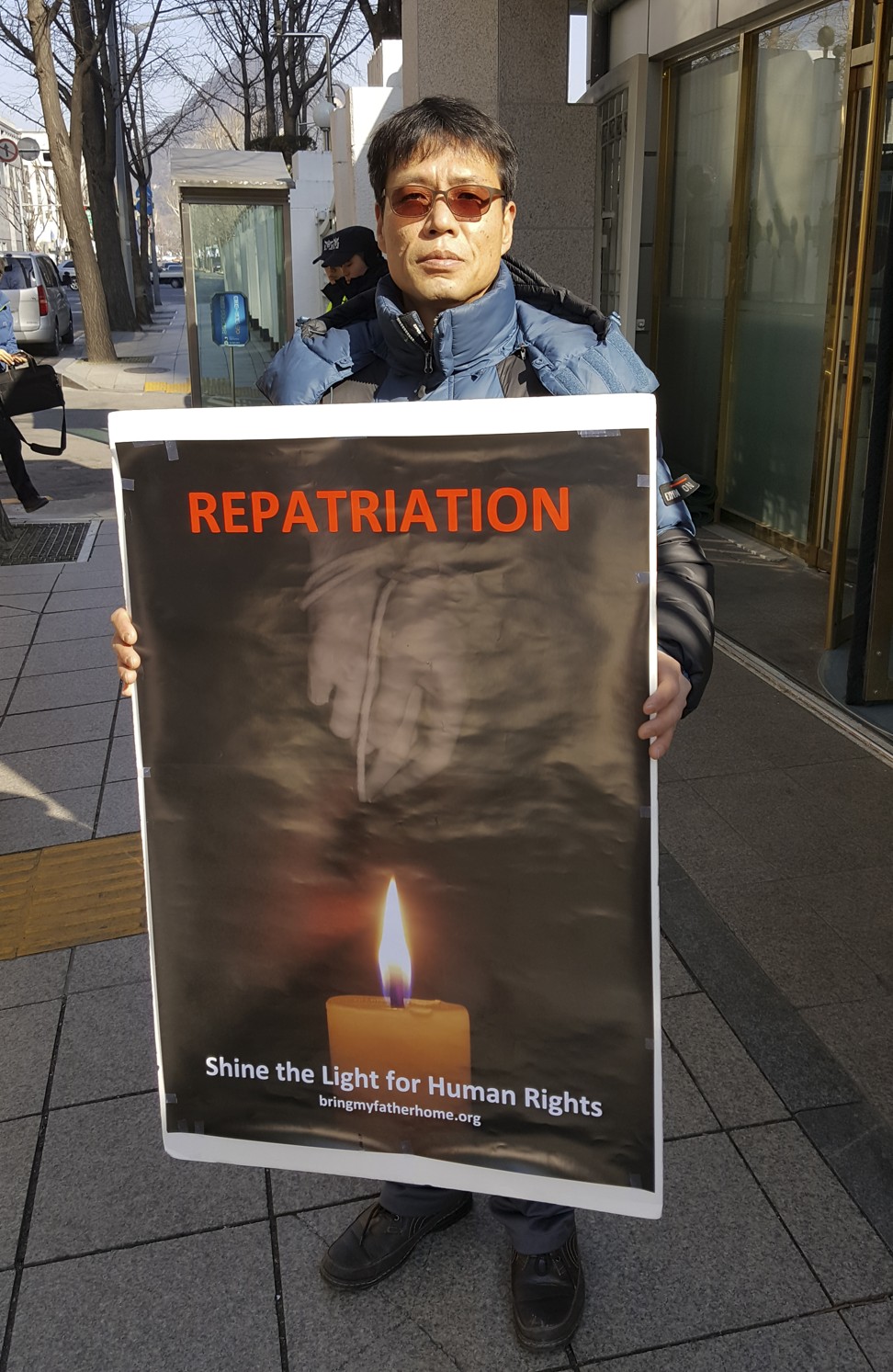 His mother "was frightened of even ordinary things like cycling, hiking or going to the beach because she was nervous something might happen to us", he recalls with sadness. "She hardly ever discussed our father."
Hope flickered in 2001, when North and South Korea agreed to "separated-family reunions", the participants chosen by lottery. One of the abducted flight attendants, Seong Kyeong-hee, was chosen to meet her 78-year-old mother. At the reunion, which took place at Mount Kumgang in the North, Seong Kyong-hee told her mother that the other crew members were alive, and lived near her in Pyongyang. As for the other abductees, although she had not seen them since the hijacking, she had heard they were doing well.
On hearing this news, something "awakened" inside Hwang In-cheol. "My daughter had just turned two, my age when I had last seen my father," he says. "I felt the trauma my father must feel from this separation. I had to do something."
For the next 15 years he became a one-man army on a tireless campaign to bring his father home. He gave interviews to the press to keep the story alive, staged solo rallies across his country and wrote letters to human rights organisations.
We are committed to creating awareness of Mr Hwang's situation on an international stage
But sacrifices had to be made. To make more time, he quit his job in publishing and worked as a day labourer or did odd jobs. Support from his family (he now has three daughters) kept him going. "Occasionally they complained, but without them I would not have been able to campaign all these years," he says.
The glimmer of hope was not enough to revive his mother, but she and her son have found a kind of peace in recent years. "She was diagnosed with Alzheimer's," Hwang In-cheol says. "There are three people trapped in her mind: her parents and her husband. She says he would have been proud of me. But I don't have a steady job and my social life is not normal. I think she's a fool," he jokes, grimly.
His sister, born Hwang Chan-wook, is now 48 and married to a British man. She lives in Britain under the name Cecilia O'Hare and has two children of her own.
North Korea is a signatory to the United Nations' Convention for the Suppression of Unlawful Seizure of Aircraft, which was signed in 1970. South Korea should be responsible for investigating the hijacking of Hwang Won's flight, yet the government's response has been lukewarm. "They have always looked at it as a political and diplomatic issue, not a humanitarian one," Hwang In-cheol says.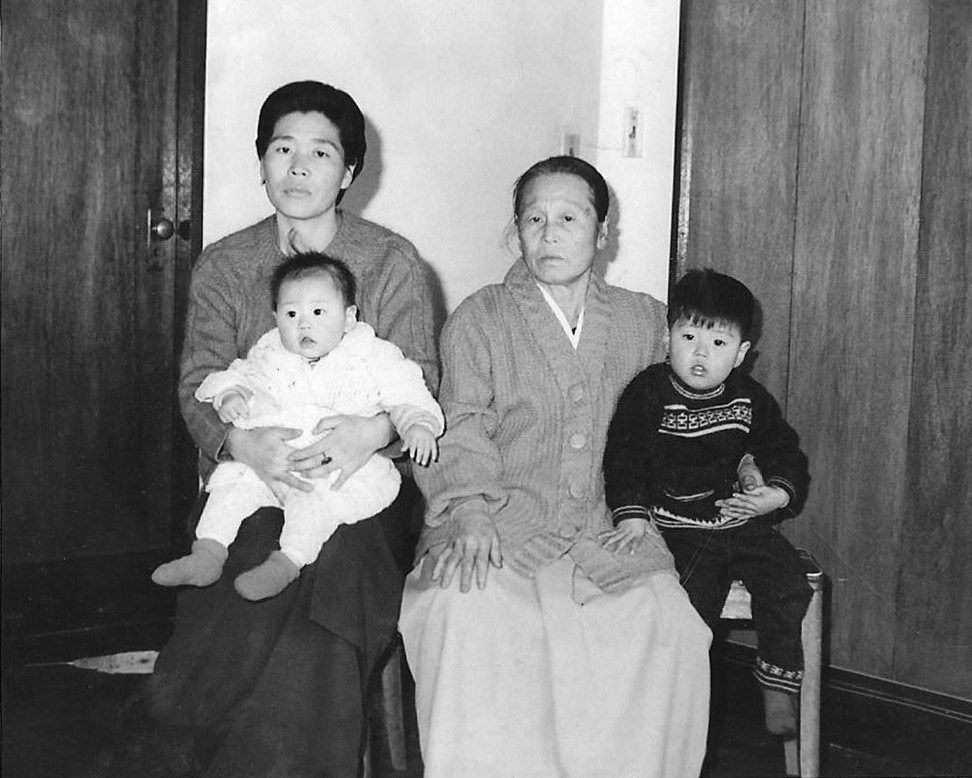 In 2009, US President Barack Obama's administration, with the help of former president Bill Clinton, facilitated the release and repatriation of two American journalists, Euna Lee and Laura Ling, after they had been held for 141 days in North Korea. This left Hwang In-cheol to feel even more ignored by his government. However, he refused to give up, especially after receiving some surprising news.
Oh Kil-nam is a South Korean economist who defected to the North in 1985 with his family, and then, in 1986, claimed political asylum in Denmark to return to South Korea, leaving his wife and two daughters to suffer the consequences. When Hwang In-cheol met him in 2009, Oh told him that he had worked with Hwang Senior at a broadcasting station in the North.
Hwang In-cheol was desperate to visit his father, and sought permission from South Korea's Ministry of Unification to do so. His application was rejected on the grounds that North Korea would not encourage it. So Hwang In-cheol decided to internationalise the issue.
When he returns, I want to take him to … a traditional Korean public bathhouse. I want to rub his back and sponge him from head to toe, as a father would do to a son traditionally … I just want to call him 'father'
In 2010, he took his father's case to the UN's Working Group on Enforced or Involuntary Disappearances. Such disappearances are prohibited under international human rights laws, as well as under international humanitarian laws. "For this, I got into a lot of trouble with the [National] Human Rights Commission of Korea, and my government," he says, "but that didn't stop me."
Perhaps the biggest opportunity – and disappointment – came in 2013, when Hwang In-cheol was contacted by a trusted source who told him that his father was trying to return home via ship to China. The escape plan was thwarted, however, by unfortunate timing – when Kim Jong-un conducted nuclear tests that year, all sea lanes around North Korea were monitored much more closely.
Hwang In-cheol's case was highlighted in a 2016 UN report entitled "Torn Apart", about the involuntary separation of Korean families. He travelled to Japan, Thailand, Switzerland and Britain to share his father's story, and later the Seoul-based charity Teach North Korean Refugees (TNKR)offered to help. That was when the "Bring My Father Home" campaign was conceived.
"We are committed to creating awareness of Mr Hwang's situation on an international stage," says Kwon Young-min, TNKR's project manager for the campaign. "We provide ideas, we partner with human rights organisations and … we train him to speak in English for greater impact."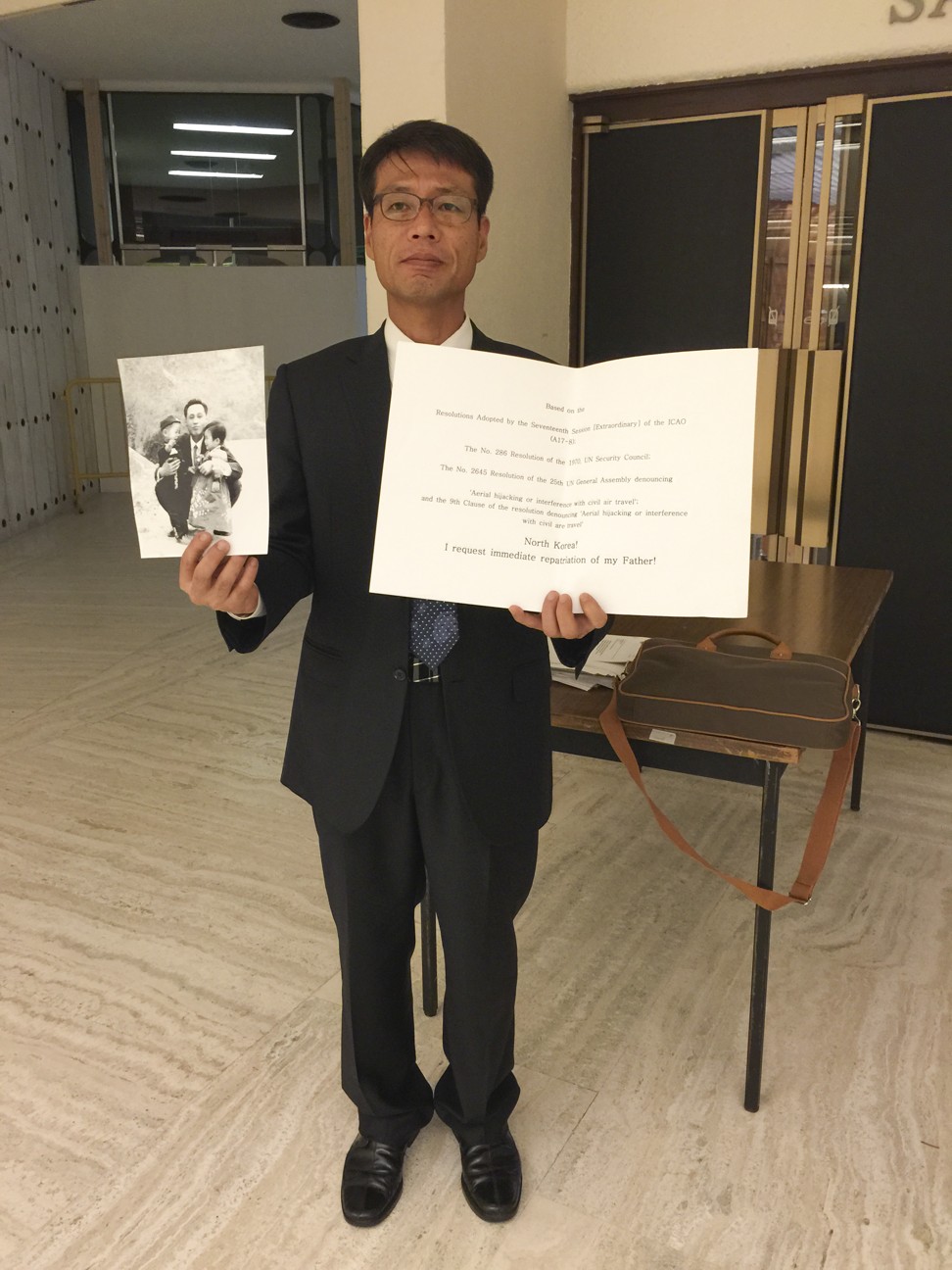 Last June, TNKR rallied at the Freedom Bridge, where Hwang In-cheol sang the same folk song that his father had all those years ago in the Daedong Inn. On December 11, the 48th anniversary of the hijacking, he made an important announcement at the Korea Press Centre in Seoul.
"The goal of repatriation remains far from our reach at the moment," Hwang In-cheol said. "A few days ago, I learned through a man code-named Superman that my father is under heavy surveillance and currently living in Pyongsong, near Pyongyang. At 80, time is running out for him, and I have no intention of reuniting with my father after his death.
"Before it runs out permanently, I desperately want to see him. Hence, I am urging the media to use your influence to request the North Korean government to permit me to reunite with my father in, say, a country like Switzerland or in any country that they suggest."
This was the first time he had made such a request. It has so far fallen largely on deaf ears.
"I was still in diapers when my father left and so I have no personal memories of him," says Hwang In-cheol. "When he returns, I want to take him to a jimjilbang, you know … a traditional Korean public bathhouse. I want to rub his back and sponge him from head to toe, as a father would do to a son traditionally. Is that too ordinary? And after all these separated years, I just want to call him 'father'."