A night train connects Yunnan's capital, Kunming, with the popular holiday spot of Lijiang. Climbing 500 metres above Kunming, the 500km journey takes 10 hours, making the K9602 one of China's slowest commercial trains. But a second-class ticket buys you a cosy bunk bed in a carriage bookended by bathrooms and hot-water dispensers. A flask of tea and a good book preceding an eight-hour nap – there are worse ways to travel.
When Hong Kong-based photographer and publisher Magnus Bartlett visited Lijiang in 1985, journeying behind the bamboo curtain wasn't so easy: "It was like time travel; the only vehicles in the cities were bicycles, PLA jeeps and limos with red flags for officials. The people we met were nervous, often astounded. But the country was virgin, really untouched."
When Shangri-La to Lhasa and back took 6 months: muleteers recall Ancient Tea and Horse Caravan Trail
That year, Bartlett accompanied late British travel writer Bruce Chatwin on a trip into deepest China, and when we meet during the Beijing book fair in August, the photographer arrives brandishing film of unpublished photographs of the journey. He holds the film up to the light and I'm treated to a full colour storyboard of Chatwin in motion; getting a shave from a village barber and looking at a map in a peasant's home while sporting a pair of Nike jogging pants, a camera dangling around his neck.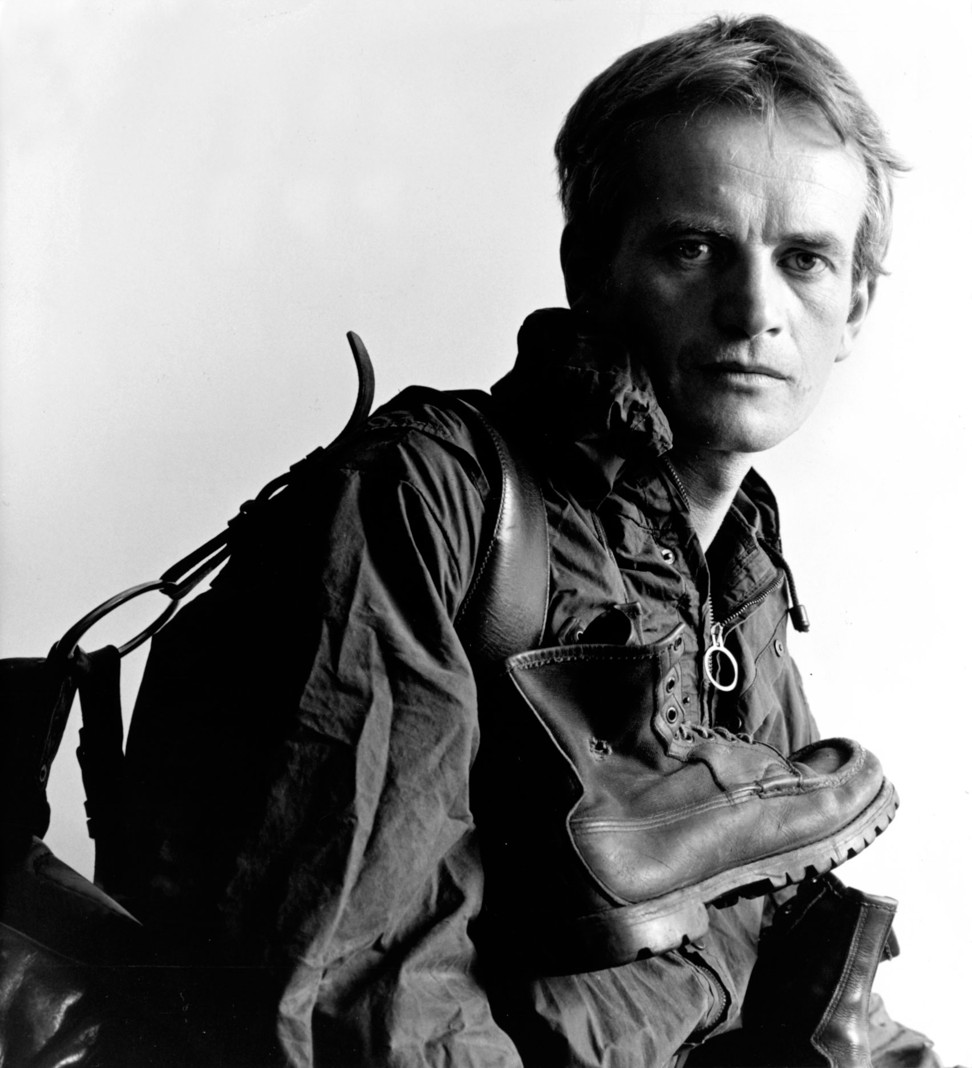 The black-and-white portrait of a heroic Chatwin with backpack and boots taken by photo­grapher Anthony Armstrong-Jones, aka Lord Snowdon, shows one side of the man, Bartlett's images reveal different shades, as the travel writer explores Lijiang. He is restful, intrigued, contemplative and excitable; his fallen-angel features framed by an aquamarine sky and the primitive beauty of the landscape. I'm reminded of biographer Nicholas Shakespeare's assertion that "the grass was always greener wherever Chatwin travelled".
I sent him some fan mail in 1983 and he invited me up to his flat in Eaton Square, London. He was an incredibly stimulating man
Bartlett was one of four heading to research a travel article, the others being Chatwin, his stoical wife, Elizabeth, and Hong Kong art dealer Johnson Chang Tsong-zung, who was enlisted as translator and cultural expert.
"The merry foursome", as Bartlett puts it, made their way to the mystical Naxi Kingdom in November 1985.
"We flew to Kunming then took the early bus to Dali, stayed overnight and then bused on to Lijiang. It took over two days; it was quite dangerous, driving up the single-lane highway clinging to the side of the rice terraces, trucks heading towards Kunming brimming with timber. Fortunately, Bruce brought along a bottle of whisky that kept us going. And when the Naxi music the driver was playing started to get to us, I gave him a tape with some Little Richard and Bach, which livened our mood, thrilled the driver and amused the passengers."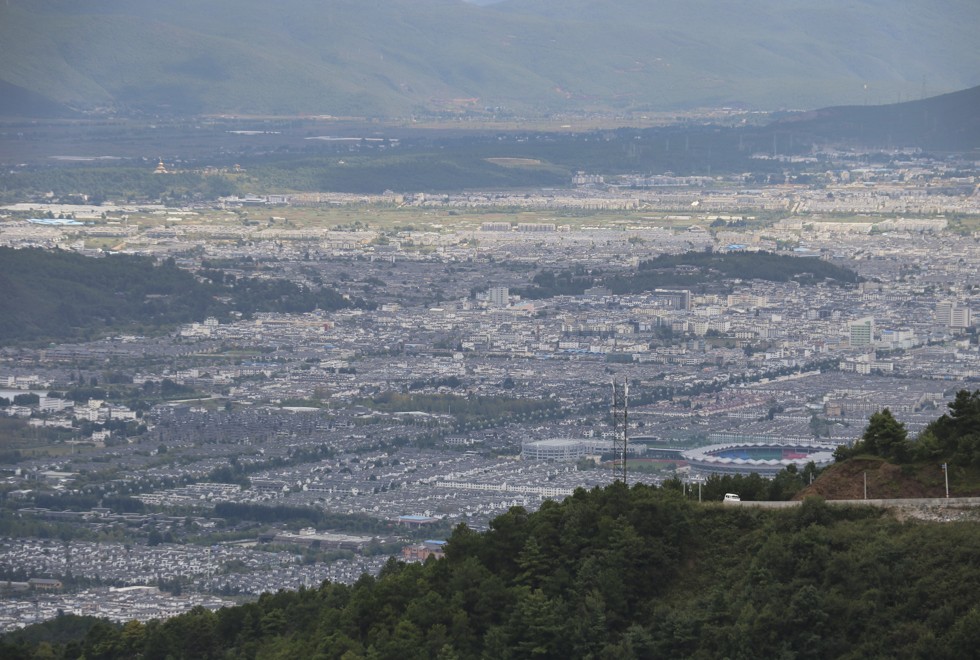 The travel memoir In Patagonia (1977) had first turned the world onto Chatwin's unique storytelling, earning him cult-writer status. He had followed with two novels, The Viceroy of Ouidah (1980) and On the Black Hill (1982).
Bartlett settled in Hong Kong in 1975, after an assignment in Japan had first brought him eastward from his native Britain. A photographer for the likes of Newsweek, Time and Fortune, Bartlett soon developed a sideline in travel books, the China Guides Series, recognising that the Celestial Kingdom was gradually opening its gates to foreigners. It was Bartlett who engaged Chatwin.
"I sent him some fan mail in 1983 and he invited me up to his flat in Eaton Square, London. He was an incredibly stimulating man. We talked about nomads, mostly. I was impressed by how well-read he was."
An Aman resort in picturesque, historic Lijiang – away from the tourist hordes
Bartlett gave Chatwin a copy of one of his guidebooks and the pair corresponded over the possibility of Chatwin penning an introduction to a forthcoming title. The guidebook collaboration never happened but, through their correspon­dence, the duo landed an assignment covering Lijiang for The New York Times' subsidiary magazine The Sophisticated Traveler.
Chatwin had dealt in antiquities at Sotheby's and read archaeology at Edinburgh university, but for someone so inquisitive about the world, he wrote surprisingly little about China.
"I don't think he'd been to the Far East before the trip," Bartlett says.
In What Am I Doing Here, a collection of essays published in 1988, just before Chatwin's death from an Aids-related illness, three articles appear under the topic "China". Two of the pieces, Heavenly Horses and Nomad Invasions, are historic fables that explore typical Chatwinian themes – wandering, borders, exile – the narrative steered towards the author's deep-seated belief in the "nomadic alternative". They sandwich Rock's World, a reworking of The New York Times piece, originally titled "In China: Rock's Kingdom", which chronicles the quartet's Lijiang escapade and uses the writing and photo­graphy of Austrian-American Joseph Rock as a guide.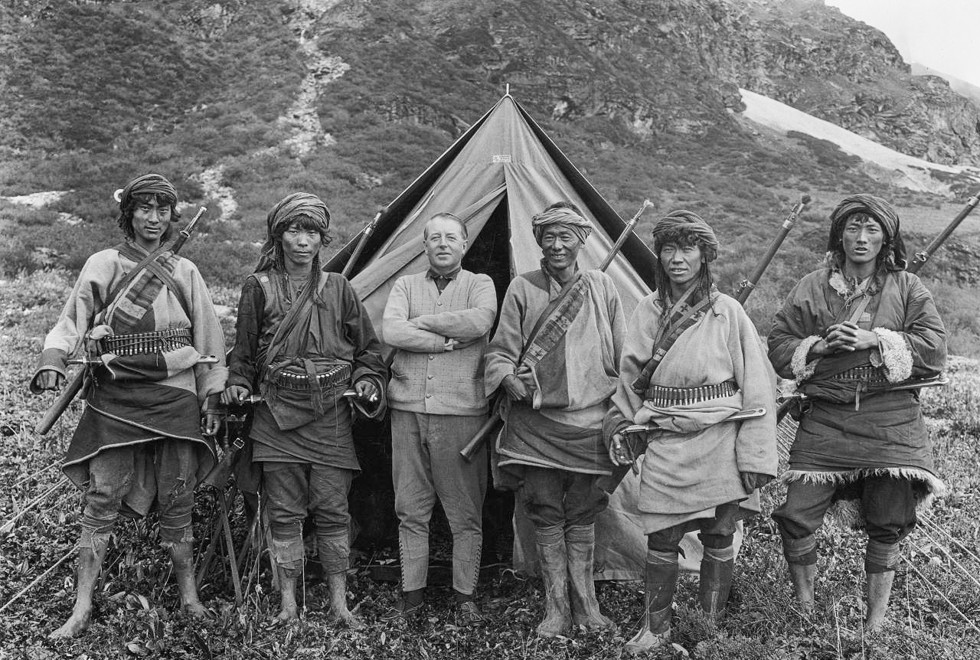 A botanist and anthropologist, Rock lived in the region from 1922 to 1949, occasionally contributing articles and images to publications such as National Geographic. After the Communist revolution forced him to return to the United States, Rock went half-mad with nostalgia for his house in the Himalayan foothills. His prose is borderline unreadable – indeed Chatwin called it "eye-aching" – but Rock's life as an eccentric frontiersman was one that the romantically inclined Briton would endear himself to: "My interest goes back many years to a summer evening in the Arnold Arboretum in Boston, where I found that all the trees I liked best bore Rock's name on their labels," Chatwin writes in Rock's World.
"Chatwin in China" gets little more than a page in Shakespeare's 1999 biography, with more attention given to the author's worsening health during the period: "[…] on his way to Nepal, he and Elizabeth had visited Yunnan in southwest China. Near the Thai border they had stayed in a village hut at 7,000 feet. He remembered, now, that he had become sick after eating a 'black egg' at a peasant feast."
Look, here you can see Chatwin, and Michael Palin came here
Chatwin's poetic prose provoked legions of fans to head to Patagonia or Australia's Alice Springs (which featured in The Songlines; 1987) with moth-eaten paperbacks in hand. But what of China? Did Chatwin unwittingly change Lijiang, too?
Armed with Bartlett's photos, I set out to retrace Chatwin's tracks, as he followed Rock's. I ready my Moleskine, Chatwin's preferred brand of notebook, and book passage aboard a cross-country train heading from the congested northeast to the bucolic southwest.
It's been 11 years since I first ventured into Lijiang. Even then, the old town of Dayan – a Unesco World Heritage Site since 1997 – was cluttered with jewellery stores and boutique hotels. But the cobbled lanes were still home to the colourfully clad Naxi people, an ethnic group Chatwin describes as "descendants of Tibetan nomads who, many centuries ago, exchanged their tents for houses and settled in the Lijiang Valley, to grow rice and buckwheat at an altitude of over 8,000 feet".
In centuries past, little changed from generation to generation in isolated Lijiang, but a decade is a long time in contemporary China, a period during which the country has laid more concrete than the US did in the entire 20th century.
The Rough Guide to China co-author Charles Young describes Lijiang thus: "China's biggest tourist black spot, in many ways little more than a cultural theme park […]" Sadly, he's not far off the mark.
Beat the rush to China's last tourism frontier – remote Dulong Valley
The new town, once a peripheral development where one could buy a few modern amenities, has swallowed the entire old town, which itself has grown exponentially owing to the habit of building so-called traditional houses anew. The Naxi have leased their town houses to Han retailers and retired to peripheral villages.
Outside a tourist information centre, a troupe of bored Naxi women dance for gawking holidaymakers, the Han women sporting hideously oversized hats, the men wearing polo shirts that seem designed to show off their paunches. They smoke and talk loudly throughout this exhibition of ethnic exoticism.
I rendezvous with Oliver Rockwell and Keiko Wong, Dali-based creatives who are taking photographs for a forthcoming Lijiang guidebook. They have hired a car for the endeavour.
Soon we are driving up the same road I pedalled across more than a decade ago. I have a vivid memory of a pastoral scene bisected by a narrow lane of asphalt, alone, bar a few goats and chickens, as I huffed and puffed up a gradual incline towards the sacred Jade Dragon Snow Mountain.
Bruce subsequently stayed on in Hong Kong ... I had Chinese U students coming in to help, artist friends passing through. The place was lively and Bruce apparently found it amusing
The scene was similar to a picture Bartlett shot of Chatwin riding a sit-up-and-beg bicycle, looking like an archetypal Englishman Photoshopped into an exotic locale. The modern scene: a six-lane flat-top navigated by SUVs and flanked on both sides by holiday resorts.
The hotels give way to a verdant valley peppered by the whitewashed homes of the Naxi, the eaves of the roofs curling up towards heaven. The road narrows to a single lane and, with a sigh of relief, I realise we are entering Rock's world.
Pretty Yuhu village is comprised of stone houses, some bound together by dry earth. The main touristy "thing-to-do" here is horse riding, a rather desultory affair whereby a villager leads a convoy of selfie-stick-brandishing sightseers on a circuit around the town to give them a taste of the ancient Tea Horse Road, once used to ferry horses and silver from Tibet to China in exchange for tea.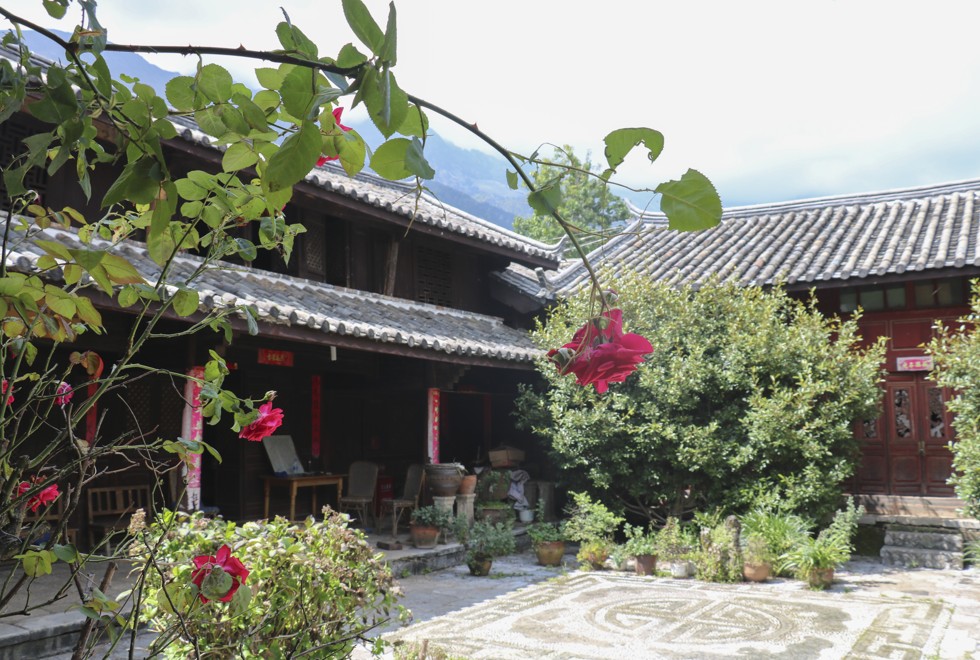 Handwritten text on a wall directs the visitor down a winding lane towards Yuhu's lesser-known attraction, the former resi­dence of Rock. During Chatwin's visit, it was occupied by a local named Li Wenbiao, who had shown the curious foreigners around. Nowadays, it's a half-forgotten museum. Confused sightseers linger at the door wondering who "Luo Ke" was.
Inside, a Naxi man is threading a wicker basket. I pay him the entrance fee and begin to explore the beautifully conserved courtyard and house, which stands in the shade of the Jade Dragon Snow Mountain. Purple and pink flowers in the garden grow as testament to the botanical riches of Lijiang that first drew Rock north, from Burma. Exhibited in two ground-floor rooms are photographs he took of the Naxi in all their tribal regalia, along with the decidedly less marvellous books he wrote about them. Upstairs, his bed, desk and oil lamps have been meticulously preserved. If there's any doubt to their authenticity, one need only look at the picture of Rock standing in that very room next to a Tibetan tapestry, which all appears exactly as it does today. It's a haunting homage to a man who, as Chatwin put it, "gave his life to recording the customs, ceremonies and the unique pictographic script of his Nakhi [Naxi] friends".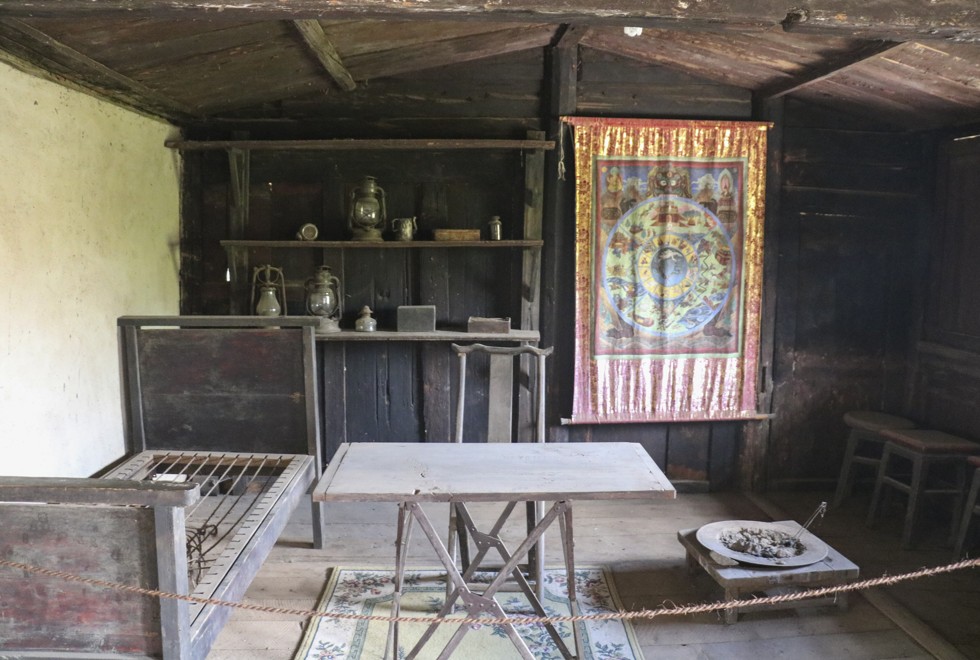 Rockwell and Wong drive me to Baisha, where they take shots of the murals the town is known for – Ming-dynasty master­pieces that blend Han, Naxi and Tibetan features. One would have thought ex-art dealer Chatwin would have waxed lyrical about such artefacts but perhaps they weren't on display in the 1980s, as the town re-emerged from the slumber of Maoist isolationism.
Baisha remains a charming place. There's a smattering of cafes and antiques stores but mass tourism hasn't reached here yet. Elderly Naxi women hawk vegetables on cobbled streets lined by "weeping willows and a quickwater stream", as Chatwin put it. The writer befriended a villager in Baisha. His name is He Shixiu but Chatwin called him Dr Ho, a name that has stuck.
"Where does the doctor live?" I ask a woman selling barbe­cued corn, and I am directed beyond the well-preserved imperial gate that arches over the main thoroughfare.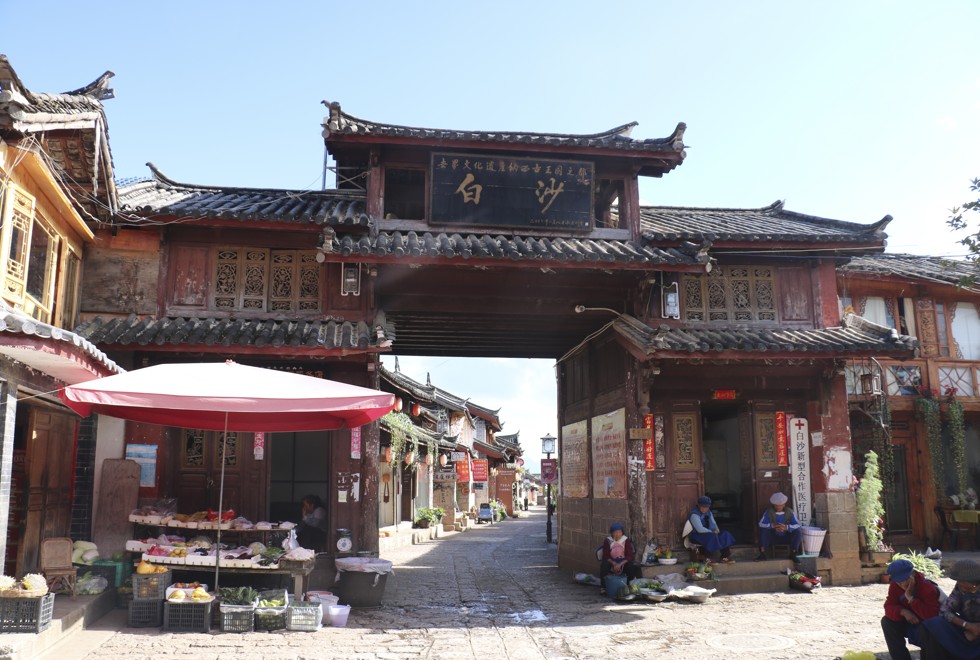 Ho, now 95, is less talkative than he was when we first met, a decade ago, having grown slightly deaf. His loquacious son, He Shulong, more than compensates: "Look, here you can see Chatwin," he says, pointing to various articles and books festooning the wall, "and Michael Palin came here, he British, very famous from BBC. This is Patrick Booz, he teacher in Kunming, first foreigner come here 1970s […]"
Royals, diplomats and a litany of reporters; the clinic has become a veritable shrine to Ho's international celebrity, the seeds of which Chatwin tended way back when Ho was just another herbal practitioner attempting to repair his life after persecution during the Cultural Revolution.
Ho's son appears in Chatwin's article as "the 27-year-old father of newly born He Deshou". That baby is now 32 and is himself a father.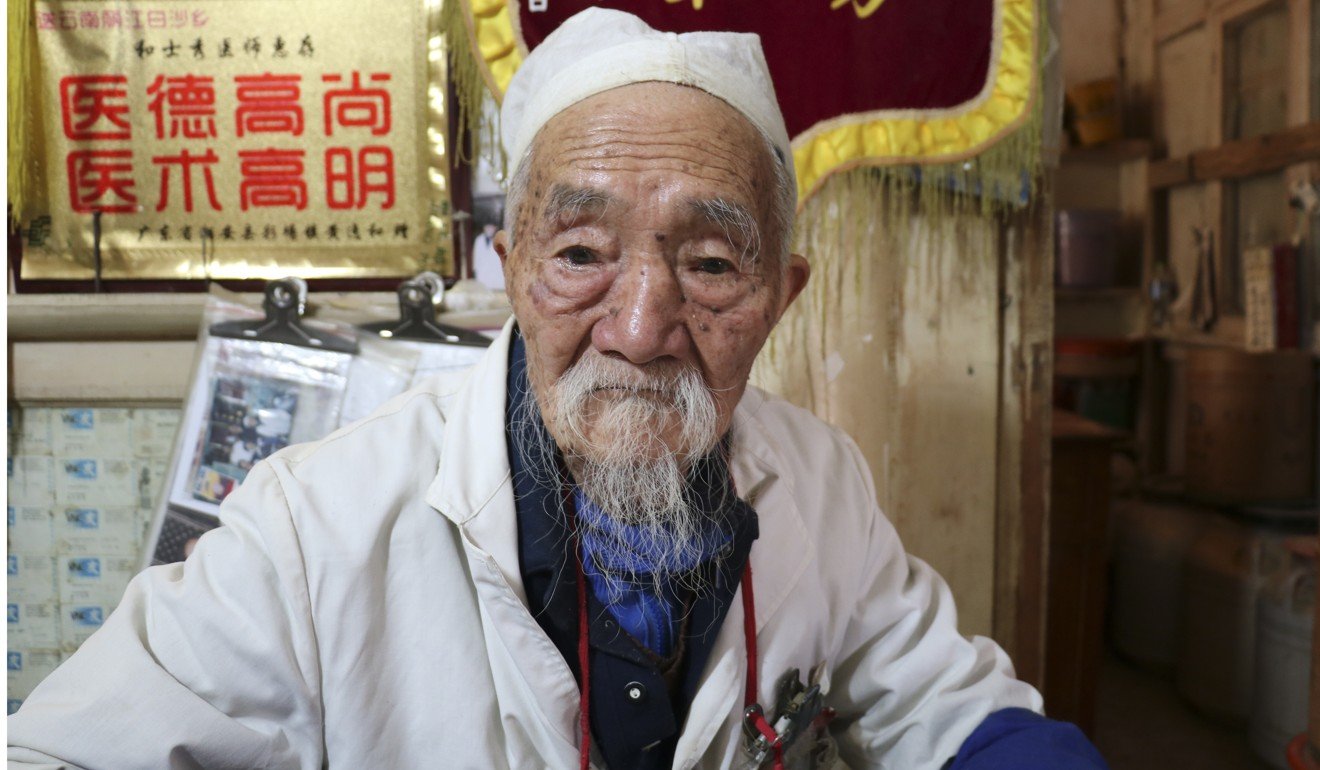 Four generations under one roof: a Confucian ideal. Ho & Co's patients and patrons from overseas have helped finance the construction of a large house, which He Shulong has decorated with calligraphy in all the languages of the family's clientele, from Japanese to German. Pilgrims file in day after day seeking Ho's miracle cures but one villager tells me, "We locals don't seek his help."
In the clinic, I show Ho pictures of Chatwin in Lijiang. His time-worn face is still recognisable as the man Chatwin met, with the same beard and white medical apron, the latter now adorned with trinkets from abroad; a Canadian flag pin, a souvenir key ring from Holland. His eyes moisten though his expression doesn't alter.
Then in near-perfect English he proclaims, "Chatwin liked Joseph Rock. I learned English from [Rock]. He was my father's friend. They were exactly the same age. I'm sorry that Bruce died. Are you in touch with his wife, Elizabeth? Please let her know I'm still alive and thinking of her."
As I prepare to leave, Ho says, "Come again in 10 years, I'll still be here."
Outside, his wife is sweeping the portico dressed in the sky blue Naxi costume.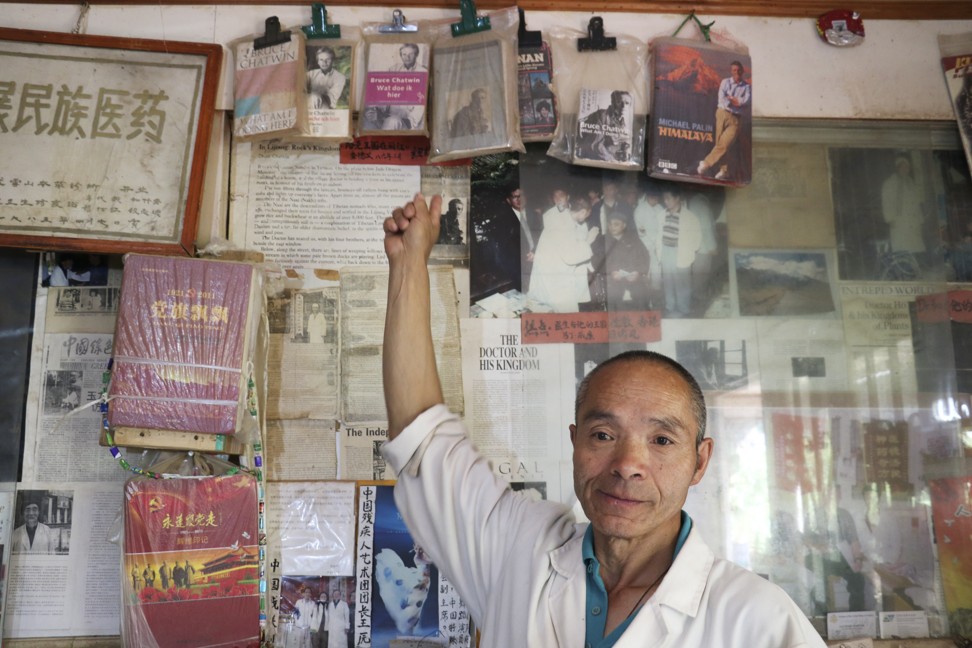 I head to Yufeng Lamasery, a place Chatwin deemed "the loveliest", though Rock described it as "a home of rats". Here I run into Richard He, a bespectacled tour guide with greying hair and a devious smile, who describes himself as the "local Naxi international expert guide No 1" and invites me to tea with the local lama.
I take his card and the next day, standing under the hollow glow of a neon Pizza Hut sign in Dayan, I make the call: "Can you take me where there are no tourists?"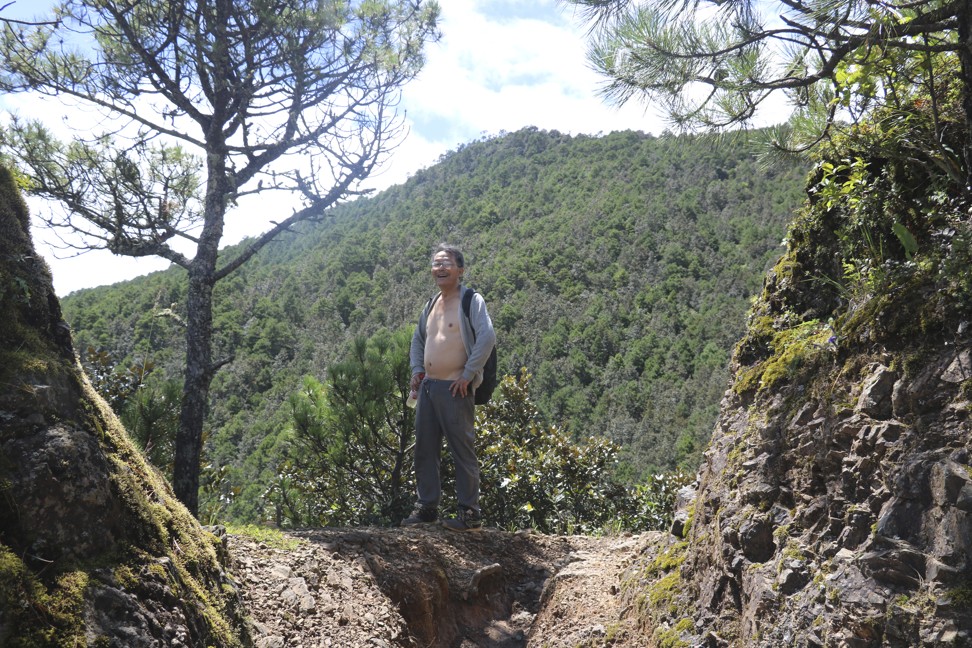 I've decided to diverge from Chatwin's tracks and He doesn't disappoint. We hike ancient trails known but to the locals, past epic mountain lakes, through dense forests and across eerie grasslands that seem to defy nature's logic. We spend a night in a remote Yi minority mountain village. Often lost, He seeks the advice of passing shepherds, forging a path from hazy memories and gut instinct. He talks like someone with a mild case of Tourette's, his strange insights garnered over years of talking to eccentric foreign hikers, and he loves Chatwin's phrase, "Walking is a virtue, tourism is a cardinal sin," which he repeats like a mantra.
On our third day together, we arrive in the market town of Shigu ("stone drum"), situated at the first bend of the Yangtze River. It's here that Chatwin saw the drum-shaped marble plaque – "a cylinder of marble in a pavilion by the willows" – that the town is named after. It is engraved with a Ming-era war poem that Chatwin asked Chang to translate and which He recites to me afresh:
"Snowflakes the size of a hand; Rain joining sunset to sunset; The wind quick as arrows …"
It was quite dangerous, driving up the single-lane highway … trucks heading towards Kunming brimming with timber. Fortunately, Bruce brought along a bottle of whisky that kept us going
I mention that Chatwin considered walking a poetic act, something spiritual that could cure all ills, and this inspires He to lead me even further afield, along the muddy banks of the Yangtze and up into a wild valley that is home to the Lesu people. Here, palm trees stand near ferns and farmers nurture fields of tobacco and barley terraced perilously into the hillside.
"Chatwin never came here," He repeats every hour or so.
I have no idea where we are going and neither does He, but every step is invigorating. Eventually, we encounter karst rocks that appear like pillars forging a giant V-shape in the land.
"Keep going and we'll reach Shangri-La," He says.
But the heavens open and soon we are unable to proceed.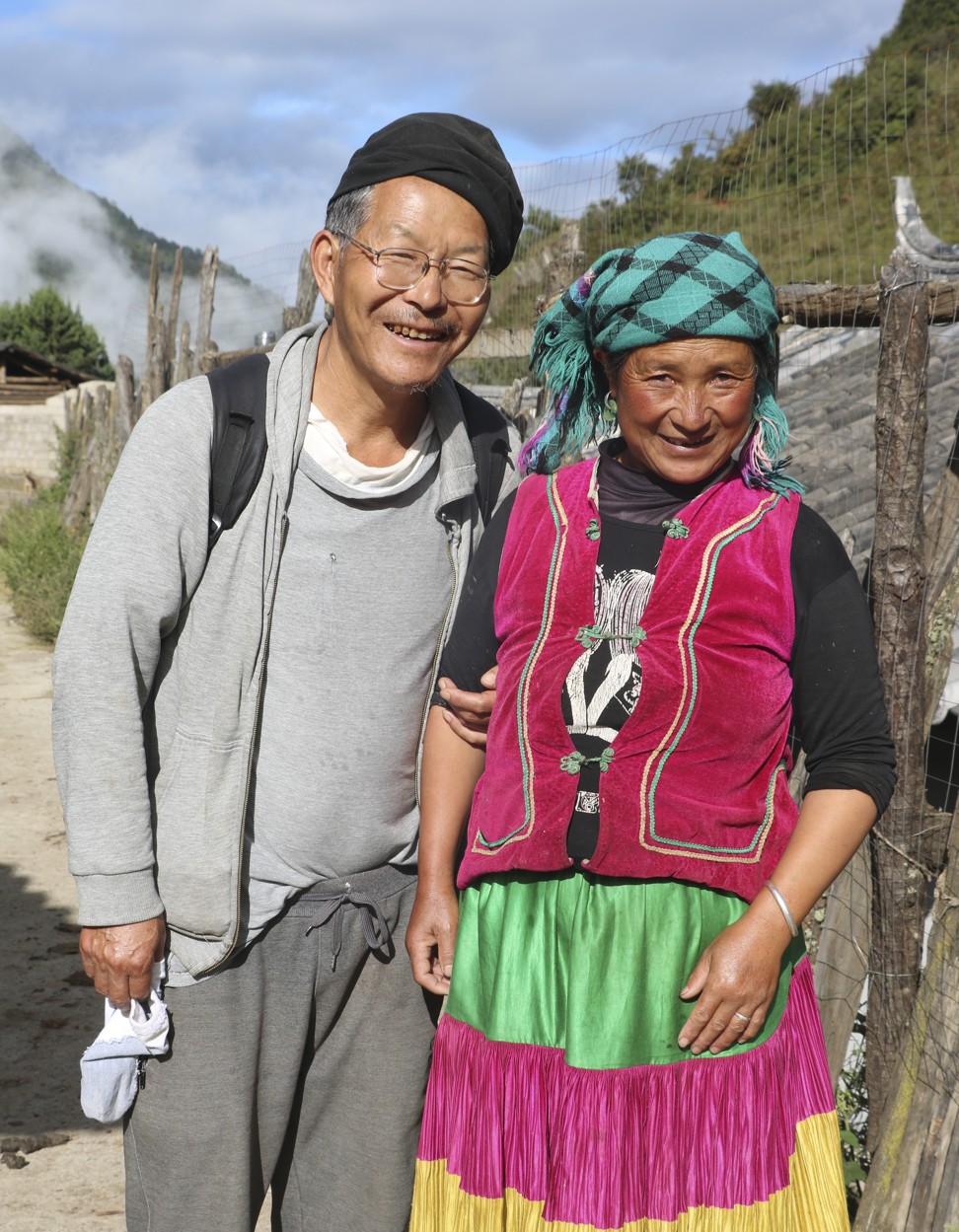 Bartlett shows me some of the letters he sent Chatwin, and there's a telling line in one: "I'm sorry to hear about your skin condition."
Chatwin was showing early symptoms of HIV at the time, though he never openly talked about his illness. Instead, he characteristically concocted stories to explain his symptoms, remarking after returning from China that he had eaten "raw Cantonese whale" or "a 1,000-year-old egg" and thus contracted a rare fungal infection.
"It annoyed me that he blamed his ill health on China," Bartlett admits.
Having left China, "Bruce subsequently stayed on in Hong Kong and camped out for a few days in my gallery on Kadoorie Avenue," says Chang. "I had Chinese U students coming in to help, artist friends passing through. The place was lively and Bruce apparently found it amusing.
"We also went to Taipei to visit tea houses and meet some artist friends."
Mongolia's nomads: masters of their destiny in a changing world
Chatwin's search for the "nomadic alternative" was no doubt a covert quest for what was really at play; a man who like a pinball was ready to shoot off at any minute, leaving a closet of demons at home.
To some his prose blended fact and fiction too freely. As American travel writer Paul Theroux puts it, "Life was never so neat as Bruce made out." But it's in Chatwin's flaws that we find his enduring appeal; between the margins a blemished soul seeps.
Chatwin died in France in January 1989 at the age of 48, without realising his full potential. Might there have been an In Yunnan had he lived?
What's certain is that the enigma of this complex man haunts the pages he wrote as it does the places he visited. And Lijiang is no exception.