"Run!" Carlito Ramirez managed to shout just one word before the six masked men on motorcycles shot him in the back of the head. The warning saved the life of his wife.
"We were going to buy some rice and I just ran for cover," recalls Victoria Ramirez, at her husband's wake, in Caloocan City, Manila. "When I turned around, I saw Carlito lying in a pool of blood."
Carlito Ramirez was killed on December 11, just a week after the couple's only daughter and her husband had been shot down in the same way.
"They are wiping us out," says Victoria Ramirez. No tears dampen her defiant face but she worries their granddaughter, who has just received the family's first college degree, will suffer the same fate.
Nobody in this poor neighbourhood of the Philippine capital – small concrete houses set along winding alley­ways – doubts that the Ramirezes are casualties of President Rodrigo Duterte's war on drugs. But Victoria Ramirez denies any links to the trade and believes the murders are politically motivated. She says Carlito wanted to run in the coming "barangay" (district) elections.
Officially, the police have labelled the case DUI, "death under investigation", a designation employed thousands of times since June 30, 2016: the day Duterte was sworn in. But the family believes the correct acronym for Ramirez's case is EJK: "extrajudicial killing".
Two-thirds of the killings are carried out by what we call police vigilantes – masked agents without uniforms but with clear ties to the security forces.
Not far from where Carlito Ramirez is being mourned, Maria Lavina is burying her son, at the North Caloocan cemetery. "There is no greater pain than that of a mother who loses her son," she cries. Thirty-year-old Rodel Lavina was stabbed to death on December 4 by the so-called "vigilantes of Duterte".
DUI, say the police; EJK, believes his mother. Many of those attending the funeral wear "Justice for Rodel" T-shirts, but any hope for that justice is absent.
"He was stabbed in broad daylight, but 'nobody saw anything'. People don't dare to speak up," says a friend, who asks not to be named.
A local news stringer covering the funeral, Renz Pedroche, points at dozens of new graves. Some don't yet bear names. Those that do have headstones reveal a tragic roll-call of mostly young males: 2016 and 2017 have been bounteous for this cemetery.
"Every day someone is murdered here since Duterte has been in power," observes a gravedigger.
Loreta Vento and Teresita Garces have buried their brothers in North Caloocan.
"Rodolfo was an electrician who made a little money as a drug runner," Vento says. "They arrested him on July 28, 2016. When I went to see him at the police station, they told me he wasn't there. Someone took him for a walk, they said. I found him three days later at the morgue, with four gunshots to his back."
Says Garces, "Winifredo became addicted to drugs after the death of his one-year-old son in a traffic accident. Later on, his wife got sick and died. He had lost his job and was on the police kill list. On May 21, 2017, they shot him four times in the chest."
Rose Guyala couldn't afford a tomb, so she had her husband, Alex, cremated.
"A masked man on a motorcycle shot him in the head when we arrived home on the tricycle he rode. I even felt the heat of the bullet. He had friends in the drug trade, but he was clean. They killed an innocent man," Guyala says.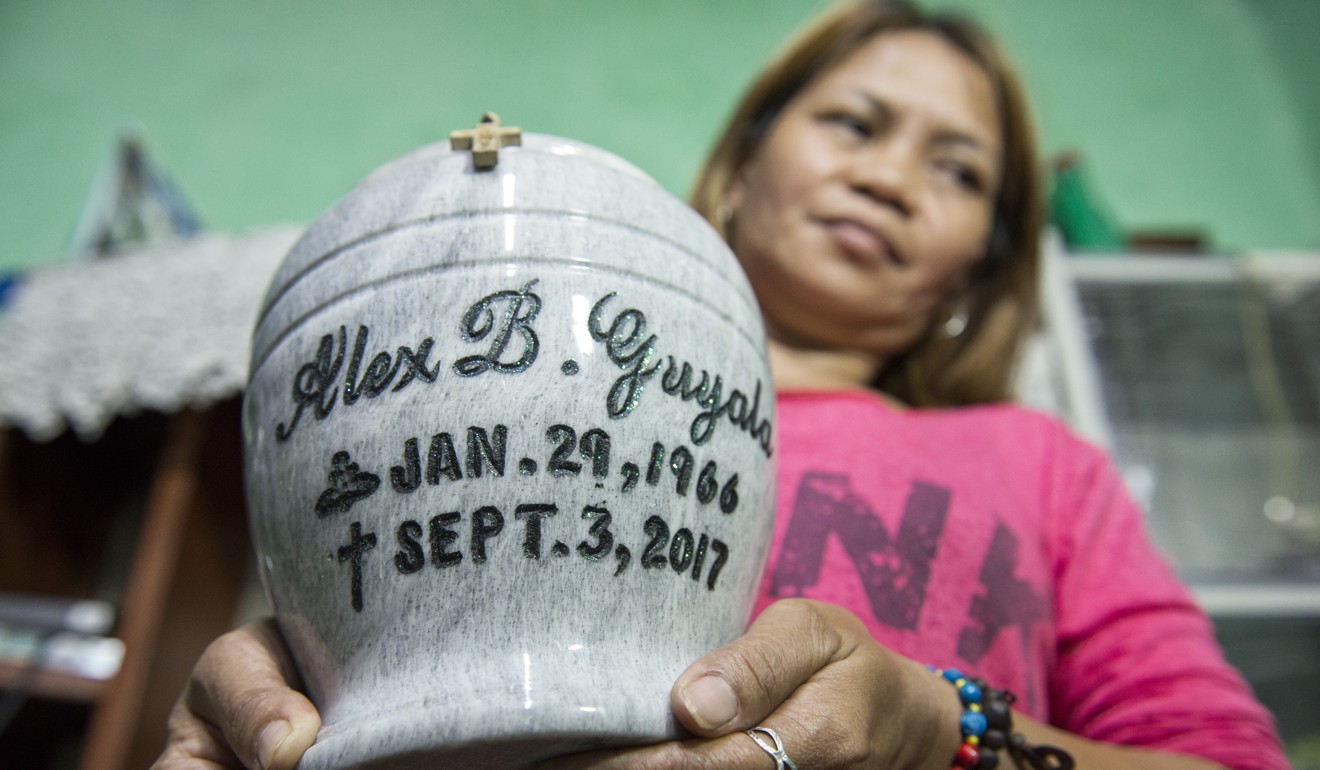 At the Philippines National Police (PNP) head­quarters, spokeswoman Kimberly Molitas admits there have been close to 4,000 deaths in Duterte's war on drugs. "The human toll is high," she says.
NGOs put the number as high as 13,000. In its report titled, "If you are poor, you are killed", Amnesty International counts 7,025 deaths between July 1, 2016 and January 21, 2017: "In the poorest neighbourhoods of the Philippines [...] the sight of bodies on the street has become commonplace; the fear of being or knowing the next victim, pervasive."
And no one can say they didn't see it coming. "Forget the laws on human rights," said Duterte, during his final pre-election rally. "If I make it to the presidential palace, I will do just what I did as mayor. You drug pushers, hold-up men and do-nothings, you better go out. Because I'd kill you. I'll dump all of you into Manila Bay, and fatten all the fish there."
Global criticism forced Duterte to withdraw police from drug-related operations but that proved to be only a hiatus. On December 6, 2017, the PNP were again unleashed. "You can go to hell, all of you!", the president told human rights groups.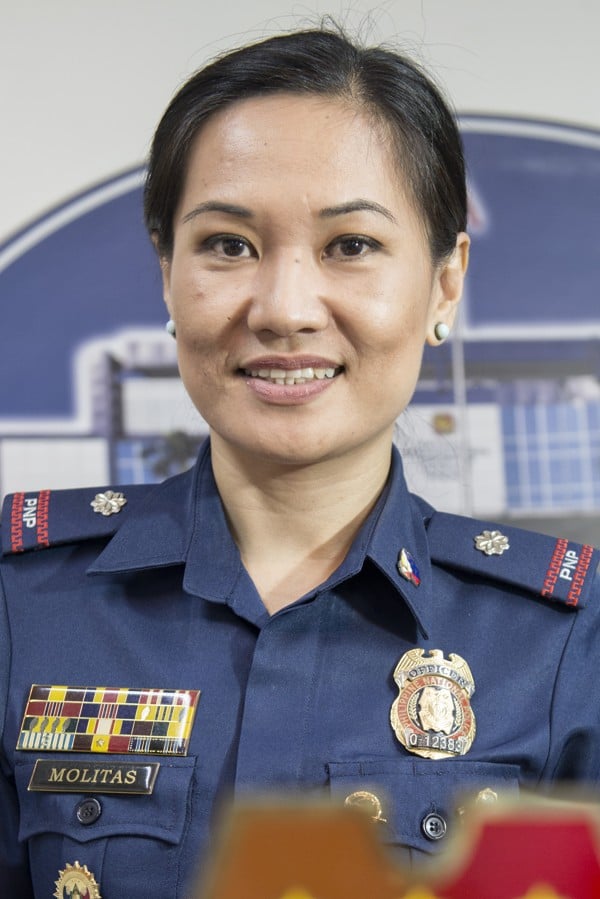 "There are only 1,800 agents in the Drug Enforcement Agency (PDEA); not enough to complete this task," says Molitas, by way of justification. "But the PNP has 185,000 policemen."
According to a Social Weather Stations survey conducted at the end of December, 71 per cent of adult Filipinos are satisfied with the way Duterte is leading the country.
"Law and order is a very appealing idea for Filipinos," says Jacqueline de Guia, spokeswoman for the Commission on Human Rights (CHR), an independent, non-partisan government body tasked with investigating all suspected violations and under constant fire from the president's office. "They believe consequences of a bloody campaign are irrele­vant if it makes them feel more secure. And it's true that criminality was down after the war on drugs began.
"The higher classes are frustrated with the justice system because it's slow, so they think vigilantes and death squads should be tolerated because they rid society of criminals."
Nevertheless, "Duterte is guilty of crimes against humanity," says Ellecer Carlos, spokesman for the iDefend alliance, during an interview at the NGO's office in Manila. "He ordered the police to carry out a social cleanse against the most basic human right, the right to life. And he hasn't done anything to prosecute all the crimes committed. He is even meddling with the judicial system to prevent justice."
Rosemarie Trajano, secretary general of the Philippine Alliance of Human Rights Advocates, one of several organi­sations comprising iDefend, says, "Two thirds of the killings are carried out by what we call police vigilantes – masked agents without uniforms but with clear ties to the security forces. We believe the 700 million pesos (HK$109 million) budget allocated for the war on drugs is actually being used to reward the killers, but we can't prove it."
Molitas denies such claims. The police spokeswoman admits mistakes were made during the first phase of the anti-drugs campaign, but she rejects any involve­ment of the PNP in the indiscriminate murders plaguing the country: "There was corruption in the police and measures have been taken. Hundreds of agents have been sacked, and many more have been transferred. Courses on human rights have been made compulsory and everyone has been tested for drugs. We want to adhere to strict protocols and improve crime scene investigations," says Molitas, who spent five years undercover among drug gangs and another five on the Station Anti-Illegal Drugs task force before taking on her current role. "Also, we will be adding body cameras and CCTVs to make our work more transparent. But this costs money and our budget is low."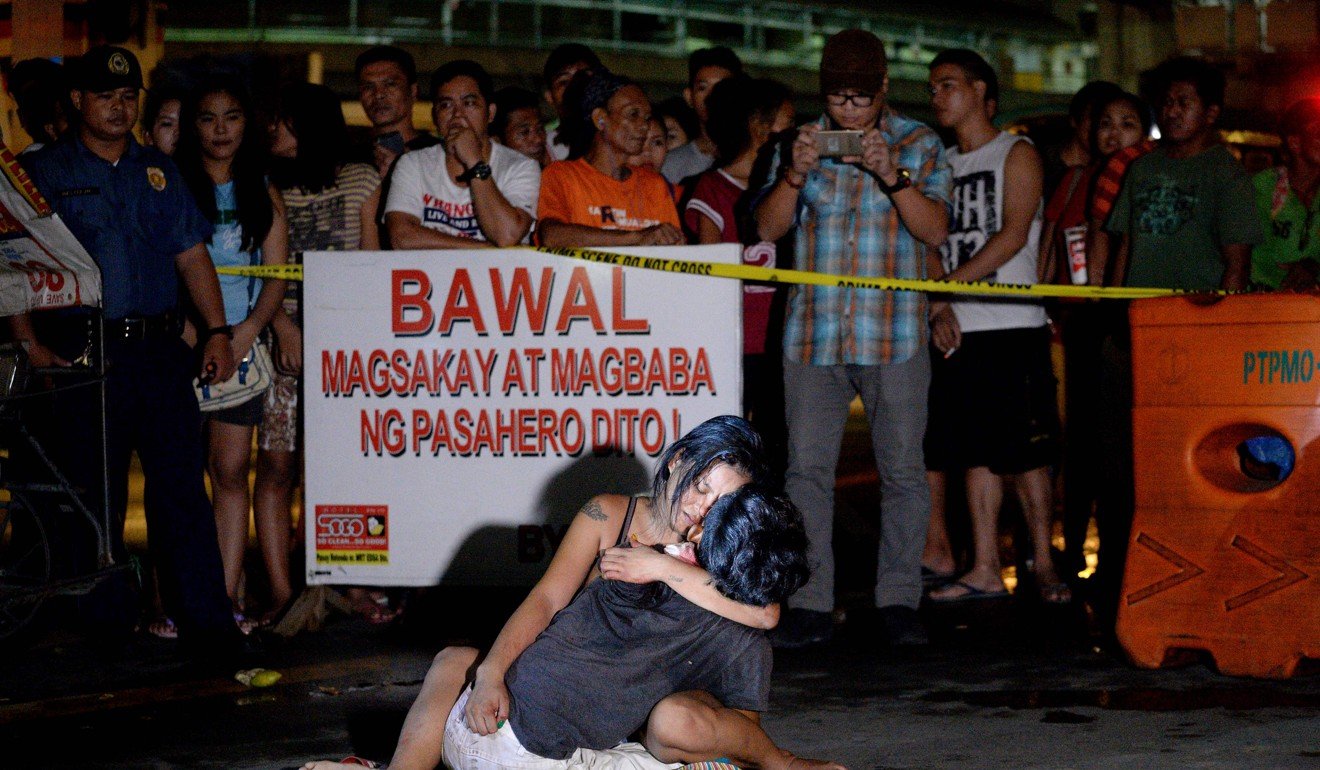 At the end of 2017, agents at only one of Manila's dozens of police stations wore body cameras, according to Molitas, and a visit to a district government building reveals that most of the CCTV cameras in the streets are not operational.
"Now all drug operations will be led or supervised by the PDEA, and all agents taking part must be cleared by a special committee. We will also have agents recording and we are working on an embedding policy for the press, so our work will be more transparent," Molitas says.
Asked about the high number of casualties in police opera­tions, she sticks to the official line: "They were defending themselves; agents were fired upon and responded."
At the CHR office, investigator Jun Nalangan shakes his head. "Police killings are being justified by shootings that never happened. In many of the hundreds of cases investigated we concluded that people were executed with their arms raised and without resisting arrest. Ballistic reports, autopsies and witness accounts confirm that the police never tell the truth."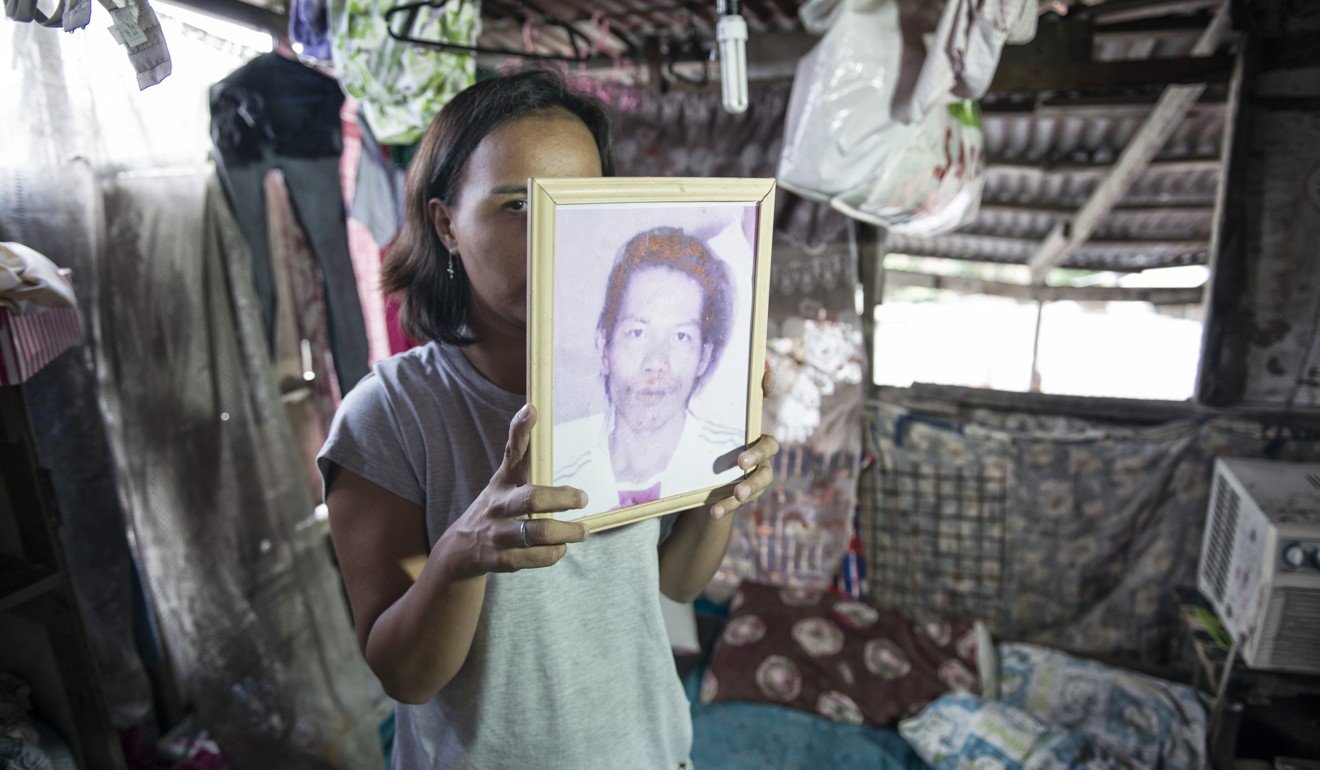 Katrina Polo says her husband's killing is a good example of how the dirty war on drugs is being fought. According to confidential documents – including official police accounts and the autopsy – viewed by Post Magazine, on the night of August 14, 2016, Cherwen Polo died of multiple gunshot wounds to the trunk and the head at the family home, in the slums of Payatas, Manila. Three male friends were gunned down alongside him by the police during a "buy bust" operation.
Jun Ralph Pinero was one of the agents taking part in the operation. In a counter-affidavit, he stated that one of the men rushed into the house shouting, "Police!" and started to shoot. The rest, armed with .38 calibre revolvers and .45 Colt pistols, followed suit. "In order to preserve the life of our team member, who was being shot at, a perimeter was secured to take cover and defensively return fire at the assailants," Pinero said.
But Katrina Polo recalls events very differently.
If they were part of a well-organised gang, like the police say, how come there was no fire coming from any other place? How come there were no bullet holes anywhere? ... And how could they afford expensive guns and still live in this s***hole?
"It was Sunday and I came back from work late, around 11pm. Cherwen was on the second floor already asleep, but two of his friends kept drinking and chatting. They had come to celebrate my husband's birthday [his 38th]. So I went downstairs with our three children – aged two, seven and 11 – and prepared some baby milk formula for the youngest. Then I heard a knock on the door."
One of the friends, nicknamed Blink, opened the door and saw the police.
"He told them there was nothing in the house. A shot was fired. Then I heard the agents rushing upstairs and I heard another six shots. I was very nervous and shouted at them to stop shooting because they could wound the children, so they asked me to leave," Katrina says. "That's when I saw Blink lying dead by the door."
She hoped her husband had been spared, but she found him the next morning at the morgue. "He was a small-time drug runner, but had no drugs on him that night and had never owned a gun, even less a fancy automatic. The police were never threatened. They executed my husband and his friends," she concludes. One of the friends, Harold Arevalo, lived, and went straight to jail.
A fifth man – named as Sherwin Ternal – was on the list of the dead, although Katrina says he wasn't there. The bodies were retrieved immediately, before a proper investigation could be carried out by the scene of crime officers (SOCO), facts the police do not dispute. No bullet holes or cartridges were found in the Polo residence by the police or SOCO.
Katrina Polo takes us to her home. We walk through a maze of narrow unpaved streets, cross a perilous-looking wooden bridge over a noisome stream and enter one of the poorest neighbourhoods in the capital. Polo lives in a wood and metal shanty sitting on a steep hillside.
"If they were part of a well-organised gang, like the police say, how come there was no fire coming from any other place? How come there were no bullet holes anywhere? How come one tried to escape jumping from the window directly into the police's line of fire?
"And how could they afford expensive guns and still live in this s***hole?" she asks, with growing anger.
Adding to the irregularities is the acquittal of Arevalo, ordered on November 17, 2017, by the Metropolitan Trial Court of Manila. "He was charged with direct assault but is now free," Katrina says. "This is more evidence that my husband was innocent."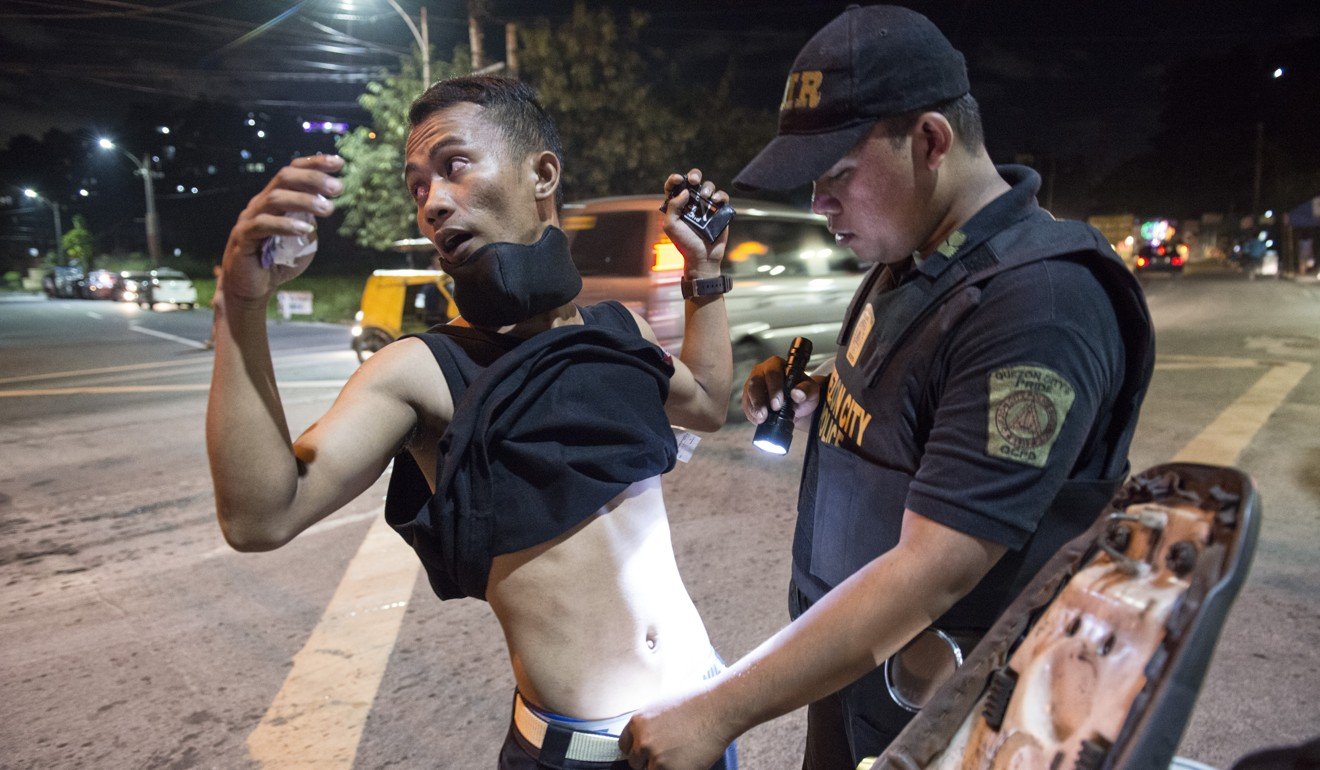 After an investigation in April last year, the CHR determined that there were too many inconsistencies in the policemen's accounts. "Respondent police officers failed to respect and protect the dignity and maintain and uphold the human rights of the victims," said the commission. "Thus, they're liable for human rights violations."
Standard compensation of 10,000 pesos (HK$1,553) was paid by the CHR to Katrina Polo and each of the families of the other victims. No police officer has been charged with a crime.
More misery awaits many of the bereaved. "When we went to get the bodies, they were not in the morgue any more," recalls Marilyn Bordeos, Blink's aunt. "The police had already sent them to a funeral home.
"According to their regulations, if a cadaver is not retrieved by the family in the first four to six hours, they can refer it to the mortuary of their choice," she says.
The problem was, Bordeos says, that the police chose the most expensive morgue in the city.
"They charged 50,000 pesos for each of the bodies and said that we couldn't take them elsewhere because they had already started working to stop the decomposition process," she says.
Bordeos and Polo borrowed money "from family, friends and even a politician" to pay for the service. Later on they were told at the funeral home that the police would take some of the money paid, which was about four times higher than the Manila average.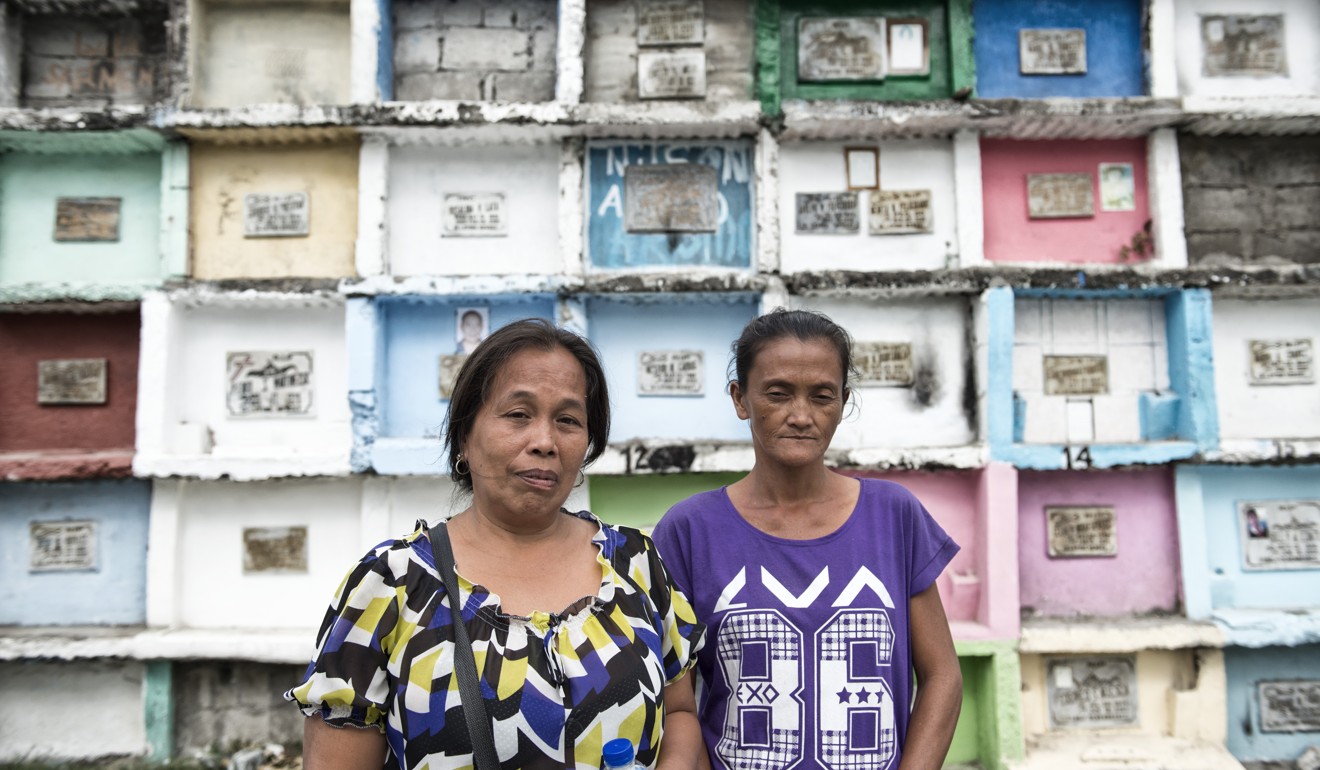 Garces faced a similar situation. She says she was inform­ed of her brother's death by the funeral home. "They called to say that I had to pay 50,000 pesos for their services when I didn't even know that he was killed," she recalls. Once again, it was the police that had referred the body to their "partner" mortuary. "Eventually, I gave up on the autopsy – which they wanted to charge 10,000 pesos for – and managed to negoti­ate the price down to 15,000 pesos. They threatened to dispose of the body if I didn't pay," Garces says.
Amnesty International says it asked a senior police officer about this practice, guaranteeing him anonymity. "He told Amnesty International that some police have established a racket with funeral homes, who reward them for each dead body sent their way.
"Witnesses told Amnesty International that the police also enrich themselves by stealing from the victims' homes, including objects of sentimental value," the NGO wrote in its report.
Polo and Bordeos are among the few victims brave enough to have filed a case against the PNP. Vento, Garces and Guyala chose to remain silent.
"Most fear retaliation," Nalangan says.
At Batasan Station 6, to which the officers who killed Katrina Polo's husband are attached, superintendent Rossel Cejas denies any wrongdoing. Even though his police station has one of the highest kill rates in the country – 108 during the first year of the war on drugs, according to Reuters – he says "human rights are always respected".
The policeman plays us a video of an injured officer to prove that his men "are also under attack" and invites us to accompany his forces on a routine operation.
Twenty heavily armed men in cars and on motorcycles set up a checkpoint at a busy intersection in Quezon City. "It can't last more than an hour, because criminals will alert each other," explains the commander. A young man on a motor­cycle without plates riding with a young girl on the back is stopped and thoroughly searched. Another man, wearing a skull mask, is interrogated.
The officers behave; they bark commands and aggressively demand documents from riders they've stopped, but it's obvious they are aware they're being watched by a foreign reporter. It's also evident the general public are wary of them.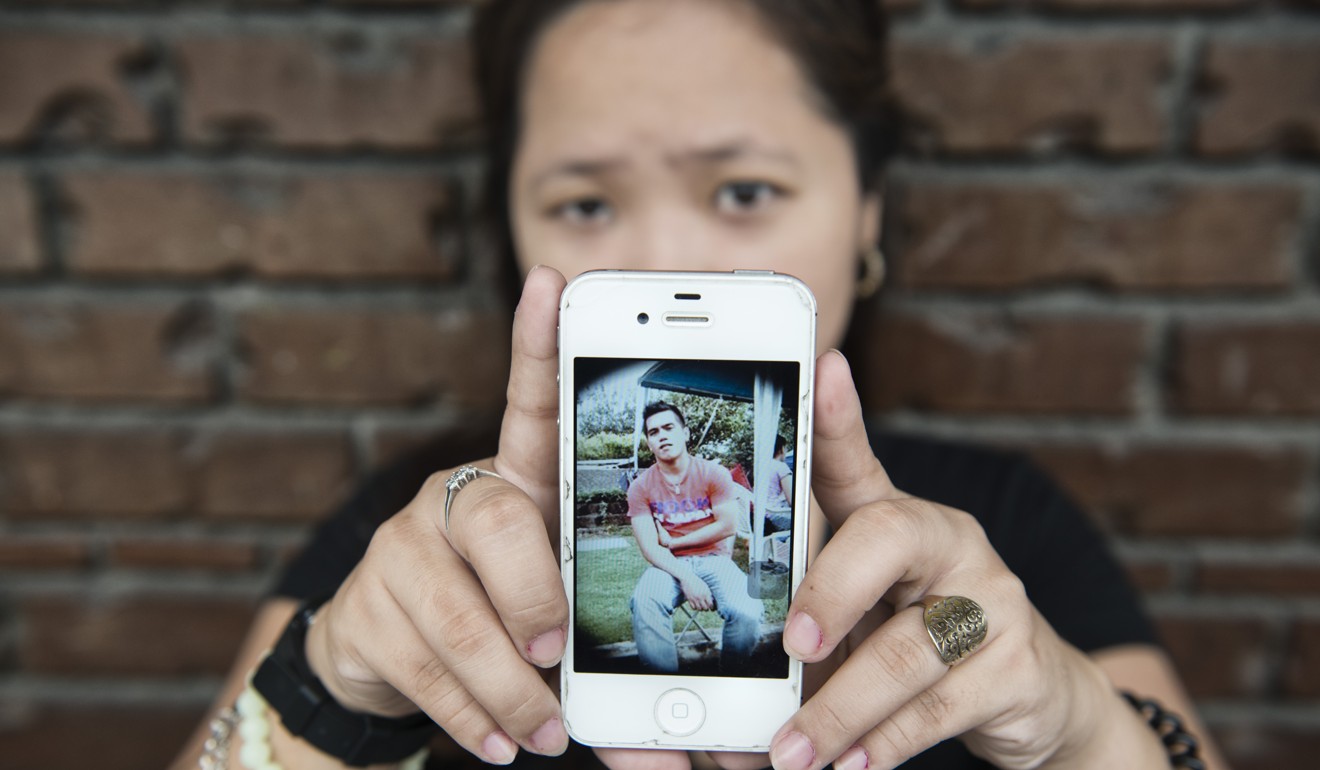 Harrah Kazuo's four-year-old daughter fears the police so much that she starts crying at the sight of a uniform. "They groped her and roughed her up when they searched for drugs in our house," says the child's 27-year-old mother, when we meet in a restaurant in the area she now calls home.
Her husband, Jaybee, and father-in-law, Renato Bertes, died on July 7, 2016, while in police custody.
"Three officers came at 11pm and ordered both to hand in their drug stash. But there was none and [the police] got violent," Kazuo recalls. "They found nothing, but took [the suspects] away."
The next morning, she talked to her husband at the Pasay City police station, in Manila. "He asked me to find a doctor who could certify that they had been tortured. He couldn't even move, and my father-in-law had bruises all over his body." It was the last time she saw either of them alive.
He [Jaybee] knew he was on the police radar and was mulling turning himself in. I don't understand politics, but I believe nobody deserves to die like this
At 5pm, a local reporter told her that the men had been killed. Their bodies were in the morgue. According to the police, Bertes had grabbed an officer's gun and tried to fire it before another policeman gunned him down. Then, Jaybee Bertes went for the gun and suffered the same fate.
"It makes no sense that they tried to escape like that from a police station while injured," Kazuo says.
An autopsy requested by the CHR concurs. "Jaybee's arms and fingers were broken in different places. It was impossible for him to try to hold a gun in his situation," she says, between sobs.
Jaybee was a drug user and an occasional pusher. "He knew he was on the police radar and was mulling turning himself in. I don't understand politics, but I believe nobody deserves to die like this," Kazuo says. "My husband even voted for Duterte, because he thought the president would bring economic opportunities for us to lead a better life."
Four officers were identified as being involved in the killing and two are awaiting trial.
Kazuo is scared because policemen have since visited her house and threatened her, she says. "'Have fun while you can,' they told me."
CHR put her in a witness-protection programme, but in February last year, she decided she wanted to give her two children a normal life, and so is now staying with a family member and works the night shift at a bar.
"I want to find my father, who is Japanese, so he can help my kids," she says. "But I have no idea where he is."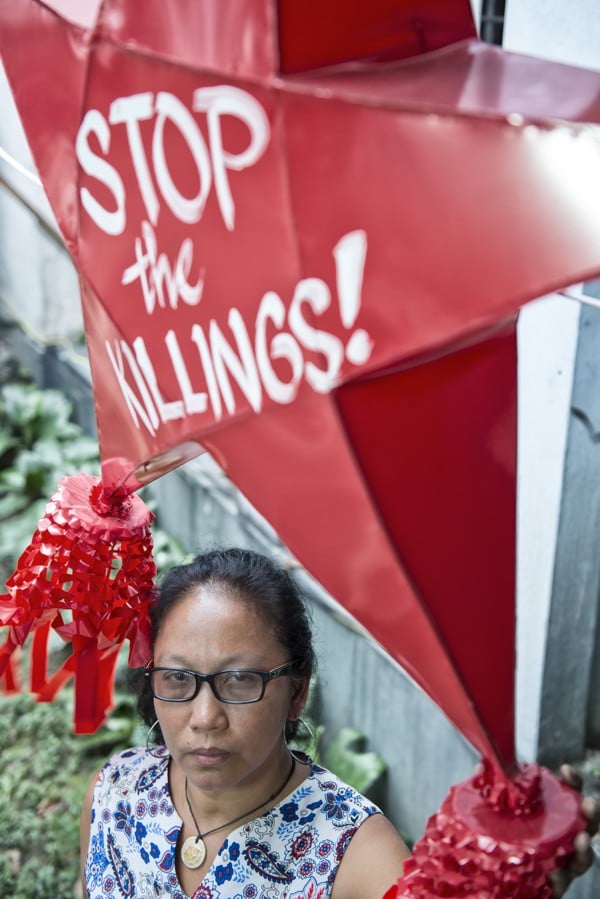 "Most of those killed were the breadwinners of the family. Now, women are struggling to raise their families," says Norma Dollaga, head of the NGO Rise Up. "Duterte is waging a war against the poor, not drugs. And it doesn't matter how many he kills, because poverty will shove more people to the trade." Rise Up was founded in October 2016 to put pressure on the Catholic Church to denounce the crimes committed "and unite victims to rise up against police impunity".
Even Molitas agrees with the general consensus of people interviewed by Post Magazine that rehabilitation and income generation programmes represent the only feasible solution to the problem of drug abuse – and the police spokeswoman says the government is already taking that approach.
"Journalists always focus on killings, but they forget that 1.3 million people have turned themselves in voluntarily to get a second chance in rehab programmes. And that crime rates were down 39 per cent during the first year of the anti-drug campaign – especially crimes like rape and theft, which are often committed under the effect of drugs."
Although he presents no proof, saying his information comes from sympathisers on the inside who are disgruntled with the situation, Trajano takes issue with those claims. "In all, the government has allotted buildings with 10,000 beds for rehabilitation programmes of drug addicts, but only 600 [beds are being used for that purpose]. The rest are being used as army barracks. And the names of those who turned themselves in are used as a kill list."
Dollaga says, "The only institution rehabilitating drug addicts and traffickers at the moment is the Church. And it wasn't easy to convince the bishops to do so. We had to press hard to get them to officially criticise the war on drugs. Even now, it's mostly individual priests, on their own, who carry out rehabilitation programmes in their churches, to make a difference in the community and protect those who may get killed at any time."
The biggest fear for some now is what Duterte might do next.
"Because he has a supermajority in both chambers, he can modify the constitution," Trajano says.
"Now he is trying to reinstate the death penalty," adds Carlos, "and soon he will appoint the ombudsman and 12 out of the 15 judges at the Supreme Court. He has too much power."
The two NGO workers use only encrypted chat apps for remote communication because they believe their phones are tapped and they fear for their lives.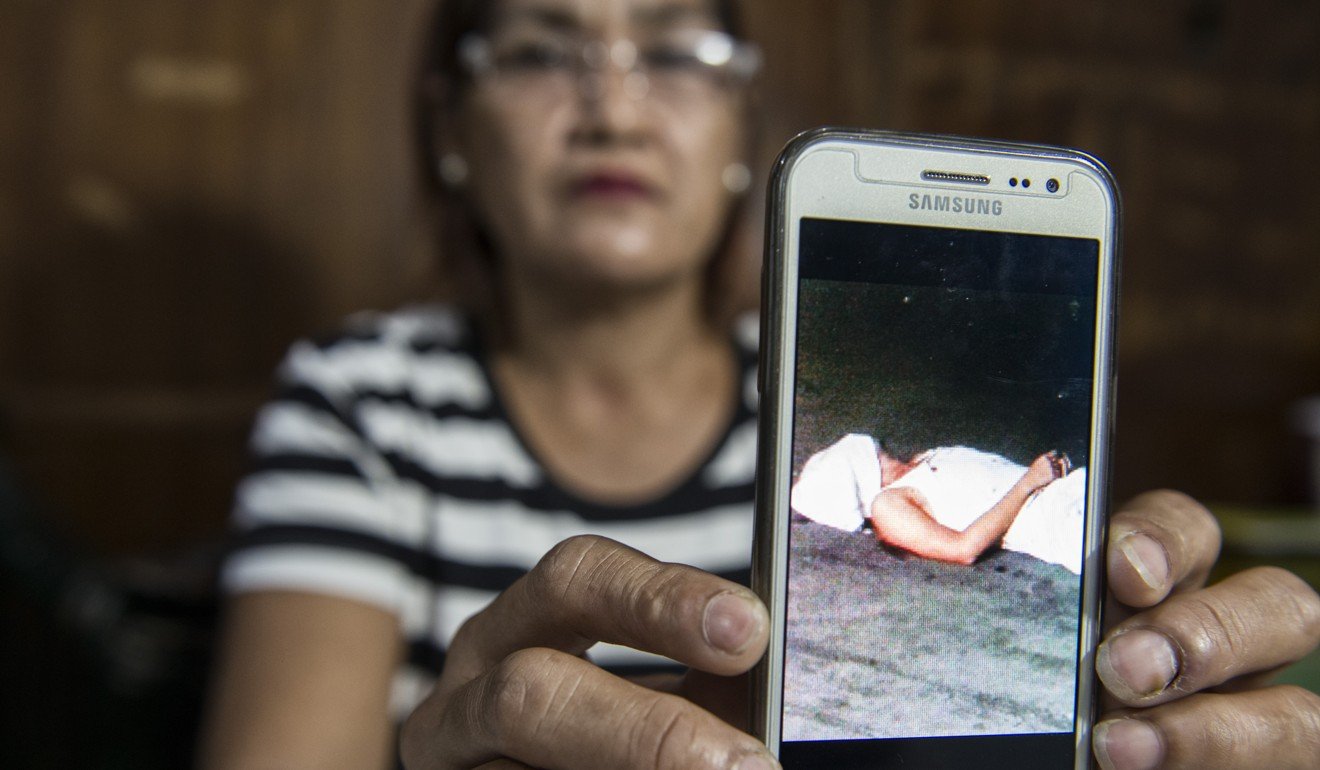 Another target for the authorities is Rappler, a news site that has been reporting on the war on drugs from a critical standpoint. Last week, the Securities and Exchange Commission (SEC) revoked the media outlet's registration over what the government claims is a violation of the constitution.
"The SEC's kill order [...] is the first of its kind in history – both for the Commission and for Philippine media," claims Rappler in a letter to readers. "In a record investigation time of five months and after President Duterte himself blasted Rappler in his second [State of the Nation address] in July 2017, the SEC released this ruling against us."
And Duterte is making other enemies.
"I will kill him," swears Nanette Castillo. On October 2, 2017, her son, Aldrin Castillo, was shot twice in the head, twice in chest and once in the neck while sitting having a drink with friends at a table in the street. When his mother arrived at the scene, the 32-year-old's body was covered with a sheet.
"The police told me that it was a case of mistaken identity, but they have investigated no further. He was not on the watch list, and he dealt no drugs."
Castillo blames Duterte personally for her loss. "He is evil. He acts like a god, deciding who lives and who dies. He doesn't care about the lives of the poor and deserves to die the way he kills.
"I will not stop until I get revenge." ■