The young mother is close to tears as she describes the fear and panic she felt as she waded through thigh-deep river water with her two-year-old daughter in her arms, surrounded by other fleeing refugees.
"I was very afraid because I can't swim," says Habibah Abdullah, recalling the mass flight of Muslim Rohingya families. "Babies were crying and children all around me were screaming, 'Mummy, mummy.' One man collapsed in the water because of the heat."
Her harrowing account has a depressingly familiar ring to it amid the avalanche of reports of the horrors endured by the Rohingya people now crowded in refugee camps in Bangladesh after fleeing burnt-out villages in Myanmar's Rakhine state. Only Habibah's story is different.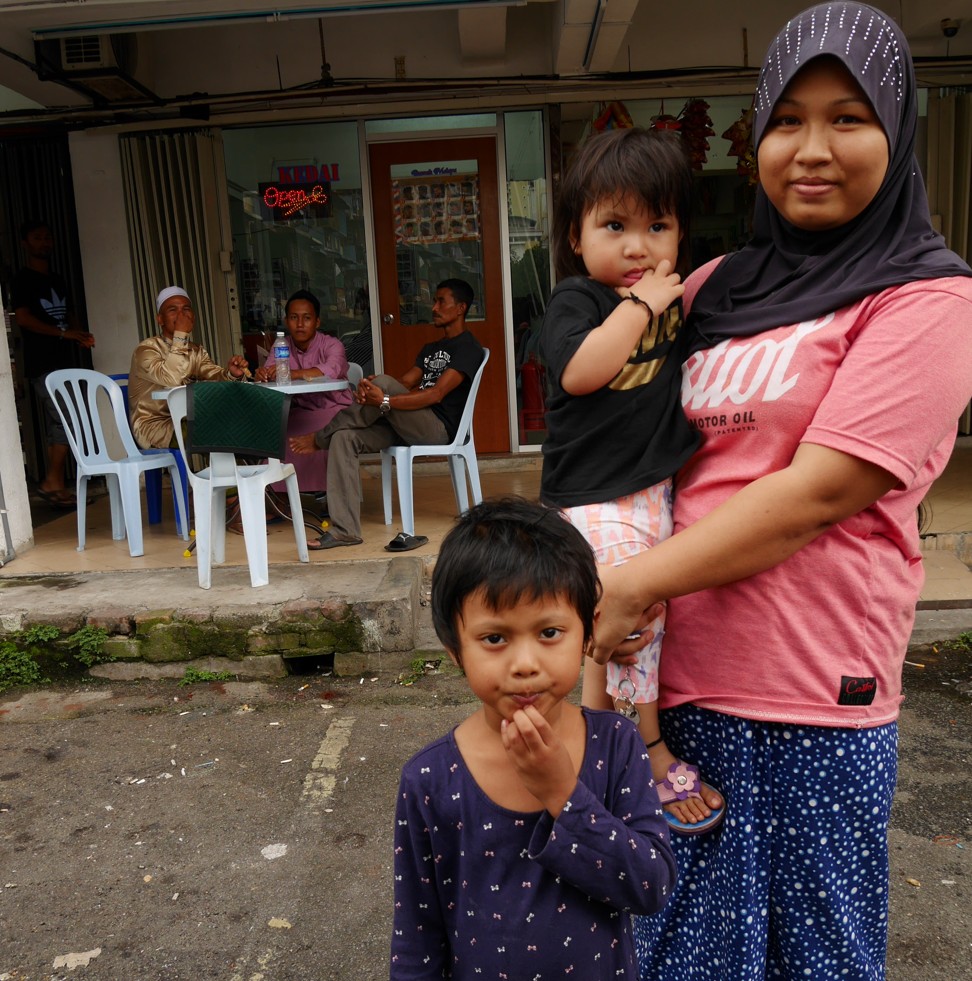 She is not describing a real-life flight to Bangladesh, but rather a reconstruction of her people's ordeal filmed in Malaysia for a BBC drama featuring a glamorous British soap opera star.
Our Girl, starring former Coronation Street actor Michelle Keegan, follows the fortunes of a female British Army medic working in war zones and hot spots around the world. Our heroine, Lance Corporal Georgie Lane, has saved locals and flown the Union flag in Kenya and Nepal, and the fourth series of the show, to be aired this year, will see Keegan dashing to the aid of Rohingya Muslims.
By filming in Malaysia, the BBC was able to recruit extras from the tens of thousands of Rohingya who have fled Myanmar for the Muslim country in recent years, most of them now living in dire poverty in rundown quarters of the capital, Kuala Lumpur.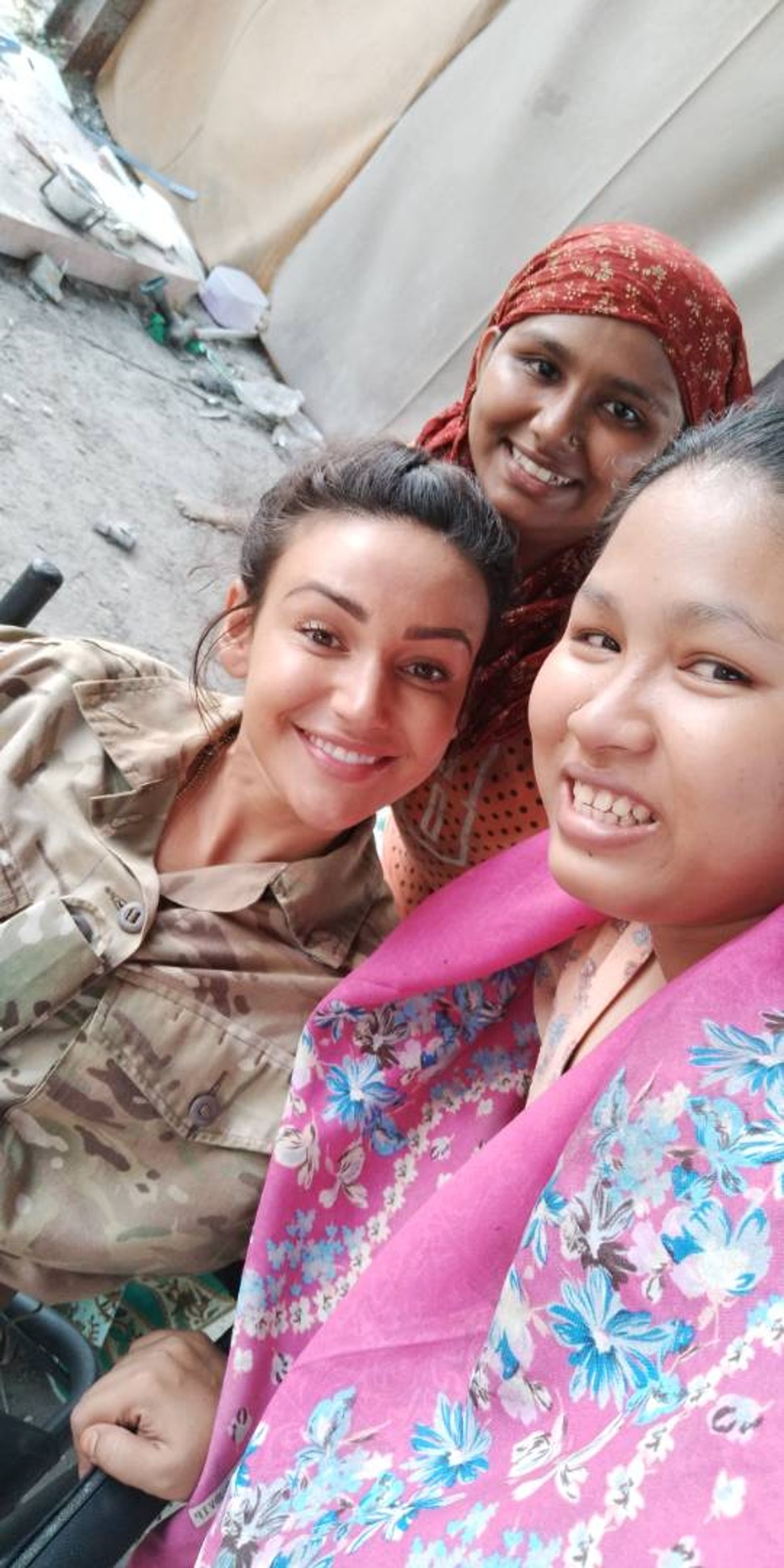 Up to 100 Rohingya – most of them refugees who had survived horrific journeys by boat and many of them children – were bused to film sets on the outskirts of Kuala Lumpur to work as extras for 180 Malaysian ringgit (HK$360) a day. The work was popular among the Rohingya who, as UNHCR-registered refugees, cannot apply for proper jobs and scrape a living beyond their UN allowance by selling vegetables and fruit on roadsides, or by working illicitly as maids and labourers.
Searing images of Rohingya refugees in Bangladesh camps
Of equal importance to the money for some, the work as extras provided an opportunity to highlight to a Western audience the plight of relatives left behind in Myanmar or stranded in refugee camps in Bangladesh. But members of the BBC production team were shocked to see the extras sprayed with dirt to make them look suitably dishevelled for the exodus scenes, and then made to relive their ordeals for the sake of a prime-time drama.
Those uneasy feelings are shared by a handful of the extras when, working with Malaysian and Hindi-speaking translators, we seek them out in the rundown Kampung Pandan suburb of Kuala Lumpur, its crumbling 1960s public housing blocks transformed in the past few years into a mini-Rakhine state, with Rohingya-run grocery and low-cost clothing stores.
During the day, only women, children and the elderly mill around in its tatty grass squares, littered with abandoned furniture and rubbish skips, the men having travelled into wealthier parts of Kuala Lumpur to find work, returning home after nightfall. The Chinese families and shops that were a feature of the area have moved away, with just one Chinese hardware shop remaining in the most concentrated Rohingya district.
When we ask the erstwhile extras to share their experi­ences, families welcome us into their homes – basic three-room apartments that, in some cases, house three families – and coffee shops, and into the meeting room of a mosque complex run by long-standing Rohingya community mem­bers, some of whom came to Malaysia from Myanmar one or two generations ago.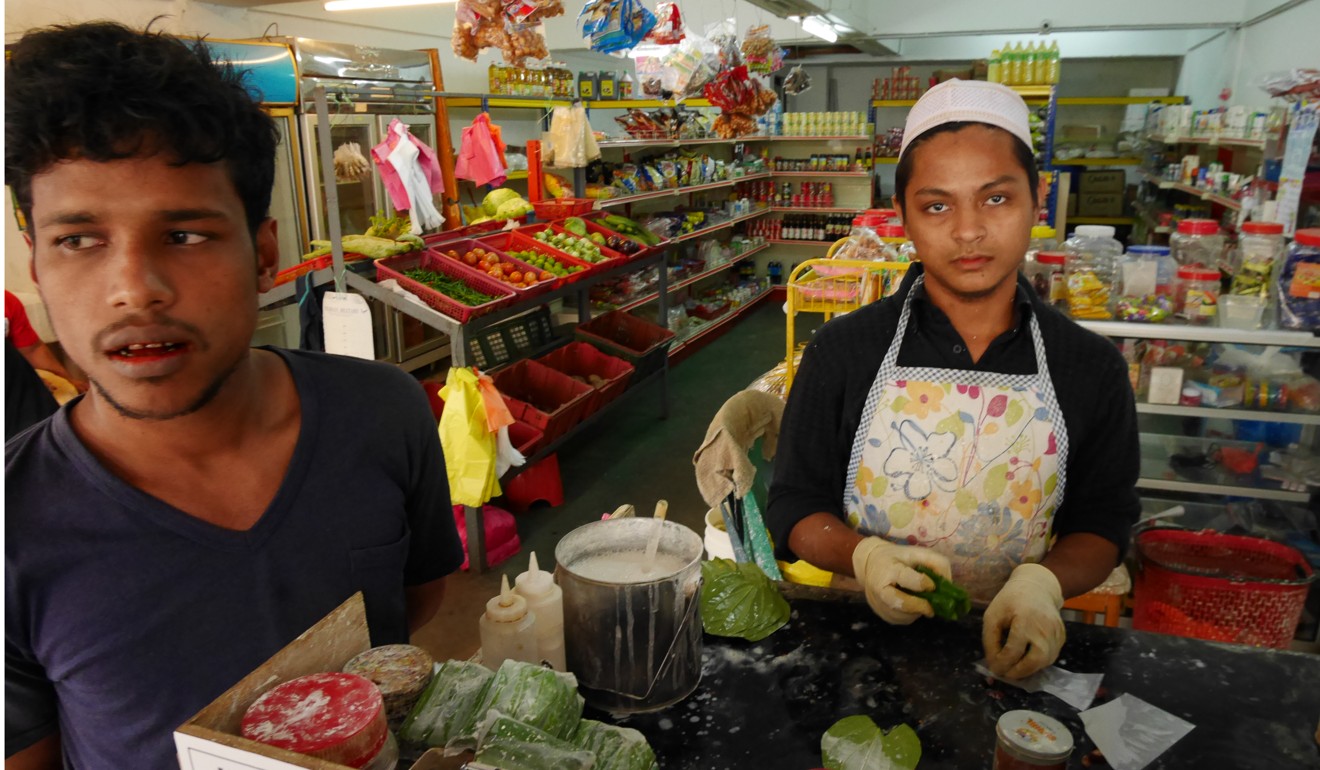 The BBC hired local fixers to recruit refugees to work as extras over a four-month period to December 2017. The extras would be collected at 5am in Kuala Lumpur and work 12-hour days on sets a two-hour drive from the capital.
Mother-of-two Habibah, 23, was one of the longest serving, volunteering herself and her children whenever work was offered during the four months. She fled Myanmar as a 16-year-old and spent 15 days on an overcrowded boat before reaching Malaysia.
It was torture, but we are accustomed to hardship, and if that is what we have to go through to earn money to feed our families, of course we will do it
"I was terrified every day I was at sea because I can't swim and the boat was being thrown about by the waves," she says, sitting on a plastic stool outside a small cafe in a Kampung Pandan housing estate. That terror resurfaced on the day she waded through deep water, clutching her daughter, as the cameras rolled.
"We had to go into the water again and again," says Habibah, of a scene that took six hours to shoot. "Some of the refugees broke down crying. Others said they wouldn't come back after that experience.
"Before we started filming, nobody asked if we could swim or if any of us had any health conditions. It was really, really tough."
Why the Rohingya will never be welcome in Myanmar
None of the Rohingya complained about the conditions, as far as Habibah is aware.
"It was torture, but we are accustomed to hardship, and if that is what we have to go through to earn money to feed our families, of course we will do it," she says.
Instead, it was the production crew who spoke out.
"Of course they wanted the scenes to be as realistic as possible, but we were uncomfortable seeing people who had suffered these horrific events being made to live through them again in this way," says a member of the on-site team working for the BBC. "The crew were very kind to the refugees and gave toys and gifts to the children, but the river scenes in particular were hard for the extras. There was quite a bit of chaos surrounding the filming and some of the extras involved were clearly unhappy and distressed."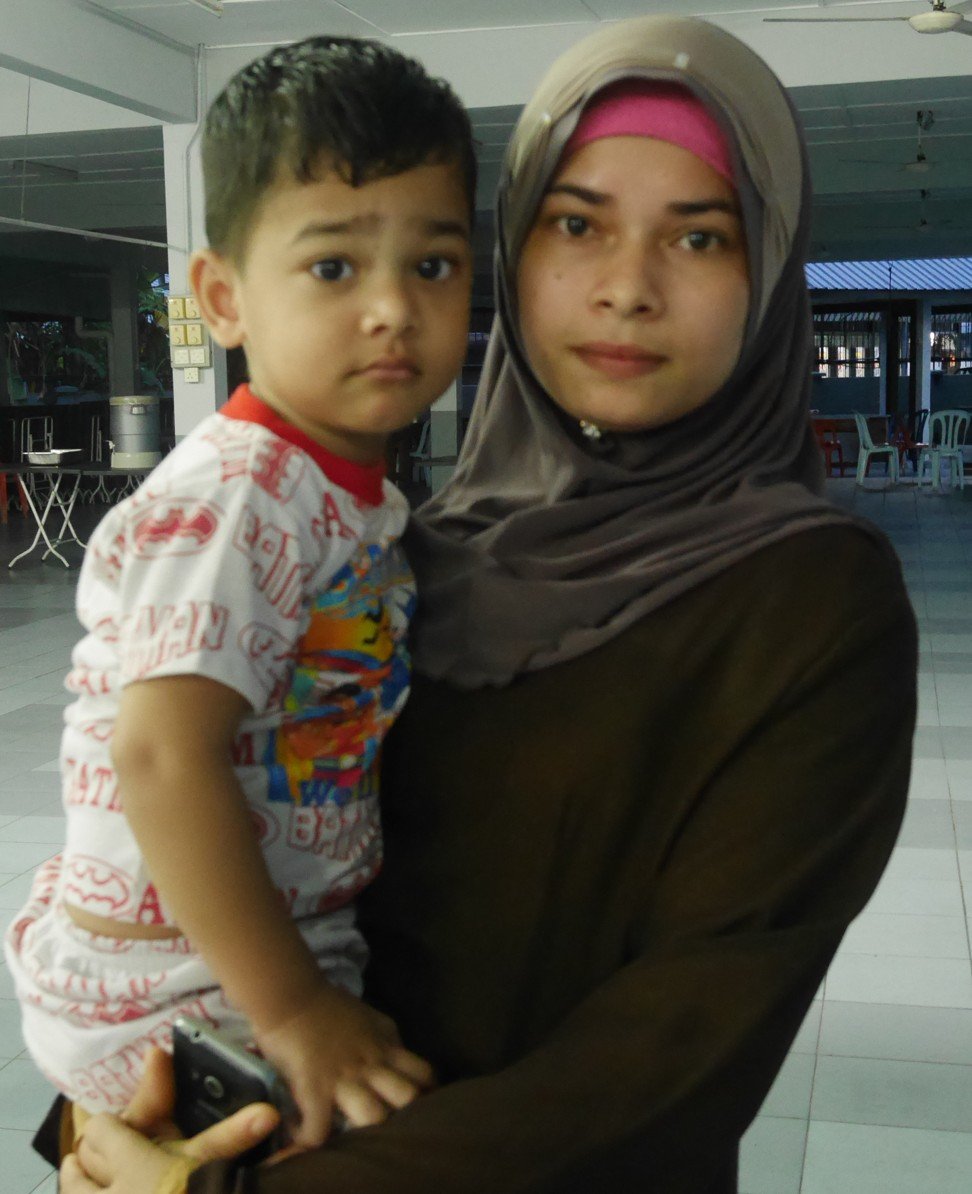 Mubarak Bindi, 22 – who saw her village razed by the Myanmese military before escaping to Malaysia, in 2014 – says she was deeply disturbed at the sight of a replica refugee camp.
"My heart sank when I saw the film set because it reminded me of where I had to live after my village was burned down. It brought back all the terrible feelings of that time," she says, in the mosque's large, empty community hall.
Mubarak was 18 when she spent 10 days crammed with 115 other refugees in a tiny boat to escape to Malaysia. "My parents were gone and my village was gone," she says. "There was nothing left for me so I decided I had to take the chance and try to escape at any price."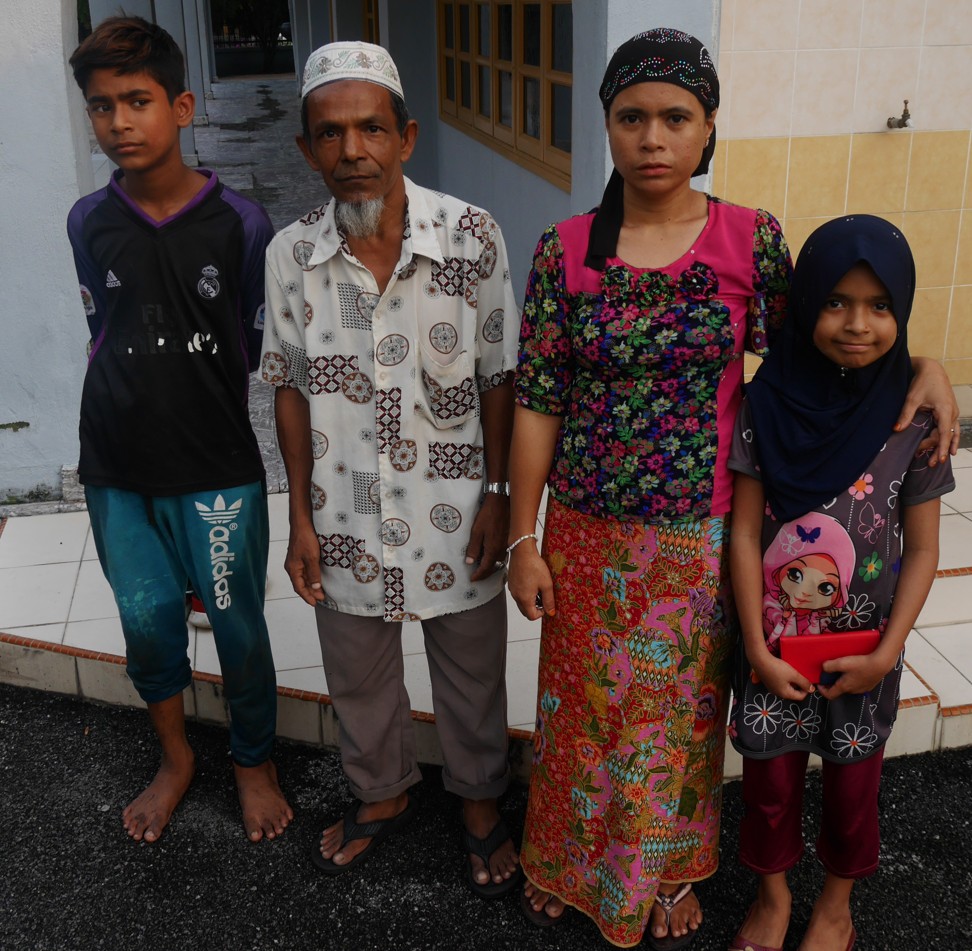 "It made me think of my brother and his family," he says, sitting with Mubarak in the community hall. "They are living in horrible conditions and they have no food. The refugee camp they made for the filming brought flashbacks for a lot of people and was very upsetting. A lot of the people there only recently experienced life in a refugee camp and it brought all of those nightmares back to them.
"It was a very difficult experience, but at the same time we want people all around the world to know what is going on."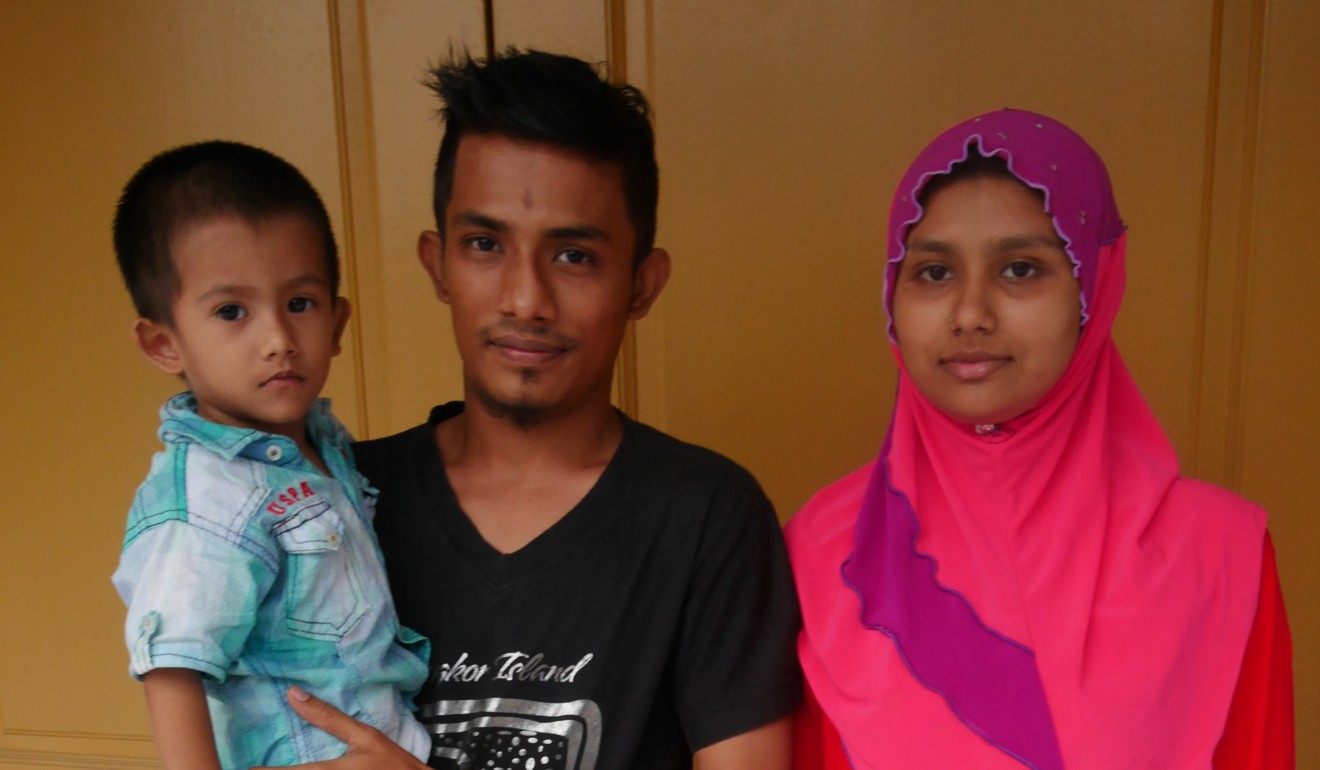 Alongside him, Jalaluddin Bin Hafiz Din Mohammed, 25, agrees. "It was a saddening experience but I wanted people to know what is going on in our home country. My family is still there – my grandmother, my sister, my cousins. I hear from them and it makes me very unhappy. They are in such a bad situation," he says. "In the river scenes, I carried my three-year-old son and ran through the river. It reminded me of my own family's situation and it made a lot of us sad."
Everyone we interview says they have relatives in either internal camps in Myanmar or refugee camps in Bangladesh.
Mother-of-three Jumma Bi Binti Abdul Basir, 35, who took part in the filming with her sons, played the part of a villager told to look happy and awestruck when Keegan's character arrives to help the Rohingyas. "She is beautiful – she smiles all the time," says Jumma, when we speak in the living/kitchen area of a three-bedroom flat the family shares with an uncle. They are registered as UNHCR refugees but have been in Malaysia for some years. Like the others we have met, her children are modest, polite and respectful, shaking hands and bowing when we are introduced.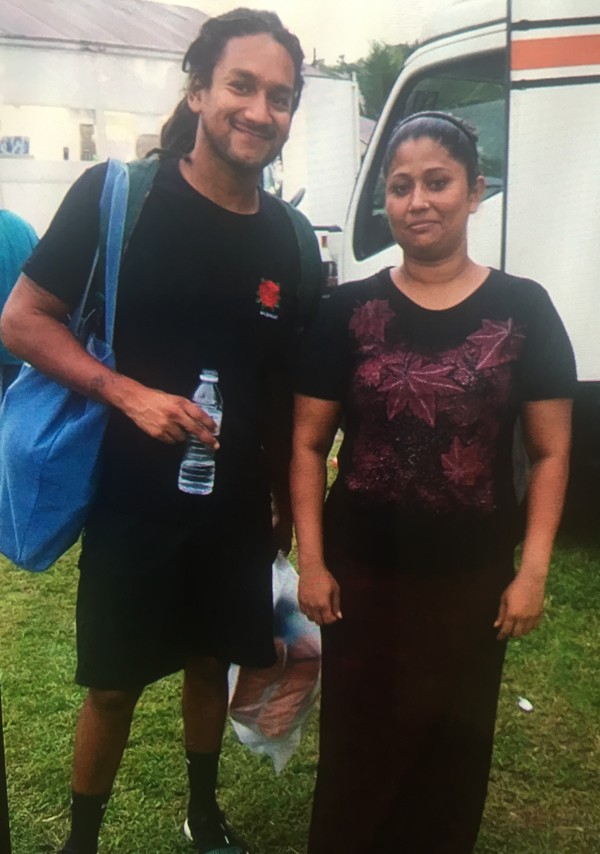 Asked why she agreed to work as an extra, Jumma replies, "We are very poor and every penny counts. If you have to go through something painful like this, we do it because it is the only work we can get.
"Our families are still going through a living hell and I hope this BBC programme will help to let more people around the world realise what is happening."
In a statement to Post Magazine, a BBC spokeswoman says, "The storyline was conceived to shine a light on the plight of the Rohingya. All the supporting artists were contracted in the normal manner and at rates standard for the work in Malaysia, including some Rohingya refugees living in Malaysia.
"At no point were any of the artists asked to do anything that would compromise their safety and their welfare was of paramount importance to us."
Myanmar must accept the Rohingya Muslims as its own
"One of the Rohingya supporting actors was seen by an on-set medic and taken to hospital with the producer," she says, of the incident in which the man collapsed crossing a river. "Filming stopped to allow this to happen and there is no footage of the event in the programme."
Says Jumma, "At the end of the day, money wasn't the issue. I was happy to be involved in a film that highlights the issue of the Rohingya people, and whatever pay we got is useful because it is difficult to get jobs here in Malaysia."
---
No place like home
More than 60,000 Rohingya – described by the United Nations as one of the world's most persecuted minorities – have fled Myanmar for Malaysia since 2012, after clashes in Rakhine state sparked a brutal crackdown by the military.
Villages were razed and more than 100,000 Rohingya moved into internal camps before a violent purge in August last year that saw hundreds of thousands flee to Bangladesh.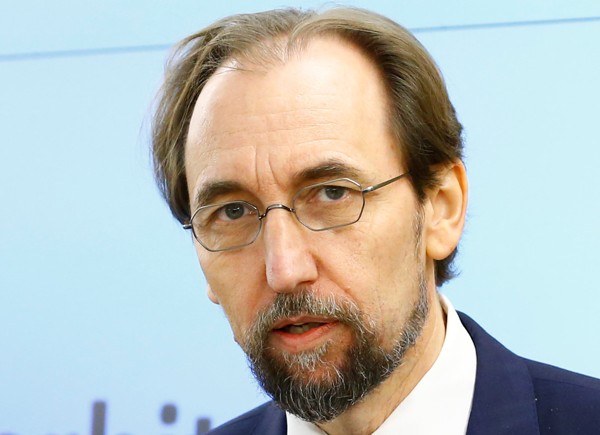 UNHCR chief Zeid Ra'ad al-Hussein says the bloody campaign included "killing by random firing of bullets, use of grenades, shooting at close range, stabbings, beatings to death and the burning of houses with families inside" and may amount to genocide.
The humanitarian organisation Medecins Sans Frontieres estimates that at least 9,000 Rohingya died in Myanmar between August 25 and September 24, last year, with 71.7 per cent of reported deaths caused by violence.
Most of the Rohingya exiled in Malaysia escaped before last year's bloody escalation of the crisis in Myanmar, and their journey to relative safety was a deadly gamble.
Many paid their life savings to traffickers to set out on treacherous sea journeys in dangerously overcrowded boats. In one horrific incident, the bodies of at least 30 Rohingyas were found in shallow graves at a human-trafficking camp in Thailand, near the border with Malaysia, in 2015. The refugees are believed to have starved to death or died of disease while being held by traffickers waiting for ransom payments to smuggle them into Malaysia. The traffickers retreated into the mountains with the surviving refugees.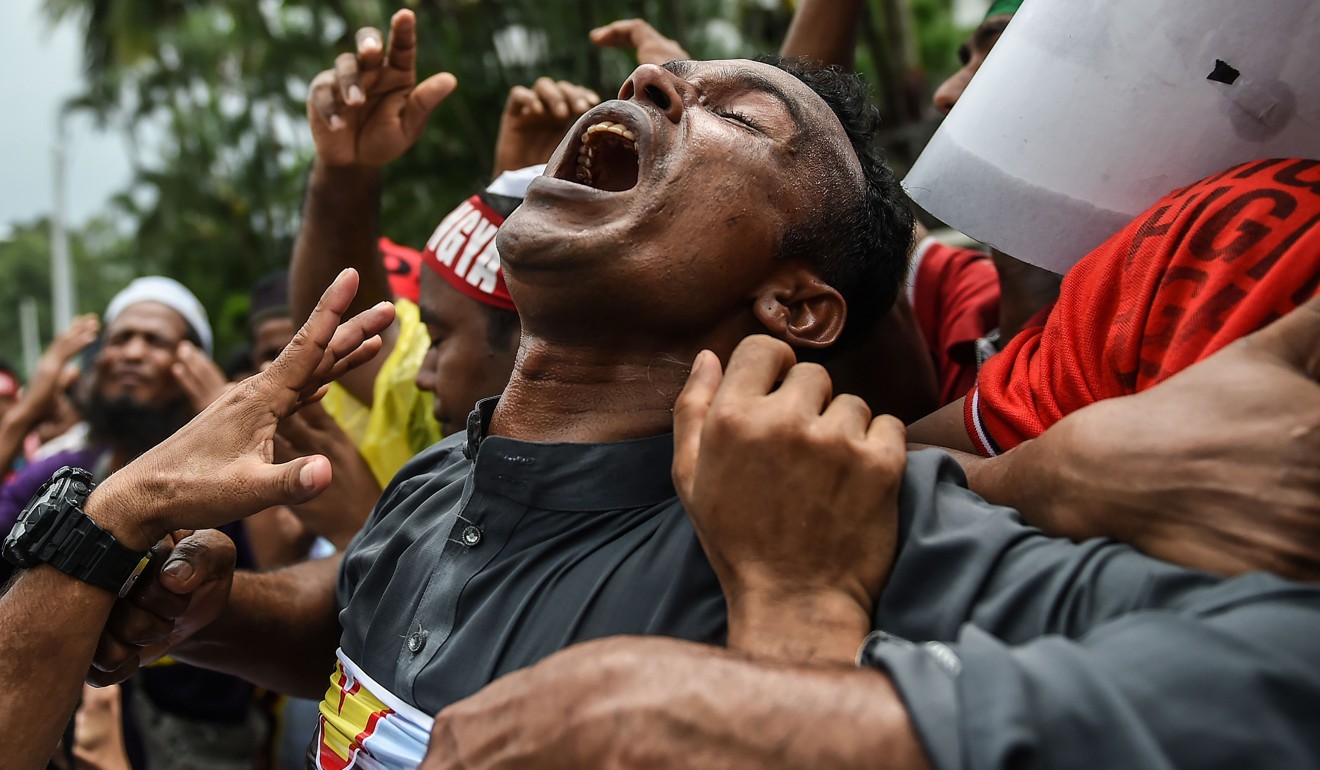 While Malaysia has provided a safe haven for the Rohingya refugees, conditions are harsh. As UNHCR-registered refugees, they have no legal status and cannot work or attend government-run schools. There have also been rising tensions with locals who see them as a crime and terrorism threat.
48,000 babies will be born in Rohingya refugee camps this year, aid group predicts
Rohingya children attend informal primary schools set up either by faith-based organisations or by the refugee community.
A BBC insider said the corporation had been unable to set up any kind of legacy fund for the Rohingya people after its filming work as the broadcasting company, funded by licence fees paid by the British public, "cannot be seen to be supporting any specific charities". Simon Parry