Pets
Get more with myNEWS
A personalised news feed of stories that matter to you
Learn more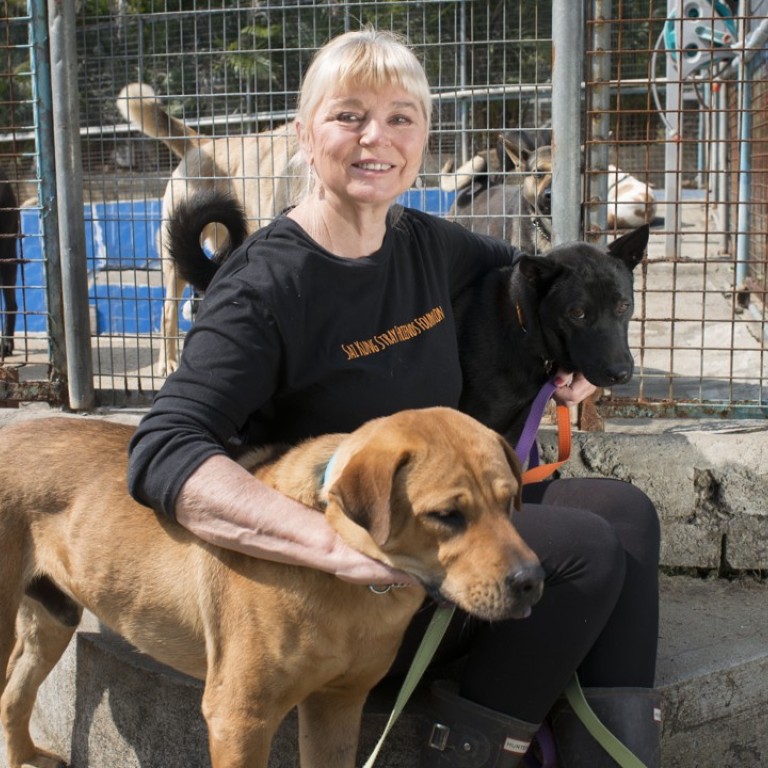 Why Hong Kong dog shelters are struggling to survive
Across the city, cash-strapped and overwhelmed refuges are desperately trying to find loving homes for abandoned and ill-treated canines
Mad Girl hasn't felt sunshine on her face for five years. It might be longer, nobody really knows. Time moves slowly here, one day stretches into the next, and the scenery never changes.
A black and brown Shar Pei cross, Mad Girl – perhaps her name is ironic – stays huddled in a corner of a cage lined with plas­tic flooring, a few thin blankets for comfort. This is how she spends her days, interacting occasionally, distractedly, with her companion dogs in the room housing her pen, one of several that usually have open doors. But Mad Girl shows signs of keener engagement with the world when she and her friends have visitors, of which there are few. She stands slowly and is initially uncertain, ears lowered in fear. Then she relaxes, wags her tail joyously and cuddles up, desperate for affection.
Mad Girl is not a patient and she's not a prisoner; she's not even a statistic, because nobody is counting. She's a rescued but forgotten resident of a shelter occupying a former pig farm in the shadow of Shek Kong Airfield, in the New Territories. Mad Girl, taken in by a horrified animal-lover who witnessed her suffer repeated beatings at the hands of her former owner, is a Hong Kong dog.
Roughly 10 years old, Mad Girl has been at the Chung Sang Yuen Stray Animal Home for about half of her life. Despite the best efforts of the facility's dedicated owner, Kwok Wai-mui, it's a desperate, ramshackle place.
There's no cheery neon sign, no tinkling forecourt fountain or welcoming front office to announce the property. It's almost as if it doesn't want to be found – which is partly true, given the numbers of dogs that Kwok has had dumped on its doorstep in its 11 years.
As the sprawl of Pat Heung fades in the rear-view mirror, and the motorway gives way to a minor road, then a single-lane road, then a dusty village lane and, eventually, a potholed track, the realisation is that any dog that finds a "temporary" home at the shelter is likely to be there for tedious, meaningless life.
A shelter such as Kwok's might keep a dog alive, but that's all it will do: even with the best intentions of giving a dog a home, few people will find the place, somewhere between Ho Pui and Ma On Kong villages. Without someone to lead the way, the shelter – one of many in northern Hong Kong – is invisible.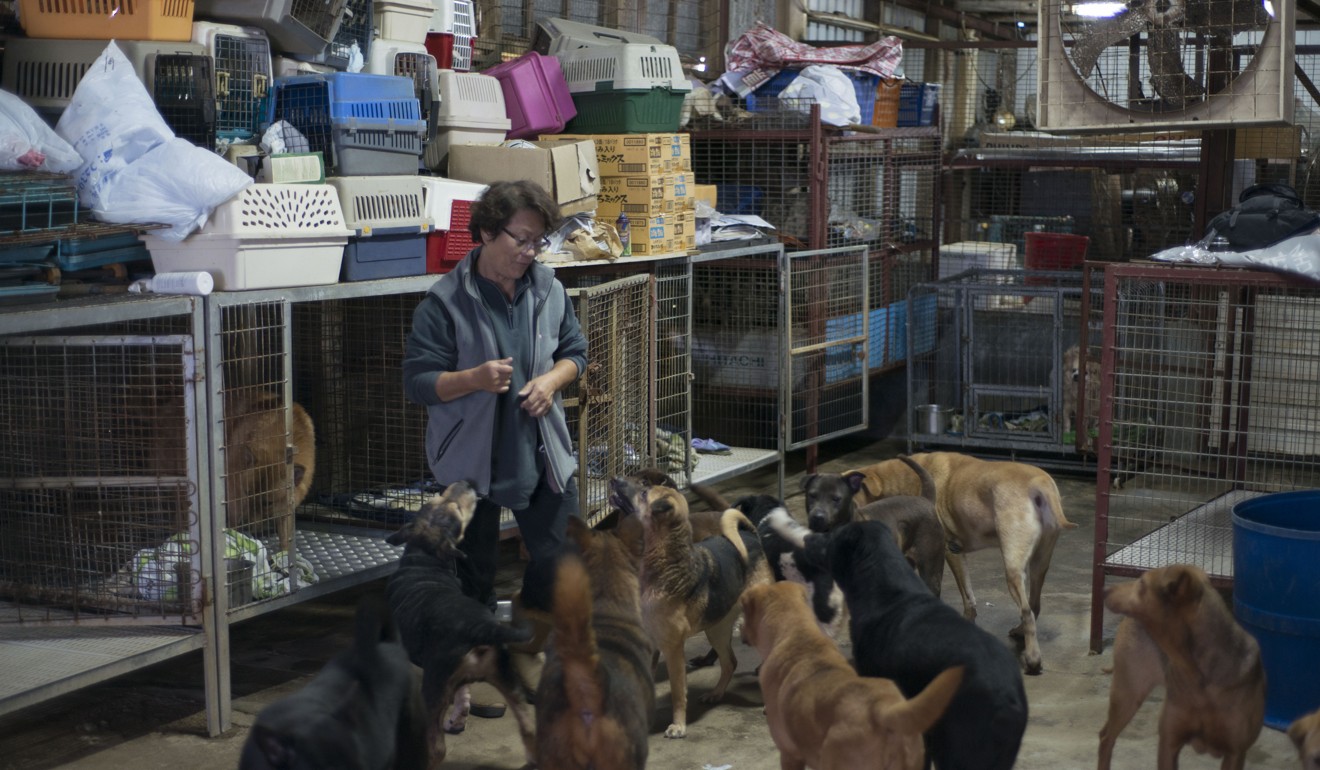 The final navigational test before locating the facility requires the opening of a metal gate, followed by a drive through a working pig farm, with pens bordering both sides of the road. Some neighbours deal in car parts of uncertain origin, others decorate the corrugated metal fences of their business premises with car bumpers, draped over the top like battle pennants of the vanquished.
When the dogs inside are quiet, there's nothing to betray the existence of the shelter, which could be mistaken for a scrapyard. The scrapyard is, in fact, the property next door, a rusting yellow shipping container standing wedged in the corner between that and Chung Sang Yuen.
Entry to the shelter is through a rust-ravaged narrow door in another corrugated metal wall, which almost shakes with the cacophony of the howls and barks of 200 dogs suddenly on guard against the presence of a stranger.
On my previous visit, Kwok told me I was the first foreigner ever to have set foot in the shelter; for the sake of the dogs, it's an honour I'd rather not have achieved. Since then, the foreign visitor count has remained stable.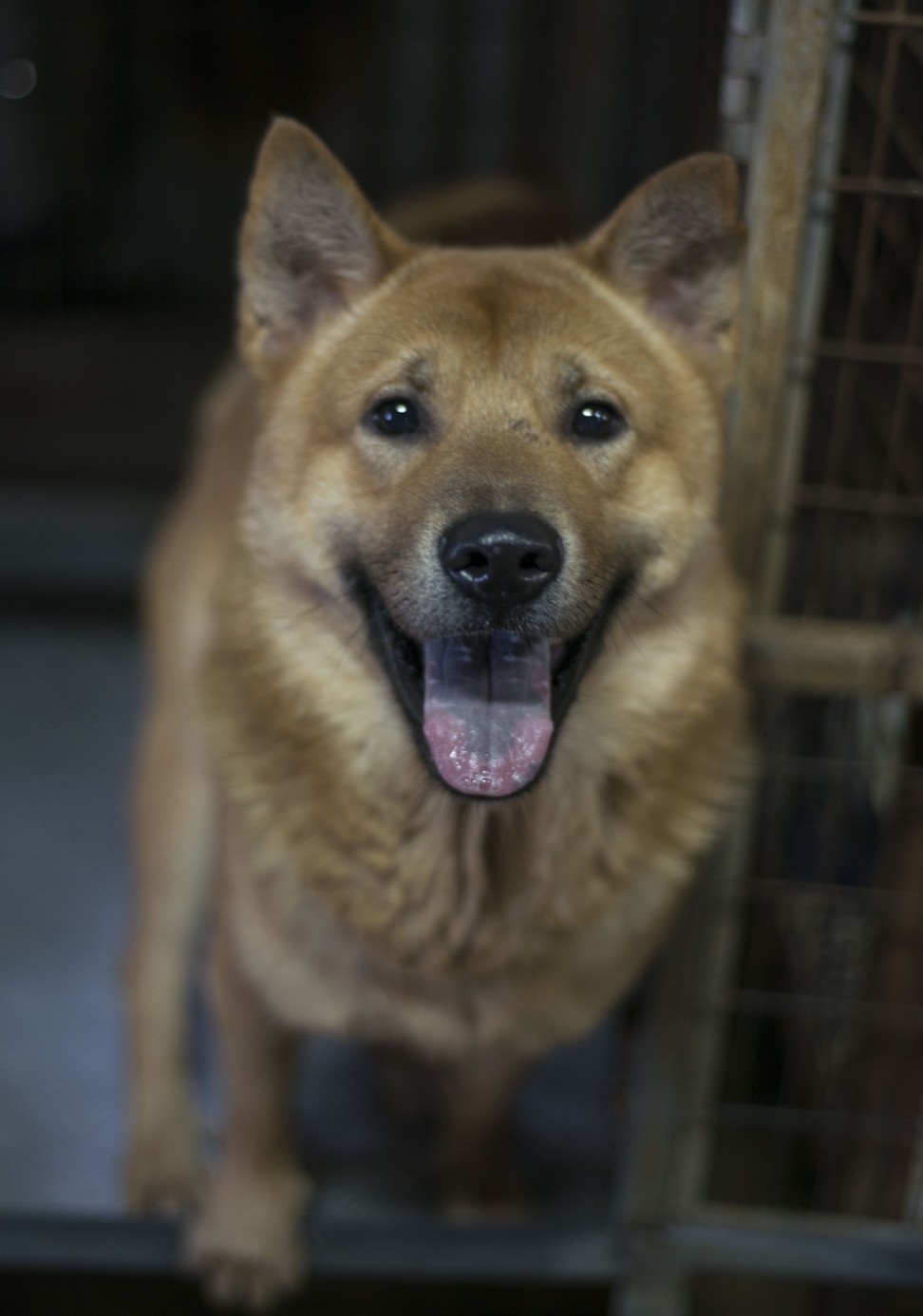 Cages line three sides of the open area inside the door; their being locked seems to ratchet up the anxiety level of the occupants, especially two mongrels together in one cage that would still be too cramped were they alone.
The magnificent, golden "Wolf" paces his own small wire quarters neurotically; the ferocity of a Jack Russell cross is startling until her three pups, all suckling, are glimpsed behind a torn-away plastic sheet over their cage.
"Tripod" sits at the rear of his open wire world, exhibiting the same thousand-yard stare I witnessed weeks ago. A black Labrador with fur so shiny he could star in a shampoo commercial, Tripod lost his back left leg to an illegal trap set in the hills around the Ho Pui Reservoir. The metal traps, Kwok says, are placed by villagers to catch food: barking deer, boar and civet cats.
It's unclear how Chung Sang Yuen's dogs, most known merely by a number (names of dogs provided here in inverted commas are mine), are segregated into "free" and caged categories, but all caged dogs are let out twice a day for exercise for up to two hours at a time, says translator and shelter volunteer Vivienne.
Beyond the connecting gates leading to the shelter's next section are Mad Girl and friends, occupying an open zone. Through more gates are numerous former pig pens with low walls topped by thick wire and, in some cases, durable plastic sheets.
Almost without exception, the dogs here, farther into the premises, seem crazed with the need for stimulation, or escape, throwing themselves at the wire enclosures, straining to look over the top of gates, pushing their heads through door-bolt recesses and barking thunderously.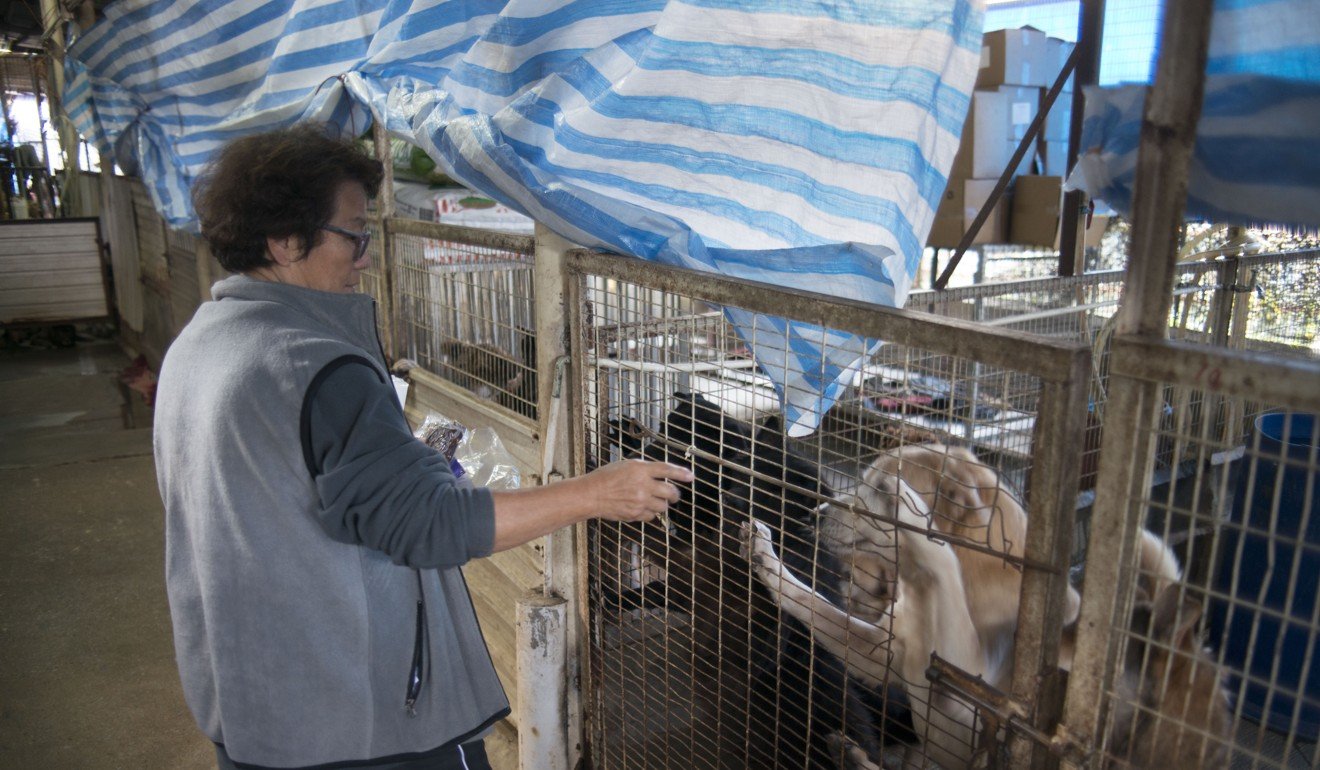 Kwok, 69, who began taking care of stray animals in 1986, when a cat wandered into the video-game hall off Jordan Road in which she worked, has lived on the premises for more than a decade – a little less than "Pit Bull", who has been on site for 13 or 14 years.
Kwok, assisted by two, sometimes three, staff, can't remember when she last took a holiday, but can attest to the difficulties in running a shelter without charit­able status or public-purse support.
Her dogs are fed, variously, rice, vegetables, meat, canned and dry food once a day, for a total cost of HK$60,000 (US$7,700) a month. The rent is another HK$30,000, with gas and elec­tricity bills, as well as extras such as medicines for heartworm, ticks and fleas, adding to total costs.
The canine residents are washed once a month, in warm weather, because there is no hot water; all shelter water is run-off from the hills. For many of the dogs, things could have been far worse.
Bow-legged and placid "Pit Bull", now arthritic, was found close to the shelter with "more than 100 puncture wounds" on his body, having been used as bait in illegal dog fights, Kwok believes.
Other animals were less fortunate: she has found dogs "tied up with iron wire and stuffed in hemp sacks or plastic bags, just left at village rubbish bins. Some puppies I've found by their screams, in the bottom of full bins. Sometimes I would find 10 a week. Guard dogs that became sick, I've found those dumped with the rubbish, too," she says.
It's intimated that any puppies not rescued from inside village bins would have met a grisly fate in the back of a rubbish compactor.
"Because of better education, young people have more respect for animals; villagers had none before," Kwok says. "Most of my older dogs probably never had homes or some­one to love them, and they'll probably never be adopted. But I still dream of finding them loving owners and forever homes, however briefly, before they leave this world."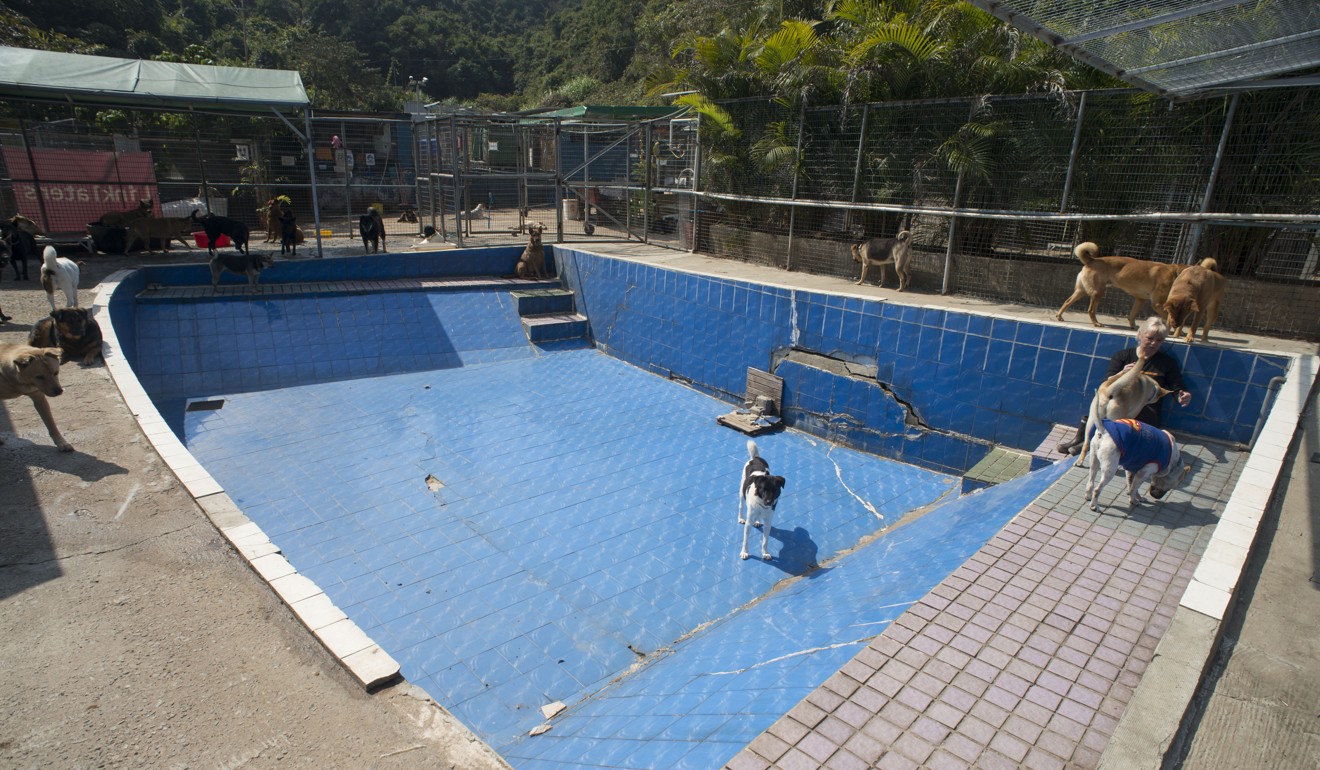 With a large swimming pool at the entrance to Sai Kung Stray Friends, the shelter might look like a canine holiday camp. But the pool, severely
cracked and fenced off, last saw water long ago.
Nevertheless, conditions generally are an upgrade on those of Chung Sang Yuen, even if repairs are also needed, most pressingly, at the rear of the property, where buckled and broken concrete threatens to slide into the Ho Chung Valley.
For want of funds, other parts of the shelter are also unusable, notably a large paddock that requires fencing (at a cost of HK$200,000). But the 105 residents, in the care of shelter owner Narelle Pamuk and two full-time and two part-time staff, are walked daily, even venturing off site, and enjoy more fresh air within the shelter's outdoor enclosures during mucking-out time.
As with Kwok, however, her shelter's future, as Pamuk sees it, is just as daunting as its past. Ousting the previous owner – who ran a boarding-kennels business but often let the dogs go hungry – at ever-escalating expense was just the beginning: the 12 years since have seen government objections to negligible boundary inconsistencies and roof dimensions, deals struck then reneged on, outrageously inflated demands for the previously agreed sale of the land on which the shelter stands, threats of eviction, an action for trespass and a recent, punitive rent rise.
The total monthly running costs are now about HK$160,000 – excluding essential extras such as leads, collars, bowls, bedding, toys, shampoo, medicines, health supplements and general cleaning products for the premises.
Pamuk, in her early 60s, continually worries about what happens next. "Adoption rates are very slow and some of our dogs will never be adopted, this is their long-term home," she says, sadly, echoing Kwok. "They have to be provided for, so we will take care of them until the end of their days. Whatever happens, we will not leave this site. I'll fight the government, I'll fight anybody, we're not moving. And what's worth more than anything is that Tai Lam Wu village accepts us."
A native of Sydney, Australia, and an 18-year resident of Hong Kong, Pamuk believes the answer to the "non-stop abandon­ment" of dogs lies in the hands of the Agriculture, Fisheries and Conservation Department (AFCD).
"The government spends big money destroying dogs," she says. "The AFCD has centres everywhere with vets, but you can't take your dog there to be desexed. You can take your dog there to get a rabies vaccination or be put down. And you can call the AFCD and say you don't want your dog any more and they'll send some men around in a Mercedes van to take it away and dispose of it.
"You don't have to be very intelligent to recognise the solution: stop the breeding. People on low wages can't afford an HK$800 desexing fee, but if the government would open a desexing clinic in every district, all the waste of life could be reduced drastically."
In the meantime, Pamuk will continue to encourage adoption of her charges by running "an open-house policy, because the only way we can make a difference is through education and introducing people to the love of dogs," she says. "So we invite people to come in […] corporate days, group visits, individuals, schoolchildren.
"We give them hands-on experience in putting leads on the dogs, walking them, helping prepare the food, washing them if it's not too cold. The more frightened kids, we try to concentrate on, to change their way of thinking."
Pamuk believes anything she can do to spread the word will help to support her dogs.
"We can't afford to feed them more than once a day, so we try to give them a nice meal," she says. "A mixture of canned food, dry food, chicken – and egg once a week. Overall, the shelter has come a long way compared to how it used to be.
"We try to keep the dogs warm with blankets and bedding, and carpet on the concrete floors. We have several reverse-cycle air-cons, but it's still unbearably hot in summer, and so cold in winter that we can't move our hands."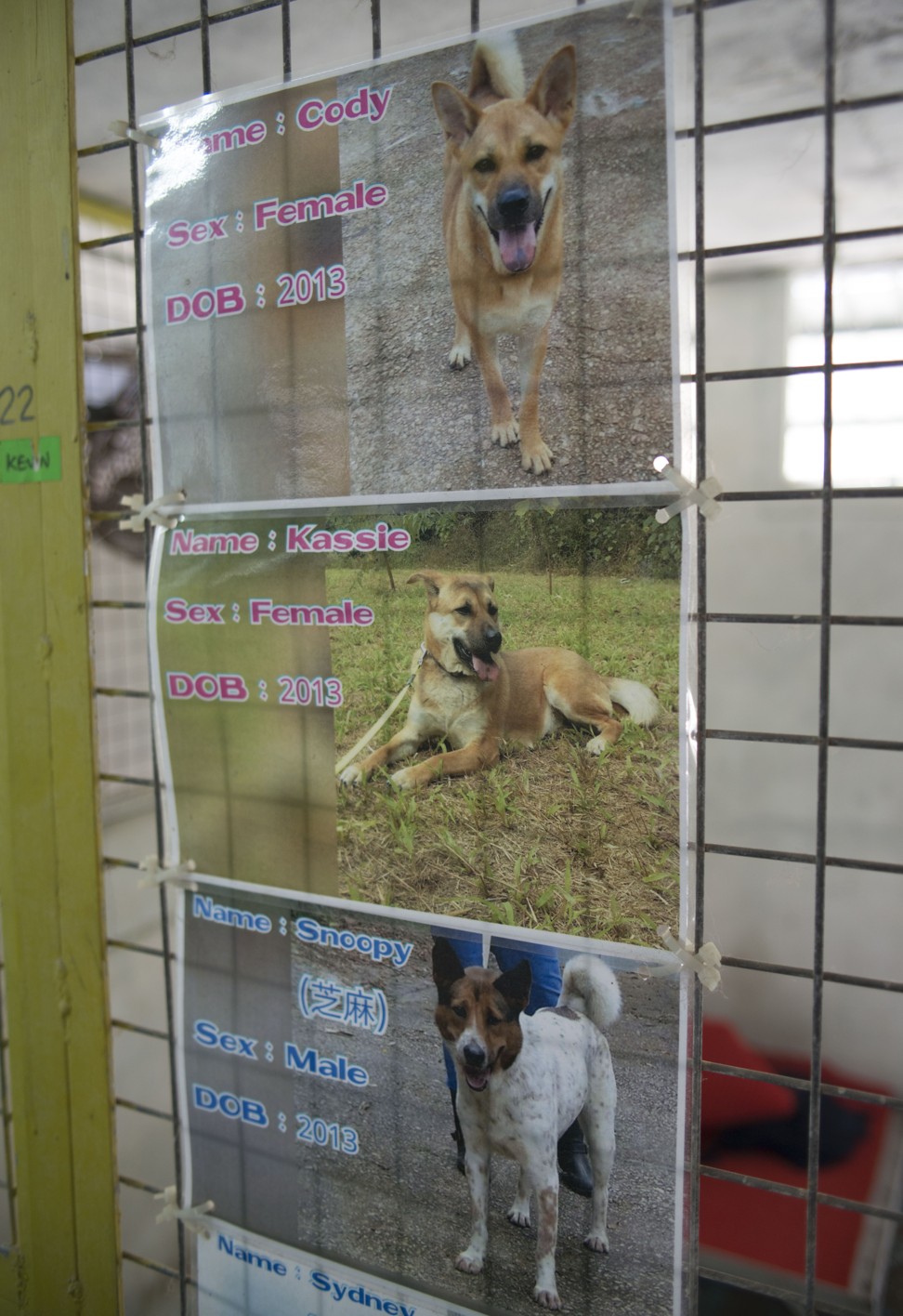 The scale of that heating-cooling challenge becomes clear on a walk through the shelter's two blocks, in which long central passages give onto draughty pens leading to small outdoor areas.
Most pens contain several residents, but here, at least, they all have names: Scruffy and Minty, the two long­est-serving residents; six-year veteran Bobby, who previously "lived at the end of a short chain in Mong Kok", says Pamuk; Indy, who became a New Territories ratcatcher while living "among old shipping containers, tyres and rubble"; Goldie, Ripley, Tri, Tobi, Bagel, Marvin, Sin Chai, Red Dog, Sad Boy, Ying Ying, Ella, Candy-Jo and Mo Mo, who was once paralysed by fear but who has now, says kennel manager Kathy Leung Sze-man, "made big progress in being able to go out for a walk".
Pamuk says she will never stop trying to make the list of residents shorter. "Animal-lovers are developing louder voices and, just like in any revolution, they want to see change," she says. "Public money pays for disposal of animals but the public doesn't want it.
"Let's encourage people to do the right thing from the point of view of responsible ownership. People won't microchip their dogs because they think if the dog bites someone, they'll be sued; and a microchip should mean much more anyway, because owners can dump their dogs, even if chipped, and insist they escaped.
"Nothing happens to them – whereas we can be fined HK$800 for having a dog off its lead and not restrained at all times. The whole system is screwed up.
"You have to keep up with the times and Hong Kong is always ahead – beautiful buildings, good infrastructure – but in animal-protection laws, it lags behind. Is that because there's not enough money in animals? Let's be ahead in all areas. We need people working for the government who are passionate [about animals], not just working for a salary."
A 2009 AFCD annual report revealed that roughly HK$30 million of taxpayers' money was being spent every year on destroying stray, abandoned and feral dogs and cats. They are caged on death row at AFCD centres for a mere four days, then lethally injected if not claimed.
The lucky few that can be grabbed before execution may land in cat sanctuaries or Kwok's or Pamuk's dog shelters, or the Life­long Animal Protection centre, in Tsuen Wan, or at Cather­ine's Puppies, Sai Kung, or Kirsten's Zoo, on Hong Kong Island, or the Hong Kong Dog Rescue headquarters in Tai Po – which at the last count had more than 600 dogs on its books.
AFCD figures do show, however, a steady decline in the number of dogs destroyed, from 5,353 in 2013 to 1,478 last year: hardly insignificant totals, animal activists might say, but a start. The AFCD attributes this to its promotion of "a stronger awareness of responsible pet ownership and [a] lifelong commitment to pets", a spokesman says.
"The AFCD has a dedicated education team to devise and implement an enhanced […] publicity programme to […] advise against abandonment and the needless surrendering of pets, and to champion […] dog licensing, rabies vaccinations and neutering," he adds.
Those flying the flag for animal welfare will be further encouraged by Dr Jane Gray, the Society for the Prevention of Cruelty to Animals' deputy director of veterinary services and its chief veterinary surgeon. "In the past few years, we've actually seen a decline in dog abandonments," she says, "thanks to community education, promotion of responsible pet ownership through micro­chipping and our territory-wide mongrel desexing programme.
"We go out to construction sites, villages, places where a traditional mindset might convince people that if they neuter their dog, it won't be aggressive enough to guard their prop­erty, for example. Some can't believe the service is free, but when one person agrees [to the procedure] and we pick up, neuter and return, then their neighbours tend to see it's OK."
Anybody thinking of taking on the commitment of dog ownership should, Gray adds, "do their research and not make impulsive choices. See what breed works best for the family – ask a vet some questions. We encourage all potential owners to give a dog a second chance at life: so adopt, don't shop."
And with the Year of the Dog upon us, Gray emphasises, "A dog is for life, not just for Chinese New Year."
Readers wishing to adopt dogs from Chung Sang Yuen Stray Animal Home are asked to contact Vivienne on 9126 8806.
For more information on the charities, visit lap.org.hk; saikungstrayfriends.org; catherinespuppies.com; kirstenszoo.com; and hongkongdogrescue.com.