For three days, attendees of the Lishui Photography Festival have been shepherded from gallery to workshop to seminar. The itinerary has been packed with talks, banquets and trips to the surrounding countryside.
In my free time, I have lost myself in the old winding streets of this small city in the south of Zhejiang province, ambling between galleries, museums and public installations, seeking out beacons of artistic excellence in a sea of mediocrity.
Mini-festivals spread across China as large-scale music events cancelled
Like many grand gatherings of this calibre in China, the event has been choreographed into an assembly line of meet-ups. Festivities started with a variety show-style opening gala and will conclude with an award ceremony, replete with a spiffy host accompanied by dolled-up female assistants.
The days in between are bursting with activity as photography connoisseurs queue alongside curious locals and students to digest the more than 5,000 works on show.
On the hazy morning after prizes have been dished out, some artists are boxing up their photographs as I stroll through the oil-pumping facility – a Mao-era factory that has been repurposed as a gallery for the festival.
I've found most of the more intriguing work here, in tree-shrouded hills away from the glitzy new museums of the city proper. In one of the factory's back rooms, I chance upon a collection of potent images.
Captured in one set of pictures is a ragtag crowd gathered around a wooden desk. Anguish flows from the images: people are yelling, someone is speaking to the throng through a megaphone while others stare expectantly towards something outside the frame.
"Are they gambling?" I ask aloud, associating the scene with race day at Happy Valley. "They're looking for work," explains the angular man beside me, a small camera dangling from his neck. "It's a job centre," I realise, again speaking aloud. Presumably it's catering to those living in the foothills of modern China's economic mountain.
The pictures capture the chaos and drama of the scene, and the man introduces himself as their creator. His name is Liu Feng and his photo­graphic series is called "The Job Agents".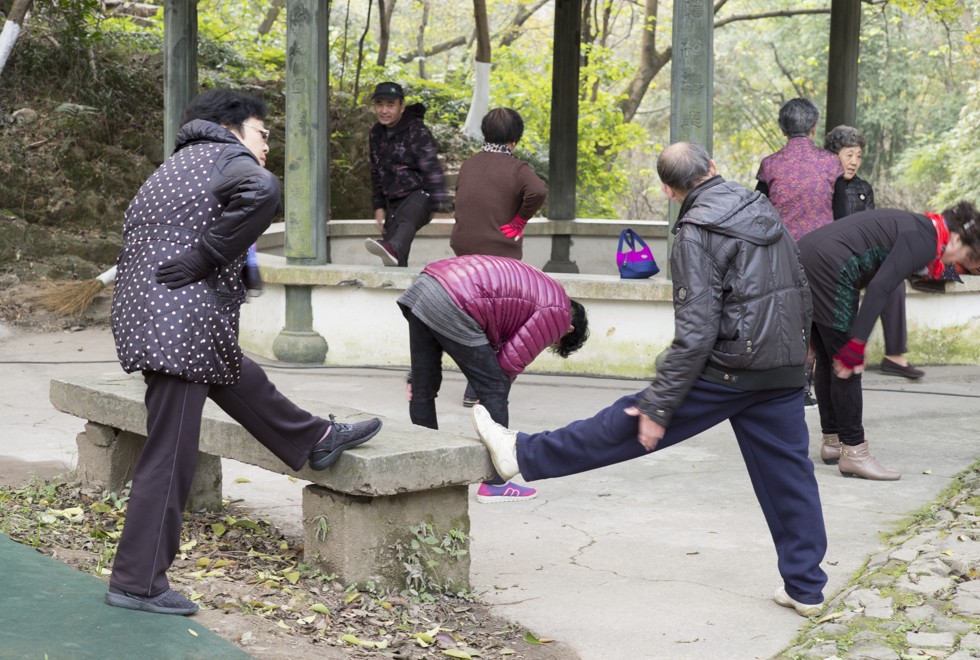 Blending half-forgotten English and southern-lilted Mandarin, the high-school art teacher from the Zhejiang city of Ruian talks me through the collaborative festival collection titled "Lens on Wenzhou", assembled by the local branch of the China Photographers Association and focusing on issues affecting the major provincial city 135km to the southeast of Lishui.
We look through another series, dubbed "Wenzhou Private Enterprise". According to the blurb, the photographer has explored the economic woes afflicting regional manu­facturing in recent years as family-centric industries struggle to meet the demands of the 21st century. There are pictures of sacks of raw materials, reels of cotton, seamstresses at sewing machines and, finally, baskets brimming with finished clothing items. Essentially, it's sweatshop China.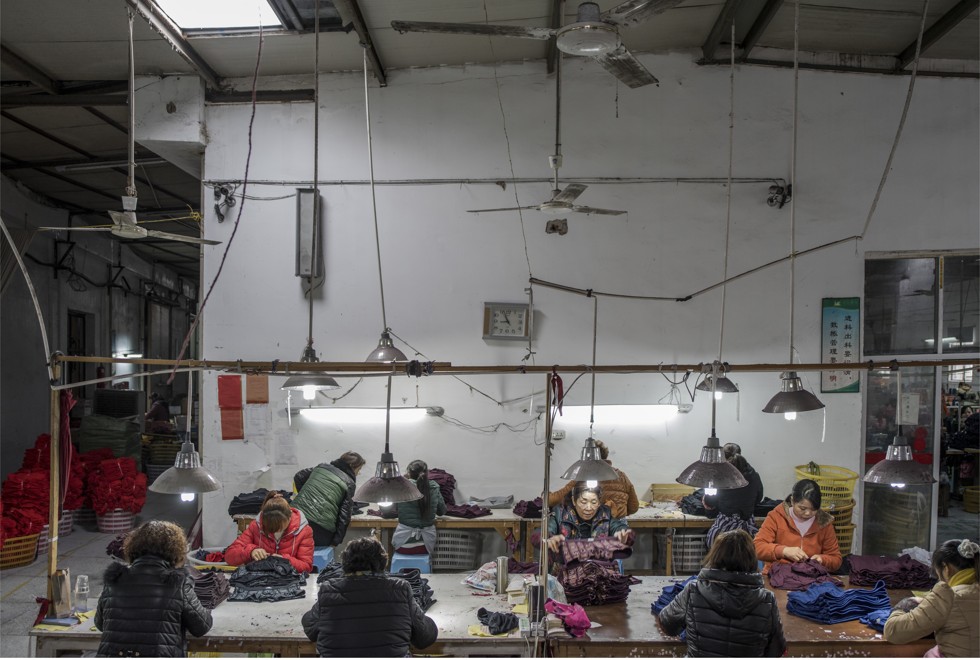 "These were taken by Zheng Gangfeng," Liu says. "We have a lot of textile factories in Wenzhou." He pinches my shirt. "You're probably wearing something that was made there."
Another compelling series is that of Lu Huandong. Aban­doned power plants are the subject of "To the Vanishing". These relics – closed for being too polluting – are strangely beautiful, and Lu has superimposed a worker in hard hat and overalls over each image, a ghost haunting a vanished world.
Idle and abandoned: the hidden truth of China's economic ambitions
We move on to an unsettling series called "The Names of the Buddha" by Zheng Xiaochang, who photographs damaged and disregarded Buddhist and Taoist effigies scattered in industrial wastelands. The sacred figures have been left to rot in the open, necks twisted and arms broken, symbolic perhaps of cultural amnesia.
Wenzhou has been called China's Christian capital, "but there are a lot of Buddhists, too," Liu says. "Anywhere where people struggle, well, there will be a lot of faith."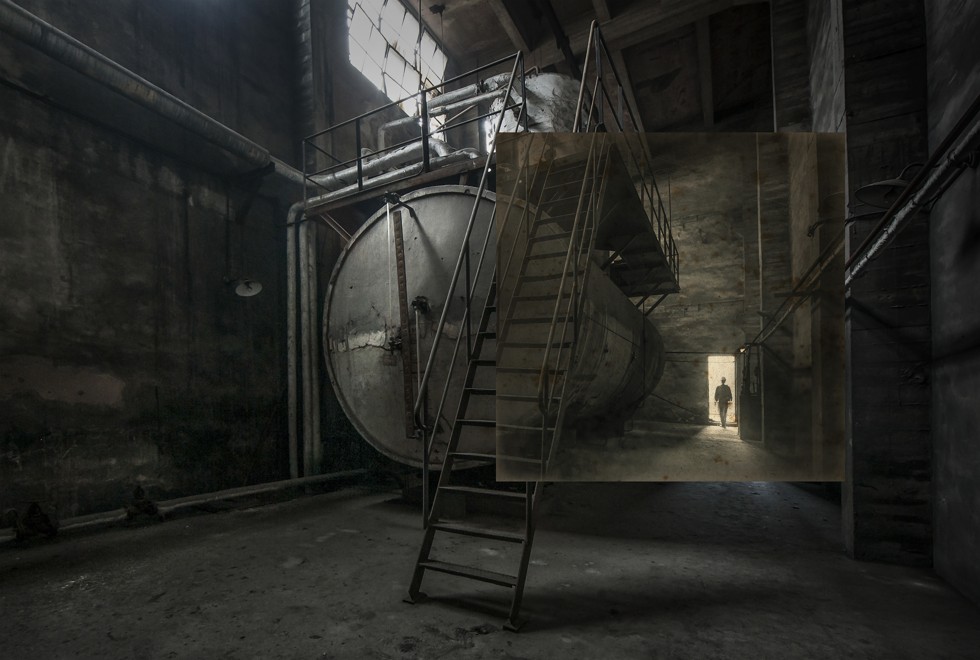 And though Zhejiang is China's fourth wealthiest province, renowned for its entrepreneurial zeal, wealth here "depends on who you are and what you do", he adds.
Next up is the series "Wetland Village", by Zhu Yongchun, who pointed his lens at the last inhabitants of the Wenzhou marshlands that fish waterways and farm small but fertile outcrops. "Following the complete demolition of the village and removal of its residents," reads the exhibition brochure, "all this will vanish."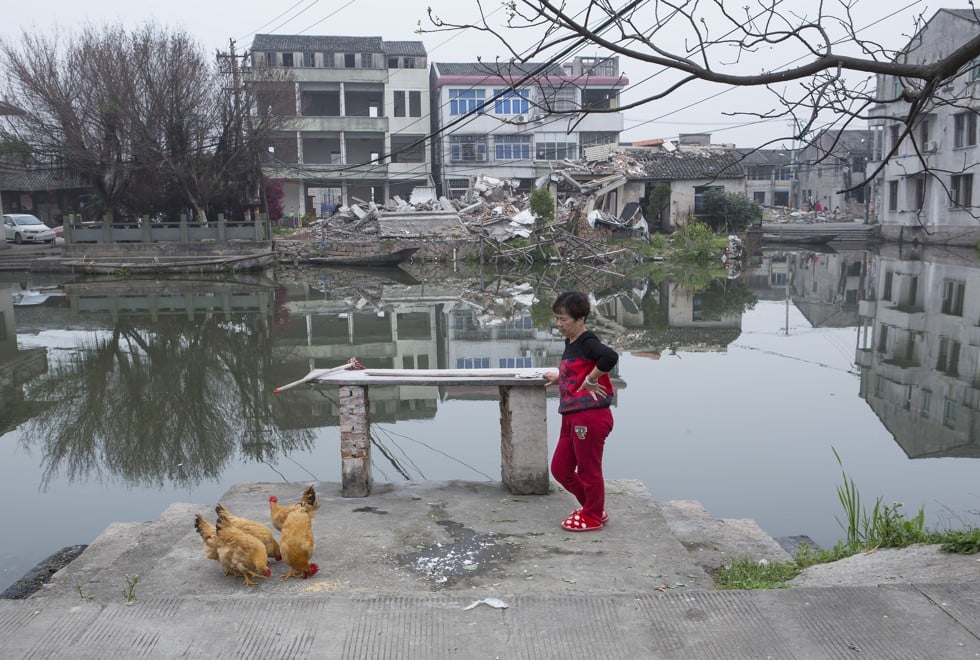 The villagers, it transpires, are being relocated to make way for a wetland park, and one of the most poignant images in the collection is Zhu's photo of an elderly woman in her slippers, watching chickens feed while behind her, across a waterway, ancient houses have been reduced to rubble.
As a successful business centre, Wenzhou could be seen as a show­case metro­polis. And, as a coastal city – once a prosperous foreign treaty port – whose people have come to domi­nate Mediterranean Chinatowns, particu­larly in Italy, and with strong ties to Taiwan, it could be said to be outward-looking and progressive. But rather than celebrate the shinier side of metropolitan life, Wenzhou's photo­graphers have chosen to document the downtrodden and the exploited.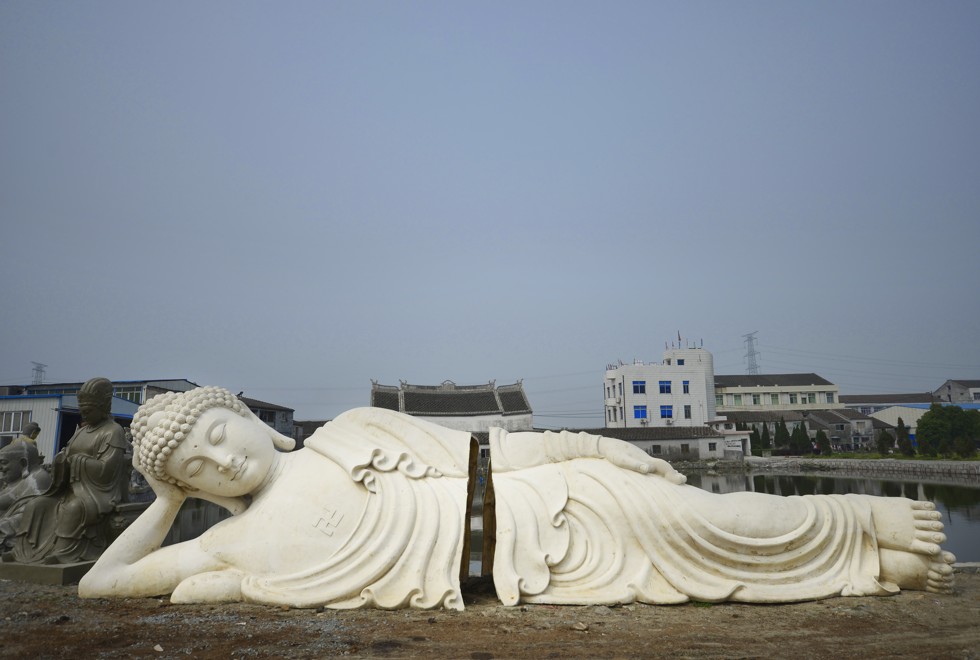 To create the Lishui collection, the Wenzhou Photographers Association called upon respected Guangzhou-based critic, photographer and curator Da Men. "Wenzhou folk, and the city of Wenzhou in general, are quite particular," he says. "As a Wenzhou native, I know the character of the place, its quirks and contradictions."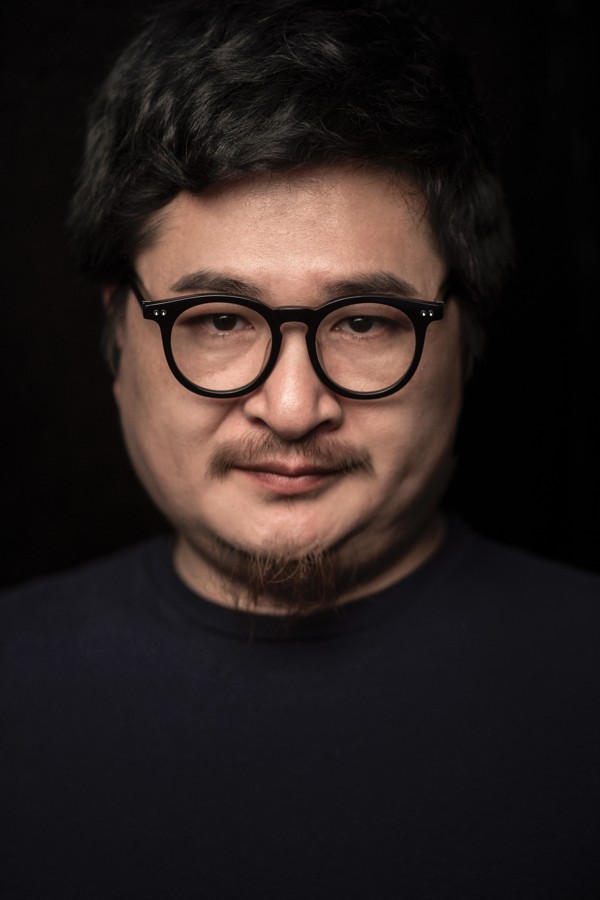 His nom de plume meaning "great door", Da Men is credited in the "Lens on Wenzhou" brochure as being the "academic chairperson". He is also the current director of the Lianzhou Foto festival – arguably China's most esteemed annual photography gathering.
When I ask if I might meet some of the Wenzhou photographers, Da Men advises that they "are all hobbyists who have other day jobs besides making art, so they might feel a tad nervous talking to you as they're not used to media attention". My fingers are crossed.
Da Men explains how he and the chief curator steered the exhibition towards collective continuity. "We edited their work a lot," he says. "They're not famous, so we knew we wouldn't arouse any unwanted attention if we let them document social issues. They're mostly educated people who are capable of posing pertinent questions when given the right motivation.
"The curator and I just steered them towards producing some­thing of value, something that had a common thread. You know Wenzhou has produced a lot of land­scape photo­graphers, but we really didn't want anything so lacklustre for Lishui."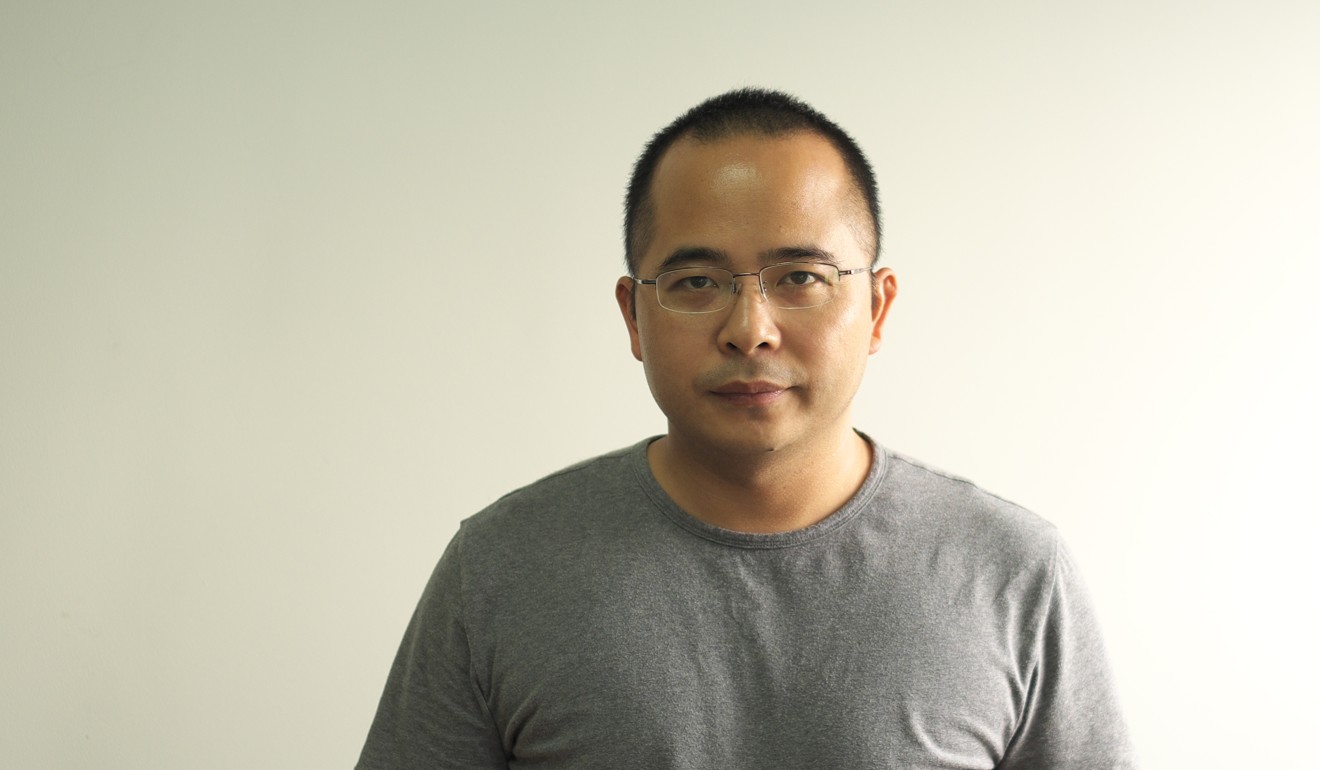 With Da Men as my guaran­tor, I've secured a meeting with Chen Youwei, chief curator of "Lens on Wenzhou". We rendezvous in a modish contemporary art gallery surrounded by the freshly land­scaped Bailuzhou Park, in the centre of Wenzhou. "Welcome, welcome," he says, escorting me onto the veranda, where he's entertaining visiting artists and friends, including Zhu Yongchun and Luo Jingfang, who were exhibited in Lishui.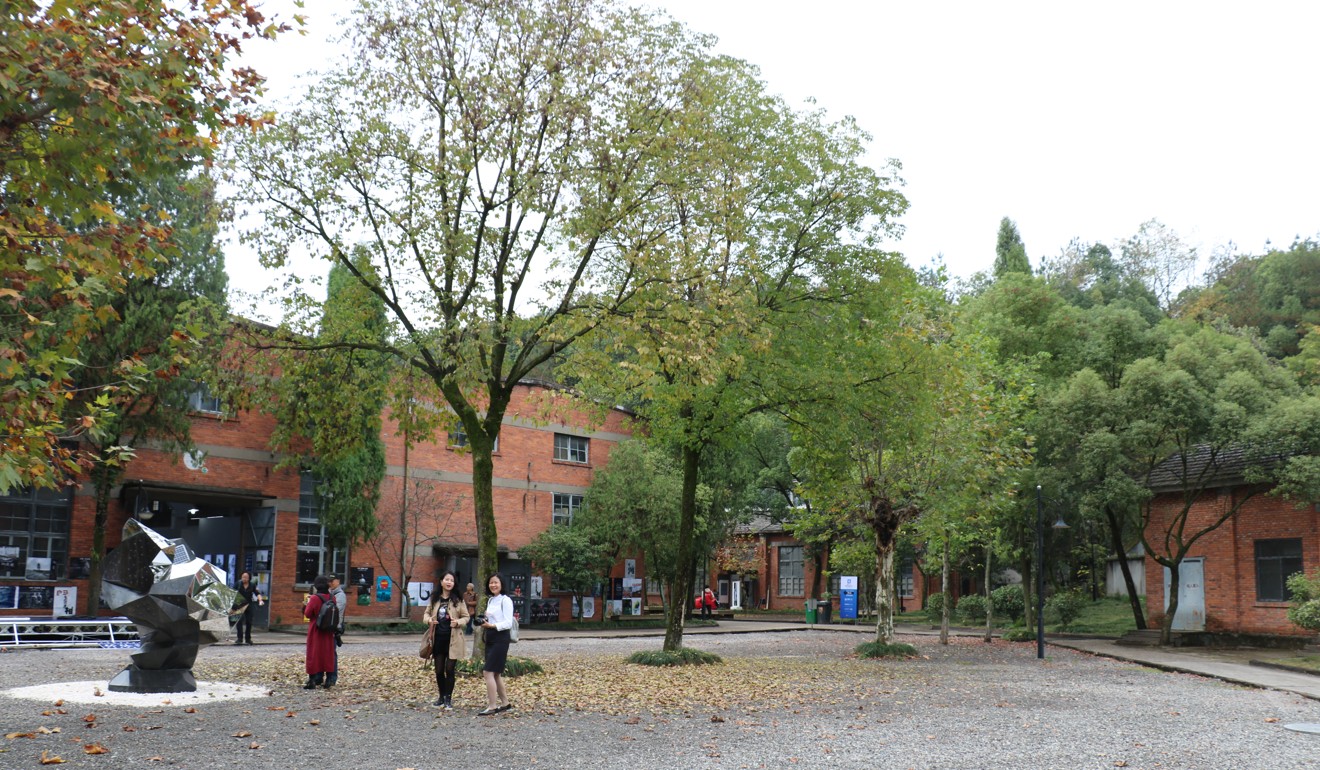 Pleasantries are exchanged over a lunch of local delicacies and wine, and it's a good hour before Chen and I can talk shop. In the meantime I speak with Luo about his intriguing series "Looking at Each Other", which features a style of photography he calls "mutual gazing", whereby the photo­grapher attempts to channel human stories through the subject's gaze.
One portrait catches my eye, two girls standing before a lime-green old house. "They're migrant children, twins that probably should be in school," Luo says. Another portrait has a girl sat on a pile of clothes in a second-hand market, while another captures a despondent man who can't find work, crouching on a block of concrete. "I'm using art to provoke questions. I want people to ask who that is and why they are here," Luo says.
I asked the photographers to capture their city, their family, essentially the world around them. [...] Contemporary art ... should maintain a con­nection with the experiences we have and the times we live in
The artists are mainly middle-class professionals, but have made the people at the margins of society the subjects of their work. This is perhaps unsurprising when one considers that migrants comprise an estimated 30 per cent of Wenzhou's nine-million population. "So many come here looking for work," Luo says, "but there just aren't that many opportu­nities any more. There's not even enough space. And migra­tion brings with it a lot of disorder."
Eventually, bespectacled and unassuming Chen – an author, educator and artist of stature in Zhejiang's creative circles – becomes free to explain his approach to curating "Lens on Wenzhou".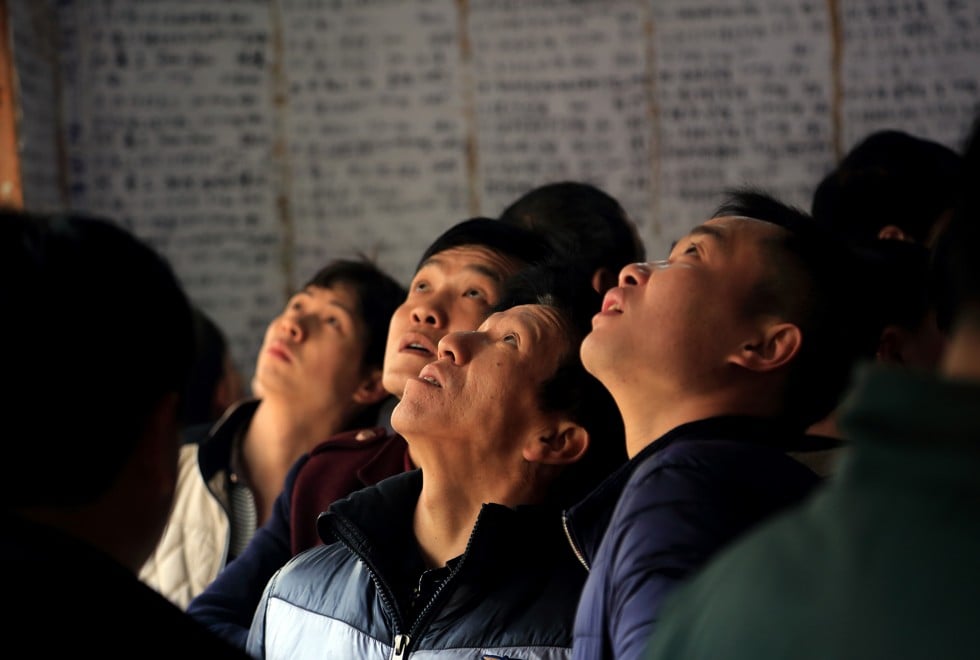 "Photography is a tool to see the world," he says. "For this exhibition, I asked the photographers to capture their city, their family, essentially the world around them. You know, some salon photographers want to run off to Tibet and pretty places like that. They forget about what's on their doorstep. Contemporary art is not necessarily about form or technique, rather, it should maintain a con­nection with the experiences we have and the times we live in. That's what contemporary means."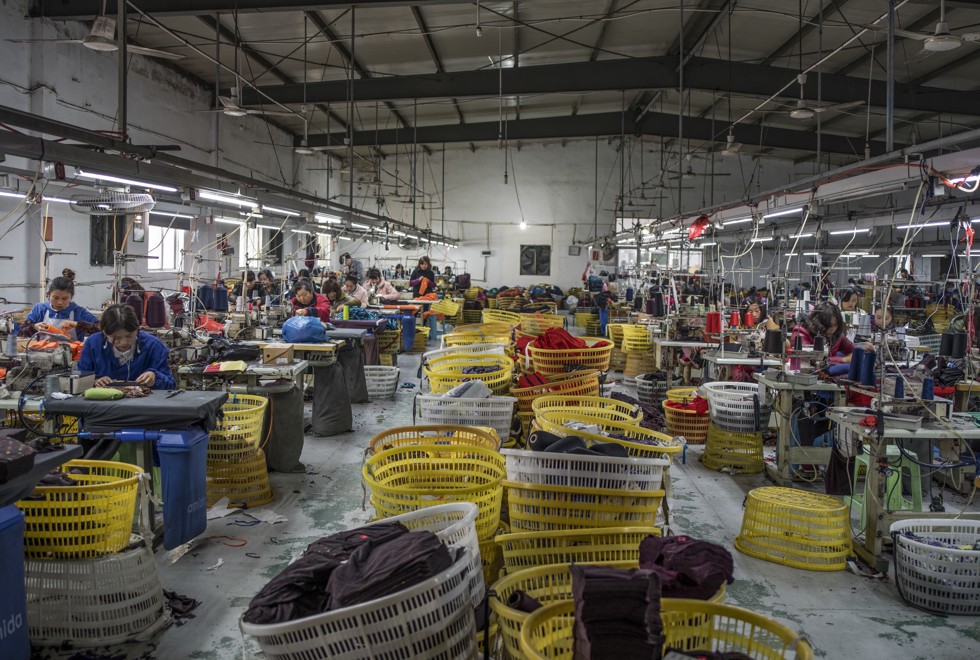 "Wenzhou used to be full of canals, like Venice," Chen continues. "You'll notice that many of the street names end with qiao [the character for bridge]. I think Zhu Yongchun has captured the last vestiges of this way of life. Then there's the economic downturn. Wenzhou hasn't fully recovered from the ripple affects of the recession in the West, so you see migrants struggling to find work in Liu Feng's photographs."
Loss, it seems, is an overriding theme of the collection, as the photographers – mostly middle-aged men – document what's left of the Wenzhou they grew up in. "Zheng Yonghui's work is interesting in this respect," Chen says of the series titled "Fireworks". "He has photographed elderly people who live by themselves in rural areas. They're a world apart from the Wenzhou of today."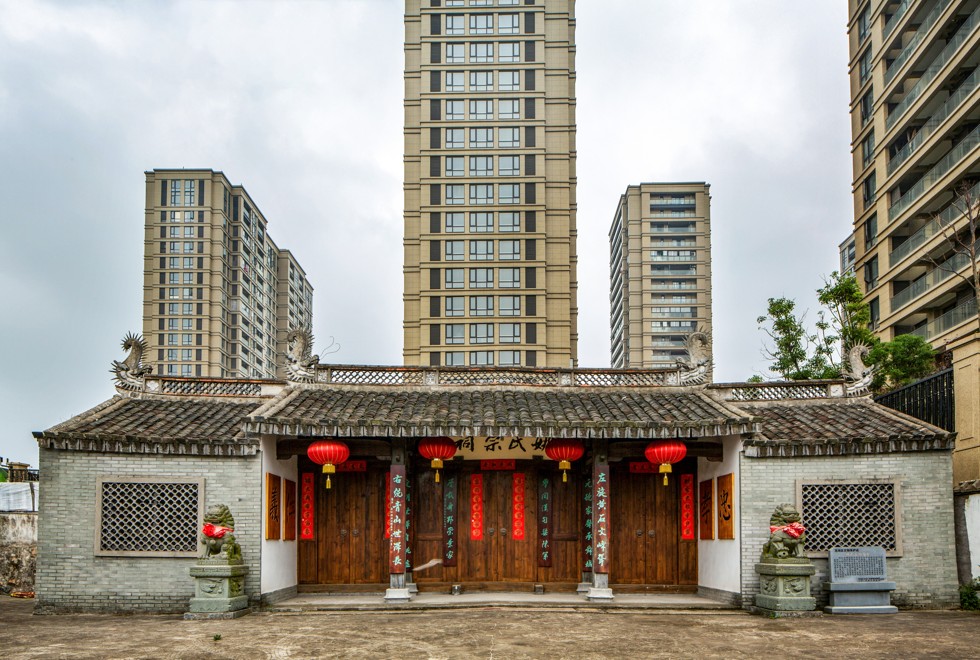 With Chen and company having returned to their workplaces, I rent a bicycle and hit the streets. With no obvious destination, I point my bike towards the River Ou, Wenzhou's principle waterway. I quickly understand why "Lens on Wenzhou" made for such compelling viewing.
Between the new high-rise apartment blocks stand rows of old factory buildings and boxy dormitories accom­modating migrant workers.
I pass a temple that has been converted into a fruit shop, recalling Chen Jianrong's "The Ancestral Temples", a photo­graphic study of how village shrines in the Longwan district of the city are being incorporated into modern buildings such as schools and supermarkets. The murky remnants of Wenzhou's canal system are framed by several eras of archi­tecture, testament to rapid and uneven urban development.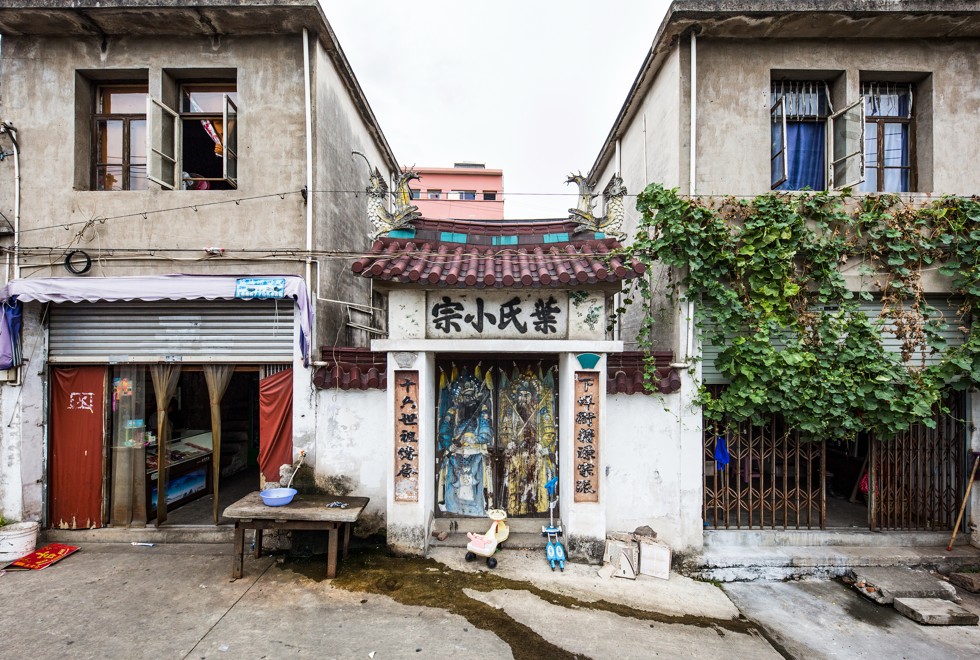 My route reveals several churches, the crosses removed from their spires as part of a government campaign that riled rights activists and briefly bounced Wenzhou into inter­national headlines 18 months earlier. Eventually, I arrive at the mighty, brown-hued river. On the far side, mountains are being quarried, presumably to make more space for industry or real estate.
Both sinners and saints in Wenzhou church row
In contrast to glitzy cities such as Shanghai, Wenzhou is China with its trousers down: all the problems of transience and overpopulation, industry and consumerism are vivid here. It's a dream come true for the sensitive photographer.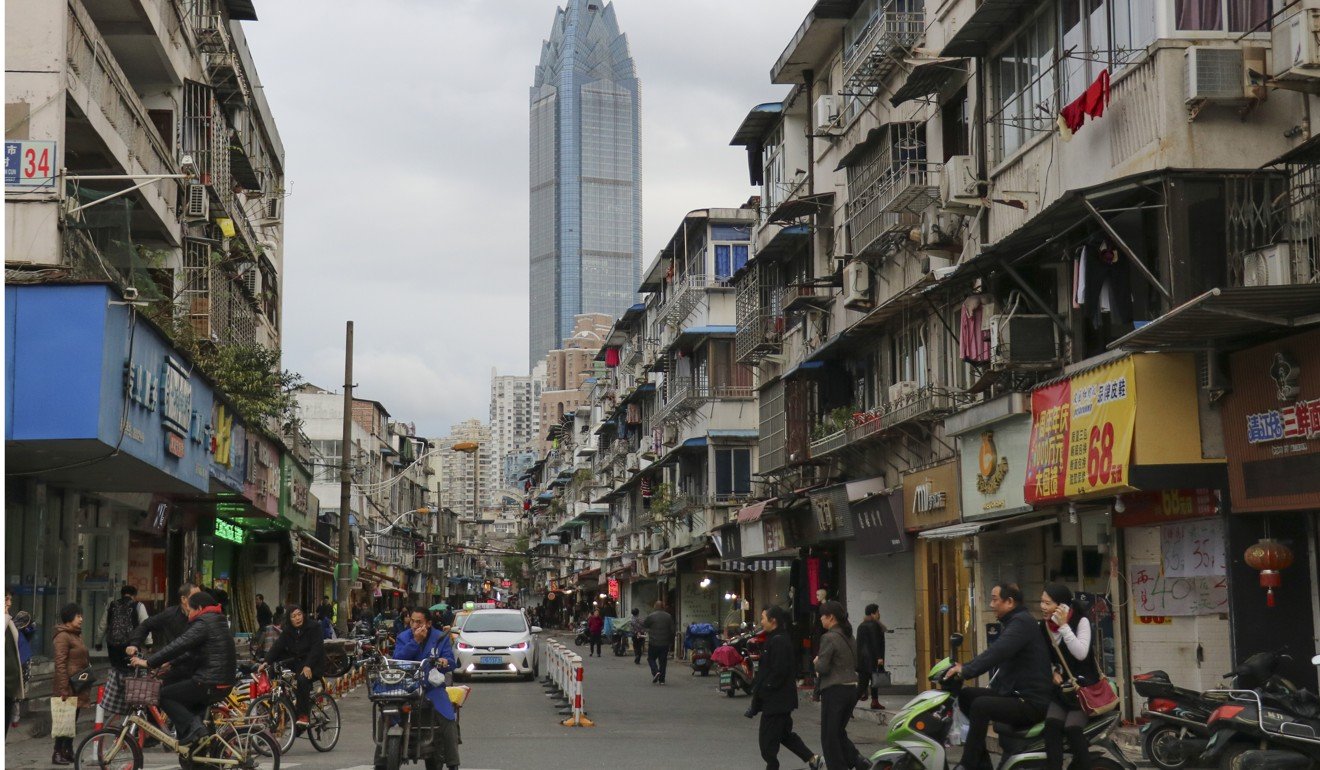 The following day is grey and wet, winter winds from the north colliding with damp sea air. I'm travelling south to meet photographer Liu Feng in Ruian. Liu teaches at a school in Tangxia township, where the "quirks and contradictions" highlighted by Da Men are dramatically evident.
"Things get bulldozed so fast around here even we can't keep up," Liu says. The road we're on swerves bizarrely around an old factory. "The owner is rich, he doesn't want to move, so they had to build around him."
Honour contribution of migrant workers
Eventually we come to the job agency where Liu shot his series. The shutters are down and unemployed men sit outside playing cards. Broken Buddha statues are scattered along a side road, recalling Zheng Xiaochang's work. Entre­preneurial women dish up inexpensive meals to the migrants from beneath tarpaulin. The preacher inside a nearby church tells me he serves three packed congregations every Sunday, two for locals and one for outsiders.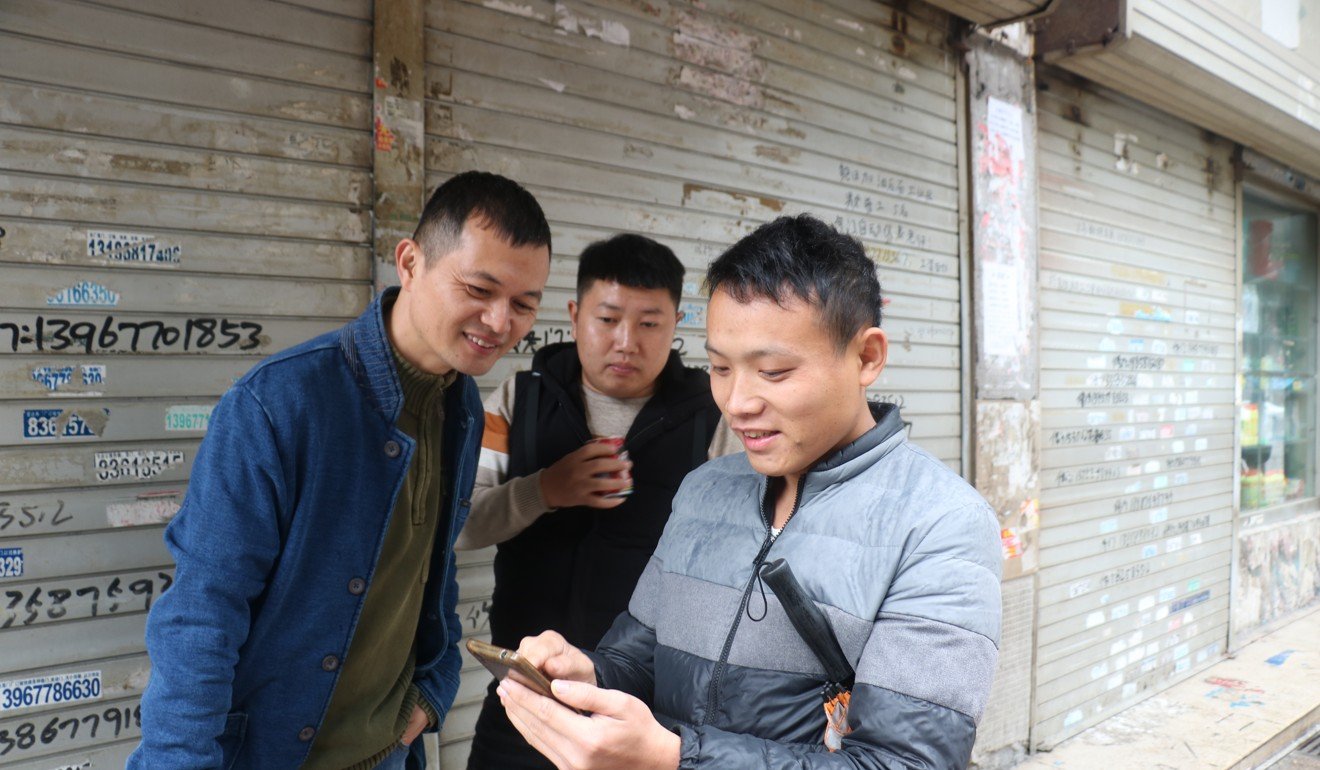 One of the men outside the job agency is interested in Liu's camera. "Do you like photography?" the teacher asks him. "Oh yes, I take pictures all the time," says the young migrant, taking out a smartphone with a cracked screen. "I take pictures of my home in Sichuan," adds our new friend. "People say the countryside is poor, but I think it's beautiful."
He flicks through frozen moments depicting rice fields, bamboo groves and dirt paths winding through hills, and we are briefly transported far from the heavy skies and outmoded factories that frame us here in fast-changing Wenzhou.