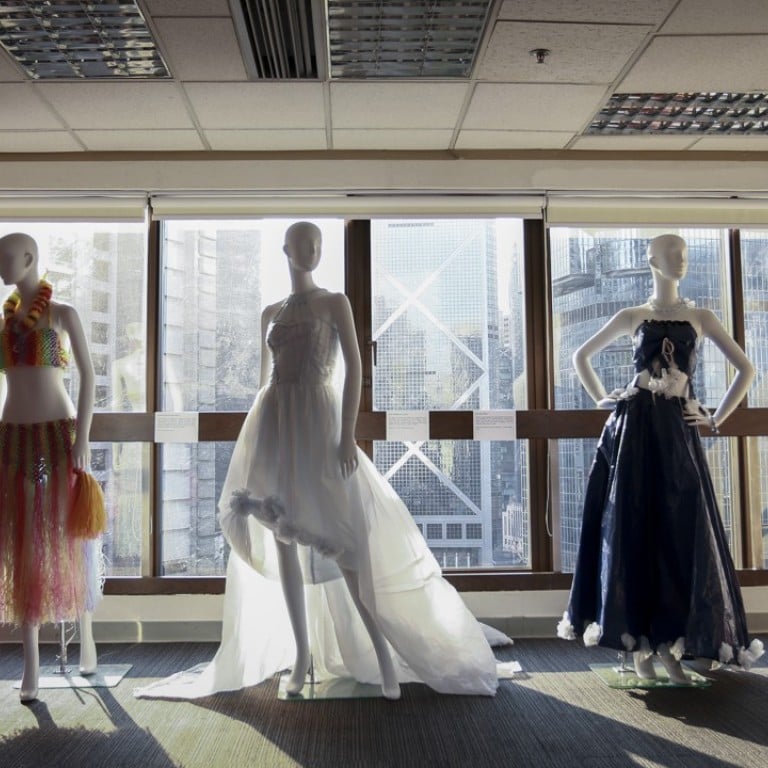 Hong Kong domestic helper's upcycled fashion collection combines empowerment and empathy
Using the city's streets as a catwalk, domestic helpers step out in Sustainable Sunday Couture created from everyday items, including coffee sachets, chocolate wrappers and shoelaces
It's a Sunday (February 25), the first warm day of spring, and a fashion show is taking place in Central. Anyone who has passed through those streets on what is supposed to be the domestic helpers' day of rest will be familiar with their ceaseless motion: a dancing, clapping, singing, often bewildering blur. Such is the constant competition for eye (and ear) that getting any message across requires a degree of innovation.
With that in mind, the organisers of Sustainable Sunday Couture – an exhibition of gowns created from recycled material now on display at the Philippine consulate, in Admiralty – have decided to use the city as a promotional catwalk.
Dr Julie Ham, the project coordinator and an assistant professor at the Department of Sociology of the University of Hong Kong (HKU), and Dr Chen Ju-chen, an anthropology lecturer (specialising in Filipino beauty pageants) at Chinese University, have gathered together a group of volunteer models, make-up artists, dressers and photographers. The starting point for the endeavour lies in the shadow of Jardine House, in Central – or, to be precise, in an area near the Starbucks at Jardine House where Elpie Malicsi, 60, has her outdoor workshop.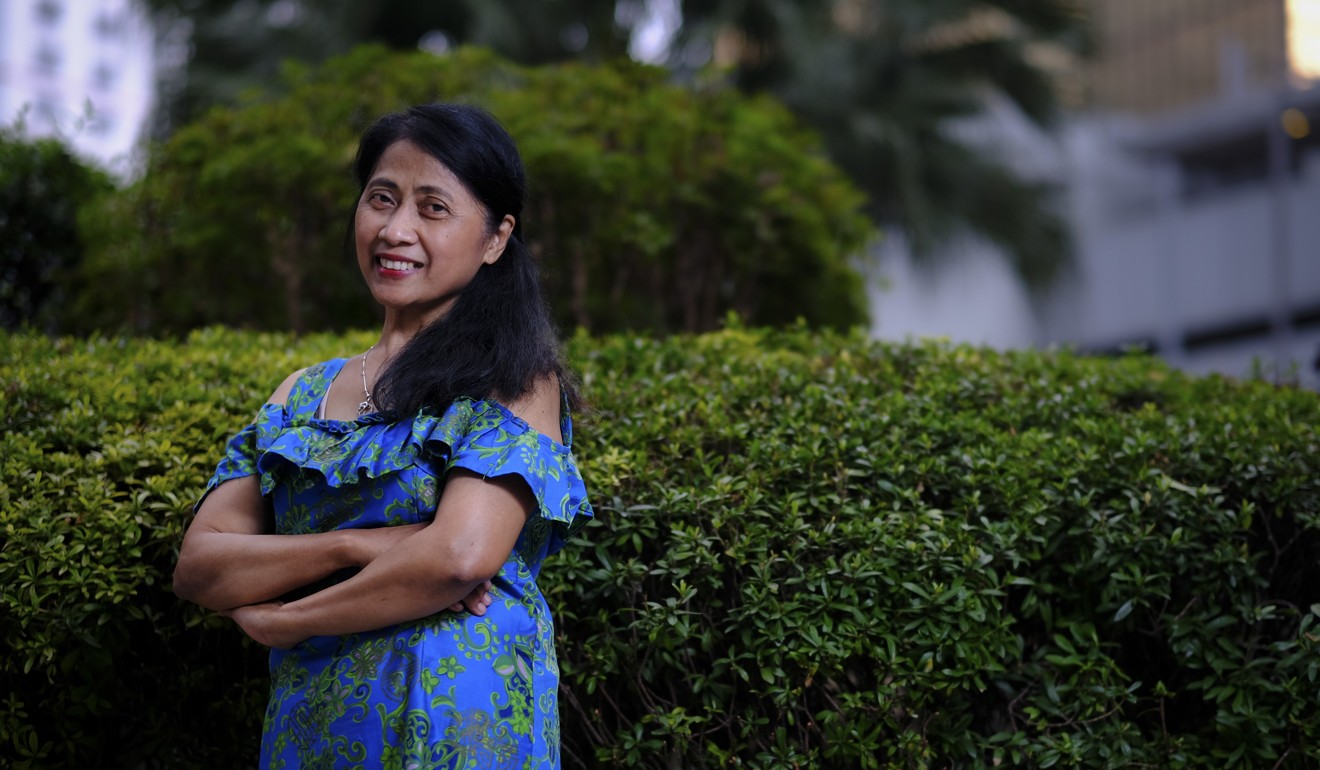 Malicsi is the domestic helper who designed the 15 outfits destined to be on show at the consulate. In the time-honoured tradition of couturiers worldwide, she can be seen adjusting her creations before the models walk: the tweak of a sachet here (one gar­ment consists of 310 coffee sachets and 36 chocolate wrap­pers stitched together), the twitch of a bin liner there (the wedding gown, with rustling train, is a confection of white plastic rubbish bags). Every now and then, exhausted but exuberant, she tells anyone within earshot how happy she is.
Four of her six models are domestic helpers, of whom two, Lanie Rosario and Zyreen Sevilla, are stalwarts of the Filipino beauty-pageant world here. "They are the queens, top models of my shows," proclaims Bryan Decepeda, who as a pageant organiser and make-up artist, and himself a domestic helper, is familiar with the scene.
Given that Immigration Depart­ment rules forbid domestic helpers from making additional earn­ings, you cannot, strictly, describe them as professionals, but the pair's experience, gleaned from many sashaying Sundays, adds stylishness to Malicsi's handiwork as they move through the streets. (Sevilla in a black evening dress that, on closer exam­ination, turns out to be studded with recycled caps from milk and juice cartons.)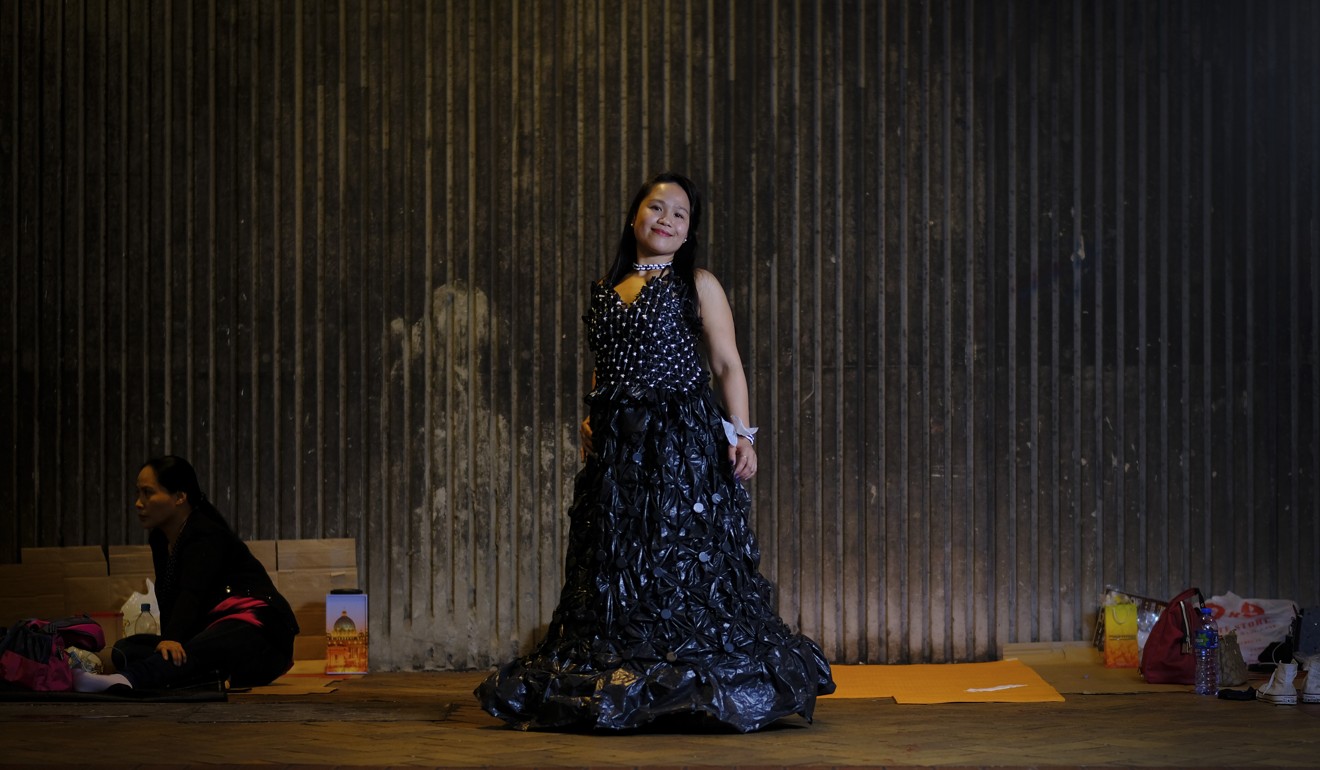 A couple of students new to the world of pageantry are also taking part. The show's bride, Grace Leung Sze-yan, is majoring in anthropology at Chinese University. Her field of academic interest is public space and how the Filipino community makes use of it in Hong Kong. She remarks, modestly, that Chen had asked other students to be models. "But they are too shy," she says. "I was hesitating to seize this opportunity, too, but you rarely have the chance to model with a Filipino group."
That gap between Hong Kong student and Filipino domestic helper is one that Chen – whose published work includes "Sunday Catwalks: The Self-Making of Filipino Migrant Women in Hong Kong" (2015) and "Beauty Queens and their College Going Kids: Aspirations of Overseas Filipino Workers in Hong Kong" (2017) – wishes to narrow, at least briefly. "What's unique about today is that something like this is usually a Filipino event," she says. "Hong Kong is very segregated, but today we've put them in each other's shoes. Here the Filipinos have a lot of expertise. To me, it's very touching that the students are asking them how to model, how to dress, how to change in public."
The event's photographers are members of Lensational, a social enterprise set up here in 2013 to help marginalised women tell their stories through photos and video. They include
Joan Pabona, a runner-up in the National Geographic Wheelock Properties Youth Photo Competition 2017
. Pabona took her award-winning photo from the Happy Valley flat where she works as a domestic helper. It shows a helmet­ed worker below her, untangling a swirl of the safety netting that is usually draped over the city's bamboo scaffolding: one essential layer of Hong Kong's structure observing another. She called her image
Sacrifice
.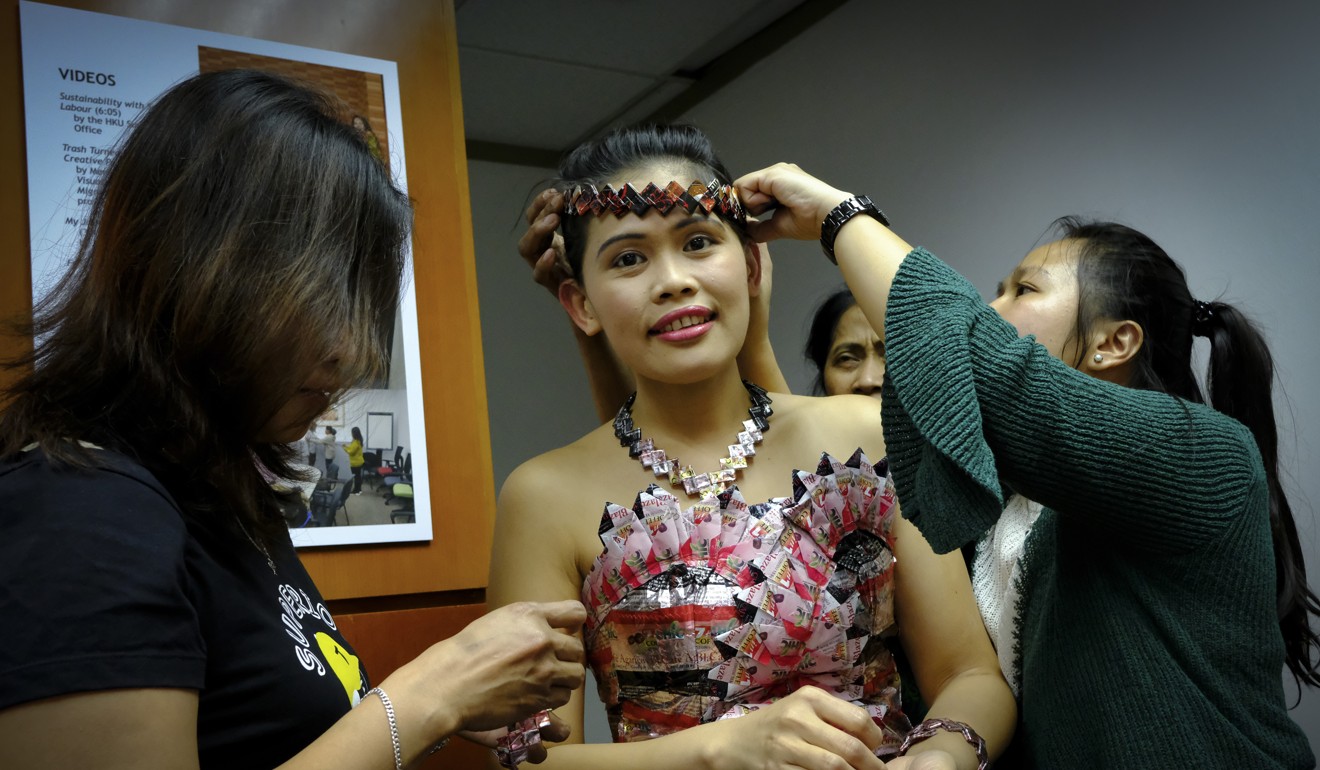 Just after midday, to a smattering of applause, the models and their cohort set off to gain the city's attention. Malicsi's friends, wearing jackets emblazoned with the words Domestic Workers Empowerment Project (DWEP), an initiative set up by HKU in 2015, cluster supportively around her. They move through the old Star Ferry underpass (who knew it would prove such an ideal catwalk, a rapt front-row audience reclining on cardboard boxes on either side?) and along Chater Road.
Here they deftly sidestep both the crowds watching a beauty pageant and random dance groups. They pass Harry Winston, Cartier, Piaget and Bulgari, and Filipino banners that yell "Create Jobs Back Home" and "Junk The Labor Export Policy". They ascend in a line through Chater House and along the Star Ferry walkway while pedestrians stare and, mostly, hurry on. As in fashion shows the world over, the bride brings up the rear. ("It's hard. But fun," she says.)
On the ferry's upper deck, they arrange their garments gingerly before sitting down. Those wearing the sachet dresses, especially a close-fitting design Malicsi has named the Mermaid Gown, admit they are finding them rather scratchy.
Over in Tsim Sha Tsui, the demographic and the banners ("Remove Evil Cult Falun Gong Who Creates Lies And Jeopardises Lives") shift. Chen, who is from Taiwan, explains the exhibition to mainland tourists and encourages them to think of the environment. Ham, who has a South Korean background but grew up in Canada, speaks to Westerners. The Hong Kong students hand out recyclable leaflets and carry water, Edo crackers and Tim Tam biscuits – individually wrapped, alas – for the models.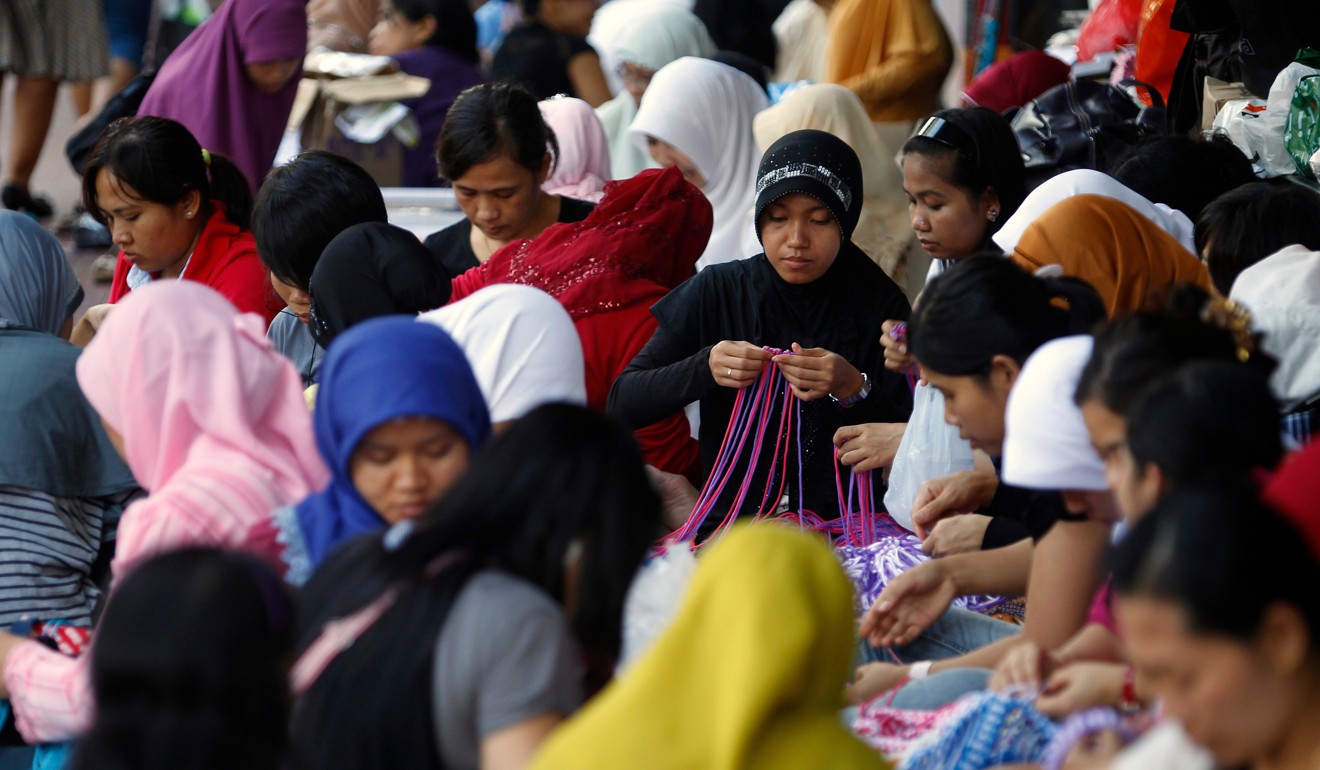 At Causeway Bay (having stimulated the close-quarter interest of MTR passengers, especially children), the models bypass Victoria Park, Sunday home to Indonesian domestic helpers. Instead, for a few minutes, Paterson Street becomes their personal runway before they head to Times Square. As domestic helpers, they are used to insinuating themselves into public areas. They have no choice: in this city, you learn to take whatever slot you can get.
It would be stretching the truth to describe the gallery in the Philippine consulate as the ideal space in which to hold a couture exhibition. The lighting is not kind, the shape is awkward and on a busy day you will spend a while queuing for a lift. When the idea of showcasing migrants' work first came up, HKU's Department of Sociology had its own exhibition space; since then, it has been converted – Hong Kong fashion – into offices.
"It's been a very organic process," says Ham, a few days after the catwalk event. She and project assistant Merina Sunuwar are sitting on the consulate's gallery floor, sorting out labels and videos for the show's opening. Sunuwar, whose grandfather was a Gurkha and who came to Hong Kong from Nepal in 2004 when she was nine, is wearing a sweatshirt that proclaims No Limits To Dream. In 2013, when she went to HKU to study social work, she was, she believes, one of two Hong Kong Nepalese students at the university.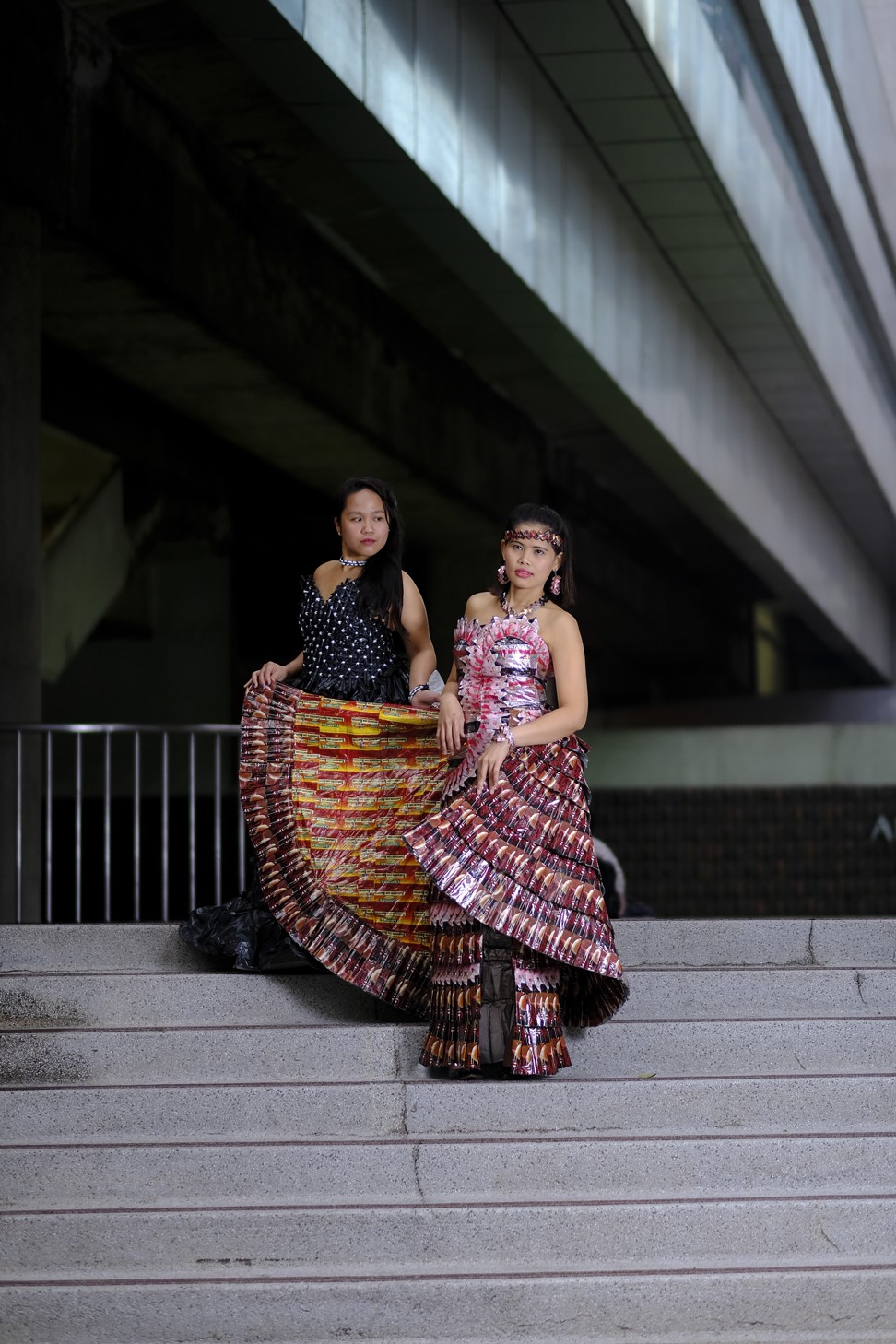 In a corner of the room is a black-and-white striped bag in which Malicsi transported all 15 costumes the previous day, space efficiency being one of the advantages of sustainable couture. They are now being worn by 15 pallid mannequins, but their labels provide unexpected insights into aspects of Filipino life. One, for a coffee-sachet dress, notes that this caffeinated drink with mushroom (Baracco Con Agaricus) is "very popular among the Filipino community as a claimed cancer preventative". It is made by a networking (i.e. direct-selling) company in the Philippines called Classique Herbs. One or two sachets a day are good enough to improve your overall health, its website states.
Other labels explain the gowns' provenance. One has been created from plastic bags discarded by hawkers who sell goods to Filipinos on Sundays, another from the bubble wrap that protected a set of speakers bought by Malicsi's employer, and one from several rice sacks and about 500 drinking straws culled from HKU's canteens during its Ditch Disposable campaign.
"I want people who come to think in different ways about sustainability," Ham explains. "It's all good and fine to talk about it, but it's the domestic workers who have the burden of sorting, cleaning, recycling. They're the stakeholders. And the angle of eco-fashion is a way to recognise their culture and creativity."
Before she came to HKU, in 2015, Ham worked in Thailand with the Global Alliance Against Traffic in Women and her interest is in gender migration. As a relative new­comer to Hong Kong, her wonder at Central's transformation every seventh day has not diminished.
"It's amazing to me that these spaces are so exclusive and intimidating, but on Sundays they're repurposed into picnic­king grounds," she says. "There's a certain collective power in that."
On the other hand, DWEP was set up by HKU medical researcher Dr Michael Manio to induce migrant workers off those thoroughfares and into free lectures and workshops at the university.
"His approach is that the streets are not a dignified space," Ham says. "I was uncomfortable with that idea – the politics of respectability. I do agree that more options should be provided for domestic workers, but I appreciate the vibrant street culture."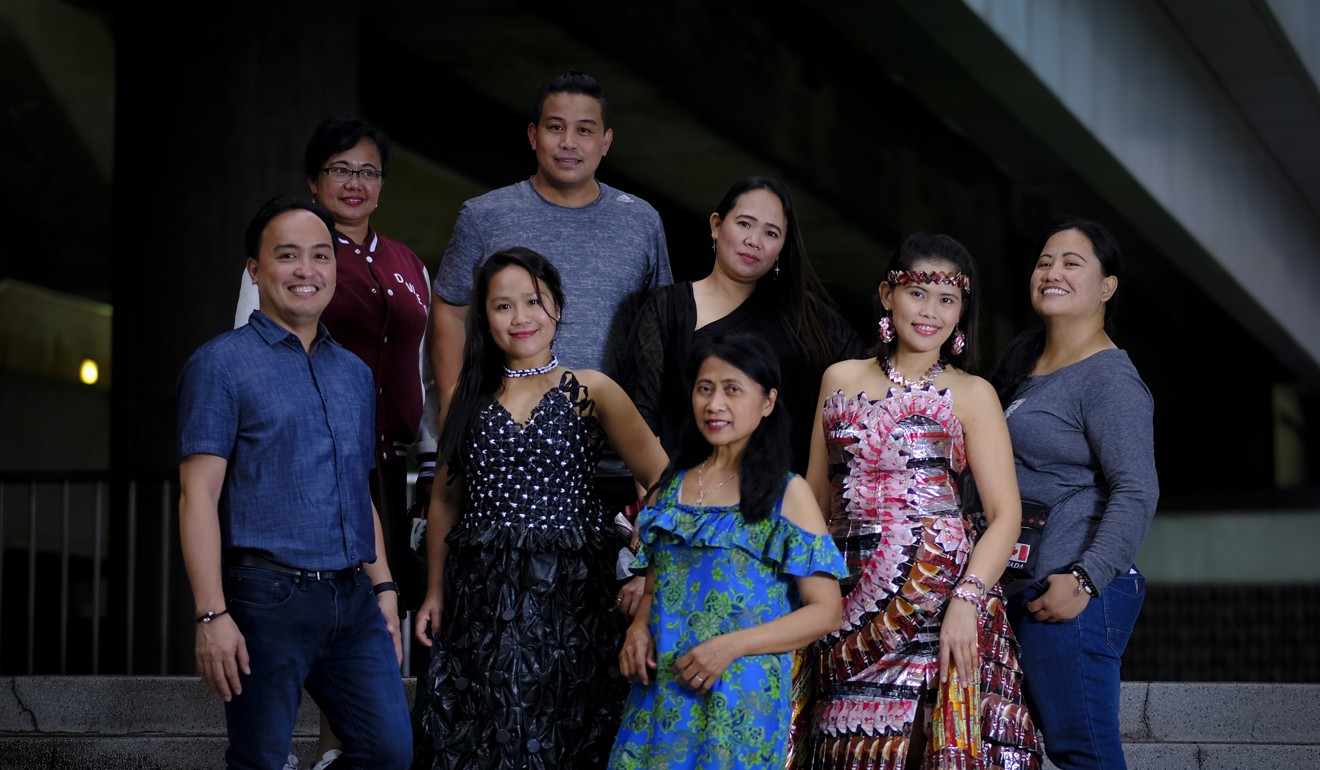 Still, it was through DWEP that Ham met Malicsi, who is one of the project's mentors and who took part last year in HKU's exhibition "Visualising the Voices of Migrant Women Workers". When Malicsi talked about her recycled fashion, Ham saw an opportunity to highlight both sustainability and labour issues. Along with other DWEP members, Malicsi and Manio, who is himself Filipino, were already taking Sunday trips to The Peak, Sai Kung and Discovery Bay to forage for reusable rubbish.
The organisers wanted the exhibition to overlap with International Women's Day, on March 8, but for Malicsi there was only one consideration in choice of date. "Her daughter graduates in April," Ham says. "Elpie said, 'Any time is fine, but in April I'm going home.'"
At that moment, of course, Malicsi was in someone else's home, looking after someone else's children. I had originally planned to talk to her in the consulate, but her duties intervened and she suggested we meet outside her block in Mid-Levels at lunchtime.
With her employers at work, she is not allowed to take a stranger inside so we look around for a space to sit. We park ourselves on the Tramway Path steps, next to three abandoned shopping trolleys. (Malicsi, well-versed in Hong Kong alfresco life, begins searching for some cardboard when I produce an insubstantial Pret A Manger napkin.)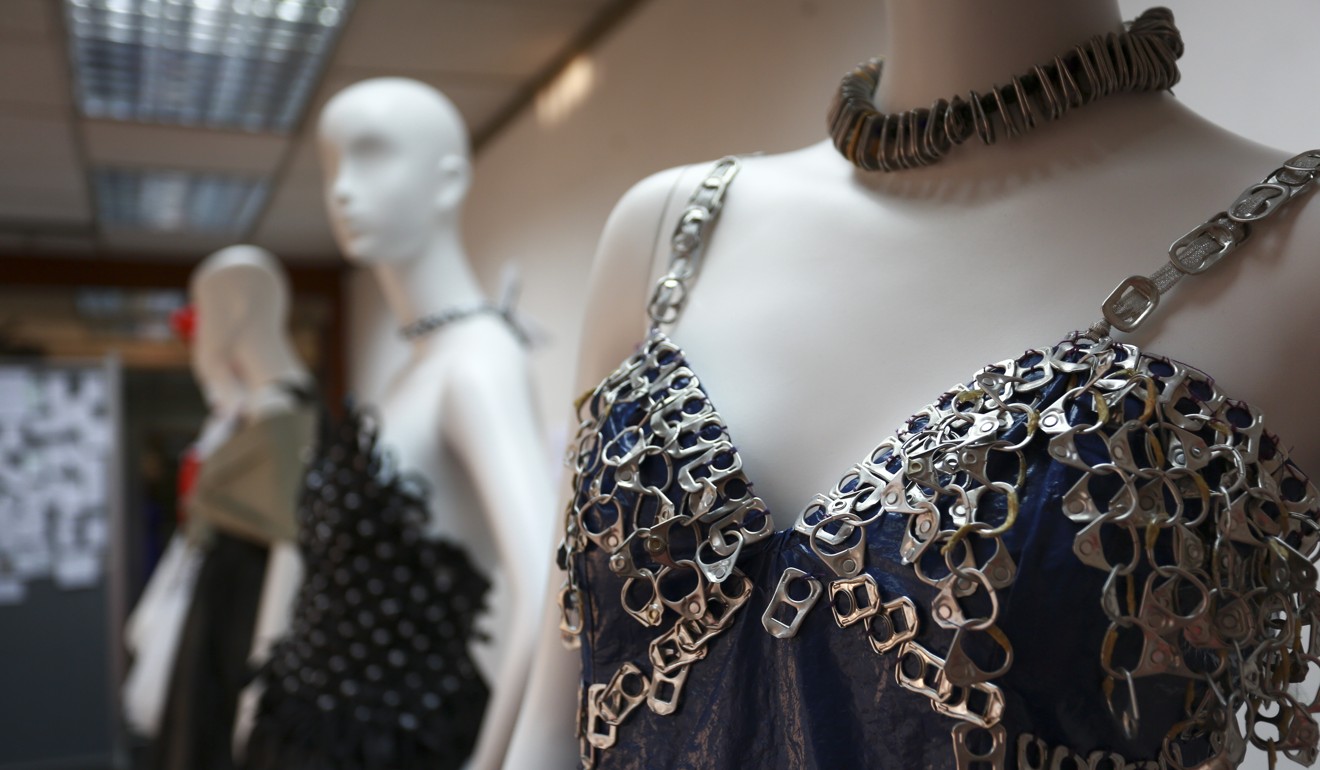 "My goodness, it looks like I have my own boutique," she says, thrilled, of the exhibition. Her first fashion creation was for a 2006 competition using recycled materials. As we talk, she stretches her hand behind her, touches the sprouting roots of a tree close to the path and says, "I made it from this, it looked like Jesus Christ. What do you call that?" She circles her head with her hands. "Yes. A crown."
At the time she was too busy to do more, and fashion competitions for Hong Kong domestic helpers were not on the same scale as they are now. Within a few years, however, beauty pageants, usually sponsored by Filipino telecom­muni­cations and shipping companies, had taken off in the city.
Opinion is divided as to the virtues of these.
"I am a feminist," Chen says later. "I'm interested in migrants' dreams, not in pageants. But when I started, it was a chance for me to have a role in the community, so when they asked me to be the judge, I participated … with doubt. And I was so touched, every single time, how they transformed them­selves, how they helped each other. For them, it's different from Miss World. For them, it's about personal community."
Cost is the usual criticism levelled at pageants. As a result, competitions in which contestants wear outfits made from recycled material became popular. In 2012, Malicsi was asked to make a costume for a sustainable fashion show. One Sunday evening in Central, she gathered up 10 bin bags that domestic helpers had been sitting on, then washed and dried them. When I ask where she found the space for this, she waves to her building and replies, "I have a very comfortable room. My employers have 2,800 square feet."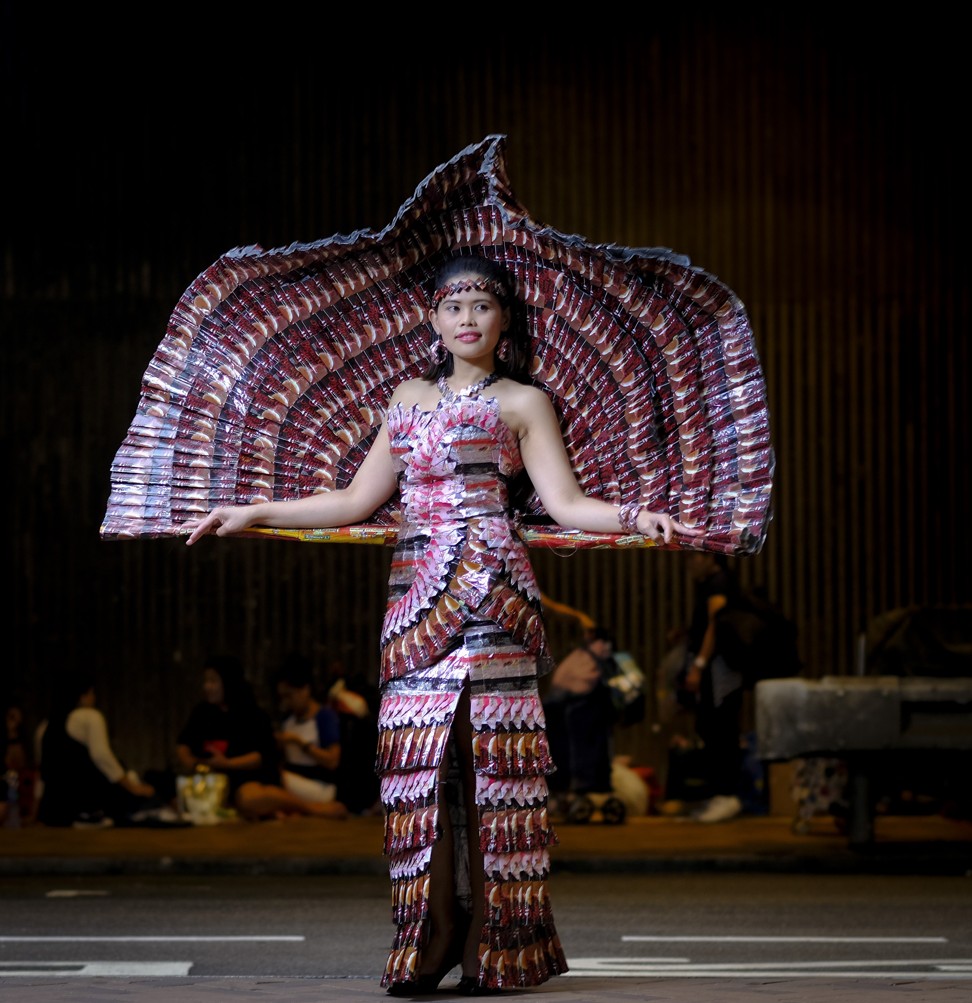 On the day of the competition, it poured and the paper entries fell apart. That was when she realised the benefits of plastic. In a previous job, when she worked in Saudi Arabia with an American family (having left her own daugh­ter, aged two, in the Philippines) she learned smocking and weaving, and she became more adventurous. In 2013, she won a best designer award for her Peacock Gown, a show­stopper concocted from 936 coffee sachets and shoelace.
That event was organised by Classique Herbs, and it was stipulated that entries had to be made out of used packaging from the company's products. I read about this canny marketing in the Peacock Gown's description at the consulate, but what I do not know, until she tells me, is that 2013 was also the year that Malicsi had breast cancer.
"They operated here in Hong Kong, and take it out," she says, resting her head on my shoulder. She is the type of person who transmits her emotion via immediate physical contact as if it's still freshly felt, not recycled. "My employers support me so much. For me, it is a trial from God."
After a while, I ask her what she now thinks of Classique's health claims, and she replies, "Maybe my lump is there already. The drink is good because it's mushroom." (Later, when I askif she's ever been to the Starbucks next to her Sunday workroom at Jardine House, she nods, a little guiltily, and comments, "So expensive.")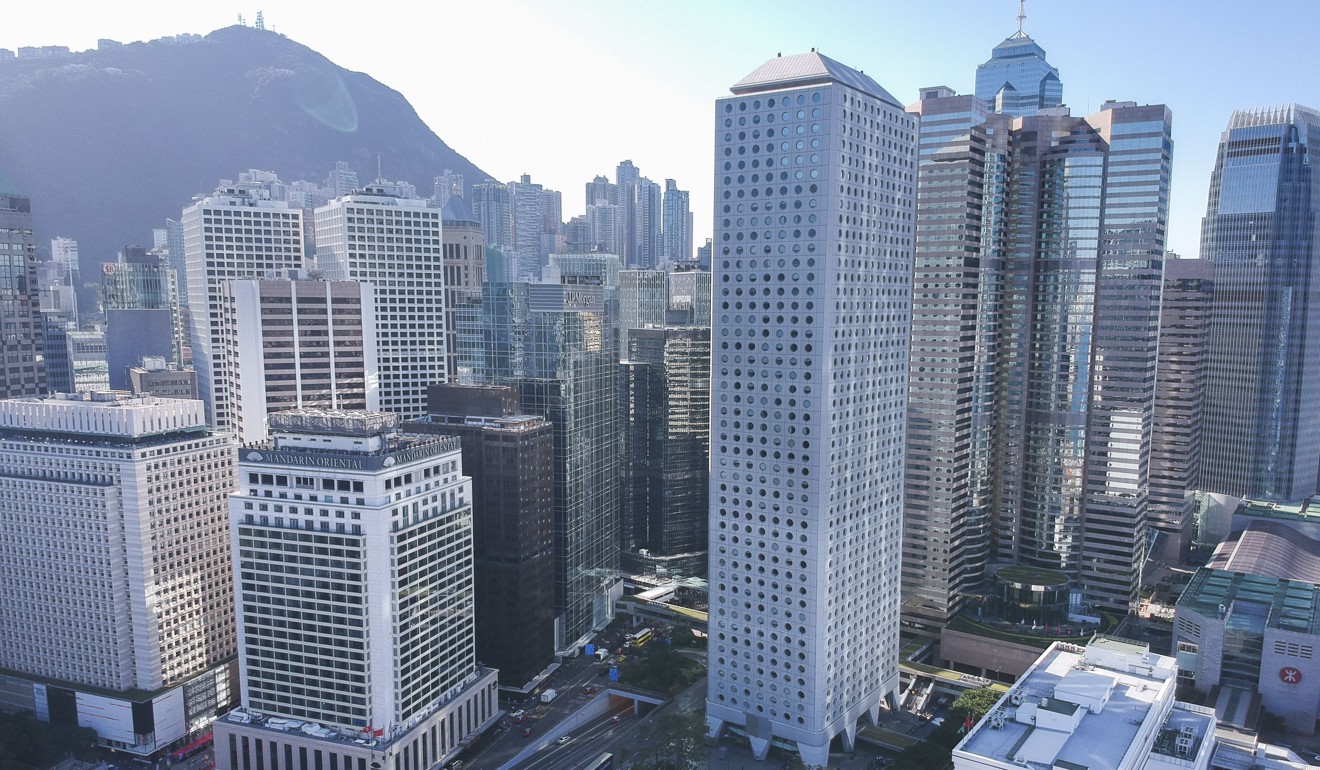 It was the cancer that brought her into contact with DWEP: a friend told her about the Sunday lectures on health. "When you go into the university, you sit very comfortable, and you have the air-con, and you can learn about everything, about your rights in Hong Kong, about sustainability," she says. "It's better than sitting on cardboard, playing cards."
For the afternoon launch of her fashion exhibi­tion, Malicsi wears a blue-and-green dress. When I admire it, she whispers, "It's not real," by which she means it has not come from a shop but has been made by her own hands. Her employer is travelling but will visit the show when it transfers to HKU's main library, on March 18. In the room, packed with mannequins and friends, the Philippine consul general speaks, followed – as a sign of domestic-helpers solidarity – by the Indonesian vice-consul (wearing a suit and possibly feeling too real because he apologises for being overdressed). When Malicsi introduces herself, she adds, "I am a breast-cancer survivor."
On the street afterwards, Manio says of his DWEP mem­bers, "Sometimes they cry because, at least once in their lives, they enter a university – a high-level place to them."
Another Sunday is winding down. The cardboard boxes bought as temporary real estate that morning (current rates: HK$6 to HK$10) are piling up in Central, along with mounds of less sustainable rubbish. It is not exactly Smokey Mountain, but it gives the evening city a ragged, unlovely look.
"People criticise the domestic workers for that," Chen says. "But they don't have their own space. They have to come together in one site with a lot of people and they have to use disposable containers and cutlery. Any of us would do the same. It's the city's responsibility. It's a phenomenon created by the city."