It's 8am and the temperature is already above 30 degree Celsius in Qingyuan, a prefecture-level city in the north of Guangdong province and home to the Evergrande Football School. Most of the 48 pitches at the world's largest soccer academy are already in use. Children and teenagers in red and yellow kits stretch, run and kick balls. For the next 90 minutes, before regular school classes begin, they will sweat buckets.
"He shui," Ibon Labaien reminds his charges, in broken Mandarin, every few minutes.
"They need to drink water constantly in this heat or risk passing out," explains the 28-year-old Basque, one of 22 Spanish coaches that Real Madrid – Europe's top football club – has chosen for an ambitious venture with property developer Evergrande Group. Labaien works alongside one of the academy's 116 Chinese coaches, and communicates through an interpreter.
The school, which operates a full-boarding model and is affiliated with South China Normal University, in Guangzhou, opened in 2012 with the stated goal of "revitalising Chinese football and cultivating future stars of the sport". It is a key component in the infrastructure that China and its football-loving president, Xi Jinping, hope will make the nation a world beater by the middle of the century.
"The infrastructure [in Qingyuan] is amazing – compar­able to that of Spain's [La Liga] clubs," says Labaien.
Chinese football is still very bad. Players lack technique and understanding of the game. I have to teach the basics over and over again, even with those already playing professionally
The school cost more than 1 billion yuan (US$156 million) to build and comprises two dozen chateau-style buildings, including a 21,000-square-metre student dormitory and four towers containing fully equipped apartments for the staff. An auditorium can hold more than 1,000 people and the main stadium has seats for more than 3,000.
"We have around 2,500 kids aged between eight and 17 years old," explains public relations executive Lee Lingzhi. "Tuition costs 50,000 yuan a year but the most promising players are hired for the elite squads and receive a full scholarship."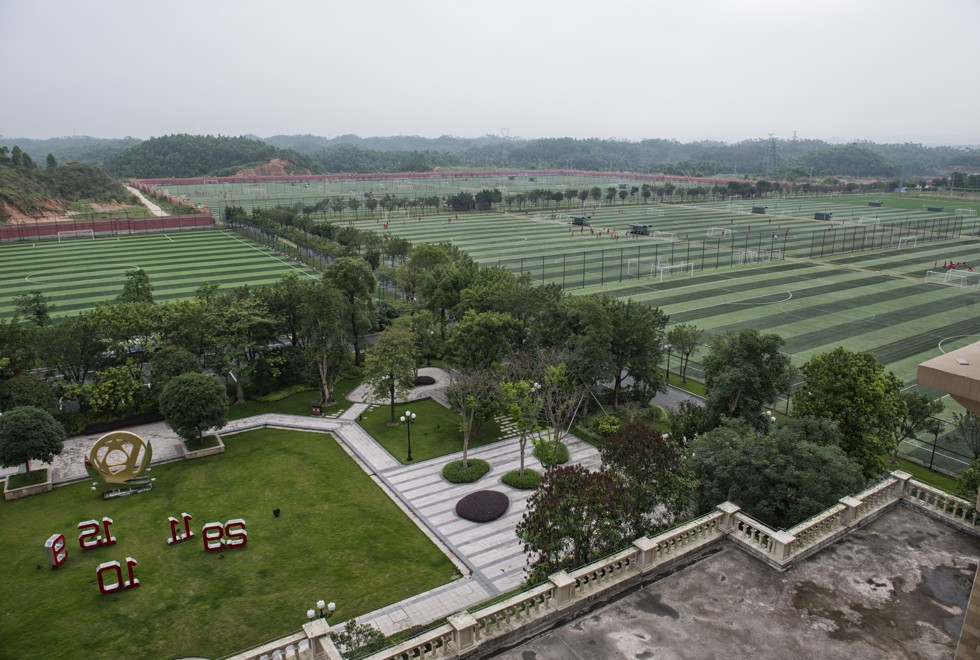 It is easy to spot the elite players; they wear a slightly different kit, adorned with the logo of local sports brand Anta. And they enjoy privileges such as access to the Western food canteen, where generous portions of spaghetti and meat are eaten not with chopsticks but with knives and forks.
"The best will be polished in Madrid for three years after they turn 14," says Lee. The first generation involved in this exchange will return to China next year. "And, in the future, they will have a chance to play for the Guangzhou Evergrande Taobao club, the best in China."
100,000 Chinese tourists are descending on Russia for World Cup
Evergrande won seven Chinese Super League titles in a row between 2011 and 2017 (although they stand in fifth place out of 16 clubs in the current season), and have lifted four Super Cups – including this year's – and the Asian Champion's League trophy twice (2013 and 2015). Even so, according to both foreign and local coaches at the football school, Guangzhou Evergrande would not fare well in any of the major European leagues.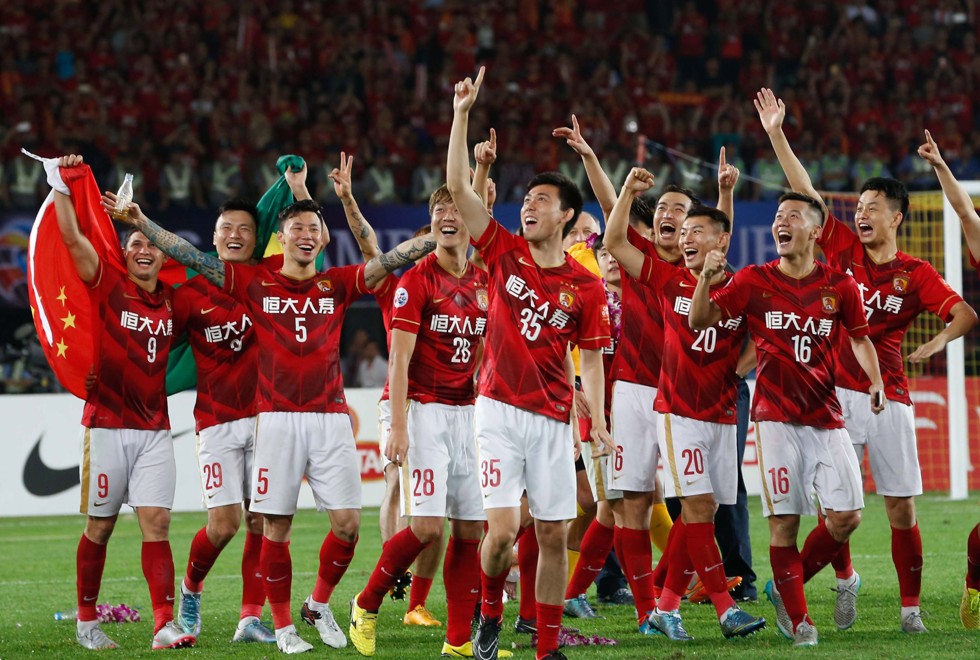 "Chinese football is still very bad," says Mikel Lasa, who is in charge of training the eldest students and some of the players in the Evergrande B team. "Players lack technique and understanding of the game. I have to teach the basics over and over again, even with those already playing professionally." As a player, Lasa won gold at the Barcelona Olympics, in 1992, and took to the pitch for some of Spain's best clubs, including Real Madrid. After an exhausting session under the Guangdong sun, he concludes, "There is a frustrating lack of talent here."
José Antonio Camacho saw things differently when he landed in China in 2011, to take charge of the national team. "The country is now a sports powerhouse at the top of the Olympic Games medal tally," the former Spanish national team coach told the press. "I don't see any reason why we won't be able to find 22 good football players among 1.3 billion people."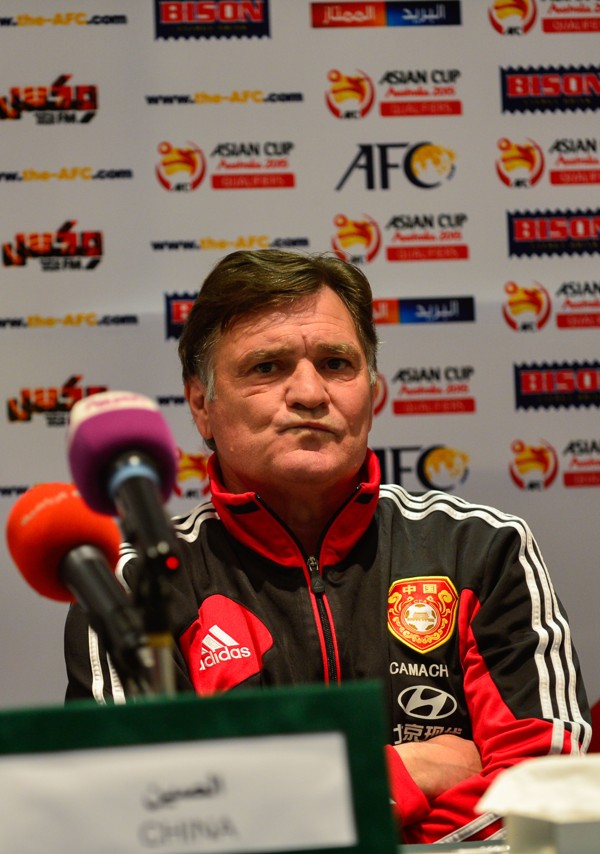 Look he may have done, but find those players he did not. Not only was Camacho unable to get China to qualify for the 2014 World Cup finals, he also suffered a series of humiliating defeats: 0-8 against Brazil in September 2012 (the worst result in the history of China's national team); 1-2 against Uzbekistan in June 2013; and 1-5 against Thailand nine days later. That final match, a friendly, sealed Camacho's fate and resulted in the early termination of his three-year, multi­million-dollar contract. (He is now the manager of the Gabon national team.)
China has qualified for the World Cup only once – in 2002, when the tournament was co-hosted by Japan and South Korea, and "Team Dragon" failed to score a single goal – and it comes as no surprise that the country will not be playing in Russia this month. Despite having tens of millions of fans to cheer them on, China are repeatedly humiliated on the football pitch.
But the government has a plan.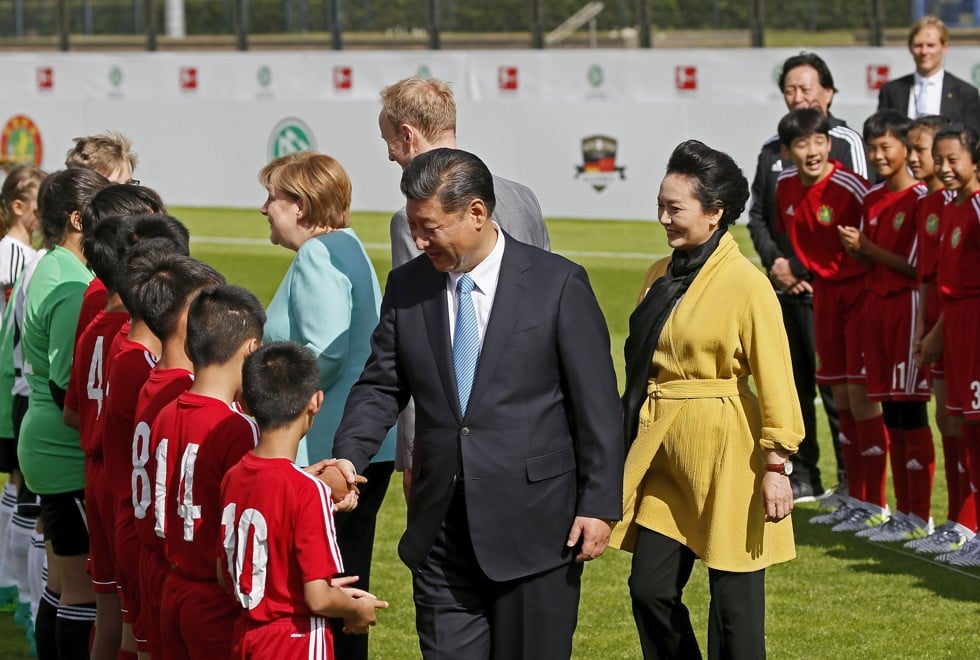 President Xi expressed three wishes in 2015: to qualify for another World Cup, to host one and to win one within 30 years. These wishes became orders and thus the Chinese Football Reform and Development Programme was conceived, and approved soon after by the Central Committee of the Communist Party of China and the State Council.
"The development and revitalisation of football will improve the physical condition of the Chinese people, enrich cultural life, promote the spirit of patriotism and collectivism, cultivate sports culture and develop the sports industry," the programme envisages. "Football will be included on the physical education syllabus in all primary and secondary schools, and the proportion of hours will be increased." Schools have also been instructed to "strengthen the basis of football talent and improve the overall quality of students."
The document sets ambitious targets: to increase the number of primary and secondary schools in which football takes a leading role in physical education from the current 5,000 to 20,000 by 2020; and to 50,000 by 2025. In seven years from now, the government expects 50 million Chinese people to be playing football, 30 million of those in training at school.
The midterm goal is to achieve "a significant increase in youth football" and to make the Super League and the men's national team "the best in Asia".
The long-term goal goes way further: to turn Chinese football "into a sport that is universally participated in by the masses", to launch "an active bid to host the men's World Cup" and to "significantly increase the international competitive­ness of the men's national team to reach the highest ranks globally".
If you don't tell them exactly what to do, they are hope­less. And they seldom talk to each other on the field, so coordinating passes and strategies during a match becomes almost impossible.
Manu Merino, another of the Spanish coaches at the Evergrande Football School, believes the plan addresses the main problem.
"Kids in Europe, America and Africa start to play with a ball as soon as they can walk," he says. "Then, they challenge friends wherever they can and have plenty of clubs to join and train with. There are also many competitions to take part in. That is a huge advantage over China, where there are almost no football fields and just a few dozen teams."
China sets out grand plan to become world's soccer superpower by 2050
Kayleigh Renberg-Fawcett, co-director at the China-Britain Football Centre, digs a bit deeper in an article published by the China Policy Institute: "At a grass-roots level, football teams are mostly based in schools, unlike the community club model in [...] Europe. Outside of school it can be an expensive sport that is run for profit. Opportunities for competition are limited by the pressure of the education system and lack of awareness of the benefits of regular exercise and competi­tion. Exceptional players will be selected to play for their city, and province. If you are not initially good, or cannot afford to play, opportunities to play are very limited."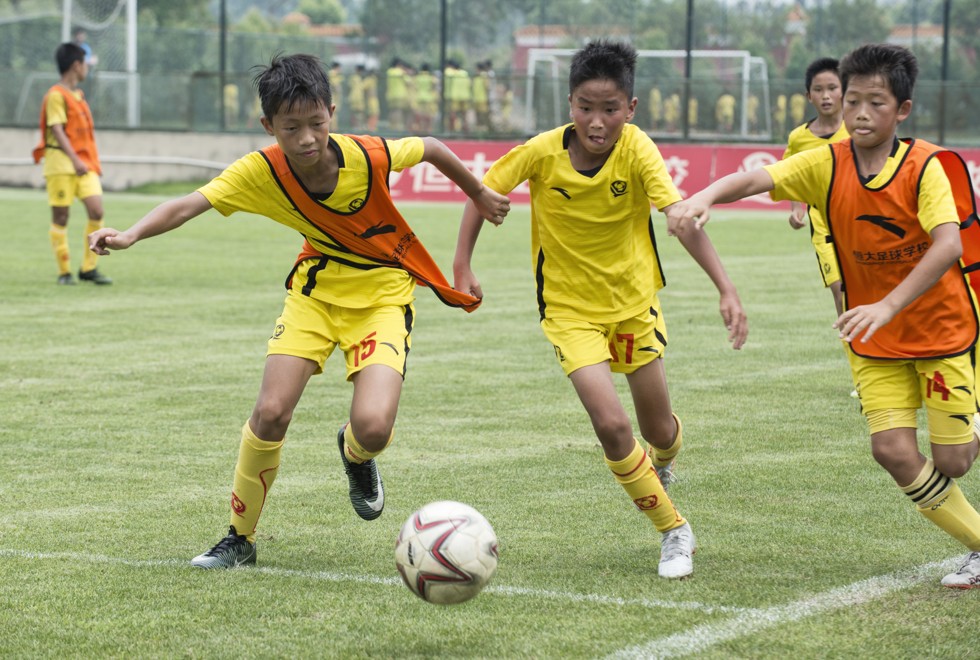 Jonathan White, Chinese-football writer at the South China Morning Post, adds, "Footballers tend to have been picked for football rather than picking football, as it has been with all sports under the top-down, Soviet-style model that has seen China win medals in sports they have prioritised."
Infrastructure can be built easily enough but instilling a creative mentality is much harder to achieve.
"Physical education here is akin to the military," says Labaien. "In Europe, we play multiple sports; in China, they do exercise collectively. The absence of freedom makes kids very disciplined but they lack passion, creativity and boldness. They are afraid of making decisions and shy to speak their minds."
Labaien points to his training sessions as an example. The 11- and 12-year-olds he coaches remain silent most of the time. They pay attention to the strategies he explains with diagrams on a board but have trouble adapting them on the pitch.
"If you don't tell them exactly what to do, they are hope­less," says the Spaniard. "And they seldom talk to each other on the field, so coordinating passes and strategies during a match becomes almost impossible."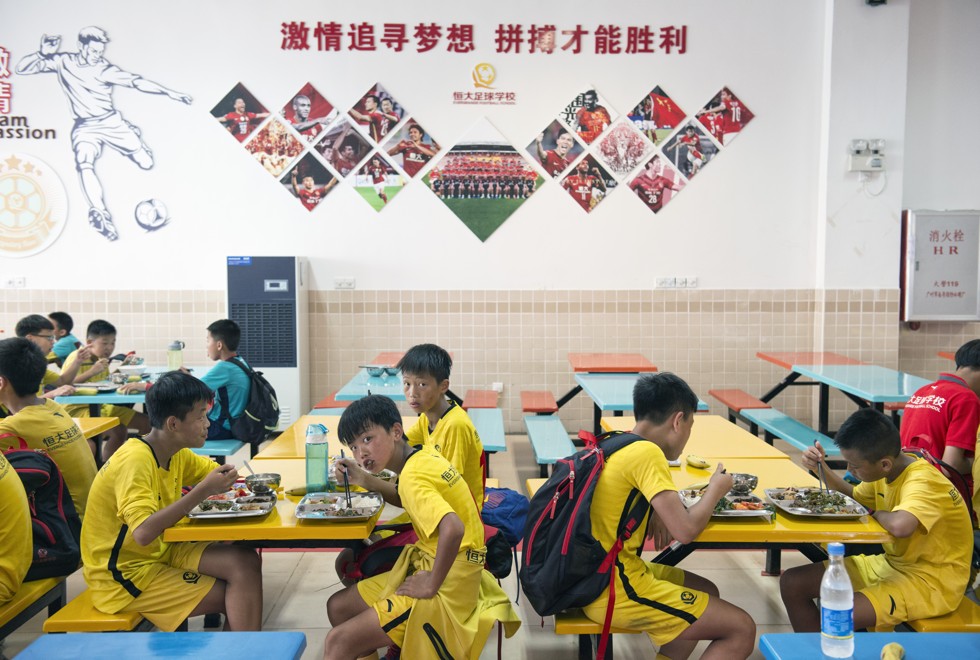 In the classroom, the children are similarly restrained. They bow to the teacher at the start of each lesson and remain largely silent until a voice booms from a speaker to end the class. After lunch in one of the canteens, which are themselves football-pitch-sized, the students diligently return to their dormitories, for a shower and an afternoon siesta. It would be hard for them not to dream of football: their grass-green sheets are decorated with balls; "Gooooooool" is written across their pillows.
Javier Ferreras searches China for children who can score a goal. He is the Evergrande Football School's lead scout and travels often to distant provinces such as Inner Mongolia and Xinjiang, where standards are much lower than along the wealthy east coast but raw talent can nevertheless be unearthed.
"Chinese scouts tend to choose the kids for their physical strength," Ferreras explains. "But often that is just due to early physical development, an advantage lost with time. I look for co-ordination, technique and mischief, because these are Chinese youngsters' major shortcomings."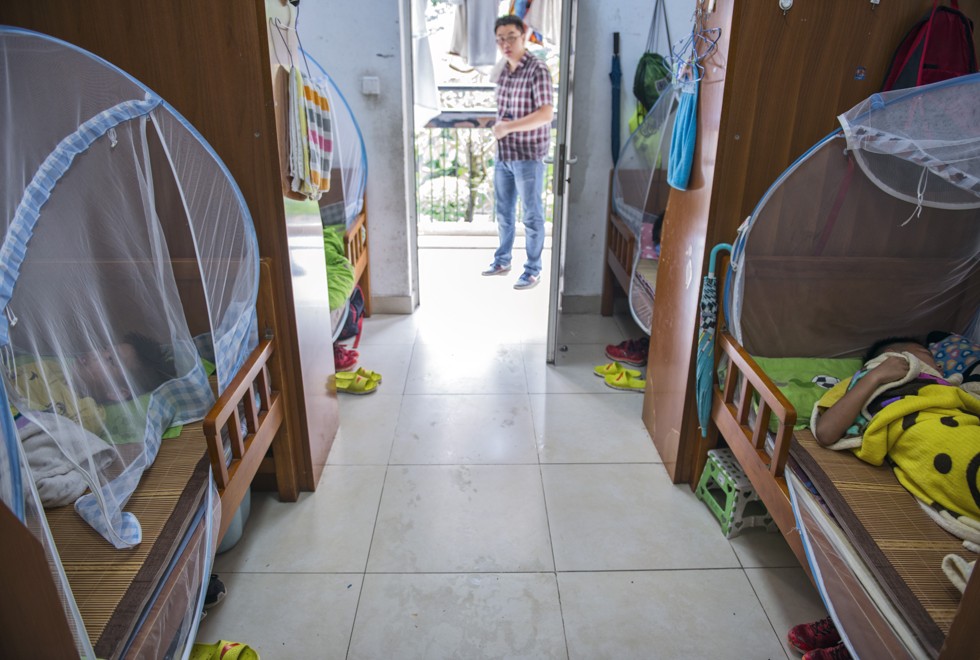 Those he likes the look of undergo a week of trials before they are admitted on a full scholarship. It is a great opportu­nity for the children, because education at the Evergrande school is top quality, but Ferreras' job is no walk in the park.
"Even with 10-year-olds, I find that federation managers in China [those overseeing the leagues or cup competitions the youngsters are competing in] try to pocket money [from Evergrande] for a transfer," he says. "Maybe corruption in the top leagues has been rooted out, but it's still pervasive at the bottom of the system."
Guanxi (personal relationships) plays a big part in the sport, and Ferreras has said he has had to reassess children who have been referred to him by an influential figure. "Fortunately, we are never forced to choose someone we don't believe in," he promises.
Ferreras also refuses to hand out hongbao – red envelopes containing money – to facilitate the admission of a child to the Evergrande school, but sometimes challenges come from unexpected sources. "China has learned that football can be huge business, and even some parents ask for up to 10,000 yuan to let their child come with us." Other times money is offered rather than requested, in the hope that a boy will be admitted into the elite teams, the scout says.
Once the best players are in training, other obstacles arise.
"I was very surprised when I saw that players here didn't celebrate goals," says Merino. "They turn around and keep playing as if nothing happened. We had to force them to embrace each other after a victory. But they feel awkward and it doesn't come naturally."
He believes the reason for this lies in the one-child policy, and, Lasa adds, "They are taught and pressed hard to be the best by family and teachers, but not to cooperate and to care for others. This may work well in individual sports, in which China excels thanks to its athletes' capacity for sacrifice, but not in football or any other team sport.
"If we lose 20 to one, they don't care as long as they scored their team's goal."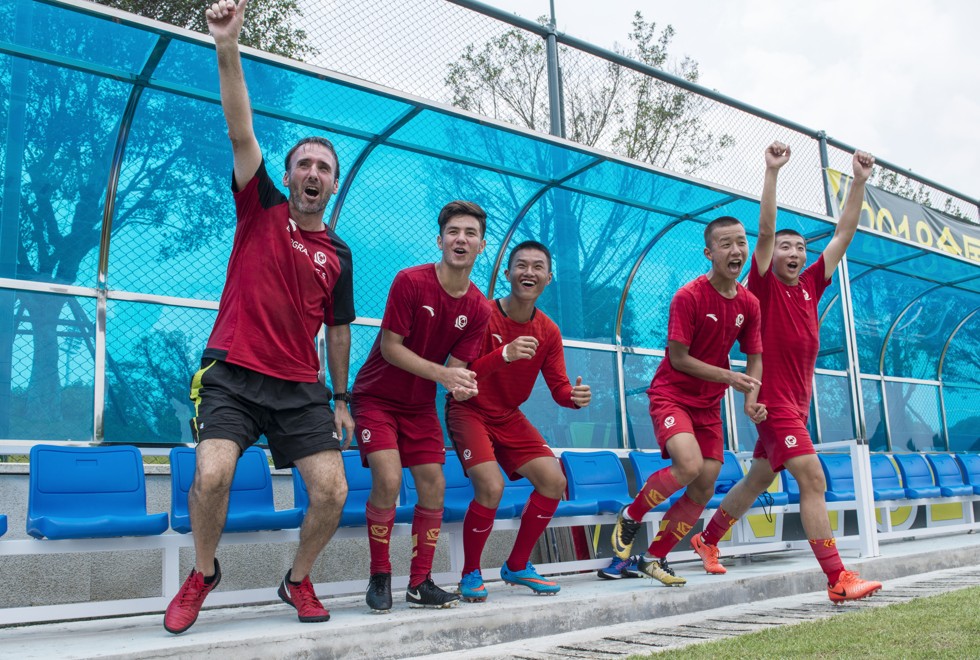 White is another who believes the 37 years in which China was shaped by the one-child policy have affected the develop­ment of football. "The effects of individualism are not unique to China, but the one-child policy is, and the exacerbated effects of that on an individual will manifest in not having grown up doing team anything, having to share or being anything other than the centre of attention," the journalist says.
One of the Chinese coaches has a son whose age is still counted in months rather than years. "He is already playing with a ball," says Lasa. "That's the difference China needs to see. Maybe he will be a good player. If you have millions like him, you'll be a superpower in any sport. But I'm not sure that will happen, because parents in China value other things over playing games."
But José Ignacio Artieda sees a reason for hope. He trains 12- and 13-year-olds at the Evergrande academy, those who may leave for further training in Spain if they excel. "We have already won some international tournaments, proving that heavy investment bears results. But it will take some time before China can fully develop its potential."
Guangzhou Evergrande may need a new motto as Chinese Super League success dries up under Fabio Cannavaro
How much time is the million-dollar question. "I forecast 20 years when I arrived in the school, three years ago," says Merino, with a laugh. "But I found myself adding 20 years in 2016, and another two decades now. So that makes 60 years."
White also doubts China will become a footballing super­power by 2050. "China needs to see the benefits of youth coaching and then those players get into first teams in China, but, more importantly, around the world. Then they need to win things at club level. All of this needs to happen before China will get anywhere near winning a World Cup."
Hosting the competition would help enormously. "It happened with the Beijing Olympics and individual sports," says Artieda.
"The most important thing for the country is to be patient and to keep investing in infrastructure and human capital," adds Merino. "It's good to have 50 football fields in a school, but results will come when 50 fields are built across every city and province."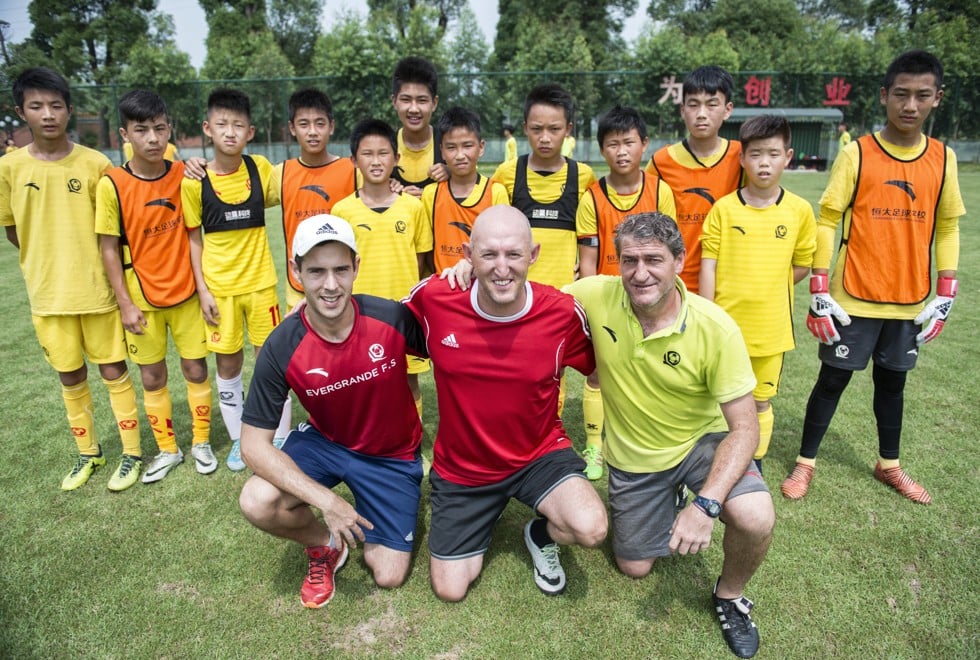 Curiously, China's female players earn far less than their male counterparts but achieve much better results. While the men's team are now at No 73 in the Fifa world rankings (down from a high of 37 in 2000), the women stand in 17th position, having reached a notable fifth in 2003.
"Women in Asia are more competitive and less arrogant. Plus, they work harder," says one of Evergrande's Chinese coaches, Li Wei. Four of the world's 20 best women's teams are East Asian (North Korea leads the pack, at No 10) but you need to scroll down to 60th position in the men's rankings to find Japan, the best performing team from the region.
It is quite a feat the Chinese women have achieved given that most schools and clubs cater to males only. Even the Evergrande academy takes only 100 girls at a time.
"The country would do well to focus more of its attention on the women's side, where there are a growing number of success stories that will fuel the continued rise of the sport," writes Renberg-Fawcett, in her China Policy Institute article.
Verónica Boquete is among the few professional foreign players employed by one of the eight clubs contesting the Chinese Women's Super League. Having played in seven countries and for some of the world's best clubs, including Paris Saint-Germain and Bayern Munich, the Spaniard decided to wear the colours of Beijing BG Phoenix this season.
"I was always attracted to Asia and thought of playing in Japan," Boquete tells Post Magazine. "But I was surprised to see that China is betting the highest on developing women's football."
But the attacking midfielder warns that the success of the Chinese women is at risk. "[China] is falling in the rankings because other countries, especially in Europe and America, are paying more attention to women's leagues and are catching up fast. China was a powerhouse more because of the weakness of its rivals than for its own strength."
White sees things much the same way. "The women's game is not as competitive at the very top so the sport was prioritised as one that China could excel at," he says. "The men's game is only now of interest because orders have come from the very top that China must succeed."
Boquete and her team's Swedish coach face many of the same difficulties the men from Real Madrid are trying to surmount in Qingyuan. "Victories will still take time, but I feel we play better and there is a growing understanding of the game among my teammates," says the player. "Still, many are afraid of making decisions, they don't dare to take the initiative, and sometimes I face behaviour I would only expect to see among little girls."
A three-time Champion's League finalist, Boquete believes China's ambitious plans to take football to every school in the country will eventually bear fruit and offer professional opportunities for players such as herself – even though teams are limited to including only two foreigners per match – as well as coaches like those working for Evergrande. "Chinese football needs foreign talent to develop and grow," she says.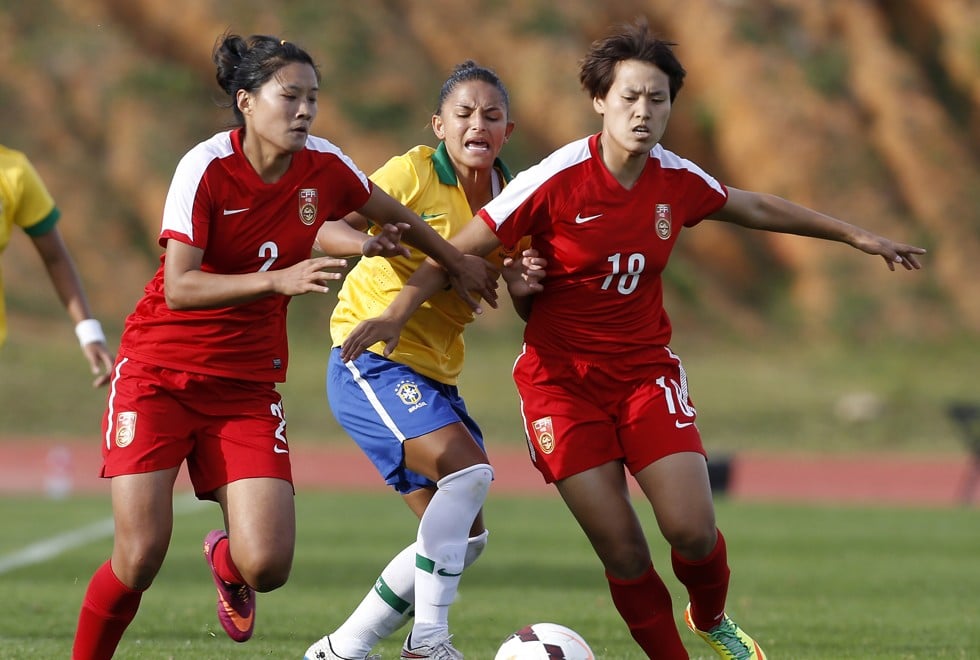 And there is a lot of money to be made in the process, from selling the training services of an established brand to marketing and merchandising. Clubs from across Europe have scrambled to replicate Real Madrid's set up in Guangzhou. Dutch team Ajax has joined forces with Guangzhou R&F (which markets itself as the Cantonese speaker's club); Schalke 04, of Germany, has partnered Hebei China Fortune; and Hamburger SV, another German team, has a youth football training programme with Shanghai SIPG.
A more proactive strategy was chosen by Shandong Luneng Taishan – a pioneer when it comes to football academies; its school was founded in 1999 and claims to have so far produced 149 players who have played nationally for China at various levels. In 2014, its owners bought Desportivo Brasil, based in the city of Porto Feliz. The school now uses the lower-league Brazilian club as a proving ground for its most promising footballers.
"Chinese players are very fast, but we need to learn more in terms of tactics. I have been here for two years, and in this period I have greatly improved my football skills," Zeng Yuming, a former student at the Shandong Luneng Football School and a Desportivo defender (known locally as Ricardo) told Chinese official broadcaster CGTN last year. "I hope that when I return to China, I will be a good asset for my country's football development."
In 2017, Shandong Luneng reached an agreement to send under-18 players to Spanish Second Division B club Jumilla for training. Not surprisingly, that club is also Chinese owned.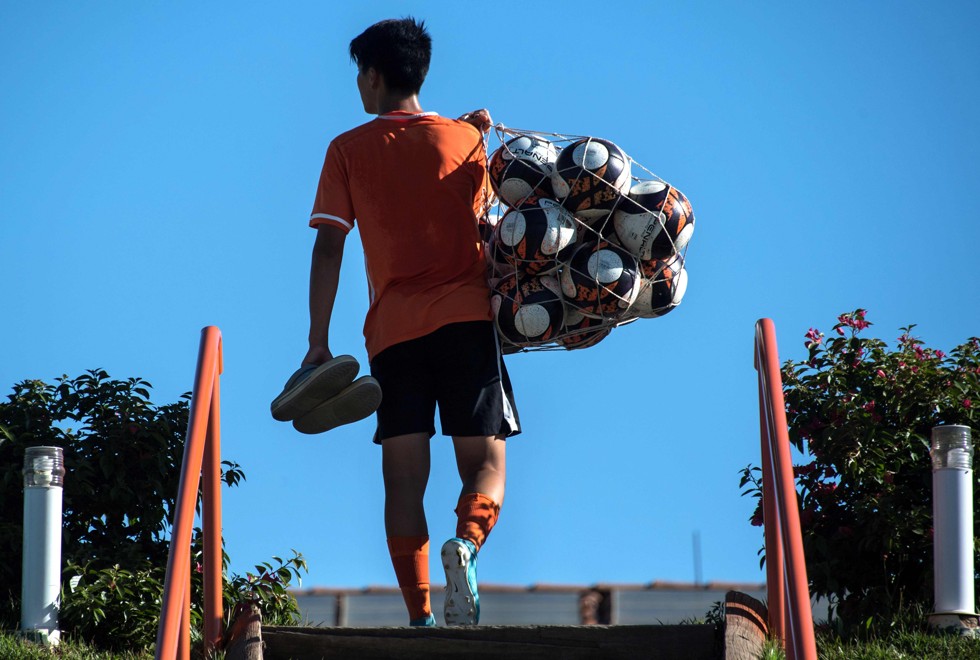 "Buying small second division clubs in Europe to serve as training grounds for Chinese players can be a lucrative business," owners Hui Tang and Liang Xiang told the media in Spain. The economic crisis has made such teams cheap and the new owners charge Chinese clubs handsomely for the training.
China has imposed strict restrictions on the employment of foreign players – which have brought down spending on transfers from more than US$500 million in 2017 to a little over US$50 million this year, according to German-based football website Transfermarkt.com – and White sees the logic. "Hiring foreign expertise has been a tactic used in other industries to drag up the level before replacing with local hires," he says. "The same model can work for football but, arguably, the game will struggle from the absence of a grass-roots pyramid. Without that there is no progression for young Chinese coaches and players, in the way that Germany has used so successfully."
Management at the Evergrande Football School is fully aware of the need for an improvement in coaching as well as player standards. "On Wednesdays, we don't train the kids, we train the [local] coaches," says Labaien. "But we find that many are not really passionate. They come from the Faculty of Sports and have easy and well-paid jobs."
One of the local coaches, who prefers not to be named, agrees with Labaien. "I wish to train the future players of China's national team," he says. "That would be a big source of pride for me. Unfortunately, many of my colleagues don't share this enthusiasm and believe Chinese are doomed to fail at football – because we make progress, but other countries do also."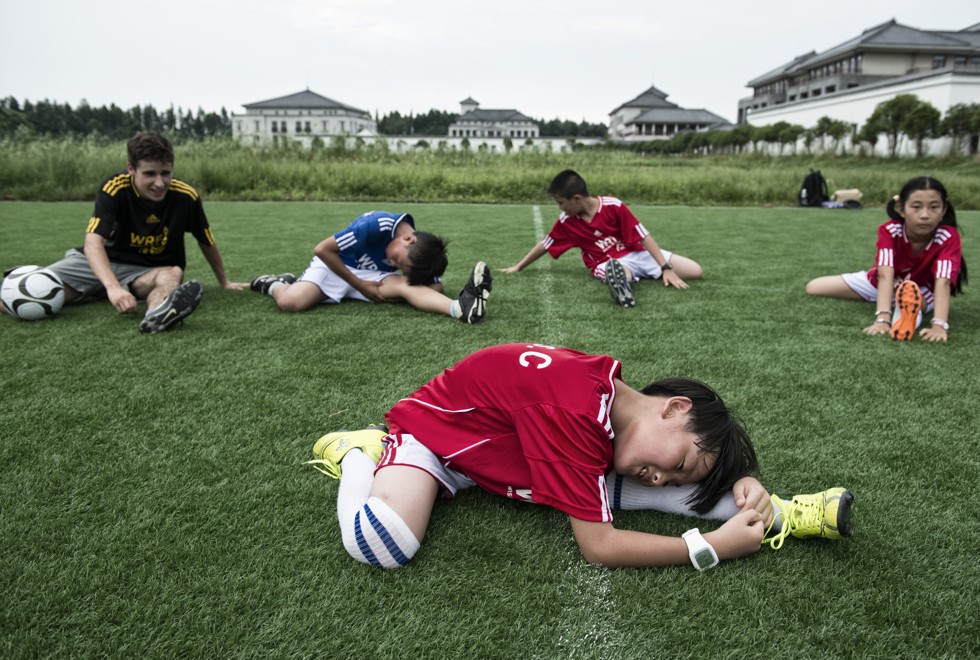 Some 1,200km north of Qingyuan, in the small town of Zhen Ze, in Jiangsu province, school principal Sami Kuo could not care less about the national football team. But her school, Taihu International, is one of the many that have turned to football for other purposes.
"Kids are getting fatter and more selfish," says Kuo. "The abuse of technology and the materialistic values of society today threaten to create a generation of physically unfit – and therefore sickness-prone – children who care only about themselves. We use football in our summer camp to strengthen teamwork and improve kids' physical condition.
"They may never be professional footballers, but I believe the sport can make them better people. And what higher aspiration can we as teachers, or China as a country, have?"