Volgograd was on standby for heavy casualties when notoriously rowdy England football fans arrived in the city for their team's first game in the 2018 Fifa World Cup. As things turned out, they got only one … history teacher and Post Magazine travel contributor Chris Taylor, from Hong Kong, whose misadventures on the road to Volgograd turned him into a local celebrity overnight.
"The England team is marching on into the last 16 of the World Cup, in Russia. But my World Cup journey began and ended on the road to Volgograd, when I travelled from Hong Kong to watch their first game against Tunisia [on June 19].
"I had flown from Hong Kong to Moscow and then way down south, to a town called Mineralnye Vody, in the Caucus Mountains, near the border with Georgia. I picked up a hire car there and drove for about four hours to Elista, which is a strange and interesting part of Russia. It's the only predominantly Buddhist part of Europe. It's where a lot of Mongolians live and, when you're driving around and taking photos, it looks exactly like Mongolia.
Chris Taylor is interviewed by a Russian television channel
"It was a beautiful day. I was having such a good time driving through these vast open flat lands under big skies into this Mongolian part of Russia. I was about 40km short of Volgograd and kick-off was only a few hours away when the accident happened.
"A driver heading towards me was overtaking [...] and I just had to move across slightly to make way for him, but that was enough to put one wheel off the road and onto the gravel. When I hit the gravel, I lost control and swung back a bit too hard left and just lost it.
"The car just started bouncing from side to side. I lost control, it skidded across the road to an embankment with a decent drop down to a field below and the car started to roll. I had no clue what was going on but the car rolled and ended up on its side.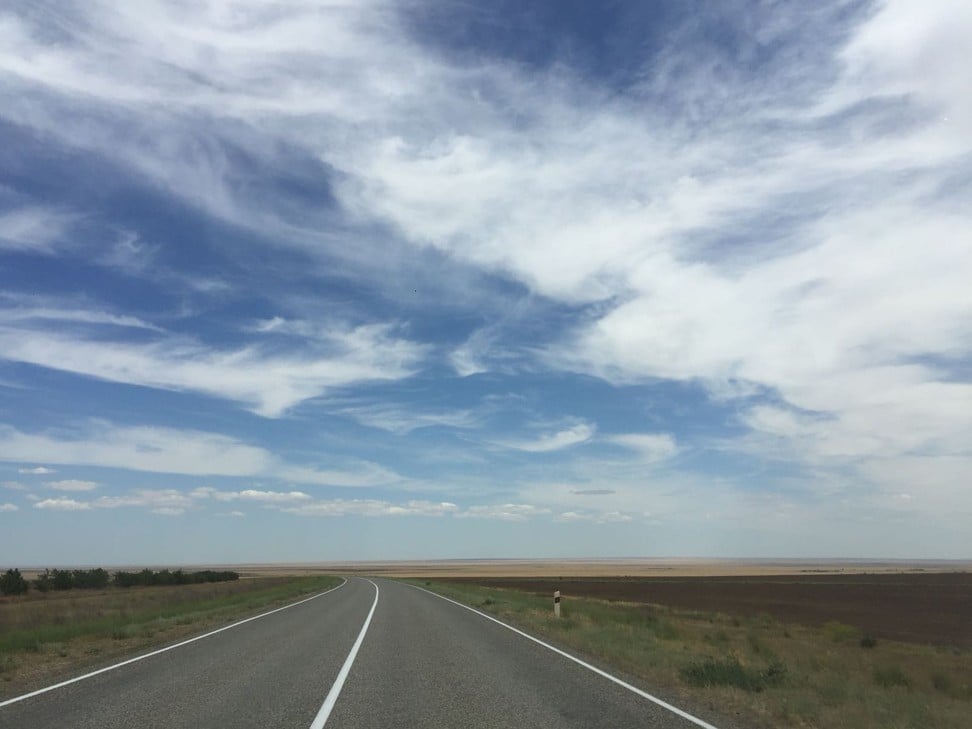 "I was aware straight away of a searing pain in my shoulder. And there was a lot of blood because I had cuts to my head and they bleed profusely. I had a face full of blood and a pretty bad open wound on my left forearm. One of the fingers on my right hand was cut open – and the car was looking pretty beaten up, too.
"Within less than a minute there were people beside the car. They'd seen the whole thing from the field and they were asking me in Russian, 'Are you OK? Are you OK?' I was a bit concerned the car might blow up like they do in the movies. I could smell petrol and I said I needed to get out but I couldn't because my shoulder was just too painful and I couldn't move.
[The hospital] had a lot of staff on because it was the night of the England game and they were expecting casualties. As it turned out, the game was remarkably peaceful and they told me I was the only Englishman in the hospital
"A couple of guys pulled at the windscreen and I managed to kick it out from inside and crawl out that way. Then I was in the field and I was a bit drifting in and out of consciousness but I can remember saying to people, 'Can you get my bags?' They got my main bag and put it behind my back so I could lean against it, which was a huge relief because I was in so much pain from my shoulder.
"It was a very, very hot day and there were lots of flies and mosquitoes around. I was plagued by them buzzing around my face and my wounds and I sat for a while and one guy was holding me and saying a little bit of English and keeping me awake.
"The first ambulance arrived and it was this old-fashioned van. A peroxide blonde middle-aged woman got out and dressed my wounds and put a rudimentary brace on my left arm. Then a proper ambulance arrived and the crew stretchered me into the back.
"I remember travelling very fast and it being quite a bumpy ride. The sirens were going and I wasn't even sure where we were going, although I thought Volgograd would be the obvious choice.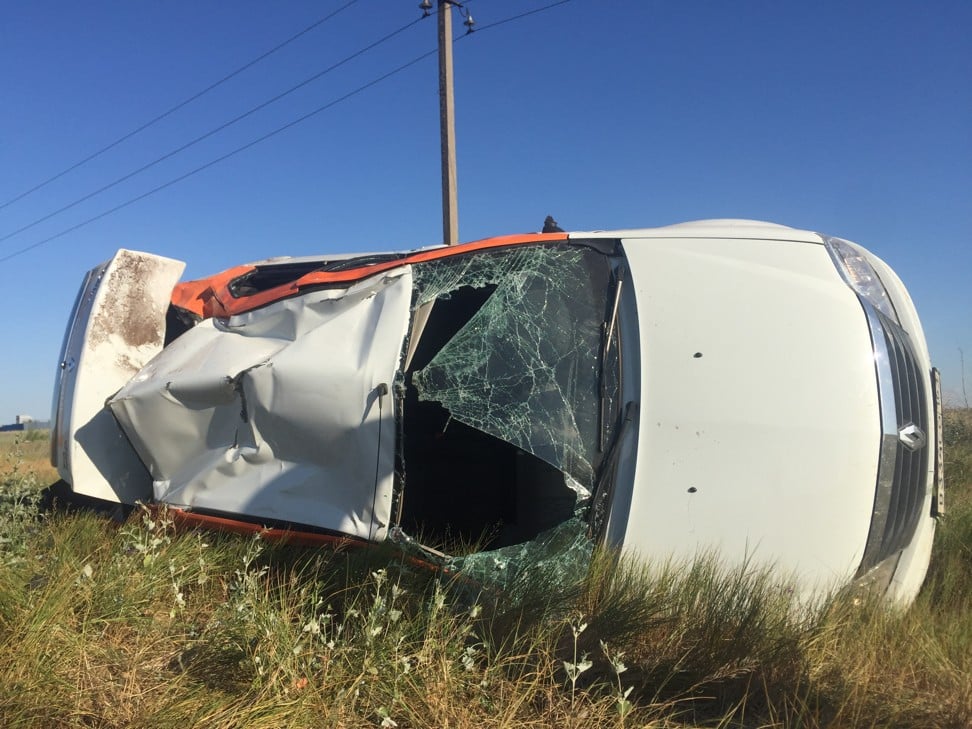 "[The hospital] had a lot of staff on because it was the night of the England game and they were expecting casualties. As it turned out, the game was remarkably peaceful and they told me I was the only Englishman in the hospital, so I got lots of good treatment and attention.
"It's all a bit of a blur because I think I was semi-conscious but there were a lot of staff and they were really friendly and at least two or three spoke pretty good English. I went straight in for the important stuff – the head scan, the CT scan, the internal organ scan and the spine.
"Then it was the cosmetic stuff; they cleaned up my head a bit, chopping a lot of hair off and sticking a load of stitches in. Then they put a plaster cast on my left arm. The shoulder was the main problem but there wasn't much they could do with that.
"I was sent away on a gurney through endless corridors to a private room. There didn't seem to be anyone about except the people scurrying around me.
"It was the night of the England game and they set up a laptop in my room, which was a lovely gesture. I didn't really watch the game, though – I think I was just too traumatised to pay attention. A television station came in to interview me as I watched parts of it from my bed, but really I just wanted to go to sleep.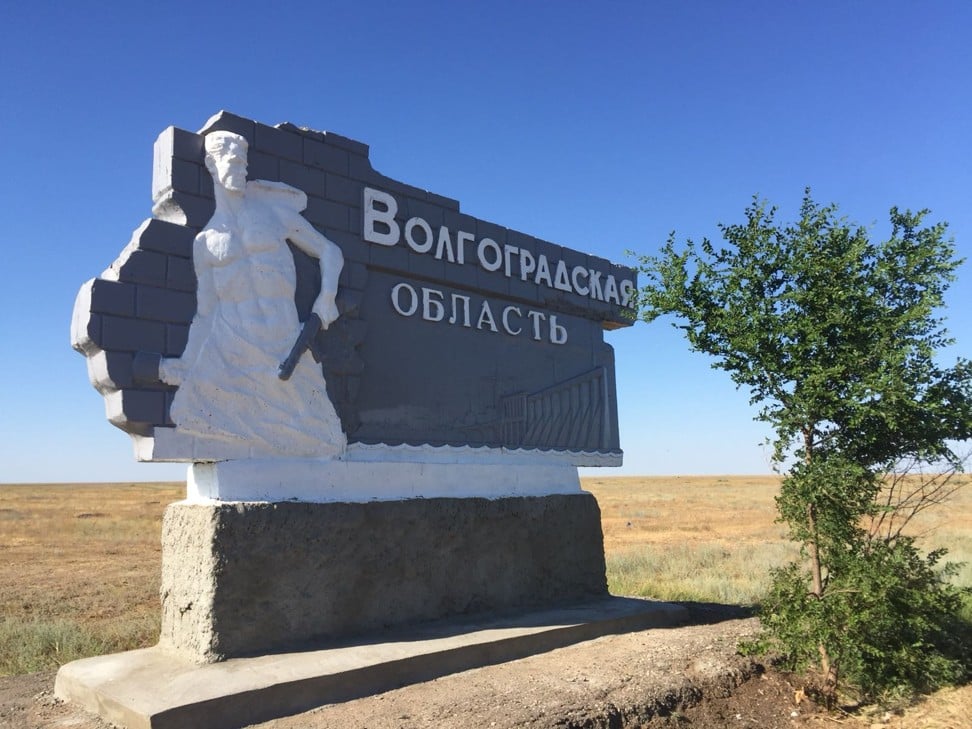 "I did four interviews in those first couple of days – one for Russian TV, two for Russian radio and another one for a Russian sports magazine. The TV interview was mostly about the crash. I had the report translated and it was all focused on the great care they gave me and the modern equipment they had at the hospital. The magazine interviewer asked me about Harry Kane and England's chances in the World Cup. I said, 'I don't know – I'm just some bloke who drove his car into a field.'
"The magazine writer asked me if I would be going to the next game in Volgograd, between Iceland and Nigeria. She said, 'It's so funny one team has only blonde hair and one team has only black hair. It would be like watching a game of chess instead of a game of football.' She told me how popular the Iceland team is in Russia. They caused a big stir doing their famous thunderclap in Moscow. The Russians loved it. I asked why and she replied: "Because it's so strong."
"The next day, I had a visit from a Soviet hero teacher who is 75 and was born during the Battle of Stalingrad, next to a dying soldier. He brought along a gift of raspberries and the book he'd written about Stalingrad [the old name of Volgograd]. It was an honour to meet him and very kind of him to come in and see me.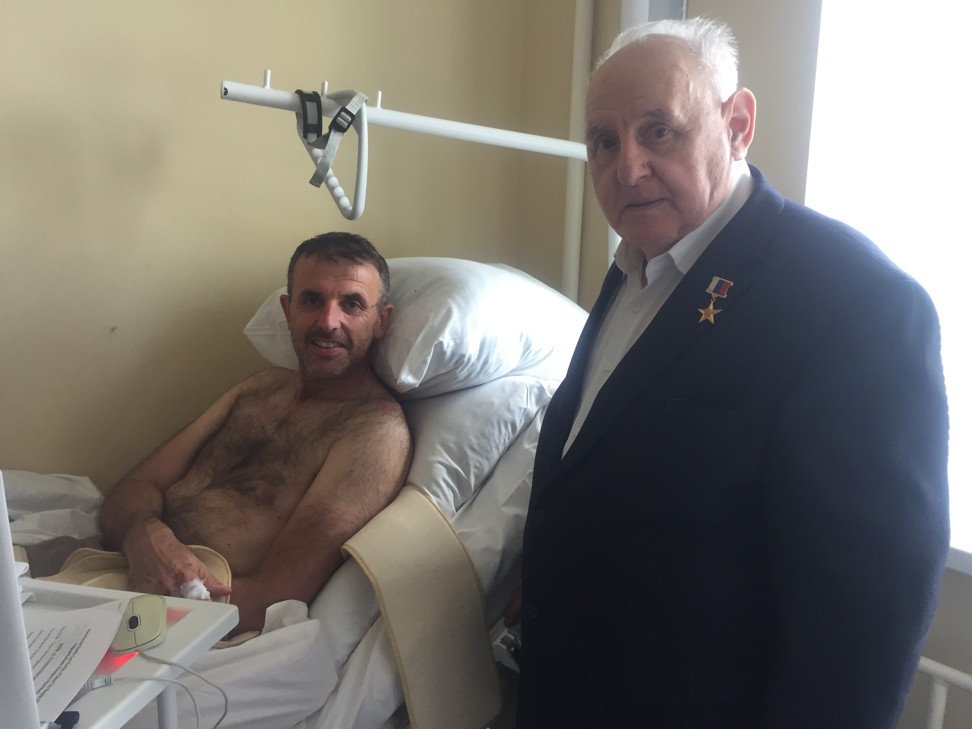 "He was very keen to tell me he had met [Vladimir] Putin and Putin had given him his award and what an honour it was to be greeted by him. There is just this great emphasis on strength and the extent to which Stalingrad and the battle defines this whole city. They suffered but they survived and they were strong enough to survive.
"The recurring theme in all the interviews and visits was this notion of strength and being strong and brave. They have Putin, the strong leader, and here was I – a strong Englishman who has been brave by not dying in a car crash and who put up with his injuries and not complained. There was a degree of respect for me even though I didn't really do anything except try to get through it.
"They left the laptop with live streaming of the World Cup in my room and I spent the week watching loads and loads of football, all of it in Russian, of course.
"The nurse looking after me was absolutely lovely and I told her, 'I'm a history teacher and I'll be really sorry if I don't see the battleground of Stalingrad and the famous Motherland statue. Then, on Saturday morning, they took me out in a car for two hours with a reporter from the TV station.
"The Motherland statue is very close to the hospital. I walked up a few steps and the TV station did a second film on me, which went out on Saturday night. Then we visited the Stalingrad museum.
"Then they took me to the place where you get your fan ID. I hadn't had the opportunity to get it but they suggested I get it as a souvenir. So, even though I didn't see a game in Russia, I've got my official Volgograd World Cup fan ID, which was a nice thing for them to have done.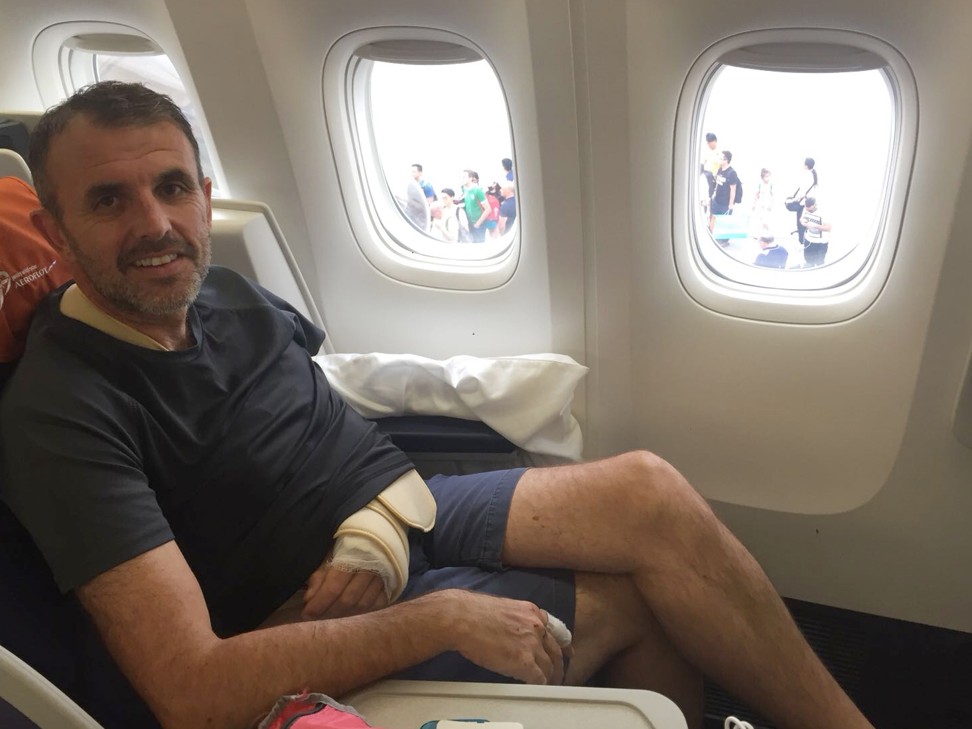 "The final irony came when my insurance company arranged to fly me back to Hong Kong and booked the flight for Sunday night – at the time England were playing their second game, against Panama. I wasn't too bothered about missing it, to be honest. I do find it a bit nerve-racking watching England play. It's all a bit of a drama and stressful so I didn't mind finding out the score when I got back to Hong Kong."
Rubbing salt into Taylor's wounds, England had only gone and won 6-1, their biggest ever victory at a World Cup tournament.