Kai Tak was always so much more than an airport. Hong Kong's iconic international travel hub played a pivotal role in metropolitan life for 73 years, which came to an end with its closure 20 years ago. And rather than being marooned on the urban fringe like many busy aviation facilities, the airport was poised cheek by jowl with a residential neighbourhood – thousands of Kowloon City residents could not help but be aware of the precise moments the runway opened and closed.
Passengers and staff had only to cross the footbridge over Prince Edward Road East and thread their way through the Regal Hotel to drop by workaday restaurants, stores, laundries and street stalls. Schoolchildren journeyed in the opposite direction, tucking themselves into quiet air-conditioned corners of Departures to pore over their homework.
Cacophonous hail-and-farewell mobs – sisters, cousins, aunts – swirled back and forth in a flurry of banners and cameras. And plane spotters, shutterbugs and just-plain-gobsmacked passers-by would climb up to the terminal's roof terrace to catch the surreal spectacle of aircraft thundering above their heads, seemingly close enough to spatter them with drops of jet fuel.
While some Peak residents famously went to Kowloon only to catch a plane, pretty much everybody else in Hong Kong thought of Kai Tak as an intoxicating combination of civic treasure, amusement park and the daily triumph of human skill and engineering.
Having grown from a humble airfield in 1925 to a fully fledged international airport – albeit one bursting at the seams – Kai Tak closed two decades ago this week, on July 6, 1998. Dozens of heart-stopping take-off and landing videos festoon YouTube, while the airport remains a poignant memory for passengers, pilots and all the humble folk who lived nearby.
For art director Jowie Chan Chor-kiu, growing up in sight and sound of Kai Tak in the 1970s and 80s was one long adventure.

"I miss Kai Tak very much," she says. "To me, it wasn't just an airport, it's the neighbourhood I grew up with – lots of lovely memories, joyful and sad, were all made in that area.
"Our family – nine children altogether – lived above a tiny homeware shop in an old nine-storey walk-up. One of my favourite games was to run up to the roof and scream as loud as I could when I heard a plane coming. I guess I didn't know enough to be scared about a crash or anything, and it was the only time I could scream and not get told off by my dad.
"I went to school in the area, too. The noise was just part of our everyday lives, and the teacher got used to having to repeat things. One thing's for sure – you wouldn't ever fall asleep in lessons with the aircraft going overhead."
Jeff Liu, who lived in Chun Seen Mei Chuen, just off Argyle Street, in the 80s and 90s, did not need to take part in a feasibility study to be convinced that Hong Kong needed a new airport.

"In the early years, Kai Tak was not so busy but, by the late 1980s, there was a plane landing or taking off every couple of minutes from early morning until midnight," says Liu, an information technology professional. "We had to stop talking to each other at home when aircraft were overhead, and pause phone calls for about 30 seconds, but you got used to it. Strangely enough, I missed Kai Tak once it closed."
Kai Tak was "the office" for thou­sands of Hongkongers, and nobody was better acquainted with its panoply of risks than the pilots who landed there.
The descent to Runway 13 – gradually settling over the Kowloon peninsula before making a heroic 47-degree right turn at the chequerboard (painted in "aviation orange" onto a hillside above Kowloon Tsai Park in 1974, to act as a physical reminder after Kai Tak installed an instrument guidance system) then skimming over rooftops and coming down on a runway that measured just 3,390 metres – was a ride to give a Valkyrie the heebie-jeebies.

Some passengers would stare transfixed out of the windows; others could not bear to look. Long-term residents sitting next to first-time arrivals sometimes mischievously pretended alarm. Even the most routine landings could not be described as uneventful. Often the entire cabin would burst into applause as the aircraft taxied to a stop.
Taking a bus to the terminal was the rule rather than the exception and as passengers clambered down the gangway they were greeted by the sight of mountains and metropolis, and – if a summer wind was blowing in the wrong direction – a definite whiff of Kai Tak's signature aroma, Eau de Nullah.
It's a scenario that Kim Sharman, the Cathay Pacific captain who piloted the airline's last commercial flight out of Kai Tak, can recall vividly two decades after he last sat at the controls of a 747.
"There's no truth in the story that we could see people in their flats as we approached Kai Tak – we were too busy with our jobs," says Sharman, who has retired and now lives in Britain. "Naturally, we were always on our toes on the run in to Kai Tak, but you can't forget the scenery was amazing.
With the wind swirling around Lion Rock, there could be severe turbulence, which made for what were called 'firm landings'. Finesse went out of the window in those sort of conditions
"About 200 miles east of Hong Kong inbound to the Cheung Chau radio beacon was the time to start getting serious about the landing, so you'd check the weather at both the destination and diversion airports. The approach took us across the north end of Lantau Island, where we could see the construction work on Chek Lap Kok. Continuing on the inbound track, we descended slowly along the coastline of the Tai Lam peninsula. Stonecutters Island would come into sight and beyond it, Kowloon."
The final minutes saw a certain atmosphere permeate the cockpit, as pilots focused exclusively on the job in hand. Sightseeing had to come to a stop when the chequerboard came into view. From then on, all flying was manual as the autopilot could not be programmed for the sharp right-hand turn just before the end of the flight as the aircraft descended to a few hundred feet above the ground.
Sharman continues: "The landing gear would come down with a reassuring thump and, once the landing flaps were selected, the non-flying pilot would call out the speed to give the handling pilot as much assistance as possible in manually flying the aircraft. His main role was to make the approach at the correct angle, ensuring a touchdown at the correct spot.
"That was the ideal approach and landing in good weather. But, Hong Kong being our base, we sometimes had to return in less than perfect conditions. With the wind swirling around Lion Rock, there could be severe turbulence, which made for what were called 'firm landings'. Finesse went out of the window in those sort of conditions. In the typhoon season, there was always the possibility of heavy rain just to add to the mix."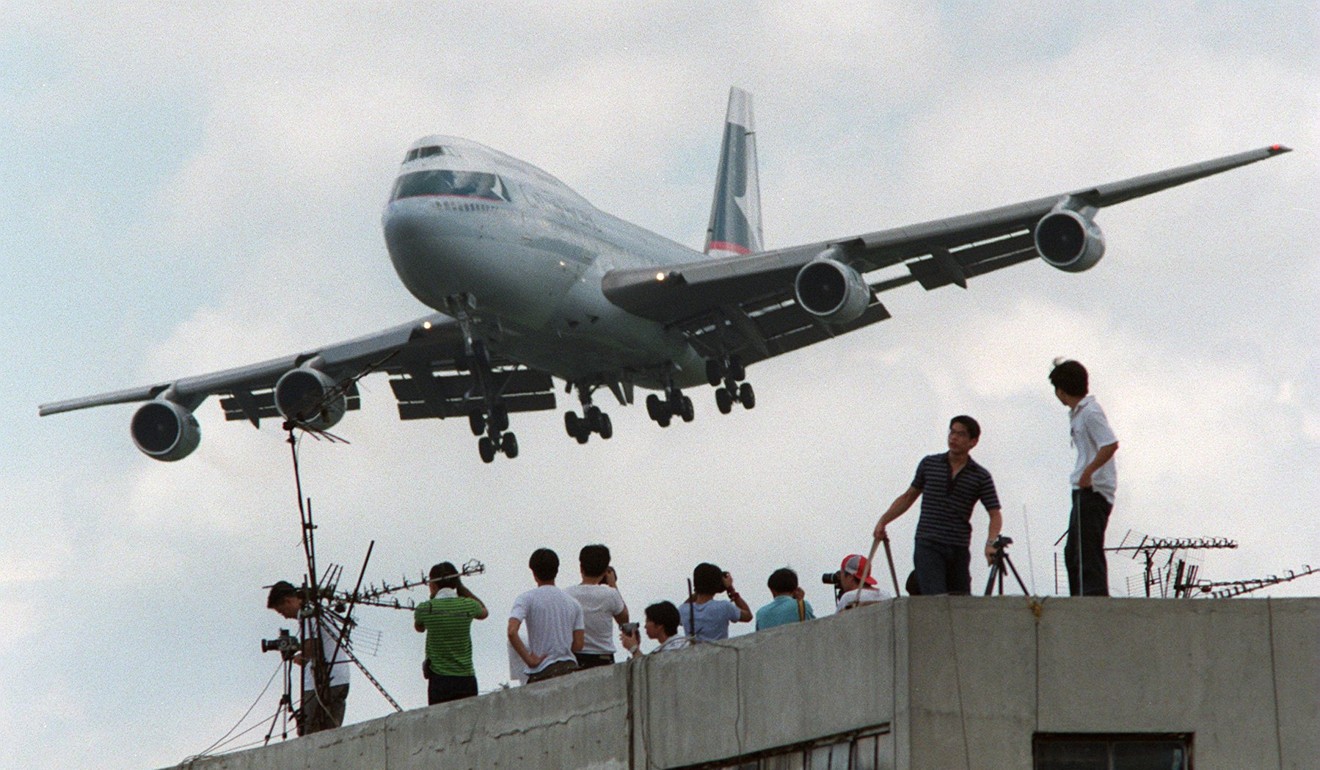 While Runway 13, so called because its southeast orienta­tion was 134 degrees, made for an exacting landing, taking off in the reverse direction, over the city – faced with a solid, 457-metre-tall Beacon Hill and the whole urban area of Kowloon – was just as challenging. Whichever way aircraft negotiated Kai Tak, it was an airport in a class of its own.
Kai Tak had no greater cohort of acolytes than its plane spotters, sentinels who mounted vantage points dotted about the airport day in, day out.
"I've lived in Macau for about 40 years but, when I was young I saw something about Kai Tak on TV and was instantly fascinated," says publisher Dickson Lau. "Whenever I got the chance, I'd head over, spending up to five hours at a time just watching those birds swoop in and out.
"You got to know the other spotters by sight and would sometimes swap greetings with them, but generally it was a solitary occupation. Say what you like, there's nothing cooler than the Boeing 747, and Kai Tak was pretty damn cool, too, whether you were flying in or out, or just enjoying the ever-shifting scenery, like I did."

If there's ever a survey to decide on Kai Tak's greatest fan, the chances are that James Ng would come out near the top. The author of five Chinese-language books on Hong Kong aviation, he is the former airport's unofficial chronicler, an unimpeachable source of Kai Tak facts and figures, and – not surprisingly – he clearly recalls growing up in the nearby streets.
"When the planes came in to land, it was as if a huge steel bird was soaring overhead – who wouldn't fall in love with something like that?" marvels Ng, who owns a vast collection of airline memorabilia. "I wanted to be a pilot from an early age, but the entry requirements are pretty strict and I ended up just devoting a large part of my life to Kai Tak and Hong Kong aviation instead.
"I have so many amazing and unforgettable memories: [Cathay Pacific's] first Boeing 747 landing, in 1979, Concorde in 1976, and, of course, the night the lights went out for the last time, in 1998. But it bothers me that so little has been done to preserve Kai Tak's memory. All the buildings have been demolished, and the chequerboard has been allowed to fade. That chequer­board was a beacon, an icon, higher than a totem pole and a true part of Hong Kong's consciousness. It should be restored as a monument to what was – and this is no exaggeration – a world-famous airport, as it played such a vital role in bringing millions of people safely into Hong Kong.
"It would make a great outdoor attraction."
It's not so much the winds of change as the typhoons of development that are blowing through Kai Tak's 300 and more hectares nowadays. Much of the old runway has been turned into a cruise terminal that often seems to have berths to spare, while the remainder is due to become a waterfront park. The apron has been earmarked for public housing, schools, government offices, and – the subject of intense debate – a sports stadium to replace the one built at So Kon Po in 1994.
Government plans refer to its "planning vision" for a "distinguished, vibrant, attractive and people-oriented Kai Tak by Victoria Harbour".
Many diehard fans might claim it was all of those and quite a bit more two decades ago.