This month, a very tall building in Hong Kong will come under attack. Nasty men will do nasty things. Fires will be lit and these will rage, to impressive effect, against the Hong Kong skyline. Winsome children will be threatened. Their father will perform many heroic, and improbable, deeds to save them and his reputation. As he is Dwayne "The Rock" Johnson, chances are sky high that he will succeed.
Anyone of a certain age who has seen the trailer for Skyscraper, which opens here on Thursday, will surely recall the 1988 cinema classic Die Hard, set in the soaring heights of a 35-storey Los Angeles office tower. One of Skyscraper's nasty men even has a nasty European (Danish) accent as if in homage to Die Hard's Alan Rickman, who memorably played a German gang leader prowling the upper altitudes of the fictional Nakatomi Plaza. In the 1980s, of course, the Japanese economy was booming, Japan was buying up America and savvy Westerners were learning Japanese.
Hollywood has since moved on. Naturally, the star is still American (and male) but now he must battle new super­latives further afield, where incalculable numbers of ticket buyers await urgent rescue from summer boredom. So this time, the structure is more than 1km tall, has 240 floors and looks like a cross between a Alberto Giacometti sculpture and the Eye of Sauron. It's the "most advanced building in the world", apparently. And, judging by the film's trailer, it's located on top of the Cultural Centre in Tsim Sha Tsui, where continental China dips its enormous toe into the harbour.
When things go wrong, therefore, the official representatives of law and order on the scene are Asia's finest, the Hong Kong Police Force. Sorting out the mayhem is Chief Inspector Wu, played by Byron Mann.
Mann, 50, who grew up in Kowloon, is a solid actor who has been a presence in many films, including Cold War (2012), The Man with the Iron Fists (2012) and The Big Short (2015), and a recurring character in such American television series as Arrow (2012-2017), Hell on Wheels (2015-2016), The Expanse (2017) and Altered Carbon (2018).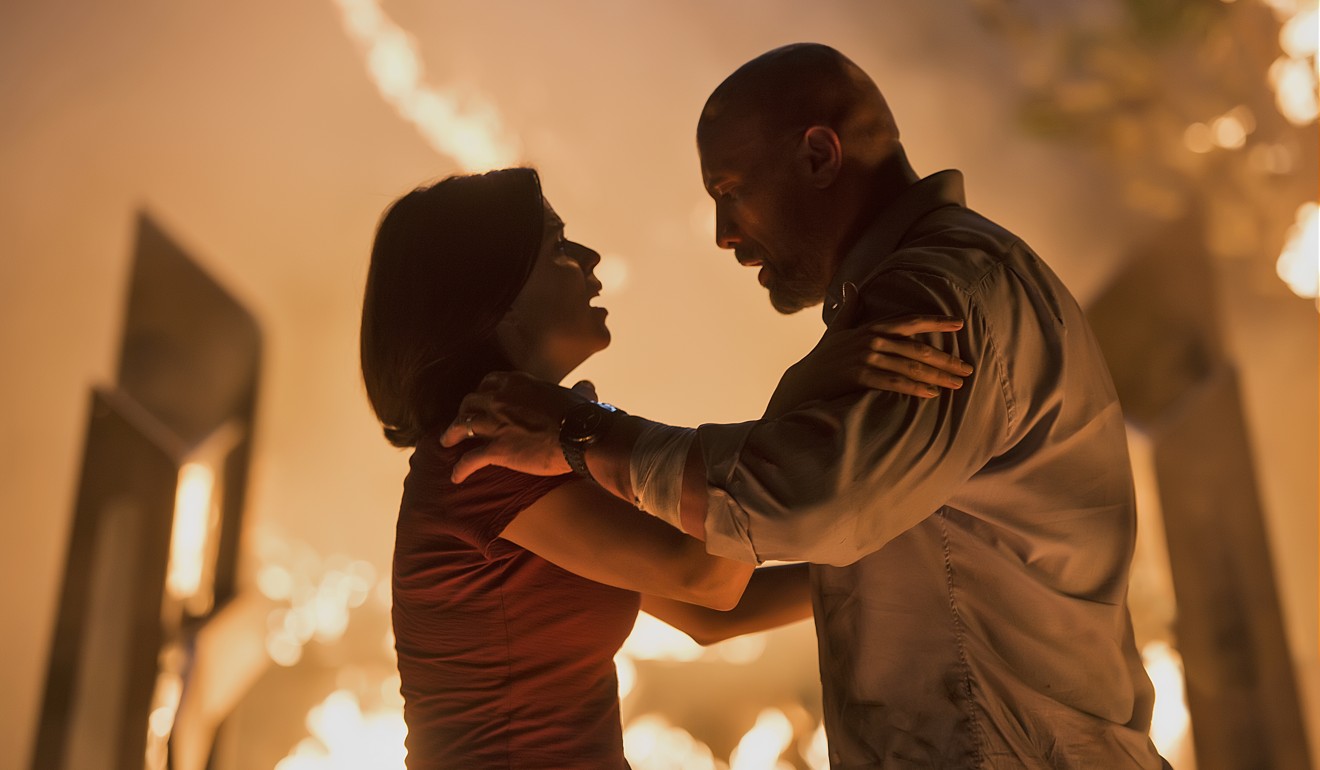 As well as playing Wu, Mann – who studied law and was called to the California bar – took it upon himself to ensure that the Hong Kong police were accurately portrayed in the film. As viewers in Asia will know, Hollywood is not famous for attention to detail when its gleam swivels in that direction. Given that Skyscraper was actually shot in Canada, the temptation to play fast and furious with the facts must have been particularly strong. Mann, however, was determined to serve this city with pride and care in all aspects of his role.
"I've got to tell you, I absolutely love Hong Kong," Mann says. We are in Pacific Coffee in Festival Walk shopping centre, in Kowloon Tong, which he suggested as our meeting place. Kowloon Tong is where he grew up and we are going to visit some old haunts later. But first we discuss the film, which neither of us has seen yet.
"I'm someone who's lived in the United States and Canada for the past 25 years, but I spend copious amounts of time here," he adds, with an earnest enthusiasm that will survive the subsequent five hours of being interviewed, photographed and videoed for this story in 90 per cent humidity. (Mann had already passed on weather information from the Hong Kong Observatory via his publicist in Los Angeles, and asked that umbrellas be provided, though in the end he brought his own.)
"To be in a Hollywood summer tent-pole movie, set entirely in Hong Kong, and to play a quintessential Hong Kong police character is a round-the-circle moment for me," he says. "I couldn't dream of a better story and I felt a tremendous responsibility."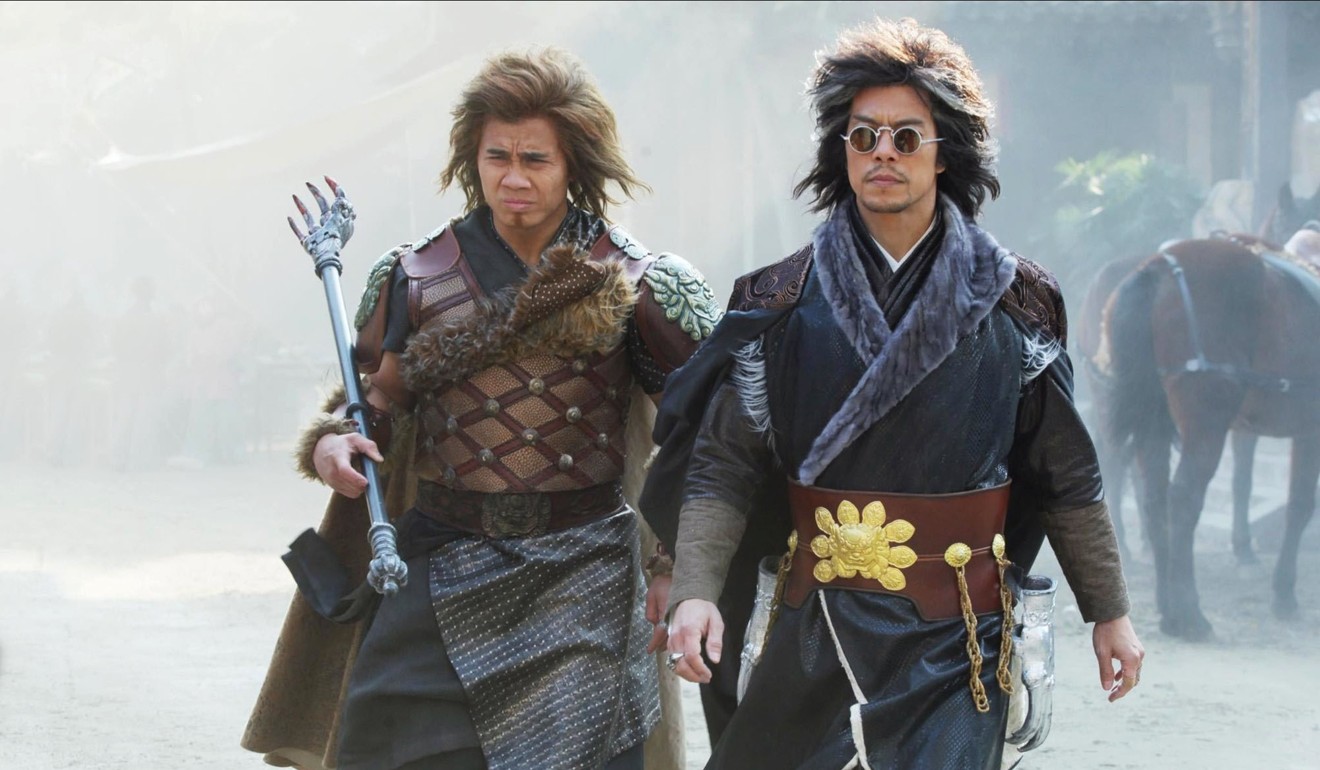 After he was cast, Mann asked if the production had a Hong Kong police consultant on board. The answer being no, Mann found a recently retired station sergeant ("He doesn't want to be credited") who understood the problem. "Because, God knows, a lot of Hollywood movies don't get it right," Mann says. "It's almost a given with Chinese audiences – they have low expectations."
Language was a valid concern. Local cinema-goers may recall Brad Pitt in Spy Game (2001), for example, languishing in a prison outside Shanghai staffed by Cantonese-speaking guards. These days, of course, the linguistic pendulum has swung the other way. One of Skyscraper's producers is Legendary Pictures, which, since 2016, has been owned by Beijing's Wanda Group, China's biggest film distributor and owner of the world's largest cinema chain.
"There were some leanings to make the police dialogue in Mandarin," says Mann. "I said, 'Rawson [Thurber, the film's director], the Hong Kong police speak 150 per cent Cantonese. The only reason Mandarin would be spoken is if they were dealing with someone from the mainland or Taiwan. Take it from one who knows.'"
And he took it? "Absolutely."
So, no Mandarin. Mann, his police consultant and a trans­lator worked on transforming the screenplay's police dialogue into Cantonese, sprinkled with Chinglish slang ("patho" for pathologist, for instance). "Not a direct translation – you get the gist of the English and spit it out," Mann says.
Lots of swearing then? "Absolutely."
As it is a Hollywood truism that many Americans are reluctant to wrestle with subtitles, especially in holiday blockbusters, Thurber told Mann his scenes would be shot twice – once in English, once in Cantonese – and the studio would decide which worked better.
Mann, who has a perfect shining smile and expressive eyebrows, sets the stage with characteristic deliberation: "It's my first day of filming," he says. "It's the middle of the movie – the establishing scene when my character surveys this incredible building on fire. There's 1,000 extras, police, fire trucks, all configured as if it's in Hong Kong. It's a big walk-and-talk scene between me and the fire chief. We film
it in English, probably 25 takes.
"Then we do it in Cantonese. This is, literally, the first time they've heard it. The director leapt out of the video village [where the crew watch on monitors] and said, 'My God, Byron, that's so f***ing great. What happened?' He doesn't understand a lick of Cantonese but the dialogue instantly resonated with a non-Chinese person."
Nevertheless, just in case, English-and-Cantonese filming continued. Test audiences and studio heads must have raised no objections, however, as Cantonese has prevailed. "Hopefully, the dialogue will feel very real," he says.
There were some leanings to make the police dialogue in Mandarin. I said, 'Rawson [Thurber, the film's director], the Hong Kong police speak 150 per cent Cantonese. The only reason Mandarin would be spoken is if they were dealing with someone from the mainland or Taiwan. Take it from one who knows
Meanwhile, police IDs had been created for actors and extras – wrongly, as it turned out. "They printed it vertical," says Mann. "Hong Kong police badges are horizontal." Seeing my bafflement, he pulls up screenshots on his phone: in Hong Kong, it turns out, an individual police officer's details are printed to the left of the photograph. Skyscraper's props team, however, had printed them underneath the photo.
How did he know that was wrong? "I didn't," Mann says, "but the Hong Kong police guy thought it was sacrilegious, and it is – it's ridiculous!"
The police consultant was particularly incensed given the huge success of OCTB (2017) – as in Organised Crime and Triad Bureau – a 30-episode drama that streamed on Youku last autumn. "He said, 'That's a dinky little television series the entire population of the mainland has seen and loves. Yours is a gigantic movie. When it comes out, they'll laugh their heads off. They'll say your production didn't know what it's doing.'"
Mann told the props team it had a problem. "This was 48 hours before the establishing scene," he says. "They got it. Legendary has a China office. They care. They don't want it to be laughed at, so they fixed it."
He pulls up a photo of Hong Kong policemen with a head-bagged suspect. "See these black gloves they're wearing?" Mann asks. "I said to production, 'Please, get the black gloves.' To go to a gunfight scene without black gloves? Unheard of. But for whatever reason, they didn't. I called props, I called wardrobe, I was bummed out. We'd got the badge right but we'd missed the gloves. Man, no police would do that."
Fortunately, on the day of filming, the prop master's assis­tant passed a sports shop on his way to work, remember­ed the gloves and bought some. "Well …" Mann pauses, with quiet satisfaction. "Those gloves made it into the final cut."
Was the actor, I wonder, as he's scrolling through photos of police tape labelled Do Not Cross, a very details-oriented child? "No, I haven't always been like this. It's a result of acting," he says. "All these details transform your body language – you feel authentic."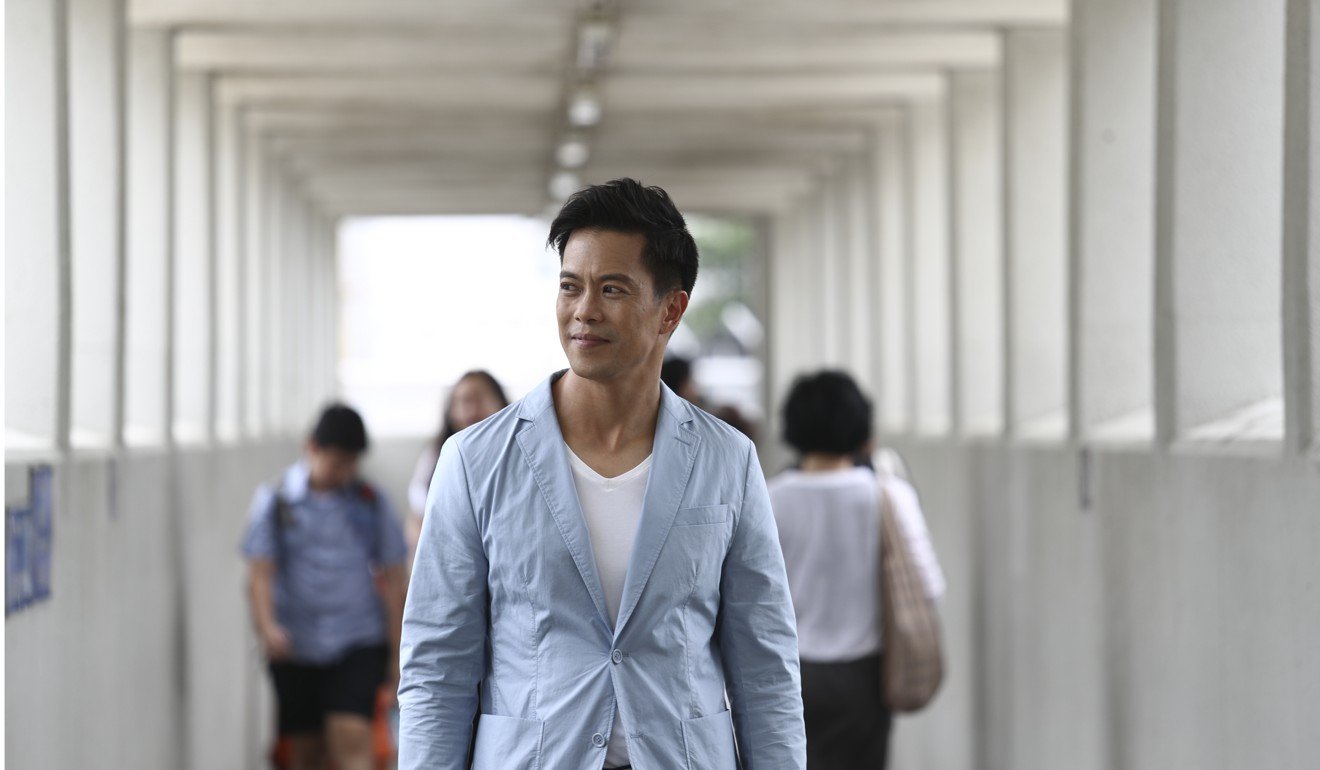 Byron grew up, the youngest of three boys, in the top-floor flat of a low-rise building on Cornwall Street. These days, it is a few doors along from the Church of Jesus Christ of Latter-Day Saints' Hong Kong China Temple, built in the 1990s, and Mann is struck by the coincidence. "The Mormon headquarters of Los Angeles is right next to where I live," he tells me.
As we head round there – along with Coey Wong Ting-kwan, the "groomer" Mann has booked for the day, to tend to his hair and make-up – he marvels at the area's juxtaposition of love motels and kindergartens. "Talk about zoning," he says. "That would never happen in California."
Although Mann's father is from Hong Kong, his mother, born and raised in New York, is American-Chinese and the household was bilingual. Around the time of the handover ("When everyone was freaking out") his parents emigrated to Vancouver, Canada, where they still live. The family name is Chan; inspired by John Lone, he became Mann so that he would not be typecast. (His Chinese name is Wen-feng.)
I had assumed that the name Byron was also a thespian choice, but it was his father (a dentist, hence his son's dental perfection) who had chosen it from the beginning. "I don't think he knew about the poet," Mann says, thoughtfully. "Who died of syphilis, by the way. Did you know that? Byron was the Hugh Hefner of his day."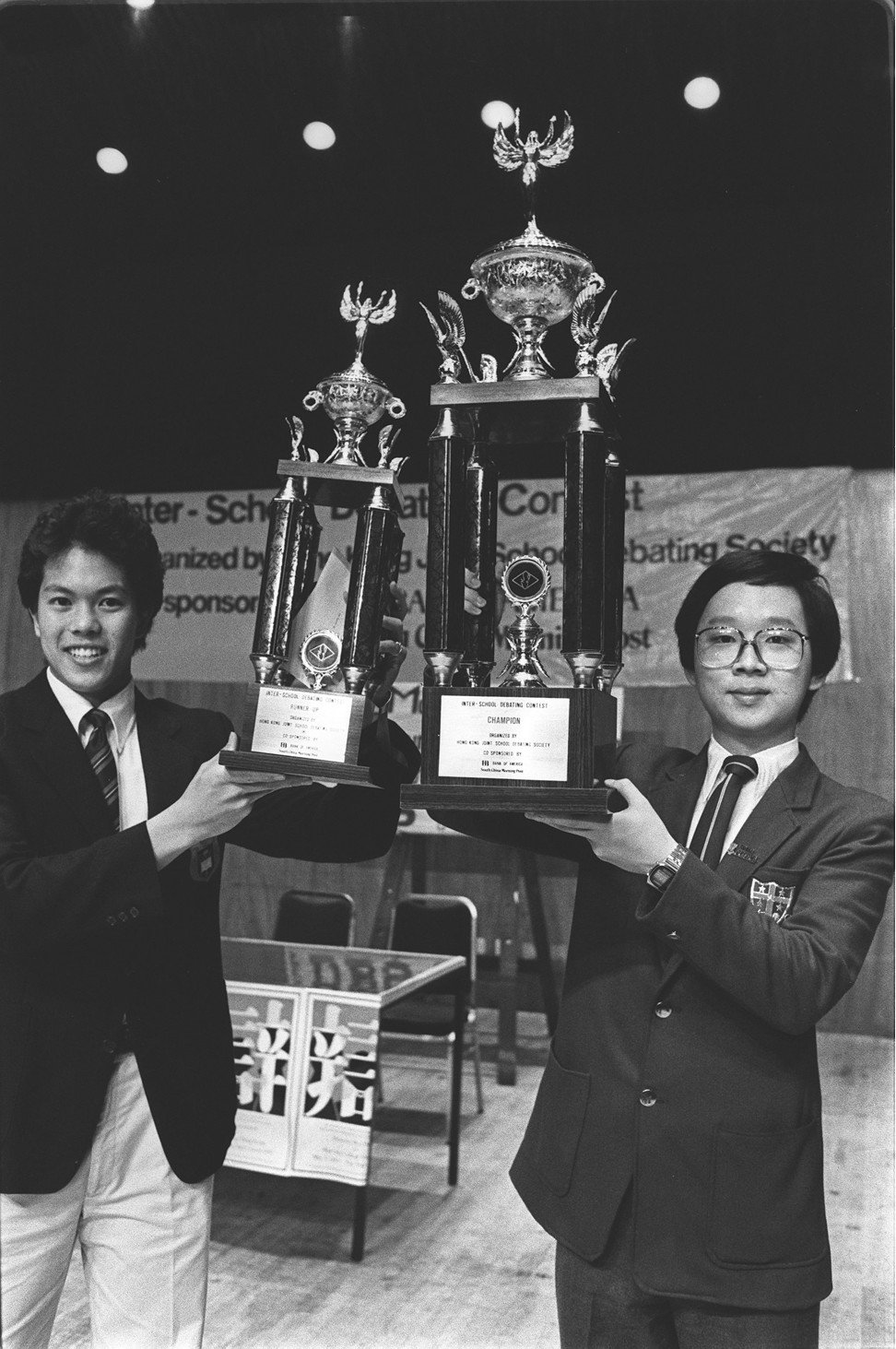 The actor's childhood revolved around three places: Kowloon Tong Alliance Church, where he spent much time with missionaries and their children; Kowloon Tong Club, where he became No 2 in the Hong Kong under-16 tennis ratings; and Diocesan Boys' School, in Mong Kok, where he wrote, directed and acted in a prize-winning gay prison drama "reminiscent of Midnight Express [1978]", a film he had not watched as his family were not moviegoers. (Other people who had seen it commented on the resemblance.)
This seems an unexpected progression. Where did that come from?
Mann, who cast himself as a prisoner being tortured by a sadistic guard, does not know. And, although he was approached to join the Chung Ying Theatre Company, he decided he would prefer to play tennis. By the time he was 17, Mann was dividing his time between teaching tennis at the club and taking Western tourists on the Kowloon-Canton Railway to Shenzhen, also on the cusp of greater things, so they could get China stamps in their passports.
Perhaps those cross-border trips honed a certain meticu­lous­ness: one of his tasks was to make sure the tourists all returned. "A couple of times I came back and was one short," he recalls, "and I'd have to go and track some guy down, shop­ping in red China." When he suggests being photographed for this story on what's now the East Rail platform at Kowloon Tong station, he adds, "Nineteen eighty-four was by far the best year of my life."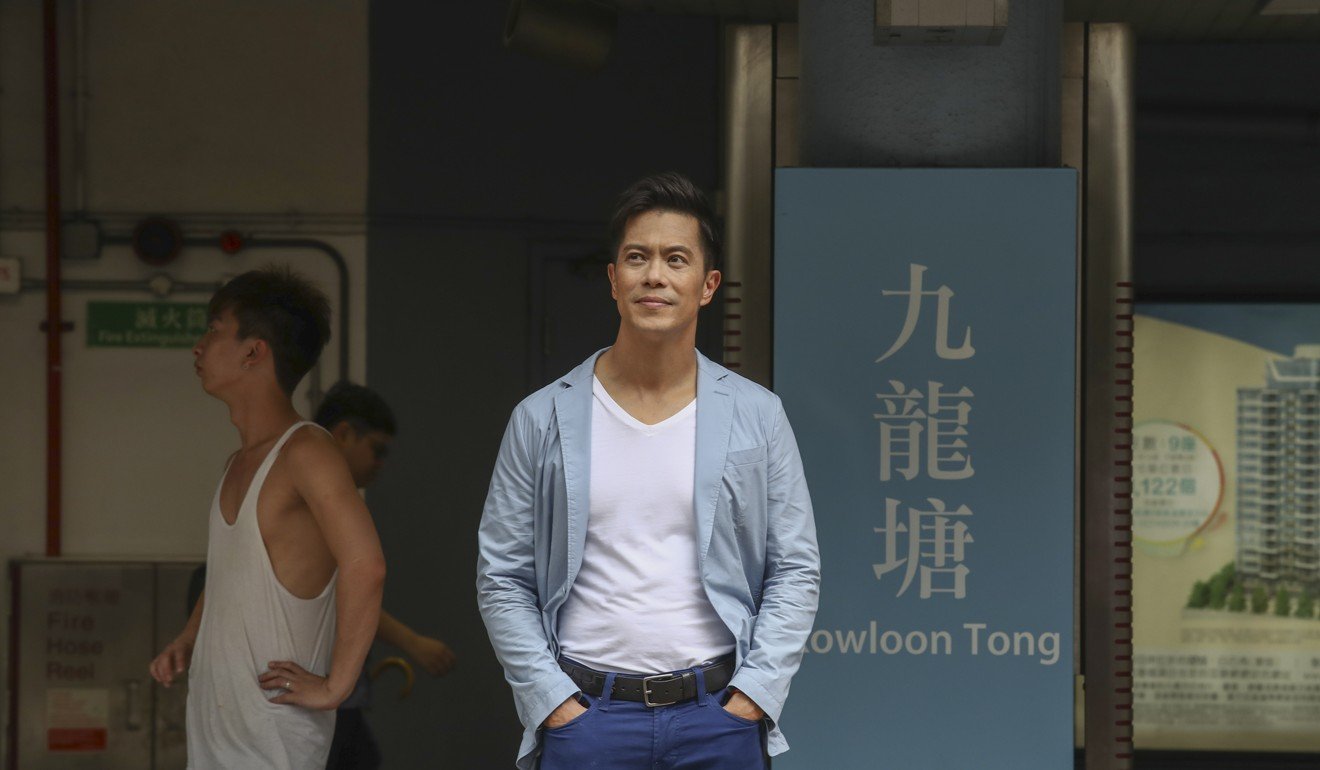 Given that most of his success has been on the small screen, it seems appropriate that a television series – LA Law (1986-1994) – prompted his initial career choice. He was, geographically at least, on the right track: he had studied philosophy at University of California, Los Angeles, so he signed on at the university's law school. Interning in a Hong Kong law firm after his first year, however, changed his mind.
Again, he describes the scene as if from a screenplay: "I remember sitting in a corner office, end of the summer, 6.30pm, Alexandra House, 31st floor …" His boss (kindly, concerned; what the heck's he going to do with this kid?) is telling him he is not cut out to be a lawyer, asking what he enjoys best. "And I said, 'Doing a school play about this gay warden torturing people.' So, right then, I devised a plan. I'd spend my last two years dipping my feet into the [acting] water and get an agent."
For his parents' sake, he passed the California bar exams, "a minor miracle", and by 1994, he had a role in Street Fighter (1994), the Jean-Claude Van Damme (and Kylie Minogue) film based on a video game. It was a stinker. I had read an entertaining piece on Polygon, a gaming website, about the myriad ways the film had gone wrong, in which Mann was quoted as saying, "There were a lot of hormonal guys on the film running amok in Thailand and Australia [...] We were like cavemen. We were like Vikings."
After I quote this back to him, Mann says, soberly, "That's the reality. You descend on a place and pretty much conquer."
The resurgence of actor Chin Han, Singapore's man on the moon
By now, the video team, photographer and groomer have gone and the pair of us are rehydrating in a cha chaan teng in Mong Kok. It is 5.15pm, the place is deserted and Mann is well on his way to earning the title, Hollywood's most obliging interviewee. He is so polite, so immensely self-controlled, that the thought of him in marauding mode seems odd.
On a whim, I ask how long it has been since he last lost his temper, and he says, "Wow." He thinks about it for a long time. "It was," he begins. He gives a little laugh. "It was, maybe, eight months ago, in a relationship. I felt the other party was completely … how should I say … out of control." Another little laugh. "For me to lose my temper is a big thing. People who've known me 30, 40 years have never seen it." Then he adds, "I don't blame anybody except myself."
Mann is being so honest it almost hurts to watch. (I'll be honest, too – I stop him from continuing. Obligingness should only go so far.) Here's the irony: he's probably best known for playing villains. Why? "That was a surprise to me, too," Mann says. "I don't know how to answer that. Of course, when I started, Asian roles were villainous-type roles. I didn't mind doing that."
In LA, people who recognise him tend to refer to him as an a**hole: that's in loving homage to his character in The Big Short, an investment manager whose brief appear­ance is almost certainly more terrifying than anything you'll see in Skyscraper.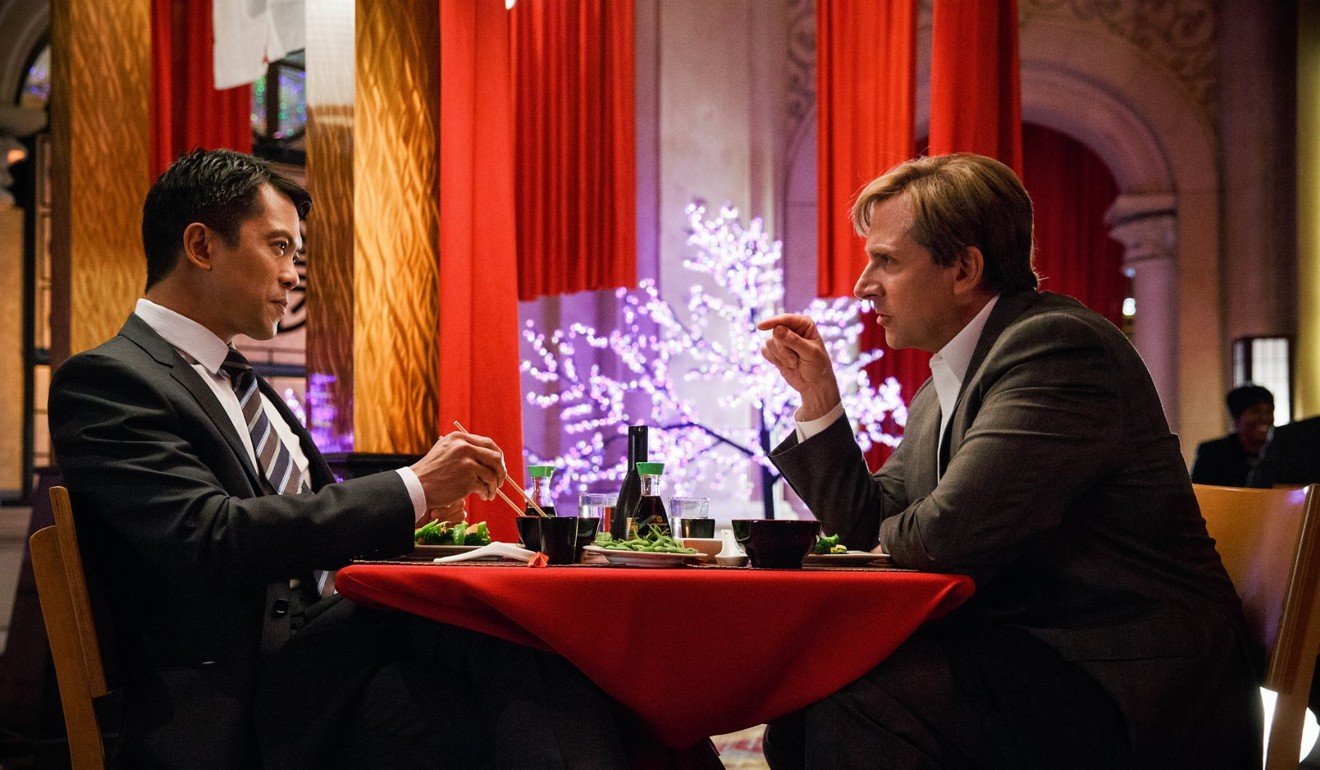 All afternoon we've been in crowded public places but not a single person has approached him. Although he has appeared in successful Hong Kong films, what fame he has comes from American television. He likes, he says, his anonymity on the streets here; he can go wherever he wants.
In interviews, he tends to describe himself as living between four cities: Vancouver, LA, Beijing and Hong Kong. LA is the only place where he actually owns property. "I'm trying to buy here but I'm waiting for prices to come down," he says. As this might take a while, and he is currently staying at a friend's place in Kennedy Town, I'm surprised to hear which place he considers home. "Hong Kong. I've never felt, even to this day, at home in Los Angeles. And it's not easy in Beijing – it's an acquired taste, no question."
Mann is developing several Hong-Kong-related film concepts. "As actors, we're not robots. We can't do the same thing for 30 years. This is my evolution," he explains. Earlier, when we had been talking about the way this city attracts, and creates, transient people, I had asked him about settling down and he had hesitated. "I'm happiest when I'm in motion – creating a project, shooting a project, when I'm involved."
In the cha chaan teng, Mann pulls up photos of Hong Kong police officers ("All Hong Kong detectives roll their sleeves past the elbow"). But you get the impression that the authenticity he is looking for is not just on screen. "What did you say about transience?" he asks, unexpectedly, as we are leaving. About settling down …? It's clear he's been focusing on certain details about that, too.
"That kind of hits the button. You know how you know where's home? It's where I want to be buried. That's my litmus test. I'd like my ashes to be thrown in the ocean here." ■
Skyscraper opens in Hong Kong cinemas on July 12.