Coming out I knew for a long time before I came out that I was gay, or at least that I was different. It was one of the reasons I was always picked last in gym class. I was sporty, but I acted different to the other boys and I had different interests.
I'm from a small village in the south of Holland. I was born in 1972. I have a younger sister and she's married to her wife and they have two beautiful kids. She only realised she was gay much later in life; she came out about 12 years ago. I came out to my parents when I was 15, and it didn't go well. I felt lonely. I started to organise my own activities to find a place to fit in. One of these was producing a mini version of the musical Cats. I put together singers, the orchestra and dancers. It kept me busy and distracted me from the world.
I started organising school events with concerts and choirs – back then music was my thing; I was a violinist and I played the piano. When I was 18, I auditioned for music school. Happily they didn't let me in, even after I tried again the following year, because, looking back, I'm better at organising than performing.
London, Shanghai, Hong Kong When I was 21, I started working for postcard company Boomerang, without finishing university. Then I got into technology and, in 2008, I moved to London. Soon after, one of my bosses asked if I would be interested in moving to China for a secondment with Alibaba (the company that bought the South China Morning Post in 2016). Back then no one had even heard of Alibaba.
I moved to Shanghai in 2010 for a six-week project, which was extended to six months and I ended up staying for a year. After a year, the same job brought me to Hong Kong. In Shanghai, it had been difficult to engage with the local community because a lot of people didn't speak English, but in Hong Kong there was less of a language barrier and it was easier to connect. In Hong Kong, I fell in love with a guy and we were together for 3½ years. I had started working for a start-up. But when it rains it pours and one day I found myself single and without a job. We had always done things together and I found myself feeling lost and lonely.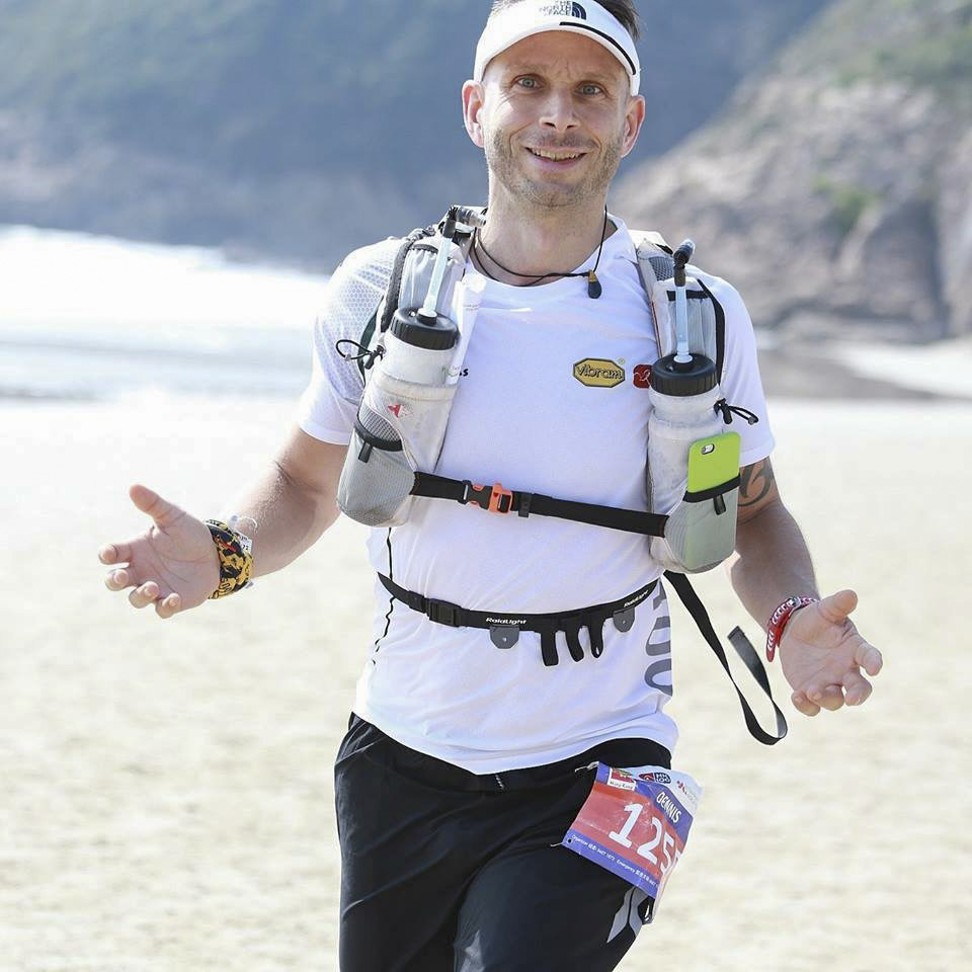 Take a hike I had started running the year before we broke up and I loved trail running. I was doing long distance run­ning, up to 70km, and I met some great people. I decided I wanted to find someone sporty. I wasn't interested in hook-up apps or going to bars, so I thought I would organise a hiking event.
In 2014, I arranged a trial hike of the Twins, from Park View to Stanley; 15 people showed up. This showed there were other people looking for alternative ways to meet, so I decided to start Out in HK. That same year we organised our first official event, a hike on the Dragon's Back, for which 53 people turned up. Slowly, more people got involved and now we are a team of 10, with more than 5,500 members.
We organise weekly sports events, mostly hiking, but also running, tennis, yoga and swimming. If you do a hike with someone you see the real person. In a bar, people might be drunk and can play a character, but on a hike, you are equal, you have to deal with difficulties and there's no escape.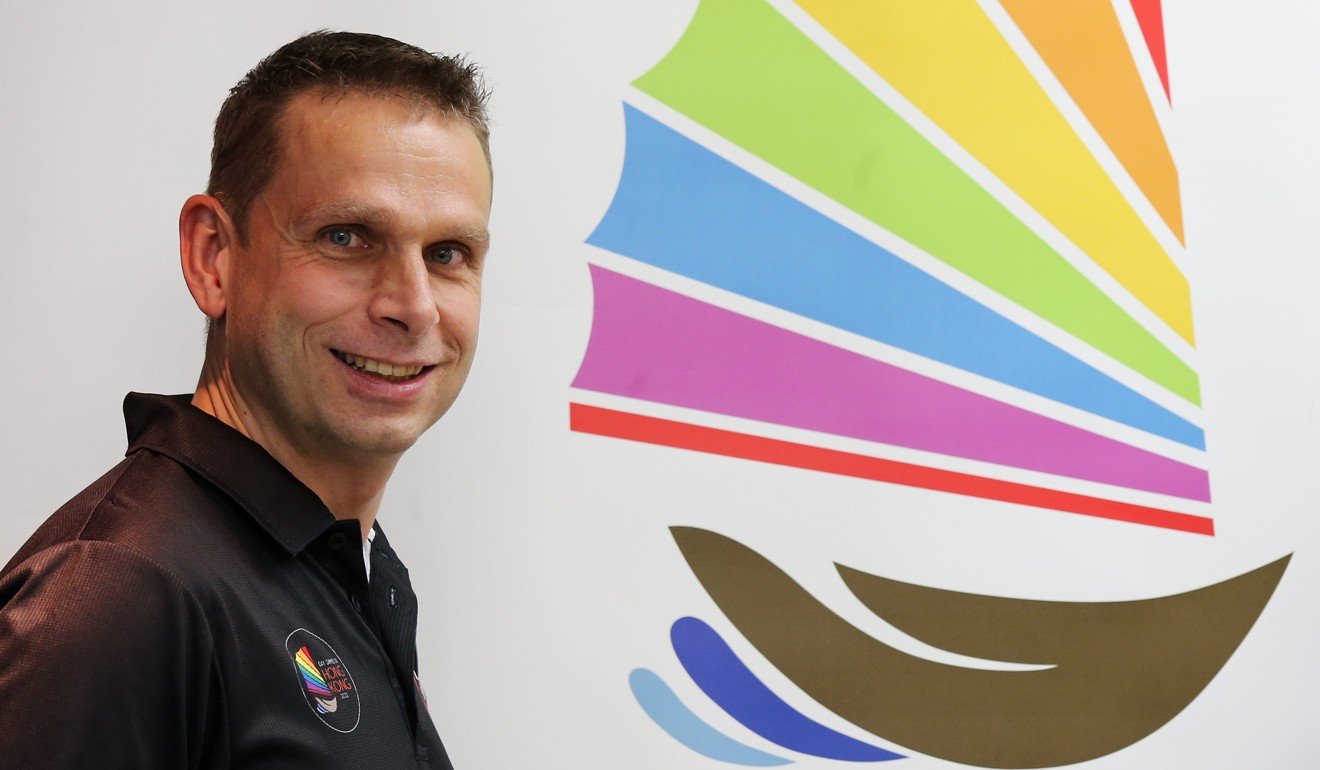 Asia first I had been getting involved in more LGBT events and I started leading sports events as part of Pink Season (Hong Kong's annual LGBTI festival). I realised that there was the potential to create even bigger events.
I had attended the Gay Games in Amsterdam in 1998 and it was an amazing experience. I was living on the canals at the time and remem­ber opening the doors and finding the whole city overwhelmed by this big influx of LGBT people. In 2014, I reached out to the Federation of Gay Games, asking how I could bring the event to Asia.
Power games We submitted our bid (to host the 2022 Gay Games) in November 2016 and, in March 2017, we were short­listed alongside Washington DC and Guadalajara, in Mexico. In June 2017, we had a site inspection. We had four days to take five inspectors to visit 40 venues. We also wanted to give them a tour of Hong Kong to show off how beautiful it is. And we did a community reception at PMQ.
We were expecting about 300 people, but closer to 600 showed up in support of Hong Kong hosting the Gay Games. The final stage of the bid was in October last year, in Paris, where we delivered a final presentation and two people from each shortlisted city took part in a Q&A session. I was a volunteer from Hong Kong and I was sitting next to the mayor of Washington DC. I think what came through was that we had the passion and the power, and a strong vision and love for the event to make it happen. When the deputy mayor of Paris made the announce­ment that Hong Kong had won, everything exploded.
Running the show Most of the team will be going to the Gay Games in Paris (which end on August 12), to learn more about the event. There will be a record number of people from Asia. Since Hong Kong won the bid, a lot more people have heard about the event and it has become a catalyst for people from this part of the world to take part.
I will be running 10km, but the main purpose of the trip is knowledge sharing. I have given up running because, sadly, I can't organise the Gay Games, do my full-time job, which is now with a technology software company, and trail run.
Pride of place My parents are very proud. When I started talking about bidding for the Gay Games, I don't think they grasped just how big the concept was, but they have been following my progress. My mother and sister came to Paris last year for the announcement and it was very emotional. When you are sitting there in Hôtel de Ville, in this beautiful hall in a beautiful building and you get this amazing announcement that Hong Kong has won the bid … of course, it was a very special moment.
Follow the Gay Games HK 2022 team in Paris on Facebook, Twitter and Instagram @GayGamesHK2022