Art
Get more with myNEWS
A personalised news feed of stories that matter to you
Learn more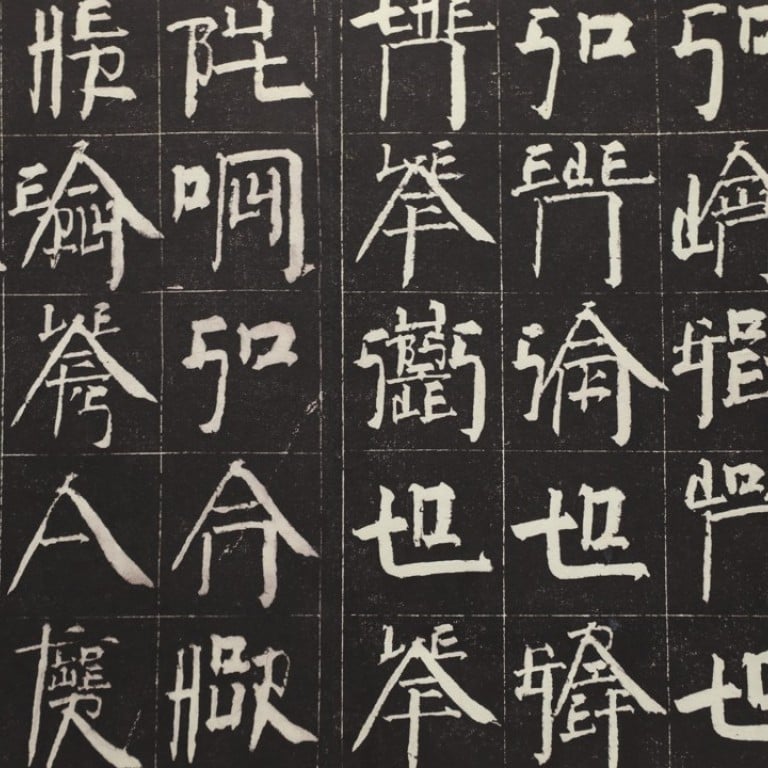 Chinese artist Xu Bing's Beijing retrospective reveals his attitudes to China and Western art, but don't call him a pessimist
The UCCA exhibition 'Thought and Method' spans more than four decades of work in both China and the United States, and it quickly becomes clear that everything is not as it seems
Voices lower as viewers behold Xu Bing's Book from the Sky (1988). Famous works of art are often greeted with a hushed reverence, but in this case, the sheer size of the piece also inspires awe. Vast, enclosed spaces that have the audacity to try to enclose the heavens command obeisance, and the aptly named Nave at Beijing's Ullens Center for Contemporary Art (UCCA) is no exception. Xu's work fills the space.
Tianshu, the Chinese title of the artwork, is a name given to a book of revelations penned by the gods, one which mere mortals lack the power to read. Unreadable, too, are the Book from the Sky's scrolls, which are neatly covered in rows of woodcut characters. This pièce de résistance of the artist's new retrospective is gobblede­gook, with Xu having spent years devising 4,000 fake Chinese "words", all the while determined to ensure that each at least looks like it could be the real thing. To understand the ambition of the undertaking, imagine that many English words, all hoaxes, but each one having the usual combination and balance of consonants and vowels, and never looking like a mistake.
Book from the Sky was first shown in Beijing, Xu's hometown, exactly 30 years ago, at the height of China's "85 New Wave" art movement. Avant-garde experimentation was exploding in the country as the trauma of the Cultural Revolution receded; China had unprece­dented access to Western contemporary art, before the drawbridge went up again after the 1989 Tiananmen crackdown.
Back then, the Chinese art market was a mere whisper of the tyrannical force it is now. Borrowing from the Western conceptual paintbox of Dadaism, performance art and postmodernism, Chinese artists found new ways to ask fundamental questions about a world that, seen from their viewpoint, had always been dangerously capricious.
"My art has always been about the same things, even if the forms and materials are different," says Xu, during an interview at the UCCA. "We are all covered in what I call the tattoos of culture. Yet, words, images and culture as a whole fail us when all existing values and traditions are being challenged, and they cannot be used to explain what's going on."
Artists all over the world are now witnessing major, confoun­ding upheavals in their countries. Perhaps that is why we have seen more interest in how Chinese artists reacted in the past to their own.
Last autumn, three major Chinese art exhibitions opened in the West: "Art and China after 1989: Theater of the World", at the Guggenheim Museum in New York (it will travel to the San Francisco Museum of Modern Art in November); Cai Guo-Qiang's solo show at the Prado Museum, in Madrid, Spain; and Zeng Fanzhi's exhibition at the Van Gogh Museum, in Amsterdam, in the Netherlands. "Xu Bing: Thought and Method" at the UCCA is targeted at the home crowd, though.
Having his first comprehensive retrospective in Beijing makes him rather anxious, the dapper, professorial 63-year-old admits. "It feels as if I am trying to get family and relatives to approve of what I've been doing all these years."
Indeed, all the major chapters of his creative life are repre­sented here: the Cultural Revolution, when he was a teenager; the first stirring of his experimental spirit after study­ing printing at the venerable Central Academy of Fine Arts (Cafa), in Beijing; the 17 years he spent in the United States after 1989; and works he has made since stepping down as vice-president of his alma mater, in 2014.
When Xu,
Gu Wenda
, Wu Shanzhuan and other artists first took aim at the sanctity of Chinese words, a system believed to have been in use since the reign of Huangdi, the mythi­cal first emperor, they said they wanted to parody the strident, poison­ous propaganda tools of the state known as "big character posters", which were ubiquitous during the Cultural Revolution, a period when Xu, born in 1955, was coming of age. The state's
promotion of simplified characters
in 1964, in a bid to improve literacy, had instilled in them an awareness that words are not carved in stone.
That understanding informed Xu's Book from the Sky and later works such as his "square word calligraphy" system, which arranges letters from the Roman alphabet into squares like Korean hangul; and Book from the Ground (2012), a novel written in symbols that anyone can read.
Having to unlearn traditional characters and adopt the newly simplified forms was the least of a young Xu's problems. He was the son of a Peking University professor and a librarian – definitely the "wrong" sort of background at a time when intellectuals were persecuted for being "rightists". In the early 1970s, he was "sent down" to a poor village with other young students, the aim being to purge them of their bourgeois leanings.
There is something of that brutal, enforced "thought reform" in the way Xu explains his new systems of writing. "They are not about cultural misunderstanding or the fusion of East and West. When you look at my words, your knowledge becomes ineffective and you crash like a computer. Trying to work out these words reboots you, and I hope this will lead to a way of finding new ways of thinking that can help this world develop and improve after the damage done by the globalisation of free-market capitalism," he says.
China's fate is something that especially troubles Xu. "This is a country that definitely has to find a new path. Every­thing in the past didn't work and there's no ready-made model that fits our problems," he says. The same goes for the future of Chinese art. "It is inevitable that we are informed by tradition, and I have a great respect for tradition. But I don't see how I can directly use the styles created by early masters. I am saying things that nobody else has said, so I have to find my own language."
He goes as far as dismissing contemporary ink art as "a practice", saying it is hardly contemporary for an artist to limit themselves by material or form. It is a comment that may provoke the ire of ink artists who see them­selves as loyal keepers of cultural heritage.
Xu may dismiss artists who specialise only in traditional ink painting, but he is also keen to demonstrate that he is a competent practitioner – when he wants to be.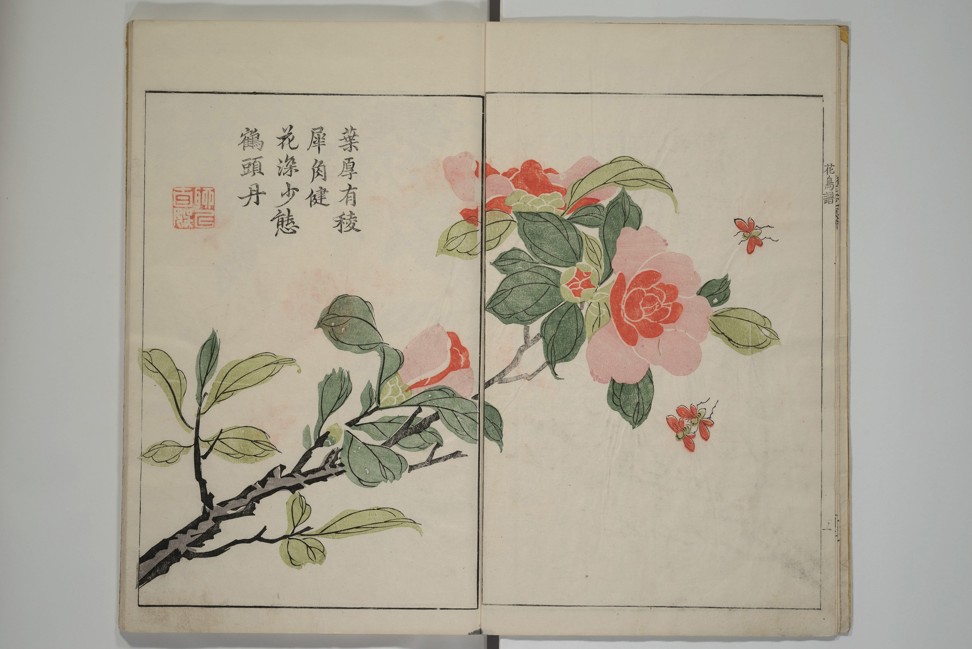 In 2009, he started to make woodcuts by following instruc­tions in that most classical of Chinese painting handbooks, The Mustard Seed Garden Manual, which dates back to the early Qing dynasty and painstakingly dictates how every element of a landscape should be painted. Here in the UCCA is an edition of the exquisite prints he made.
It seems oddly lack­ing in irony, especially when compared with his "Background Story" series: pictures he started making in 2004 that on first glance look like faithful reproductions of elegant, classical Chinese landscape paintings. Go around to the back, though, and you realise they are made from the careful application of the most unattractive jumble of dead plants and household rubbish on frosted glass. These works drip with cynicism.
The Mustard Seed Garden Manual exercise is really just that, he says. You cannot embrace the new without under­standing the old. "It is too easy for people to say that tradition is great without really understanding why it's so great. We also have very little experience in applying tradition in China. Our past experience is all to do with learning from Western ideas," he says.
Xu applied for a teaching post at the University of Wisconsin-Madison, in the US, in 1990, hoping that living in the West would open his eyes to a new world of contemporary art. He joined the exodus of artists who left China after the brutal crackdown of the 1989 student movement and stayed in the US for nearly 18 years, successfully building an inter­national reputation alongside now-famous peers such as Ai Weiwei, whose studio he took over for a while in New York.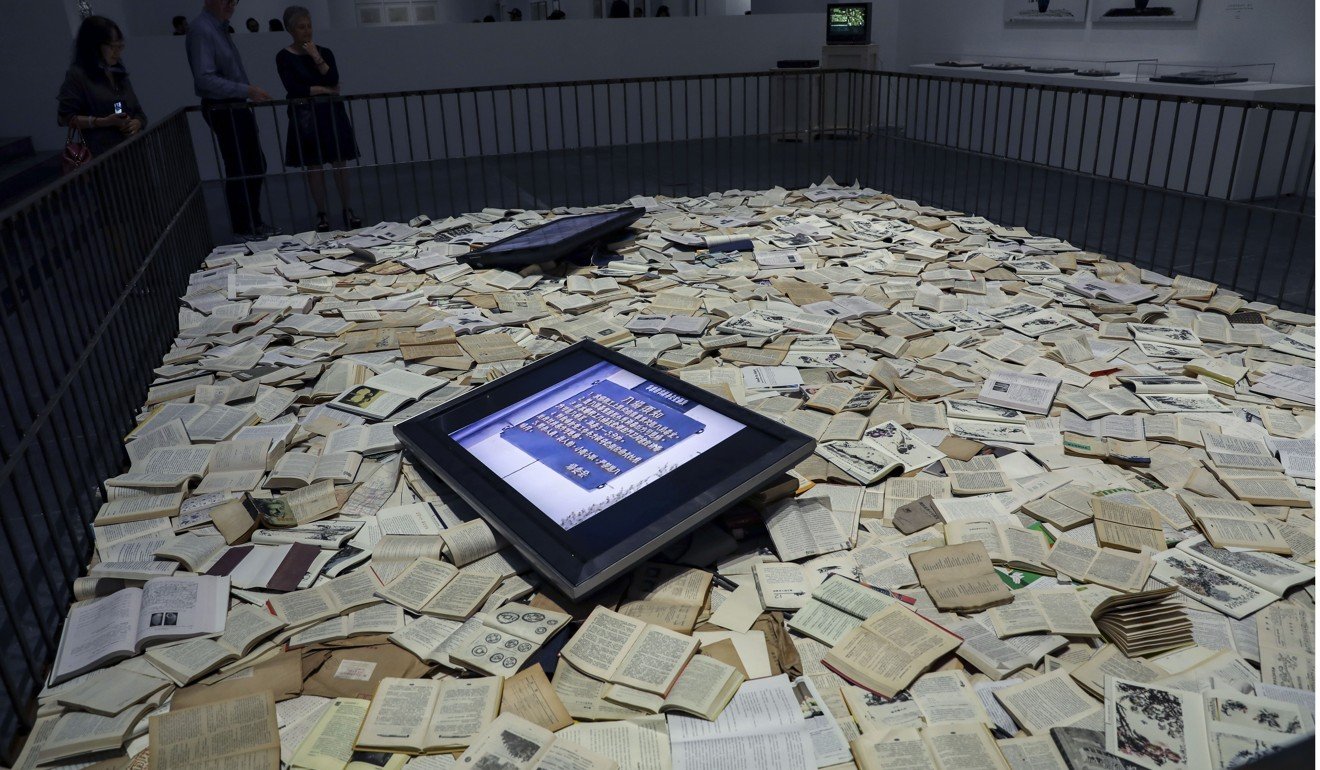 There have been plenty of accolades. In 1993, the British Museum bought an edition of the Book from the Sky. In 1999, he won the so-called Genius Grant from the MacArthur Foundation for "exceptional creativity" exhibited by a US citizen or resident. And his reputation has thus far survived the cooling of enthusiasm towards his generation of Chinese artists, whose works were greedily traded by speculators in the early 2000s. Last autumn, the Guggenheim added a work from his US period to its permanent collection – one which prompted a fair amount of controversy when the museum tried to show it in the "Art and China After 1989" show, but which is included in the UCCA exhibition.
A Case Study of Transference (1994), now shown as a video, was an installation that featured two pigs copulating – Xu had to wait until the female was in heat – on a bed of open books. The boar was covered in English words written out in Xu's "square word calligraphy" and the sow in his fake Chinese words. The Guggenheim had to withdraw the work from the exhibition after furious complaints by animal rights activists.
The video makes for uncomfortable viewing, certainly, and it is disturbing to think that Xu sees civilisation as being so fragile and shallow. "What are our borderlines when it comes to morality, the law, art? Everything is becoming more and more unclear," he says, in pointing out the work's relevance in today's world. There is also a hint in his voice of, not quite embarrassment, but a need to justify this rather sensationalist work from 24 years ago.
"Going to the US was actually the first time I became familiar with Western contemporary art, and the first time I understood there is a flatness in the level of creativity in that system. The whole scene wasn't as creative as I thought it would be. Being part of that system meant I felt my creativity was shrinking. So, for a while, I wanted to borrow energy outside the human race to supplement my own energy," he says. "Hence, the concept of transference."
In 2008, the Cafa beckoned and he moved back to Beijing. He left the post in 2014, but he has no intention of spending more time in the US, even though he keeps a studio with two members of staff in the country. The wild East has so much more to offer than the "flatness" of the mature American art ecosystem.
"There may be a lot of things you hate about China, but it is so inspirational. It is so experimental a place, and has so many unknowns. It gives you momentum and energy to think, and that is important to artists," he says.
Xu is eager to give the impression that he is not a cynic, and says he believes in utopian ideals even though Mao Zedong and the Gang of Four's crazed version of utopia made doing so taboo. Then again, Xu even manages to see a positive side to the years when he was separated from his parents and deprived of a real education.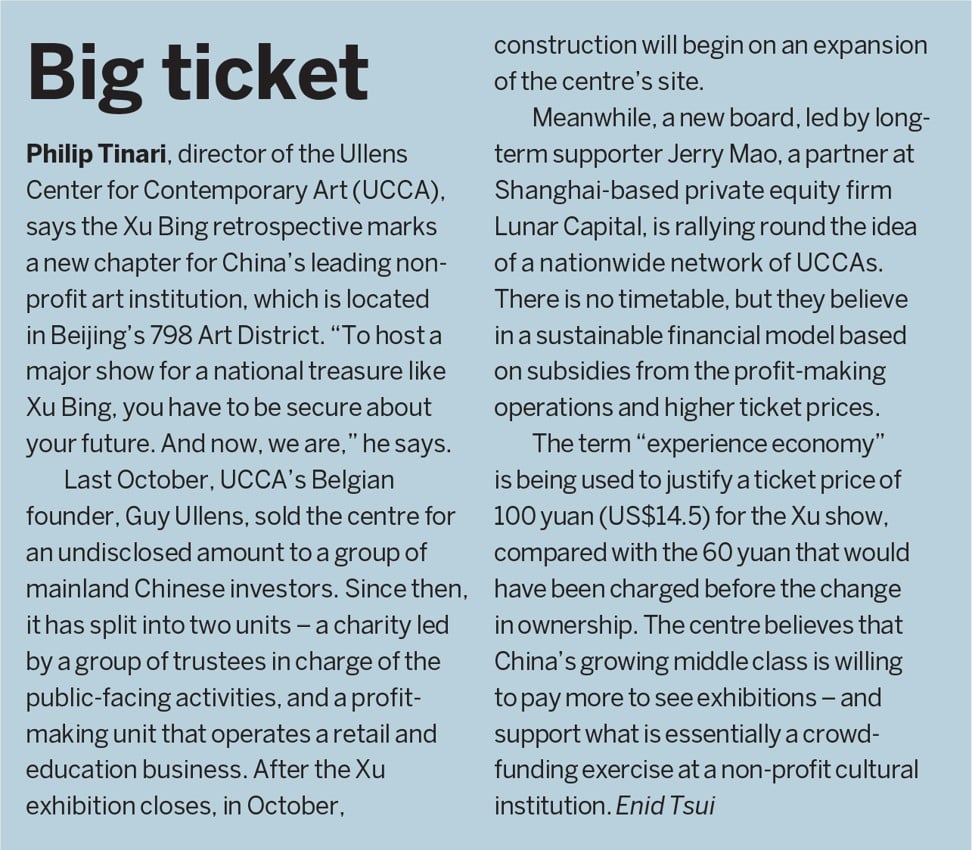 He and fellow "
sent down
" students produced for their host villagers crude mimeograph periodicals, containing art and writing, some of which are on display at the UCCA exhibition. These are not shown to express regret or anger, but serve as a reminder of a lost innocence and youthful idealism.
He has spoken fondly of how he learned to respect physical toil and the meditative quality of repetitive work, of how it was the only time in his life during which he could focus entirely on creating something he loved. He has even, rather damn­ingly, suggested that contemporary art today is as full of the so-called jia da kong (big, fake, emptiness, or "empty words") as were Cultural Revolution slogans.
Xu has no time for those conceptual artists who he sees as pulling the wool over the eyes of people who are so in awe that they dare not complain about the lack of visual stimulation. And to be fair, he has always delivered in that respect.
One of the most eye-catching exhibits in Beijing – and there is plenty of competition – is a work called Honor and Splendor (2004), which is made from 660,000 cigarettes arranged to look like a huge tiger-skin rug.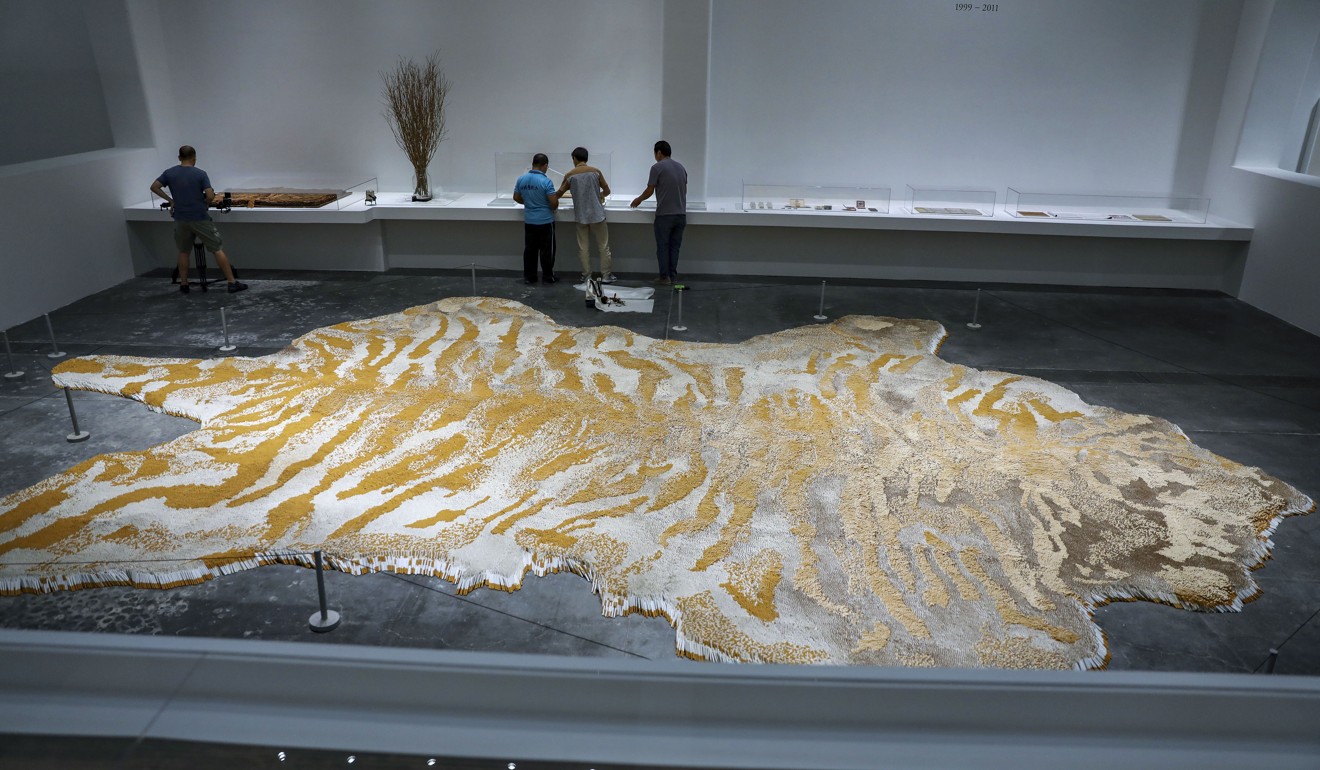 Xu's father, a heavy smoker, died in 1989 from lung cancer. Six years later, having studied the fortunes made from tobacco in the US, the artist began his long-running tobacco series of sculptures. The pieces range from room-sized statements (such as Honor and Splendor) to a pocket case filled with high-end Chinese cigarettes stamped with the chain-smoking Chairman Mao's quotes on class struggle. These are all exquisite to look at. Perversely, Xu has fetishised something that killed his father, as if succumbing to its dangerous seduction.
Xu avoids giving too precise an interpretation to his own work, but some of his more recent pieces are linked to specific issues. The Phoenix Project (2007-10), gigantic sculptures made from construction waste, was his angry reaction to the treatment of workers at the building site of a luxury development in Beijing. (The actual sculptures are not here in Beijing but represented in the exhibition by videos and other archival materials.)
Xu's latest, and most bizarre, work is Dragonfly Eyes (2017). His team edited 10,000 hours of surveillance footage into an 80-minute feature film loosely structured around the story of a man running after the woman he loves. There are no actors or cameramen. Unlike Christian Marclay's The Clock (2010), which also employed ready-made footage, Xu used only clips that were never meant to be seen in public. Film critics were baffled.
Xu says the work is, once again, about how we are shaped by culture. The scenes in Dragonfly Eyes hardly fill you with joy: beauty parlours selling cosmetic surgery packages; aggressive customers in a shop; drab, anonymous streets. Scenes of terrible natural catastrophes or accidents add to the general atmosphere of doom. There is an uncustomary fury here about the state of the world, beyond the film's obvious reference to how we are all being surveilled by invisible, all-seeing eyes.
It is surprising, then, to hear Xu describe himself as an optimist. His Tao Hua Yuan: A Lost Village Utopia (2013-14) is a version of the classical Chinese ideal of paradise in model village form.
"The Chinese title of the work ends with a line from the Chinese version of the Internationale: 'The dream has to come true.' I used it partly in jest, but every house I placed there was equal in size. The communist ideal of equality is something I still believe in, especially since fewer and fewer people are satisfied with how they live. Having a goal, even if you cannot accomplish it, is important," he says. "We must still chase that dream."
"Xu Bing: Thought and Method" is showing at the Ullens Center for Contemporary Art, 4 Jiuxianqiao Road, Chaoyang District, Beijing, until October 18.