Clickbait The travelling goes all the way back to four or five years of age. My father was an avid fisherman. At weekends, he'd wake me up early in the morning, put me in the back of the car, drive to some lake in Oklahoma, drag the boat onto the water – and we'd fish, from early morning until lunch­time. Then we'd go home.
For us, a big international trip was driving up to Canada for a fishing tournament. As Americans, we didn't need a passport for that. We did do a cruise in the Caribbean but we didn't even need passports for that. I didn't get one until I was 20, in my last year at the Southwestern University in Texas.
Travel torture In 1998, I made my first trip abroad as sort of a graduation gift to myself. I had a friend who'd been to Europe before and was going to London, Athens and Istanbul, so I accompanied her. Of course we didn't book accommo­dations, and she was trying to find a place where she'd stayed before. We were walking around London and I was so tired, the jet lag was terrible.
Going to Athens was a bigger change and in Istanbul … I didn't know what was going on and we were being approached by touts every five minutes. I felt I was being tortured and I remember thinking, "I don't know why people enjoy doing this." Then we backtracked to Athens and I thought, "I know how to do this." When we rewound back to London – a new exotic place to me just a few weeks before – it felt like home.
A measured approach My first job was with a consulting firm in Texas, doing pension record-keeping. After three years, they sent me to London, in 2001. During any given month I was probably spending two weekends in Europe, getting £1 flights on Ryanair and easyJet. I'd write down where I went, what places I'd visited. I wanted to record that time.
Now I recognise that detail-orientation had been a big part of the fishing expeditions with my father. At university, I'd had a little book where I'd write down dates of fishing trips, where I went, what I caught, what it weighed. It was important to keep measurements.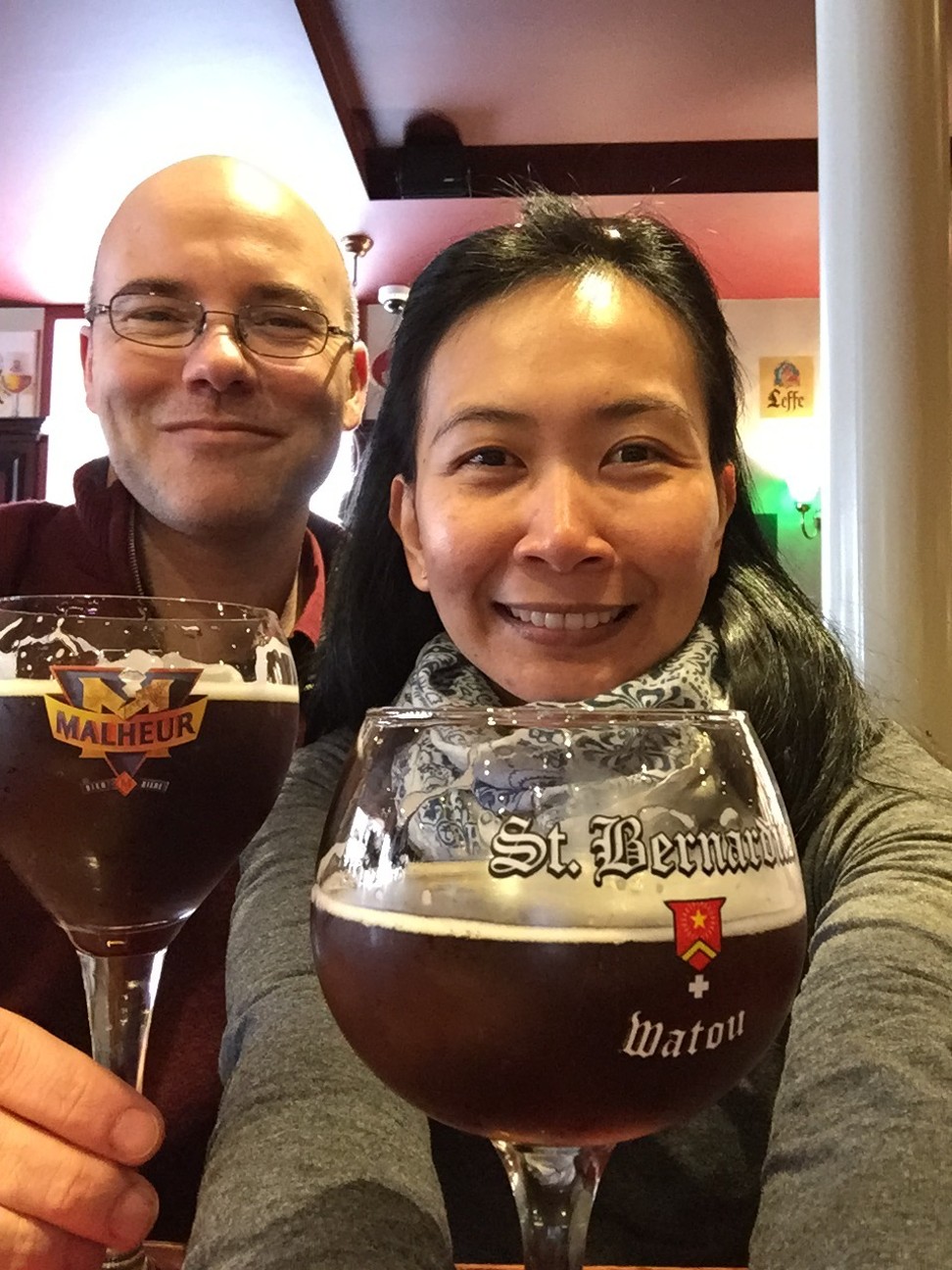 Double happiness I was intro­duced to this idea of round-the-world travel where you take a gap year. About two weeks in, I was in Borneo and, one morning, on the way to an orangutan sanctuary, I met a young lady. We discovered we were staying in the same hostel and we got along so well that on the bus trip back into town we joked about getting married. About a year and a half later, we did. Jill is a doctor from the Philippines and we had two weddings: one in the States and one in Manila, in January 2006.
Branching out There was an opportunity for Jill to work in Hong Kong and we came in March 2006. Dependent-visa holders couldn't work but I applied to do a distance-learning MBA with Warwick Business School in the UK.
When the law changed that summer, I had a couple of job offers to teach English. That was how I was introduced to Lemon Tree (Learning Centre, in Fo Tan). I was a part-time teacher but, in 2010, the owner asked if I was interested in joining as a partner. I wrapped up my MBA and I kicked off writing regularly on TripAdvisor.
One of my early reviews was of Nevsky Prospect, in St Petersburg (in 2011): "This is a long avenue in the middle of town, there are some churches and places to eat, OK, goodbye"
Finding my way TripAdvisor started to crop up for us in about 2008. I was still relying on books to understand where I wanted to go but in 2010, when we made a trip to the Baltics, I remember sitting in a cafe and saying to Jill that we'd never have found it without TripAdvisor.
One of my early reviews was of Nevsky Prospect, in St Petersburg (in 2011): "This is a long avenue in the middle of town, there are some churches and places to eat, OK, goodbye" – it was a bit of that nature. My first couple of hotel reviews, trying to learn how to put things down on an online submission form, were probably awful.
The tortoise and the hares After that we went on a trip to Cape Town and I started to enjoy transferring my notes to TripAdvisor. I was the first to crash the 1,000-review barrier. In 2015, I was in the Guinness World Records for the highest number of reviews. Now I'm called the most prolific reviewer. It was never an objective.
My review count is extraordinarily high (6,454 at the time of going to press) but the way I look at it is that I'm really the tortoise that started the race five or six years before the hares arrived. For me, it was important to remember what I saw and what I felt about it. I came to understand that I can dovetail what I write so that it's more useful to others while I can still get joy and gratification out of it.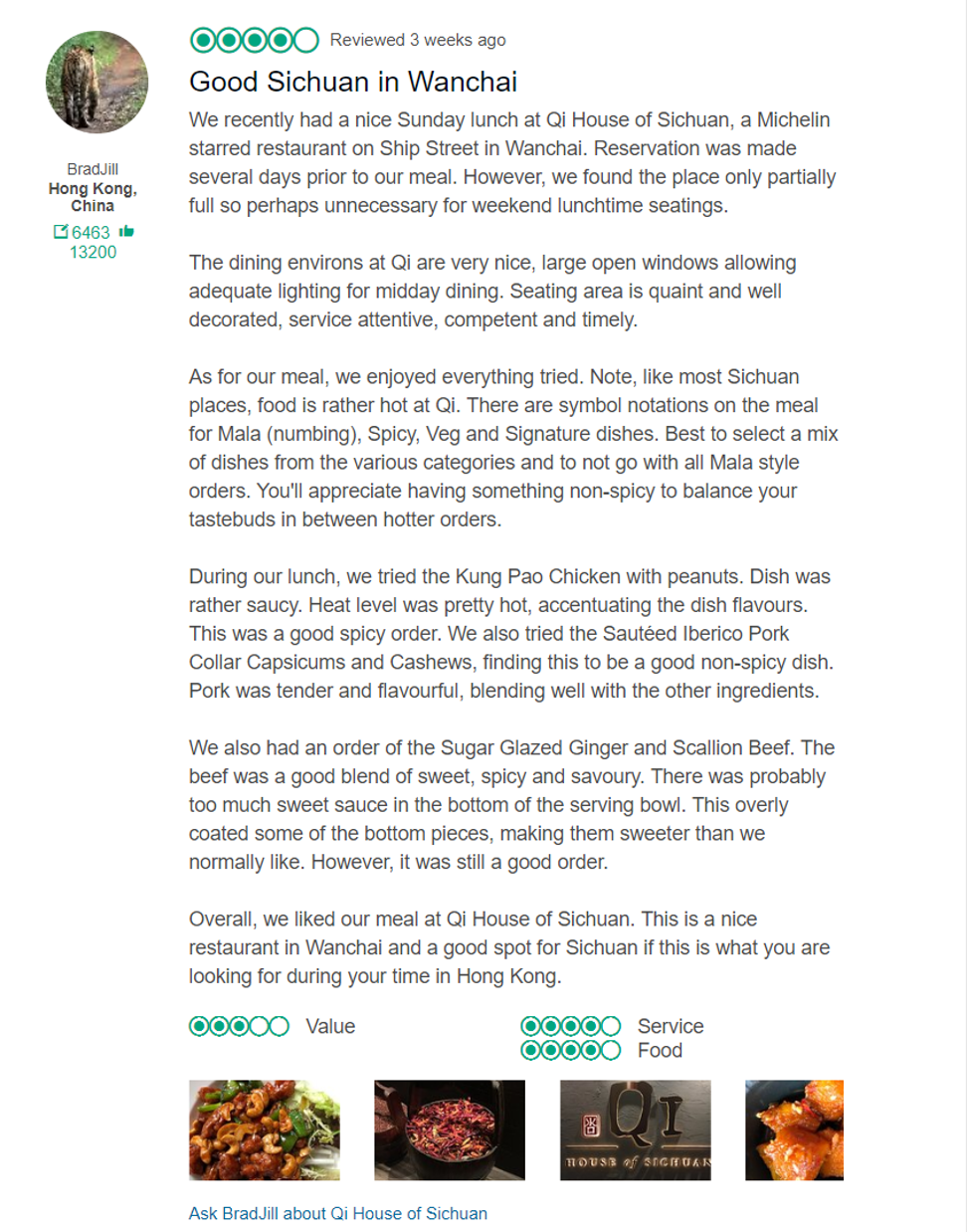 Destination Hong Kong I write as BradJill because you could say we're attached at the hip: we really do walk side by side. I do the reviews, Jill takes a lot of the photos. I used to serve as one of the destination experts for Hong Kong but I stopped because it was starting to feel like homework. There were the same questions, again and again, and people became irritated and there was a lot of bickering and conflict.
I still do it for Macau but I don't want it to be a job – I love doing it on my terms. My real passion is at Lemon Tree, working for kids, and I don't want to change my primary focus.
The ratings game I do about two or three reviews a day. We travel regularly, sometimes five times a year out of Hong Kong, and we live in a city that has a tremendous amount of interesting things to do and restaurants to try.
This morning I reviewed Qi House of Sichuan, in Wan Chai. It took about 15 minutes to write, I gave it four out of five bubbles. Over all, my ratings form a perfect bell curve. We do joke about them: my wife regularly gives low-bubble grades for my ability to clean our flat in Ma On Shan.
Return trips We like going back to places. This year we were in Vienna and went to the Kunsthistorisches Museum, which I've visited three or four times. They have the largest collection of Pieter Bruegel the Elder's works in the world.
The first time, I didn't know about him – now, I love his paintings and prints. Being in that room again for 45 minutes had become an excitement when initially I didn't even know what I was seeing. The frontier changes.