Mother's little helper I was born in Scotland in 1966 and lived there until I was five. Most of my childhood was spent in Stratford-upon-Avon, in England. Growing up I used to watch Mum cook; she would bake bread and make the most amazing pies. At home we would have proper humble, rustic food, from stews and soups, to classic Sunday roasts.
I was a great eater and I grew up unfussy because it was almost rude to leave anything your mother cooked. It was that kind of household. Mum used to run a little teahouse in the high street. She was a cook but it was never glamorous. It was a traditional British cafe during the day and served bistro food in the evening. Before football practice, I'd help her peel potatoes, carrots and onions, clean up and do all the laborious jobs.
Dashed dreams Despite growing up around food, as a teenager I never wanted to be a chef. I was too obsessed with football, swimming and running. I went to Stratford High School. I supported Liverpool (Football Club). I was very athletic. I'd be playing football up to five times a week. I swam for the county, I played football for the county, I played in the Football Association Youth Cup – so I had a very busy, active childhood.
In my late teens I had two bad injuries. But I was never one to sit and cry over spilt milk; I was a very strong, focused young man. I knew I could get back to being fully fit so I kept on trying out for teams to continue my professional football dreams, but when you get knocked back you have to realise that it's not going to happen. Move on. Don't hold on to something that is never going to materialise. It was a very firm lesson.
London calling At the age of 18 I enrolled in a catering course as a way of hiding the hurt from football. I don't know why, but in those days I thought I was going to become a general manager of a five-star hotel – can you imagine me running a hotel? No chance. So I got into a little country-house hotel just outside Stratford-upon-Avon. I went to college one day a week and worked six days a week. I had my lodgings and my studio flat within the hotel and that's how it started. After a year I got my first distinction and I moved on – London was calling and that's where it all started to take shape.
I remember standing in Marco Pierre White's kitchen; I was 19 and he was 25. He had just opened Harveys – his first restaurant. This guy was on a mission for success. I had one of the best mentors ever. Marco taught me finesse; he could put food on a plate within 30 seconds and dress it like Picasso. After 2½ years there, I wanted to go to France, so he suggested I work for a French restaurant in London first. I got into Le Gavroche, which was then a three-star Michelin restaurant (it now has two stars), run by Albert Roux. Albert taught me flavour and to waste nothing.
Parisian kitchens When I was 22, I went to Paris. I landed the dream job when I got into Restaurant Guy Savoy, because here was a chef who had won two Michelin stars and was striving for a third. When you meet chefs that are on that trajectory, climbing the ladder on a daily basis, it is the most exciting position to be in because you are getting first-hand knowledge and new ideas.
When I went from Guy Savoy to Joël Robuchon's kitchen at the Jamin (also in Paris), it was like going back to Le Gavroche because it was all classic and beautifully done.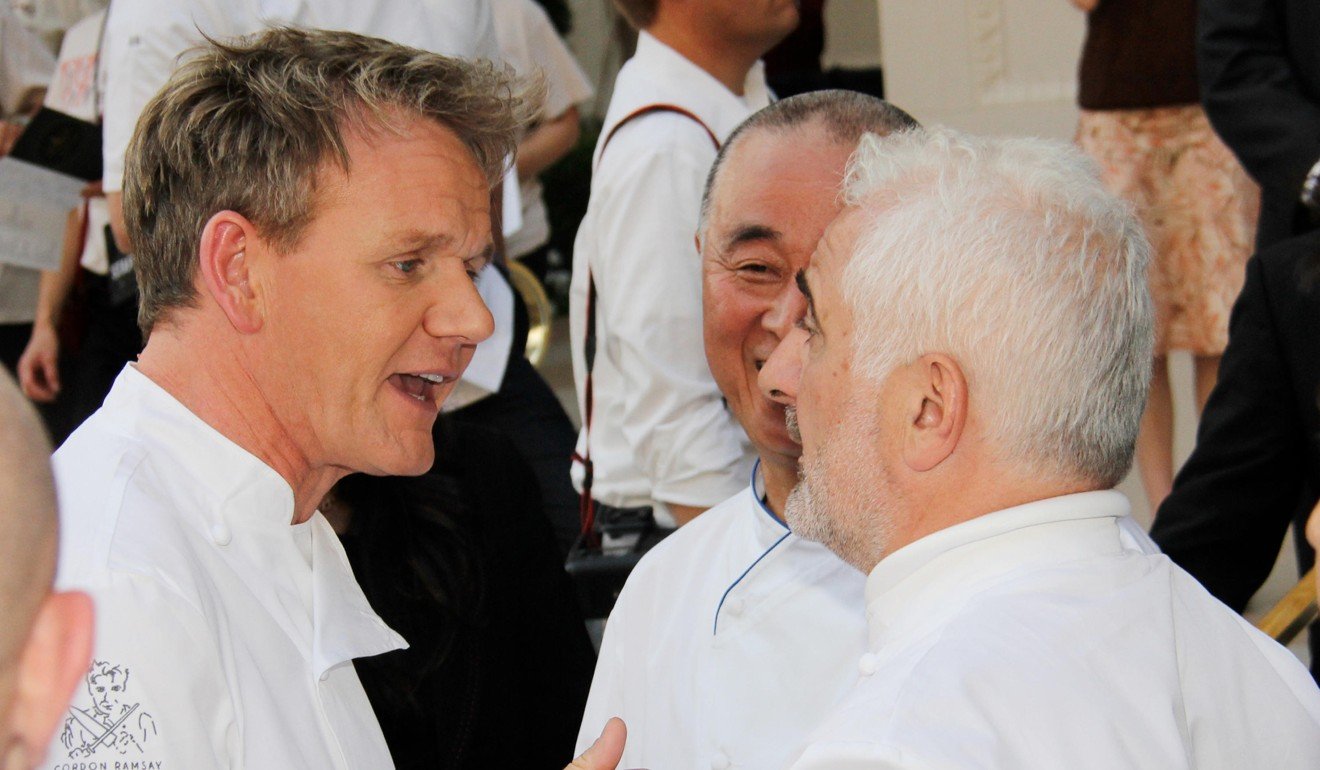 Lady Di for lunch I came back to London when I was 26. In 1993, I was working at the La Tante Claire for Pierre Koffmann, running his three-Michelin-star restaurant. Marco gave me a call and said, "I have an amazing deal. I've got 25 per cent of a restaurant. It's a little bistro in Chelsea. Are you interested?" I said, "Look, I have a great job at La Tante Claire," but he said, "This could be yours."
So I went and had dinner there discreetly one night. I fell in love with the bistro. It was on a little road called Park Walk and had just 45 seats. Three months later I borrowed £10,000 from the bank and opened Aubergine. I had the walls finished with this sort of yellow Mediterranean feel. I got a big table in the middle of the dining room and dressed it with pumpkins, wild mushrooms and truffles because we had no furnishings, and we opened.
Three weeks later we got reviewed by the Evening Standard, which also reviewed Marco's restaurant in the same issue – Marco's place received three stars and I got two stars. And that was it, the place went crazy. Six months later we had Lady Di (Diana, Princess of Wales) come for lunch, then (future British prime minister) Tony Blair – the place became a hot spot.
Star performer I opened Restaurant Gordon Ramsay in 1998. The first week in January 2001 – London was quiet but we were fully booked – there was a table of two that looked very suspicious. It turned out to be the editor and president of Michelin, and the guide was coming out a week later.
After dessert they asked for a word, and I thought, "Oh geez." They sat me down, thanked me for lunch. Then they said, "We're here to tell you that in next week's publication of the guide you are the recipient of three Michelin stars." It was this amazing moment when I had this huge amount of relief, but then fear because winning three stars was a dream – maintaining it 17 years later, to this day, is even harder.
When the inspectors left, I locked the door, opened champagne for everybody and told them the great news. When Guy Savoy came over from Paris to eat at my restaurant, he said to me, "Having you in my kitchen was a dream but I never thought you would get your third star before I did. I showed you too much." I said, "Chef, you did. Thank you."
I never wanted to be a TV chef. There are certain chefs that perform on TV who don't have restaurants because they are TV chefs and the magic is in the edit, and that's a real bugbear of mine
Cooking up a storm I never wanted to be a TV chef. There are certain chefs that perform on TV who don't have restaurants because they are TV chefs and the magic is in the edit, and that's a real bugbear of mine. I did my first TV programme, Kitchen Nightmares, in 2004 and that was just about me going in to help a restaurant that was struggling.
It was a bit of a shock when it launched. It was the first time you saw how badly run these places were. I didn't give a s**t about the cameras. I was like a sniffer dog; lead me to the front door, take me off the lead and let me turn the place upside down.
The first series of Kitchen Nightmares was received well, and all of a sudden you are known. I was already known in the industry, but it gets bigger, so the expectations are greater and more people are out to criticise you. In this industry, you become very thick-skinned and you realise you can't keep everyone happy. I know how to cook and that's the most important thing. Gordon Ramsay was in Hong Kong for the opening of his new restaurant, maze Grill, in Ocean Terminal, Tsim Sha Tsui.