In August 7, 2018, a film premiere was held at the TCL Chinese Theatre – known as Grauman's Chinese Theatre until it did a naming deal with a Chinese electronics manufacturer – in Hollywood. The film was called Crazy Rich Asians . It may have pinged on your radar.
The film's stars are Michelle Yeoh Choo Kheng, who began her acting career in the 1980s, and Constance Tianmin Wu, who has been acting since high school. The male lead is Henry Golding, who had never previously done a day's acting, unless you count the murmurs of appreciation he utters during a little 2016 curiosity called Fresh Friendships, sponsored by Subway, in which he and his now-wife, Liv Lo, create, and consume, each other's dream subs. (Henry's: multigrain, cheese, extra lettuce and tomato, no onions.)
By the night of the premiere, how­ever, he was not a complete unknown. The casting net for Nick Young, the Singaporean, Oxford University-educated, stupendously wealthy hunk of Kevin Kwan's original 2013 novel, had been flung wide across the Asian commu­nity. It was not exactly the search for Scarlett O'Hara, but still, there had been buzz. The fact that the dream role went to a non-actor who also turned out to be multigrain – Golding's mother is Malaysian, his father is British – created an online subtext, not all of it savoury.
Golding and Wu had already appeared on The Ellen DeGeneres Show, his first-ever talk show. "This is insane," he announced cheerfully; and that was before DeGeneres escorted the pair into a Perspex box with a wind-machine blowing around dollars they had to stuff into the giant pair of Y-fronts (Golding) and the giant bra (Wu) they had been obliged to don. They also had to wear goggles.
"Goggles because money is sharp," DeGeneres explained. "You know that. You're crazy rich Asians."

Golding took it in good part, giving a thumbs-up to the audience. (If you watch the clip online, you can clearly see Wu, who is in a dress, shrinking from the indignity.) When a woman in the audience won a prize, ran scream­ing to the stage, then continued to scream in a way that a viewer might find disturbing, he patted his dollar-bulging crotch and said, gamely, "It's the pouch." This was in April, four months before the film opened.
Golding's parents flew from England to attend the Hollywood premiere, and he posted a sweet photo with them on Instagram, beaming his electric smile. After that, any semblance of normality disappeared as his life switched to warp speed.
He appeared on The Tonight Show Starring Jimmy Fallon, to whom he said, "I've literally dreamt about this moment my entire life, I'm not even joking." The audience bayed its adoration. Fallon predictably predicted his future – "I'm telling you, James Bond is next" – a thespian rite-of-passage for handsome men who can carry off a dinner-jacket and an English accent.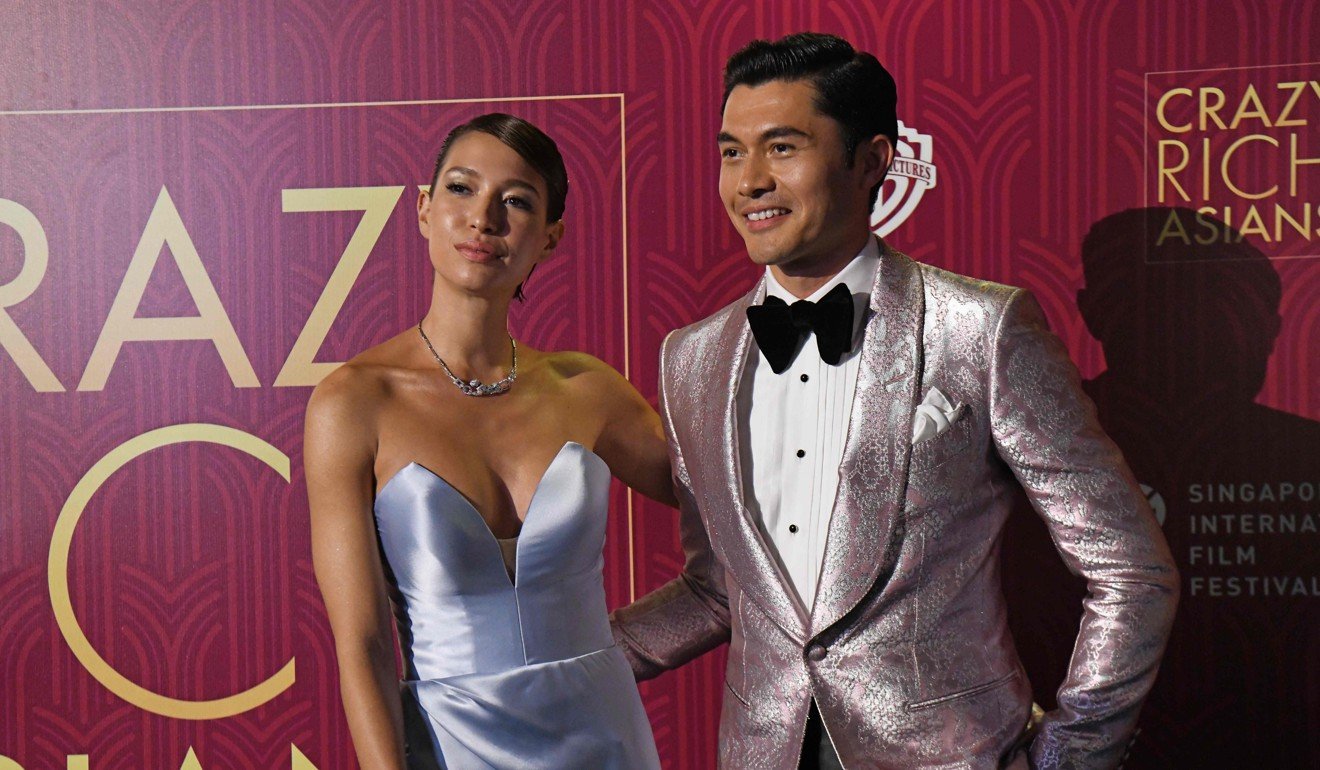 He did The Late Late Show with James Corden. "Don't you worry your perfect, chiselled, flawless face," Corden instructed Golding-as-Nick in a skit involving dumplings, mahjong and icy, matriarchal Yeoh. By then, the film was topping the United States box office and television viewers were expected to get the joke.
He was photographed front row, next to Anna Wintour, at his first Tom Ford fashion show. He took part in countless interviews with various permutations of the cast. They all stressed their respect for one another and the deep cultural significance of the film. On NBC's Today, one of the hosts cried, "It's like a love letter to Asia. I want to live there. I want to have all of the clothes and all of the jewels."
Golding's second film, A Simple Favor , directed by Paul Feig, had its premiere in September. Originally, it had two stars, Anna Kendrick and Blake Lively, plus a random guy who had come to Feig's attention because his wife had read the Kwan books. Suddenly there were three stars. A poster reshoot was hastily arranged as the film's studio, Lionsgate, grasped the joyful significance of what they termed "Hurricane Crazy Rich Asians".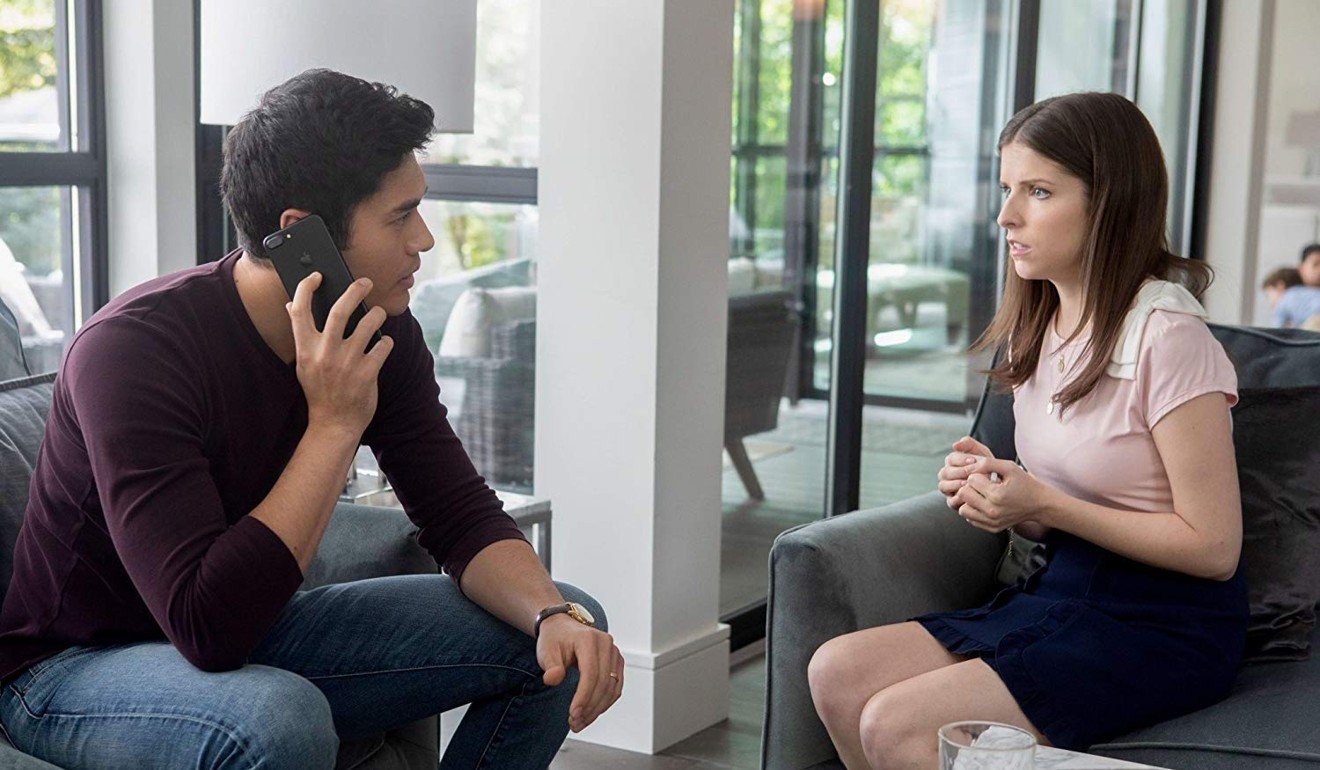 A week later, it was announced that Golding would star in another Feig film, Last Christmas, co-written by Emma Thompson and starring Emilia Clarke, from Game of Thrones. The internet noted that he was progressing from a "dragon mom" to a mother of dragons. October's ascent-of-Golding announcement was that he would star in Guy Ritchie's next film, Toff Guys, alongside Kate Beckinsale and Matthew McConaughey. The Hollywood Reporter noted that Golding had had a "breakout summer".
On October 19, some 10 weeks and three days after the premiere, Golding is in Hong Kong. In the evening, the 31-year-old will be the star guest at a fundraising event for The Hub, a charity that aims to provide a safe environ­ment for underprivileged children. The Hub's co-founders are long-term Hong Kong residents David Boehm and Bruce Stinson. Through business contacts, Boehm is friendly with John Penotti, a consistent supporter of The Hub and one of the producers of Crazy Rich Asians.
"I said to John that I was thinking of having a Crazy Rich Asians theme for this year's event, and he said, 'Leave it to me,'" says Boehm, in a meeting room at the Grand Hyatt, where Golding is being photographed before this, his umpteenth interview.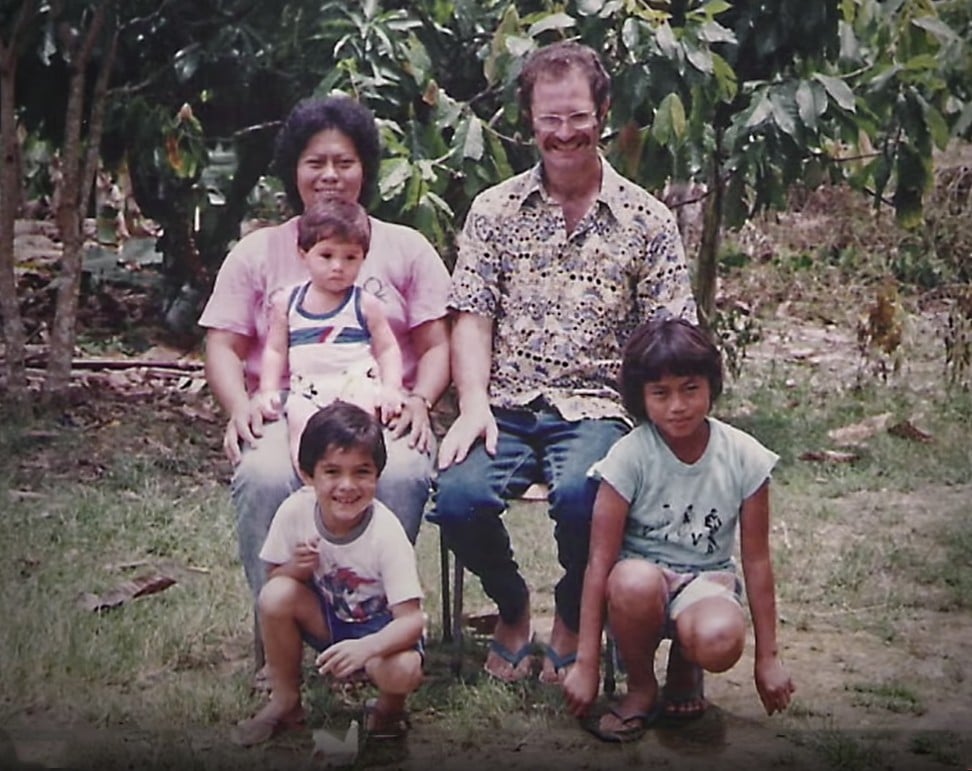 At a previous Hub charity ball, Penotti, who had been involved with the production since Kwan sold the rights to the book, had auctioned two walk-on roles in the film. After negotiations with Kwan, Crazy Rich Asians' director, Jon Chu, and Warner Bros, official permission was given for The Hub's theme and Golding's presence. "We made the decision in April or May, and the movie wasn't out until August," says Boehm. "We thought, 'Is it going to be a bomb?' And then everything goes crazy. We got Henry in the right window."
After much uncertainty, China finally agreed to the film's mainland release, on November 30. Like Grauman's Theatre, part of the Chinese deal has involved a name change. The new title translates as "Tales of Gold Digging".
Later, when I tell Henry that I have been doing some Golding digging of my own for this tale, he laughs easily – a man who appears to have no guile. He is drinking tea and a delicious scent pervades the room (not the fresh aura of fame but a sandalwood fragrance by Le Labo). Most unusually, no one else is present. There is a simple flavour to the encounter, which will probably never be replicated in his increasingly complicated life. "It's pretty insane," he agrees of recent events, before adding in wonderment (how could he not?), "It is crazy."
Backlash? Yeah. No one knows the three-dimensional story of who I am [ …] coming from such a grounded culture as the Iban, you cannot get any more rooted in Asian culture. We're native. But then, because I have my heritage of being British as well, it always negates that
Two years ago, Golding was not sure where he was heading. "I've thought back a lot and it was a time when I was at a kind of crossroads," he says now. "I wasn't sure if I wanted to continue being a presenter." Although his star-from-nowhere trajectory suggests he issued forth from a black hole, he has been on camera for years, hosting travel programmes while based in Singapore.
Before that, he worked in a hair salon in London until, in 2008, a Malaysian client suggested he return to Asia and try his luck with television. (On the BBC's website, he is still listed as "a fully-trained hairstylist turned travel presenter".)
In 2011, he met Liv Lo at a party in Singapore. She is Italian-Taiwanese, a yoga instructor and television presenter. In preparation for their 2016 wedding, Golding, who is half Iban through his Malaysian mother, decided he would do his bejalai – the journey young Iban men undertake to gain knowledge and wisdom. It became a six-part series, called Surviving Borneo, for Discovery Channel Asia.
Borneo is actually Golding's birthplace: he was born in Sarawak, the youngest of three children. His parents had met in Brunei, where his father was in the British Army's Royal Electrical and Mechanical Engineers. "My mum was working as an au pair for an expat family over there," he says, "and they met, they fell in love, they married three or four months later and moved to the UK." At first, the couple lived in army quarters, but his mother found it lonely, especially when their second child – Henry's brother – was born while her husband was on a tour of duty in the Falklands.

"She learnt her lesson with Dad being away and she thought, 'I want to be back in Sarawak with my child, where I have a family.' So I was born in Betong." That was in 1987. Later, they moved to Terengganu, in Peninsular Malaysia, where his father worked as a helicopter engineer. He thinks he was about nine ("primary school Year Five") when they relocated to Britain. He had never seen dew before.
In previous interviews, Golding has mentioned the play­ground racism he experienced on arrival in Surrey. When I ask about his experience of racism, he says, with consider­able feeling, "Backlash? Yeah. No one knows the three-dimensional story of who I am. Or anyone is. And coming from such a grounded culture as the Iban, you cannot get any more rooted in Asian culture. We're native. But then, because I have my heritage of being British as well, it always negates that."
There was a stage when I was a little embarrassed about my Asian upbringing. Then it got to a stage where I was like, you know what, f**k that, it's something to be happy about
Only when listening to the recording later do I realise that Golding is not talking about his school days. He is referring to the hostile comments made when he, a Eurasian, was cast in Crazy Rich Asians – the criticism that he was not Asian enough.
And it is not only external sneers he has had to contend with: part of the pernicious effect of racism can be the shame­ful tussle within. "There was a stage when I was a little embarrassed about my Asian upbringing," he admits. "Then it got to a stage where I was like, you know what, f**k that, it's something to be happy about." What triggered the transition? "I think just growing up. Leaving school. Then going to work and realising the world is so much bigger."
That was when he got his first tattoo. It's on his right arm: Iban script that translates as "child of Sarawak, son of Margaret and Clive". Where did he get it done? "Tony's Tattoo Shop in Reigate [Surrey]." (A very big laugh.) "My mum checked the grammar was correct, my dad helped design it." So he, literally, had himself labelled Iban? "Pretty much, I guess. I'd just turned 18. The next tattoo – or two – was the brinjal, extremely traditional to the Iban."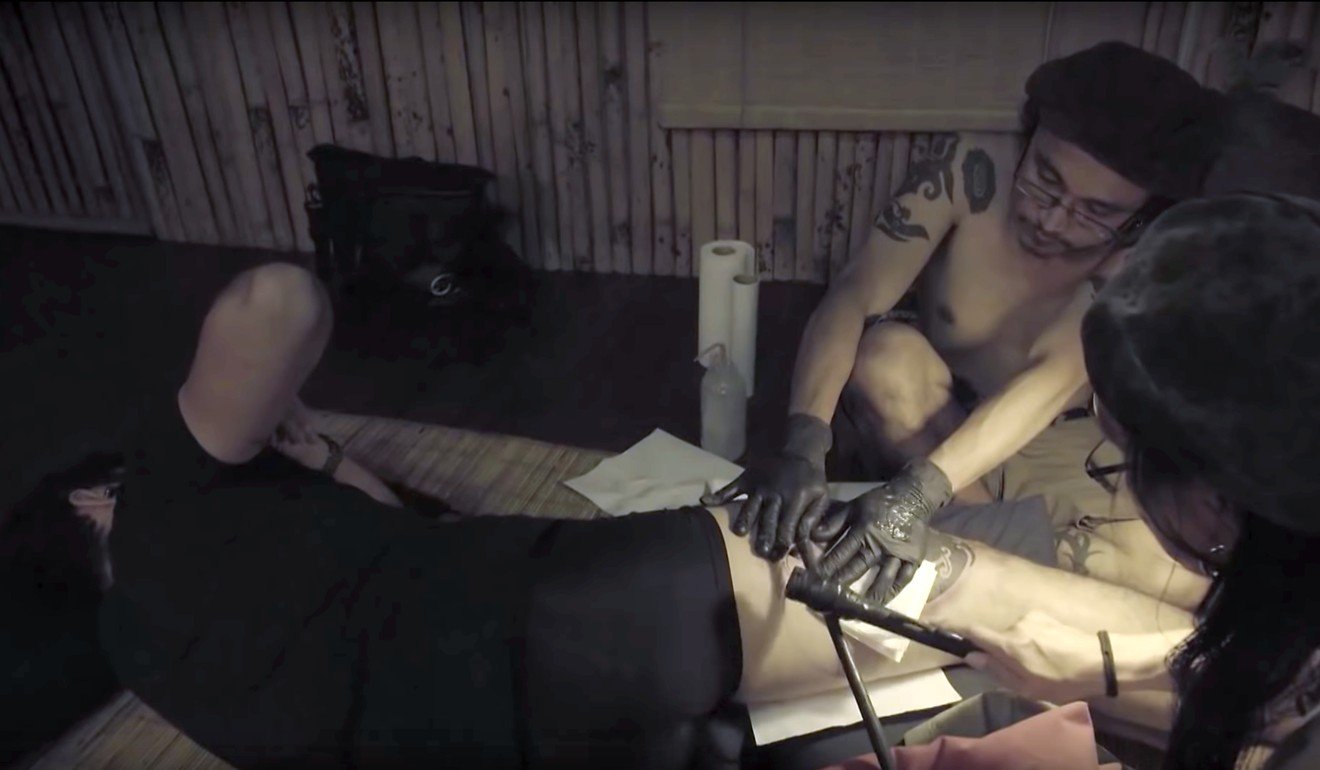 Those are the eggplant flowers that bloom on each of his shoulders. In Surviving Borneo, they are on display when he is out in the jungle with his maternal uncle Bruin, who was part of his childhood and still lives in a longhouse. Golding says he is "somebody I truly love" but with whom he can no longer communicate.
At one point, Golding, carrying his own camera, speaks to it in a confessional outpouring with his head turned away: "There's always that kind of … awkwardness … There's nothing to do at the camp and … we both can't talk to each other properly so … so it's very frustrating."
One night in the jungle, he wakes alone. A large colony of ants is amassing near his head and uncle Bruin has gone walkabout. We witness his torch-lit fear (it's like a tropical version of The Blair Witch Project) in a now-alien environ­ment. "I'm not going to go looking for him," Golding con­fides to the camera. "Because …" (Here there is a long, hesitant moment.) " … I think he's got a shotgun."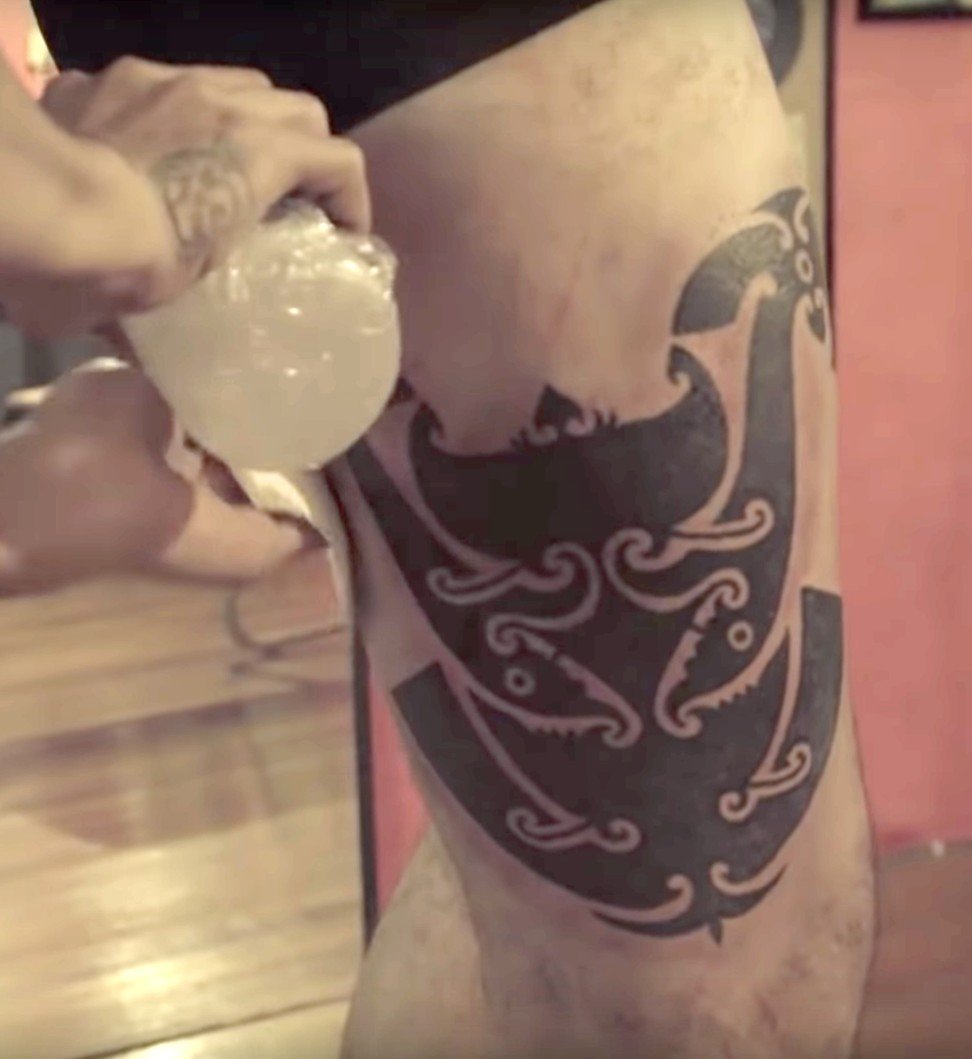 For most of the series, however, he is chirpy and keen. His handsomeness is not of the chilly, drop-dead school; he is too engaged, too smiley, for that. Given the lack of a showcase reel, Chu and Feig had to rely on such travel clips to stimulate their early interest, and they certainly convey his allure. Chu has spoken about "these charming little videos of him giving tours, talking about food, talking about cats, and it was mesmerising". As you watch them, the old Hollywood wisdom of Samuel Goldwyn comes to mind: if he can learn to fake that radiant sincerity, he's got it made.
Towards the end of Surviving Borneo, Golding has his leg painfully inked for 10 hours by one of the last Iban tattoo artists. Unless he is a much better actor than anyone suspected, the on-camera suffering is genuine. Afterwards, he looks wiped out, more like an exhausted boy than a man. He describes the design he chose as "a fig tree that wraps around another tree and becomes the tree itself".
Then he flew back to Singapore and, soon after­wards, married Lo.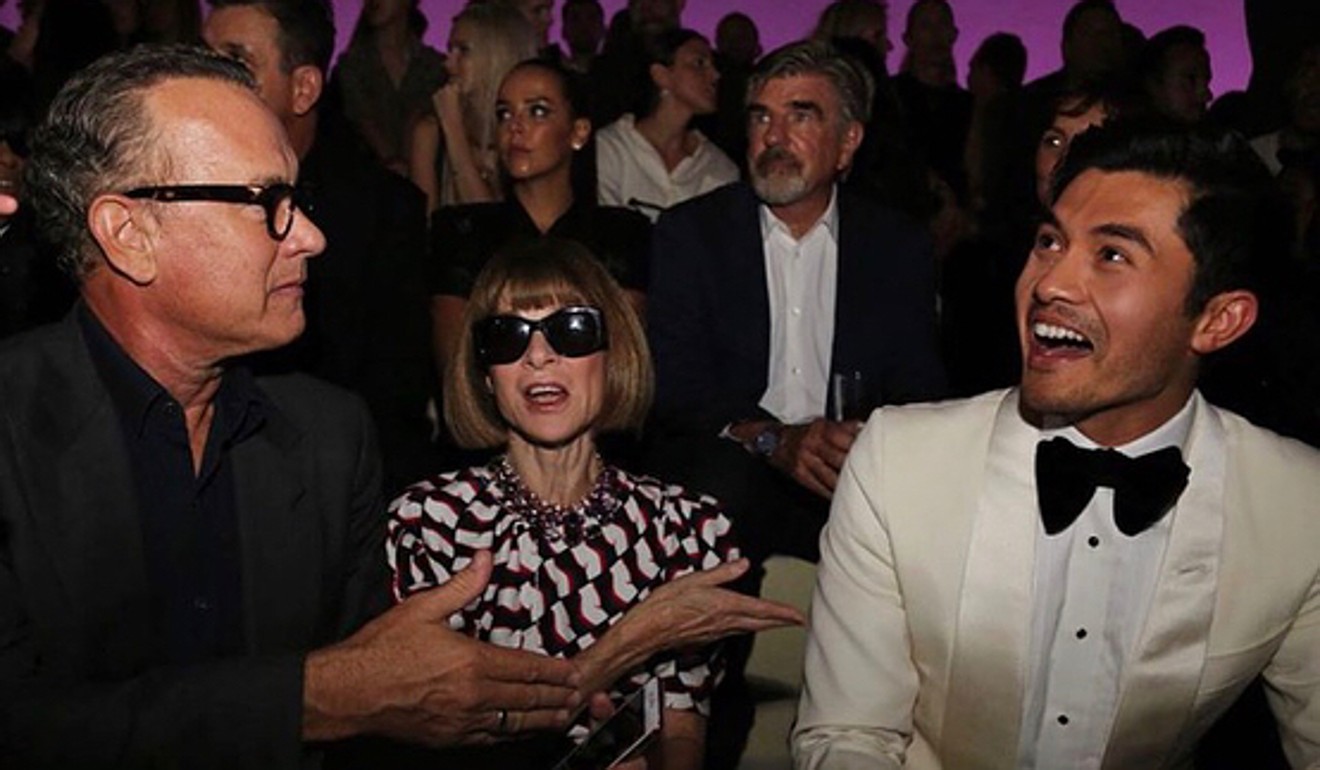 Then Chu came calling. When I ask Golding if he feels completing the bejalai somehow conjured up his entire life shift, he says, seriously, "I think so."
An accountant on Crazy Rich Asians remembered seeing Golding at a Singapore event and thought he would make a perfect Nick Young. I've heard him on chat shows describe how he initially kept refusing. "I'm like, 'No, no, no, no!'" he told Fallon. But I have also heard how he interrupted his South African honeymoon – though the trip was actually five months after the wedding – to fly off for a screen test, which suggests a more focused approach.
When did he recognise his own ambition? "I think it was going into the actual screen test," Golding says. "That was when I decided it wasn't like a fluke. It could be possible. Now, it's down to hard work. Now, you have to put in the effort." It was a fortnight before he heard the result. "I was in limbo and it was the worst place in the world. I wanted it. Everything had changed. I felt ill for two weeks until February 14th." Valentine's Day? "Yep."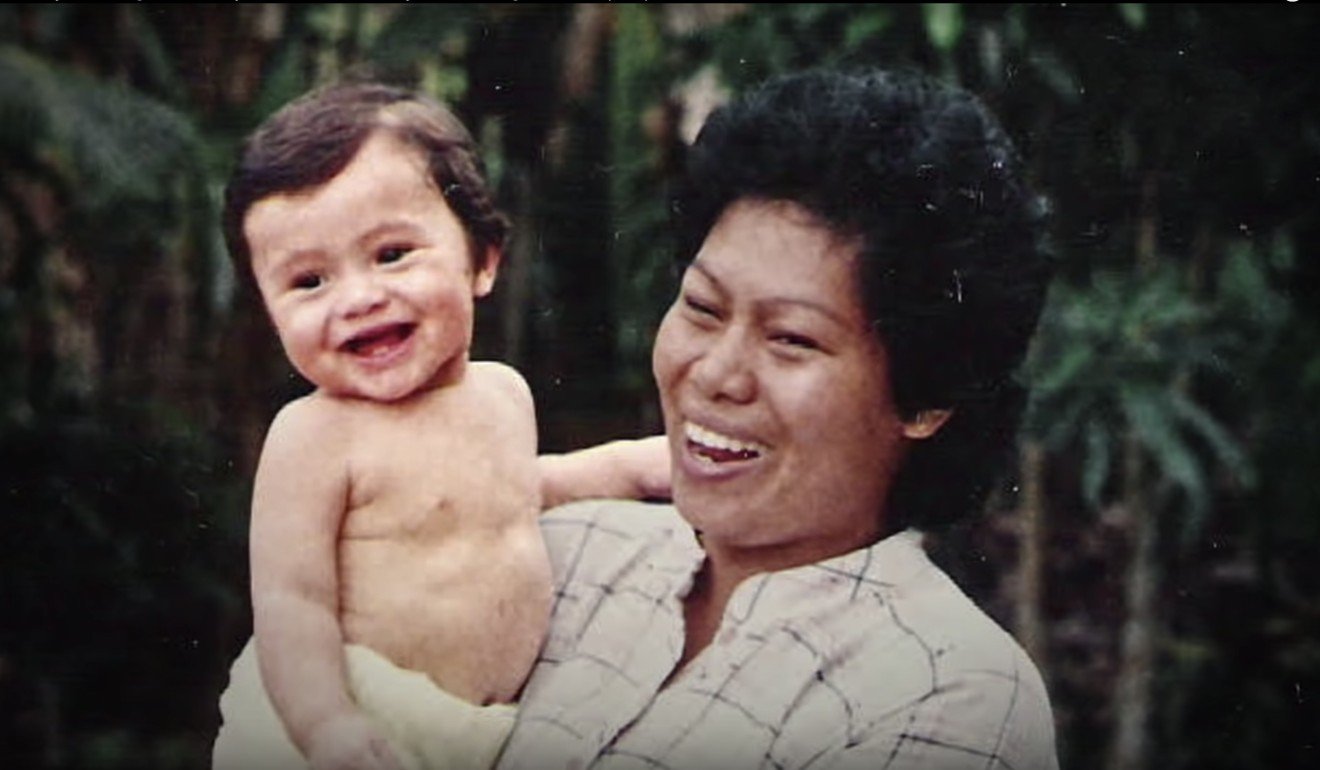 Now, naturally, he is hooked. He wants to make "amazing movies". Squeezed between the two mega-productions he has already finished and the two mega-productions he is about to begin, he has managed to make a much smaller film, called Monsoon. He hopes it will be picked up at a festival and released next year. Golding plays a British-Vietnamese man who takes his parents' ashes back to Saigon. "He's a man who's been taken away from his culture at the age of four, so there are similarities." He also happens to be gay. "It's not even a big plot point, really. He's a guy who messes around, falls in love; what humans do."
Golding says Monsoon is the first film in which he felt he had something to give. "It was partly the responsibility of being No 1 on the call sheet," he explains. "The movie's about you, about your character." He knows that has not been the case so far. In both his movies, frankly, he has been the eye candy batted back and forth between two strong women, the gorgeous MacGuffin who moves the plot along. (When DeGeneres told her audience she was going to show them "his body of work", she ran a photo-sequence of half-clad Goldings. You could not make that joke about a female actor any more.)
During his pec-flexing scenes in Crazy Rich Asians, you cannot see the actor's nine tattoos. They were covered up. "Yeah, well, Nick Young is your traditionalist, I suppose," he says. "You're playing a character." In some ways, A Simple Favor is a progression: no cover-up, no mention of ethnicity whatsoever, just a single reference to him being "British". (How does he spell "favour"? "I've got into the habit of the American spelling," he grins. At the film's wrap-party – in right-on, inclusive Canada – everyone received baseball caps with both spellings.)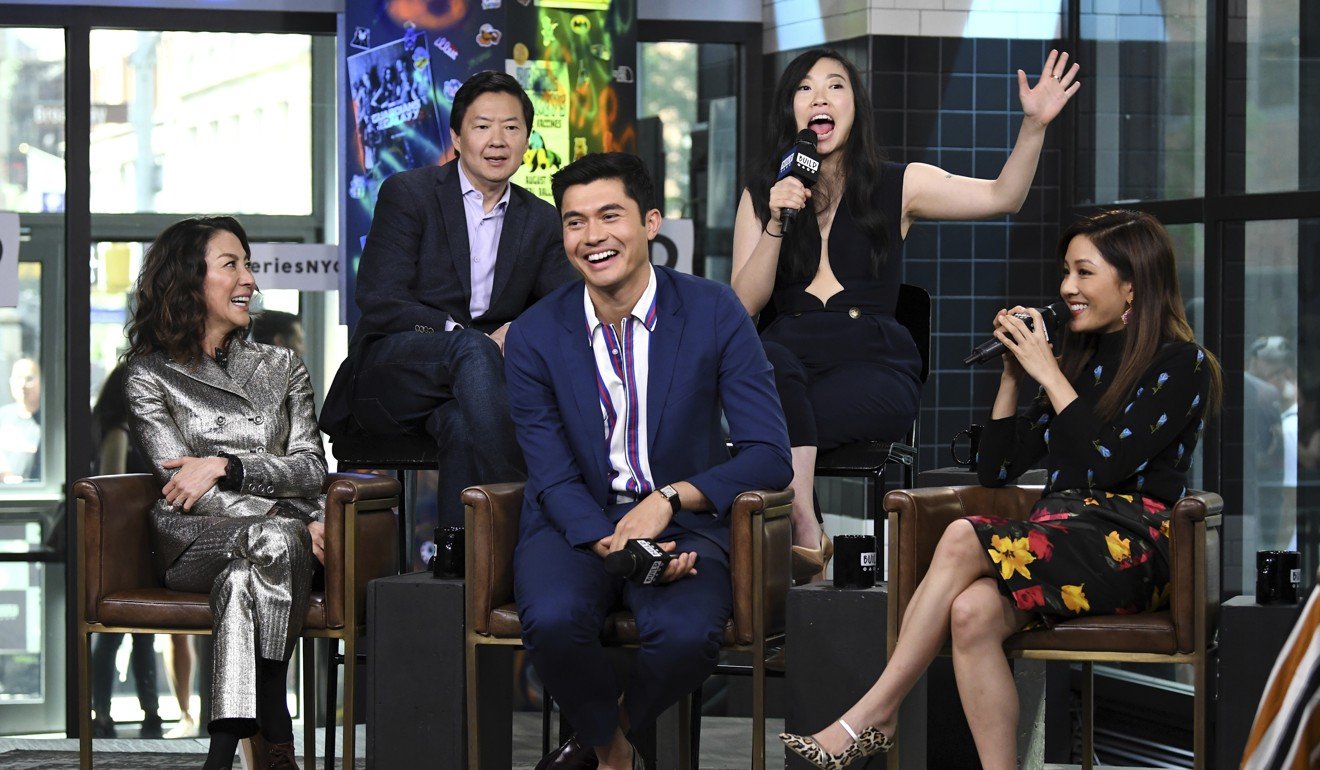 Feig has said he originally cast Golding because he look­ed like a plausible husband for Blake Lively, and because of his voice, "so cool and refined". What you notice, in all the online clips and in person, are his old-school perfect manners. "Good upbringing," he remarks, wryly. From which parent? "Dad, of course. He was in the army. We had a very strict upbringing."
Fame, inevitably, will bring its warp factor as he becomes public property. In Goldwyn's era, that meant autographs; in Golding's, it's selfies. "That's the one thing that is driving me up the wall," he says. "Some people don't even say hello. They come up and say, 'Can I take your picture?' and I'm, like, why? And they say, 'Oh, you're that guy.' And I'm, like, 'Why do you want a photo of me if you don't even know my name?'"
For just a brief second, he looks exasperated. Then he smiles his megawatt smile, the one that is going to dazzle guests later and raise more money for children at a charity ball. "But then, you can't say that. And you're like, 'Fine!'"