The morning sun is high in a translucent sky and a gentle breeze sweeps the plains on the outskirts of Yinchuan, capital of the Ningxia Hui auto­nomous region. As the mist slowly evaporates to reveal the rugged Helan Mountains, scores of women begin to fill the surrounding vineyards. Dressed in jeans, light jumpers and colourful headscarves, they crouch along rows of vines, collecting ripe grapes in green plastic boxes.
It is harvest time, the most important part of the year here on the edge of the Gobi desert.
Admiring the orderly vines stretching towards majestic peaks, almost as far as the eye can see, it is difficult to believe that, just 20 years ago, this enchanting part of northwestern China was little more than a forlorn stretch of sand inhabited by a scattering of subsistence farmers.
"When I was a kid, I used to dig holes in the desert. I would hide there and play with my friends," recalls 41-year-old Ren Yanling, sitting in her laboratory during a rare break.
Energetic and hardworking, Ren was born in the village of Yuquanying, close to the Helan Mountain winery. Now chief winemaker for the operation, which is owned by French multinational Pernod Ricard, her parents were growing grapes back in the 1990s. "When I was 15, I would sneak out to have a sip of our family wine," she says, laughing. "My parents didn't allow me to drink, but I really enjoyed it."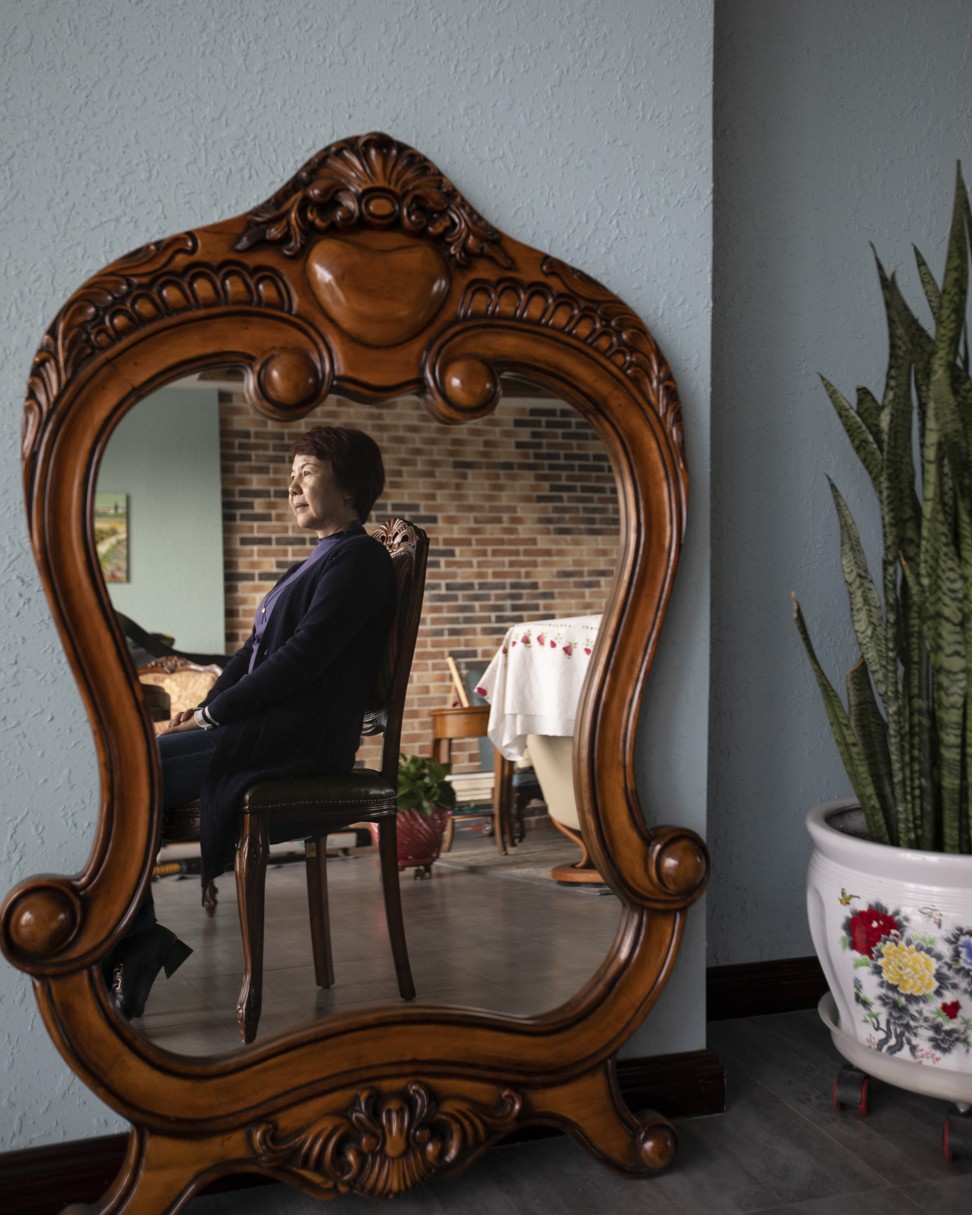 Ren is just one of a number of women winery owners, managers and winemakers leading China's oenological revolution. Some are young, others have been in the business for decades, perfecting their skills in historical Bordeaux wineries and partnering with top international brands. In Ningxia, their eye for detail and quality have been instrumental in the industry's boom.
"Women have an innate maternal instinct. Making wine is like taking care of a baby," says 56-year-old Zhou Shuzhen, who was among the first winemakers in the region and now works for several estates, including the award-winning Kanaan winery. "You have to be patient and present at all stages. These are characteristics all women have," she adds.
Thanks in part to their vision and commitment, what was once an impoverished rural province has become wine­making's new frontier. Ningxia now has more than 40,000 hectares under vine and about 200 wineries, most of which are boutique estates focused on quality vintages with production of fewer than 100,000 bottles per year. Ningxia's wines have won several international competitions and are now available in restaurants, hotels and shops worldwide.
Early forays into winemaking, however, did not appear promising.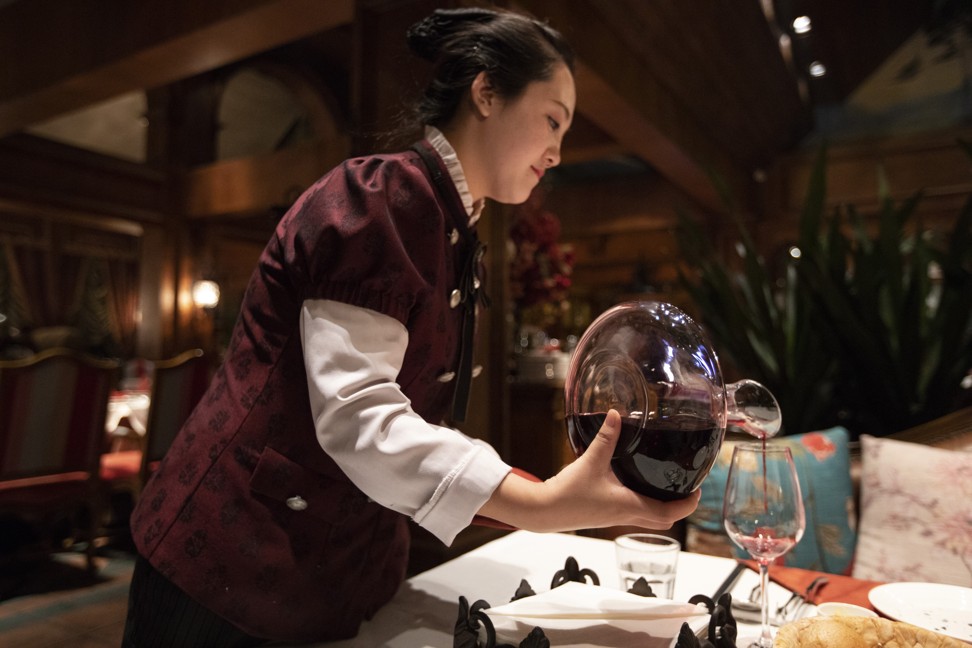 Although wine has been produced in China for millennia, the nation's modern relationship with the drink developed during the 1980s and 90s, when the government decided to discourage the consump­tion of baijiu, the traditional, grain-based liquor that was swallowing up thousands of tonnes of the foodstuff in its production. State officials began praising the health benefits of wine while agrarians travelled to Europe to acquaint themselves with the product.
"At the time, China was producing a blend of grape juice, sweetener and alcohol. It wasn't exactly wine," says Zhou, a former Chinese literature teacher at an adult institute in Ningxia who, in 1983, was one of nine people selected for a winemaking course in the city of Changli, Hebei province. There, she took part in one of the first vinification experiments in modern China.
"It was a dry red wine. We were using some local grape varieties but we were not very familiar with fermentation. The result was a very alcoholic and harsh wine. The colour was very dark but it didn't have much flavour."
The wine was presented to a local government official, who deemed it disgusting, comparing it to soy sauce.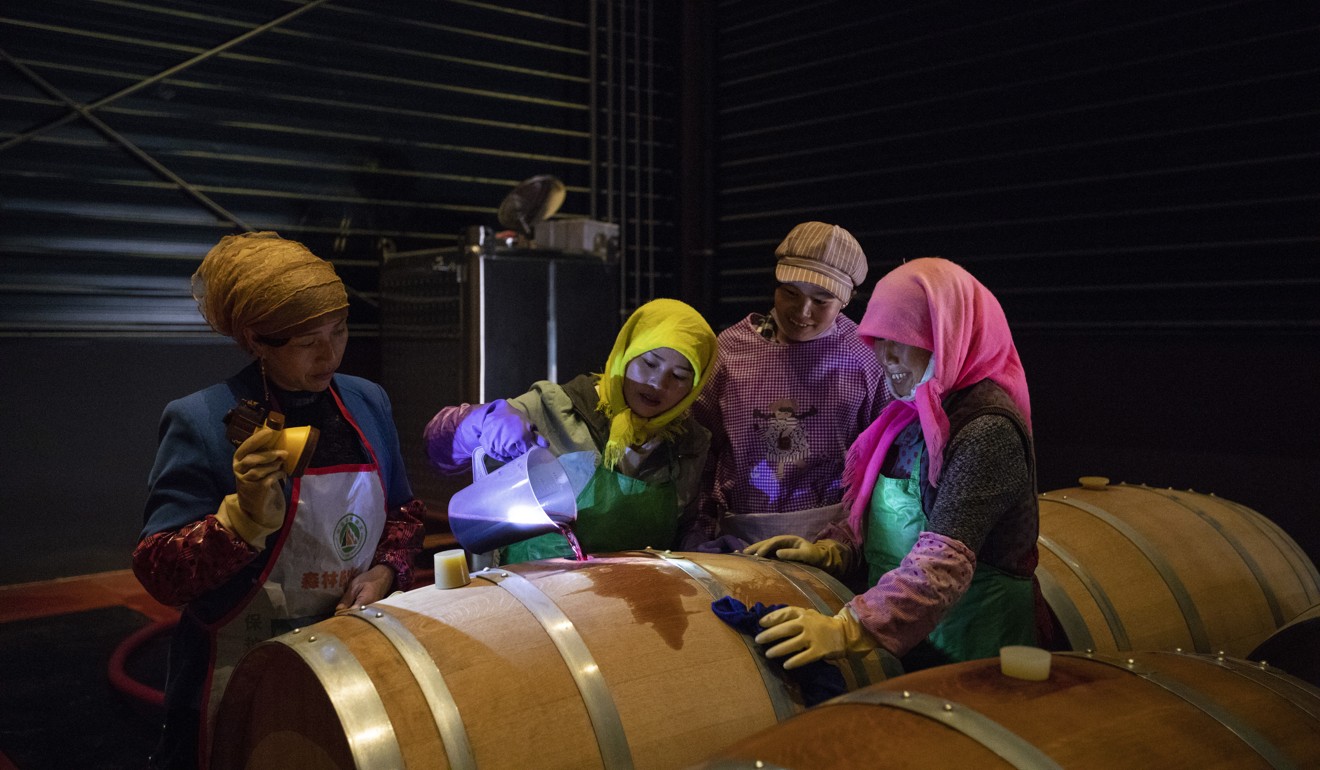 Despite this and other setbacks, a fledgling industry was born. In Ningxia, land was reclaimed from the desert, grapes were imported from Europe and the nearby Yellow River was employed to provide irrigation. Wine producers were granted discounted land leases and started hiring foreign consultants, while govern­ment scholarships were offered for oenology studies and inter­national competitions were hosted. These efforts slowly began to pay off: by 2007, wine was Ningxia's second biggest industry, after coal.
China has several wine-producing regions, with Ningxia considered the best, due to its sandy, dry terroir, high altitude, long hours of sunshine and low levels of precipitation, which reduces the need for pesticides. About 90 per cent of production focuses on red wines, with cabernet sauvignon the most popular variety (others include merlot, marselan, Malbec, shiraz, pinot noir and, for white wine, chardonnay and Italian riesling). With vines being less than two decades old, what Ningxia wines lack in complexity and structure is compensated for by their fruitiness, freshness and minerality.
Some Ningxia wineries have at their heart grandiose chateaux built in the classical French style, others are relatively basic, in many cases opened by aficionados with limited means but a serious passion for wine. Among the latter is the Helan Qingxue winery, hosted in an anonymous two-storey building, the terrace of which offers spectacular mountain views.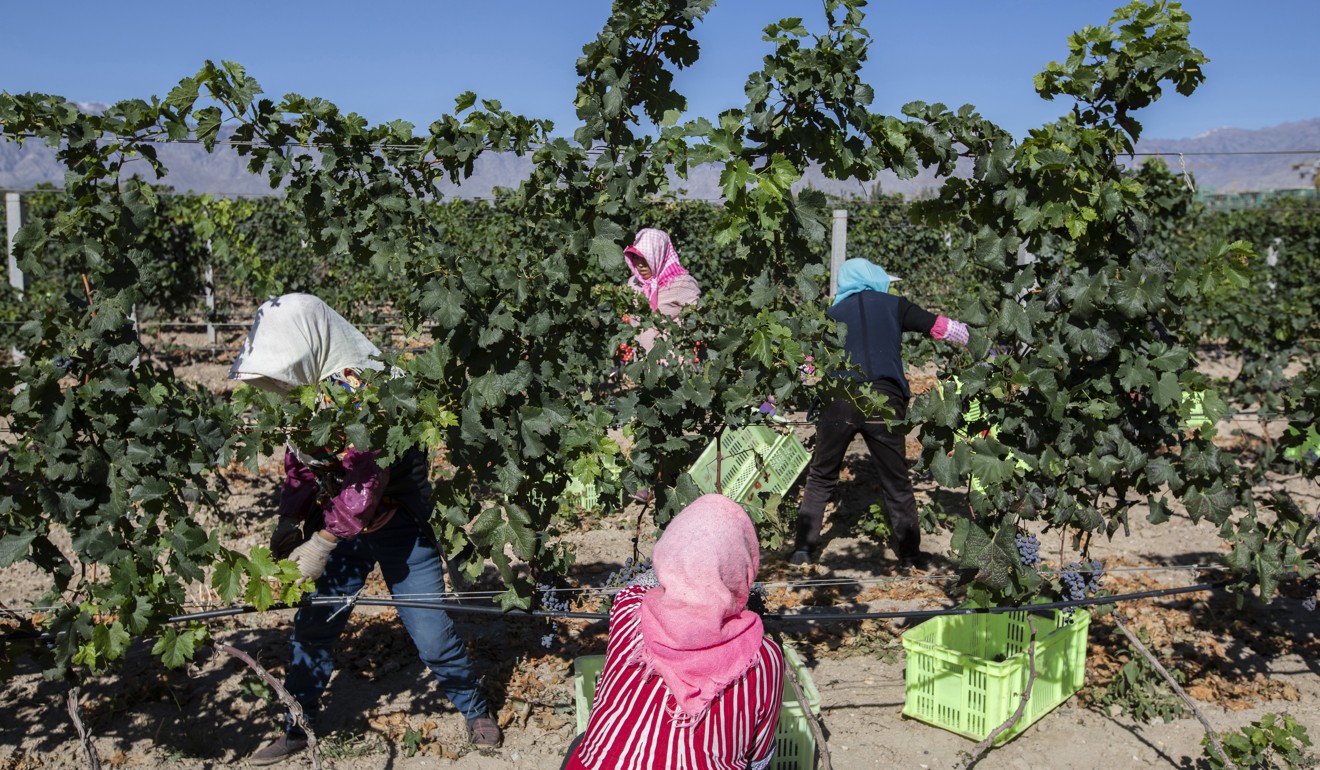 The winery was opened in 2005 by two industry veterans and a talented young winemaker. Eight years later, its 2009 Grand Reserve won an international trophy at the Decanter World Wine Awards.
"Ours is a small boutique winery. Even if it is not run by a family, it feels like one," says Zhang Jing, the vineyard's 41-year-old wine­maker and main architect of its success. "Everyone loves and supports each other because we share the same dream."
Petite, passionate about wine and prone to contagious laughter, Zhang's chosen career requires personal sacrifice, especially during harvest time, when she must spend weeks away from her husband and nine-year-old daughter. "I get a lot of support from my family during this time," she says, with a grateful smile. "My daughter understands, even if she misses me a lot."
Zhang's first contact with wine came in 1998, when she found a job at a Ningxia wine association after graduating in agriculture from Ningxia University, in Yinchuan. "I was meeting a lot of experts from China and abroad, and I loved it straight away," she says. "I was fascinated by their tasting abilities and the way they could detect different flavours. How could they pick all those characteristics by just smelling wine?"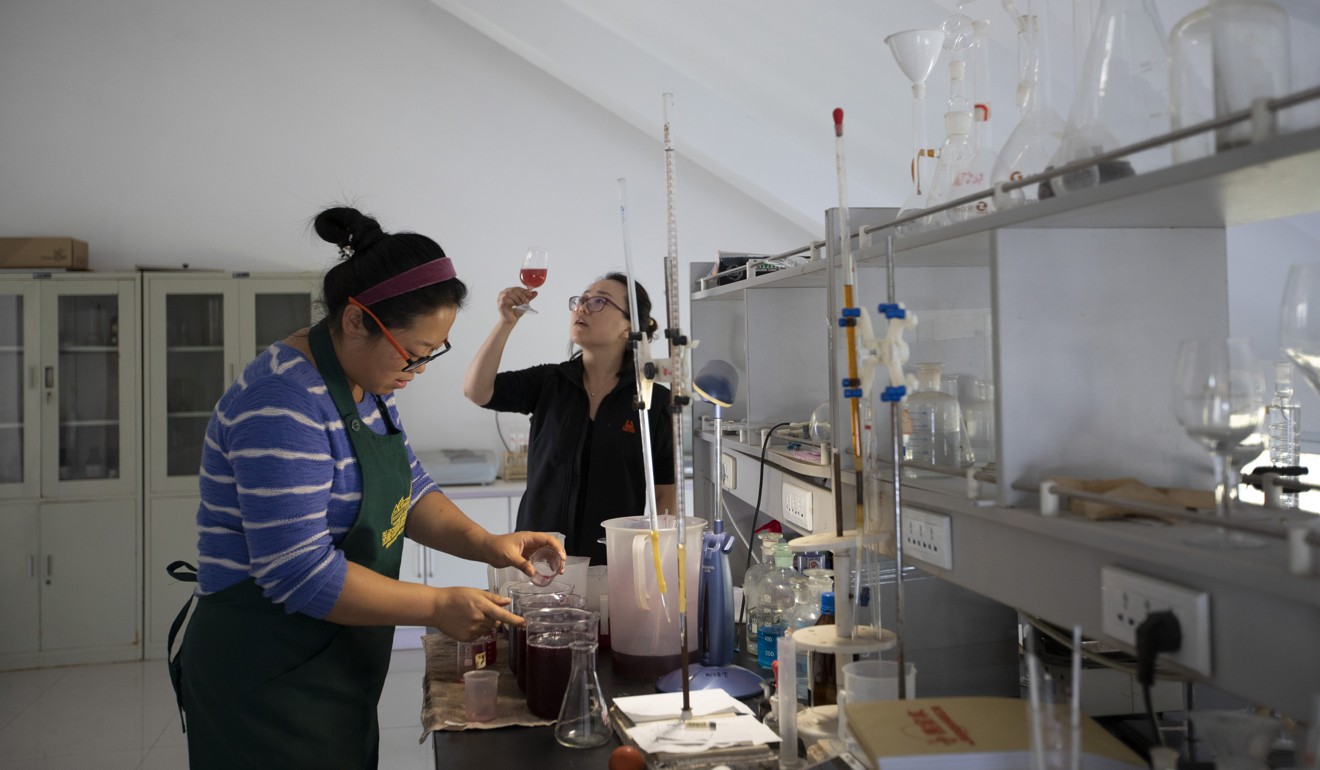 Zhang's philosophy of picking only the best grapes and focusing on small but high-quality production is central to Helan Qingxue's approach. The winery produces barely 60,000 bottles a year but its output is constantly ranked among Ningxia's finest.
"We have room for improvement as the vines get older and the flavour gets better," says the winemaker. "Each year, I am more experienced and confident, and that is reflected in my wine."
Weather conditions can make the production of wine in Ningxia challenging. With temperatures falling as low as minus 30 degrees Celsius, vines have to be buried in winter and dug up in spring. It is a costly and risky process that destroys 3 to 5 per cent of the plants each year.
Almost all of the equipment – from grape-sorting and pressing machines to bottling lines, barrels and even corks – is imported from Europe, at great cost. Labour, too, is expensive, especially during harvest time, when all the wineries require pickers simultaneously.
Ningxia wine is good but difficult to promote. We are very young and we need time to learn how to do things properly. It took Europe hundreds of years to understand how to produce and market good wine
This means that Ningxia's best wines can cost thousands of yuan per bottle – more than their European counterparts – and several wineries struggle with sales.
"Ningxia wine is good but difficult to promote," says 39-year-old Sun Qiuxia, manager of a newly opened wine cellar in Yinchuan. "We are very young and we need time to learn how to do things properly. It took Europe hundreds of years to understand how to produce and market good wine."
Despite these difficulties, Ningxia has attracted inter­national heavyweights, including French luxury conglo­mer­ate LVMH (owner of Moët & Chandon), as well as local investors such as Midea, one of China's biggest manufac­turers of electric appliances. Lily Zhang, 47-year-old owner of Copower Jade, a state-of-the-art chateau that opened in September, is among those who have joined the party.
Both wine lovers, Lily Zhang and her husband originally set out to buy a chateau in France, but were persuaded to invest in Ningxia by Hao Linhai, chairman of the Ningxia International Federation of Vine and Wine of Helan Mountain's East Foothill of China. Lily Zhang recently relocated from Hong Kong to Yinchuan to promote her wine, and Copower Jade (which cost almost 150 million yuan/US$22 million to build) won this year's Revue du Vin China winery design award.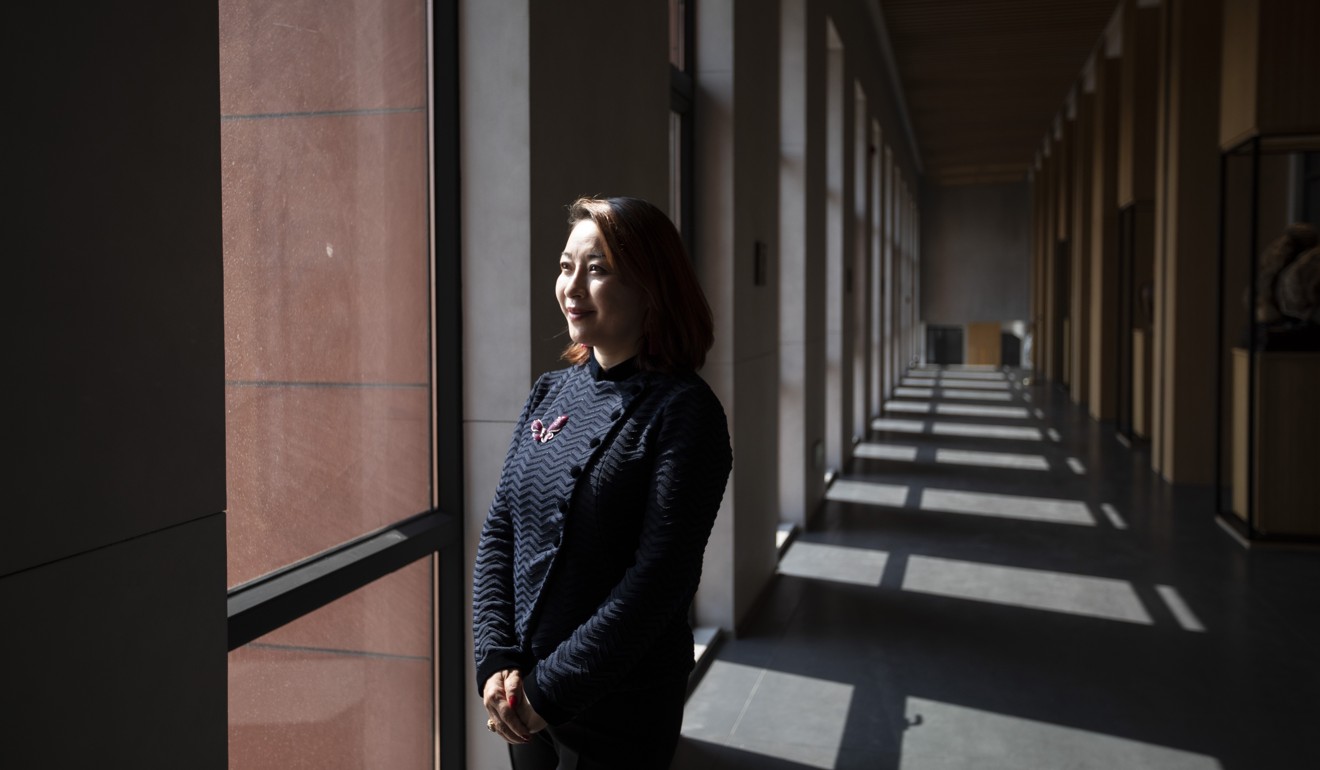 "The first thing we want to focus on is grape growing," says Lily Zhang, at the chateau's opening. "We have 11 varieties and we want to make sure all of them perform well. We are not worried about the quality of our wine but about the Chinese consumers. Many don't know Ningxia and still think our country cannot produce good wine."
While China is already the sixth-largest producer and the fifth-largest consumer of wine worldwide, its average per capita consumption is only 1.7 bottles per year, with baijiu and beer remaining the country's favourite tipples. Ningxia's boutique wines are slowly making their way to Shanghai, Guangzhou and Hong Kong, but most mainland palates are still not accustomed to the drink.
"Promoting our wines involves a lot of tastings, dinners and word of mouth," says Gao Yuan, the 41-year-old co-owner of Silver Heights, one of Ningxia's most famous vineyards. Gao, who studied oenology and interned in Bordeaux wineries, started producing wine in 2007, on a one-hectare property bought with her mother's life savings. She managed to fill just 3,000 bottles, but the wine was so good that the distribution company she was working for suggested she leave to become a producer full time. Today, Silver Heights sells to leading hotels and restaurants in mainland China, France, Japan, Canada and Hong Kong, where it can be found on Hotel Icon's wine list.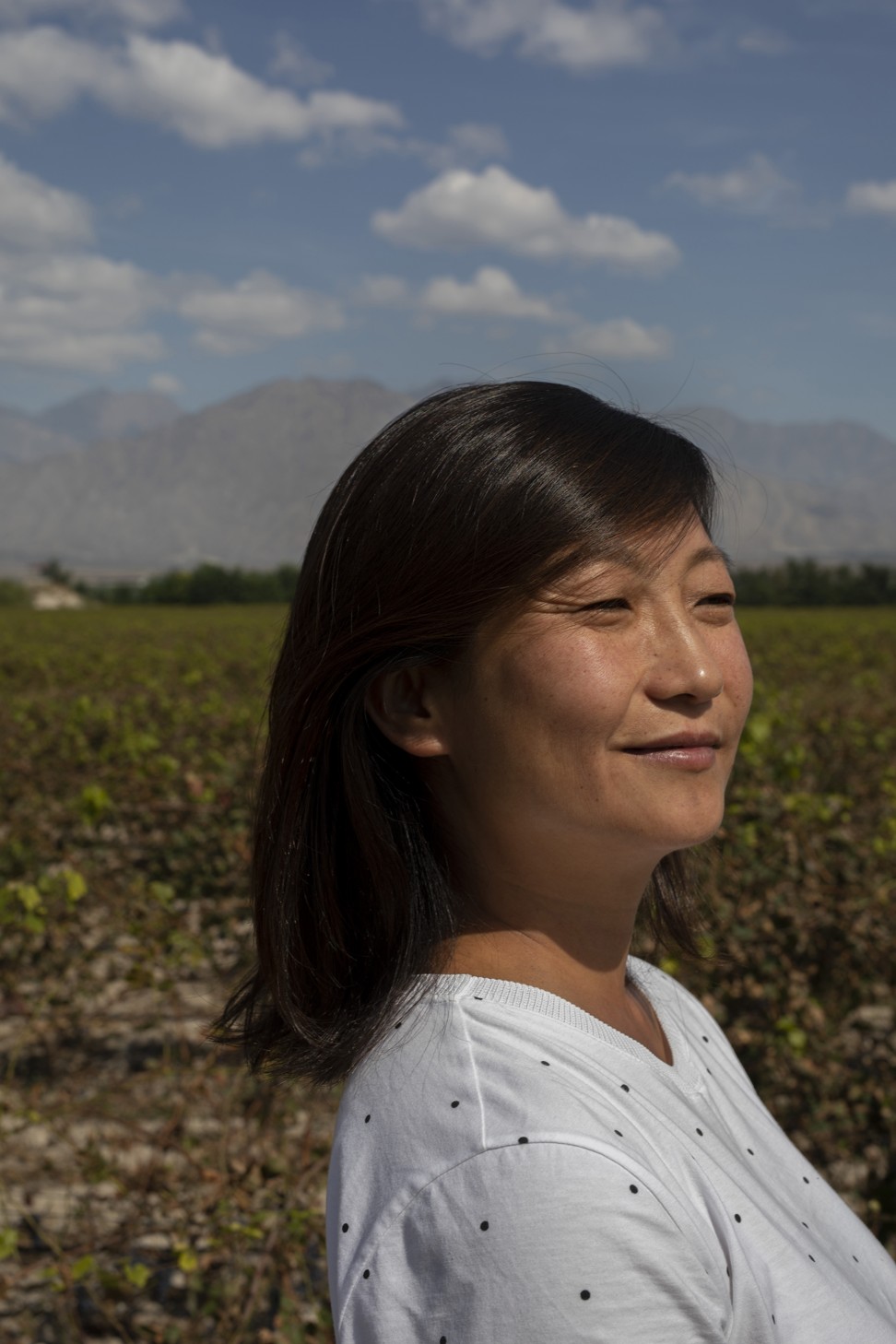 As night prepares to fall on enchanting Ningxia, workers return to their wineries carrying the plastic boxes filled with precious fruit. The grapes will immediately be sorted, pressed and the juice put into steel tanks, to begin fermenting. For winemaker Zhou, it is an exercise in patience and a way of life. "Every time I taste wine from a different barrel, I am surprised by the way it keeps changing and evolving," she says. "Wine­making involves endless research. You cannot be conservative, you need to be creative and innovative."
Although Zhou believes Ningxia wines do not yet match the quality of their French, Italian or New World counter­parts, she is convinced – as are her fellow female winemakers – that the region has what it takes to compete internationally.
"I feel privileged and proud to witness the stage this industry has reached," Zhou says, smiling. "More and more Chinese winemakers are touring the world and learning new techniques, which help us improve.
"We still have a long way to go, but I am very confident in our future."