It's a grey Wednesday in the Downtown Los Angeles Arts District and Vidya Iyer is walking ahead with her boyfriend and collaborator, Shankar Tucker. They're on the hunt for the area's famous murals. Despite the overcast skies and unseasonable chill, she is as buoyant as her millions of fans around the world might expect from her music videos.
During the morning's photo shoot, with only a pants-sari to shield her from the wind, she is eager to talk: holding forth on India, clothes, music, video games, her past and her future.
Only later, over avocado toast in a trendy cafe, will Iyer – better known to her fans as Vidya Vox – let on that she is exhausted, having been awake since 3am, straight off a plane from India. It's a state that seems less a hardship than a natural way of being for an international, internet pop sensation.
Finally, Iyer is right where she belongs.
An artist with truly broad appeal is increasingly a rarity in the fractious, democratised world of online music – especially one with a unique identity and viewpoint. But, Vidya Vox is exceptional. Since launching an eponymous YouTube channel in 2015, Iyer's trademark mix of Western pop and classical Indian music has garnered a fan base that avidly con­sumes her videos to the tune of millions of views a month.
To have a flourishing music career and a prodigious online presence is the dream for many musicians. But, for 29-year-old Iyer, it is just a beginning. She hopes to bring Indian music into the mainstream, doing what BTS have done for Korean pop and Luis Fonsi has done for Latin music.
To understand the passion that drives her, it is necessary to delve first into a painful past.

Born in Chennai in 1990, most of Iyer's early memories are of Virginia, in the United States, where her family moved to when she was nine. So began a double life that she would sustain until university.
"I grew up singing. I started learning Carnatic [southern Indian classical] music when I was five," says Iyer. "It's a thing. You know how parents put kids in ballet lessons here? My sister and I learned together, and did Indian dance together."
At middle school, she was the only Indian in her class. Her peers tormented her, no matter how hard she tried to fit in, driving her ever more deeply into herself.
"I was embarrassed about being Indian and I was very introverted," she recalls. "My mom would pack me Indian food for lunch. All the kids had their Lunchables and peanut butter and jelly sandwiches and I had rice and dal. They would say, 'Does your house smell like curry? You smell like curry!' So, I'd never eat lunch, really. Or, I'd hide to eat lunch."
For a long time, I associated Indian heritage with violence at home. The situation at home was difficult and all the identity stuff at school was tough. I'd be on my own a lot. I'd read a lot. I guess music was my refuge
Away from school things were no better.
"At home I had a full Indian community," Iyer says. She tried to be the good daughter, studying classical Indian music and dance, listening to Indian songs and watching Bollywood movies with family friends. But her father was abusive.
"For a long time, I associated Indian heritage with violence at home," she says, her face betraying no pain at the memories. "The situation at home was difficult and all the identity stuff at school was tough. I'd be on my own a lot. I'd read a lot. I guess music was my refuge."
She clung to the Western pop she listened to at school as a symbol of her belonging, of her Americanness, and found role models in strong women of colour.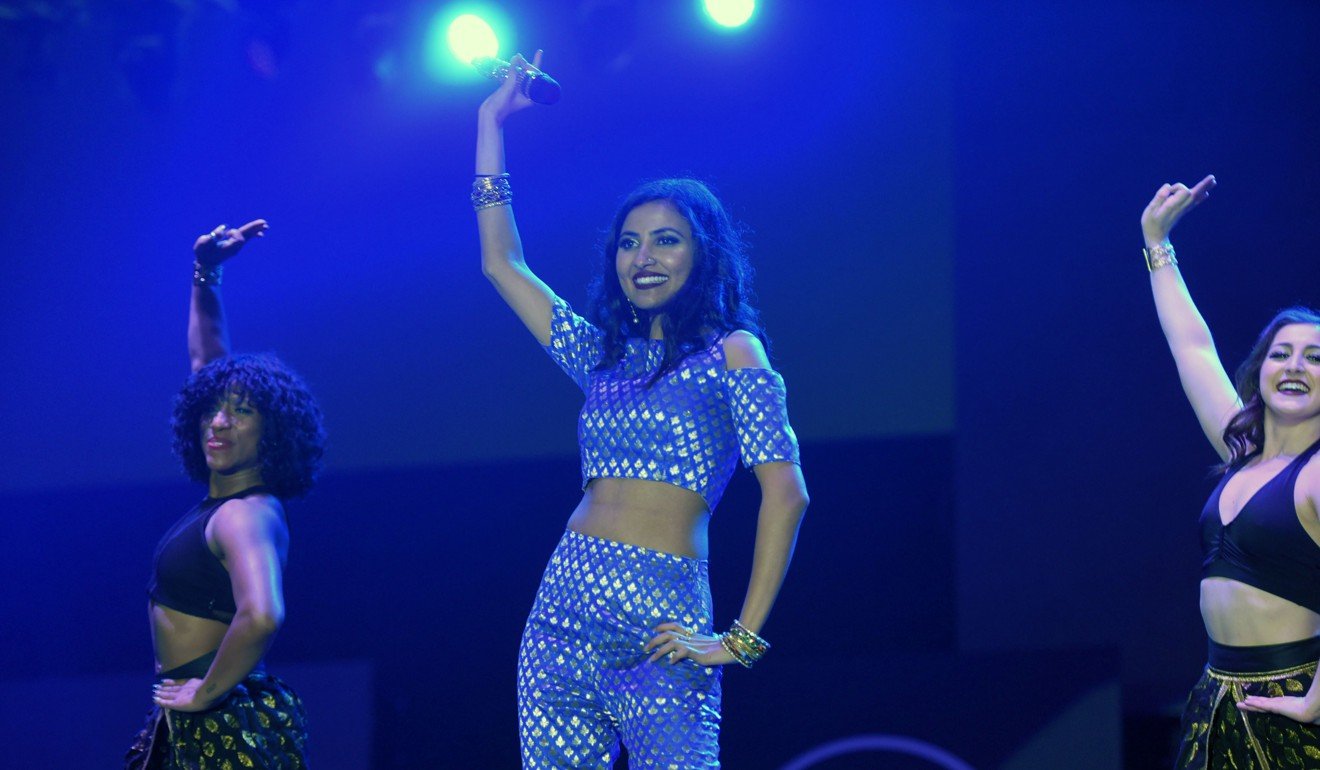 "At home we'd watch Bollywood movies and listen to Indian music, then going to school I'd listen to Shakira and Destiny's Child and Backstreet Boys," she says.
In high school, the situation at home became untenable.
"My mother had to make an unconventional decision," Iyer says, her pride in her parent apparent. "We had to run away from home. She made a really difficult decision to leave financial stability behind and undertake raising two girls on her own."
It was a decision that would not only improve Iyer's home life but also inspire her to make bold choices, convention and expectations be damned.
Things got better for Iyer when she attended George Washington University, in Washington, DC. She had long kept the secret of her musical ability from her peers, afraid that it would highlight her Indianness, but her sister, Vandana – who followed Vidya to George Washington – "let the cat out of the bag". Before long, the gifted duo were singing the National Anthem before games. Iyer made South Asian friends and even joined Indian dance groups. Still, she remained on a typical path for South Asian immigrants: a dedicated pre-med student, dreaming of one day becoming a doctor.
"I'm genuinely interested in science," she says. "Even though it was stereotypical, I genuinely liked doing it."
Then she met Shankar.
Born Ambrose Tucker, the American composer and vir­tu­oso clarinettist was making a name for himself by combining traditional Indian music with Western arrange­ments. Their meeting would mark a turning point in Iyer's life. In October 2009, the pair began dating and the follow­ing year Tucker relocated to India, on a scholar­ship to study music. When he returned, in 2011, he asked Iyer if she and her sister would sing in one of his videos, Nee Nenaindal.
In the video, we were singing this super tradi­tional Carnatic song and I was like, 'Wait, actually I don't have to hide this any more'
"Then it got attention!" Iyer says, seemingly still amazed by her luck. "In the video, we were singing this super tradi­tional Carnatic song and I was like, 'Wait, actually I don't have to hide this any more.'
"I didn't realise how much what I'd been through had shaped who I was musically, because I couldn't put the pieces together," she says. "Until I met Shankar, because he was doing Indian music with Western-style arrangements and I thought, 'Oh, this is cool.'"
Nee Nenaindal became a hit for the trio, garnering almost 5 million views on YouTube. They began touring together on the weekends and, for the first time, Iyer started to think of music as more than just a hobby.
Still, she didn't seriously consider it as a career option. After graduating, she took a receptionist job in a cardiology department and got down to studying for medical college admission tests. She would work hard all week and at weekends play music with Tucker. She was, she says "super miserable".

But only when she wasn't playing music. After a year behind a desk, inspired by her mother's bravery, she quit her job and flew to meet Tucker, who had relocated to Mumbai. She would spend the next two years in training, studying Hindustani classical music under vocalist Anita Goswami and making up for lost time.
Her mother had been supportive of Iyer but she was also realistic about the couple's need for financial security. Iyer was told that she could follow her dreams in India for two years, but if they then came to nothing, she would have to get serious.
Those two years passed and Iyer moved back home with her mother, the couple taking her advice: they got serious, about their music.
In April 2015, they launched the Vidya Vox YouTube channel, buying a digital video camera and vowing to post one new video every 10 days. Their first thought was to post a video of Iyer singing a cover of Big Girls Cry, by Australian pop star Sia.
"But Shankar was like, 'This doesn't sound like we just spent two years in India learning music. This just sounds like an Indian girl singing Sia,'" says Iyer.
Instead they mixed the Sia hit with a popular Indian song, Kabhi Jo Badal. This was before the mash-up craze, which sees DJs combining songs of different genres for dancing audiences, and their style – mixing Indian traditional music with Western pop hits – would prove a sensation.
It didn't hurt that their videos, shot and prod­uced by Shankar, were of remarkably high quality – a kind of visual mash-up, combining Indian imagery with Western music-video tropes, the camera always hovering around Iyer, show-casing her natural screen presence.
They stuck to their vow, posting a video every 10 days, and played wed­dings to make ends meet.

The tipping point came in 2016, the day after Donald Trump had been elected US president on a wave of anti-immigrant sentiment. About to fly away to India, the pair posted one last video before boarding, a mash-up of Kabira and the Chainsmokers' smash hit Closer. By the time they landed, the song had exploded.
"I was so depressed," says Iyer of the election result. "But, when we landed we thought, 'Oh my God, what is happening?'" The video would go on to rack up more than 65 million views in six months.
As can happen on the internet, Vidya Vox's fame grew exponentially, new fans speedily discovering her back catalogue. More mash-ups followed, and they were eagerly snapped up and shared.
Iyer developed a substantial fan base in India and among diaspora communities in the US and Canada, and the couple started touring properly, playing in India and countries with sizeable Indian populations – South Africa, Mauritius, Suriname – as well as around the US.
When people request Kuthu Fire I'm like, 'Oh my God! I love you!' And when young girls come up to me and go, 'We love Diamonds [the collection's opening track]!' that's the best
Iyer's popularity quickly grew beyond South Asian commu­ni­ties, her songs captivating listeners from all backgrounds and walks of life. The fitting together of her disparate cultural identities, which had caused her so much anguish, was making Vidya Vox a success.
"Why did I do those songs?" she asks, poking at her avocado toast. "I pieced it together with my childhood and music I listened to growing up and the whole struggle. I realised that I don't have to be one thing or another. I can be a mix of both. I don't have to be an Indian or an American. They're not mutually exclusive. It's something growing up I didn't know. I thought I had to be this good Indian girl at home and prac­tice and go to temple, then at school I'd have to be this cool person who might be Indian but eats peanut butter and jelly sandwiches."
But despite their success, neither Iyer nor Tucker had set out to make a name for themselves by recycling other people's music – no matter how cleverly repackaged. Increasingly, the videos appear­ing on the Vidya Vox channel were original compositions, and the couple moved to Los Angeles to take advantage of the city's blossoming world music scene, and to learn from its community of film­makers, hoping to raise the production values of their videos.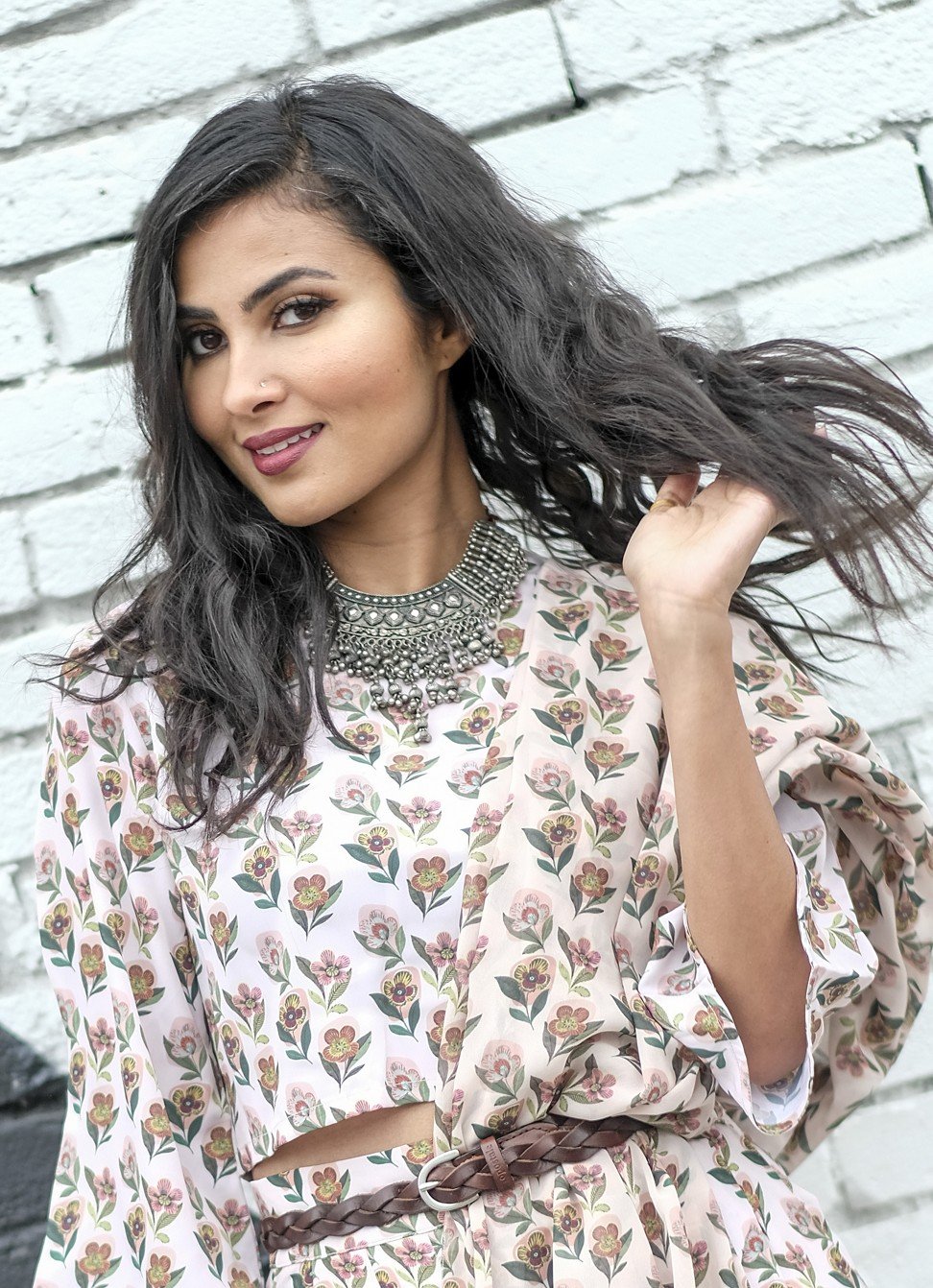 In August 2017, Vidya Vox released her first EP, Kuthu Fire, featuring six original songs – not a mash-up in sight.
"A lot of our original stuff has now overtaken the mash-ups on the channel," she says, beaming. "When people request Kuthu Fire I'm like, 'Oh my God! I love you!' And when young girls come up to me and go, 'We love Diamonds [the collection's opening track]!' that's the best."
To call her original songs a departure doesn't do them justice. It's as if in her own works, she has found the synthesis she was striving for in the mash-ups.
The pop mash-up proved an easy metaphor: the most palatable of both musical traditions mixed in a way sure to please listeners from every background, the young Iyer's dream come true. Her original compositions, though, are both more complicated and more profound: as unique as the individual, moulded by her experiences and the global tensions that define her existence. Her songs draw influence from across history and borders: hip hop, synth pop, rock 'n' roll, Hindustani and Carnatic classical, south Indian folk and Tamil pop.
"We were thinking about what the genre would be for our music and we thought 'electro world dream pop'. That's our genre: it's a little bit synthy and electronic, it's obviously world, and it's a little bit dreamy and over the top. And here," she says – and it's not clear if she means LA, the US, or just the modern world – "we could create our own genre and make it work."
Seeing the young girls at her shows, she says she can't help but think back to her childhood, hiding to eat lunch, isolated at school, scared to go home and what it might have felt like to have a role model like herself.
"What's the dream?" she asks, repeating the question put to her when she first sat down. "I want to bring Indian music to the mainstream. Just look at K Pop or the Latin music scene. I feel like people are open. I don't think 10 years ago you would have had Drake rapping in Spanish [which the Canadian singer did last year]. And I'd like to see that happen for Indian music.
I'll be learning music my whole life. I still take Western vocals classes and study Indian music. Indian music is so vast, the more I learn, the less I feel I know
"When people think about Indian music there's classical and there's Bollywood and there's nothing in between," she says, "but there are so many people with stories similar to mine: immigrants doing cool things."
Newly returned from India following her latest endea­vour as a judge on ARRived, a music talent show produced by YouTube Originals with Indian musical producer A.R. Rahman, there is no time to rest. Now will come more touring, more original songs, more genre-bending videos, an album.
"I'll be learning music my whole life," she says, sounding elated at the prospect. "I still take Western vocals classes and study Indian music. Indian music is so vast, the more I learn, the less I feel I know.
"You know," she says, the idea seemingly just dawning on her, "I always feel like all my success can fall away and burn tomorrow. And if it does, I'll always have my music."