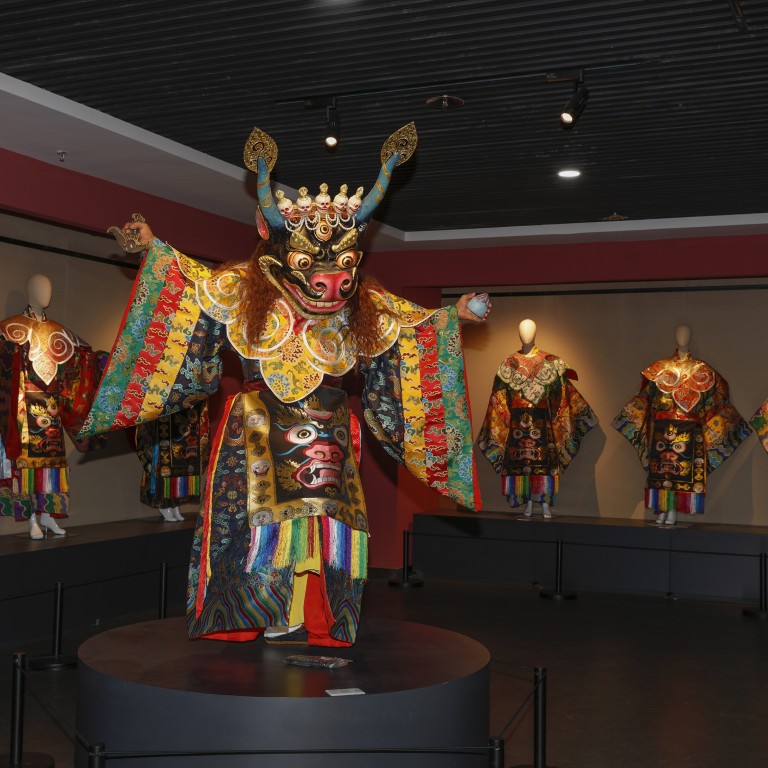 The ancient Buddhist art of thangka has thrived in a Tibetan town, despite centuries of upheaval
Thangka, or scroll painting, originated as an aid to spiritual teachings, but has become a celebrated art form, spawning masters and masterpieces
Rebgong in Amdo, one of the three traditional regions of Tibet, has nurtured generation upon generation of fine artists
As the long and short hands meet at 12, photographer Li Zhengde and I alight at Rebgong coach station. The sky is blemish-free, as it was for the entire four-hour bus journey from Xining, the capital of Qinghai province in China's northwest.
The road took us along the edge of the Yellow River southwards until the waters veered east, near Chentsa County. We carried on south, following the Longwu – a Yellow River tributary set in a pastoral valley framed by loess hills. From the bus window, the wheat topping flaking terraces looked like the green hair of a dormant giant. The idea that something ancient and profound was buried out there was reinforced by fleeting glimpses of lone white stupas and fluttering prayer flags.
Despite being far closer to Lanzhou than to Lhasa, we are in Tibetan territory. Amdo may no longer be marked on maps of China, but it is alive in the linguistic and cultural mores of the Amdolese Tibetans. Rebgong – or Tongren, to use its Chinese name – is the administrative centre of the Huangnan Tibetan Autonomous Prefecture. Huangnan, or Malho in Tibetan, means "south of the Yellow River".
Rebgong's main drag, Dehelong Middle Road is peppered with the kind of establishments you'd find in any modern Chinese town of equivalent size: mobile phone stores operated by Huawei and Oppo; a few fast-food franchises; and a branch of the China Construction Bank.
The clearest sign that we've travelled across six provinces and 2,500km from our starting point in Shenzhen, over the border from Hong Kong in southern China, are the faces in the crowd; elegant Tibetan women spinning prayer wheels, their hair plaited and dangling down their backs to their rumps; maroon-robed monks with no hair at all; the occasional Hui Muslim wearing a white prayer hat and sporting a goatee beard.
The Rebgong Art Museum, situated a block away, is hard to miss. Like so many buildings constructed in a country where size (and impressing one's superiors) matters, it is a veritable palace of a place, one that attempts to fuse the architectural styles of Stalinist grandeur with the classical Tibetan approach, an awkward melange that satisfies neither intention.
We're exhausted by the time we've mounted the steps to the entrance.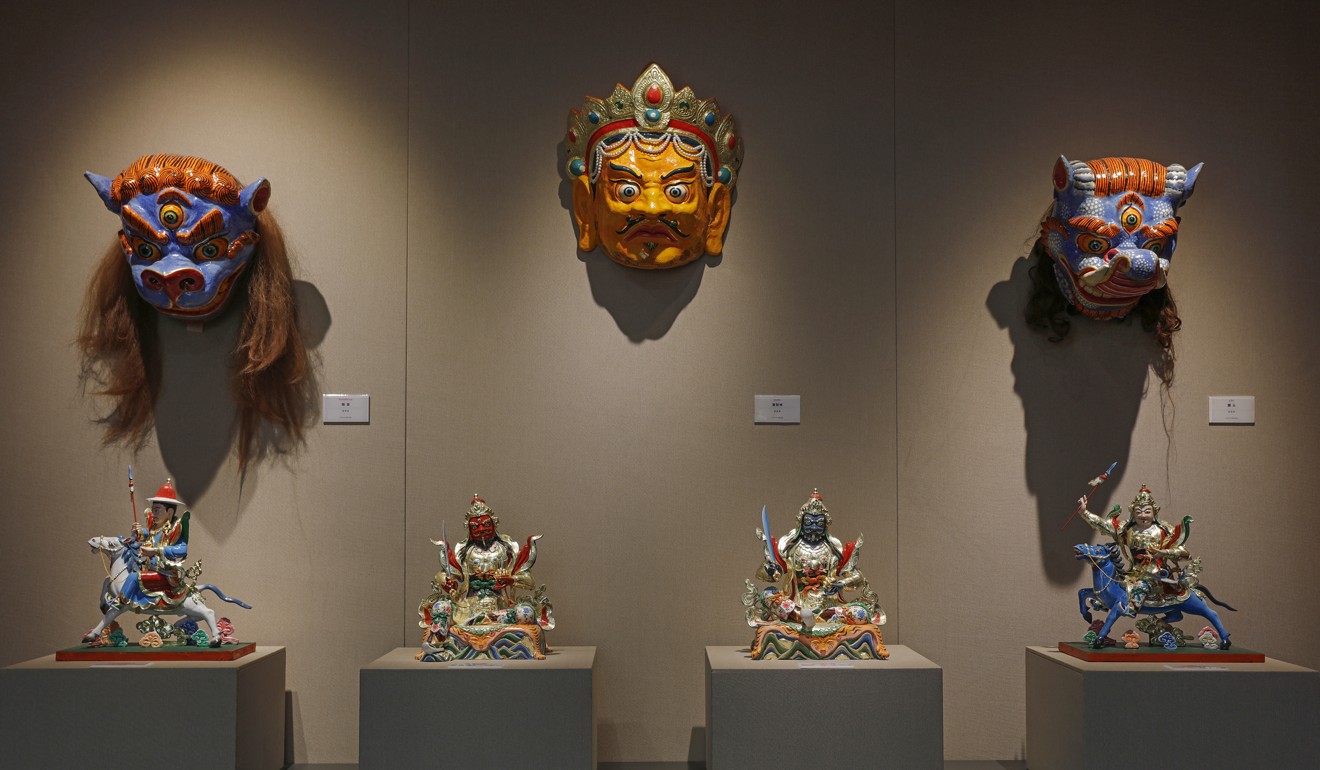 In the foyer, on the wall opposite the front door, an English-language plaque informs visitors that China Rebgong art is on Unesco's "Representative list of intan­gible culture heritage of humanity". The museum was opened in 2009, I read, though the paint flaking from the walls and poor lighting suggest it is older.
It's gone 2.30pm, the designated afternoon opening time, but there's no employee in sight, just a few equally bewil­der­ed sightseers contemplating whether to go for it and enter the exhibition halls, or wait for permission to do so. Empty chairs stand behind desks bearing the hallmarks of occupancy: a flask of tea; a shrugged-off jacket.
"These Tibetans," Li grumbles, employing a hint of Han chauvinism while arching his eyebrows as he always does when irritated. "That's just the way they are."
Eventually, four gossiping Tibetan women enter the foyer, unapologetic about being late for the afternoon shift. After they've readied their desks, we buy entrance tickets and progress into the museum's exhibition halls. It's an experience that proves worthy of the wait.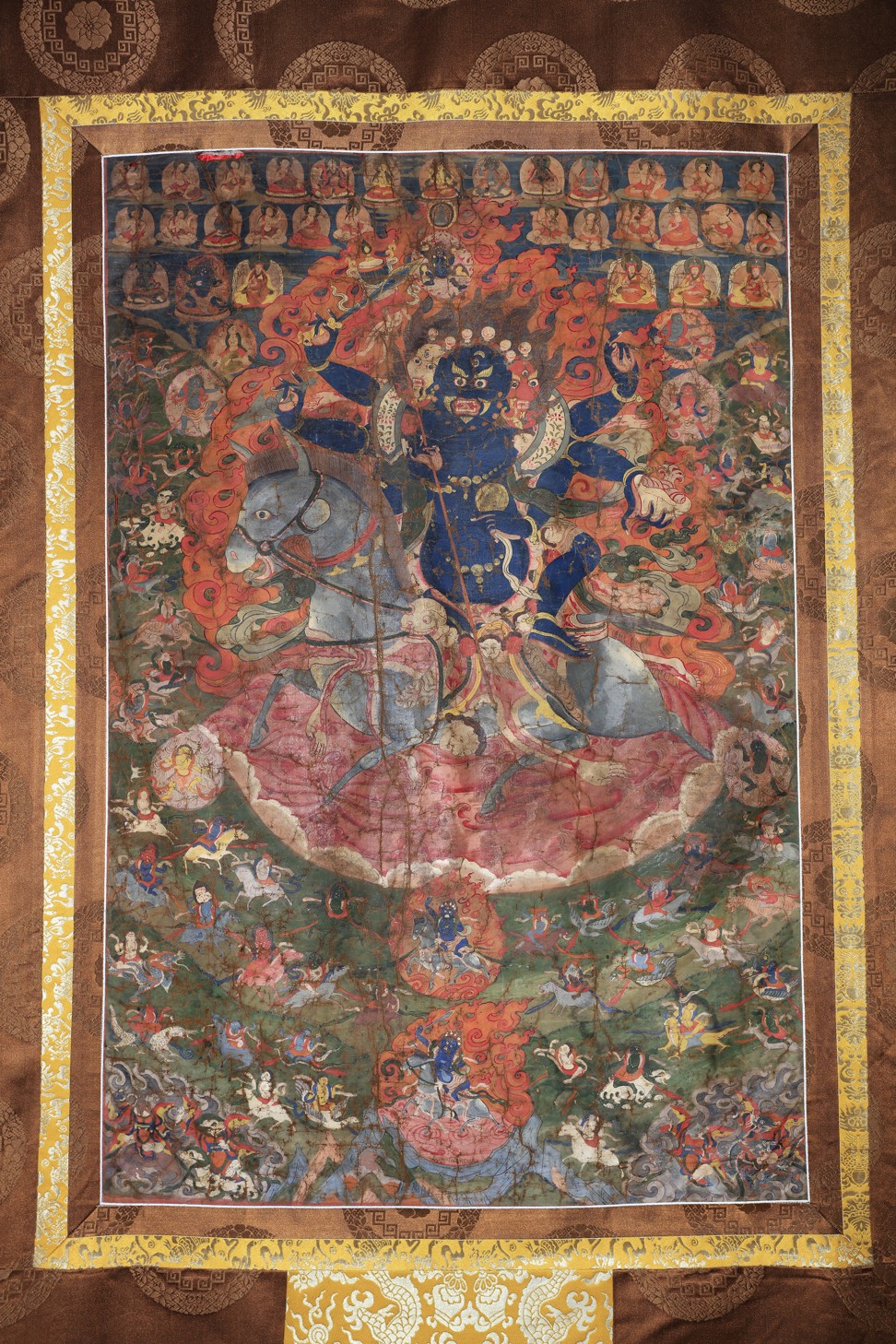 Instead of the black-and-white ink paintings or calligraphic verse that dominate galleries elsewhere in China, we're confronted with terrifying masks, rainbow-coloured robes, intricate clay sculptures and the wildly colourful thangka paintings that Rebgong is famous for.
"Look, there's a green Tara!" exclaims an excited Li, who majored in fine art at Hunan Normal University, "and this thousand-armed Avalokitesvara is pearl white. This would have taken years to paint, just look at the detail! Incredible …"
"Thangka" means "scroll painting" and evolved as an aid to spiritual teachings, with painted and embroidered scrolls typically depicting episodes from the Buddha's life or a mandala (a figurative representation of the universe). However, the art form has assumed a life of its own, and while it remains in essence religious, it has spawned masters and celebrated masterpieces that are sought after by Buddhist and secular collectors alike.
We absorb depictions of Tara, the "mother of liberation", who, I read, protects adherents from "the eight dangers"; and the four harmonious animals (elephant, monkey, rabbit, bird), which look like they belong in a storybook for children. The awesome, wrathful three-eyed wisdom deity Mahakala glares at us from some of the most fantastical thangka portraits on display.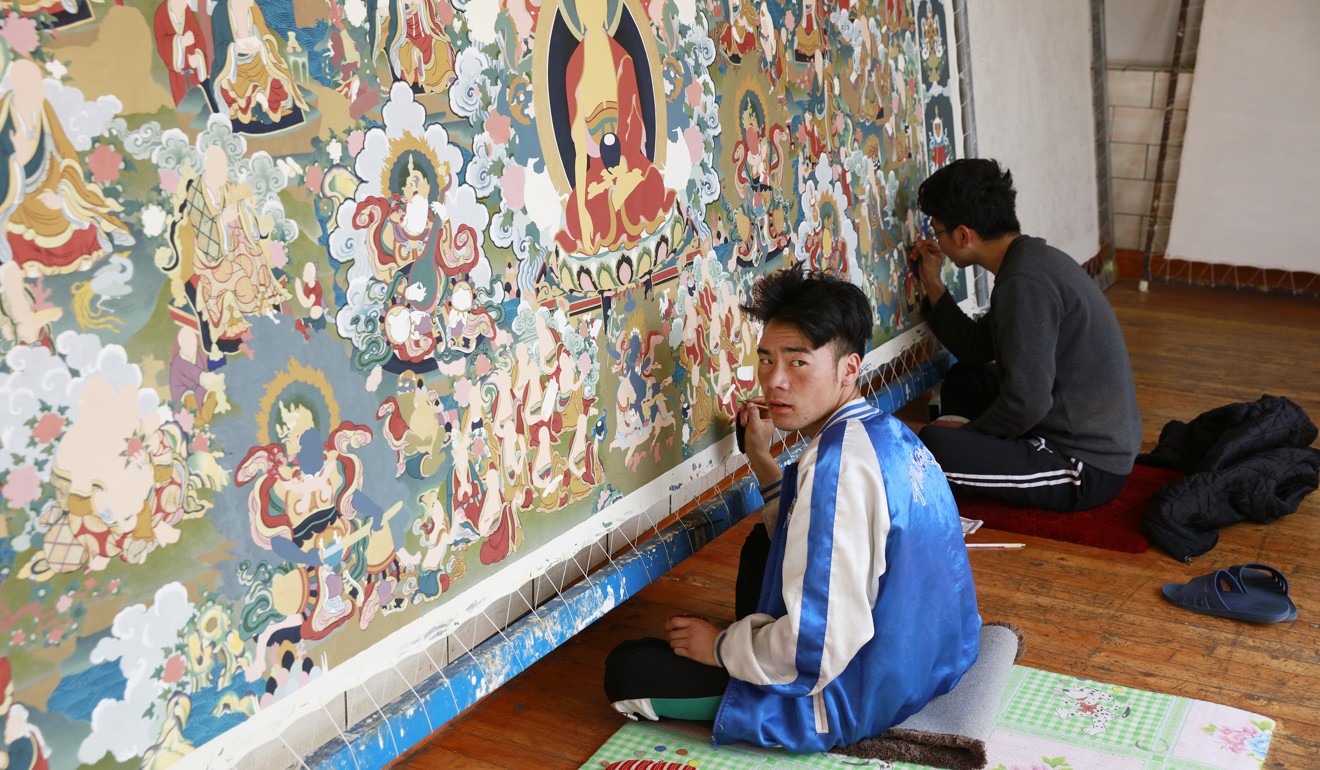 There's a blend of sophistication and simplicity at work in each frame, masterworks of craft and technique depicting the celestial and macabre imagery of antiquity, a juxtaposition that makes thangka painting so arresting. One needn't be an expert to realise that, just as the Han Chinese turned Buddha into a well-fed rich guy, so the Tibetans have tailored the story and teachings of Siddhartha Gautama to their own traditional outlook.
As scholar Sam van Schaik writes in his 2009 book Tibet: A History, the pre-Buddhist Tibetan world was "swarming with spirits, demons and minor deities". However, after the 10th century, when Buddhism finally triumphed in Tibet, "it accommodated itself to this world, which remained fundamental to the lives of most Tibetans".
Rebgong remains the traditional centre of thangka painting, the area having nurtured generation upon generation of fine artists. The question is, where are they?
After some online research and muddled conversations with our Tibetan hoteliers, we learn that it is in the surrounding villages, rather than the town itself, that the talent traditionally resides.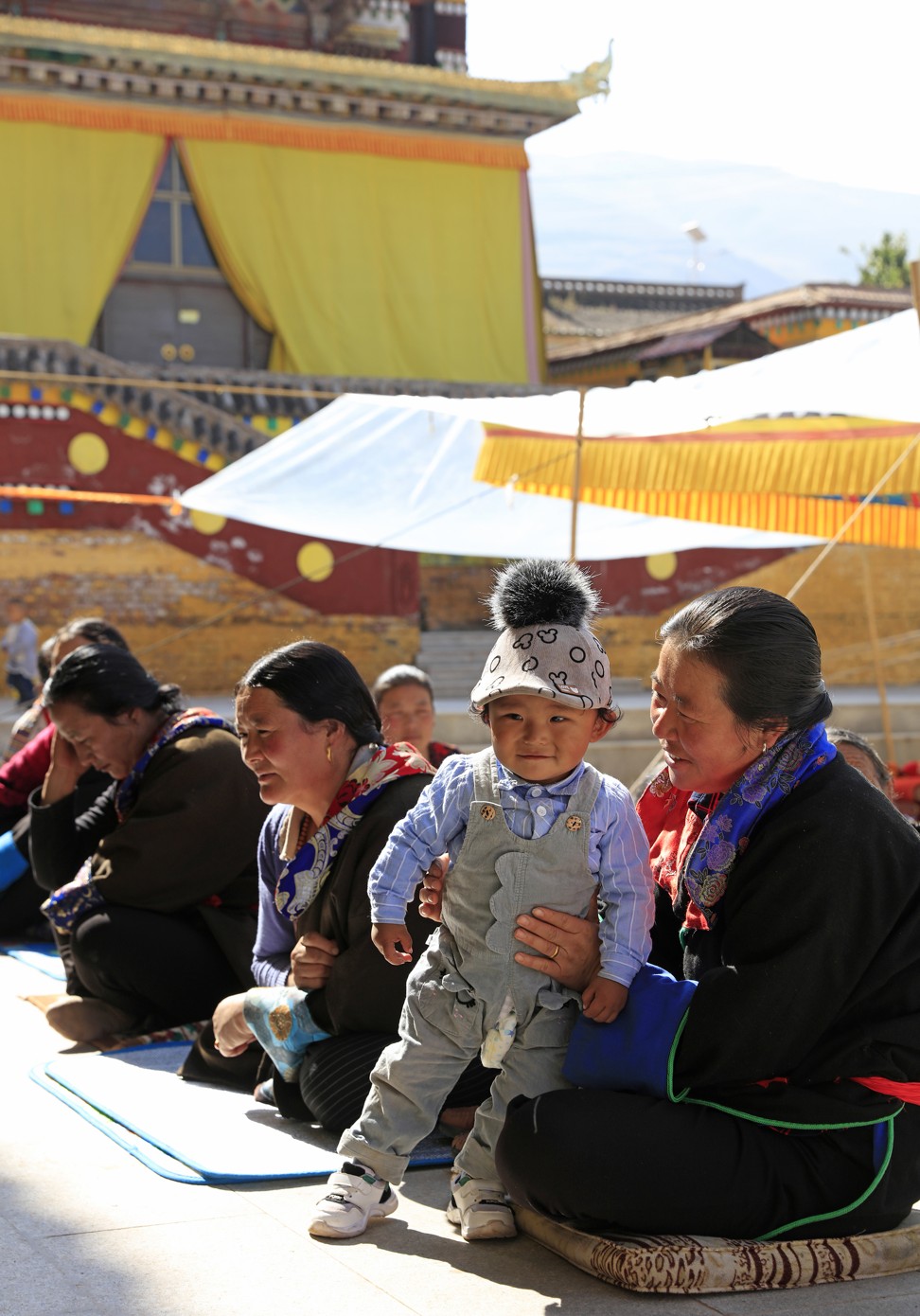 Gomar is just 15 minutes north of town as the crow flies. Having met up with a friend with a vehicle and driver, we pull into a basketball court doing its best to pretend it's the village car park. Close by are a shop selling staples – yogurt and barley bread – and mounds of brittle yellow wheat drying in the sun, beneath solar-power lamp posts, which stand as beacons of modernity in an otherwise timeless pastoral scene.
The village appears to be perched on a small hillside, which turns out to be the remains of a crumbling citadel.
"The village is walled," says Li. Amdo – which, with Ü-Tsang and Kham, is one of the three traditional regions of Tibet – has had a long and bumpy history as a frontier region of the Tibetan and Chinese empires. Mongols held sway in the 12th century and Amdo fell briefly under Muslim dominion in the early Republican era.
Li asks an elderly lady carrying a baby on her back in a cloth sling about thangka artists, but her Mandarin is limited, so she does what all Tibetans seem to do in such circumstances, which is to laugh.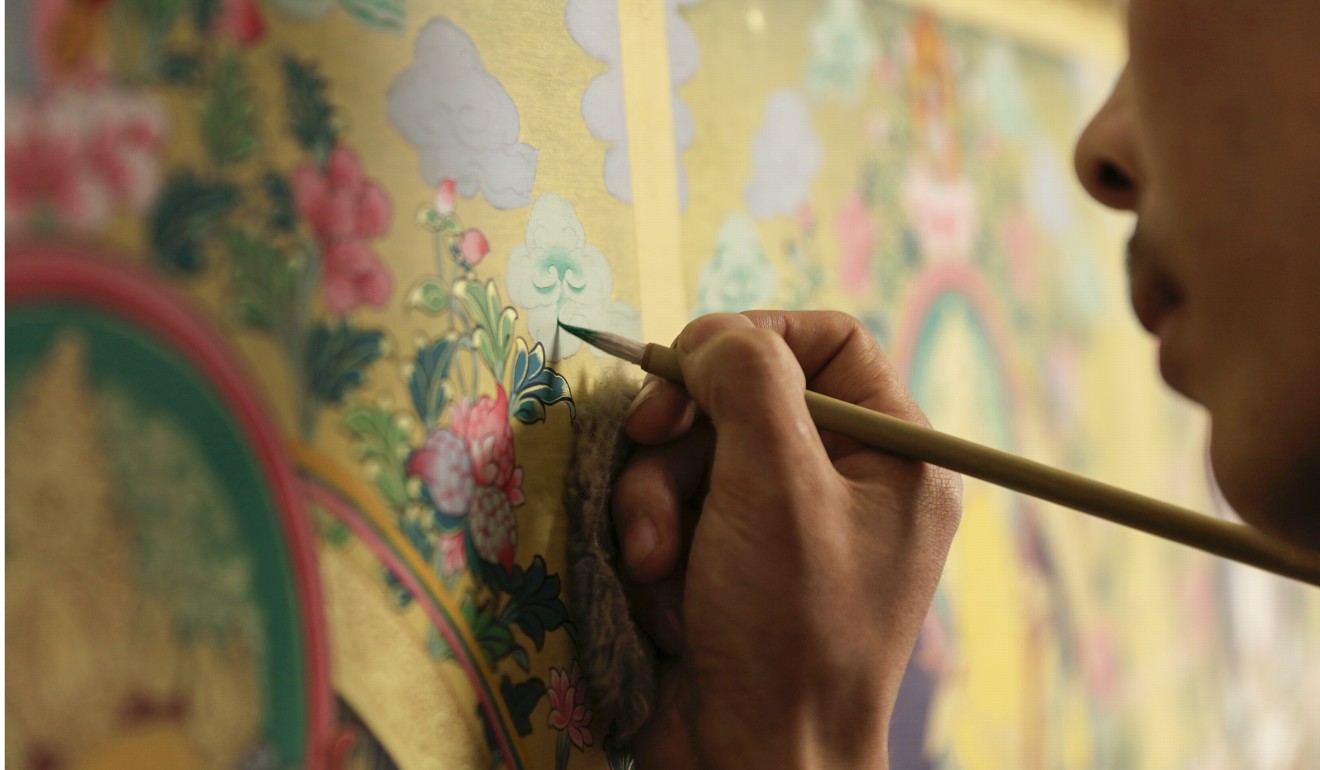 We walk the perimeter until we find the main gate, but soon lose one another in the twisting, snake-like streets inside. It is a rare sensation in an age of grid planning to feel so wondrously disoriented. I keep turning a corner and hitting another dead end; there's no logic to the place. I pass an old lady fiddling with beads in a doorway edged into the rammed earth and a boy with apple-red cheeks who casts me a million-dollar smile.
When I eventually find my way out, it is to discover that locals are pumping water from a well near our car. Beyond, on the far side of a stream, a white stupa stands at the front of a sizeable temple complex. Three giggly Tibetan girls are gathered outside. After some nervous debate, one offers me a pear, before all prostrate themselves to pray to an effigy of the Buddha.
I perform the kora, rounding the stupa in a clockwise direction, spinning prayer wheels to cast the sacred verse "Om mani padme hum" into the cosmos and hopefully accumulate some good karma.
It appears to have worked. Back at the village, I discover Li has made himself a guest inside the house of Wendé Kar, a gentle-mannered man in his late 30s. Wendé Kar has a tall nose and, when he smiles, you can't help but smile too, a powerful charm exhibited by many of the Tibetans we encounter.
"He's a thangka artist!" says Li, patting the man on the back and offering him a cigarette.
"I started late, around 15 years of age," says Wendé Kar. "I always loved to draw but it takes a long time to become proficient in thangka painting. Mastering the form is far more rigorous than, say, the ink painting the Han Chinese do."
He takes us back to the edge of town and into a ground-floor apartment of a modern high-rise. There, inside his studio, sat on a yellow-and-red patterned carpet, are four of his students, diligently painting to the accompaniment of Hindi-pop – music that is more popular in Tibetan quarters than Mando-pop. The work includes a wild red depiction of a three-eyed dharma protector.
"We come here for 10 hours a day," says one of the artists, Rinchen Dorje, who speaks Mandarin. "Without patience you could never do this. My parents think it's a hobby, but every family has a house temple and inside every temple there's a sculpture or thangka."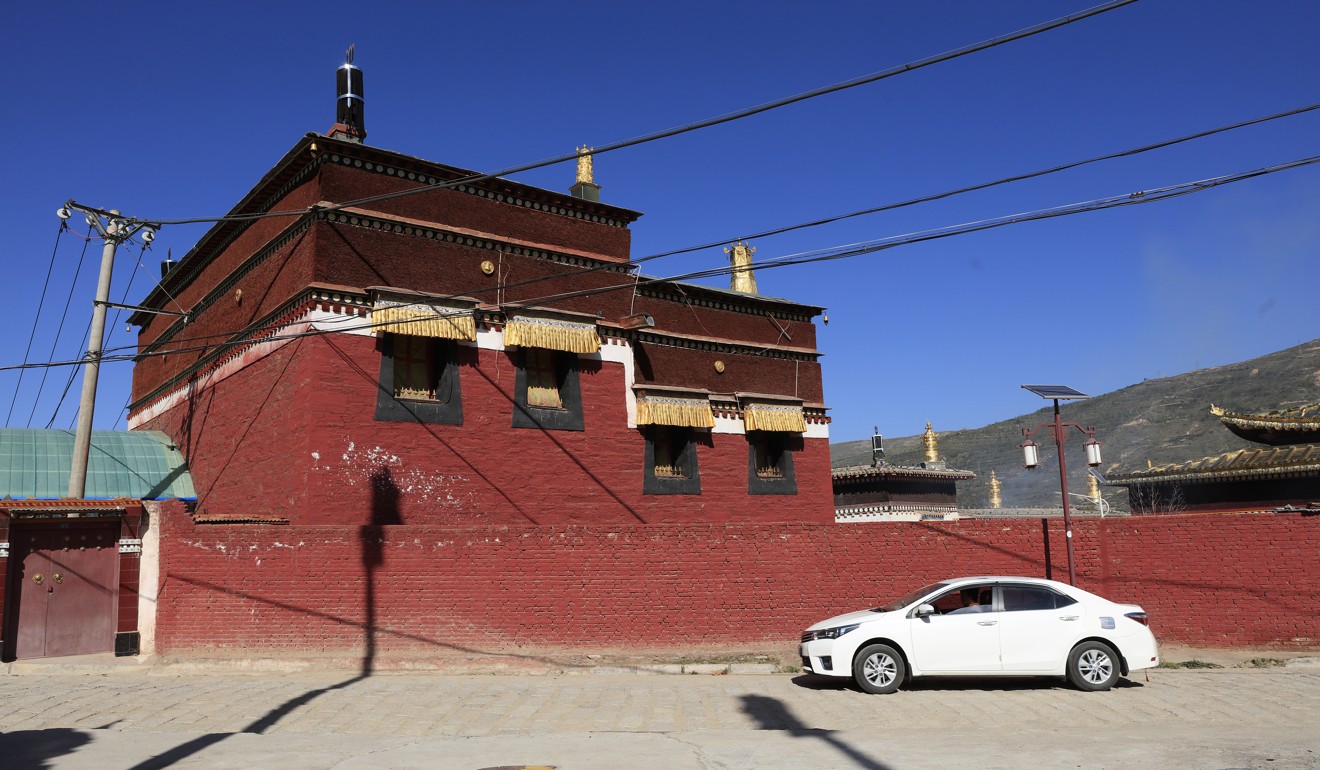 The muddy Longwu River, which bisects Rebgong, feeds farmland and meadows of flowers so colourful they might well have inspired the vivid sensibilities of thangka. We cross a road bridge to the eastern bank of the river, where the twin villages of Upper and Lower Wutun, or Upper and Lower Sengeshong, are located. Here, the challenge would be to find someone who doesn't paint.
"Eighty per cent of the people in Sengeshong are artists," claims Palden Dorje, who is celebrating the opening of his own gallery by burning incense and laying offerings of fruit and tea on a table before his Buddhist portraiture.
Another artist we chance upon, Nyima, says, "everyone here paints – man, woman and child". As if to prove his point, he invites us across the street to a small studio, where a monk-artist is teaching several robed boys the art of thangka. Silence is mandated but we're welcomed without being too much of a distraction.
The youths trace the outlines of significant Buddhist figures and motifs with pencils, making their own begin­nings in a process of knowledge transferral that binds the centuries.
"That monk is my brother," says Nyima, as we leave. "If a family has two sons, typically, the elder will become a monk while the younger will become a full-time artist."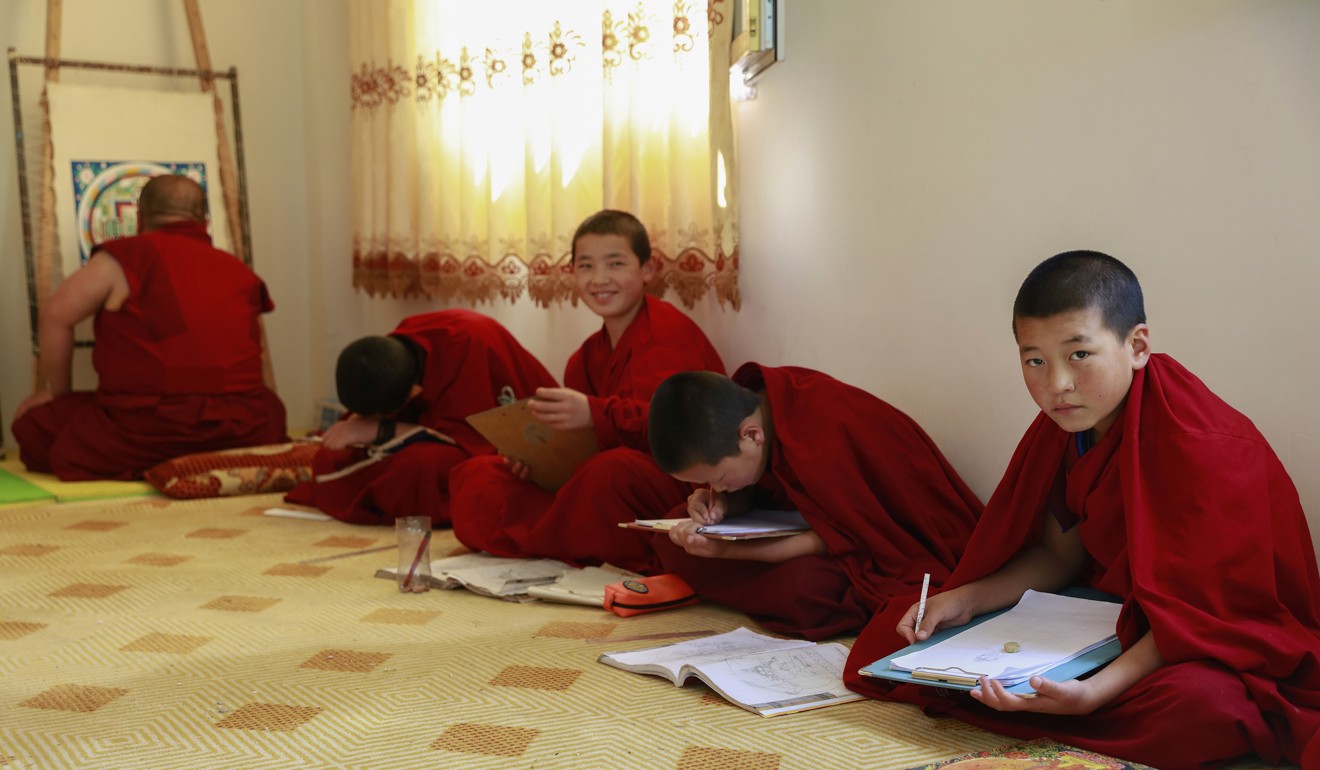 We spend the rest of the morning hopping from studio to art shop, sticking our heads into doorways and getting invited into homes for cups of hot butter tea. We learn how paints are made with plant and mineral extracts, and ground down by pestle and mortar.
We explore a studio operated by a father-and-son team who make masks meticulously decorated with the faces of gods, demons and animals, or their skulls – another century-old craft, used for operas and in religious rituals.
Over lunch in a backstreet noodle joint, it proves a struggle to digest all we've taken in, never mind the calorific egg-and-wheat broth I've just been served. It's not every day one witnesses the mass production of great Buddhist art.
Of all the artists we befriend, a plump, 44-year-old monk named Tenzin is perhaps the most charming. He invites us into his home, which, like most Tibetan dwellings in the area, has a flower-festooned garden and shrine that is entered across a wooded terrace, where much of the daily activity takes place.
Tenzin is not a painter but a sculptor. "I've been doing this for 25 years," he explains as he etches details into the face of a man wearing glasses.
"Who is that?"
"You mean you don't know? That's the Dalai Lama."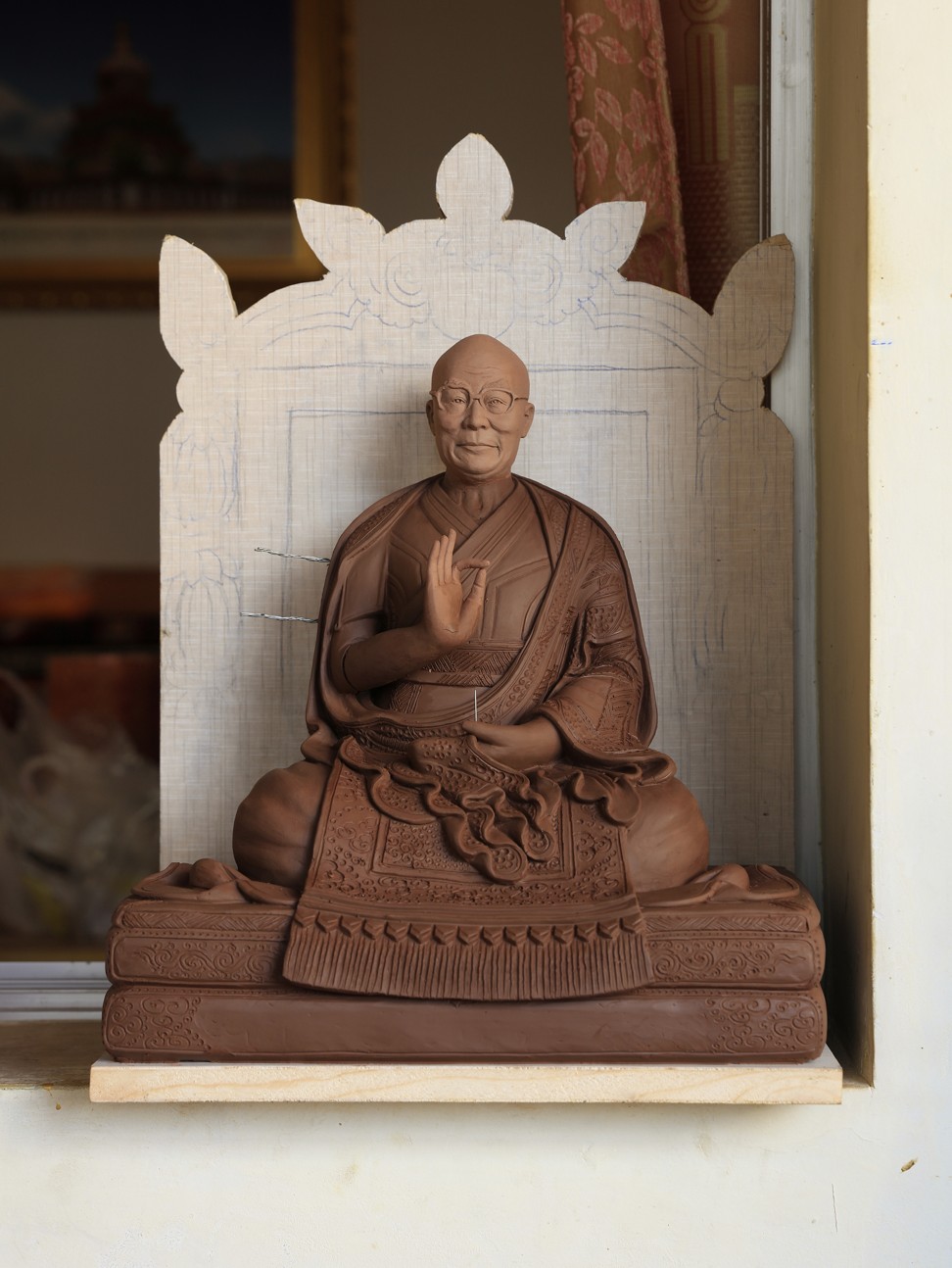 The 14th Dalai Lama was born in the nearby village of Taktser, or Hongya, as the Chinese call it. Any image of the "wolf in monk's robes", as Beijing characterises the Tibetan leader-in-exile, is banned in the Tibetan Autonomous Region, and I'd imagined here, too, but apparently it is a rule sporadically enforced and widely flouted. Is he concerned?
"I'm not bothered," Tenzin shrugs. "Everyone here has a photo of him in their house shrine."
Images of "His Holiness" are not confined to people's homes, we learn, when we explore the epic Wutun Temple, which, like the village of the same name, is divided into lower and upper sections.
Fronted by eight large stupas, Lower Wutun is the larger of the two adjacent temples. The wood, metal and stone work here is adorned with frescoes and intricate symbolic patterns. Upper Wutun has more of a lamasery feel to it, with monks going about their business as they have done for centuries. There's a gathering of worshippers when we arrive, all women and children, who've laid out a picnic table which they pick at between chants lead by a lama.
"No photos are allowed," warns a monk, as he unlocks a door to let us in to the first of three shrine chapels. The smell of incense mixes with those of wood and yak-butter candles. Inside are incredible wall murals, giant and elabor­ate statues of Buddhas and the bodhisattvas, as well as a portrait of the Dalai Lama himself, framed and revered.
"We communicate with him," the monk explains. I imagine he means through prayer until he tells me, "Some of his associates have WeChat so we get all the news."