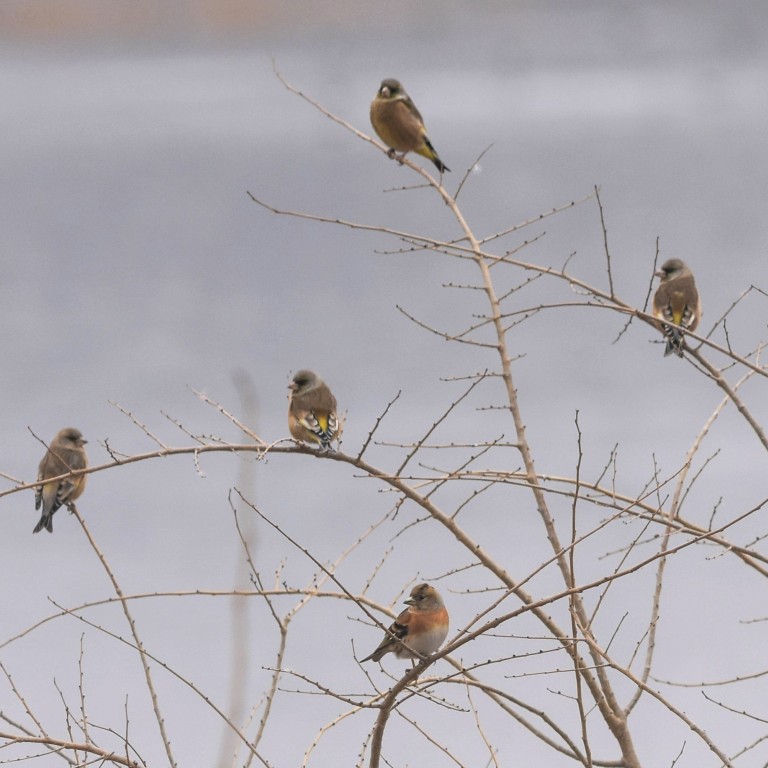 Birds of Beijing: China's capital is important point on 'avian super highway'
Situated between Russia and Southeast Asia, the city is a frequent intermediary point for migratory birds
But widespread use of mist nets is killing millions of small birds, and demand for rare species drives poachers to ever more audacious acts
Beijing's old quarters, the area 19th century foreigners dubbed the Tartar City, is made up of hutong alleyways snaking between court­yard houses that were once the residences of Manchu bannermen.
Overhead can often be heard the "chirpy cheep cheep" (accord­ing to the pocket book Birds of China, by John MacKinnon) of the Eurasian tree sparrow.
"This is a common bird in lightly wooded areas, villages and farmland over much of China and can become a pest of grain crops," writes MacKinnon. "It replaces the house sparrow as the 'city' sparrow in the east of the country."
Walking through the Temple of the Earth, visitors may catch sight of a great spotted woodpecker, which "drum loudly and have a loud explosive call". Beyond the Marco Polo Bridge, wildlife photographers snap away at great white egrets "with characteristic kink in S-shaped neck" fishing in the shallows of the Yongding River. Ball games in Grand Canal Park may be accompanied by the song of the grey-capped greenfinch, whose "flight call is a twittering dzidzi-i-dzi-i".
For a smoggy metropolis, Beijing appears to be home to a great variety of birds.
English-language website Birding Beijing – a veritable phone book of information, including recordings of bird­song, photos, media links and videos – is the pet project of British birdwatcher Terry Townshend.
"I came to China in 2010 and started the website not long after settling in," Townshend says, when we meet in a downtown cafe. "Before I arrived, friends told me there was going to be nothing to see, just a few magpies, that's it. Of course, there was nothing to read online [in English]. But what I found amazed me."
What Townshend learned, to his delight, was that Beijing, being situated between Russia and Southeast Asia, is an important intermediary point on what he dubs "an avian super highway" for migratory birds.
"In the UK," he explains, "there are no birds breeding due north as there is only sea. Where I grew up, in Norfolk, we occasionally see a few migrants from continental Europe, particularly if we get good easterly winds – species like red-backed shrikes and black redstarts. But Siberia is vast and there aren't many people living there; there are huge forests and tundra so the region sees an explosion of insects in the summer months. This makes it a huge feeding ground for birds. But it gets bitterly cold there in the winter so most of the birds head south in search of warmer weather.
"Beijing is like a service station on the birds' route."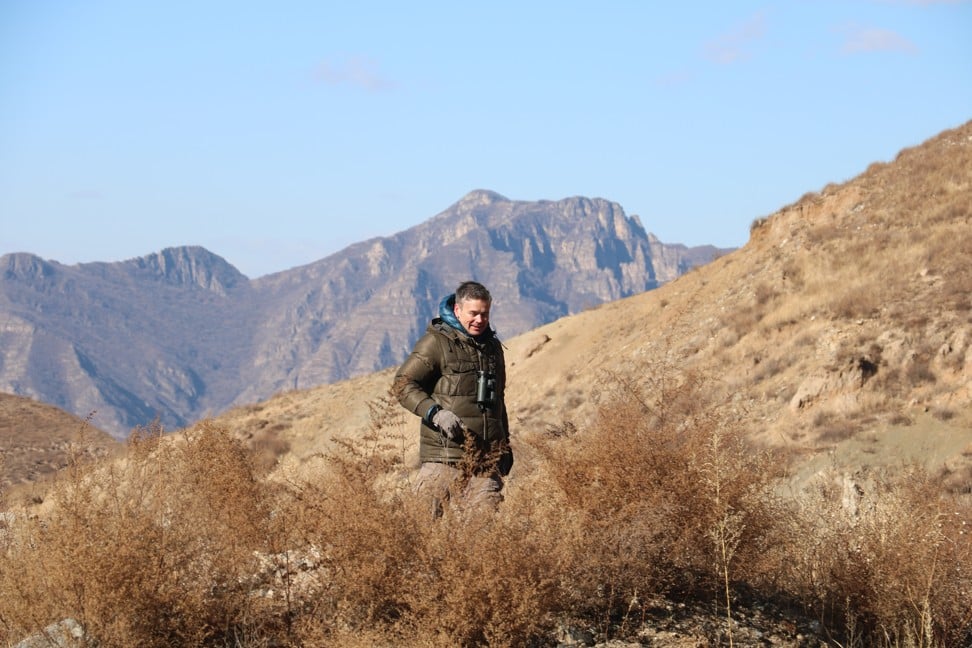 The city's towering cityscape can appear anathema to the natural world, but in the Chinese capital, Townshend sees what others don't. "Beijing has varied habitats – wetlands and grassy plain areas, as well as temple-parks. All of these places will be attractive to various birds."
And beyond the high-rise apartment blocks "the muni­cipality is huge and relatively empty", a realm of tumble­down villages scattered across the craggy topography most readily associated with the Great Wall. "There are moun­tain­ous areas where almost nobody lives," he says, "which is great for birders, who like to head off to wild places."
Townshend promises to take me to one such "wild place" and a few days later we are driving through the capital long before most Beijingers are awake. With us is P.T. Xiao, a PhD student and one of China's emerging birders.
With Townshend at the wheel, we head west and I ask how someone raised in Winterton-on-Sea, a village just north of Great Yarmouth, came to be a champion of bird life in China.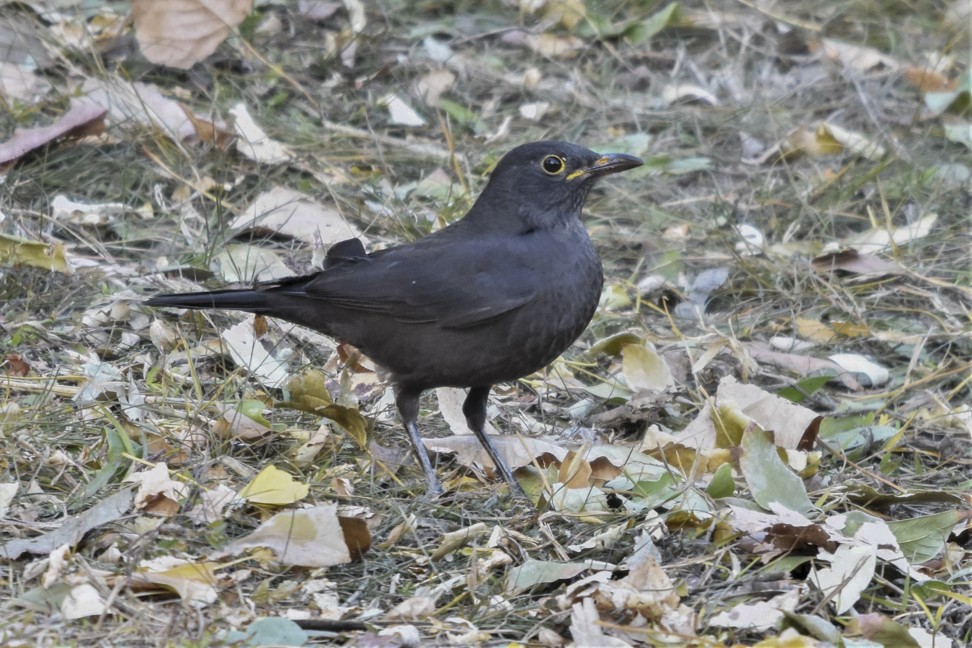 "My earliest memory of being interested in birds was when I was four years old," Townshend says. "I remember asking my parents what the names of the birds in the garden were and they didn't know, so they bought me a book. I was lucky to have grown up near Winterton Dunes, a really good nature reserve. But it was pretty solitary activity for many years – I didn't meet another birder until I was well into my teens."
By then, Townshend was, he admits, "a bit of geek", principally fascinated by the natural world. At university, Townshend studied environmental economics before embarking on a career as a civil servant.
"I worked in various departments until 2004 when [then British prime minister] Tony Blair was hosting the [Group of Eight] presidency," says Townshend. "He wanted to put climate change on the agenda. I got a job working in the G8 climate-change unit. Part of my outreach responsi­bilities was to work with NGOs like Globe International."
Eventually Globe offered Townshend a job. "I'd had some great experiences working in government but it was time for a change. I took the job and moved to Denmark in the years leading up to the United Nations Climate Change Conference of 2009, where we worked with the Danish parliament to coordinate a programme of engagement with legislators. Despite problems with the accords, the Chinese delegation said they planned to create a climate-change law. They wanted to work with Globe International, so I came to China to inform the development of that law."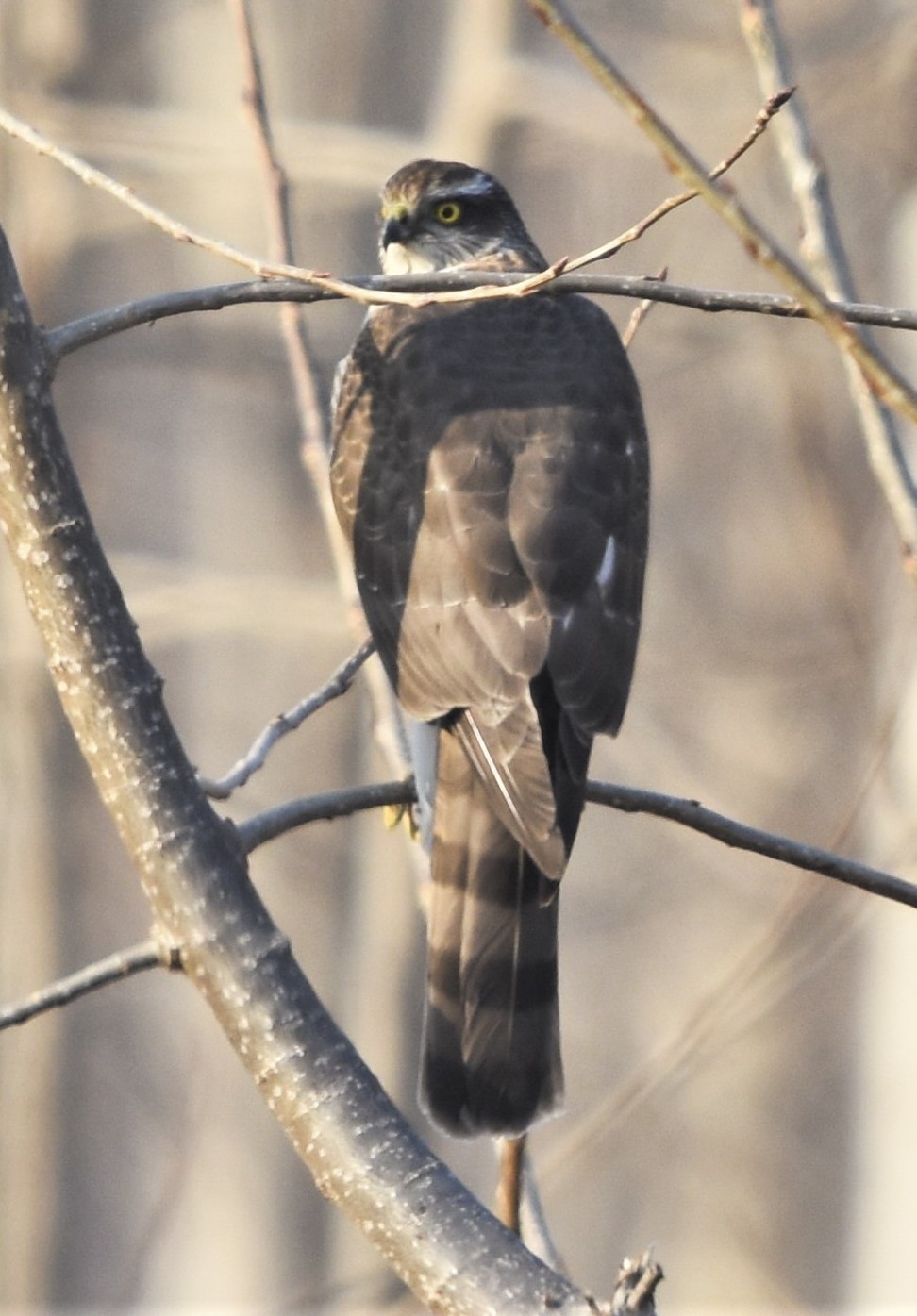 When the NGO hit funding problems and closed down, in 2012, Townshend stayed on in Beijing as a wildlife conservation and environmental law consultant. "I'd invested two years here and made quite a lot of friends in academia, government and conservation circles. Plus I really enjoyed the birding," he says.
Having left suburbia we follow the G109 en route to Lingshan, or Soul Mountain, a remote scenic area near the border of Hebei province. The sun rising behind us casts a purple hue across the rivers and hillsides that flank our progress and long before we reach our desti­nation Townshend and Xiao are busy spotting.
"That was a Eurasian sparrowhawk," says Townshend, as a small bird of prey darts across our path.
"And look at the lake, there are some great crested grebe," says Xiao, drawing attention to distinctive water birds, their heads decorated with spiked orange plumage.
Details are uploaded to eBird, an online database where amateur naturalists record real-time data about species distribution and numbers.
"It is citizen science," says Townshend, "we can see which birds have been spotted, where in Beijing, as well as contributing our own sightings."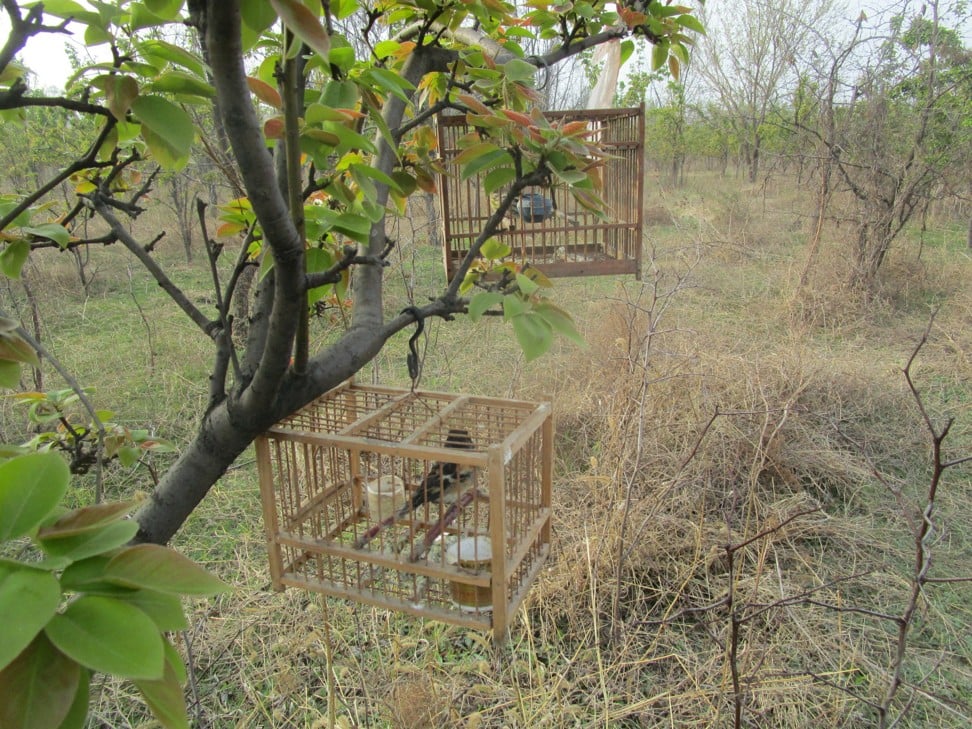 Despite it being a mild autumn day in the city, the drive up Beijing's highest peak, some 2,300 metres above sea level, delivers us into a wintry scene.
"It's minus seven degrees [Celsius]," Townshend says, "and that's ignoring the wind chill factor."
Setting off on foot, it takes some time to acclimatise but the broad meadows and soaring alpine vistas offer ample compensation. Townshend leads us through forested areas, down gullies bisected by frozen streams, and along narrow mountain paths, ignoring signs warning hikers to stick to sanctioned trails.
Eventually we come across some white-winged red­starts, beautiful small birds with white crowns, black backs and rich-amber bodies. "That's a very high-altitude bird," whispers Townshend, handing me his telescope. "It breeds at 4,000 metres on the Tibetan plateau but winters here, where it can feed on the abundance of sea buckthorn berries, a kind of superfood for birds."
Soon afterwards birdsong that sounds like avant-garde composer Philip Glass played on a penny whistle leads us into a clearing, where we find a local bird – a Beijing babbler.
"This bird was previously known as a white-browed Chinese warbler, which was ridiculous as it doesn't have a white brow and isn't a warbler," Townshend says. "It was then known as the Chinese hill babbler. Finally, following a study, it was found that the two populations of the bird were actually different species so that was an opportunity to rename it as the Tarim babbler in western China, and the Beijing babbler in the east."
This is a neat expression of the kind of ornithological confusion that pervades China, a country where the natural sciences ground to a halt throughout much of the tumul­tuous 20th century.
"We're still finding species and naming birds," says Townshend. "There's a great deal we still don't know."
Accom­pany­ing the rising standard of living in China is a burgeoning appreciation of nature, Townshend has observed. "When I first arrived it was still extremely rare to meet a Chinese birder," he says. "Now you meet one almost every time you go birding." Indeed, we do so soon afterwards, a lone man in his mid-50s, his nose reddened by the cold, a camera fitted with a telescopic lens at hand.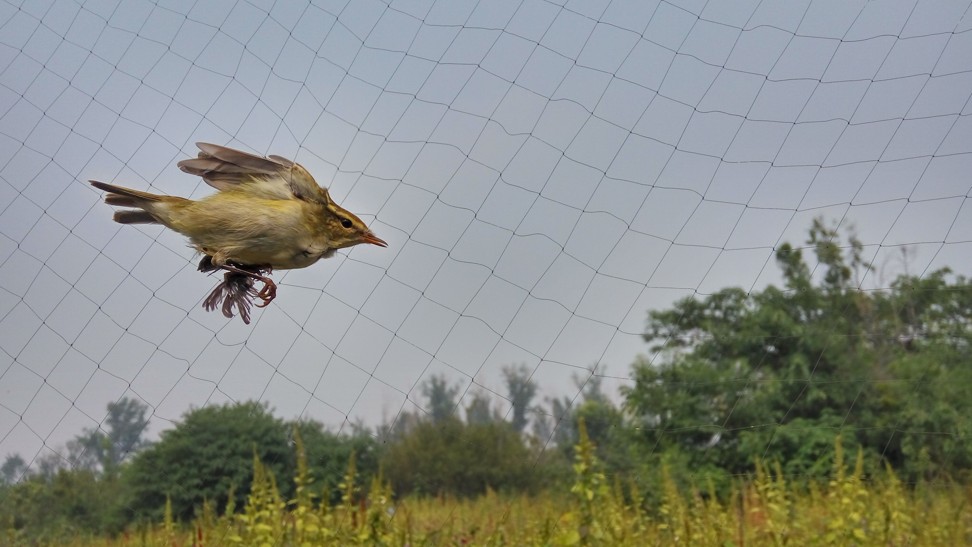 We lunch by the roadside, in the shadow of a tree-carpeted slope behind which several large cinereous vul­tures – huge and sinister winter visitors from Mongolia and Russia – appear, soaring overhead in search of prey.
Between the periodic thrills these creatures inspire, I ask Townshend about the challenges birds face in China. "Habi­tat loss is a huge thing; development has damaged some­thing like 70 per cent of China's wetlands over the past two decades," he says. "The government recently announced a ban on land reclamation, which was the best news in 2018."
Townshend is worried, too, about ever expanding cities consuming wilderness areas, and climate change that will "affect ecological make-ups of habitats, changing locations of plants and the timing of insect spawning". But it is the wide use of mist nets, nylon or polyester mesh that is virtu­ally invisible to birds, that is chief among his concerns.
"To prevent bird strikes, there's a policy to erect mist nets along runways in China," Townshend explains. "There are more than 300 airports across the country and these mist nets kill birds in the order of millions.
"The issue is that mist nets are effective only against small birds that won't trouble an aeroplane engine. Instead of nets, each airport should be conducting a risk assess­ment, as there are plenty of alternatives, like playing the distress calls of the bird or managing the local habitat to make it unattractive for birds. China is the only major country, as far as I know, that uses mist nets like this. It's an issue John and I raise every time we're interviewed by the media."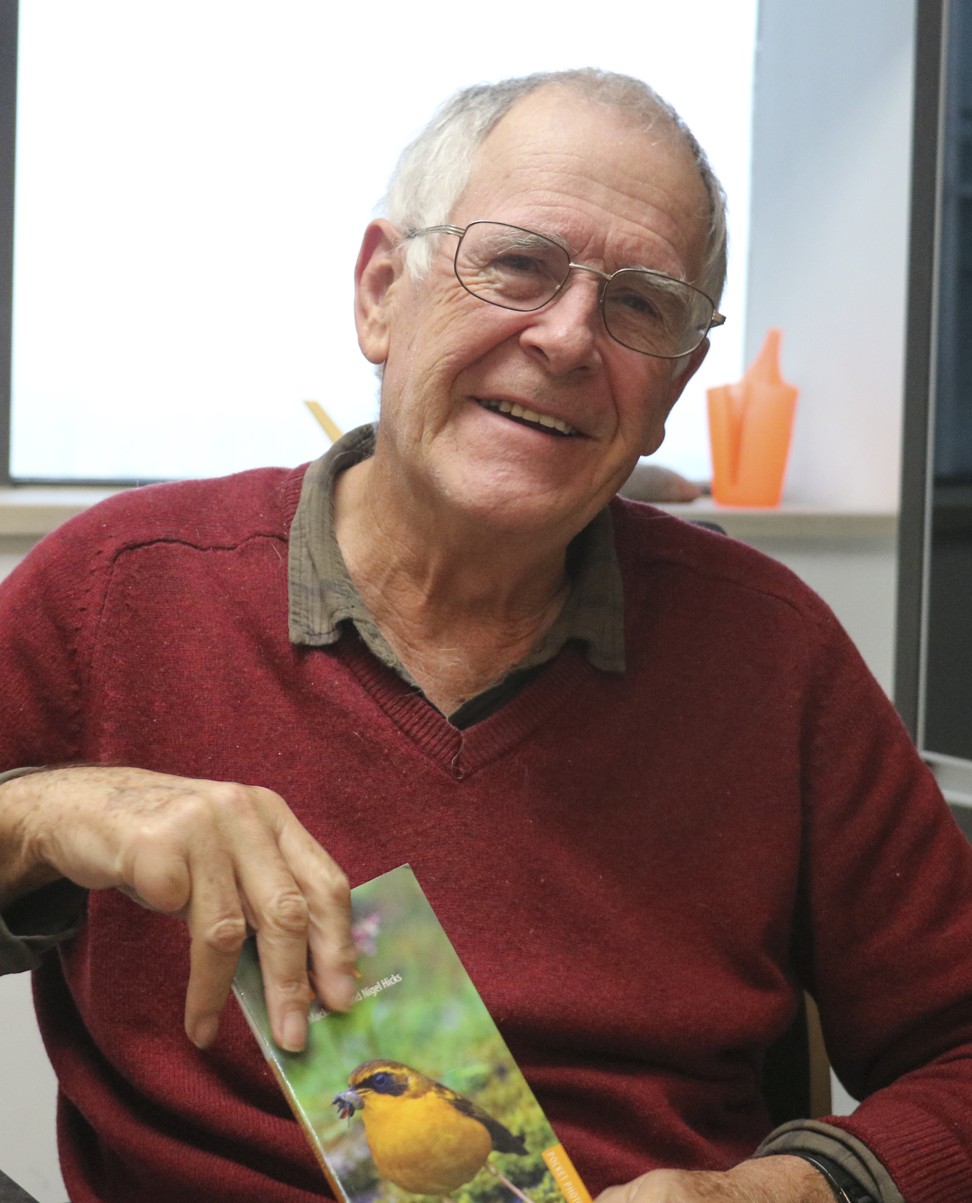 The author of my Birds of China guide, John MacKinnon also calls Beijing home, and is a friend of Townshend.
MacKinnon began his career in conservation in 1965, working with Jane Goodall on her study of chimpanzees in Africa. After decades spent working in conservation in Malaysia, Indonesia and Vietnam, he came to China in 1987, to work on the World Wildlife Fund's Giant Panda project. He also wrote A Field Guide to the Birds of China (2000), a more comprehensive book than the pocket guide I own, which, having been translated into Mandarin, has become known as the "birders bible" in China.
We meet in his office in Haidian District, where he works as a conservation adviser – when he's not authoring books or making wildlife films. We begin by discussing his grandfather, Ramsay MacDonald, the first British Labour prime minister, his impressions of evolutionary biologist Richard Dawkins (a contemporary of his at Oxford University) and his work with BBC broadcaster and natural historian David Attenborough in Indonesia in the 1970s, before getting on to the matter at hand.
Like Townshend, MacKinnon's pet peeve is mist nets.
"On airports, mist nets are completely ineffectual," he says. "The sort of birds they're killing are small birds, particularly migrants. The local sparrows and crows know exactly where the nets are so they are there anyway; you're not clearing the airport of anything at all. The birds that would be dangerous to aeroplanes would be flocks of big birds like geese or ducks."
MacKinnon believes a conservative estimate would be that airport mist nets kill 20 million birds annually. He sees a lack of transparency and culture of conformity as the chief obstacles to getting the policy changed. "The trouble is there's a budget line and they like to maintain it," he says. "Plus people are scared if they take mist nets down and something goes wrong they'll be to blame."
MacKinnon, Townshend and others in the conservation community are trying to find a high-level decision maker who is brave enough to champion the cause.
"The powers that be probably think this is an incredibly low-priority issue but if we can communicate that it is very negative for China's public image we may be able to make some progress, because if somebody wants to point at China and call it cruel, mist nets offer them an easy angle," says MacKinnon. "Mist nets are not commer­cially worth anything."
However, it is not just the officially sanctioned use of nets that troubles Beijing's birders. The tradi­tion in northern China of keeping birds in cages as pets, as well as the belief in southern China that eating exotic animals may have medicinal benefits, prompts many rural Chinese to erect mist nets in the hope of catching a rare bird.
"Poaching goes on everywhere, not just Beijing, it's a national problem. But the issue is still mist nets," says MacKinnon. "I looked on Taobao [China's largest online market place] and found you can buy these nets by the ton, simply huge quantities and at very low cost."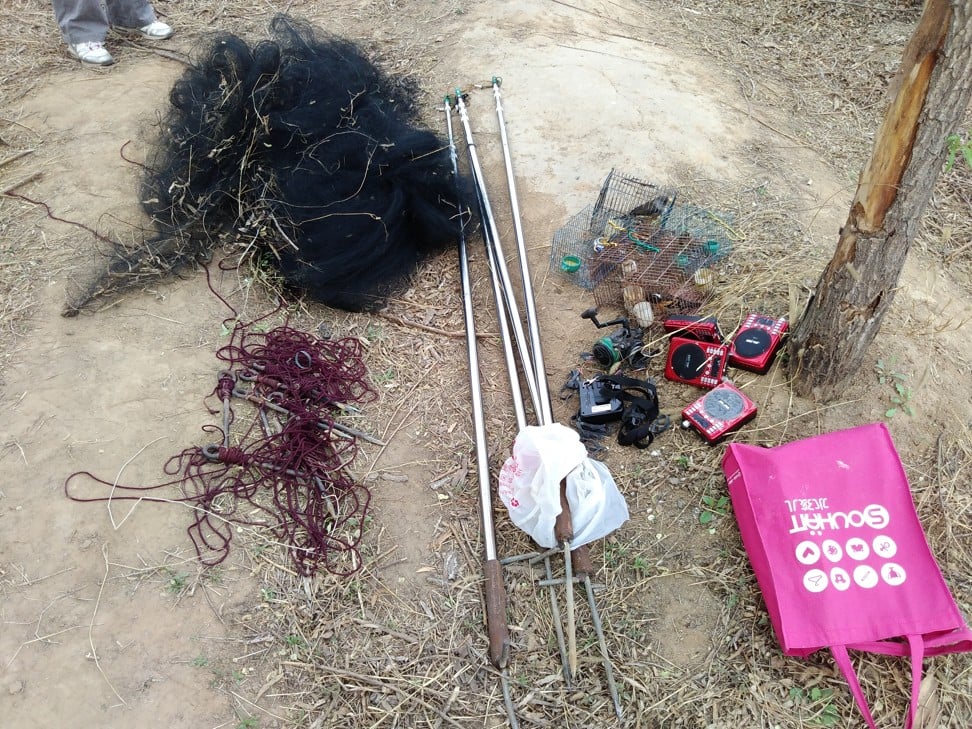 It is illegal to capture wild birds in China without a licence but the ease with which people can acquire mist nets has abetted a widespread flouting of the law. Both Townshend and MacKinnon tell me they are "trying to speak to someone at Alibaba", the owner of Taobao (as well as the South China Morning Post).
For some bird-lovers, petitioning the powerful is no substitute for direct action, and they have turned their attention to activism.
"I had at least 20 people arrested and tens of thousands of nets pulled down last autumn," says Gu Xuan, or Silva Gu, as he likes to be known.
Gu describes himself as "a rural Beijinger". He says, "I seldom come to the city. It's too noisy, there are too many people."
He works for Let Birds Fly. Since 2015, he has been in charge of activities in the Beijing municipality for the non-governmental organisation
"I heard of Let Birds Fly, which Deng Fei – a worried journalist from Hunan who saw farmers shooting birds – founded, and decided to get involved, even if the pay is much lower than my old job because we rely on donations, which in China, is very hard."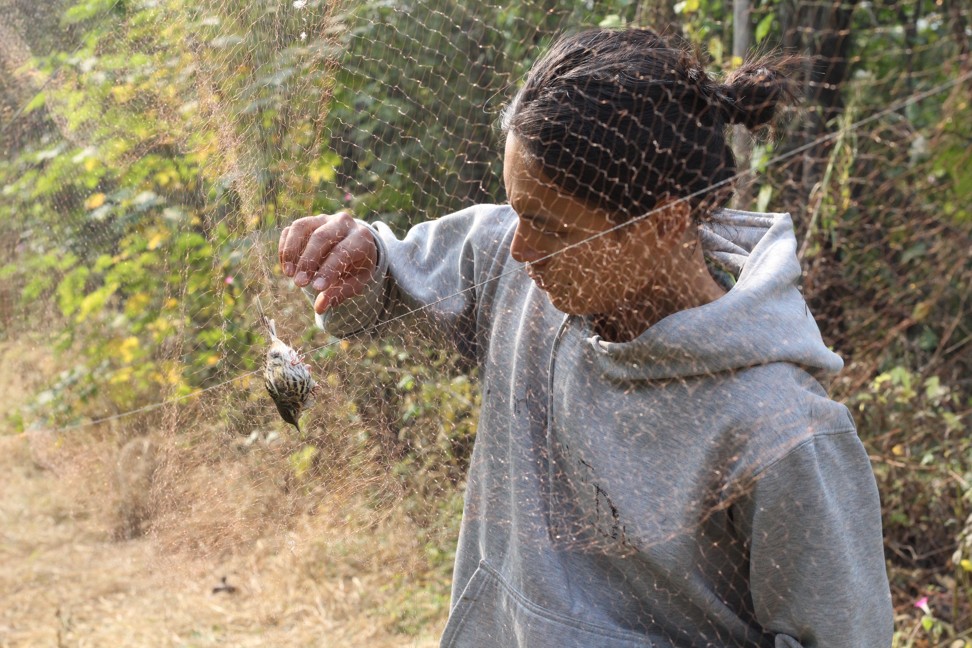 Gu's environmental consciousness developed while he was growing up in the remote Changping District.
"Just in my lifetime, I've seen a real change," says Gu, who was born in 1989. "The rivers used to run clear and there were so many birds. When we played, we often encountered wild animals. Nowadays that's not the case."
Having majored in Spanish at Shijiazhuang Foreign Language School, in Hebei province, Gu left a lucrative job in translation to pursue his passion.
"I saw some documentaries in 2008 and I became a vegan. Since then I've been increasingly focused on trying to deal with the deteriorating natural world around us."
At first Gu acted alone, pulling down mist nets and getting himself into trouble with farmers.
"I'm not so reckless any more," he says. "I've learned how to deal with the matter more maturely."
Let Birds Fly works in the community to curtail poach­ing in the Beijing region. "We go to schools to try and edu­cate local people and we organise promotional activities, giving out leaflets and trying to create awareness," Gu says.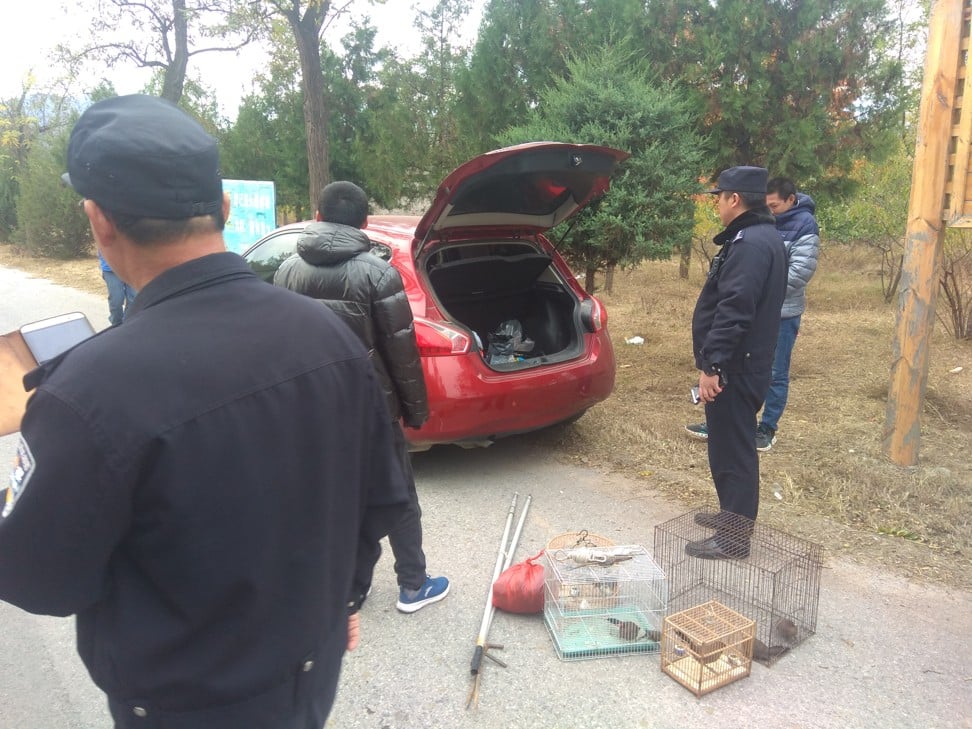 But chiefly, the NGO combats poachers. Armed with smartphone map apps, members set out, often before dawn, in search of mist nets in rural areas or to document illegal markets, some of which can be found within the city limits, in districts such as Haidian and Tongzhou.
The organisation alerts authorities, posts images on social media and encourages journalists to report on the issue. When an area has been cleared of mist nets, Gu leaves a red ribbon marker tied to a tree, a warning to prospective poachers of the illegal nature of their activities.
"Last autumn, I was walking through Longsheng Park, not far from my home, when I saw two men putting up mist nets. In a public park!" says Gu. "It seemed really audacious to me. I quickly alerted the police who arrested the men."
Winter is a quiet period but from late March birds pass through Beijing in large numbers, bound for the forests of Heilongjiang province and eastern Russia. "We'll be out there catching poachers," Gu says. "I now have over 200 volunteers."
Gu knows he is fighting an uphill battle.
"Many of the bird markets are going underground, held in people's houses or simply online," he says. "They're getting harder to find. People who sell birds know me and dislike me because I've lost them business. In society, general awareness is still very low, there's not much support for me. Plus there are so many animals out there that need saving, not just birds in Beijing.
"However, I'm an optimist," he adds. "I believe people are essentially good if educated in the correct way. I need to focus, so, for now, this is my cause."